Salesforce Essentials is one of our recommendations for the best customer relationship management (CRM) systems for small businesses. Based on our evaluation of the best CRMs, this platform scored high in general features, specialized features, customer service, and expert score. However, it received lower scores in pricing because of the lack of plan options. It also scored lower in ease of use because of its overwhelming layout and menu display.
What We Like
Includes lead generation and assignment
Offers customer support tools
Provides extensive tutorials and setup guides
Gives users access to all contact records and sales opportunities
Has customizable reports and dashboards
What's Missing
Does not offer a free plan
Limited to 10 users per account
No workflow automation tools
No tools for quote and billing management
Has no option for roles and permission access customization
When to Use Salesforce Essentials
Small business CRM: This platform is one of our best choices for CRMs for small businesses.
Social media management: This provider is included in our top recommended social CRM platforms.
Email marketing: We recommend this solution for small teams that need a CRM with basic email marketing features.
When to Use an Alternative
More than 10 users in the plan: Consider using Salesforce's higher tiers or Pipedrive if you need a CRM that can support more users.
Social media outreach: Try Zoho CRM if you want an alternative with social media marketing initiatives.
Ecommerce and wholesale business: Check out this guide to look for CRM options with features for running your ecommerce business.
Salesforce Essentials is a CRM system for small businesses that integrates with the overall ecosystem of Salesforce apps. You can customize its contact management, sales opportunities, mass emailing, and customer service ticketing features to fit your business requirements. It is best for small sales and support teams looking for highly customizable CRM software.
Salesforce Essentials Deciding Factors
Supported Business Types

Startups or small businesses with 10 or fewer support team members

Standout Features

Sales cloud
Service cloud
Mobile app
Reporting and analytics
Customization & automation

Pricing Plans

$25 per user, per month (annual billing)
$35 per user, per month (monthly billing)

Contract Duration

Monthly and annual plans are available

Key Integrations

Google Workspace
Slack
QuickBooks
Mailchimp
Jira Software

Customer Support

Standard Success Plan: Self-guided resources, online learning, help portal, demos, events, community advice, and two-day response time to technical support cases
Premier Success Plan: Added 24/7 phone support and developer support, expert coaching and training, personalized recommendations, business value review, and technical health review
Signature Success Plan: Added Technical Account Manager (TAM), predeployment support, 24/7 automated solution monitoring, and key event management
Not exactly sure what to look for? Look at our step-by-step guide to choosing a CRM to keep your selection process organized. It comes with a free downloadable template for choosing the right CRM provider for your business.
Salesforce Essentials Alternatives
If this platform doesn't meet your business needs, below are some highly rated alternatives to consider:
| | | | | |
| --- | --- | --- | --- | --- |
| Best For | Businesses with lengthy or unique lead nurturing processes | Businesses that want an affordable CRM with excellent analytics tools | Companies that need visual representations of their sales pipelines | Ecommerce and online retail businesses |
| Starting Price* | Free (unlimited users) or $15 per user, monthly | Free (3 users) or $14 per user, monthly | $14.90 per user, every month | Free (unlimited users) or $49 per month (5 users) |
| | | | | |
*Based on annual billing; monthly pricing is also available at slightly higher rates
Salesforce Essentials pricing scored 2.5 out of 5, mainly because of the lack of other plan options. It offers a single subscription plan that costs $25 per user, each month (billed annually), and supports up to 10 users. This package includes tools for managing contacts, accounts, leads, and opportunities. Other Salesforce Essentials features include lead assignment, email templates, custom reports and dashboards, and case management.
You may sign up for its 14-day free trial to see how this CRM system works before you commit to its paid plan.
Salesforce Essentials add-ons:
Sales Dialer for Essentials (inbound and outbound calls from Salesforce phone channel): $2 per 100 minutes, per month
Sales Dialer (click-to-dial and automatic logging): Starts at $5 per user, per month
Social Intelligence: $25 per user, monthly
Inbox: $25 per user, per month
Salesforce Essentials Features
In this Salesforce Essentials review, we gave this provider a score of 3.75 out of 5 for its general features. It has excellent tools for managing accounts, contacts, leads, and opportunities. You can also customize your sales processes, as well as manage tasks and activities. Additionally, it has mobile apps for Android and iOS devices that offer full offline functionality. Plus, there's a built-in software called Chatter for communication, file sharing, and team collaboration.
Other standout Salesforce Essentials features include real-time sales insights and configurable reports and dashboards with drag-and-drop functionality. However, it does not offer forecasting, cross-filters (filters that let you identify a record with or without a related record), or history tracking features. If these features are essential to your business, try Bitrix24 or upgrade to a higher Salesforce tier.
Check out this platform's general features below:
Opportunity management
Campaign management
Task management and activity feed
Mobile app
Chatter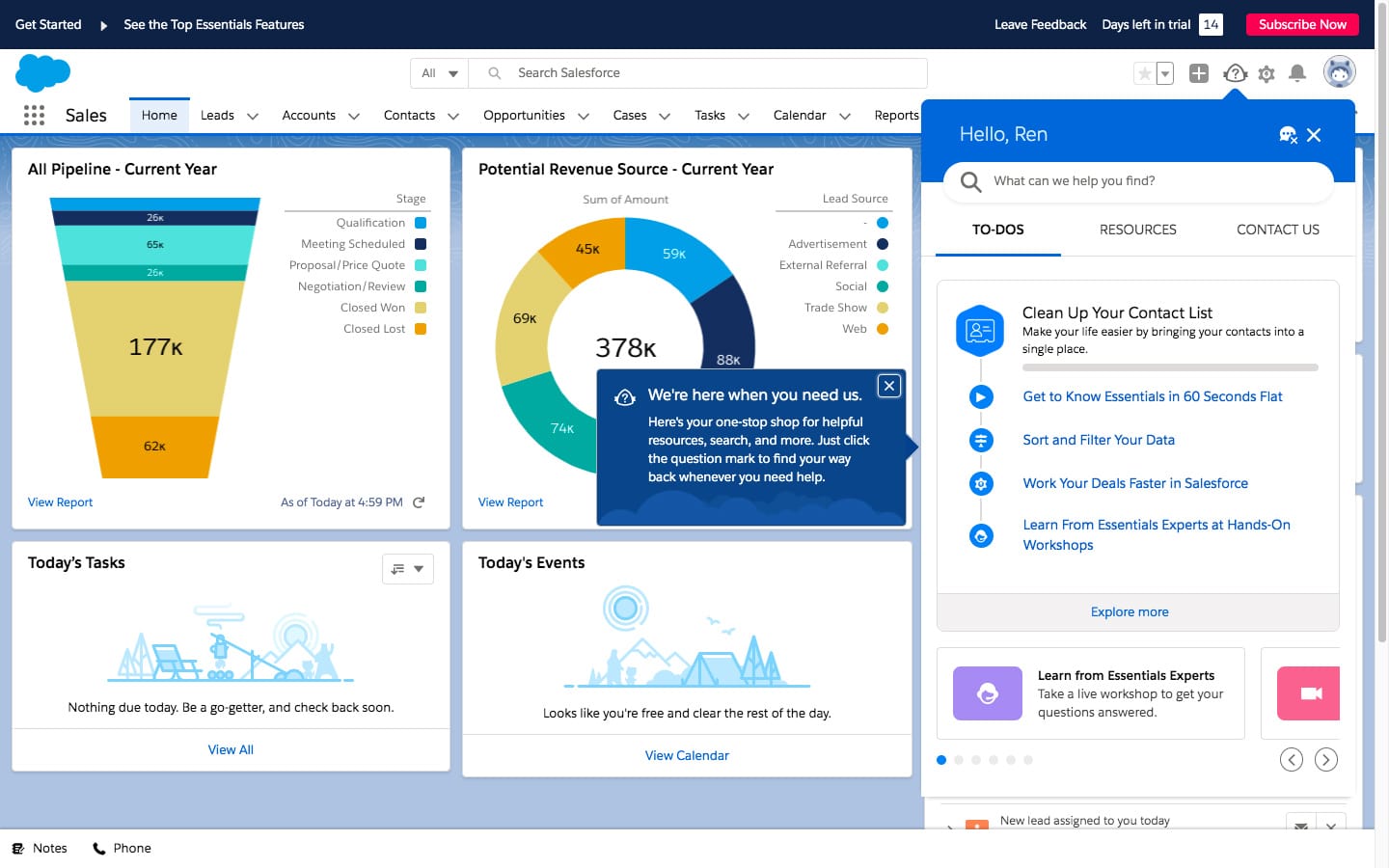 ---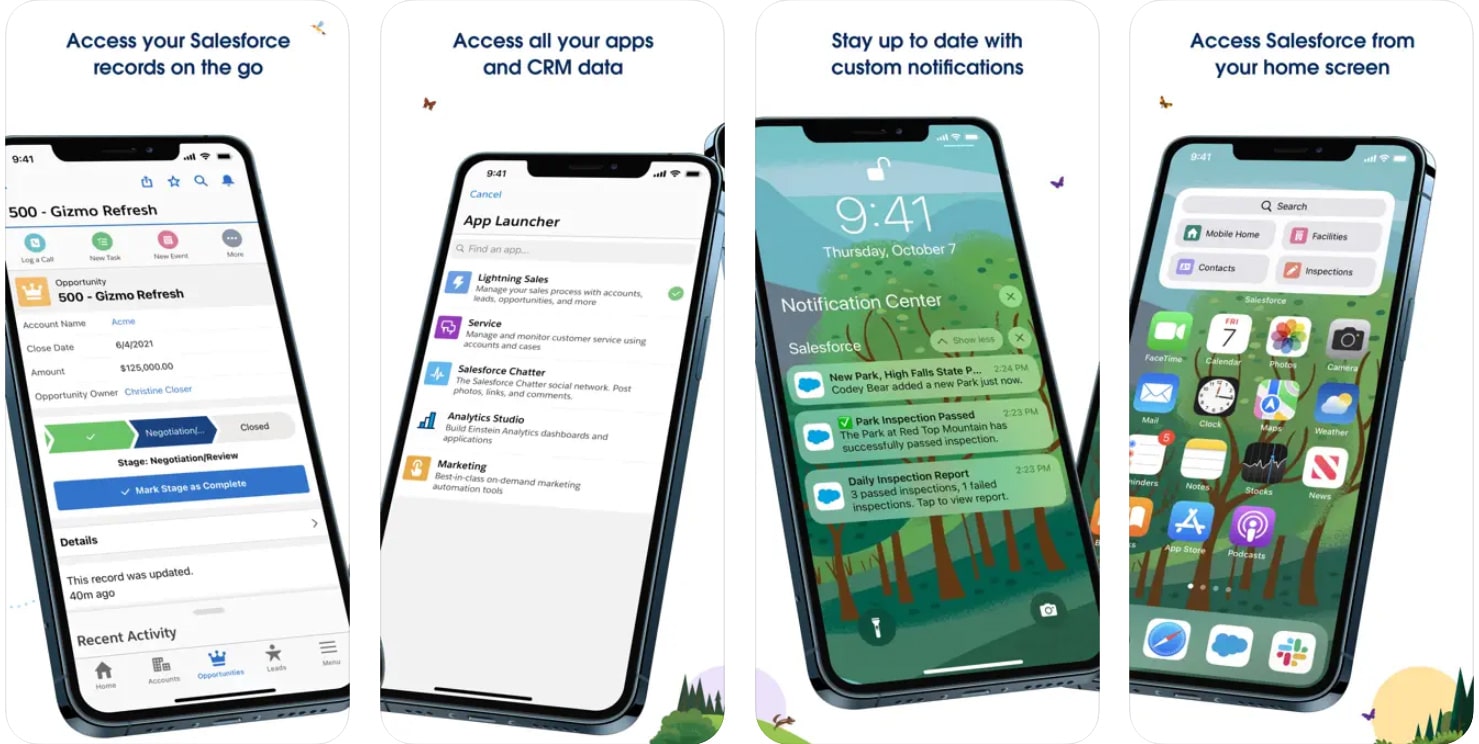 ---
We gave the Salesforce Essentials edition a score of 5 out of 5 for its specialized features because it provides separate consoles for sales and service within the same platform. This is a unique feature that is not offered in most CRM solutions for small businesses. Aside from that, it comes with a Lightning Flow Automation tool for automating and managing your organization's sales and support processes.
The sales cloud provides tools for selling smarter. For example, you can generate leads from your company website's visitors, track and qualify prospects, and then route hot leads to the right agents. It lets you manage your contacts, customer engagement, and opportunity stages. Moreover, you can send targeted emails to leads and monitor your marketing campaigns across all channels.
---
The service cloud of the Salesforce Essentials edition serves as a platform for customer case management. You can integrate it easily with telephony systems like the private branch exchange (PBX) or voice-over-internet-protocol (VoIP), so you can make and receive calls. It also allows you to engage with customers via live chat, create cases from social media, and send artificial intelligence (AI)-powered responses. It also lets you set up a self-service site for your customers.
---
This CRM's Lighting Flow Automation tool allows you to automate and manage up to five business processes and five flows per organization. It has a drag-and-drop tool called Lightning App Builder with prebuilt and custom components you can use for customized apps and pages. You can also install native apps from the AppExchange store.
---
You can extend this CRM's capabilities by connecting it to other apps you frequently use to run your business. Some of its popular integrations include Outlook, Google Workspace, DocuSign, QuickBooks, and Dropbox. You can sync these apps via AppExchange, Zapier, Automate.io, or Workato. Some apps like Mailchimp and Slack also provide integration via an application programming interface (API).
Some of this platform's most popular integrations include:
Outlook
Google Workspace
Slack
QuickBooks
Mailchimp
LinkedIn
DocuSign
ActiveCampaign
Jira Software
Dropbox
---
We gave this CRM a score of 4.25 out of 5 for customer service. Salesforce offers three levels of support under its Success Plans: Standard, Premier, and Signature. All types of licenses—including the Salesforce Essentials edition—offer Standard Success support. This gives you access to self-guided resources, a help portal, demos, events, and community advice. It also includes a two-day email response time for technical support cases submitted online.
The Premier Success plan costs 30% of the net price of the software subscription. It adds 24/7 phone support and developer support on top of the inclusions in Standard Success. You also receive access to the following services:
Expert coaching and training sessions
Personalized recommendations and resources
25% discount on Salesforce classes and certifications
Business value reviews by Salesforce experts
Technical health reviews by Salesforce experts
Under the Signature Plan, a technical account manager (TAM) assigned to your account documents your needs and prioritizes solutions to issues you encounter. You also get predeployment support, 24/7 automated solution monitoring, and key event management services. The cost of this plan depends on the complexity and scale of your business solution.
| Success Plans | Standard | Premier | Signature |
| --- | --- | --- | --- |
| Pricing | $0 | 30% of the net license fee | Customized pricing |
| Self-guided Resources | ✓ | ✓ | ✓ |
| Technical Support | ✓ | ✓ | ✓ |
| 24/7 Phone Support & Developer Support | ✓ | ✓ | ✓ |
| Expert Coaching | ✕ | ✓ | ✓ |
| Account Management | ✕ | ✕ | ✓ |
When it comes to ease of use, this provider got a score of 1 out of 5. This platform is best suited for users with intermediate level technical skills. There is a bit of a learning curve to it, it takes several clicks to accomplish an action, and the number of display options can be overwhelming for beginners. However, it offers many video tutorials, in-app prompts, and self-help resources for users who need assistance in using the software.
In this Salesforce Essentials review, we gave it a score of 3.75 out of 5. Most of its users like its out-of-the-box setup and its robust contact and lead management features. They also appreciate its collaboration tools, mobile app, and straightforward reporting tools. Many users commended the platform's deep customization options.
However, many shared that its extensive customization and automation features make it overwhelming and confusing, especially for new users. Some find Salesforce Essentials pricing to be a bit expensive for the set of features it offers. Others said that it is hard to reach the customer service team and get direct answers from them. Despite these downsides, most users consider it worth the effort to learn how to use the program.
As of this writing, it has earned the following scores from the most popular review sites:
How We Evaluated Salesforce Essentials
To evaluate Salesforce Essentials against other CRM software, we tested each system ourselves. We examined different crucial areas, such as pricing, core CRM features, quality of customer support, and ease of use. We also looked at recent CRM ratings about this platform from credible review sites.
Click through the tabs below for our Salesforce Essentials review evaluation criteria:
10% of Overall Score
Cost is typically an essential criterion for any business, so it was one of our considerations when evaluating the cost-effectiveness of this provider. We usually give a high score to providers that offer a starter plan that costs $30 or less. We also check the availability of a free plan, scalable pricing options, and options to pay monthly or annually.
10% of Overall Score
We looked at overall features we feel are necessary for any CRM system, such as integration options, reporting, and analytics tools. We also considered the availability of a mobile app—which is crucial for sales reps who are always on the go.
30% of Overall Score
We also looked at the niche and targeted features of the software to see the value a user can get by subscribing. For this CRM system, we checked if they offer specialized features such as lead scoring, email and SMS marketing, workflow automation, and appointment booking.
20% of Overall Score
We evaluated this provider's platform usability and the level of technical experience needed to use the system. This was analyzed in terms of the expertise required to set up an account, the learning curve for learning to use its features, and the ease of integrating with other third-party applications.
20% of Overall Score
Support is a critical part of running any CRM tool, especially for small businesses that don't have in-house technical support. We analyzed the types and availability of support offered by these providers through live chat, email, and phone.
10% of Overall Score
We looked through existing and best CRM reviews on credible sites to measure the level of satisfaction current users have and any problems they typically encounter. We also added our thoughts and expert opinion on essential features, value for money, and popularity.
*Percentages of overall score
Bottom Line
Salesforce Essentials is a scaled-down version of Salesforce's sales and support CRM editions. While it has a 10-user limit, it is equipped with powerful sales automation, lead management, and customer support tools. Sign up for a 14-day free trial to see Salesforce Essentials in action.
You Might Also Like…