If you're looking to learn more about how to make and print barcode labels, look no further! This article will take you, step by step, through how to gather up everything you need to make and print your own barcodes.
By the time you're finished reading, you'll be ready to print barcodes in a way that fits how you run your business. To streamline your barcode scanning and printing, we recommend using Lightspeed POS to help manage and track your inventory. Let's get started by looking at the three ways you can make a barcode.
3 Ways to Make a Barcode Label
There are three primary ways that you can make barcodes for your store:
HandHeld Barcode Maker
Barcode Making Website/Software
Point of Sale/Inventory Management System like Lightspeed.
With each of these options, you can print a variety of product labels, such as UPC labels, shelf labels, and grocery labels. We'll cover types of labels in more detail below. Here's a closer look at each of these ways to print barcodes and the other items you'll need to be successful. Note that each of these options requires you to purchase a printer capable of printing barcodes on label stock. We will discuss printing options in just a bit, so keep reading on.
1. Handheld Barcode Maker
A handheld barcode maker is the simplest way to create and print barcodes. You want to use this method to print barcode labels if you don't have many products for sale in your store, or you're a product manufacturer of under 10 items. If you have more items than that, this is not the best option because you have to manually input the barcode numbers, which can take time.
A handheld barcode maker works just like it sounds. You type the label information into a device that looks like the one below, connect a printer, which we'll discuss a little later, and print away.
These devices will store somewhere in the neighborhood of 12 different labels, and will print the standard barcodes like UPCs and EANs. Some can store more labels than that.
Handheld barcode printers like the one shown above will cost between $95 and $300 depending on the number of labels they can store. Those prices make this method a very cost effective option for label printing in your small business or manufacturing plant, but remember, manually entering label information can be time consuming. If time is of the essence, keep reading on to see what other printing options you have available to you.
2. UPC Generator/Label Websites
This is the most common method of barcode label printing if you are a product manufacturer. If you make products for resale, you are required to have UPC barcodes on your product. While websites like onlinelabels.com offer all types of labels for sale, they specialize in printing product code labels in bulk.
If you're a manufacturer selling more than 10 items or you're doing thousands of transactions per week, you can save money by printing your labels in bulk through a label website. You go to a website like onlinelabels.com and enter your information into their form. Here's an example: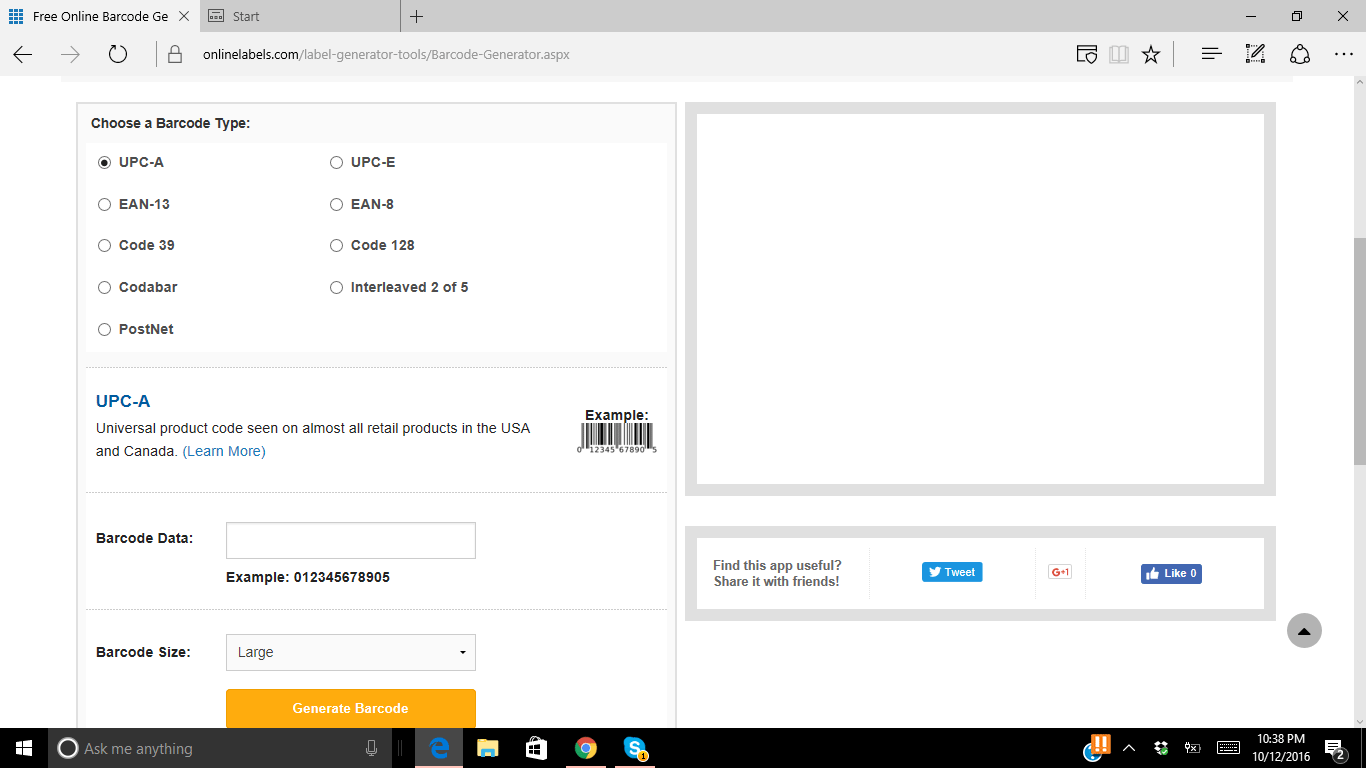 They will print out and send your UPC pre-printed labels in the mail within 3-5 business days. They will also send you a file containing your barcode labels. You can then print those out in the future using your own printer or a service like FedEx or Kinko's (or pay them to print them again). Below is a table showing the cost for printing UPC labels in bulk. As you can see, the more labels you purchase, the lower the cost per label.
Onlinelabels.com Price List for Printing Barcode Labels
| Number of Sheets | Number of UPC Barcode Labels | Price |
| --- | --- | --- |
| 100 | 700 | $20.00 |
| 250 | 1750 | $30.00 |
| 500 | 3500 | $75.00 |
| 1000 | 7000 | $135.00 |
| 10000 | 70000 | $850.00 |
There are several other types of barcode labels that you can have made at these websites, other than UPC barcodes. We'll discuss other types of barcode labels you might need a little later in the article. For now, let's look at our last method to make barcode labels, the POS/Inventory Management System.
3. Point of Sale/Inventory Management System
POS and Inventory Management software like Lightspeed and Square both come with built-in barcode and label printing capabilities. If you are a business that sells 100 items or more with regular volume, this is your best option. There's no limit to the number of label types you can print, and there's no more wasted time running back and forth to your back office to print new labels. You will have the ability to print labels right on your sales floor.
You pick the items you want to print in a screen like this: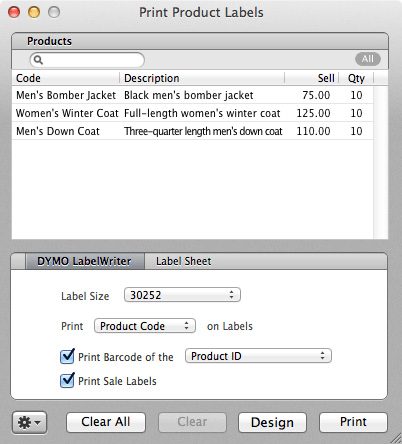 You also have the option to pick what label stock you would like to print the product information on. Hit the "Print" button, and you're on your way to labels galore!
Lightspeed costs $76 per month for one user, plus the cost of any additional equipment you want to purchase like label printers, cash register displays, credit card readers, and much more. Square is free to use, but you pay 2.75% and .15 cents for every transaction. You also have to pay for additional hardware which runs about $300 to $500 dollars.
In some cases, it doesn't make sense to preprint labels from a website, because you may need to change pricing information or other label details. This can be a disadvantage of website printing. Systems like Lightspeed and Square give you the flexibility to create, print, and change your product labeling on the fly!
Now that you have some ideas about how to make and print barcode labels, let's look at the different types of barcode labels.
Types of Barcode Labels
The type of business you own will determine the types of barcode labels you need to use. For instance, if you're a manufacturer of goods, you need different types of labels from those that are used in grocery stores or boutiques.
Below are examples of different types of labels, also known as "Label Stock." You can print all these types of labels, along with many more, from your printer, by telling your system exactly what you want to print on your store labels.
Standard Shelf Labels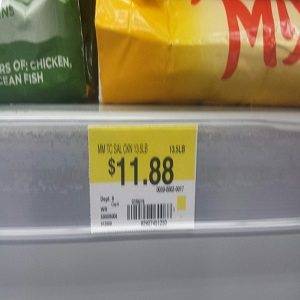 This label is used primarily for non-grocery items. As you can see, it contains all the standard item information and pricing details. The label itself comes blank; you print the info on it with your printer. A roll of 225 standard shelf labels costs $35 at onlinelabels.com
Grocery Labels (AKA Unit of Measure Label)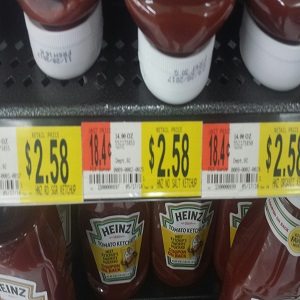 If you are selling groceries, then you are required to use this type of label with a Unit of Measure Field. Customers must be able to see how much they are paying per pound or per ounce. In this example, the Unit of Measure is in price per Kilogram, but you can control what units you want printed on the label. The cost is the same for these labels at around $35 for a roll of 225 at Onlinelabels.com.
Inventory Count Labels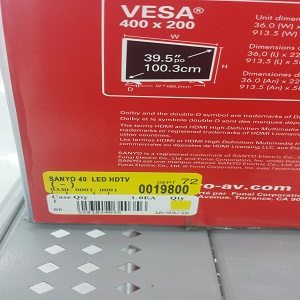 These labels are used by both shop owners and product manufacturers. They are pretty straightforward to use. When you are counting the products in your stockroom or on your shelves, you print these out, count the item, record the information, and stick them on the case or shelf space you just counted.
They help you keep track of what parts of your store you recently counted your inventory in. Again, these labels are around $35 per roll at onlinelabels.com, and the more rolls you buy, the less you pay per label!
So now you know ways to make a barcode label and what types of labels you should use depending on the situation. Now let's talk about the types of label printers you need to print your barcode labels.
Barcode Printers: Types, Where to Buy, Cost, and More
Unless you're having your labels printed by an online store like onlinelabels.com or by a retail shop like FedEx/Kinko's, you will need a printer to print your labels. There are two main types of printers you can use:
Laser Printer
Portable Label Printer
Both allow you to produce nice, clean labels that give your products, stockroom, and sales floor the organized look customers love to see when they walk in your door. Here's a look at their pros and cons.
Laser Printer
Laser printers are very affordable these days at a cost of around $80 from Amazon or most local retail stores. The drawback here is that the printer isn't portable, so you can't be in front of the products you need labels for. You have to walk back to the office and get your labels each time you print them.
Portable Label Printers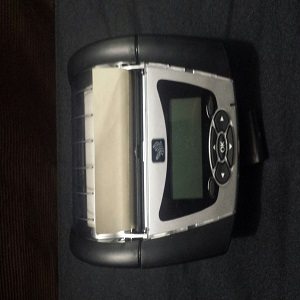 A portable printer makes it easy to update your store or stockroom if products need new labels, and you can bring it right out onto the floor with you. The printer itself connects to a laser scanner (sold separately), or a mobile application that connects to your POS/Inventory Management System. You scan the item or case on the shelf in front of you, check to see if the info is correct, and print a new shelf label if required.
Printers like the Zebra QL-320 run in the neighborhood of $500 to $900 dollars new and $300 to $400 used at Amazon.com. In my opinion, there are no drawbacks to using this printer.
It allows you to stay on the sales floor or in your receiving area and be productive while you are serving your customers. It takes all standard label stock, even ones that don't require barcodes, so you are getting a lot of features for the price.
How to Load Labels in your Label Printer
So now you have a way to print your labels, but it won't do you any good unless you have labels loaded in your printer. If you are using a regular laser printer, then just load your 8 ½ X 11 sheet of labels just like you would using regular printer paper.
Here is how to load printer labels in your new portable label printer so you don't have to waste time wondering how it works!
Note that these instructions are for the Zebra model QL-320, but most portable printers will work the same way.
Follow these steps to load labels in your printer:
1. Find a colored lever or push button on your printer.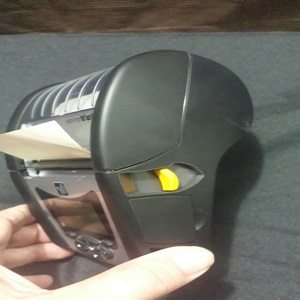 2. Pull down on the lever or push the button to open the label compartment.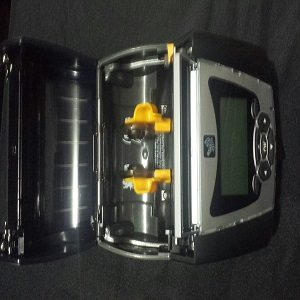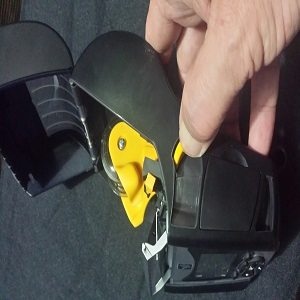 3. Slide the yellow label holders apart with your fingers like this.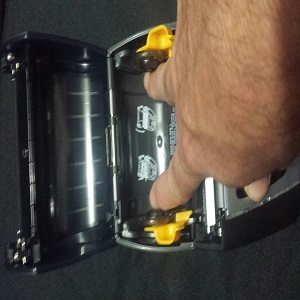 4. Insert your labels and let the guides go. They will fit into the ends of your roll.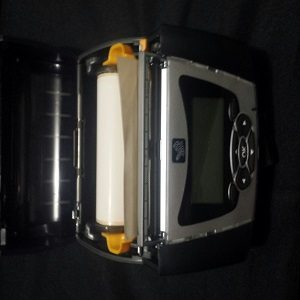 5. Feed your labels through the metal guide on the front.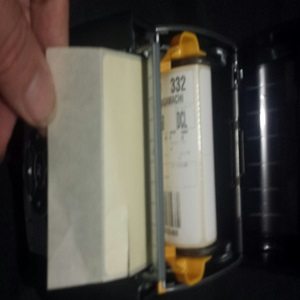 6. Close the printer until you hear it click shut and start printing labels.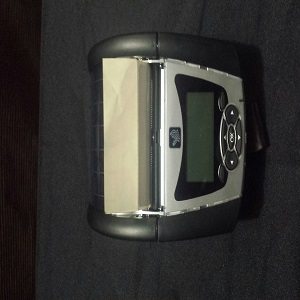 Thanks to Gordon Poole at Zebra Technologies, in Bentonville, Arkansas, for lending us their QL-320 Printer for this article. Zebra is one of the largest portable printing companies in the world, and they offer a wide variety of technology solutions for all size businesses, not just the big box stores.
The Bottom Line
As you can see, there are many ways to print labels for your products or your store shelves. If you own a store where you are selling just a few products, then a handheld label maker will do the trick. They are less than $100 and you don't need a POS System to create your labels, so you might save some money using this printing method.
If you are a manufacturer, then I recommend using an online label website to produce your barcodes. You can print in bulk and save money over the long run.
And finally, if you own a store that offers a few hundred items for sale, then you will want to use a printer with a POS/Inventory Management System. This method in total will cost around $1,200, but the upfront costs outweigh not making the investment. Not only can you print labels from anywhere in your store, but you can also take advantage of all the other inventory management features offered by a POS.
So now that you know what barcode printing options are available, what are you waiting for? Order your labels, pick your printer or website to produce your labels, and start making products easier to find for both you, your employees, and most importantly, your customers.