Barcode labels help businesses easily track stock and access key product data. In a single scan, you can see product details, stock on hand, pricing, and even complete a sale. But not all barcode labels are the same. Below we cover 2 barcodes labels that most businesses use and show you 3 ways to create and print them.
Before we dive in, most businesses streamline barcode scanning and printing by using a system that's made to manage inventory. We recommend using Lightspeed POS for this because it gives you an array of easy-to-use inventory management tools, tracks all of your sales, and much more, for just $99/month. Best of all, you can try it free for 14 days.
Try Lightspeed for Free for 14 days
We'll start by taking a quick look at the three things you need to create and print barcode labels, then dig into the details of how to get it all done.
3 Things You Need to Make & Print Barcode Labels
Making barcodes and printing barcodes on labels isn't difficult, but you do need 3 key things to make it happen. These are:
Unique product codes for each product you make or carry – These can be UPC codes that identify manufactured goods, unique SKU numbers that you use to track inventory your way, or other identifying numbers.
A system that lets you input codes to create barcodes – Your codes need to be entered into a device or software system that can translate the numeric or alphanumeric code into a scannable barcode.
A label printer and label stock for printing – From laser printers and sheet labels to specialty label printers and label rolls, you have lots of options here.
Now let's take a closer look at each of the 3 things you need to make and print barcode labels.
1. Unique Products Codes for Your Barcode Labels
Scannable barcodes are based on the unique product codes that you use to identify and track your products. Most businesses use either UPC numbers or SKU numbers for barcode labels. Which is best for you depends on the type of business you operate and your inventory tracking needs. Here's a quick look at both of these options, and we'll explore each in detail below.
Two Primary Types of Barcodes Used to Print Barcode Labels
| Type of Barcode | Best for | Where to get | Cost |
| --- | --- | --- | --- |
| UPC | Product manufacturers & private label sellers | Global Standard 1 (GS1) | $250 for 10 UPC codes & up |
| SKU or other Identifier | Retailers and resellers | Make your own, learn how | Free |
UPC Barcode Numbers
UPC barcode labels are what you find on most products and are placed there by the manufacturer. To get UPC codes, manufacturers register with Global Standard 1 (GS1) to receive unique 8- to 12-digit codes that identify and track their products worldwide.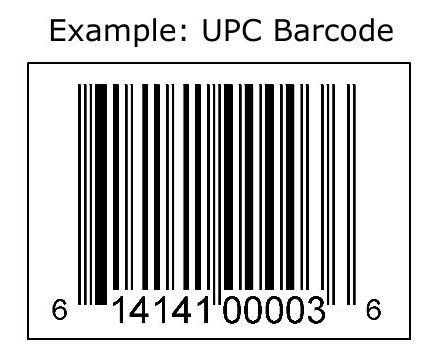 If you make products yourself or sell private label products under your own brand, you should consider registering with the GS1 and getting UPC codes. It's not required by law to have UPC codes to make and sell products, but there are many benefits, including:
Help protect your brand from brand theft and product forgery
Enables you to sell on Amazon (a valid UPC is required for items sold on Amazon)
Makes it easy for buyers to access information about your product online, such as product type, restrictions, or even potential allergens (in the case of food items)
Can be used in retail point-of-sale (POS) systems like Lightspeed to track inventory and speed up checkout
You can learn more about getting started with UPC codes on the GS1.org website.
SKU Numbers
You can also create and print barcode labels based on any inventory tracking or numbering system that you set up for your operation. Custom SKU numbers, in particular, are popular with retailers and ecommerce companies who carry a variety of products from many suppliers.
Setting up your own custom SKU numbers offers many advantages over trying to track products using only manufacturer UPC codes. See the benefits of custom SKU numbers and learn how to set them up for your business in our guide to creating SKU numbers.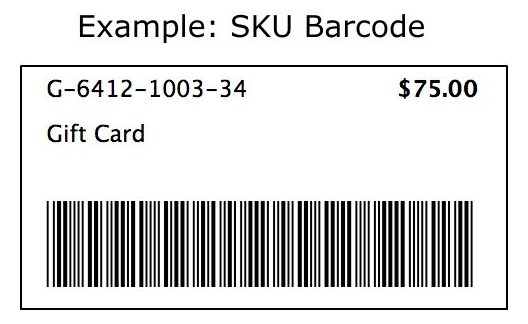 Once you decide on a code type and have your unique product codes set up, your next step is getting them into a system that translates codes into scannable barcodes for your labels.
2. Turn Product Codes Into Scannable Barcodes
You can turn your product codes into scannable barcodes using a POS system, barcode generator websites, or a portable barcode printer. Here's how each of these three options works to create your barcodes.
A Retail Point of Sale (POS) Inventory Management System
If you already use a Point of Sale System (POS) and/or order management system for your store, then most will print barcode labels for you. If not, then you may want to consider a system with these features. With one, you can simply print barcode labels out as needed. It really makes the process easy.
In Lightspeed's Print Product Labels screen, shown below, you can select the type of code that you want to print on your labels. In this case, Product Code is selected. But if you want to print a UPC code or another code that you track in the system, you can select those, too.
You also have options for printing other data on your labels, such as the product name and pricing, by selecting Print Sale Labels, shown above. You can select the quantity of each label to print, too. Once you've selected all of the details, simply click Print.
Barcode Generator Websites & Document Software
There are several websites will translate codes that you enter into a variety of barcode images. Online Labels will even do it for free. For example, here is a barcode for my company's custom SKU number, BW-066-011:
As you can see above, you can select from several barcode formats. Note! These barcode variations generally work across all devices and inventory systems as long as you select the same barcode type in your scanner and system settings.
Free barcode generators are a handy way to create barcode images, but you still have to get them printed onto labels. You can order printed sheets or rolls of the barcode labels you create on onlinelabels.com and similar sites. But that service comes with a price, starting at about $20 for 100 sheets of labels. For that, you get 700 of the same codes, printed on ready-to-use labels, and they arrive in just a few days. This option is popular with manufacturers who need large quantities of labels but don't want to fuss with printing labels themselves.
However, if you need just a few barcode labels and don't want to spend any money, you can. First, use Online Labels or a similar site to create your barcode, as we did above. From there, you can download your barcode as a .jpg image and simply insert it into Microsoft Word, Google Docs, or another document creation program. Then print your code onto label sheets, which we cover below.
Portable Barcode Label Maker
If you don't sell a large number of products, or don't need to track inventory in a retail POS or other inventory management system, a portable handheld barcode maker with a built-in printer may be all you need.
A handheld barcode maker works just like it sounds. You type the code and label information into the device, like the Brother P-Touch shown below, and it translates your code into a barcode. It even lets you customize the look of your label and add more information like product name or pricing, then prints your barcode and other information right onto a label.
Handheld portable barcode label printers like the one shown above start at about $60. You do have to use label rolls designed for their system, which adds costs depending on the quantities that you need to print. But, you can hardly beat the convenience and simplicity if you need to print a limited number of labels on the fly.
We've already covered some ways to print your barcode labels since some barcode creation methods include printing in the process. Next, we'll examine other ways to get your barcodes printed onto a variety of labels and tag stock.
3. Ways to Print Your Barcode Labels
If you're creating barcode labels using a retail POS, ecommerce order management system, or document software, you'll need to use a printer and label sheets or rolls to print out the labels you create. With the other options discussed above; bulk ordering from an online service or using a handheld printer, the printing is built-in.
For other label printing, there are two main types of printers you can use and each will print a wide variety of label shapes and sizes. With them, you can clearly label your products, as well as store, stockroom, or warehouse shelves. Whatever you need to label, rest assured, there's a label made for that purpose and you can your barcode on it.
Laser & Inkjet Printers with Laser or Inkjet Labels
You probably already have a laser or inkjet printer, and if you don't you can pick one up starting at about $50. With one, you can print a huge variety of crisp barcode labels in many sizes, like these barcode warehouse bin labels made using Avery laser printer labels:
Label makers like Avery offer a huge selection of precut laser and inkjet label sheets that integrate with most POS and other inventory management systems, including Lightspeed POS. With them, you can print barcode labels to the exact size and quantity that you need.
Thermal Label Printers & Portable Thermal Printers
Thermal label printers are a great choice if you have to print barcode labels in large quantities or quite often. These print onto thermal label rolls and don't require ink or toner, unlike laser and inkjet printers. So you'll never be stuck unable to print labels because the printer ran out of ink.
Dymo, above, and Zebra, below, are two top makers of thermal printers that integrate with POS systems and other barcode label printing methods. Zebra even makes portable thermal printers that wirelessly connect to your POS or other inventory management system.
If you operate a large warehouse or retail store, portable wireless printers are handy to reprint labels on the floor as-needed. This is helpful during inventory moves, price updates, and store redesigns.
The Bottom Line
Clearly there are many ways to print labels for your products, store shelves, stockroom, or warehouse. If you sell just a few products and don't track inventory in a retail POS or other inventory management system, the printing barcode labels on a handheld device or from an online barcode generator may be all you need.
But if you sell a variety of products in-store or online, or are managing a manufacturing operation moving products in volume, a retail POS like Lightspeed can help you fully integrate a barcode label system with end-to-end inventory tracking so you always know where you stock is and how it's selling. Plus with a free 14-day trial, you can try it completely risk-free.
Try Lightspeed for Free for 14 days
Do you use barcode labels in your operation? If so, we'd love to hear how you create your barcodes, what types of codes you use, and how you manage your label printing in the comments below.