Barcode labels are machine-scannable symbols that represent product codes such as Universal Product Codes (UPCs) and Stock Keeping Units (SKUs). Making and implementing a barcode system will help you ring product sales, perform inventory counts, and streamline your inventory management—all with a few simple steps.
Use our barcode generator and follow the steps below to get started creating barcodes for your new business.
Barcode Generator
Easily Create and Download Barcodes For Your Products
Continue reading below to learn more about how to set up a proper barcoding system. We also walk you through the process in our video at the end of this article.
Generate barcodes and print them onto product tags directly from your POS account with Square. Create a Square account.
1. Create Your Product Codes
Product codes refer to the alphanumeric and symbolic sequences you assign to your merchandise to serve as identifiers. There are two major types of product codes, which you can learn more about in our guide on UPCs vs SKUs, but here is a quick overview:
| | UPCs | SKUs |
| --- | --- | --- |
| Assigned by | Manufacturers | Individual retailers |
| Cost | 10 codes for $250 | Free |
| Code | Numbers only | Alphanumeric |
| Length | 12-digits | Custom |
The best stock coding or numbering system for you depends on the type of business you operate and your inventory tracking needs. Here, we will take a more detailed look at both product coding options and the uses for each.
Universal Product Codes are globally recognized eight to 12 digit numeric-only codes that manufacturers receive when they register their products with GS1. They are compatible with most point-of-sale (POS) systems, easy to acquire, and widely recognizable.
If you make products yourself or sell private label products under your own brand, you should consider registering with the GS1 and getting UPCs. UPCs aren't required by law, and you can certainly make and sell products without them, but there are many benefits to using UPCs, including:
Helps protect your business's brand from brand theft and product forgery
Enables you to sell on Amazon―a valid UPC is required for items sold on Amazon
Makes it easy for buyers to access information about your product online, such as product type, restrictions, or potential allergens, in the case of food items
Can be used in a retail POS system to track inventory and speed up the checkout
Most products retailers acquire from manufacturers will already have UPCs and their corresponding barcodes attached. This is not the code you will use internally or the barcode you will scan in your POS system—this code is only for the retail supply chain.
Internal SKUs are custom alphanumeric codes of variable lengths (typically eight digits) specific to each retailer and designed to suit your business's unique operations. With an internal SKU system, you can use letters and numbers that correspond to a systematic organization of your inventory.
For example, you might decide you want to create an SKU system for your clothing. You could make the first number stand for the department (1 for men, 2 for women, 3 for children), the second for the type of apparel (1 for tops, 2 for bottoms, 3 for accessories), the third for the color, and so on until you create a code long enough that each product has a unique sequence.
QR codes are a relatively modern addition to our collection of identifying product codes. QR, or "quick response," codes are the pixelated black-and-white square graphic labels. You can scan QR codes with a mobile device to perform many tasks, including visiting a website, placing an order, and making a payment. A QR code payment involves digital payments made via the scannable graphic.
Did you know? According to the Square Future of Commerce report, 37% of retailers plan to offer QR codes for additional product information, promotions, and digital experiences, and 20% of consumers are interested in using QR codes for window shopping and purchases.
QR codes are different from UPCs and SKUs in that they don't actually include an alphanumeric string. Instead, the "code" data is captured in the pixelated square graphic, readable by compatible mobile devices and scanners. You can use QR codes to identify products as well as a whole range of other tasks.
With Square, you can generate QR codes from your POS account that provide contactless payment for online and in-store purchases and self-ordering options.
---
2. Make a Barcode for Each Product
Once you've created your product codes, your next step is to input your codes into a system that translates them into scannable barcodes. With barcode scanners, barcodes will save you from having to type in individual product codes by generating them into scannable images.
There are three simple ways to make barcodes for your products. They include:
Online barcode generators: Some websites will translate your product codes into a barcode you can download and save for future use. Our free barcode generator is also an example.
Retail POS systems: POS systems like Square automatically create a unique barcode based on each item's product SKU or UPC. You can also print your barcodes straight from your POS account onto a product label.
Portable barcode label printers: Handheld label printers let you key in a product code to make a barcode for your labels on the spot—perfect for mobile operations.

---
---
3. Print Your Barcode Labels
Now it's time to find the best barcode label printers. As mentioned previously, portable label makers are a great way to make and print your barcode labels on-the-go. Here we will look at other options for printing your barcode labels.
If you're creating barcode labels using a retail POS, an online site, or another software system, you can download your barcodes, convert them to a document, and use a regular printer and label sheets to print out your barcode labels. Both laser and inkjet printers are capable of printing a diverse spread of label sizes and types.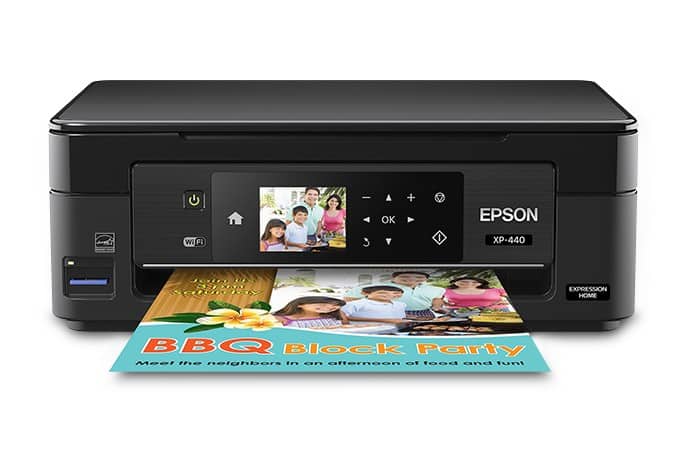 ---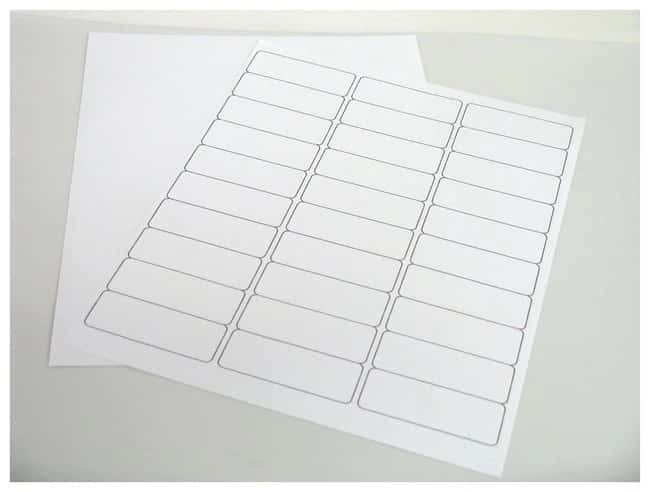 ---
You probably already have a laser or inkjet printer. If you don't, you can pick up a basic model for around $50. If you need more features for your business, like a built-in scanner or fax, all-in-ones like the Epson Expression above cost around $230.
Avery is a great source for a huge selection of precut laser and inkjet label sheets that work with most POS and other inventory management systems. With them, you can print barcode labels to the exact size and quantity that you need.
---
Thermal label printers use heat to melt a ribbon of pigment into the paper they are printing on to avoid any smudging or removing of ink. This way, your printer will never run out of ink and you can print infinite numbers of labels. These are a great option if you have to print labels often or at a high volume. They are also relatively inexpensive, starting at about $60 and going up to almost $1,000.
Dymo and Zebra are top-rated names in thermal barcode label printers. Zebra, in particular, offers a variety of high-capacity label printers, including printers that incorporate radio-frequency identification (RFID) smart label technology for wireless inventory tracking and theft prevention.
---
As we mentioned earlier, some websites will generate labels for you. Online Labels and similar sites sell printed sheets or rolls of the barcode labels you create on their site, but that comes with a price. Expect to pay about $20 per 100 label sheets. For that, you get 700 of the same codes, printed on ready-to-use labels.
Shipping times are fast—usually arriving in three to five days—and it can be a great way to save time. Websites through which you can order labels are popular with manufacturers that need large quantities of labels but don't want to fuss with printing labels themselves.
---
Video Tutorial: Creating Barcode Labels
For an in-depth video explanation and walkthrough for creating barcode labels watch this quick 5-minute video below.
How to Make a Barcode FAQs
Yes, you can create your own barcodes. Simply follow the steps in this post:
Create your product codes
Make a barcode for each product
Print your barcode labels
---
You get a UPC from GS1 or your supplier, and you create your SKU numbers yourself.
---
Yes, you can create barcodes in Excel. You can follow a guide like this one from Smartsheet. However, there are many free online barcode generators that may be easier to use if you're not versed in Excel. We have a barcode generator at the top of this article.
---
Companies create barcodes by setting up a unique structure for assigning unique identifiers to each product they sell. UPCs come from GS1, while SKUs are set internally by each individual company.
---
It costs $250 for 10 UPCs. It's free to create SKUs. After that, the only costs involved are printing the labels.
---
No, technically you don't need a barcode to sell a product. However, using barcodes makes it easier to track and manage sales, transactions, inventory, and more. It's best to use barcodes when selling products.
---
Bottom Line
When determining how to make a barcode, businesses should first look at the tools they already have. If you have a POS system that offers built-in barcode generators, that is your best option. If you need to quickly make a barcode for a singular event, a free online generator would be your best option.
Most retail and ecommerce businesses would benefit from using a POS system to make barcodes. In addition to easily making and printing barcodes, Square for Retail gives businesses detailed inventory tracking from the moment the product is ordered to when it is sold. These management tools help streamline your entire operation. To check it out for yourself, sign up for a free trial below.