This article is part of a larger series on POS Systems.
Cafes are a unique niche within the larger hospitality industry—they're a little bit restaurant and a little bit retail. A strong cafe point-of-sale (POS) system should have cash management functions like dual cash drawer tills and volume-supporting features like drive-thru management. Considering most cafes' low price point, the best cafe POS system should also be affordable.
Based on our evaluation of over a dozen software, the best cafe POS systems are:
Top Cafe POS Systems Compared
| | Monthly software fees | In-person processing fees | Contract length | Free trial |
| --- | --- | --- | --- | --- |
| | $39–$289+ | Varies by processor; Lightspeed Payments is 2.6% + 10 cents | 1 year | Yes; 14 days |
| | $0–$165+ | 2.49% + 15 cents | 2 year | ✕ |
| | $99 | Varies by processor | 3 years | ✕ |
| | $0–$60+ | 2.6% + 10 cents | No long-term contract | ✓; 30 days |
| | $69 | Custom-quoted | 2 years | ✕ |
| | Custom-quoted | Custom-quoted | Month to month | ✕ |
| | $69 | Varies by processor | 1 year | ✕ |
Which cafe POS is right for you?
Lightspeed Restaurant: Best Overall Cafe POS

What We Like
Easy to self-install
Supports more than one payment processor
Built-in "Order Ahead" tool good for curbside pickup
14-day free trial
What's Missing
Does not have drive-thru management
Hardware is not industry-grade
Training resources are less robust than competitors
Lightspeed Deciding Factors
Monthly software fee:

Essentials: $39
Plus: $119
Pro: $289
Enterprise: Custom-quoted

Installation fee: None; self-installable
Hardware costs: You can bring your own compatible hardware; prices from Lightspeed are custom-quoted
Processing fees: Varies by processor; Lightspeed supports Worldpay, Cayan, BridgePay. Built-in Lightspeed Payments starts at 2.6% + 10 cents for in-person transactions
Contract length: 1 year
Lightspeed is a browser-based cloud POS that operates on iPads. It is the Goldilocks of cafe POS systems, striking just the right balance by providing the features you need without overwhelming you with features you don't. It is affordable, easy to self-install, and has built-in features like Order Ahead (which is great for curbside pickup), multiple payment processors, and dual cash drawer capability.
Also regularly appearing on our list of best POS for restaurants, Lightspeed Restaurant earned a 4.45 out of 5 on our cafe POS scoring system. With all its features, Lightspeed ticked nearly every box we asked a cafe POS to check. It only falls short when it comes to drive-thru management tools (it offers none at this time; if you need drive-thru management, see Toast, Revel, or Cake). And, while the iPad POS is cost-effective, it is not the most durable in a high-volume setting (if you need spill-proof hardware, check out Toast or Cake).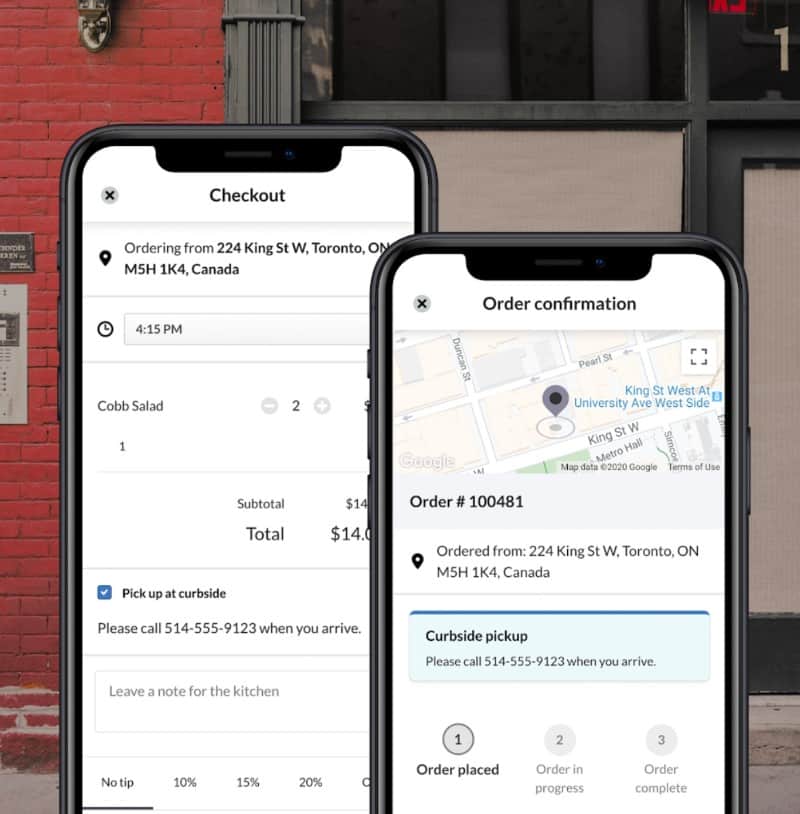 ---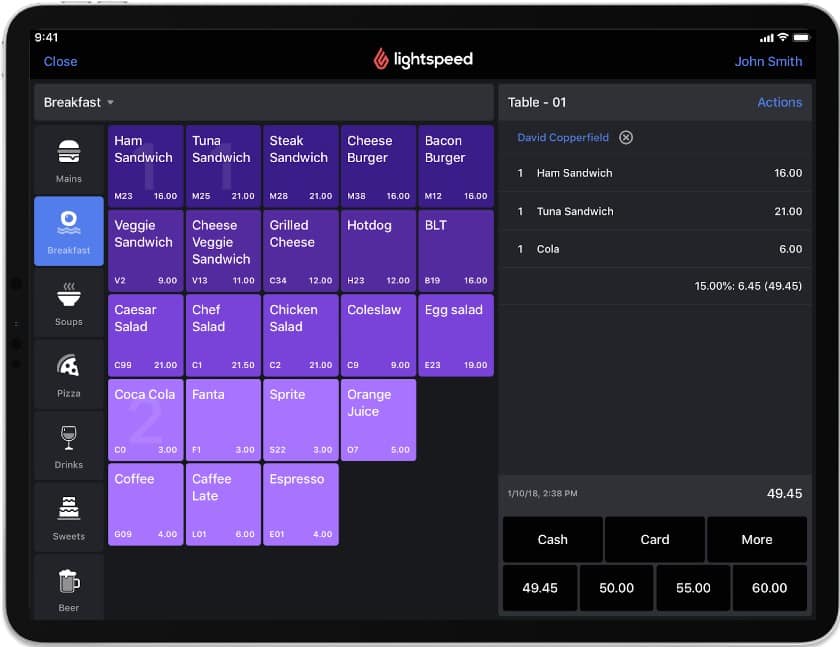 ---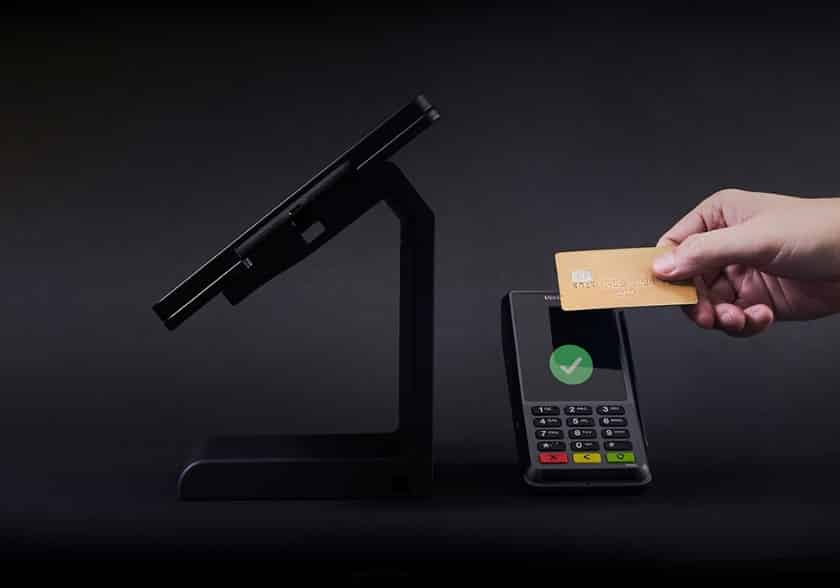 ---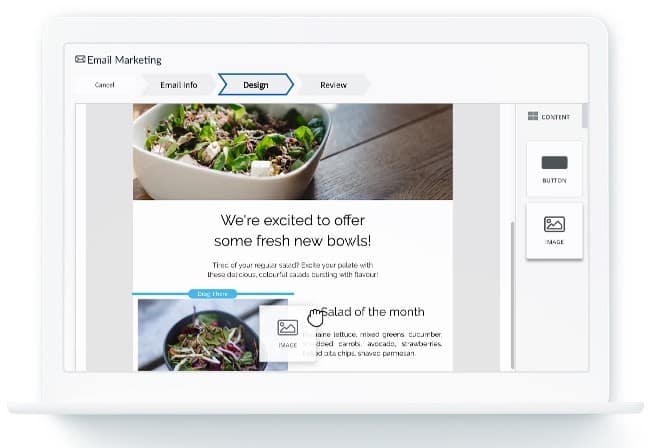 ---
Lightspeed Hardware & Standout Features
Our evaluation put a strong emphasis on cafe-specific features and functionality—and that is exactly where Lightspeed shines. It offers online and advanced ordering, customer-facing kiosks, and label printing. This system is one that enables easy and efficient in-person service, curbside service, to-go, and online ordering. It also allows for tills with two cash drawers, which helps optimize staff breaks, shift changes, and cash count accuracy.
Lightspeed Restaurant Hardware
iPad POS Hardware Kit

BBPOS Chipper 2X Card Reader

Socket 7Ci Barcode Scanner

iPad stand, cash drawer, receipt printer, kitchen printer

Lightning connected tap, dip, and swipe card reader

Bluetooth-enabled barcode scanner
Lightspeed's standout features include:
Easy Self-installation: Lightspeed is quick to set up and easy to install yourself. You can purchase iPads from Lightspeed or bring your own and use Lightspeed cases and stands. You can download the POS software directly from the Apple App Store and get started taking orders in a single afternoon.
Order Ahead: Contactless service is popular with customers. Lightspeed's built-in Order Ahead feature allows customers to place pickup orders from any web-enabled device. It is perfect for curbside pickup. While this is notably not the same as a drive-thru feature, it still allows for on-the-go customers to place orders and pay without going indoors.
Supports Multiple Payment Processors: Lightspeed allows owners to shop around for the best payment processors for their needs while still offering the convenience of built-in payments. Other cafe POS systems on this list (Square, Toast, SpotOn, and Cake) only support built-in processing.
Has Dual Cash Drawers: High-volume counter service businesses know the headache of trying to keep a cash till balanced among multiple people, across breaks and between multiple shifts. It is nearly impossible. The dual cash drawer feature allows both managers and staff to keep track of individual cash drawers easily regardless of meal and shift breaks. In a fast-paced cafe, this is vital.
---
Toast: Best for Growth

What We Like
Baseline subscription is free
Industry-rated hardware built to withstand cafe environment, available with pay-as-you-go pricing
Supports basic drive-thru management tools
Robust features for growing beyond a single location or adding additional revenue channels
What's Missing
Locked into Toast for payment processing
Requires Toast hardware; you cannot bring hardware you already own
2-year contract
Toast Deciding Factors
Monthly software subscription fee:

Starter: $0
Essentials: $165
Growth: Custom-quoted

Hardware costs: Pay-as-you-go terminal kits (including touch-screen terminal, card reader, and router) from $0; Up-front terminal price is $799
One-time installation fees: From $0 to $299+, depending on your configuration and whether you self-install or request in-person installation
Processing fees: 2.49% + 15 cents for in-person transactions for standard customers; 2.99% + 15 cents per in-person transaction for pay-as-you-go customers. Volume processing discounts are available.
Toast is a hybrid POS designed specifically for restaurants. With three subscription levels—including a free Starter subscription—it has a package for cafes of all sizes. As you grow your cafe into, say, a citywide powerhouse with multiple locations, Toast will grow with you. With its free entry-level service and starter-kit terminal, it makes opening a cafe straightforward and easy. It also regularly appears on our rankings of best POS systems for small businesses.
Many cloud-based POS systems rely on consumer-grade hardware that can't withstand the rigors of this industry. Toast's proprietary hardware, on the other hand, is built to take the beating that high-volume hospitality will undoubtedly give it. In our analysis, the durability of Toast's hardware is matched only by Cake's. It is also one of the few POS systems that offers drive-thru management, which is vital to many large suburban and urban high-traffic cafes.
Toast earned a 4.31 out of 5 on our cafe POS scoring system, earning strong marks for its free Starter POS with pay-as-you-go hardware options. It also scored well for its general POS functions and niche tools like drive-thru management and dual cash drawer tills. But, Toast's durable proprietary hardware comes with a catch: You can't simply run to an electronics store to grab an additional tablet. Granted, it is so durable that it will likely break far less frequently than, say, Lightspeed's iPad-based terminals. Toast also locks you into its payment processor and requires a two-year service contract.
If you prefer to shop for the best processing rates, check out Lightspeed or Revel. If you need a short-term month-to-month contract, try Square or SpotOn. Be aware that most of those systems operate on iPads, though, so you will be losing some durability.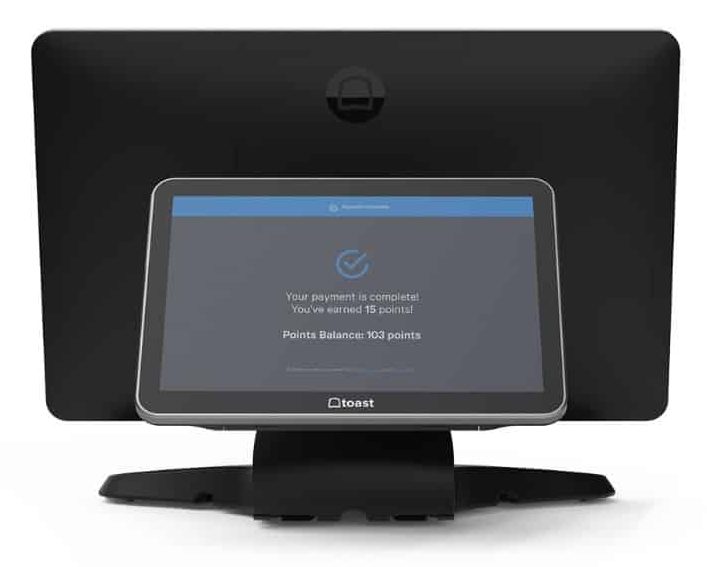 ---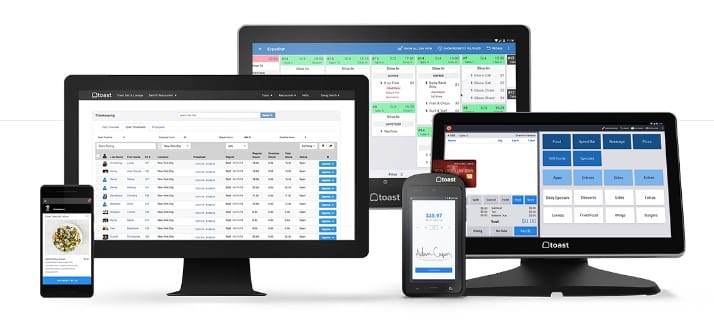 ---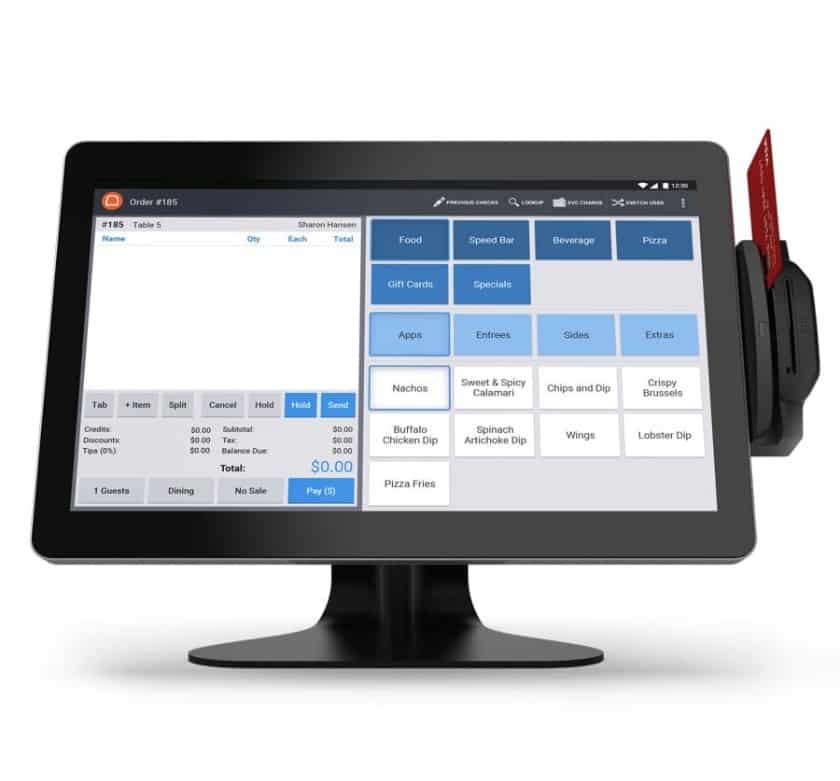 ---
Toast Hardware & Standout Features
Toast is one of only two options on this list that offer a free entry-level subscription (Square for Restaurants is the other). Toast is an industry-leading POS system that comes with durable hardware (nearly as durable as Cake's) and good drive-thru capability (rivaled only by Revel in our rankings). It also offers some of the best training and customer service in the business.
Toast Hardware
Hardware Starter Kit

Handheld Terminal Starter Kit

Customer-facing Display

$799 or pay-as-you-go with 2.99% + 15 cents processing

$609 + $50 per month or pay-as-you-go with 2.99% + 15 cents

$200

Toast Flex terminal, Toast Tap payment device, PCI-Compliant router

Toast Go 2 Handheld, Mobile Access Point, PCI-Compliant router

Customer-facing display for Toast Flex terminal
Toast's standout features include:
Free Starter Subscription: Toast offers a baseline subscription for free. Couple this low barrier to entry with its near bottomless features and functionality and Toast is a POS to be reckoned with, regardless of the size of your operation.
Industry-rated Hardware: In a field filled with consumer-grade tablets, Toast's industry-rated hardware offers a level of durability that is hard to find. With hot liquids, steam, and the hectic environment of a morning coffee rush, cafes need equipment that is up to the task.
Drive-thru Management: Contactless service continues to be popular, and drive-thrus can offer a level of comfort and security that few other service options provide. Toast's POS comes with drive-thru management capabilities that allow a cafe to maximize its service options. Drive-thru sales, which have their own workflow through your order screens and kitchen display system (KDS), if you use one, are categorized separately from other sales for reporting purposes, so you can see your sales and costs for your drive-thru alone.
Robust Features Built for Growth: Toast has every tool that a restaurant could need, from ingredient-level inventory with vendor management to online ordering, payroll management, and tip-pooling tools. For those looking to grow their cafe beyond coffee and pastries, Toast is a perfect choice.
Hungry to learn more about Toast? Read our full Toast review, which includes a video walk-through of Toast's software.
---
Revel: Best for Multilocation Drive-thru Cafes

What We Like
Strongest drive-thru features available in a cloud POS
Supports multiple payment processors
Dual cash drawer tills
Robust inventory tools
What's Missing
3-year contract
Lack of durable hardware
Pricey
Revel Deciding Factors
Monthly software fee: $99 for a single terminal
Hardware costs: Custom-quoted
One-time Installation fee: Starting at $674
Processing fees: Varies by processor. Users can choose from triPOS, FreedomPay, First Data, Heartland, TSYS, Worldpay, Chase Paymentech, Elavon, or Revel Advantage
Revel Systems was the first iPad POS designed specifically for restaurants. Some might be put off by the price tag; $99 per month, with a two terminal minimum plus an installation fee of at least $674. But Revel offers industry-leading drive-thru management along with equally unrivaled inventory tools. It is unique in that it doesn't lock you into a proprietary payment system, which can be a lifesaver for multilocation cafes that want to get the best processing rates. While Toast might grow with you, Revel is waiting and ready for chain cafe businesses that have already grown up.
On our scoring criteria, Revel earned a 4.33 out of 5. It received high marks for its drive-thru management, dual cash drawer tills, and inventory tools. These three functions are not necessary for all cafes, but for those that need them, they are indispensable. Smaller cafe operations will likely lack drive-thrus and in their case, Revel is not worth the cost; single-venue cafes should look to Toast or Lightspeed for more affordable tools.  All the other options on this list are lower priced than Revel, making it a tough sell for budget-conscious business owners.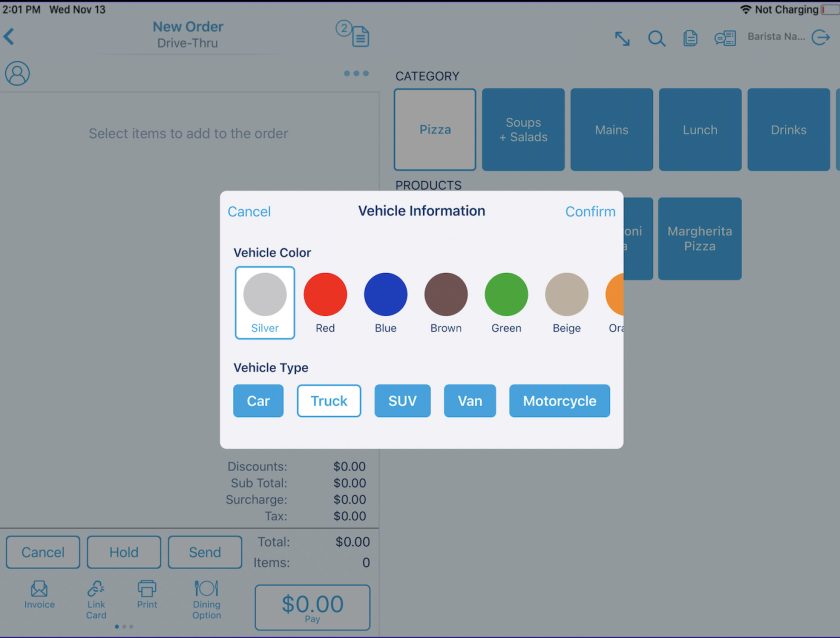 ---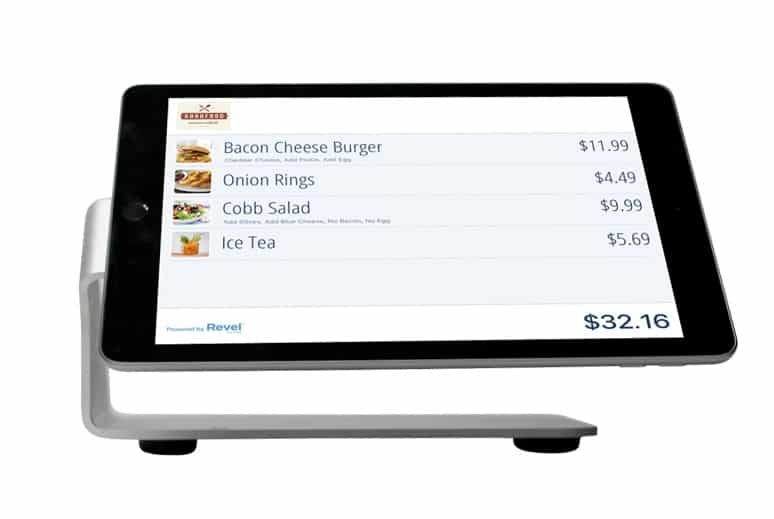 ---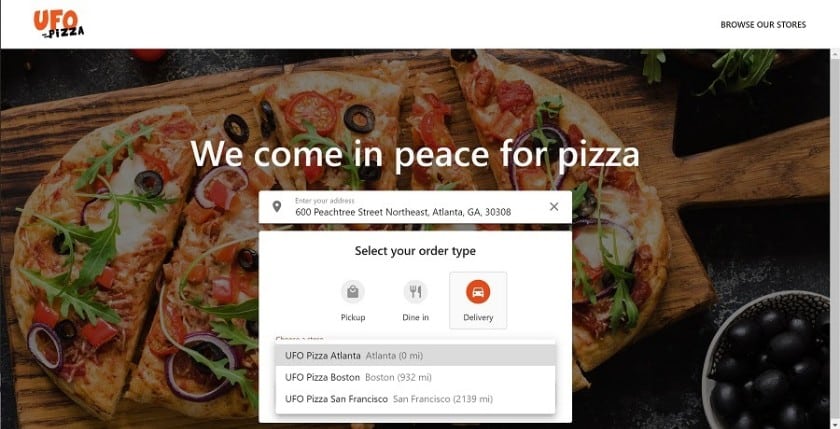 ---
Revel Hardware & Standout Features
With better inventory tracking and drive-thru tools than the others on this list, Revel stands out where it counts. These leading features also come with other functions that support a busy cafe, like dual cash drawers and flexible payment processing. This makes Revel a truly unique option. Perhaps too much machine for smaller operations, it is perfect for a very particular type of cafe: high-volume operations with drive-thrus.
Revel Hardware
L-Stand with Customer-facing Display

C-stand

CipherLab 2564

Countertop iPad stand with support for customer-facing display

Low-profile, countertop iPad stand

Bluetooth-enabled barcode scanner
Revel's standout features include:
Robust Drive-thru Functions: Revel's software allows you to track drive-thru orders and vital drive-thru statistics. Your team can note what type of vehicle is associated with each drive-thru order to avoid order mix-ups. The on-screen drive-thru order queue lets cashiers review orders and accept payments without navigating to a separate screen, which keeps your drive-thru line moving swiftly.
Leading Inventory Tools: Its ingredient-level inventory tracking tools include purchase order management. Your system will alert you when you are low on ingredients, and you can compose new orders directly in the management dashboard. From there, orders are emailed to your vendors. You can receive deliveries and process invoices with minimal data entry, saving administrative time.
Supports Multiple Payment Processors: Like Lightspeed Restaurant, Revel integrates with several payment processors, though Revel supports 10 processors to Lightspeed's four. Payment processing fees vary widely and wildly. Owners looking to save money on these fees will love that Revel allows them to shop around for the best rates.
Supports Dual Cash Drawer Tills: Busy cafes will likely need multiple cash drawers for their large staff. Dual cash drawer tills will allow you to assign tills to staff without the headache of closing tills and reassigning banks at every break and shift change. Or worse, having multiple staff members operate from the same till, which can lead to untraceable cash and a breeding ground for employee theft.
Read more about the platform's features in our full Revel review, complete with a video walkthrough of this massively functional POS.
---
Square for Restaurants: Best for Cafes on a Budget

What We Like
Free baseline subscriptions
Supports third-party hardware
No long-term contracts
Safe introduction to POS systems
What's Missing
Locked into Square's payment processor
Does not support drive-thru functionality dual cash drawers, or ingredient-level inventory tracking
Some hardware lacks durability
Square Deciding Factors
Software subscription fee:

Free: $0 per month for unlimited terminals
Plus: $60 per month for unlimited terminals
Premium: Custom-quoted

Hardware costs: From $49 for a card reader (though Square will send your first card reader for free) to $1,668 for a complete Square POS kit with an iPad, stand, cash drawer, card reader, receipt printer, and kitchen printer
One-time Installation fees: None
Processing fees: 2.6% + 10 cents per in-person tapped, dipped, or swiped transaction; 2.9% + 30 cents for online transactions; 3.5% + 15 cents for manually keyed transactions
Square for Restaurants is a cloud-based POS that operates within the ever-expanding Square software ecosystem. For our 2022 cafe POS evaluation, we looked at Square's current functionality and found it to be the best option for budget-conscious cafes, as it offers a practical, inexpensive, and commitment-free option to transition from a cash register to a POS. Like Toast, Square's baseline POS subscription is free—though unlike Toast, which requires a two-year contract, Square has no long-term contracts. You can cancel your Square POS subscription at any time with no penalties.
The Square POS can be operated from iPads that you already own; all you need is a Square card reader (which Square will send you for free) and a Square account. The built-in processing also takes no time to set up, so you can start accepting debit, credit, and mobile payments in an afternoon.
Square for Restaurants earned a 3.89 out of 5 on our scoring system. It scored well for its free baseline software price and for supporting software for an unlimited number of POS devices. The free, integrated online store also earned high marks. It lost some points for its lack of niche features like ingredient-level inventory, drive-thru management, and dual cash drawer tills. If your cafe needs these, you'll be better served by Toast, Revel, or Cake. But, if your operation is small and does not need drive-thru support, Square has everything you need. There's a reason you see a Square terminal in virtually every small coffee shop around.

---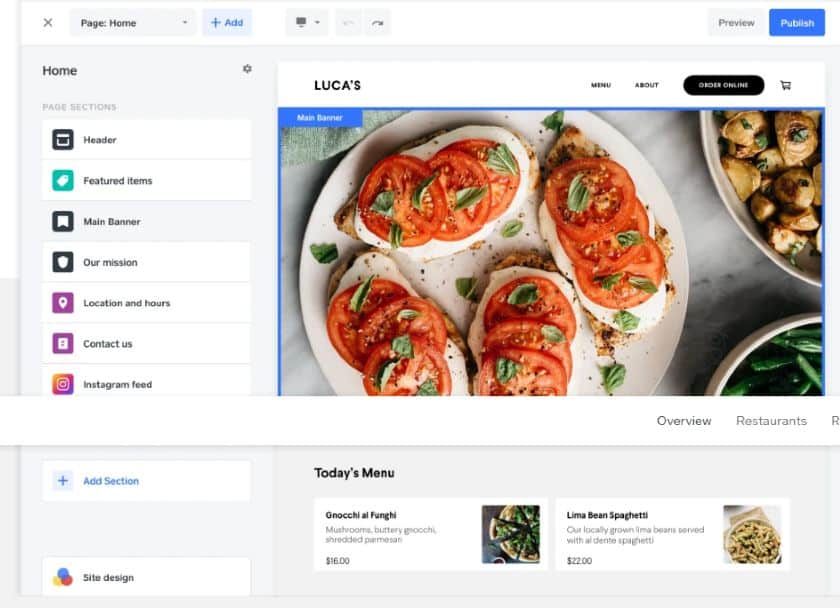 ---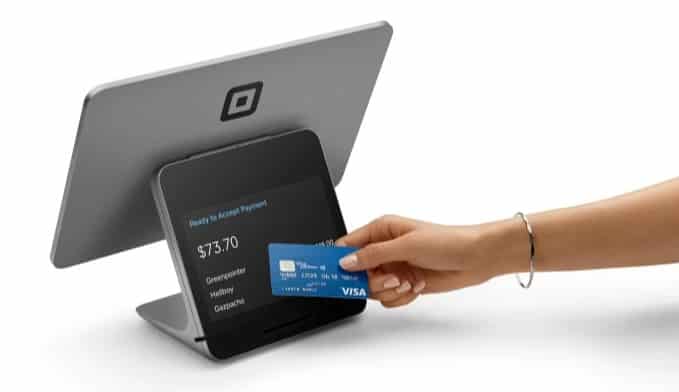 ---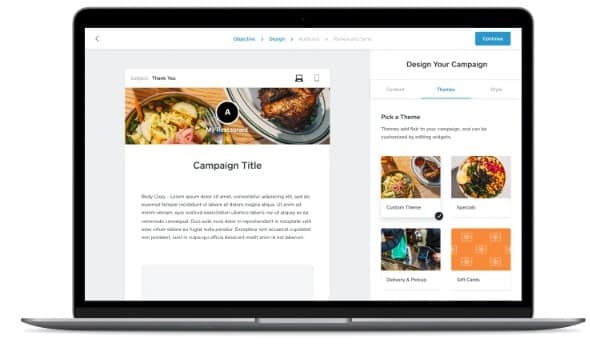 ---
Square Hardware & Standout Features
Square is perfectly suited for the charming cafe that needs to replace its decades-old cash registers with a cloud-based POS system. It is easy to opt in and just as easy to opt out. Square allows you to bring your own hardware or purchase hardware from Square.
Square Hardware
| Square Stand | Square Register | Square Terminal |
| --- | --- | --- |
| | | |
| $149 upfront or $14/mo for 12 months | $799 upfront or $39/mo for 24 months | $299 upfront, or $27/mo for 12 months |
| Swivel-enabled iPad stand with built-in tap and chip card reader | Square-built touch-screen terminal with built-in swipe, tap, and dip card reader and customer-facing display | Handheld order and payment terminal |
| | | |
This system is great for cafes whose primary concern is taking digital payments from customers. It might lack some of the higher-end, higher-volume functionality of other systems, but for small cafes, Square is a perfect fit.
Square's standout features include:
Free Baseline Subscription: Square's baseline POS subscription is completely free and does not include table or course management, but that shouldn't be a limiting factor for cafes that mostly serve coffees and grab-and-go food. If you need additional features, the Plus package includes table and course management and additional reporting for $60 per month.
Flexible Hardware: It is not necessary to purchase any new equipment to run Square. This POS will run on any iPad. You can bulk up your existing hardware with iPad stands, various types of card readers, cash drawers, barcode scanners, and KDS screens as needed. This makes Square one of the most versatile POSes on our list.
No Long-term Contracts: Square is not only easy to join but easy to leave. There are no long-term contracts with Square. This makes Square one of the most flexible POSes on our list.
Compatible With Square Small Business Tools: In addition to free POS software, Square offers many other free tools that all work together, including Square Online store and Online Checkout for pickup and delivery orders, customer feedback tools, and reporting dashboards.
Modular Add-ons: Square offers plenty of paid add-ons in addition to the ecosystem of free tools, including payroll and team management, loyalty programs, marketing, gift cards, and customer management tools. Businesses can add and remove any of these features at any time.
---
Cake: Best for Durable Hardware

What We Like
Exceptionally durable hardware
Excellent online training resources
Supports drive-thru operations and dual cash drawer tills
Curbside pickup tools include in-POS two-way SMS text messaging
What's Missing
Requires proprietary hardware
Inventory does not sync with online ordering module
2-year contract
Cake Deciding Factors:
Software subscription fee: $69 per month for a single terminal; $49 per each additional terminal
Hardware costs: Custom-quoted
One-time installation fees: You can self-install this system using the detailed online tutorials. In-person installation is optional an and custom quoted
Processing fees: Custom-quoted
Cake is a cloud POS originally designed by mainline distributor Sysco. In August 2020, retail software company Mad Mobile purchased Cake and pretty much immediately improved the curbside ordering functions. Cake's POS is designed to outlast even the most caffeinated customers and the clumsiest employees. Cafes sell hot liquid to tired clientele at a time of day where few possess maximal dexterity. If you drop a coffee on your Cake POS, then Cake will likely be fine; this system is designed to be spill-proof.
The system receives raves from its customers for its excellent technical support. Cake also maintains a detailed and easy-to-navigate online knowledgebase—Cake University—that includes detailed text and video tutorials for everything from installing your system to managing curbside pickups. These training resources are second only to Toast, (which greatly expanded its training library in 2022).
The Cake platform earned a 3.83 out of 5 on our cafe POS scoring system. It received solid scores for general POS functions and from our experts, and leads the way in customer reviews, earning ratings of 4.6 to 4.8 on popular customer review sites. Cake also comes with robust inventory tools, drive-thru management capability, and leading hardware durability. It lost points because that hardware is proprietary and its amazing customer support and training tools come with a two-year contract. If you don't need spill-proof hardware and want to avoid long-term contracts, you'll prefer Square for Restaurants.
A strange quirk of Cake is that its inventory software doesn't sync with its online ordering platform. So, when a cafe's internal inventory shows that they are, say, out of French Roast beans, this information does not automatically populate the cafe's online product quantity. You will have to manually adjust the quantity on-hand in the online order module. If you want inventory that automatically updates across ordering channels, look at Toast or Revel.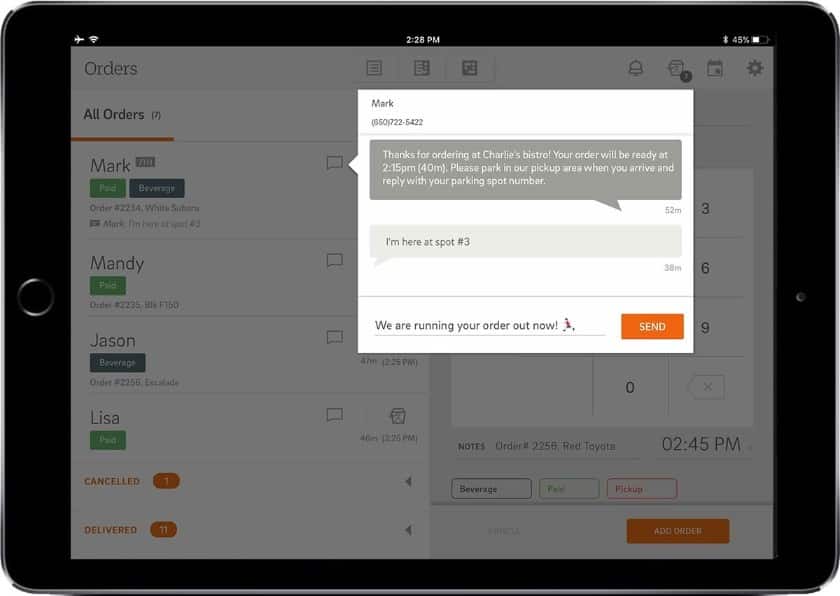 ---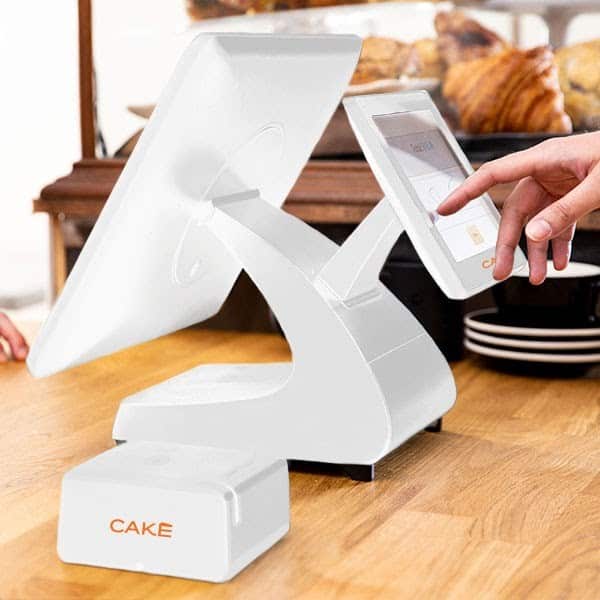 ---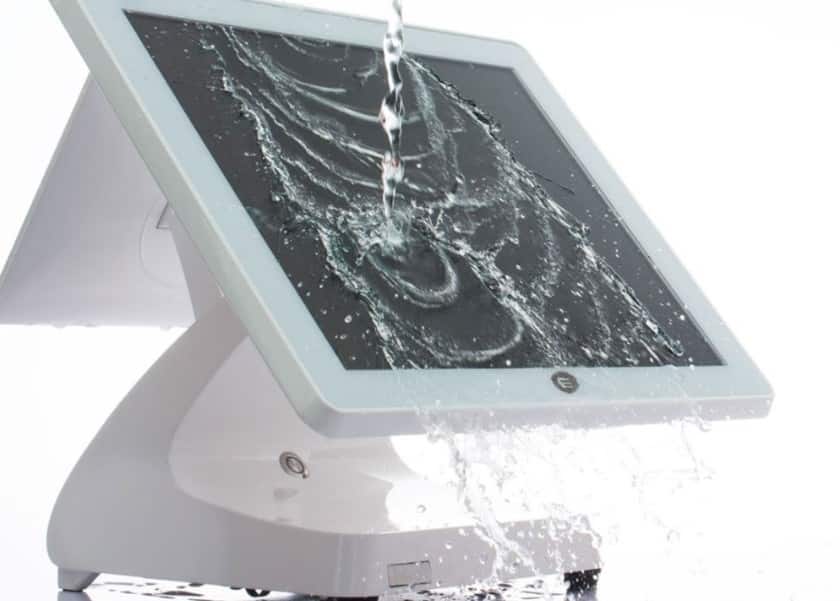 ---
Cake Hardware & Standout Features
Cake comes with excellent customer support and every POS function a cafe needs, from speedy ordering to basic drive-thru management. Its curbside order management tools are some of the best available in a cloud POS. They also get a lot of mileage out of their industry-grade hardware. The stationary POS terminals are streamlined without bevels or lips where water, dust, or steam could penetrate the screens.
Cake Hardware
Cake POS Terminal

Cake OrderPad

Cake Payment Cube

Bevel-less, spill-proof countertop POS terminal with built-in customer display

Handheld mobile POS tablet with attached card reader

Tap, dip, and swipe enabled card reader
Cake's standout features include:
Durable Hardware: Cake's hardware is built to thrive in the fast-paced and knock-around world of cafes. Its terminals can withstand sustained, direct liquid spillage and high heat and steam.
Robust Curbside Order Management: This POS includes curbside order management tools as part of its Guest Management module. This tool can be a little pricey, with a $199 setup fee and ongoing software fees of $79 per month. But, it comes with a 30-day free trial, so you can check if it is a fit before committing. With this feature, you can see an organized order queue of your upcoming curbside pickups, receive customer text messages in the queue, and respond directly to messages via the POS. No constantly ringing phones or sharing your personal cell number to keep curbside running.
Comprehensive Online Training and Customer Support: Cake support is available 24/7 year-round. It also has one of the most robust and user-friendly online training courses available. The training resources are both text- and video-based, so you can scan a written tutorial for the information you need rather than sitting through an entire video when troubleshooting the middle of a busy service.
Drive-thru Management: Cake offers drive-thru customization and– like Toast– lets you track your drive-thru costs and sales in a separate revenue category for accurate reporting. But, also like Toast, Cake's drive-thru management features stop short of the vehicle tracking and specialized drive-thru speed screens included in a Revel POS. If your drive-thru is a secondary revenue stream rather than your primary one, Cake has you covered. But if your drive-thru is high-volume, you'll be better served by Revel.
---
SpotOn: Best for Switching From Cash Only

What We Like
Highly customizable system
Streamlined cash discounting tools
Month-to-month contracts
What's Missing
Hardware and software require a custom-quote
Locked into SpotOn for payments
Customizable set-up requires some lead time
SpotOn Deciding Factors
Monthly software fee: Varies based on selected hardware; we've been quoted rates from $35 to $65 per terminal per month
Hardware: Custom-quoted
Installation fee: Custom-quoted
Contract length: Month-to-month
Payment processing: Custom-quoted (though user reviews mention that their rates are competitive)
SpotOn is a cloud-based POS that operates on Windows-based touch-screen tablets and industry-grade handheld terminals. Like Square, SpotOn does not require long-term contracts; users can cancel at any time. Plus, it includes options for cash discounting, a pricing tool that allows small businesses to offset the costs of credit card processing. This can be a huge equalizer for cash-only cafes that have hesitated to accept digital payments because of the added cost.
This POS earned a 3.81 out of a possible 5 on our cafe scoring system, getting high marks for ease of use, which reflects its robust customer support. It also scored well amongst our experts, who also considered user reviews. SpotOn had some of the highest customer ratings of any system on this list, averaging between 4.5 and 4.7 on popular review sites. It could have scored higher if it supported more payment processors (as Lightspeed, Revel, and TouchBistro do).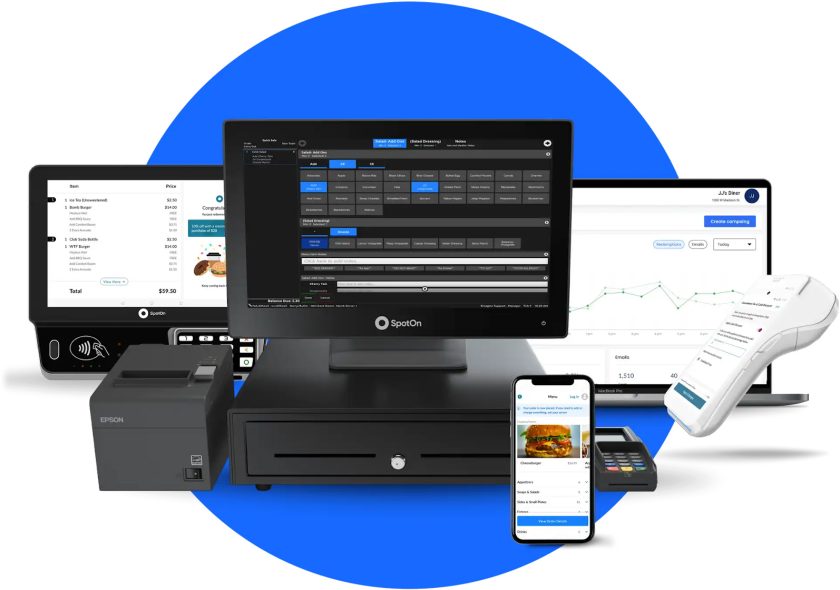 ---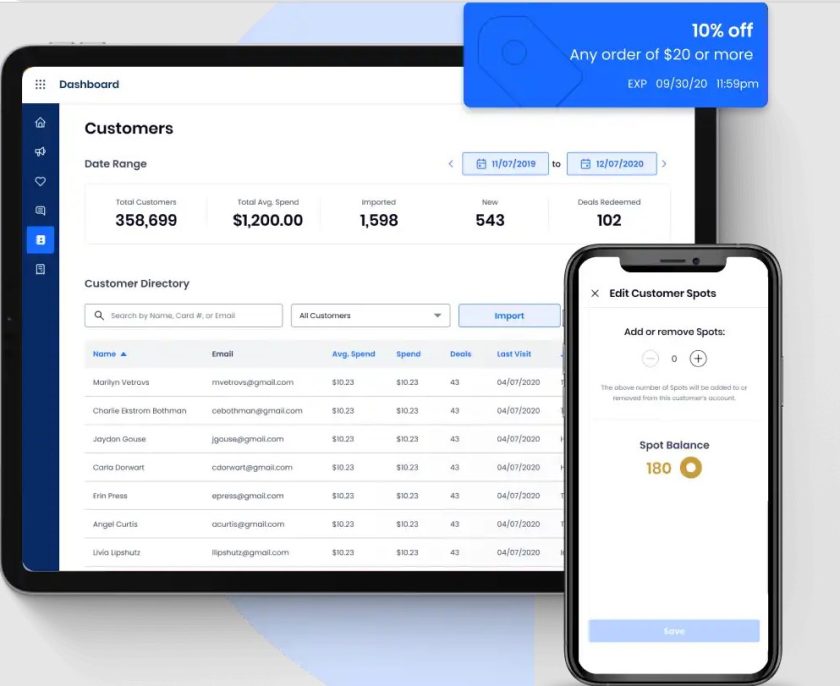 ---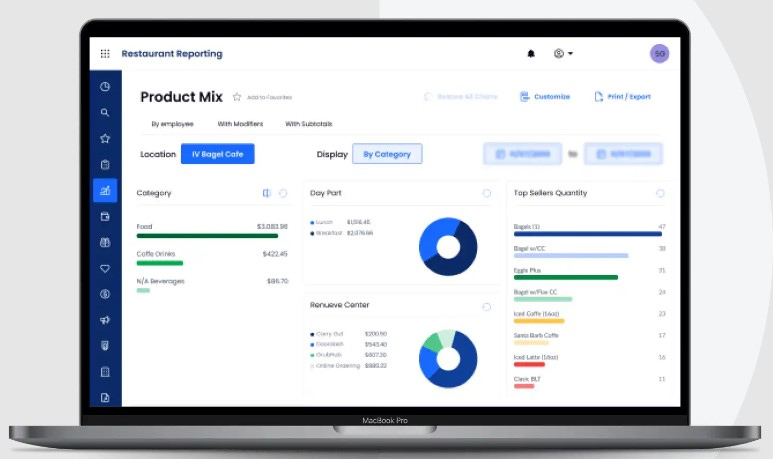 ---
SpotOn Hardware & Standout Features
SpotOn Hardware & Standout Features
SpotOn includes some unique hardware tools, including smartphone-enabled mobile card readers, pocket-sized order and payment terminals, and stationary POS terminals. Your monthly software fees will vary based on your hardware selections. You'll need to contact SpotOn directly for full pricing information, which will also include a quote for payment processing and installation.
SpotOn Hardware
SpotOn Register

SpotOn Sidekick Terminal

Mobile Card Reader

Stationary or handheld register with built-in card reader and pin pad

Handheld order and payment device with built-in receipt printer

Smartphone-enabled mobile tap and chip card reader
SpotOn's standout features include:
Cash Discount Setting: SpotOn users can enter multiple prices in their POS for each menu item. So, you can easily charge one price for an item when it is paid in cash, purchased in person, or ordered online. This function allows small cafes switching from cash-only operations to offset the cost of payment processing by building the cost into their baseline menu prices.
Endless Customization: The SpotOn team guides you through your installation process, designing custom speed screens and other features as you need them. This ensures that your POS screens will operate exactly as your cafe needs them to. You won't have to tailor your processes to the POS. This does come with some extra lead time, though. It can take two weeks to a month to get your POS configured the way you want it.
Flexible, Industry-grade Hardware: Like Toast and Cake, SpotOn operates on industry-grade terminals. SpotOn includes highly functional options for stationary terminals alongside large-screen and pocket-sized options for handheld order and payment devices. These are great for line-busting in busy cafes, or supporting table service.
Highly Reviewed Customer Support: Practically every published user review of SpotOn mentions the friendly and knowledgeable support team. They also note that the support technicians continue to check in after the system is up and running to ensure your business success. This also reflects our experience interacting with the SpotOn team. If you are technophobic, SpotOn will ensure you understand your POS inside and out.
Is cash discounting legal? You may have heard that agreements with credit card brands prevent small businesses from charging a service fee for using credit cards. Cash discounting is different. With cash discounting, you build the cost of payment processing into your baseline menu price. Then, you offer a discount of 3% to 4% to customers who pay in cash. Offering the discount encourages cash sales, while building the cost of processing into your menu price offsets the cost of accepting credit card payments.
---
TouchBistro: Best for Staff Training

What We Like
Easy to train staff on iOS-based system
Supports multiple payment processors
Cash discounting tools
24/7 phone, email, and chat support
What's Missing
Reports are not customizable
Hardware and payment processing fees require custom quotes
No free trial
TouchBistro Deciding Factors
Monthly software fees: $69 for a single terminal
(Pricing is tiered for additional terminals; contact TouchBistro for a quote)
Hardware Costs: Custom-quoted
Installation fee: $0
Contract length: 1 year
Payment processing: Varies by processor; TouchBistro Payments, Square, TSYS, and Worldpay
TouchBistro is an iPad POS that—like Square and Lightspeed—is easy to self-install. Like Revel and Lightspeed, it supports multiple payment processors and operates on iPads. Cost-wise, TouchBistro falls in the middle of the pack at $69 per terminal, per month. But, where this system excels is how easy it is to use. The POS interface and management dashboard are iOS-based, and operate intuitively like a large smartphone. If you have ever used an iPhone, you already know how to navigate TouchBistro. This familiar user interface also speeds your employee training time, making TouchBistro an excellent choice for cafes that have high employee turnover.
TouchBistro earned a 3.65 out of 5 on our cafe POS ranking. This user-friendly POS earned points for supporting multiple payment processors and for its incredible ease of use. It could have scored higher if it included drive-thru management tools or offered a free baseline subscription like Toast and Square do. And, though templated reporting is included in the baseline POS, TouchBistro's reports are less customizable than others on this list. If you don't care to get granular on your reporting, TouchBistro will be fine. But if you like to drill down to the nitty-gritty and create custom reports, Toast and Revel both have stronger tools.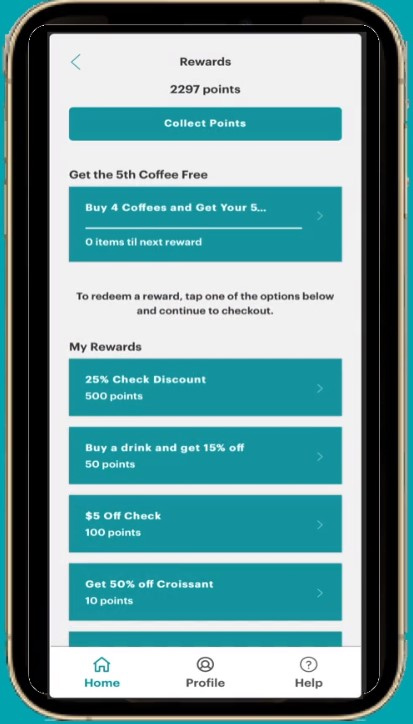 ---
---

---
TouchBistro Hardware & Standout Features
TouchBistro has long been a favorite POS for mom-and-pop businesses because it is so easy to use. Many customer reviews mention that their new staff members learn the system in less than an hour. This ease of use can save you labor hours if your cafe sees a lot of employee turnover.
Like Lightspeed, Square, and Revel, TouchBistro operates on iPads. As with those systems, this can be both a plus and a minus. iPad hardware tends to be more affordable for small cafes, but it is less able to withstand spills, steam, and dust intrusion than the industry-specific hardware you find in a system like Toast or Cake. That said, TouchBistro uses iPads in innovative ways to create a comprehensive POS with terminals, customer-facing displays, and kitchen display system (KDS) screens.
TouchBistro Hardware
TouchBistro Terminal Kit

Kitchen Display Screen

Customer-facing Display

iPad stand, cash drawer, card reader, and receipt printer

Kitchen display stand

POS stand with customer-facing display
TouchBistro's standout features include:
Visual Menus: You can set your TouchBistro POS with item images on order buttons to reduce ringing errors. The system includes full item descriptions when cashiers hover over them so they can easily answer questions about ingredients and allergens. Upselling prompts ensure your team never misses a chance to add-on to a sale.
Flexible Loyalty: TouchBistro offers built-in loyalty tools (available at $99 per month) that allow you to reward points to customers for in-store and online purchases. The loyalty tool integrates with the optional marketing add-on to send customized promotions and offers.
Cash discount option: Like SpotOn, TouchBistro has the ability to apply cash discounts. TouchBistro's cash discount setting is not as automated as SpotOn's, but if you are a small shop that wants cash discounting in an iPad POS (rather than committing to SpotOn's proprietary hardware), TouchBistro has you covered.
Reports to Go: TouchBistro's cloud-based reporting app lets you access key performance data from anywhere so you aren't tied to your back office all day.
Take a deeper look at this user-friendly system by reading our full TouchBistro POS review. It includes a video walkthrough of many of TouchBistro's key features.
---
How We Evaluated Cafe POS Systems
Our evaluation of leading cafe POS systems used a scoring system that highlighted cafe-specific functionalities—like sticky label printing, dual cash drawer tills, and drive-thru management. We considered basic POS functions like inventory management, online ordering, and customized reporting. We also looked at the durability of the hardware to make sure it can withstand coffee spills and espresso steam. And, as always, we looked at pricing, user reviews, overall functionality, and customer support.
Based on the above criteria, Lightspeed emerged as the best cafe POS. The software received the highest overall score according to our grading system (4.45 out of 5).
10% of Overall Score
Because small cafes are usually on a budget, we looked at whether or not each software offers a free plan and a plan option under $75 monthly. Then, we made sure those plans include unlimited user logins, product listings, and transactions. Finally, we gave points to systems with integrated payment processing because we find it's more user-friendly and gave bonus points to systems that support more than one integrated processor so you can shop for the best rates.
30% of Overall Score
Every small business needs to track inventory, sell and accept gift card payments, and easily access reporting tools, like daily sales totals, from anywhere. Because of how businesses are currently operating—and the innate on-the-go style of cafes—we also prioritized contactless payments options, online ordering, and order-ahead features.
30% of Overall Score
We evaluated features particularly important to cafes including cash tracking and management, which is crucial for high-volume businesses. Busy cafes also benefit from templatized reporting dashboards for easy viewing, barcode scanning for ringing up pre-packaged goods and merchandise, and low-stock alerts so you never run out of ingredients. We also required each system to have tip tracking tools.
10% of Overall Score
Cafes typically open early in the morning and operate on weekends, so we prioritized solutions that offer 24/7 customer support. We also awarded points to POS systems with hybrid installation or an offline mode so they are operational if your internet goes out. Here, we also considered the available training materials and installation support.
20% of Overall Score
Finally, we considered any standout features of each individual system and whether or not the software and hardware options offer a good overall value for the price. We also judged each system's popularity with small cafe businesses and noted each system's customer review scores. Lastly, we considered our retail and restaurant expert's experience interacting with each system and support team.
*Percentages of overall score
Bottom Line
There are a handful of good POS systems that offer the functionality cafes require. Lightspeed carries the day as our overall winner for the best cafe POS system. It offers dual cash drawer capability, payment processor flexibility, and—to top it all off—easy self-installation. You can expand your system with order ahead tools to support curbside pickup and operate the system on compatible hardware you already own. To see if this system is right for your cafe, contact Lightspeed for a demo, or sign up for a 14-day free trial.