Customer relationship management (CRM) software is an effective solution for managing leads, the sales process, and sales activity. It's also a powerful tool for automating various deal, lead, and customer workflows that help you get opportunities through the pipeline efficiently. In this article, we explore seven examples of CRM workflows you can automate as well as cover how workflow automation can help your business grow.
1. Deal Management Workflows
Deal management refers to overseeing and tracking potential deals currently in the sales pipeline. It encompasses activities for generating leads through initial email or cold call campaigns, qualifying and nurturing them, conducting sales presentations or product demos, sending proposals, and finally coming to a result in a won or lost deal.
CRM platforms like Zoho CRM let you automate certain areas of a deal workflow using "if-then" conditions users can configure in the system. For example, many companies segment their sales teams and reps by potential deal size or the product/service line. In other words, "if" a deal comes in over a specific dollar amount or for a certain line of business, "then" it gets assigned to a designated sales rep.
Assigning tasks associated with deals is another solid CRM automation feature many products, including Zoho, have. Teams can set up workflows where "if" a lead moves to a new deal stage such as proposal generation or sending a purchase order, "then" the assigned rep receives a notification and new task on their dashboard to create and send pricing information.
2. Email Marketing Campaign Workflows
Deploying standard or drip campaigns to potential leads, current prospects, and customers are far more effective when automated. By constructing automated email workflows, you can send specific messages hands-free to particular audiences at certain times to optimize relationship-building strategies. Marketing CRMs such as HubSpot let you automate personalized emails as well as campaigns for larger market segments.
For example, say you generated a new lead through your website form. You can set up a system that automatically sends them a personalized "welcome" email within a specified time frame with their name, organization, and other information auto-filled in the message. You can also configure the system to follow up with other emails depending on how they interact with your previous messages.
Alternatively, large-scale campaigns sent to a mass audience can be tailored to a segment. In other words, you can send one set of content to one audience while sending another set to a different audience. Additionally, you can adjust email settings based on how your leads engage with your content. For example, if someone repeatedly clicks on email links to your blog, you can auto-enroll them on another email list that sends newly published blog articles each week.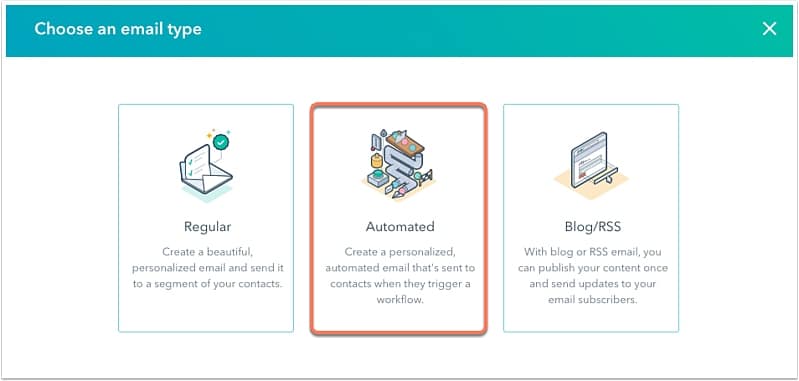 ---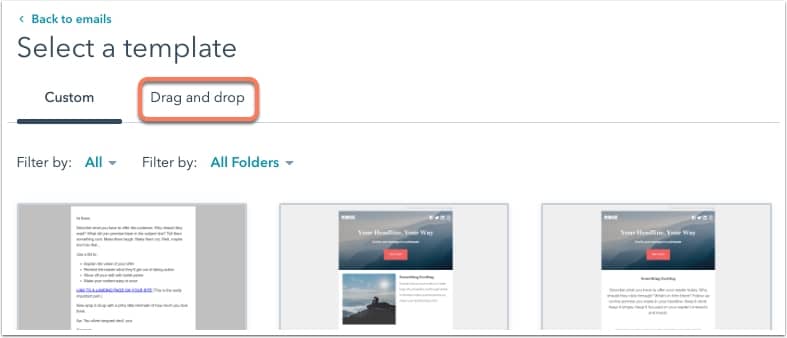 ---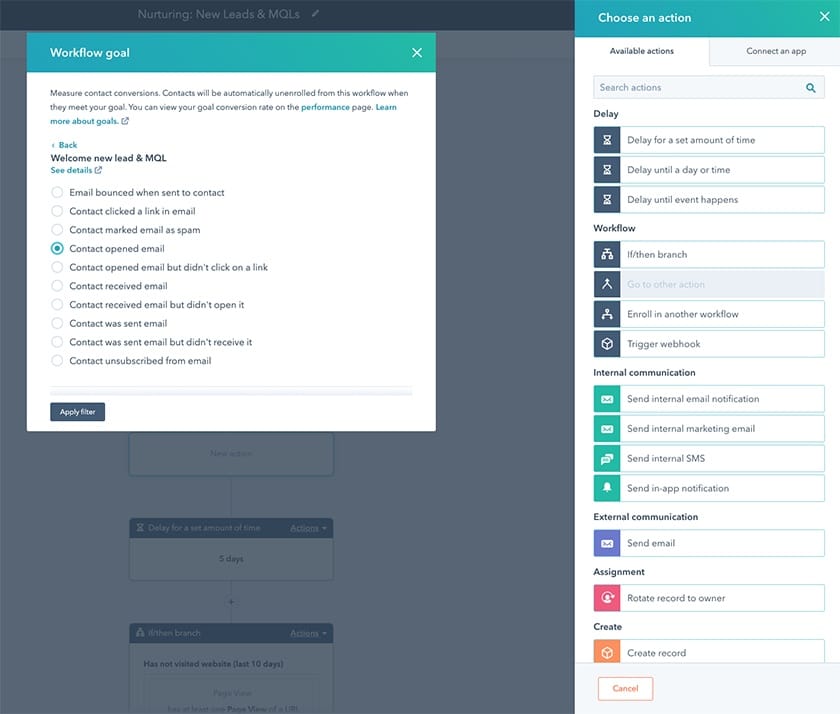 ---
3. Lead & Contact Generation Workflows
This CRM workflow example lowers manual data entry for your sales reps—something 71% of sales reps believe they spend too much time on. If you configure your CRM to automatically add records and relevant data for incoming prospects, reps can exclusively focus on building relationships.
While you can't do this for every lead channel, most CRMs, such as Salesforce and Pipedrive, allow users to auto-create records for inquiries submitted on their website forms or through Facebook ads. Some allow this as a built-in feature, while others require you to use Zapier, an automation tool that connects data flows between applications.

---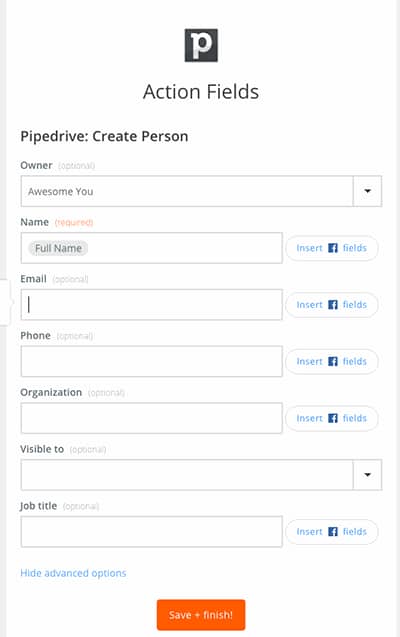 ---
Other CRMs such as Freshsales allow businesses to auto-capture leads any time they send an email to a contact or receive one from them. That particular feature is part of the two-way data synchronization many CRMs include in their capabilities.
4. Lead Assignment Workflows
Just as you could assign deals—and tasks associated with deals—to reps automatically, you can ensure someone is held accountable for a newly generated lead with auto-lead assignment. Teams can run these workflows for records automatically generated through ad or website lead sources as well as manually entered ones.
Zoho CRM lets you design detailed if-then conditions such as lead source, region, and the rep's current online status for assigning new opportunities. However, if your sales team uses broad criteria or you just want to give an equal number of leads to each rep, you can also implement a round-robin style.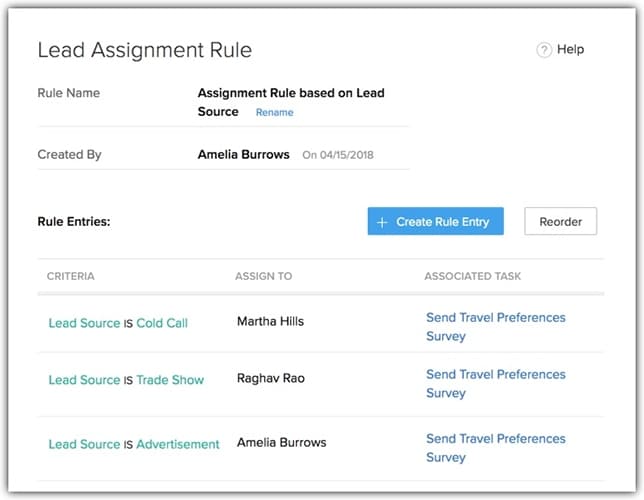 ---

---
5. Lead Qualification Workflows
Prioritizing the opportunities to place your effort and time on can be automated using this CRM workflow example. Lead qualification is the process of identifying the best leads to determine which ones have the best chance of becoming won deals and converting to customers.
The way you automate this workflow is through a technique called lead scoring. Lead scoring refers to both the sales methodology and automated tools found in CRM systems. Users can establish criteria and a point system that automatically adds or subtracts points to a lead. It can be based on traits like lead source or customer profile and how much interest they've expressed by interacting with your marketing campaigns.
Once your CRM assigns points to each record, you can trigger other automations to enroll them into an email list or assign them to a rep if they hit a certain score. There's also the option to filter out prospect lists based on highest scores and, with CRMs such as Freshsales, view single profiles with score insights with top factors.
6. Customer Support & Feedback Workflows
Once you've acquired your customers, you need to properly manage them by addressing their inquiries and obtaining their feedback—workflows that can be automated in a CRM. In Bitrix24, for example, system admins can configure service queues to automatically assign customer tickets to the next available agent instead of trying to manually assign requests. This ensures a speedy customer service operation and that you handle all inquiries.
Pro tip: Does your team need comprehensive customer support software? Read our in-depth guide to discover the best customer service software for small businesses.
Once you've provided your product, service, or customer support tasks, glean feedback on potential improvements while using your satisfied customers to post online reviews. Automating online reputation management allows your business to quickly receive a high volume of Google or Facebook reviews. It works by auto-deploying an email or text message to a customer to leave a review after satisfying a support ticket.
While many popular CRMs don't have this feature built into their systems, most have integration capabilities that offer this account management functionality. Zoho CRM, for example, has a native software, known as Zoho Desk, with modular capabilities for managing support and reputation. Users can create an email message to be sent out to the relevant contact after their service to either post a review about their customer experience, take a survey, or both.
7. Customer Lifecycle Management Workflows
Customer lifecycle management involves managing an entire relationship with a customer based on where they are in the buying process. It's similar to deal management, only it goes further by considering stages before they become aware of your business and while they are customers. Many businesses use a sales funnel to organize where a customer or lead stands based on their relationship with the brand.
Often, you'll implement specific email, calling, or advertising campaigns depending on a prospect or customer's status. For example, you should target contacts who have no prior interactions with your firm through cold calls, online ads, and introductory emails. For already generated leads, you'd likely nurture them using follow-up phone calls and email campaigns with assets like articles or videos, depending on their qualification status.
You can automate lifecycle management by updating records for activity and assigning tasks to reps or marketing teams. In HubSpot, for example, users can auto-update the lifecycle stages of a lead record and enroll them into various email lists based on actions such as submitting a form, subscribing to a newsletter, or becoming a new customer.
How Are CRM Workflows Implemented?
Nearly all types of CRM workflows are tailorable within a CRM system by creating if-then scenarios through preset actions and triggers, then setting conditions or parameters around them. Many products also allow for drag-and-drop functionality that makes it simple to configure an automated email campaign or workflow.
Your triggers are the "if" that causes an automated action, such as a lead submitting a form, a recipient clicking an email link, or a deal changing stages. The action is the "then" event, such as creating a record, enrolling a contact to another email list, or assigning a task to a rep. Finally, conditions are the rules the workflow must follow to fulfill the action, such as a deal falls between certain values or a task gets assigned two days after an action.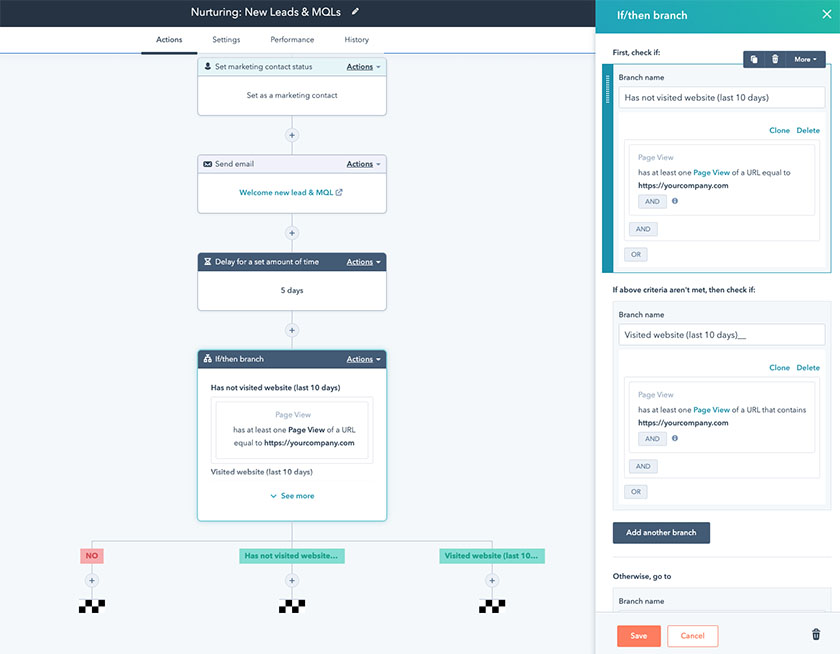 ---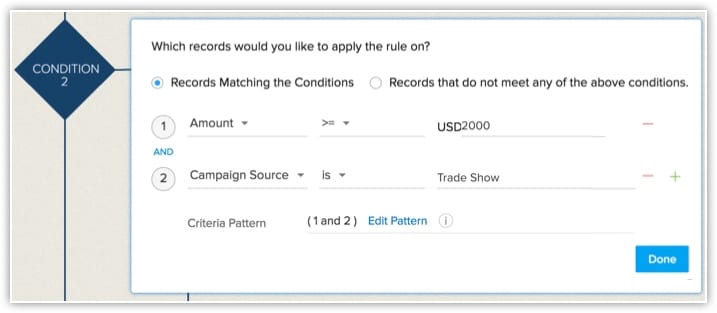 ---
While every CRM layout and configuration system is unique, each product will follow a similar process for designing workflows. Here's a brief generic rundown of implementing a CRM workflow in six steps:
Create and name workflow: From the automation page or directly on the associated module, select the create workflow button and name your workflow
Select workflow template: If your CRM offers workflow templates or default automation settings, you can choose which one you'd like to use and make appropriate edits to meet your sales process needs.
Indicate if/then scenarios: Determine the business processes you want to automate and design your workflows. Start with the trigger of which events will cause an automated action, then indicate what happens. For instance, "if" a lead sends you an email, "then" their data is input into the CRM, and a personalized thank-you email is sent.
Set automation conditions: Establish parameters around your workflow. For example, "if" a deal gets added to the CRM, "then" it's assigned to Jeff under the condition that it's over $10,000 but under $50,000.
Run an internal test: For each workflow, run tests to make sure they work properly by sending simulated emails or creating fake lead and deal records.
Activate workflow: Once everything is working, activate and save your workflow to use and make adjustments as needed.
Pro tip: In addition to taking advantage of automation with your CRM, check out these eight CRM best practices you should follow to get the most out of your system.
How Workflow Automation Can Help (+ Stats)
Automating sales activities by configuring workflows in your CRM makes your operation more efficient. By automating repetitive tasks, reps have more time to focus exclusively on managing opportunities and building relationships—allowing for more successful deals and higher revenue growth. Estimates show that nearly 30% of all sales activities could be automated. Some stats that prove the value of sales automation include:
Sources:
Bottom Line
Automated CRM workflows allow businesses to expand their system's capabilities by completing activities for them, such as sending emails, adding records, creating tasks, or assigning leads to reps. By investing in a CRM that meets your needs and creating desired if-then scenarios with preset conditions, sales reps reap the benefits of automation like increased productivity, higher lead conversion rates, and robust revenue potential.
You Might Also Like…
Are you getting ready to select a CRM for your team? Read our comprehensive guide on how to choose a CRM.
Learn more about how CRMs can help your small business by exploring the steps to creating your own CRM process.
Discover how to easily track sales activity, performance, and sales pipeline health in our in-depth article about creating and using CRM dashboards.