5 Best iPad POS Systems for Small Businesses in 2022
This article is part of a larger series on POS Systems.
Investing in sophisticated checkout setups used to cost small businesses thousands of dollars. By building software solutions that operate on iPads, point of sale (POS) systems can now offer small businesses robust touch-screen POS tools on affordable, user-friendly hardware. In addition to inventory tracking, vendor management, employee scheduling, and ecommerce operations, many of our top-rated iPad POS systems also offer a free baseline software subscription without long-term user contracts.
Based on our evaluations, the best iPad POS systems are:
Top iPad POS Compared
Visit Square

Visit Shopify

Visit Loyverse

Visit Lightspeed

Visit TouchBistro

iPad Hardware Cost

Best For

Most small businesses, including storefronts, mobile or temporary sellers, and professional services

Online retailers with storefronts or mobile sales

Small retailers and restaurants wanting to choose their own payment processor

Specialty shops, golf, hotels, small restaurants, businesses selling age-restricted products

Pizzerias, cafes, bakeries, diners, and other QSRs

Monthly POS Software Cost

$0–$60+

$0–$89

(plus ecommerce subscription, $29–$299 per month)

$0–$25

$69–$199 paid annually, $79–$239 paid monthly

$69

Contract Length

Month to month

Month to month

Month to month

1 year

1 year

In-person Transaction Fee

2.6% + 10 cents

Shopify Payments: 2.4%–2.7%

Varies

Lightspeed Payments: From 2.6% + 10 cents

TouchBistro Payments: Custom-quoted
Not sure which type of POS you need? See our detailed guide to the types of POS systems.
Square: Best Overall iPad POS
Square

Overall Score:
4.50
OUT OF
5
RATING CRITERIA

Pricing
4.25
OUT OF
5
General Features
4.25
OUT OF
5
iPad POS Features
5.00
OUT OF
5
Ease of Use
3.76
OUT OF
5
Expert Score
5.00
OUT OF
5
What We Like
Baseline POS software for retail and restaurants is free
Subscription includes free mobile card reader
Free integrated ecommerce site
Unlimited iPad registers and users
What's Missing
Cannot use outside payment gateways
Free subscriptions have limited customer support
Some add-ons can get pricey
Square Pricing
Monthly software subscription fee:

Free: $0
Plus: $60
Premium: Custom-quoted

One-time Installation fees: None
Available Payment Processors: Square
Processing fees:

In-person tapped, dipped, and swiped: 2.6% + 10 cents
Online: 2.9% + 30 cents
Manually keyed: 3.5% + 15 cents

iPad Hardware Cost: Square Stand $169 or $16 per month for 12 months
Square POS is the most convenient choice for small and new business owners. A cloud-based POS system, it offers a strong set of restaurant and retail features for free, while providing additional premium tools for growing retail, restaurant, salon, and ecommerce businesses. For all these reasons, Square is also our favorite overall POS system for small businesses.
Square builds its in-house card processing solution into every Square account. Your subscription comes with a free magstripe card reader to turn any iPad device into a payment terminal. iPad POS users will love that Square's POS subscriptions allow you to operate the POS app on an unlimited number of terminals.
Based on our evaluation, Square leads our list of iPad POS systems, earning a total score of 4.5 out of 5, with top marks for iPad POS-specific features and expert scores. The only things keeping this comprehensive POS and ecommerce system from a perfect score is the lack of additional payment processing options and limited customer support for free users.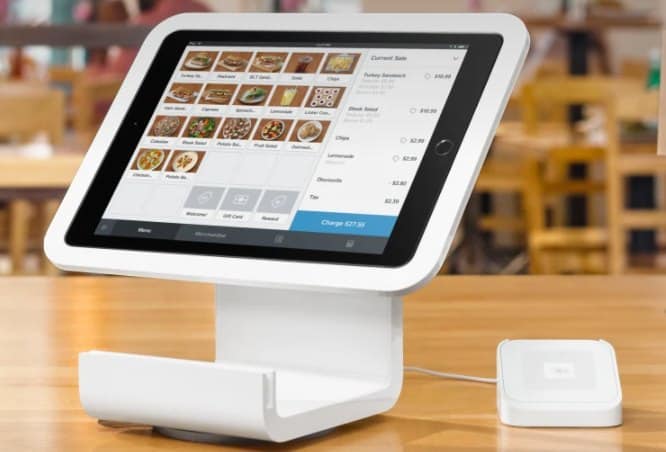 ---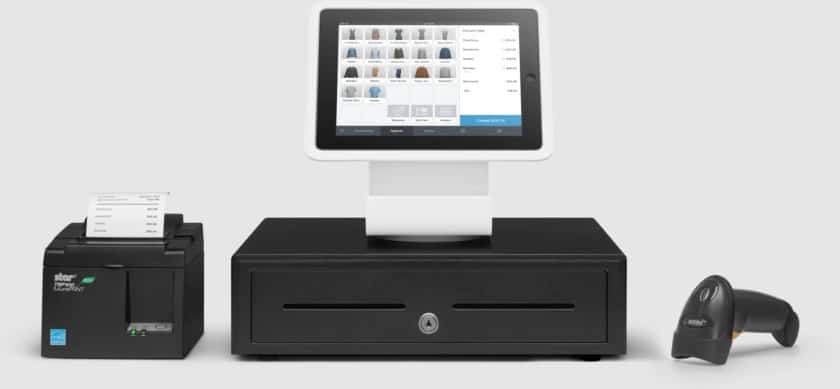 ---

---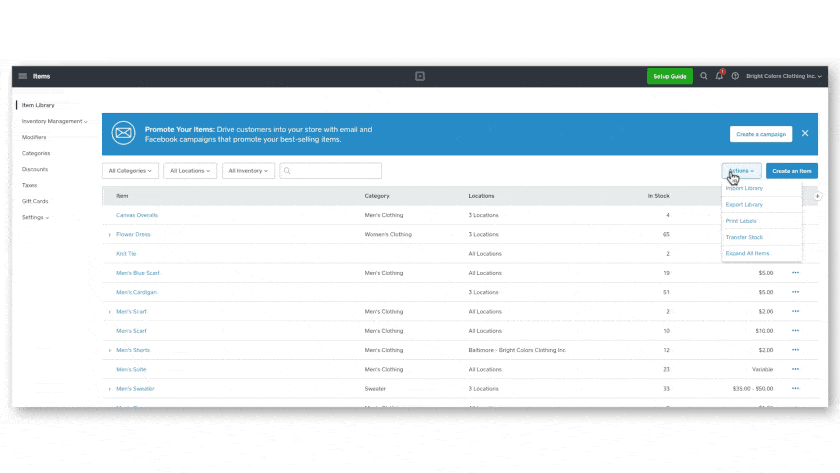 ---

---
Square Standout Features
Square makes money through its premium add-ons and credit card processing, enabling it to offer one of the best touch-screen POS systems for free. While Square locks users into Square for payment processing, rates are generally competitive. In-person card transaction fees cost 2.6% + 10 cents per tap, dip or swipe, while the keyed-in card transaction fee is 3.5% + 15 cents. Online card payments are charged 2.9% + 30 cents per transaction. Retail Plus users get a discounted rate of 2.5% + 10 cents for swipes. Volume discounts are available for businesses processing over $250,000 annually.
Unlimited Registers
You can connect unlimited registers, even on the Free plan, though free users should note that the plan limits the number of customizable user permissions. So if you need a team of employees with varying access levels, you'll need to upgrade to a Plus plan.
---
Free Ecommerce Site
Square's free POS software includes a free online store. You can easily create a basic ecommerce store to sell products online; sync sales and inventory data; offer pickup, delivery, and shipping; and integrate with Instagram. Square also integrates with Wix, BigCommerce, WordPress, Magento, and more if you want to expand your shop's online footprint. You can add your Square Online store to an existing website or host your online store for free using a Square-affiliated URL.
---
Marketing & Loyalty Add-ons
Square offers a range of email and SMS marketing add-on tools (from $15/month), as well as a loyalty rewards program (starting at $45/month). After signing up, customers earn points automatically for both in-store and ecommerce sales. Once they've reached a reward, the option to redeem it will automatically pop up at checkout. Your Square POS will recognize customers by payment method or contact information, enabling you to send email or text receipts that include customer satisfaction surveys, so you can hear about opportunities for improvement directly.
---
Restaurant POS Tools
Square for Restaurants' Free tier includes built-in menu management and time clock functions. The $60 per month Restaurant Plus level adds customizable floor plans, kitchen display system (KDS), advanced reporting, and team management tools. It also includes a free online ordering site and integrates with third-party delivery apps like DoorDash and Grubhub. For a small fee per order, you can access navigational tools to manage in-house delivery drivers.
---
Shopify: Best for Multichannel Retail Sales
Shopify

Overall Score:
4.21
OUT OF
5
RATING CRITERIA

Pricing
4.69
OUT OF
5
General Features
4.50
OUT OF
5
iPad POS Features
3.75
OUT OF
5
Ease of Use
2.93
OUT OF
5
Expert Score
5.00
OUT OF
5
What We Like
Lite subscription includes customer management, loyalty, and basic inventory with variant tracking
Full suite of Shopify's ecommerce tools
Free integrated ecommerce site
Competitive flat-rate payment processing fees
Customizable screen layout speeds checkout
What's Missing
Advanced inventory features require high-priced subscription
You need a POS Pro subscription to support more than one terminal
Cannot process offline payments
Shopify Pricing
Software subscription fee:

Shopify ecommerce subscription (required): $29–$299 per month
Lite POS: $0 per month
POS Pro: $89 per month (in addition to ecommerce fees)

One-time Installation fees: None
Available Payment Processors: Integrates with over 100 global gateways, including Ayden, Cayan, Chase, First Data, PayPal, Vantiv and Shopify Payments
Shopify Payments Processing fees: In-person processing rates vary by subscription tier

Basic: 2.7%
Shopify: 2.5%
Advanced: 2.4%

iPad Hardware Cost: From $159
Shopify POS is a cloud-based iPad POS built to integrate with the popular Shopify ecommerce platform. Orders placed online deplete your in-house virtual stock, so you never sell an item you don't have in stock. POS Plus users can also allow customers to buy online and pick up in-store (BOPIS). We've rated Shopify as the best ecommerce platform for small businesses, so it's not surprising that the attached POS is also a top contender for iPad POS software.
Shopify earned an overall score of 4.21 out of 5 with outstanding marks for pricing and ecommerce functions. These excellent ecommerce features also make Shopify a strong contender for our best mobile POS recommendations. However, the added cost of detailed inventory and omnichannel features and lack of offline payment processing prevented Shopify from earning a higher score. If offline functionality is an absolute requirement for your business, you'll likely be happier with Lightspeed or TouchBistro.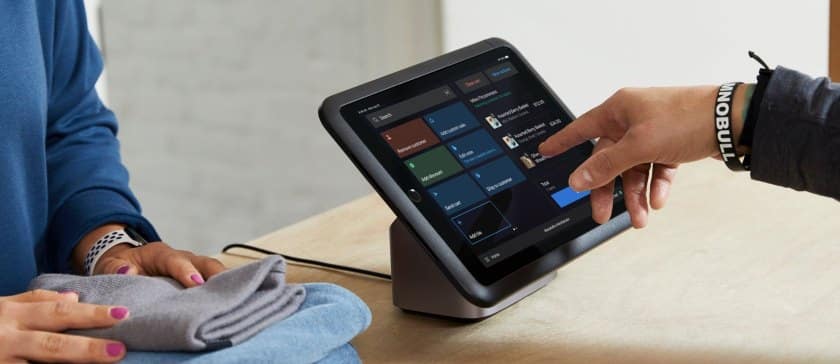 ---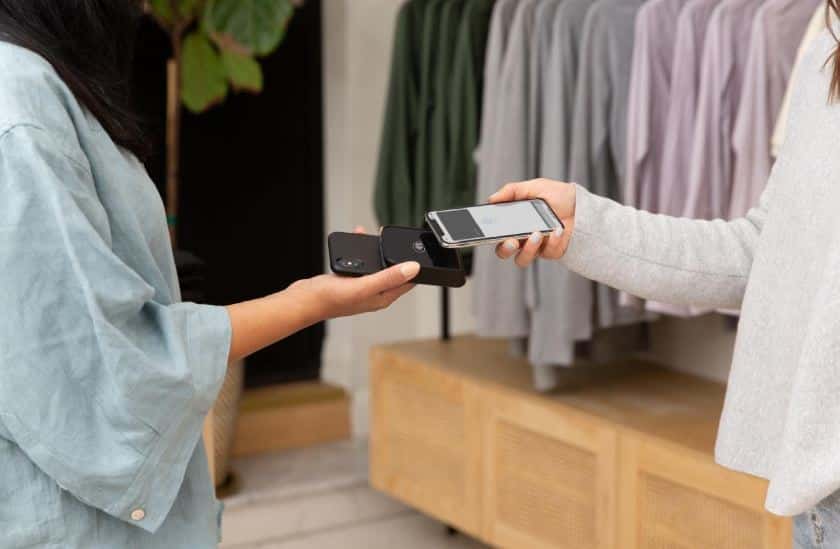 ---
Shopify Standout Features
Shopify offers its POS at two pricing tiers: Lite and POS Pro. Technically, there is no charge for the Lite subscription, but using the Shopify POS at all requires a subscription to the Shopify ecommerce platform. Pricing for a Shopify ecommerce subscription starts at $29 per month for Basic Shopify and goes up to $299 for Advanced Shopify. So Lite POS users should expect to pay at least $29 per month. POS Pro accounts cost $89 per month in addition to your Shopify platform subscription. However, the POS Pro tools are automatically included in Shopify Plus accounts ($2,000 per month). Lite plans offer software for a single terminal, but terminals are unlimited on POS Pro accounts.
Custom Grid Screen
With Shopify POS you can customize your POS dashboard to show your most-used apps, products, and reports. This helps you and any staff speed through your most common transactions, saving time when your shop is busy.
---
Integrated Ecommerce Tools
All Shopify POS subscriptions connect to Shopify's integrated ecommerce site. Its website builder is easy to use and can support just about any niche feature or integration your store might require. Shopify also supports multichannel selling on Amazon, Instagram, Facebook, and Pinterest, and integrates with major shipping companies like FedEx, UPS, and USPS.
---
Customer Management
Even Lite subscriptions include customer management tools. Your Shopify POS prompts for customer emails to send digital receipts and creates customer profiles. These profiles feed Shopify's excellent in-app marketing tools.
---
Marketing Features
Even the Lite subscription includes robust marketing tools like on-page product reviews, email marketing, and social media integrations. Shopify users can also manage Google ad campaigns directly from their Shopify POS.
---
Inventory Tools
Lite subscribers can access basic inventory functions like tracking unlimited products and variants like size and color. These features may be all a small retail operation needs. But if you want automated low stock alerts, suggested orders, and physical inventory counting tools, you'll need to upgrade to a POS Pro account.
---
Loyverse: Best for Choosing Your Payment Processor
Loyverse

Overall Score:
4.20
OUT OF
5
RATING CRITERIA

Pricing
5.00
OUT OF
5
General Features
4.50
OUT OF
5
iPad POS Features
4.06
OUT OF
5
Ease of Use
2.53
OUT OF
5
Expert Score
3.75
OUT OF
5
What We Like
Choose your own payment processor
Forever-free POS system
Loyalty tools included in baseline POS
What's Missing
No option for built-in payment processing
No integrated ecommerce site
Customer support is all web and chat based; no phone support is available
Loyverse Pricing
Software subscription fee: $0 per month for the basic POS
Optional Add-ons (paid monthly):

Advanced Inventory: $25
Employee Management: $5 per employee
Integrations: $9 per store

Available Payment Processors: Integrates directly with CardConnect, Worldpay, and Zettle. Supports countless unintegrated payment processors
Processing fees: Varies based on processor
iPad Hardware Cost: Varies based on third-party seller
Loyverse is built for small businesses looking for a convenient POS system that combines simple transaction processing, customer engagement, and business data analysis in one free bundle. Loyalty features are where Loyverse (Loyalty Universe) ultimately shines; with a loyalty rewards program that automatically tallies points and prints the balance on the customer receipt. Like Square, Loyverse allows users to install their POS software on unlimited terminals. Unlike Square, however, Loyverse also includes customer loyalty in its free POS.
In our evaluation, Loyverse scored a 4.2 out of 5 compared to other iPad POS systems. It earned high marks for pricing and generous free POS features. The ability to shop around for the best rates and choose your preferred payment processor also scored points, though users should be aware that using unintegrated processors can limit their Loyverse POS's offline functionality.
This system could have scored higher if it supported more robust inventory tools, included a free mobile card reader (as competitors like Square do) and added integrated ecommerce tools (like Square, Shopify, and Lightspeed).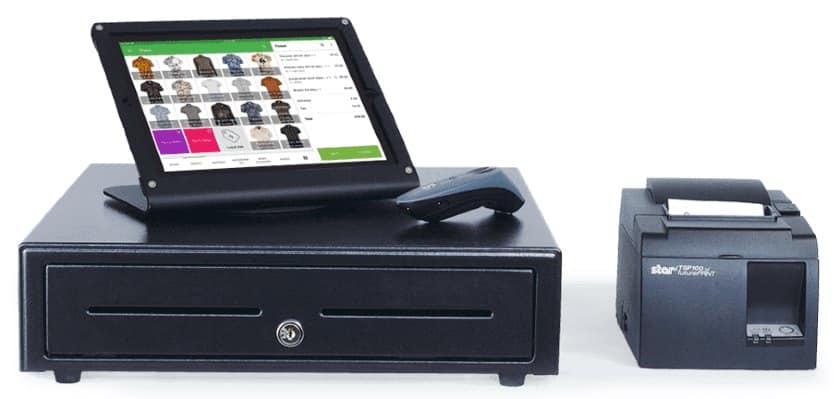 ---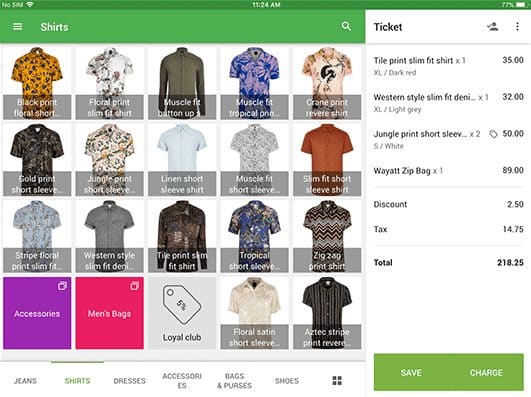 ---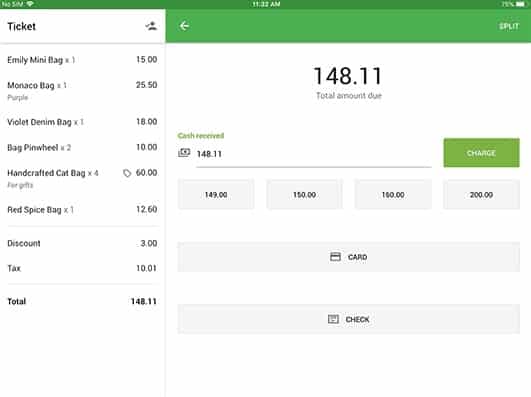 ---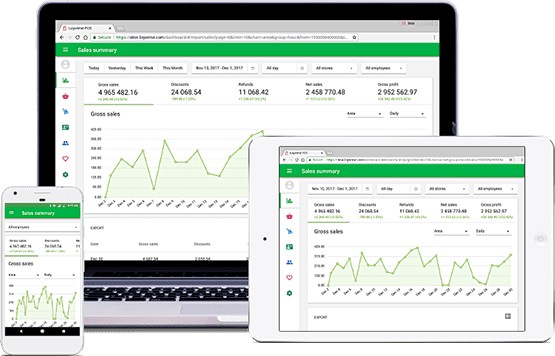 ---
Loyverse Standout Features
The basic Loyverse software is free, like Square, but it includes a few more POS features in the baseline POS, like software to support a KDS and customer-facing displays. Adding employee management for $25 per month allows you to track staff hours and run employee sales and labor reports. Advanced inventory includes barcode printing tools, inventory reporting, and purchase order management for $25 per month. As with both Square and Shopify, Loyverse users are not tied to any long-term contracts; they can cancel their subscription at any time with no penalties.
Integrated or Unintegrated Payments
Unlike the other systems on this list, Loyverse does not offer built-in payment processing. Loyverse users can choose any payment processor they like, which allows you to shop around for the lowest processing rates. Only some payment processors—CardConnect, Worldpay, and Zettle—are fully integrated into your Loyverse POS, though. If you choose an unintegrated payment processor, your ability to process offline credit card payments may be limited. You'll need to purchase a card reader that can spool payments internally during an internet outage.
---
Unlimited Terminals
Loyverse is web-based and syncs business information automatically to every connected iPad POS device. As with Square, your Loyverse account allows you to use the POS software on an unlimited number of terminals.
---
Marketing & Loyalty
The built-in loyalty program allows users to enroll customers at checkout. Customers can then earn points on every purchase. You can choose how customers redeem points, either in the form of a discount or a physical reward item.
---
Basic Reports With Add-ons Available
Loyverse reports include inventory valuation, cost reporting, sales by item or category, and profit projections. Sales by employee reporting is available for users who purchase the employee management add-on.
---
Chat-based Support
Loyverse maintains a subscriber knowledge base on its website, where users can ask questions and share what worked for them. Loyverse also offers 24/7 support via live chat on its website. There is, however, no live phone support. So, if talking to a person on the phone is important when you need support, you'll likely be happier with Lightspeed, Shopify, or TouchBistro.
---
Lightspeed: Best for Inventory Management & Niche Shop Operations
Lightspeed

Overall Score:
4.06
OUT OF
5
RATING CRITERIA

Pricing
4.63
OUT OF
5
General Features
4.50
OUT OF
5
iPad POS Features
3.00
OUT OF
5
Ease of Use
4.15
OUT OF
5
Expert Score
4.69
OUT OF
5
What We Like
Strong core inventory management features
Includes tools for niche businesses like golf courses, hotels, and restaurants
Users who enroll in Lightspeed Payments receive a free card reader
What's Missing
Additional cost for more than one register
Accounting and loyalty tools require higher-tier subscription
Pricing is higher than others on this list
Lightspeed Pricing
Software subscription fee:

Lean: $69 per month, billed annually; $79 billed monthly
Standard: $119 per month billed annually; $139 billed monthly
Advanced: $199 per month, billed annually; $239 billed monthly
Enterprise: Custom quoted
Additional terminals cost $29 per terminal, per month
Available Payment Processors:
Lightspeed Payments (includes free card reader), 2Accept, Stripe, TSYS, Vantiv, and Worldpay
Lightspeed Payments processing fees*: 2.6% + 10 cents for in-person tapped, dipped, or swiped transactions; 2.6% + 30 cents for card-not-present transactions
iPad Hardware Cost: From $169
* Rates for other processors are custom-quoted
Lightspeed Retail leads the pack in terms of inventory management. It's equipped to handle thousands of unique SKUs and loaded with features that make inventory management a breeze, like the ability to view supplier catalogs straight from Lightspeed and automatically draft new purchase orders. These user-friendly tools make Lightspeed our top choice POS for inventory management. Users who enroll in Lightspeed Payments also receive a free card reader so you can start processing sales right away.
If you operate a specialized businesslike a golf course or a restaurant, Lightspeed also offers customized solutions: Lightspeed Golf and Lightspeed Restaurant.
Based on our evaluation, Lightspeed earned a score of 4.06 out of 5, with high marks for ease of use and general POS features, particularly its top-of-the-line inventory and analytic tools. Lightspeed could improve by offering more of these tools and integrations in the Lean POS, though. Small business necessities like Lightspeed accounting integrations and customizable reporting are available only on more expensive plans. If you need an all-in-one iPad POS with these tools at a lower cost, you'll likely prefer Square.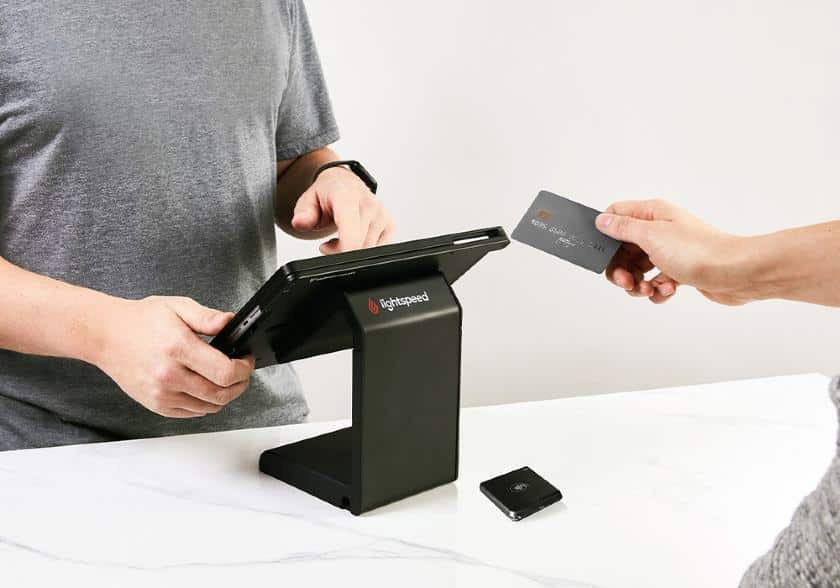 ---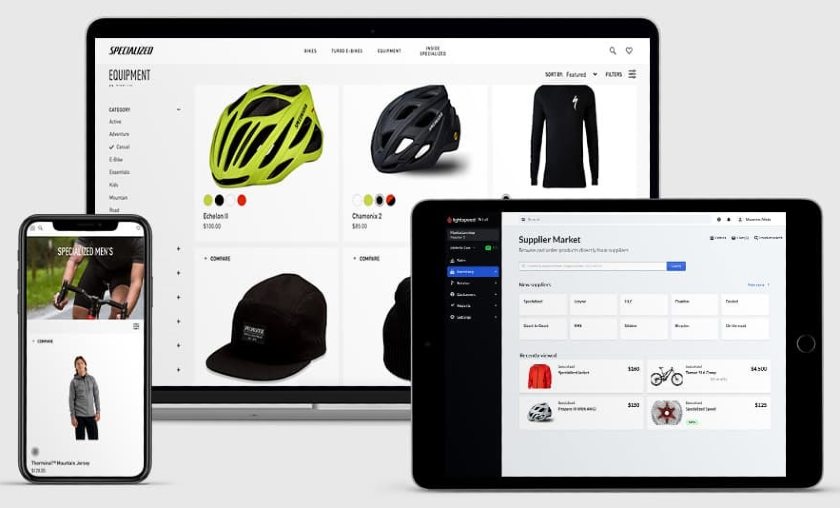 ---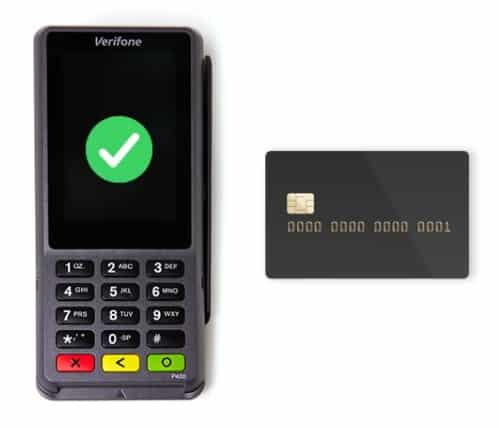 ---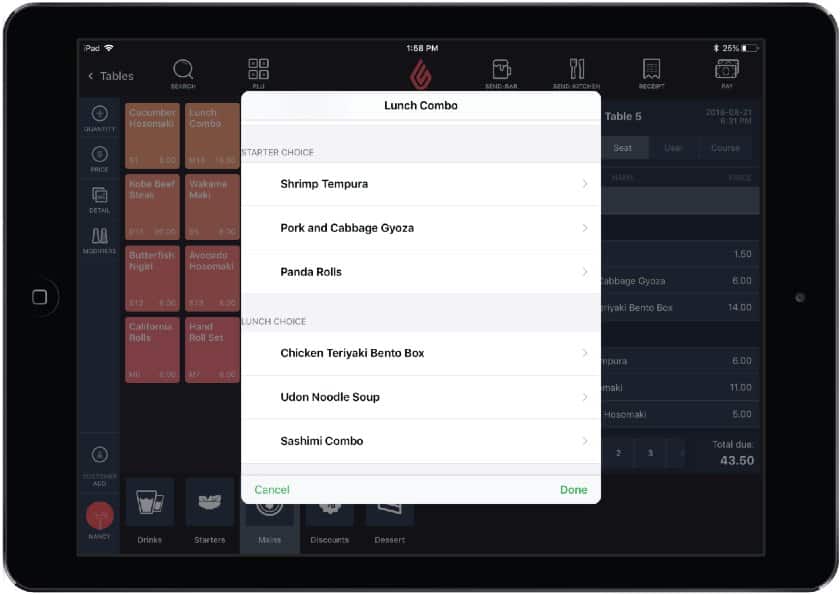 ---
Lightspeed Standout Features
Lightspeed users have the option to use Lightspeed's built-in payment solution, Lightspeed Payments. The rates offered are competitive; Lightspeed's card-not-present fees are lower than even Square's rate. If you prefer to shop around for the lowest processing rates, however, Lightspeed also integrates with several payment gateways, including 2Accept, which supports high-risk retail operations like vape shops and dispensaries.
Inventory Management
Lightspeed's inventory management includes the ability to manage multiple variations and customize matrices, set up automatic reorder rules for low stock, and access built-in purchase orders and supplier catalogs straight from the app.
---
Appointments & Subscriptions
Lightspeed includes tools for customers to schedule shopping appointments online. This is an excellent tool for shops that offer personalized services or want to control foot traffic. The Lightspeed system also allows you to create subscription billing for services, an excellent fit for farms that offer community-supported agriculture (CSA) services, restaurants that sell meal kits, or salons that sell hair and body care product packages.
---
Integrated Ecommerce Site
Lightspeed's ecommerce system offers mobile-responsive and customizable website templates from its theme store. You can import stock, automatically update quantity on hand, and display items in HD. Users can also offer shipping options and manage related tasks with Lightspeed's ecommerce back office.
---
Advanced Reporting
Lightspeed Analytics provides over 50 built-in standard reports covering sales, customer history, employee performance, and inventory. Higher-tier Standard and Advanced subscriptions include custom reporting features, visualization tools, and data interpretation guides.
---
Niche Industry Support
Like Square and Loyverse, Lightspeed offers software solutions for restaurants like tip tracking, ingredient-level inventory, and table management. However, unlike other systems, Lightspeed also integrates with hotel property management systems (PMS) for shops and cafes that want to accept room charges as a form of payment. Lightspeed is the only POS in this list with specific tools for golf courses. The Lightspeed Golf POS combines Lightspeed's restaurant, retail, and ecommerce functions with tee sheet management to create a comprehensive golf course management solution.
---
TouchBistro: Best for Small Restaurants, Coffee Shops & Cafes
TouchBistro

Overall Score:
4.03
OUT OF
5
RATING CRITERIA

Pricing
4.81
OUT OF
5
General Features
4.50
OUT OF
5
iPad POS Features
3.00
OUT OF
5
Ease of Use
3.75
OUT OF
5
Expert Score
4.38
OUT OF
5
What We Like
Comprehensive restaurant tools to manage menus, tables, customers, and inventory
Tableside ordering included in baseline POS
Simple, transparent pricing structure
What's Missing
Free card reader not included
Requires a one-year contract
Pricing is per register; additional registers require extra fees
TouchBistro Pricing
Software subscription fee: $69 per terminal, per month
Available Payment Processors: TouchBistro Payments, EVO, Square, Moneris, Worldpay, TSYS, Chase
Processing fees: Varies based on your chosen processor. TouchBistro Payments does not list its processing fees publicly; users must contact TouchBistro for a custom quote
iPad Hardware Cost: Custom-quoted
TouchBistro is an all-in-one, cloud-based iPads POS built for food and beverage businesses like coffee shops and restaurants. If you need retail features, you'll want to check out any of the other systems on this list. But if food and beverage is your business, this affordable iPad POS offers a wealth of POS tools at an affordable price.
TouchBistro earned a 4.03 out of 5 on our iPad POS scoring system. This POS scored well for its affordable price, payment processing options, and inventory tools. Unlike Square and Shopify, TouchBistro's baseline POS does not include ecommerce tools in the baseline POS, so it lost some points there. TouchBistro also does not send users a free card reader as Square and Lightspeed do, keeping the system from ranking higher.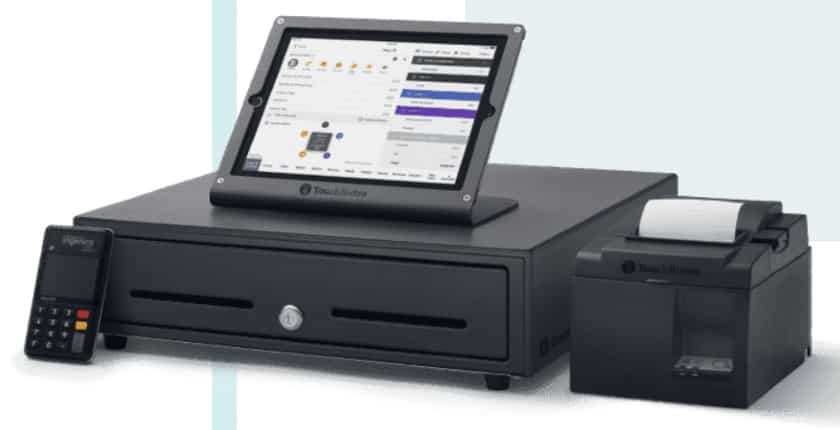 ---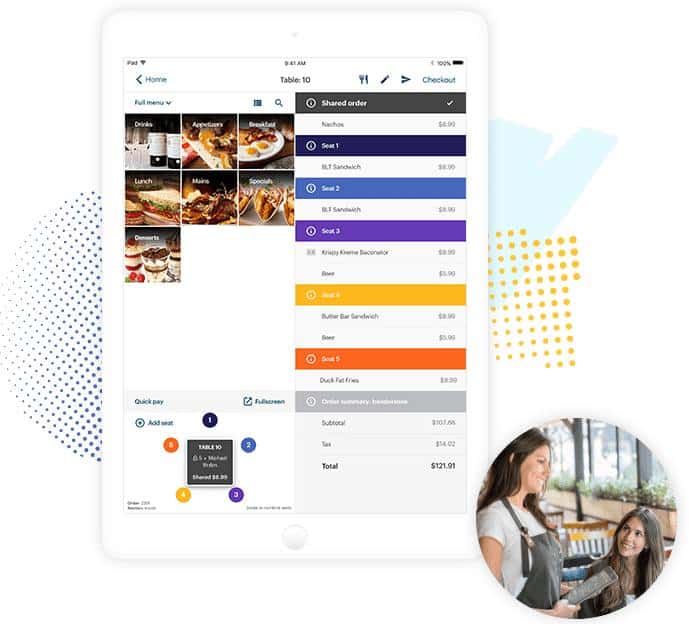 ---
TouchBistro Standout Features
Like Lightspeed, TouchBistro offers built-in payment processing and integrates with several third-party payment processors. TouchBistro supports payments through EVO, Square, Moneris, Worldpay, TSYS, and Chase alongside TouchBistro Payments. TouchBistro users can easily convert stationary TouchBistro tablets to tableside ordering tablets with easy-to-navigate table and seat numbers that enable quick ordering and check splitting.
User-friendly Baseline POS
TouchBistro's user interface resembles Apple's iOS more closely than any other system on this list. This configuration makes TouchBistro very simple to learn; if you've ever used an iPhone, you can use TouchBistro. The familiar interface also means you'll spend less time training new staff on the POS system.
---
Restaurant Features
TouchBistro's baseline POS includes speed ordering screens, menu management, combo building, and customizable employee permissions. You can transfer checks from server to server or from the bar to the dining room. You can easily accept multiple payments on a single check or split checks by item or seat number when processing payments. Customizable floor plans reflect your restaurant layout so your staff can easily ring checks on the correct tables.
---
Inventory Tracking
TouchBistro's inventory module offers two settings: item tracking or ingredient-level tracking. Small shops that sell prepackaged ready-to-eat (RTE) and ready-to-drink (RTD) items can stick with the simple item-level tracking. Cafes and restaurants that prepare food and beverages to order can rely on more detailed inventory tools to track bulk ingredients through various dishes. Low stock alerts ensure you never forget to order needed items. All inventory tools are included in the baseline TouchBistro POS.
---
Ecommerce Tools
TouchBistro users can add online ordering via integrations with Deliverect and Ordermark. You can also use TouchBistro's built-in online ordering module for $69 per month. TouchBistro online ordering creates an integrated online ordering site for your restaurant on TouchBistro's TBDine platform, so you can accept online orders even if your restaurant lacks a website.
---
Support & Knowledge Base
TouchBistro offers 24/7 customer support via phone, email, and webchat. It also maintains a comprehensive online database that you can search any time to find answers to common questions like how to connect a new card reader or activate reservations and online ordering tools.
---
How We Evaluated iPad POS Systems
We compared a dozen of the most popular POS systems based on common small business pain points. We looked at each system's price, payment processing options, general POS functions, and ease of use. We also considered our retail and restaurant experts' personal evaluations of each software.
Based on the above criteria, Square is the best iPad POS. According to our grading system for iPad POS software, Square's POS tools received the highest overall score (4.5 out of 5). Based on our personal experience testing different POS software and working in and with small businesses that regularly use iPad POS systems, Square is also the top software that we personally recommend.
Click through the box below for our specific evaluation criteria:
30%
iPad-specific Features
30% of Overall Score
We sought out solutions that offer a variety of customizable features, including accepting many different types of payments. We also evaluated each system's ability to efficiently manage inventory, sell or accept orders online, manage employees, and view detailed reports anywhere.
10% of Overall Score
Small businesses can be busiest in off-hours like evenings and weekends, so we looked for systems that offer 24/7 customer support. We also considered user reviews of each system, awarding the highest points to POS that earned average user ratings above 4.5 on popular review sites.
*Percentages of overall score
Why Should You Use an iPad POS?
These systems operate by backing up your business data to the cloud, so you can monitor your sales costs and key business metrics from anywhere. An iPad POS system also costs a lot less than a traditional, locally installed POS. In most cases, you can install an iPad POS yourself. Plus, the iPad interface is familiar to anyone who has used a smartphone, so your staff will learn the system quickly. Because iPads are highly mobile, your iPad POS tablets can easily operate curbside, tableside, or even as self-service kiosks.
Bottom Line
No matter what industry you work in, when you're looking for an iPad POS, Square has the tools you need. Square received the highest score across our grading system for its affordable price, free card reader, general POS features, flexible POS tools, and ease of use. With a free baseline subscription tier and the ability to operate the system on hardware you already own, Square also offers an excellent value for the price. This system can be configured to fit the needs of any small retail or restaurant operation and can grow with your business as it expands or your needs change. To see if Square has the tools you need, visit Square for a demo.