A point-of-sale (POS) system is the brains of any retail, restaurant, or salon business. It's what you use to accept payments, track inventory, and fulfill orders—just to name a few features. iPad POS systems have the additional advantage of being lightweight and cloud-based, so you can synchronize multiple devices, and manage your system from any smartphone or computer.
In this article, we review the six best iPad POS systems, including:
How We Evaluated iPad POS
First and foremost, iPad POS systems need to handle payments smoothly. That includes tipping, processing refunds, and the ability to split transactions between multiple payment types. Beyond that, we looked at how well each POS system manages inventory, saves customer information for marketing, and allows you to manage employees—whether by tracking their hours, or running performance reports.
Of course, the more advanced and automated a POS system gets, the higher the price tag tends to be. This article aims to translate the vast array of POS features into simple use-case scenarios, so business owners can evaluate how much is worth investing.
Not sure which iPad POS is right for you? Take this 4-question quiz for our recommendation:
Square: Best Overall iPad POS System for Small Businesses

If you're a new business, or new to cloud-based POS systems and hesitant to invest a lot of money, Square provides the perfect way in. It provides a shockingly strong set of POS features completely free, including tools for retail, restaurants, salons, and ecommerce. Square makes money through its premium add-ons, and through its credit card processing, which charges a pretty standard rate of 2.6% + $0.10. This is what enables it to offer one of the best touchscreen POS for free and to continuously roll out new features.
| Square POS Advantages | Square POS Disadvantages |
| --- | --- |
| Extensive retail and restaurant POS features completely free | Customer support is limited for free users |
| Free ecommerce and online ordering | Add-ons can get expensive |
| Huge range of integrations includes QuickBooks, Mailchimp, and Grubhub | Can't connect outside payment gateways |
Square POS Pricing
Free: The free version of Square includes all the main POS features you expect like the ability to add products, process credit cards, calculate taxes, and print receipts. Square includes an online store and an employee time clock system completely free of charge.
Square for Retail Plus: ($60/month, per location) provides more advanced inventory management, such as bar code printing, and gives you additional analytics like inventory value, and employee sales reports.
Square for Restaurants Plus: ($60/month, per location) adds a table map and kitchen display system, among other restaurant-specific features. The price tag includes a license for one iPad terminal and requires $40/month for each additional one.
Optional add-ons: Payroll, marketing, loyalty rewards, and appointment booking, which are all offered in variously priced editions.
Square Credit Card Processing
Square provides its own credit card processing service, which charges a middle-of-the-road rate of 2.6% + 10 cents for swiped transactions, and 3.5% + 15 cents for manual entry. Retail Plus users get a discounted rate of 2.5% + 10 cents for swipes. Square does not allow you to connect an outside payment gateway, which is a downside for larger businesses that want the lowest possible rates.
Square POS Features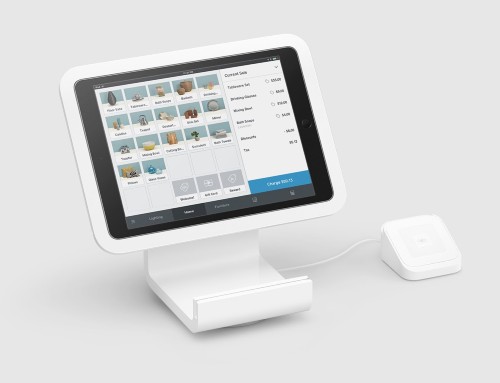 Inventory management: The free version of Square lets you import items via spreadsheet, and photos/descriptions, and track your quantities. Square Retail Plus ($60/month) also lets you print bar codes and create purchase orders. It does not include the advanced inventory tools like automated reordering, that come with Lightspeed.
Marketing and loyalty: For an additional subscription fee, Square offers a range of email and SMS marketing tools, as well as a loyalty rewards program (starting at $45/month). After signing up, customers earn points automatically for both in-store and ecommerce sales. Once they've reached a reward, the option to redeem it will automatically pop up at checkout.
Restaurant features: Square includes a free online ordering platform and integrates with third-party delivery apps like DoorDash and Grubhub. The free version also includes table and menu management, while the advanced version adds a kitchen display system, table map, coursing, and server/employee reports.
Ecommerce: You can set up a basic ecommerce store to sell your products online. Square also integrates with Wix, BigCommerce, WordPress, Magento, and more.
Reports: Square includes about a dozen standard reports, including sales by category, discounts applied, and real-time hourly, weekly, and monthly sales charts. Paid editions of Square also include team reports like sales by employee, and revenue per labor hour.
Customer service: For free users, phone, chat, and email support is available Monday to Friday from 9 a.m. to 9 p.m. Eastern time. For paying users, it's available 24/7.
To learn more about why Square is the best iPad POS system for small businesses, read our full Square POS review.
ShopKeep: Best Budget-Friendly iPad POS

Starting at just $49 per month, ShopKeep is an iPad POS that is the halfway point between the free Square POS and Lightspeed, which is more expensive but has super-sophisticated features. ShopKeep offers excellent value with user-friendly reports and automated inventory management tools. ShopKeep offers solutions for retail stores, cafes, and restaurants including online sales tools, invoicing, and a mobile report app.
| ShopKeep POS Advantages | ShopKeep POS Disadvantages |
| --- | --- |
| Low cost, yet can grow with your business | Limited inventory tools |
| User-friendly interface and Back Office | Templatized reports cannot be customized |
| 24/7 support | |
ShopKeep Pricing
$49 per month for the Basic ShopKeep plan including ShopKeep Register, BackOffice, Pocket mobile app, and a free credit card reader to accept payments and manage your business from anywhere.
$79 per month for ShopKeep Essential which adds QuickBooks integration, email marketing, mobile reporting, and custom permission settings.
$179 per month for ShopKeep Advanced adds priority phone support, a hardware bundle, a customer loyalty program, and tools to manage your presence on Facebook and Google.
ShopKeep Payment Processing
ShopKeep comes with built-in payment processing at 2.5% + 10 cents, which is a competitive rate. Funds deposit within 24-hours. Each qualifying ShopKeep account includes a free terminal; accepts credit and debit cards, contactless payments, online transactions, and invoicing.
ShopKeep also allows for exchanges and refunds, down payments, deposits, and partial payments that are ideal for high-ticket sellers like furniture retailers or custom-built pieces.
ShopKeep Features

Inventory management: Manage thousands of SKUs in bulk with CSV files, set up low stock triggers, calculate profit margins, and see your bestsellers. If you have a restaurant, ShopKeep can also manage ingredient-level inventory tracking.
Marketing and loyalty: Capture customer information at checkout, send customized email receipts, import customer information into contact lists, and integrate with Mailchimp for email marketing. Select plans include ShopKeep Loyalty.
Restaurant features: Track ingredients, average revenue per customer, send orders (including modifiers) straight through to the kitchen, collect tips, create menus, and set up online ordering. ShopKeep also has built-in sales restrictions for products like alcohol that require age verification.
Ecommerce: Create a functional website with templates to offer online ordering for in-store pick up, curbside service, or delivery for restaurants or ecommerce stores. Sell on Instagram, Facebook, or Amazon. Inventory syncs between your website and ShopKeep POS.
Reports: ShopKeep BackOffice offers templatized, user-friendly reports for top-selling items and employees, total sales, top-spending customers, tax information, and stock levels. See real-time data including employee clock-ins with push notifications in ShopKeep's mobile app called Pocket. While ShopKeep reporting is easy to use, there are no customization options or in-depth analytics like Lightspeed offers.
Customer service: Unlimited 24/7 email, chat, and text support. Priority phone support available for ShopKeep Advanced customers.
To learn more about why ShopKeep is one of the best iPad POS systems, read our full ShopKeep review.
Lightspeed: Best iPad POS for Inventory Management

Retail businesses that sell a lot of unique items need a POS that is equipped to handle hundreds, or even thousands, of unique SKUs. Lightspeed is battle-tested in this arena and includes some features that make inventory management a breeze like the ability to view supplier catalogs straight from Lightspeed, and automatically draft new purchase orders.
All-in-all, Lightspeed is a very solid retail POS with a top-of-the-line analytics system and an ever-expanding set of features. The main downside is the price tag, which can easily cost you twice as much as Square's advanced packages.
| Lightspeed POS Advantages | Lightspeed POS Disadvantages |
| --- | --- |
| Makes purchase orders, returns and receiving inventory much easier | Does not include payment processing |
| Create a branded loyalty app for customers | Gets expensive to add all features |
| Can connect an outside payment gateway | |
Lightspeed POS Pricing
$59 per month for Lightspeed's restaurant POS, with additional charges for delivery integrations, kitchen display system, and loyalty.
$69 per month for Lightspeed's core retail POS.
$99 per month adds an ecommerce store.
$119 per month allows you to connect your accounting software, such as QuickBooks or Xero.
$169 per month adds loyalty rewards.
$229 per month adds advanced analytics with custom reporting.
The above pricing includes one software license for an iPad terminal. Additional registers are $34 per month for restaurants and $29 per month for retail.
Lightspeed Credit Card Processing
Card-present rate: 2.6% + 10 cents per transaction
Manually keyed-in rate: 2.6% + 30 cents per transaction
Custom rates: Available for businesses processing over $250,000
Deposit times: Two business days
Chargebacks: $15 chargeback fee
Lightspeed POS Features
Inventory management: Compared to Square, Lightspeed's inventory management is much better suited for businesses with lots of SKUs. For one, you can browse supplier catalogs straight from Lightspeed, select what you need, and create an auto-filled purchase order. Among other handy features, you can set rules to automatically reorder when items get low, and allow customers to submit their own return requests.
Marketing and loyalty: Just like Square, customers can collect points from making in-store or online purchases. However, Lightspeed lets you create a branded customer-facing app for customers to check their points and view rewards. Set up automated campaigns to notify customers of rewards or special promotions via email, SMS, or push notification.
Restaurant features: Though it is not their strong point, Lightspeed does offer some restaurant features, including a table map and kitchen display system. Unlike Square and Upserve, you cannot set up your own online ordering system, but you can integrate UberEats, DoorDash, or Grubhub for an additional fee (starting at $39/month).
Ecommerce: You can choose from dozens of professional templates to build your own ecommerce website. Lightspeed's ecommerce system is a step above Square, but not quite as advanced as Shopify. For instance, Lightspeed doesn't support multichannel selling on Amazon or Instagram like Shopify does.
Reports: Lightspeed's analytics go above and beyond, providing about 60 standard reports covering sales, customer demographics and behavior, employee performance, and inventory. Lightspeed also lets you build custom reports using any data point in the system, although this requires the "Pro" package, which costs $229 per month.
Customer service: Phone, live chat, and email support are available 24/7.
To learn more about Lightspeed's advanced inventory and analytics features, read our full Lightspeed Retail review.
Upserve: Best iPad POS for Restaurants

While all of the POS systems we reviewed have some special tools for restaurants, Upserve is the only one designed specifically for the food industry. It offers by far the best inventory management for restaurants, as well as menu and table management, and online ordering with Grubhub and DoorDash integrations. The reports are specifically tailored to restaurants, including comp activity, sales per wait staff, recipe costing, and much more.
Upserve wins praise from users and beats out its restaurant POS competitors in terms of features and functionality. The main downside is the higher price tag. A fully-loaded POS with two terminals and online ordering will cost around $350 per month—and that doesn't include hardware. It's a steep price tag when you consider the free features offered by Square, but with the negotiable credit card processing rates, and the ability to set up your own online ordering system, Upserve could actually save you money in the long run.
| Upserve POS Advantages | Upserve POS Disadvantages |
| --- | --- |
| Includes top notch menu/table management and kitchen display system | High price |
| Calculate menu profitability off real-time ingredient prices | Can't use third-party payment gateway |
| Highly-rated customer service | |
Upserve POS Pricing
$59 per month for all the main POS features, but no loyalty rewards, or recipe costing. Each payment terminal also requires a fee of $60 per month.
$199 per month adds loyalty rewards and recipe costing, along with stronger inventory management that lets you integrate food supplier lists. Terminals are discounted at $50 per month.
$349 per month adds API access, custom reporting, and a dedicated account manager. Terminals are discounted further at $40 per month.
Upserve charges extra for its online ordering system (starting at $59 per month), as well as gift cards.
Upserve Credit Card Processing
Upserve offers its own credit card processing service, and while it does not publicly post rates, we were quoted at 2.4% + 15 cents for swiped transactions, and 2.99% + 15 cents for manual entry. Upserve does not allow you to connect an outside payment gateway.
Upserve Features
Inventory management: Similar to Lightspeed, Upserve integrates with many major food suppliers, so you can place orders directly from the app, and your inventory will automatically update. Another benefit is that prices remain up-to-date, so you can always keep an eye on your menu's profitability and make changes if need be.
Marketing and loyalty: Upserve offers a solid loyalty program comparable to Square. Customers can join via SMS, email, or when placing an online order. Rewards are calculated and applied automatically when a customer spends a certain amount, when they join the program, or when they like your Facebook page. Unlike Lightspeed, there's no customer-facing app.
Restaurant features: Upserve offers the most advanced order management system of any POS we reviewed. You can set up your menu with both forced and optional modifiers, create a detailed floor plan, and install a kitchen display system with a bump bar. For an additional fee, you can set up your own online ordering system, or just integrate Grubhub, UberEats, DoorDash, etc.
Online sales: As a restaurant-specific platform, this specific type of POS does not provide any ecommerce features or integrations. But, you can create a custom online ordering system. Upserve also has reputation management functions to gather, read, and respond to all online reviews in one place.
Reports: Upserve analytics are highly geared toward restaurants, including sales by category, tender type, and comp/void activity, as well as employee labor reports that displays all employees' hours, sales, tips, and earnings for a specific date or date range. Upserve also has a wide range of inventory analytics, including supplier expenditure, food costing, profitability, and wastage reports.
Customer Service: Phone, live chat, and email support are available 24/7.
To learn more about Upserve's restaurant features, read our full Upserve POS review.
Shopify: Best for Retailers Who Also Sell Online

Businesses that sell both online and at physical stores need a POS that's uniquely designed to handle both types of transactions. You have to figure out how to manage things like inventory, returns, and store credit across multiple selling channels. Shopify solves this by combining everything into one system: It's a full-powered POS for in-store transactions, and a robust ecommerce website builder to sell online, or on Amazon, Facebook, and Instagram.
The main downside to Shopify is the monthly cost. If you just have a few products you want to sell online, Square offers a completely free alternative. However, for a full-blown ecommerce store, and powerful inventory management system, Shopify is the best solution.
| Shopify POS Advantages | Shopify POS Disadvantages |
| --- | --- |
| One of the easiest to use and most highly-rated POS systems | Inventory requires expensive add-on ($89 per month) |
| Create your own online store, and integrate thousands of Shopify Apps | Not ideal for restaurants |
| Offers competitive payment processing with option to connect third-party gateway | |
Shopify POS Pricing
$29 per month for Basic Shopify, which includes all the main payment terminal and ecommerce features, but only two staff accounts and limited reporting. Swiped transactions are charged at 2.7%.
$79 per month for Shopify's standard package, which allows up to 5 staff accounts. Swiped transactions are discounted to 2.5%.
$299 per month for Advanced Shopify, which allows up to 15 staff accounts and advanced reporting. Swiped transactions are further discounted to 2.4%.
Every Shopify account comes with the free POS system, however, any level Shopify account can add POS Pro for $89 per month. This gives you unlimited staff accounts with permission setting, more advanced inventory management that includes features like automated receiving, purchase orders, and low stock reports, plus omnichannel features like buy online, pickup in-store.
Shopify Credit Card Processing
Shopify offers its own credit card processing service, with rates varying depending on the level of your Shopify plan (as listed above). Shopify also integrates with dozens of third-party gateways, so you have the option to use a different payment processor if you can get a better rate, or want to accept cryptocurrency.
Shopify POS Features
Inventory Management: Shopify's inventory management is somewhere in between Square and Lightspeed. While it does not let you set up automated purchase orders like Lightspeed, it does let you enter orders manually, and track their progress. Upon arrival, you can use a bar code scanner to confirm the items received, and add them to your inventory. Square does not currently have such a feature.
Marketing and Loyalty: Shopify includes email marketing tools to design promotional emails and send them to customers. There's no native customer loyalty program, although Shopify does support dozens of third-party loyalty apps.
Restaurant Features: While Shopify is not intended to be used as a restaurant POS, you can set up your online store to accept food orders with delivery management.
Ecommerce: As a leader in ecommerce, Shopify's website builder is one of the most popular on the market. It's easy to use, and able to support just about any niche feature or integration your store might require. Shopify also supports multichannel selling on Amazon, Instagram, Facebook, Pinterest, and more.
Reports: Unlike the other POS systems we reviewed, Shopify includes both typical sales reports, like average order volume, as well as ecommerce-specific reports, like website traffic and abandoned shopping carts. Premium editions of Shopify also include customer demographics (like location, first time vs returning sales) and more granular product and inventory reports.
Customer Service: Phone, live chat, and email support are available 24/7.
To learn more about why Shopify is the best choice for omnichannel retailers, read our full Shopify POS review.
Loyverse: Best Free POS With Built-in Loyalty Rewards

If you're a small retail shop or food service business, like a coffee shop or food truck, Loyverse can provide you with a surprisingly strong POS system that's completely free. True to its name, Loyverse includes a simple loyalty rewards program that automatically tallies points and prints the balance on the customer receipt.
However, unlike Square, the other free POS system we reviewed, Loyverse does not do credit card processing, online ordering, or ecommerce. Nor does it integrate with any payroll or accounting software. As a result, Loyverse is not nearly as scalable as the other systems we reviewed.
| Loyverse POS Advantages | Loyverse POS Disadvantages |
| --- | --- |
| Completely free POS with inventory and restaurant management features | No customer service for free accounts |
| Basic loyalty rewards system is also completely free | No built-in payment processing |
| Upgrade to advanced inventory with bar code printing for only $25 per month | No online ordering or Grubhub/DoorDash integrations |
Loyverse Pricing
Free: This version of Loyverse includes all the main POS features, analytics, a kitchen display system, and customer display.
Employee management: ($5/month per employee) allows you to track hours and run reports on employee sales.
Advanced inventory: ($25/month) lets you print bar codes, create purchase orders, and run more advanced inventory reports.
Loyverse Payment Processing
Loyverse does not offer its own credit card processing service, but it does integrate with CardConnect, Worldpay (formerly Vantiv), SumUp, and iZettle. Some of these services may require a monthly subscription fee.
Loyverse POS Features
Inventory management: Similar to Square, Loyverse includes basic inventory management for free, which lets you import items, and keep track of the quantities. The Advanced Inventory add-on ($25 per month) lets you print bar codes, create purchase orders, run inventory counts and inventory valuation reports.
Marketing and loyalty: Whereas every other POS we reviewed requires a paid subscription, Loyverse offers a free basic loyalty program. Customers have to be signed up by the cashier, at which point they'll begin earning points on their purchases and find their balance printed on their receipts. However, unlike the other loyalty systems, you can't add custom rewards. You can either redeem their points in the form of a discount or hand them a physical reward and deduct the points manually.
Restaurant features: Loyverse offers a few basic restaurant POS features. You can add your menu with modifiers, and take advantage of a free kitchen display system, but there's no table map or online ordering, nor does Loyverse support integrations with Grubhub, UberEats, DoorDash, etc.
Ecommerce: Loyverse does not provide any ecommerce features or integrations.
Reports: Loyverse includes all the sales reports you expect to see, like sales by item/category, daily and weekly sales trends, and sales by employee (if you purchased the Employee Management add-on). It does not have anything like the advanced custom reporting that comes with Lightspeed, nor does it have the inventory and ingredient-level reporting that comes with Upserve.
Customer service: Live chat support is available 24/7 for paying customers, but not offered to free users.
To learn more about Loyverse, read our full Loyverse POS review.
Bottom Line
When it comes to finding the best iPad POS software, most businesses are looking for something that can handle payments smoothly, allowing you to add tips, or split transactions between payment types, as well as something that can keep you organized on the backend. Square is wholly unique in that they offer inventory, ecommerce, restaurant management and employee timecard features completely free. Before you commit to spending anything on another system, it's worth taking a close look at what Square offers first.