Business landline setups transmit calls over the traditional copper landline network, which has been in place for more than a century. While expensive, these systems provide time-tested reliability, even in the event of a power outage. The fact they run independently of an internet connection also makes them an attractive alternative to internet-based services.
Landline Providers
Landline providers differ from their internet-based, voice-over-internet-protocol (VoIP) counterparts because their service relies on physical copper wire infrastructure. As a result, there is limited competition between regions and metropolitan areas. Not only that, but because the country's largest telecommunications firms comprise upwards of 90% of landline market share, businesses do not have a lot of options when shopping around for a service provider.
These carriers include:
While these providers have a nationwide presence, not every landline service is available in every location. In some cases, like in suburban or rural areas, smaller regional providers may fill in this gap. However, no matter which provider serves your area, you will need to be prepared to negotiate a customized service agreement based on the lines you need, where you are located, and more.
Alternatively, we recommend looking at the wide range of small business VoIP systems on the market, which offer clear pricing plans and have no need for extra hardware. For example, RingCentral offers unlimited calling plans starting at just $19.99 per user, per month.
Business Landline vs VoIP
Landline phones have existed for more than 100 years. In basic terms, they transmit sound over an extensive network of copper wires. This is otherwise known as the public switched telephone network (PTSN). Both businesses and consumers have been using the landline network for many years.
Landline systems are quickly being replaced by voice-over internet-protocol (VoIP) systems, virtual phone services, and cellular phones. This is because these services are both more affordable than landline subscriptions and they can offer things that landlines cannot, such as video conferencing, visual voicemail, and more. For more information, check out our guide on the differences between VoIP vs landline service.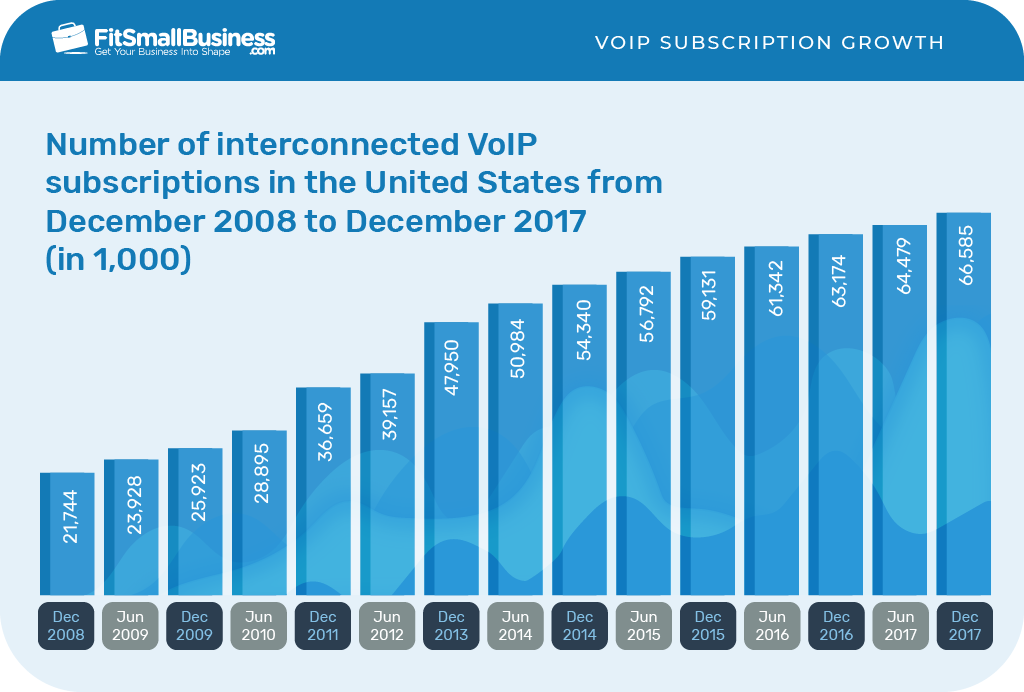 Who a Business Landline Is Right For
For the vast majority of users, a voice-over-internet-protocol (VoIP) or virtual business phone system will be a better choice than a landline system due to cost and feature constraints. However, the longstanding landline phone system still has its place in the modern era. This is especially true for rural businesses, as the systems run independently of the internet.
However, business landlines are not without their setbacks. They don't have much functionality beyond making and receiving calls. Additionally, they are very expensive compared to internet-based phone systems. All told, we can only recommend a landline service to organizations that do not have access to a high-speed network connection.
Reasons Businesses Still Need Landlines
While a growing number of businesses are making the switch to a VoIP business phone solution, landlines still offer a few benefits compared to the newer technology. These benefits include:
Ease of Setup
You will need to have your landline wiring set up by the service provider. You will also need them to wire any public branch exchange (PBX) hardware you need. This could easily run into thousands of dollars in additional costs.
Reliability
While they are basic in nature, landline technology provides consistent call quality and has a relatively low dropped call rate when compared to VoIP services. This remains true even when compared against four-line phone systems. This is perhaps their greatest advantage.
Emergency Response
If you make a call on your business landline system, you will be automatically routed to your nearest 911 dispatcher. While most VoIP systems have E911 functionality that works similarly, some of them don't have the features. As such, this is one benefit that landlines have over their internet-based counterparts.
Availability
A landline setup does not require an internet connection, which makes it ideal for those without access to a high-speed network. Also, the landline network does not rely on a connection to the power grid. Therefore, you can continue to make and receive calls even during a power outage.
Landline Features
Landline services lack video conferencing, file sharing, visual voicemail, and other features that are often found standard in internet-based competitors. However, you can still make calls and receive voicemail messages with a business landline.
Landline Costs
Prices for landline setups vary by provider. Additionally, the providers available to you will depend entirely on what phone companies operate in your region. With that in mind, you can expect to spend between $100 and $200 for a base hardware PBX unit. And based on our calculations, five landlines in New York City costs around $295 per month, which makes it a lot more expensive than the likes of virtualized phone providers like Grasshopper or Google Voice.
Other costs to consider:
Cost: The process of setting up a landline network alone can cost thousands of dollars. On top of that, the monthly service rates of a landline service usually exceed that of a VoIP or virtual phone system.
Long-distance rates: Most landline systems charge a per-minute rate for long-distance calls. This is lacking compared to internet-based services, which offer unlimited calling to anywhere in the United States.
Landline Hardware
The amount of hardware you need will depend on what provider you sign with, how big your company is, whether your office is already equipped with phone wiring, and more. Pricing for phone hardware can range anywhere from $75 to $200 depending on features, line support, and more.
One of the most frustrating aspects of adopting a landline system is that there are so many variables, you most likely won't know how much you are spending until you have the final paperwork in front of you. On the other hand, VoIP services typically make their pricing information public, and they often don't require any additional equipment at all.
Bottom Line
Landline phone systems are an aging technology that continues to be replaced by less expensive, more powerful VoIP and virtual phone solutions. However, the copper network continues to serve millions of consumers and business users, and therefore still has its place in the modern world due to its reliability for the immediate years to come.