Although voice-over-internet-protocol (VoIP) solutions are all the rage, business landline systems remain an important tool for business owners. Traditional phone services rely on copper wire infrastructure, whereas VoIP requires internet connectivity. When using a standard landline, you won't lose your calling capabilities if your internet or power goes out. The stability of a landline makes it easy for companies to stay connected to customers.
Landline Providers
Landlines providers use an extensive system of copper-wired networks to deliver services across the United States. However, conventional phone lines have long been controlled by a handful of landline providers, limiting competition and leaving many regions dependent on one provider.
The main telecommunications carriers include:
For business customers located in smaller communities, regional providers maintain infrastructure to ensure reliable landline services. Yet, with few competitors, prices can be steep. That's why it's critical to negotiate a service level agreement (SLA) that provides the number of lines and features your company needs.
Although a business landline has its advantages, you may want to consider switching to a small business VoIP system. Cloud-based phone solutions offer advanced features and affordable plans, making them an excellent alternative to traditional landlines. With a provider such as RingCentral, you get unlimited calling and a virtual receptionist with plans starting at $19.99 per user, per month.
Business Landline vs VoIP
Business landline phones have been the standard for more than a century. However, over the last couple of decades, the public switched telephone network (PTSN) hasn't received many upgrades. Instead, phone companies are investing in fiber optic lines that support both phone and internet services.
As conventional phone system prices continue to increase, many business customers turn to virtual phone services that use your existing internet or cellular network. The flexibility provided by VoIP systems makes it a more business-friendly service, both on the pocketbook and in features.
Companies use VoIP services to communicate in the formats today's customers want without spending a lot of money. If you're undecided about which service is right for your business, take a look at our guide explaining the differences between VoIP vs landline systems.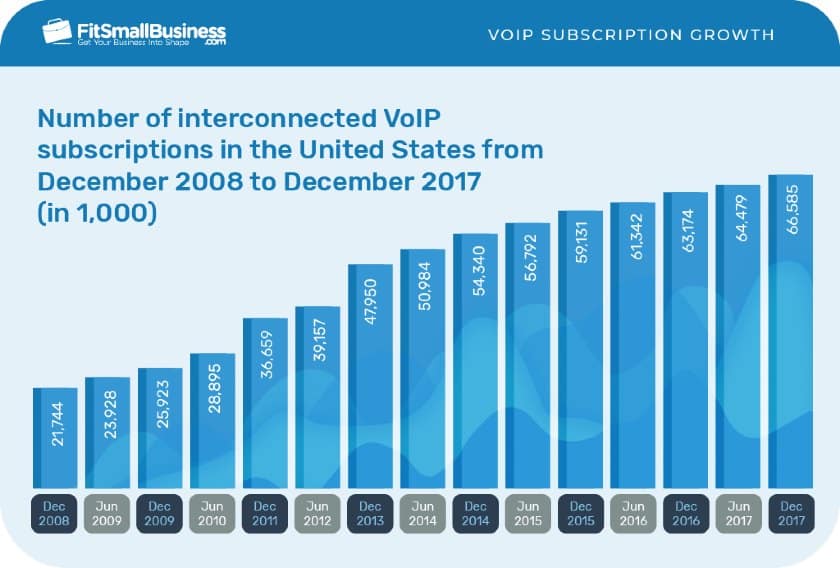 Who a Business Landline Is Right For
A business landline, such as a four-line service, may be right for organizations with limited internet access, such as companies located in rural areas with spotty service or regions without high-speed internet access. However, in most cases, a small business VoIP phone system is a much better option.
Unlike a standard business landline, a virtual phone system offers features that were once only available via expensive public branch exchange (PBX) systems. The cost of installing and maintaining a PBX system prevents many small companies from taking advantage of the features. With an internet-based PBX service, you may pay a much lower price for double the functionality.
We recommend a business landline only when a company doesn't have a reliable and fast internet connection. Otherwise, you'll get more for your budget by choosing voice-over-internet-protocol services.
Reasons Businesses Still Need Landlines
Although an internet-based phone system is increasingly the preferred solution for companies, business landlines aren't going to disappear quite yet. After all, your business building is likely already wired for phone service, and you may not be ready to cut the cord.
Ease of Setup
Your telephone provider installs a copper wire-based phone service. If you're buying only two to four lines, the installer runs the wires to your building and puts a phone jack inside your building. Many phone providers help companies connect analog phones and ensure it's up and running. However, if you want an on-premise PBX system, it will require additional infrastructure and maintenance that you may be responsible for.
Reliability
VoIP phone systems have come a long way when it comes to reliability. However, you may feel more comfortable knowing that your phone system doesn't rely on an internet connection or need electricity to function. Business landlines rarely lose service unless the wires are cut.
Emergency Response
Since business landlines are tied to a specific address, if you dial 911, your call gets automatically routed to your nearest emergency call center, and dispatchers can see your exact business location. Cellular phones and VoIP plans may include E911 services, but it's not mandatory, making it essential for business owners to check for this function before purchasing a VoIP system.
Availability
Landline phone service is available in areas, no matter how remote. Since it doesn't require an internet connection or electricity, you don't need to worry about reliance on these services. Furthermore, copper wire networks are stable and don't break down due to natural disasters or power outages. The majority of your calls on a landline are crystal clear, and you won't lose connection.
Landline Features
A business landline lets you make and receive incoming calls based on your business' total number of lines. Most plans come with standard features, such as:
Caller ID
Call waiting
Call forwarding
Three-way calling
Call transfers
Call waiting ID
Some providers include voicemail in the standard package, while others offer business voicemail as an add-on service. On-premise PBX systems may give additional features, such as a company directory or interactive voice response (IVR) system, but the cost tends to be prohibitive for small organizations.
In contrast, internet-based phone systems typically include dozens of features. VoIP services may add voicemail-to-email, video conferencing, and advanced call routing features along with the basic functions listed above.
Landline Costs
Business landline costs vary by provider and are based on how many lines and add-on features you select. For example, one AT&T business phone line can range from $40 to $75 per month, plus taxes and fees. Most small businesses require at least two lines. For a multiline phone system, you'll need the base hardware PBX unit, which costs between $100 and $200 per phone.
For five landlines, you can expect to pay $200 to $300 per month, plus initial hardware costs of $500 to more than $1,000. This is quite pricey when compared to VoIP systems, which don't require special hardware and can cost you half of your monthly landline subscription.
With business landline service, you may also pay additional fees, such as:
Installation and setup: Some providers charge a one-time installation and setup fee to install new landline services. If you want an on-site PBX system, this cost can add thousands of dollars to your startup price.
Maintenance: The phone company only maintains the wiring going to your business, and you're responsible for the wiring inside your building. Some providers offer an insurance package for a monthly fee. If there's a problem inside your office, they'll handle it. Otherwise, you must maintain and fix any issues yourself.
Long-distance rates: A few providers may offer unlimited long-distance calling, but most charge a per-minute fee. So, if you're calling anywhere outside of your local business area, you may pay an added cost per minute.
Landline Hardware
Landline hardware can get expensive, and analog phones need replacing every few years. Since the amount of hardware required depends on your building's location, size, and the number of lines, it's difficult to calculate your total costs without speaking to a phone company representative.
With VoIP service, however, you can use your computer or cell phone to make and receive calls. Some providers offer softphones or desktop units, but the equipment and prices are on their website, and it's easy to figure out your costs before making a decision.
Bottom Line
As more telephone service providers invest in fiber optic internet cabling, they will continue to build upon the VoIP technology and move away from standard phone lines. However, not all areas have access to reliable high-speed internet, so traditional copper lines won't go extinct any time soon. If you're looking for a new business phone system, you can get quotes from your local telephone and internet provider alongside quotes from well-known VoIP providers.