Business Landline Systems, Alternatives & What They Offer in 2023
This article is part of a larger series on VoIP.
The best business landline services provide excellent call quality, affordable equipment fees, and extensive call handling features, including call forwarding, call waiting, caller ID, and three-way calling. Still, modern office communications are clearly moving toward voice-over-internet-protocol (VoIP) calling, which always has these features and more. In this guide, we provide an overview of traditional landline phone systems and their benefits, features, and popular providers.
Top Business Phone Landline Service Providers
As technology becomes more advanced, landline phones have offered more capabilities that help businesses handle calls more efficiently. Some sophisticated features are extension dialing, simultaneous ring, and selective call rejection.
Telecommunication companies providing business landline phone services typically charge monthly per phone line. Refer to the tabs below to learn the fees and features provided by landline phone system providers:

AT&T doesn't publish its rates for business landline services, but the provider does provide unlimited local and nationwide calling. While this is a feature readily available with most VoIP service providers, it's very useful for those in need of landline service's consistent reliability. AT&T also has voicemail, caller ID, and call waiting for those businesses looking for a strong call management solution.

Unlike AT&T, Verizon readily publishes its pricing structures. Prices start at $59 plus taxes with a two-year agreement with auto-renewal for account holders. This is fairly cheap for a business landline service, and with it, you receive unlimited nationwide calling without long-distance fees. Verizon also offers automatic callback, caller ID, and voicemail.

Spectrum's prices start at $29.99, which is very competitive for a landline business phone system. In fact, this price is competitive with some VoIP providers, which typically fall far below the price points of landline systems. Spectrum also is one of the few landline providers with an auto-attendant, which allows you to create phone trees when managing incoming calls. Additionally, Spectrum has extension dialing, call rejection, and simultaneous and sequential ring features. Simultaneous and sequential ring is particularly useful if you have multiple agents managing inbound calls.
Top VoIP Service Providers
While a landline provider might be useful, it's best to understand that VoIP has been steadily getting better than the analog system for several years. For example, most have very low international calling plans, provide virtual numbers for your business, and are just more budget-friendly than landline systems. Here's a quick overview of some of the top providers in the VoIP business phone space:
Provider

Monthly Starting Price Per User

Key Features

Free Trial

$30

Interactive voice response (IVR)
Hot desking
Unlimited audio conferencing

14 days

$30.95

Threaded conversations
12,500 toll-free minutes
Call pop

7 days

$19.99

Call rerouting
Conference bridge
Over 50 calling features

14 days

$23

Unlimited ring groups
Call flip
Custom call routing

14 days

$14.99

Click-to-call
Follow me
Voicemail-to-email

30-day money-back guarantee

$19.95

Call park
7-digit dialing
Paging groups

30-day money-back guarantee

$31 for unlimited users

Call screening
Voicemail transcription
Custom greetings

7 days
Overview of Business Communications Systems
A landline is a telephone connection that sends signals through analog technology, such as copper wires or fiber optic cables. The calls move along a physical line, connecting different parties. There are two types of landline phones: corded and cordless.
A corded landline is plugged into the provider's cabling through a wall jack, as the phone base and the handset are connected by a cord. A cordless landline is similar, except the handset is wirelessly connected to the phone base.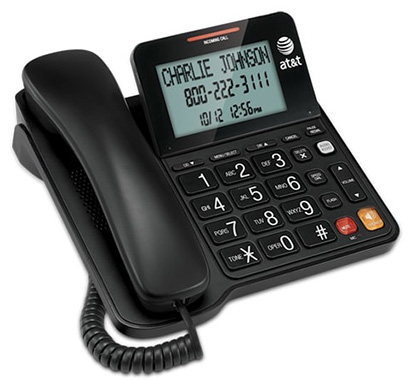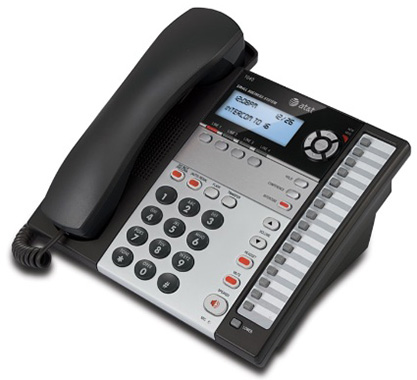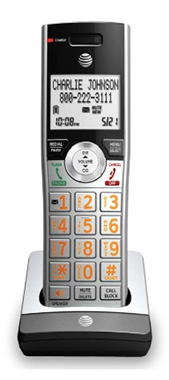 Comparatively, a VoIP phone system utilizes the internet to send and receive data packets that are then unencrypted into voice. While there's a need for a fast internet connection, these aren't limited to simple hardware-based phones. Here's a breakdown of the advantages and disadvantages of each of these systems:
Corded

Cordless

VoIP

Advantages

Great call quality: Prevents dropped calls since it's directly connected to the phone line
Reliability: Does not depend on electricity or batteries, benefiting businesses that need to make and receive calls without interruption

Portability: Enables users to move around and multi-task
Multi-phone setup: Allows several handsets to be connected to the same base, accommodating several team members using phones

Multiple devices: VoIP isn't limited to IP desk phones and can be used on mobile, desktop, or laptop computers
Service reliability: Most providers deliver uptime guarantees of over 99.99%
Reduced long-distance costs: Most VoIP providers cover unlimited calling in the U.S. and Canada and have greatly reduced long-distance fees

Disadvantages

Stationary equipment: Forces users to remain in one place, which could be bothersome for those needing to multi-task or have some privacy
Bulky design: Not as compact and handy as a cordless phone since it's always connected to the phone base

Limited range: Still needs the phone base for better signal, and calls are easily affected by walls or large furniture in the office
Reliance on battery: Requires charging and replacement of batteries every now and then

Internet dependence: Businesses need a fast internet connection for call quality
Security: Since VoIP is internet-reliant, it's also a technology that can be vulnerable to bad actors
A business landline requires a physical infrastructure called hosted private branch exchange (PBX). The phone system provider installs this equipment in your office unless you already have one. All phone lines will be hardwired into this network. In contrast, VoIP uses a broadband connection as its main infrastructure to make and receive calls. While landline systems are limited to desk phones, VoIP allows using desk phones, desktops, laptops, and smartphones.
Learn more about the differences between these two phone systems by reading our comprehensive VoIP vs landline guide.
How Landline Systems Help Small Businesses
Although VoIP has become more popular in recent years, business landlines are still beneficial for some business communications. These are the ways these traditional phone systems help operations:
Enable High-quality Calls
Since voice signals are transmitted through wires or fiber optic cables, which aren't easily affected by severe weather conditions, businesses don't have to worry about spotty signals or dropped calls. Moreover, voice communications have excellent sound quality and clarity, contributing to more pleasant team collaboration and customer experience. In the case of VoIP phone systems, the quality of the calls largely depends on internet speed.
Require a Simple Setup
A one-to-four-phone line is easy to install. Most buildings are already wired for landline service, so it's only a matter of plugging devices into the phone jack to set up your system. If your office doesn't have wiring yet, the phone service provider will install the wiring outside of the office and the phone jacks inside.
However, the system setup could be complicated if you require multiple business phone lines and numbers since you need to have an on-site PBX, where a physical hardware box is hardwired via a main line. Some providers offer technical support, while others will require you to have a dedicated team for the maintenance and upgrades of the equipment.
Promote Ease of Use
A business landline phone is simple in design, which makes it easy to use. The phone pad is readily displayed with distinct labels on buttons and functionalities. With the accompanying screen, the users immediately see the number they're dialing.
Moreover, many are already familiar with landline phones, which have been the most popular communication tool for years. This means there's little to no learning curve among team members when adopting this kind of phone system.
Offer Nationwide Availability
The vast copper wire network in the country allows the setup of landline phone systems anywhere, benefiting many businesses, especially those located in rural or remote locations. Those without internet access (and therefore won't have the option to adopt VoIP solutions) still have a reliable phone system for business communications.
Provide Reliable Service During Emergencies
When considering a landline for business use, be aware that business landline systems are less affected by severe weather conditions. This means that they allow users to place and receive calls even during electricity interruptions. Moreover, legacy phone services are affiliated with a specific address that makes it easily traceable in an emergency. Telecommunications providers forward 911 calls to public safety answering point (PSAP) dispatchers, as mandated by the Federal Communications Commission (FCC).
Top Features to Look for in a Landline System
If you think this traditional communication tool fits your needs, become familiar with what business landline phone service providers offer. Some have basic features that make them easier to use, while others have advanced tools, giving greater flexibility in managing calls. Knowing these features will help you compare providers and their respective costs.
Read on to explore what features to look for in a business landline:
See who's calling before answering a phone call. With a caller ID, you can screen calls, picking up only the ones important to your business. It's easy to ignore spam and telemarketer communications. Aside from filtering calls, this feature allows the right team members to answer, especially when you're already familiar with the typical concerns of clients coming through the line.
---
Get notified when a second call goes through the phone line. A sound will pop up, indicating another caller is waiting. The call waiting ID offers information about the second caller while you're on a live call. You can put the ongoing call on hold to accommodate the other caller.
---
Regular call forwarding redirects calls automatically to another phone number. Selective call forwarding transfers only the calls from numbers you choose to be redirected. With this feature, you won't miss any customer inquiries, even when working remotely.
---
Also called live hunting, this feature distributes incoming calls to one phone number to a group of several phone lines. This promotes efficiency in handling calls, eliminating the need for a team member to manually assign customer inquiries.
---
Communicate with two people at different places simultaneously. To facilitate three-way calling on AT&T phones, you have to press "Flash" to put the first call on hold and then dial the second phone number you want to include in the call, followed by the # key. Press "Flash" again when the second caller picks up. After this, all three parties should be able to communicate easily.
---
See the last person who called your phone number and automatically make a return call. This is beneficial when you miss a call and wouldn't want to forget to revisit the caller. To activate this feature, most telecom providers require dialing an asterisk followed by a two-digit number.
---
Why Upgrading Your Office Phone System Is Essential
A business landline phone service is an excellent tool for reliable communications with team members and customers, but its appeal has waned over the past years as digital platforms have become the norm. In addition, the FCC's Order 19-72, which freed telecom companies from the obligation to provide plain old telephone services (POTS), compelled some businesses to move away from copper-wire business landlines and adopt internet-based phone services.
In many aspects, it makes sense to upgrade the office phone system from traditional landlines to VoIP. Here are the reasons you should consider switching to a VoIP system:
Landline phone services are more expensive than VoIP as they involve costs for the installation, maintenance and upgrade, and subscriptions. The installation expenses quickly increase when you need multiple phone lines and new wiring and phone jacks in the office.
In contrast, VoIP systems don't have installation and maintenance fees since they don't require physical infrastructure. While multiple users in the system drive up the cost, some providers, like RingCentral and Nextiva, offer volume discounts. As for the actual hardware for making and receiving calls, you use the digital devices you already have, smartphones and computers.
Ultimately, you only pay for the VoIP and internet subscription. The best business phone systems providing VoIP technology typically charge $15 to $30 per month, which is more affordable than most business landline phone plans. If you're after budget-friendly options, check out this list of the best cheap VoIP services.
---
Unlike landlines, VoIP phone features include a wide range of call management capabilities, including multi-level auto-attendant, call recording, call routing, call whisper, call barging, and call park. Nextiva's call analytics, which offer meaningful insights about the efficiency of customer communications, feature gamification elements that improve employee productivity and engagement.
Aside from call management capabilities, most VoIP platforms have robust unified communications features, such as team messaging and video conferencing, allowing teams to collaborate easily. RingCentral's video conferencing feature accommodates up to 200 participants. Use VoIP solutions to get access to advanced communication capabilities.
---
One of the biggest disadvantages of a landline for business is that it's fixed in place. Team members can only make and receive calls when they are in the office, in their own workspace.
When you upgrade to a VoIP system, employees are able to bring the phone system wherever they are because these platforms have mobile app versions. This is especially beneficial for businesses embracing hybrid work arrangements, where employees work on-site and outside the office. RingCentral tops our list of the best VoIP apps for small businesses.
---
Bottom Line
A landline phone system is an excellent and reliable communication system for small businesses, especially those in rural or remote areas. Since it doesn't rely on the internet or electricity, you'll have an operable phone system even during severe weather conditions.
However, landline phone systems are costly to set up and maintain and have limited features, which are huge deal-breakers for businesses wanting a scalable communications solution. If you want a more affordable, feature-rich phone system, we recommend switching to advanced VoIP technology tools.