20 Company Culture Ideas To Engage Employees & Drive Results
A thriving company culture that includes clear and concise policies, effective communication strategies, and fair and equal treatment can help employees feel engaged and appreciated. Check out these 20 company culture ideas, which go beyond basic compensation and benefits, that can make your small business a better place to work and, ultimately, more successful.
1. Establish a Company Culture Committee
A company culture committee can be an immensely valuable tool for boosting morale and creating a cohesive team. Tasked with developing and implementing policies that foster a positive work environment (such as creating a code of conduct and establishing standards for employee behavior), the committee should be made up of representatives from all departments and levels of the company.
By creating a company culture committee, employers can help ensure their employees have the necessary resources to be successful in their roles.
2. Highlight Company Culture in Job Descriptions
Job descriptions include some of the most important pieces of information that a company can deliver when hiring new employees. Besides dictating the requirements for a particular role, these can also provide a snapshot of the culture and values of the company—which can attract qualified candidates as much as a high salary can. Given that, your job descriptions should always reflect the company's values and how employees are expected to behave.
It is important to review the job descriptions and company culture before interviewing applicants to ensure that the new employee will feel comfortable and happy working at your company. This way, potential employees know what to expect when applying for a job, and they can make an informed decision about whether or not to take the opportunity.
3. Include Company Culture in Your Employee Handbook
As an employer, you want your employees to feel welcomed and appreciated. But what about communicating the culture of your company? How do you make sure that your employees are aware of it? One way to do this is by including a company culture section in your employee handbook, which establishes a common ground for all employees and ensures everyone knows what is expected.
A great example is found in Warby Parker's code of conduct statement in its employee handbook. The chosen wording conveys its company culture as fun, inclusive, and positive.
4. Establish Regular Town Hall Meetings
A town hall meeting is a gathering of the entire company to discuss policies, procedures, happenings, and employee recognition. This is an excellent time to make sure all your employees are on the same page when it comes to expectations within the workplace.
Also, these gatherings promote open communication—giving a forum for employees to air concerns and ask questions, while also allowing companies to get feedback on the internal culture and how it can be improved.
5. Prioritize Diversity & Inclusion
Diversity and inclusion are important values in the workplace, as they help create a welcoming and supportive environment for all employees. By promoting a company culture that prioritizes these, you can improve communication and teamwork and even reduce office stress, which ultimately improves employee productivity and satisfaction. Besides that, an emphasis on diversity and inclusion can help to attract and retain talented employees.
There are many ways to foster a culture that prioritizes diversity and inclusion.
Create a policy that outlines how diversity and inclusion will be treated within the company. Encourage employees to speak up when they see or experience discrimination or harassment.
Ensure all employees have access to training on these topics. Leaders need to understand the importance of diversity and inclusion and ensure everyone in their organization understands these concepts.
Create an environment of trust and respect. Talk about diversity and inclusion openly and honestly.
Include diverse language on your webpage.
Promote diversity and inclusion in your hiring process. This includes considering candidates' backgrounds, experiences, and skills when making decisions about who to interview and hire.
6. Reevaluate Office Workspaces
The majority of office spaces are rooms and cubicles lined up along walls and internal spaces that create a boxed-in feel for employees. Some simple changes to your office design can help with team collaboration, employee happiness, and the overall wellness of your company culture.
Start by eliminating cubicles to create a more open workspace. There are many benefits to doing so, including better communication and collaboration. When everyone is working in close proximity, it's easier to get feedback and discuss tasks. An open workspace also allows for more creativity—something not as common when working within the walls of a cubicle.
7. Develop Culture-inspired Perks
Your benefits package is one of the top perks for your employees. By creating one that is rich in traditional benefits and perks, you can improve your company culture. Start by offering typical benefits, such as paid time off, medical insurance, life/disability insurance, and retirement benefits. Then consider what extras might exemplify and support your company culture and values.
Some possible perk ideas include:
Flexible work schedules – Allows employees to manage their personal schedules
Remote or hybrid work options – Promotes a better work/life balance
Tuition assistance – Encourages employees to continue their professional growth
Wellness programs – Adds value to the overall wellness of employees
Child Care assistance – Offers options for young families
Pet-friendly workplaces – Creates an inclusive work environment
Team collaboration events – Encourages group projects and communication between employees
Free meals, such as snacks or company-paid lunches – Boosts morale and promotes taking breaks to destress
These small gestures can go a long way in promoting an environment where employees feel like they're part of a community and are motivated to contribute their best work.
8. Offer a Flexible, Remote, or Hybrid Work Schedule
Remote work and flexible work schedules have become increasingly popular in today's competitive job market as a way to reduce commute times and increase work-life balance. As mentioned above, offering these types of options can help improve company culture and attract and retain top talent. Flexible work schedules can also reduce stress levels and make employees more productive.
For employees who want to work remotely but still value in-office work, you can create a hybrid work environment. These employees can work in the office two or three times a week and then work from home the rest of the week.
9. Encourage Time Off
Encouraging your employees to use their paid time off is an important way to keep them happy and productive—a direct result of a healthy company culture. There are many ways to help your employees take advantage of their paid time off, including:
Making sure that your PTO policy is clear and concise; employees need to know exactly what they're entitled to and when they can use it
Requiring your employees to use a certain number of PTO days per year
Allowing rollovers of unused PTO
10. Promote a Work-life Balance
Along with offering flexible schedules and encouraging time off, promote overall work-life balance in your company. This is one of the best company culture ideas to incorporate into your business. Employees who feel their personal life is just as important to their employers as the work they do tend to be happier in their jobs and more productive.
Too much work can lead to burnout, while not enough work can leave employees feeling bored or undervalued. There are a number of ways companies can create a healthy work-life balance for their employees, such as:
Creating clear and reasonable deadlines
Providing flexible hours
Creating a supportive environment where employees feel comfortable asking for time off
By implementing certain policies and practices, businesses can help their employees manage their time and workloads in a way that is both productive and enjoyable.
11. Create Collaboration Groups
A collaboration group is a group of people (usually from different departments) who work together to achieve a common goal. This may take the form of brainstorming teams or project or scrum teams. It is an essential part of company success and can be helpful in reducing conflict and improving communication among employees by enabling them to share knowledge, skills, and ideas. This all leads to increased productivity.
Creating the perfect collaboration group is no easy task. Here are a few tips to ensure your team is successful:
Establish clear goals and expectations from the start. Everyone on the team needs to know what they're expected to contribute and what the end goal looks like.
Create a collaborative environment. This begins with setting the tone from the top, and avoiding micromanagement.
Use technology (i.e., document sharing, messaging, project management) to aid collaboration, particularly with remote and hybrid team members.
Keep communication lines open and consistent. Make sure everyone is comfortable speaking up and sharing their ideas.
Reward groups for their excellent ideas.
12. Celebrate Employee Accomplishments
Recognizing employees for their contributions to your business is an easy way to develop your company culture. This can be done through praise and thanks, providing recognition at important events, and awarding employee benefits such as employee discounts or free tickets to company events. These simple measures can go a long way in fostering a positive work environment and encouraging employees to continue giving their best efforts.
Some ways to celebrate employee accomplishments include:
Sending out monthly birthday and anniversary announcements.
Having an employee appreciation day and rewarding employees for their hard work with certificates of appreciation, achievement awards, or gift certificates.
Giving employees regular feedback on their performance. This can take the form of verbal praise, compliments, and honest assessments. Make sure that feedback is specific, relevant, and consistent across all employees.
13. Offer Professional Growth Opportunities
Too often, company culture is stagnant and unambitious. To break this cycle and improve employee engagement, companies should offer professional growth opportunities. This can include training and development programs, mentorship partnerships, and other opportunities that help employees grow their skills and contribute to the success of the company.
By providing these opportunities, companies can create a welcoming environment where employees feel appreciated and able to take on new challenges. And, it shows that the company is committed to the success of its employees.
14. Create a Wellness Program
When it comes to creating a healthy work environment, many companies overlook one of the most important components—wellness. Despite the fact that four in 10 workers report experiencing chronic stress and worry at some point in their careers, many companies are still unaware of the importance of creating a wellness program. A wellness program can help employees feel better physically and emotionally, which can in turn improve company culture.
Some things to consider providing are:
Health monitors, such as Fitbit wristbands
Gym memberships
On-site gym access
Walking groups
15. Provide Company Swag
It goes without saying that the best way to promote a business is with word-of-mouth and product placement. What better way to get the word out than to have your own employees sporting your company logo on T-shirts, coffee mugs, and pens. This is referred to as "company swag"—products that showcase the company name and logo.
Company swag may help to motivate employees, boost morale, and create a sense of community. This is especially important when it comes to small businesses, as they may not have the budget for large marketing campaigns.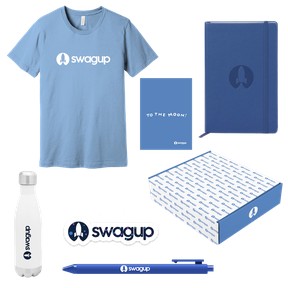 16. Give Performance Incentives
Incentives are an important part of performance management and have been shown to be effective in motivating employees. There are a number of different types of incentives, each with its own benefits and drawbacks. It is important to choose the right type of incentive for the situation and to make sure that it is appropriate for the employees involved.
Aside from a verbal recognition for a job well done, offering your employees incentives when they meet specific performance objectives can boost your company culture. This cannot only improve employee productivity, but also create a sense of teamwork and camaraderie. By rewarding your employees for meeting certain goals you are encouraging them to take pride in their work and help make sure the company succeeds.
Some examples of good incentive ideas include:
Giving your employees a cash bonus for meeting specific performance objectives. This is a popular option because it's easy to track and can be quickly distributed.
Awarding employee certificates or badges for achieving specific goals.
Allowing flexible schedules and remote work options to those high-achieving employees.
17. Encourage Volunteer Work
Your employees are passionate about more than just the work they do. They have aspirations and goals outside of the workplace. Allow your employees to foster these passions by offering incentives for volunteer work in the community. This shows that you care about your employees and the things they do outside of work, rather than only focusing on the productivity they supply to your business.
There are a few ways you can encourage volunteer work:
Offer "free" days off each month for volunteering
Offer bonuses or pay incentives
Donate company funds to the cause by matching volunteer contributions
Fostering employee passions can help create a positive environment for employees and encourage them to be creative and innovative.
18. Utilize Employee Engagement Surveys
Employee engagement surveys are a great way to assess employee satisfaction, morale, and motivation. By understanding employees' opinions, organizations can make informed decisions about how to best serve their customers and employees. Surveys can also be used to identify areas of improvement.
By engaging employees in surveys, companies can create a culture of feedback and transparency. There are many different types of employee engagement surveys, but all share the common goal of providing valuable information that can be used to improve the workplace. Some common types of surveys include feedback surveys, 360° surveys, and climate surveys.
19. Improve Onboarding Procedures
Onboarding is the first line of communication for new employees. To improve onboarding procedures, businesses should focus on providing a welcoming environment for new employees. This can be done by:
Creating a welcoming culture
Ensuring all new employees are properly introduced to the company and its goals
Providing new employees with clear instructions and expectations for their role within the organization, as well as guidelines for how to interact with customers
Onboarding is an important process for both the employee and the company. It helps to create a positive first impression and sets the tone for the employee's experience with the company. Given that, it should be interactive and informative, and should provide the new employee with all the tools they need to be successful. The sooner the onboarding process is started, the better.
20. Embrace Mentoring
Mentoring is an excellent way to develop and encourage employees in their careers. Employees with mentors are more likely to feel engaged in their work, stay with their companies for a longer period of time, and be better communicators. The benefits of mentoring go beyond the individual employee—companies that mentor their employees see a decrease in turnover rates, improved creativity and productivity, and increased innovation.
Mentoring can have a tremendous impact on the development of individuals in the workplace when done correctly. It can help employees grow and learn new skills and increase their productivity. However, mentoring can also be difficult to implement in the workplace. Here are some tips for encouraging mentoring in the workplace:
Make sure that mentorship programs are well-planned and executed.
Make sure mentors have the resources they need. Mentors should have access to training and resources, such as templates or guidebooks, that will help them get started.
Set up a system for recognizing and rewarding mentorship.
Bottom Line
Developing and fostering a company culture that aligns with your values and employees' needs is important for maintaining a productive, positive, and engaged workforce. By taking the time to create an intentional company culture, you can improve communication, teamwork, and morale while also attracting and retaining top talent.