6 Best Wix Alternatives: Which Competitor Is Best
Wix is very popular, but its paid plans aren't the cheapest compared to the top Wix competitors. Plans also don't include unlimited storage, and the sheer number of design tools and options could be overwhelming to beginners. To help you choose, we found the best Wix alternatives with more affordable plans, unlimited storage, beginner-proof editing tools, and features Wix lacks, such as ecommerce in a free plan.
Based on our research, here are the best Wix alternatives for small businesses:
Wix & Best Wix Alternatives at a Glance
Wix & Top Wix Alternatives

Free Plan

Starting Cost Monthly*

Starting Cost for Ecommerce*

Key Features

✓

$16

$27

✓

$12**

$0

Ecommerce for unlimited products in all plans, even free
Unlimited storage in ad-free plans
Hundreds of free and premium apps/plugins

✓

$9.99

$16.99

Appointment booking tools with all plans, including the free one
Website chatbots starting from free
Manage Google, Yelp & social from the dashboard

✕

$1

$1

Very affordable, from $1 per month, including ecommerce
Built-in email marketing tools with all plans
Fast load times to boost SEO

✓

$23

$0

Enterprise-grade tools for free/low cost
Email marketing, A/B page testing and advanced search engine optimization (SEO)
Add the free customer relationship management (CRM) for a total sales and marketing solution

✕

$16

$23

Unlimited bandwidth and storage
Add a Google map easily to help people find your business
Video Maker & video storage with all plans

✕

$2.95

$9.95

WordPress page builder in all plans
WordPress' core and security updates managed for you
Free domain, secure sockets layer (SSL), unlimited websites and free emails on your domain
*Based on an annual contract and first-year pricing; see provider sections below for more details.
**Lowest tier ad-free plan suitable for business use, billed annually.
Weebly: Best Wix Alternative Overall & Best for Ecommerce
What We Like
Ecommerce, even in the free plan
Square payments built-in—great for selling in-person and online
Beginner-friendly and fairly intuitive
Drag and drop Weebly Editor for noncommerce sites or section-based Square Editor (Square Online) for ecommerce for goof-proof site design
Large selection of third-party apps
What's Missing
Templates aren't the most modern; for a sleeker website, try Squarespace
Design customization is limited and not as intuitive as other site builders
Cheapest paid plan ($6 per month) displays Weebly branding (not appropriate for businesses)
Need the most expensive plan to get abandoned cart emails and product reviews
Weebly vs Wix
Both offer extensive premium and free third-party integrations
Wix's templates, design tools, and customization capabilities are better
Sell online with Weebly starting from free, with Wix you need the ecommerce plan
Wix's ecommerce plan is more robust
Weebly's ad-free plans have unlimited storage, so are better for content- and image-heavy sites than Wix
Weebly's restaurant features come in the free version; for similar tools you need a Wix ecommerce plan
Cost Overview
Free plan (Square subdomain and branding)
$12 for an ad-free plan includes ecommerce, domain, and SSL
$26 for large membership sites and some advanced features
In the beginner-friendly website builder space, it's often a toss-up between Weebly and Wix. Both offer free versions with intuitive site editors, but Wix sites are far more customizable due to Wix's true drag-and-drop editor and vast, more modern template library.
If you opt for a personal (noncommerce) site during setup, you'll get the Weebly Editor and access to its templates library. If you choose a business website, a template will be chosen for you based on your answers to onboarding questions, and you'll edit your site with Square's section-based editor.
You won't be able to choose a template when using the Square Editor (Square Online), but you can customize it with sitewide settings for colors, fonts, and so on. We feature details on both in our article showing how to use the Weebly website builder.
Where Weebly shines among top Wix competitors is in pricing, especially for ecommerce. With annual billing, Weebly's ad-free business website plans start at $12 vs $16 with Wix.
To sell on Wix you need a Business plan ($27) while Weebly has ecommerce on all plans, including the free one. To top it off, Wix only offers unlimited storage on the most expensive plan ($59) while Weebly provides unlimited storage and bandwidth starting with the $12 Professional plan. Learn how to build a Weebly ecommerce store online in a few steps.
There's no toss-up for restaurants as Weebly users can integrate GloriaFood's Restaurant System for free online ordering and reservations or use the Square for Restaurants app for similar features. To get comparable tools with Wix requires a Business tier subscription. For these reasons, we not only named Weebly as the best Wix alternative, but it's one of the best website builders for restaurants as well.
Weebly now comes with Weebly Promote, a built-in email marketing system. With Wix, you'll need an app or integration to build your contact lists and send marketing emails. Weebly also allows you to add sections with code, which means you can integrate web forms and sync your data to email marketing platforms like Mailchimp without needing a costly add-on.
Weebly includes membership site features in its $12 professional and $26 performance plans that require you to purchase at least the Wix Business plan ($27). If you're curious, getting membership functionality or email marketing with Squarespace requires the purchase of add-ons—from $9 to $35 for member sites and $5 to $48 extra each month for email marketing. Weebly is the more affordable option compared to both.
Weebly Pricing & Plans
| Weebly Plans | Free | Personal | Professional | Performance |
| --- | --- | --- | --- | --- |
| Cost/Month* | $0** | $6** | $12 | $26 |
| Free Domain & SSL | SSL only | SSL only | ✓ | ✓ |
| Connect a Domain | ✕ | ✓ | ✓ | ✓ |
| Storage | 500MB | 500MB | Unlimited | Unlimited |
| Unlimited Bandwidth | ✓ | ✓ | ✓ | ✓ |
| Ecommerce With Unlimited Products | ✓ | ✓ | ✓ | ✓ |
| Online Ordering, Coupons & Gift Cards | ✓ | ✓ | ✓ | ✓ |
| Email Marketing & Lead Capture | ✓ | ✓ | ✓ | ✓ |
| Apps/Plugins | ✓ | ✓ | ✓ | ✓ |
| Inventory Management | ✓ | ✓ | ✓ | ✓ |
| Membership Websites | ✕ | ✕ | Up to 100 members | Unlimited members |
| Advanced Ecommerce | ✕ | ✕ | ✕ | ✓ |
*Billed annually or pay monthly at a higher rate.
**Not ad-free; not recommended for business use.
Features for Small Businesses
Robust ecommerce, starting from free: If you're not impressed with the features Weebly offers startups and small businesses for free, you aren't looking closely enough. Sell unlimited products, take payments through multiple payment gateways, calculate sales tax and shipping fees automatically, manage inventory, take orders for curbside pickup, and organize products and variants.
Membership websites: Weebly is one of the best Wix competitors as far as membership websites. With Squarespace, member areas require the purchase of an add-on ranging from $9 to $35-plus a month. With Weebly, you can build a membership website for $12 per month without paying more for add-ons.
Accept donations and payments via PayPal: Nonprofits wanting to accept donations should consider Weebly's Performance plan. Not only can you add a PayPal button to accept donations, but you can also sell products, subscriptions, and create member-only areas to enhance the value of supporting your organization.
Read our Weebly review to learn more, then head over to Weebly to try it out with a free account before committing to a paid plan.
GoDaddy: Best Wix Competitor for Appointment Booking Tools
What We Like
Easy and intuitive to use
Affordable, especially the first year
Free plan available
One-time appointment booking and website chatbots with all plans (even free)
Unlimited storage and bandwidth, however, sites are limited to 50 pages
What's Missing
No free domain with any plan–most competitors include a free domain the first year with paid plans
Limited design customizability as there's no access to template library, small theme selection, and section-based editing
SEO features aren't as advanced as Wix's
Third-tier plan needed for recurring appointments or taking payments for appointments
Cheapest commerce plan limit of 5,000 products (unlimited with Wix & Weebly)
GoDaddy vs Wix
Comparable GoDaddy plans are cheaper than Wix, especially the first year
GoDaddy's plans all have unlimited storage, which Wix only offers on its most expensive plan
Wix allows up to 100 pages, GoDaddy caps this at 50
Wix has much better SEO features
Wix has much more advanced design capabilities
Wix has unlimited products on all commerce plans, GoDaddy's cheapest commerce plan has a limit
Wix Bookings starts at $27 monthly but with advanced features, while GoDaddy has one-time appointments on its free plan; advanced booking features start at $14.99 per month the first year
GoDaddy's plans come with built-in email marketing tools which Wix doesn't have
Cost Overview
Free-forever plan available
Paid plans from $9.99 monthly; renews at $11.99
Ecommerce starts at $16.99 the first year, renewing at $24.99 monthly
GoDaddy is one of the best Wix alternatives for those not needing Wix's souped-up features, but looking for specific tools, such as booking appointments online. It's somewhat more affordable but not truly apples to apples as GoDaddy's website builder lacks the advanced features, such as design and functionality, that Wix offers.
Still, GoDaddy's plans all have unlimited storage and bandwidth, which is more than you can say for Wix as Wix only offers unlimited storage on its $59 per month plan. However, GoDaddy websites are limited to 50 pages―presumably not including the blog)―whereas Wix sites can have 1,000 pages, plus a blog.
Where GoDaddy shines among the best Wix alternatives is for online appointment booking. It comes in all of GoDaddy's plans, including the free plan. Although you'll have to upgrade to at least the $14.99 per month plan, which is $21.99 after the first year,  to accept recurring bookings or process online payments for appointments. This is still a more affordable alternative to Wix as Wix costs at least $27 monthly for Wix Bookings.
If we have a gripe about GoDaddy, it's that its features are just too basic–especially compared to Wix or even Squarespace's offerings. You don't get to choose from a template library and a section-based editor, instead of a drag-and-drop editor, which may or may not be bad depending on your design skills. Get more details in our step-by-step guide on how to build a website with GoDaddy's website builder.
The upside is that you can change your theme's layout with limited choices easily without starting over, unlike with Wix. For absolute beginners building their first website, it's a much simpler way to make a small business website quickly.
One thing GoDaddy does make easier is some aspects of marketing. For example, unlike Wix, email marketing tools are built into paid plans. Plus, you can connect and manage your Google Business Profile, Yelp profile, and up to three social media accounts from the GoDaddy dashboard, including scheduling social posts. This comes starting in the free version.
GoDaddy also creates and updates an XML sitemap for you automatically. This makes it easy for you to submit your site map to Google through Google Search Console for indexing.
However, like design, extended functionality is pretty basic with GoDaddy. There's no app store, and GoDaddy doesn't state which integrations it supports, although it does support third-party apps. It's safe to say that you won't get the same level of functionality as you will with Wix's 300-plus third-party integrations as well as Weebly's, which are found easily through the app marketplace.
Finally, whereas Wix has fantastic search engine optimization (SEO) abilities, GoDaddy's are pretty basic. You can change page titles and descriptions, but not much else. GoDaddy bases the slug of your page on the title you assign the page or article, and you can't shorten it. Although we have to say that GoDaddy does make it easy to add headers to content and alt text to images.
Furthermore, to get a built-in search engine optimization tool, which Wix has on its free plan, you'll need to upgrade to the $14.99 plan. Wix's optimization tool guides you on what to do and suggests keywords for you to include on your pages. If you opt to build a small business website with GoDaddy, you'll need to use some other keyword research tools to ensure your site is optimized for search.
Still, if a lack of customizability and functionality isn't a problem, GoDaddy's plans are well-suited for artists, photographers, and digital creators who need a ton of storage space for portfolios. Also, the robust booking system works for various service-based businesses, such as salons, consultants, and sales teams. As a plus, GoDaddy also has features like MLS/IDX data integration, meaning it's also a decent site builder for real estate agencies.
GoDaddy Pricing & Plans
| GoDaddy Plans | Free | Basic | Premium | Commerce | Commerce Plus |
| --- | --- | --- | --- | --- | --- |
| Cost/Month* | $0** | $9.99 | $14.99 | $16.99 | $29.99 |
| Renews at | N/A | $11.99 | $21.99 | $24.99 | $44.99 |
| Free SSL Certificate | ✓ | ✓ | ✓ | ✓ | ✓ |
| Unlimited Storage and Bandwidth | ✓ | ✓ | ✓ | ✓ | ✓ |
| One-time Appointments | ✓ | ✓ | ✓ | ✓ | ✓ |
| Free Professional Email for 1 Year | ✕ | ✓ | ✓ | ✓ | ✓ |
| SEO Guide | ✕ | ✕ | ✓ | ✓ | ✓ |
| Recurring Appointments | ✕ | ✕ | ✓ | ✓ | ✓ |
| Online Payments for Appointments | ✕ | ✕ | ✓ | ✓ | ✓ |
| Ecommerce | ✕ | ✕ | ✕ | | |
| Email Marketing Sends Monthly | ✕ | 100 | 25,000 | 25,000 | 100,000 |
*On an annual billing cycle; renews at a higher rate.
**Not ad-free and uses a GoDaddy subdomain, so not recommended for professional use.
Features for Small Businesses
Unlimited storage and bandwidth: GoDaddy offers unlimited storage and bandwidth on all of its plans, including the free one. This is a pretty big deal, considering GoDaddy's premium plans start at a low cost of $9.99 per month the first year. Creatives that need a cheap portfolio website builder should consider building a website on GoDaddy.
Solid booking system: GoDaddy offers one-time appointment bookings on all of its plans but, to get the full scope of its booking system, upgrade to at least the $14.99 plan ($21.99 after the first year). On this plan, your customers can book recurring appointments, pay online, and get email and SMS notifications. Still, the free plan is a great way to test out the system.
Built-in marketing tools: GoDaddy makes email marketing much more accessible: for just $9.99, you get access to GoDaddy's drag-and-drop email builder, subscription forms, and email targeting lists. Also, you can connect and schedule social posts to three social media accounts, starting in the free version.
Try GoDaddy for free today or read our full GoDaddy website builder review for more information.
IONOS: Cheapest Alternative to Wix & Best Personalized Support
What We Like
Intuitive―build a site and get online in less than a day
Plans with a free domain, SSL, email address, and ecommerce from $1 to $5 per month
Blog-friendly features like article categories and built-in comments
Built-in email marketing tools
Multilingual websites can translate your content into 60-plus languages
Dynamic content, like time and site visitor-based popups
Good SEO features
24/7 phone, email, and live chat support plus phone callbacks
Dedicated success consultant
What's Missing
No free plan or trial, and no monthly billing option
Higher prices on renewal but still less than most site builders
Fewer templates than Wix, especially in the Starter plan (MyWebsite Now)
Starter plan's site editor is so basic it can't compare to Wix
Ecommerce isn't as full-featured as some other Wix alternatives
IONOS vs Wix
Wix has a free plan, IONOS doesn't
IONOS is much cheaper, especially for ecommerce
Wix's has more robust ecommerce tools
Wix offers integrated dropshipping in some plans, IONOS doesn't
Sell unlimited products on any of Wix's Business plans; IONOS limits products on all plans
Both have app marketplaces and offer the ability to gate content for members
Wix offers more templates and design customizability
IONOS's two site editors are simpler, which can be more beginner-friendly and make for faster site building
IONOS comes with built-in email marketing which Wix doesn't offer
Cost Overview
$1 per month the first year for MyWebsite Now plans, jumping up to $5 on renewal (all plans are billed annually)
From $5 monthly the first year for MyWebsite Creator plans
Ecommerce is an optional add-on with all website builder plans
Like Wix, IONOS is an all-in-one website builder marketed toward beginners. However, IONOS lacks the design and customizability that Wix users know and love, especially in the Starter plan, which comes with the MyWebsite Now site editor. In this plan, you get only 18 templates to choose from as well as fairly basic site editing capabilities and no blog.
However, this improves with the next two tiers starting from $5 a month. The MyWebsite Creator site editor comes with 400-plus templates, a far more sophisticated drag-and-drop editor, and the ability to customize your site and integrate apps with HTML and CSS editing. While the site editor in the Starter plan might not be very customizable, this eliminates complications with Wix's extensive design freedom.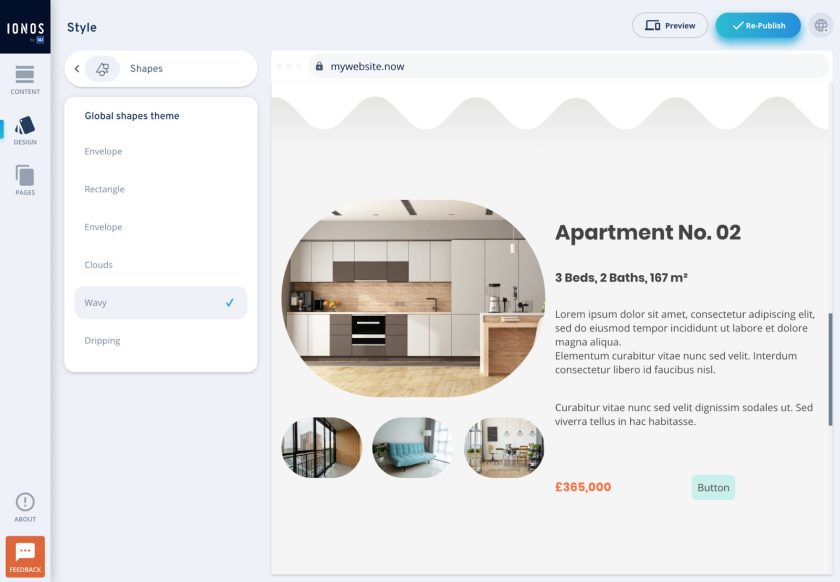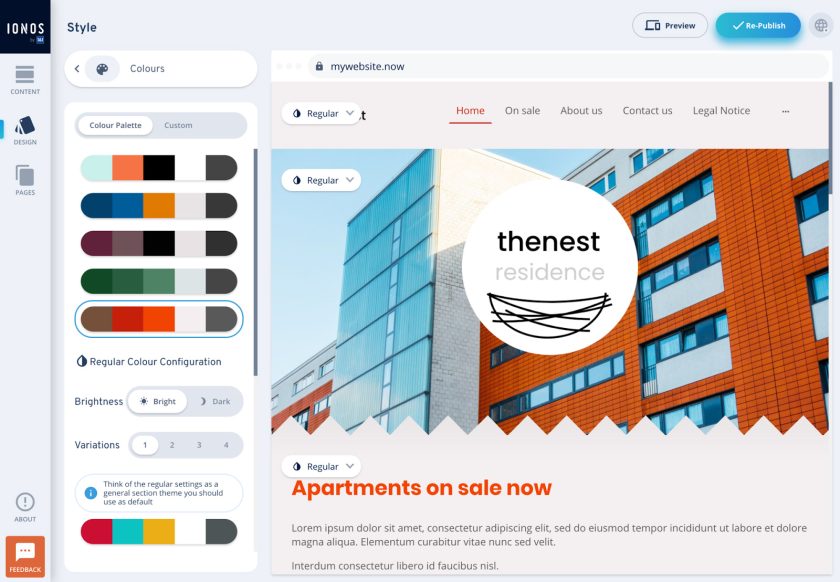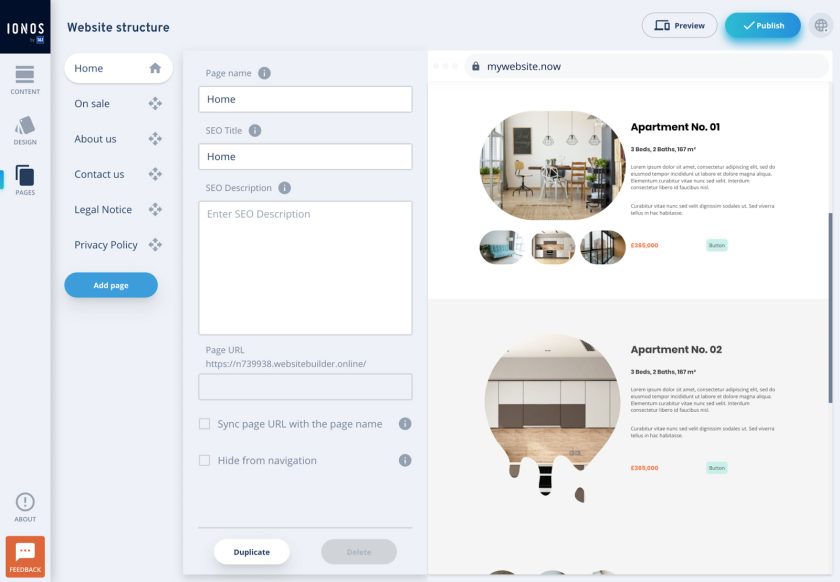 Create an IONOS website quickly and easily with the section-based editor
(Source: IONOS)
We will say, however, that the MyWebsite Now interface is intuitive—even for beginners. You can quickly build a website for your business, including a store and contact forms for lead generation, for $12 the first year.
Plus, you can't beat the $1 per month cost for the first year, which includes a custom domain for your website, SSL security to protect site visitors' data, and a professional email address. It's a great choice for absolute beginners and for those more concerned with getting online quickly than building a custom website.
Unique to IONOS among all the best Wix alternatives, every plan includes access to a personal success consultant. This is someone who can help you if you get stuck trying to build your website and who can help you optimize it to get the most value from your investment. IONOS also offers 24/7 customer support with low wait times and extremely helpful service. If you want or need this help, it's great to know it's there.
As far as SEO, Wix has the edge thanks to auto-image optimization and the application of schema markup to help Google index your site. However, IONOS holds its own with a content delivery network (CDN) that serves your site up from local servers worldwide and uses Google PageSpeed optimization to ensure your site loads fast, from anywhere.
Both make it easy to add page-level SEO (titles, descriptions, and so on). However, Wix also provides built-in SEO tools and guidance, whereas with IONOS you should plan to tap your personal consultant for ways to better optimize your site.
IONOS provides solid features for affordable prices, including SEO and marketing tools to help you grow your company. A multilingual feature translates your content into more than 60 languages, and a great built-in blogging tool, allowing you to show article categories, among other things. IONOS's plans are also all-inclusive with a free domain name, professional email address, and SSL certificate, making IONOS a fantastic budget-friendly Wix competitor.
IONOS Website Builder Pricing
| | Starter | Plus | Pro | Online Store Plus |
| --- | --- | --- | --- | --- |
| Cost/Month* | $1 | $5 | $10 | $5/month for 6 months |
| Renews at | $5 | $10 | $15 | $20 |
| Cost for Ecommerce | $1/month for 12 months | $5/month for 6 months | $25/month for 6 months | |
| Renews at | $12 | $20 | $35 | |
| Site Editor | MyWebsite Now (Basic) | My Website Creator (Advanced) | My Website Creator+ | My Website Creator |
| Unlimited Storage & Bandwidth | ✓ | ✓ | ✓ | ✓ |
| Free Domain & SSL | ✓ | ✓ | ✓ | ✓ |
| Free Email Address | ✓ | ✓ | ✓ | ✓ |
| Email Marketing | ✓ | ✓ | ✓ | ✓ |
| Products (if Online Store Selected) | 500 | 5,000 | 10,000 | 5,000 |
| Advanced Ecommerce | ✓ | ✓ | ✓ | ✓ |
| Social Selling | ✓ | ✓ | ✓ | ✓ |
| Blog | ✕ | ✓ | ✓ | ✓ |
| Multilingual | ✕ | ✓ | ✓ | ✓ |
| Business Apps | ✕ | ✓ | ✓ | ✓ |
*First-year pricing and all plans are billed annually.
Features for Small Businesses
Sell on Facebook & Instagram: A huge number of consumers purchase things they see on social media. Meet your customers where they are and use the advanced targeting offered by social media ad platforms to get the most from your ad spend on Facebook, Instagram, and other social marketplaces. This is available with IONOS website builder plans starting from $12 a year.
Generate leads via contact forms: Know when a customer reaches out to you; starting in the $1 per month version, you can create contact forms and add them to your IONOS mailing list easily.
Advanced multilanguage to reach customers around the world: IONOS has a fantastic multilanguage tool. In plans starting at $5, you can translate your content into more than 60 languages to reach your customers wherever they are.
IONOS offers one of the fastest and cheapest ways to create and publish a website that looks professional, has built-in SEO to get found online, and includes marketing tools. Plus, it has plans to scale as your business grows and provides a personal success consultant to help you find ways to boost your brand's online presence.
HubSpot: Best Wix Alternative for Advanced Marketing Features
What We Like
Free plan available
Tons of integrated marketing, sales, and customer service features courtesy of other HubSpot offerings
Advanced multilanguage feature, even on the free plan
Connect your domain to the free plan
Up to 50 pages, 20 landing pages, and 10,000 blog posts on the lowest tier paid plan
Enterprise-level tools at a cost small businesses can afford
What's Missing
Native membership tools will cost you $1200 a month–try out Weebly for cheaper member areas instead
Limited to 25 pages, 20 landing pages, and 100 blog posts on the free plan
Huge jump in price after the $23 a month plan–jumps to $360 monthly
HubSpot vs. Wix
Both offer a free-forever version; however, you can use your business's domain with HubSpot, whereas your free Wix site will be on a subdomain
Fairly intuitive, but not as fully customizable as Wix
Both have extensive app marketplaces and integration capabilities
HubSpot's paid plans start at $23 vs $16 with Wix
HubSpot has more advanced sales and marketing tools, security, and SEO features, even in the free plan
Cost Overview
Free-forever plan (HubSpot branded)
$23 a month for more capacity and features, and to remove HubSpot branding
Advanced tools and features will run you $360 to $1,200 per month
Having just made its website content management system (CMS) free to use, for small businesses looking to generate leads and develop customer relationships, HubSpot is a great Wix alternative. Building your website on HubSpot gives you access to HubSpot's sales, customer relationship management (CRM), and marketing tools, which, like the site builder, many of which you can start with for free.
This is an exceptional offer for small businesses that want to align sales and marketing teams or have a revenue operations team structure. Build your website for free, then integrate HubSpot's CRM for free for lead management and nurturing through built-in or third-party email marketing tools, like Mailchimp. Create content for every stage of your sales pipeline to move leads through the buying journey from awareness to conversion and loyalty.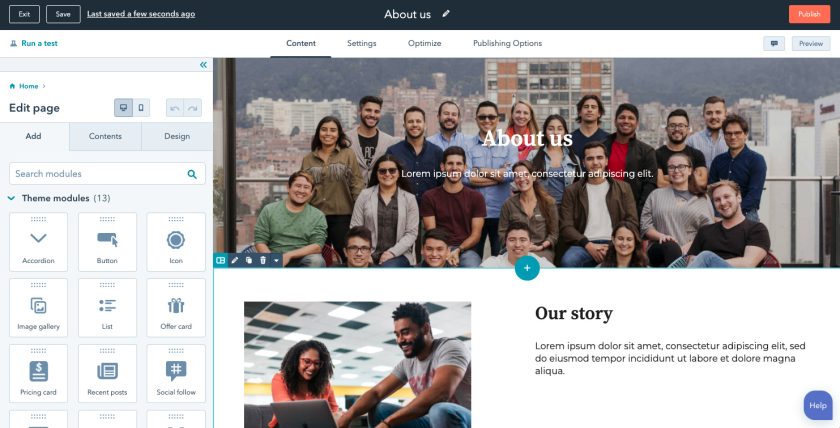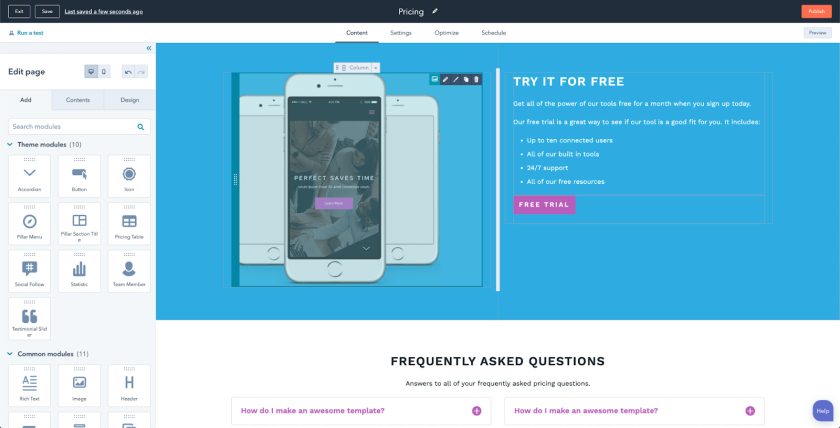 Use HubSpot's free and easy drag-and-drop builder to build your website
(Source: HubSpot)
Although it might have impressive marketing and service features, HubSpot's design features are fairly basic, and so are beginner-friendly to use. Granted, upper-tier plans are extremely expensive, but the $23 first-tier plan gives businesses plenty of tools to work with—especially for businesses looking to generate leads with scalable, enterprise-quality tools to align sales and marketing efforts.
On the free and starter plan, you get HubSpot's email marketing features, live chat features, social media marketing tools, forms, and basic analytics. There are also tools to import your site or blog content from another website, and HubSpot is well known for its advanced reporting capabilities. Your site will also have world-class security and threat detection for peace of mind.
HubSpot Pricing & Plans
| HubSpot Plans | Free | Starter | Professional |
| --- | --- | --- | --- |
| Cost/Month* | $0 | $23 | $360 |
| Connect a Domain | ✓ | ✓ | ✓ |
| Free SSL Certificate | ✓ | ✓ | ✓ |
| Integrate Other HubSpot Tools | ✓ | ✓ | ✓ |
| Page Limitations | 25 pages, 20 landing pages & 100 blog posts | 50 pages, 20 landing pages & 10,000 blog posts | 10,000 pages & up to 100 blogs (10,000 posts each) |
| AMP Pages for Blogs | ✓ | ✓ | ✓ |
| Apps/Plugins | ✓ | ✓ | ✓ |
| Multilingual Sites | ✓ | ✓ | ✓ |
| Multicurrencies | ✕ | 5 | 30 |
| Email Marketing | ✕ | 2,000 sends/month | 2,000 sends/month |
| Dashboard & Reporting | ✕ | 10 dashboards and 10 reports/dashboard | 25 dashboards and 30 reports/dashboard |
| Ad Management | ✕ | 2 audiences | 5 audiences |
*On an annual billing cycle or pay $25 month-to-month for the Starter plan.
Features for Small Businesses
Integrated HubSpot features: Integrate HubSpot's other tools with your website, such as its free CRM. Create chatbots, a ticketing system, contact forms, and more—these services all have free versions you can start with for total lead management and customer service solution.
Built-in email marketing tools: HubSpot has a drag-and-drop newsletter builder that allows you to send up to 2,000 emails monthly with a paid plan. It even has features to help you test and optimize your emails for better results. However, if you need more capacity, you can integrate Mailchimp easily for free or with paid plans from $11 per month or integrate other email marketing software providers).
Lead generation and customer service: HubSpot has many different tools for lead generation and customer engagement, which all integrate easily with HubSpot's CMS. This makes for an all-in-one solution for sales, marketing, and customer support teams.
For businesses looking to engage potential customers or create a better relationship with them, HubSpot is the best Wix alternative. Get more details about HubSpot's famous CRM with our HubSpot review.
Squarespace: Best Wix Competitor for Sleek Website Design
What We Like
Clean, visually impactful templates
Beginner-friendly site editor
Solid SEO tools and guidance
14-day free trial with no credit card required
All plans come with Squarespace Video Maker to create and market-branded video ads
What's Missing
No free plan
Less design customizability than Wix
Around three dozen extensions (plugins); far fewer than Wix's 300-plus
Costs go up if you have to buy add-ons for membership sites, email marketing, or appointment booking
Ecommerce plans are a bit pricey, at $23 to $49, especially compared to Weebly's free or $12 business plan
Squarespace vs Wix
Squarespace has a section-based editor vs Wix's drag-and-drop editor
Squarespace has 100-plus modern, sleek templates, but far fewer than Wix
Wix's SEO tools are easier to access and use, and a bit more advanced thanks to auto-image compression and schema markup
Squarespace has unlimited storage in all plans (Wix only offers this in the highest tier plan)
Change templates any time with Squarespace whereas with Wix you have to start over or create a new site and copy your content
Cost Overview
Paid plans from $16 a month (annual billing) or $23 monthly
Ecommerce from $23/month
Squarespace is one of the best Wix alternatives and one of the most popular website builders for small businesses in general. Although its template selection pales against Wix's in quantity, the 100-plus templates Squarespace offers are varied, modern, sleek, and professional-looking. This, plus the section-based editor makes it easier to build a site on Squarespace than on Wix quickly.
Just before the publication of this article, Squarespace announced the availability of its new Fluid Engine drag-and-drop site editor. This is a great addition to Squarespace 7.1, as design freedom was a bit lacking in the prior version. Below we've added an image showing how easy it is to move sections around with the new grid-based Fluid Engine site editor.
Squarespace is beginner-friendly and now offers more customization through its drag-and-drop Fluid Engine site builder. The editor comes with elegant templates and section blocks that make site design easier (and faster) and minimizes the chance of making time-consuming mistakes. Uniquely, Squarespace also offers the ability to change templates without starting over, unlike Wix and a lot of other website builders.
Aside from great design, Squarespace is also known for its solid features when it comes to SEO. It's one of the top SEO site builders available. Not only does it have the basic SEO features down—things like adding page titles, meta descriptions, and 301 redirects are pretty standard, but you can also add code blocks to web pages. Like Wix, there's also built-in guidance, analytics, and tools to improve site optimization.
Notably, you can now embed code in page-level settings with Wix, and both sites offer tips and checklists for how to improve your site's SEO. However, Wix also automatically compresses your images for faster site loading and adds schema markup to help Google find and index your site more easily, giving Wix a slight edge as far as SEO is concerned.
If we have a complaint about Squarespace, it's that your costs can quickly go up depending on the features you need. Wix's ecommerce plan includes robust tools for appointment booking, memberships, and restaurants—this all comes at an additional cost with Squarespace in the form of add-ons.
Appointment booking runs from $14 to $45, Member Areas runs from $9 to $35, and restaurant and hospitality tools come with a Tock add-on starting from $199 more per month. With Wix, you get comparable features for all of these in the $27 Business/Ecommerce plan.
Squarespace Pricing & Plans
| | Personal | Business | Basic Commerce | Advanced Commerce |
| --- | --- | --- | --- | --- |
| Cost/Month* | $16 | $23 | $27 | $49 |
| Free Domain & SSL | ✓ | ✓ | ✓ | ✓ |
| Unlimited Storage and Bandwidth | ✓ | ✓ | ✓ | ✓ |
| Third-party Integrations | ✓ | ✓ | ✓ | ✓ |
| Video Maker | ✓ | ✓ | ✓ | ✓ |
| Advanced Analytics | ✕ | ✓ | ✓ | ✓ |
| Premium Integrations | ✕ | ✓ | ✓ | ✓ |
| Customization With Cascading Style Sheets (CSS) and JavaScript | ✕ | ✓ | ✓ | ✓ |
| Google Workspace + Email for 1 Tear | ✕ | ✓ | ✓ | ✓ |
| Ecommerce | ✕ | | | |
| Transaction Fees | ✕ | 3% | 0% | 0% |
*On an annual billing cycle; monthly billing is also available at a higher rate.
Features for Small Businesses
Design flexibility: While Squarespace's editor doesn't offer the full design freedom of Wix, you can change templates any time and all templates are mobile-optimized. Plus, you can now drag and drop elements where you want them within sections with the new Fluid Engine Squarespace site editor. For web design beginners and busy small business owners, this amount of customization is ample.
Add-ons extend functionality: Squarespace offers a mix of extensions and add-ons to give you all the site functionality you need, but sometimes at a price. For example, you must purchase add-ons for member-only areas, email marketing, and appointment booking. Weebly could be the more cost-effective Wix alternative for these types of solutions.
Best site builder for creatives and online portfolios: Digital portfolios can take up a lot of storage space, but this isn't a problem with Squarespace as unlimited storage and bandwidth come standard.
Do you want to know more? Read our expert Squarespace review and then take advantage of the 14-day free trial to see whether it's the best option for your website.
Bluehost: Best for WordPress Sites & Multiple Websites
What We Like
Hosting plans come with a no-code WordPress page builder, free domain and SSL, and email accounts
55,000-plus WordPress plugins for max site functionality
Affordable, from $2.95 a month the first year. but the cost of premium themes and plugins can get expensive
Build a WordPress site quickly and easily without the learning curve
Switch easily between the Bluehost Builder and WordPress dashboard
Great for bloggers—no limit on the number of pages your site can have
Unlimited websites on any plan
What's Missing
Lack of built-in templates and features—WordPress plugins must be installed and activated individually
No free version or trial period to try the site builder
Cost of plugins can increase overall cost of your website quickly
Plugins can be a pain to manage and even present security risks
Bluehost vs Wix
Bluehost Builder is a bit less intuitive and beginner-friendly than Wix
Bluehost includes free emails on your domain, Wix doesn't
Basic tier is cheaper than Wix
Bluehost's ecommerce plans cost less than Wix's but aren't as robust
Bluehost offers unlimited storage and bandwidth; Wix only offers it on the highest-tier plan
Fewer templates than Wix
Far easier to build and maintain a website on Wix vs WordPress
WordPress websites are better for SEO, although harder to set up as it requires plugins and code embedding
Cost Overview
$2.95 per month the first year for hosting, WordPress page builder, free domain, SSL, email addresses on your domain, and unlimited websites
$9.95 for ecommerce with unlimited products, storage. and emails
$24.95 for advanced ecommerce
Unlike most of the other top Wix alternatives on this list, Bluehost isn't a standalone site builder. Bluehost is a well-known web hosting provider that includes an intuitive, no-code WordPress website builder with all hosting plans. Since it's built for WordPress, the Bluehost Builder gives you the templates and features you want without having to learn WordPress.
Unlike Wix and top Wix alternatives, WordPress doesn't come with built-in templates, themes, and plugins as needed for security and SEO. However, you can download all these and more through WordPress. However, this will entail somewhat of a learning curve as well as the time and potential extra costs with paid plugins.
The Bluehost Builder does come with templates, but you'll still need to do some configuring. You'll also need to add a security plugin to prevent hackers and malware from taking out your site, something you won't need to do with all-in-one site builders like Weebly or Squarespace.
Bluehost does offer full ecommerce plans that are far less expensive than Wix's ecommerce plans. The Pro and Online Stores plans come with installed plugins you need for WooCommerce selling already installed and configured. These features and more make Bluehost one of the best WordPress website builders and the best alternative to Wix for additional site functionality.
For true beginners and those that want to avoid the headaches of site maintenance over time, we highly recommend that you go with a site builder like Wix, Squarespace, or GoDaddy. Because while Bluehost will manage WordPress updates for you, other maintenance, like theme and plugin updates are going to be up to you. Likewise, plugins can break your site and provide an opportunity for hackers if they aren't maintained properly by the developer, and you.
Before you decide to build a WordPress site, read our list of WordPress tips and tricks to see if you're up for the challenge. If you do opt to build on WordPress, check out the steps for building a WordPress website.
Bluehost Builder Pricing & Plans
Bluehost Plans

Basic

Pro

Online Stores Standard

Online Stores Premium

Cost/Month*
(First Year)

$2.95

$9.95

$12.95

$24.95

Renews at

$10.99

$14.95

$24.95

$39.95

Free Domain & SSL

✓

✓

✓

✓

Email Addresses

5

Unlimited

Unlimited

Unlimited

Storage

50GB

Unlimited

Unlimited

Unlimited

Unlimited Bandwidth

✓

✓

✓

✓

Third-party Integrations**

✓

✓

✓

✓

SEO Tools and Features**

✓

✓

✓

✓

Advanced Analytics**

✓

✓

✓

✓

Built-in Ecommerce

✕

✓

✓

✓

Advanced Ecommerce

✕

✕

✕

✓
*On an annual billing cycle.
**Download and install features like these through WordPress plugins.
Features for Small Businesses
Free Cloudflare CDN: Site speed is a major ranking factor because it's essential to a good site visitor experience. Bluehost provides free Cloudflare CDN with all shared hosting packages. It distributes your site's files to a network of servers so the files can be served up by a server nearer to the site visitor for faster site and page load times.
Eliminates the WordPress learning curve: All-in-one website builders are usually the best choice for small businesses. However, for unique features or functionality you can only get with a WordPress site, the Bluehost Builder eliminates the learning curve to using WordPress. WordPress and essential plugins are preinstalled and ready to go—see why Bluehost is one of the best WordPress alternatives.
Preconfigured online store plans: Bluehost's ecommerce-ready plans come with WordPress and WooCommerce preinstalled, as well as other plugins you need to build an online store quickly and easily. Package prices are significantly cheaper than Wix's Business & Ecommerce plans, but don't necessarily have apples-to-apples features.
We're big fans of Bluehost's web hosting packages that include the Bluehost Builder, a true drag-and-drop site builder that comes in WordPress-recommended hosting plans.
How We Evaluated the Best Wix Alternatives
As Wix is known to be a beginner-friendly yet design-heavy website builder, the best Wix competitors have comparable services and pricing, as well as features that set them apart. We judged Wix alternatives as to the design-forward features and templates and the number of integrations, such as ecommerce each offers.
Click on any of the tabs to learn more about our evaluation criteria.
30% of Overall Score
Wix offers great value for the price, including a free-forever plan you can start with. The best Wix alternatives were judged not only for their plans and pricing but also for the features they provide on each plan tier, the length of the tie-in period, and discounts offered during the first year or for annual prepayment.
20% of Overall Score
The best website builders offer unlimited storage and bandwidth, free SSL certificates, and free backups ranked highly in our evaluation.
15% of Overall Score
Small businesses need unique features, depending on what the business does. Each of these Wix alternatives offers niche features that set them apart, from inventory management and ecommerce to online booking, social media, and marketing tools. The website builder you choose should have features aligned with your business needs.
10% of Overall Score
Wix is known for its intuitive editor. However, it can get a little overwhelming, especially for absolute beginners with no website design experience. These Wix competitors offer comparable, or even better, editors in terms of beginner-friendliness.
15% of Overall Score
Building a website isn't the easiest thing to do, so having a good support system to help you troubleshoot any problems is a necessity. We rated these website builders on whether they offer 24/7 support, publish helpful articles and tutorials, the channels on which support can be reached, and the quality of the support provided.
10% of Overall Score
We evaluated each of these Wix competitors based on our years of website building experience and hands-on experience using the site builders. We looked at how intuitive and beginner-friendly they are, the ease with which you can design and build the website you envision, and how well we think these builders perform in general.
*Percentages of overall score
Frequently Asked Questions (FAQs)
What are the best website builders?
Wix, Squarespace, Weebly and all of the other Wix competitors here are all leading all-in-one website builders. They make it easy and affordable to build a professional-looking website with good features and capabilities, quickly, despite having no background or experience in website development. The best website builder for you will depend on what specific features your business needs and your budget.
What's the easiest way to build a website for my business?
Using an all-in-one website builder like Wix or any of the top Wix alternatives listed above is the easiest way to build a website for a small business. These website builders help you design your website, add the features you need, and host everything once your site is published. Most have app marketplaces to extend your site's functionality and make third-party integrations easy. Everything is done step-by-step, so you don't have to look elsewhere for your building needs.
Which is more customizable: Wix or WordPress?
Although Wix comes with over 800 free templates, a true drag-and-drop editor for heavy site design customization, and a large selection of plugins, WordPress is still more customizable. WordPress has thousands of templates, plugins, and code-enabled integrations for an endless number of combinations–however, that does come with some downsides. See the full breakdown of Wix vs WordPress to decide which is better for you.
Bottom Line
The top Wix competitors we reviewed are all easy-to-use and have something to offer small businesses, depending on your needs. The best overall is Weebly. Its paid plans are cheaper than Wix's but include unlimited storage and bandwidth, and even ecommerce. Try it risk-free with the free forever plan.
You Might Also Like…
Still think Wix is the best around? Read our full Wix review before you decide.
If you're set on building on Wix, see our step-by-step Wix building guide now.
Market your business locally and boost your sales with local SEO.