Don't flip a coin to try to decide which is the better way to build a website in the Wix vs WordPress debate. Although it's not exactly an apples-to-apples comparison, using either platform will result in a professional site. However, how your site comes to fruition with each will entail a very different process. Which is right for you and your site needs will come down to your skills, your budget, and what you want.
Did you know? There are two WordPress services: WordPress.com and WordPress.org. While the similarity in name makes it easy to get these two services confused, they each have distinctly different uses. For example, WordPress.com is a web hosting service, while WordPress.org is the website building platform. Therefore, when we mention WordPress in this article, we are referring to WordPress.org.
Wix vs WordPress at a Glance
| | | |
| --- | --- | --- |
| | | |
| Price | $0 - $49 / month | $3.95 - $25 / month |
| Ease of Use | Very easy | Intermediate |
| Design | 900+ templates, all included | 11,000+ themes, some cost extra |
| Ecommerce | Ecommerce plans available | Ecommerce and shopping cart plugins available |
| Functionality | 300+ Wix apps, but not all are free | 50,000+ plugins for WordPress, but not all are updated/compatible |
| Capabilities | Less flexibility | Unlimited customization |
| Support | Knowledge base, 24/7 call-back service | None, forum only |
| | | |
Wix vs WordPress: Price
Both content management systems (CMS) are affordable, but while Wix has straightforward, all-in-one package plans, the cost to build and maintain a site with WordPress varies greatly. If all you need is a professional website, Wix is likely the best choice. For $14 per month with Wix, you get everything you need to build and manage your site, whereas with WordPress, you'll have to get hosting, a domain, an SSL, as well as some themes and plugins separately.
Winner: Although Wix may appear to be the pricier option, the value of having an all-in-one website builder, host, and free templates is huge.
Wix vs WordPress: Ease of Use
Anyone who is brand-new to website design is going to find Wix much more user-friendly, and it's one of the best website builders available. Simply answer a few questions, pick a layout you like, and then you're able to edit straight on the page. Wix uses a true drag-and-drop editor. Although WordPress uses blocks of text or code, it's much more of a blank canvas—and you'll have to learn a bit about WordPress to know where to edit something.
Building a Site With Wix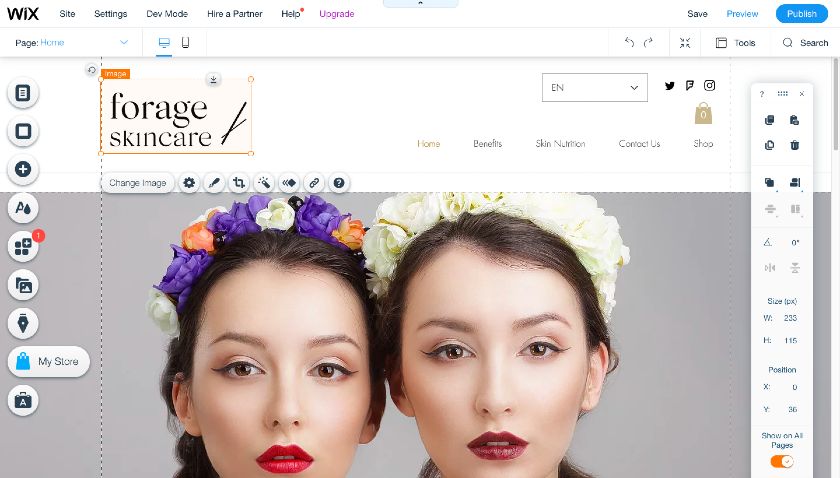 Using Wix's traditional editor is so simple. You can click on whatever element on the template you want to edit, and then add your own text, image, or video. Move things around, if you'd like. If you want to add a new element, you just drag and drop from the left menu onto your visual editor space. Right click on your mouse to bring up more options, and thank goodness Ctrl + Z (command + Z for Mac users) works to undo any mistakes.
How can you build a website with Wix even easier? Use the Wix ADI editor—the ADI stands for artificial design intelligence. If you've ever used a logo generator before, it's kind of like that. Answer a few questions, and then choose the fonts, colors, and layouts you like. Decide which pages you'll need, such as About, Services, and Contact. If you like what you see, add in your own text, and then publish.
Building a Site With WordPress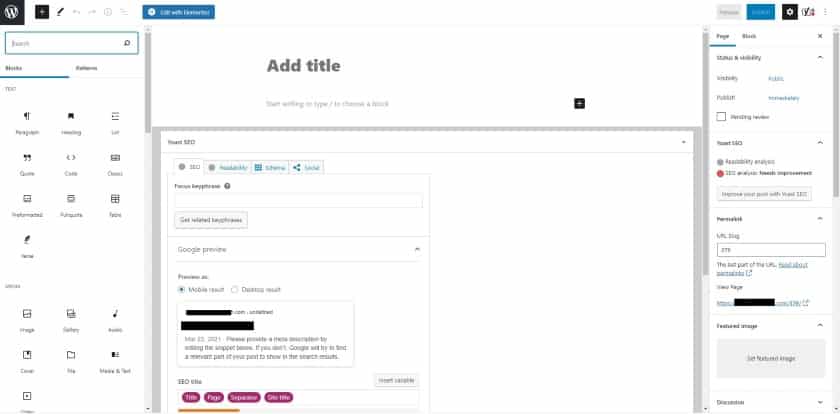 Technically, WordPress isn't a website builder; it's more of a content management system (CMS), so you can easily add, edit, and manage your website's content. It does include a block editor with visual elements, so you can sort of see what you're designing on your site, but it isn't the same as a website editor, like Wix. To get started, you'll have to install WordPress on your site, which you can do through your hosting site. Then you'll pick a theme you like and install and activate that.
When you build a website with WordPress, it's important that you get to know the left menu—that's where you'll be able to add new pages, change your theme, and install plugins, for example. You can create your site with this editor, but honestly, it's going to be easier with a plugin like Elementor, which gives you a more visual drag-and-drop editor.
Winner: Wix is built for user-friendliness, and it includes all the tools and explanations right upfront, so you can quickly and easily build a professional website.
Wix vs WordPress: Design
Aside from the technical aspect of creating a website, there's the actual design part. Both Wix and WordPress offer tons of prebuilt templates or themes for you to use—no design required. In terms of volume, WordPress wins: There are more than 11,000 themes for you to use (compared to approximately 800 with Wix). Granted, unlike Wix, not all WordPress themes are created equal and not all will be helpful in designing a great business website.
However, when it comes to ease of use, maintenance, and cost, Wix pulls ahead. There's no need to download and install a template with Wix. And updates are automatic. Plus, all of the Wix templates are free to use. WordPress templates are user designed, and you have to download and install it—you may even have to pay for one (typically premium themes are $50 to $80 each). You'll also have to make sure you update it so it continues to work on the WordPress platform, which gets updated often.
Winner: Wix wins in terms of design as all templates are built by Wix, ensuring that they are all high quality.
Wix vs WordPress: Ecommerce
Setting up an online store is easy enough with either choice here. Which is better, though: Wix or WordPress? When you're first starting your website with Wix, you can select if it will be ecommerce, and Wix will include that functionality. To build an online store with WordPress, you'll have to select a plugin for ecommerce functionality, a payment processor, and you'll need to make sure you're using the appropriate SSL certificate.
To accept payments on a Wix online store, you'll have to choose an ecommerce plan, which starts at $23 per month (you can't do subscriptions on your site or dropshipping on the lowest plan, though). Adding products is straightforward, and there's built-in inventory management with a Wix ecommerce site. You may need to find an inventory management plugin for WordPress.
Winner: Wix makes it easy to get set up and selling quickly and easily, but you may pay more per month in various fees than with WordPress.
Wix vs WordPress: Functionalities
Comparing Wix vs WordPress when it comes to functionality is kind of unfair, as they are both highly functional, but in different ways. Wix is pretty functional as is, but suggests apps that may be helpful, whereas WordPress requires you to seek out the features you want or need, and then you have to go find those plugins—but you can do just about anything with the right WordPress plugins.
Wix gives you the option of adding features you may not have even considered until the Wix walk-through basically asks you, "Do you want a forum? How about social media feeds right on your site? Maybe you want a live chat function?" You are limited to Wix apps only, though. If you want a live chat option on a WordPress site, you need to actively search for that plugin.
Wix and WordPress offer free and paid apps and plugins, but Wix only offers apps that work seamlessly with its platform. WordPress is an open-source platform, so anyone can create a plugin—and it may or may not work with your theme or other plugins.
Winner: Wix is the winner of functionality. Unlike WordPress, which easily breaks with one new plugin or version update, Wix always works as expected.
Wix vs WordPress: Capabilities
Nowhere does it say you can't edit and add code to a Wix website to make it unique. However, if you're going to do that, you may as well choose WordPress (it was kind of designed for that sort of thing). Wix can be customized to your liking—to a degree. WordPress is the ultimate in customization.
There are some great examples of why WordPress may be a better choice to include responsive design and flexibility. If you use a WordPress theme that has responsive design, then your website should look fantastic on a desktop, mobile phone, and tablet. By comparison, Wix may require you to tweak the design of your mobile site manually to make sure it looks good. When it comes to flexibility, WordPress makes it easy to use a new theme and your content stays. With Wix, you'll have to start all over.
Winner: WordPress is superior when it comes to customization and capability—you can do almost anything with WordPress, but it has a steep learning curve and typically requires code for unique customizations.
Wix vs WordPress: Customer Support
If it's important to you to have the ability to speak to someone about a website issue you're having, you're better off choosing Wix. Wix offers a large knowledge base full of helpful FAQs, articles, and how-to guides. If you need to speak to someone, you can go through a chatbot to try to get an answer to your question or submit a callback request.
WordPress doesn't have support in the way you've likely come to expect. It's an open-source platform, so there is no official customer support. Users have been asking and answering questions for decades, though. So, there's likely an answer to your question on a forum somewhere.
Winner: Wix is a much better choice for customer support because it actually offers help—and it's available 24/7.
Frequently Asked Questions (FAQs)
Is Wix bad for search engine optimization (SEO)?
Some website builders, like Wix, might add random strings of characters to blog posts and image names, so you'll have to manually change those to prevent poor SEO performance. However, search engines have reported that website builder-created sites aren't docked.
Can Wix handle high traffic?
All Wix plans outside of the free version and the Combo plan include unlimited bandwidth, meaning there's no limitation to the traffic your site can handle. Granted, it does use shared hosting, so your site is hosted on a server along with other Wix websites, which can slow your site down. If you're concerned about slow performance, find out more about the different types of web hosting available to see what's best for you.
Does WordPress require coding?
Although it's helpful to know some coding to use WordPress to its full potential, it isn't necessary. There are plenty of plugins that can help you build a website or online store without knowing any coding at all. As many guides will explain, you can find a WordPress plugin for just about any function.
Bottom Line
Though Wix and WordPress are both leading platforms for business websites, each works very differently. For complete control over the design and functionality of your site, you might choose WordPress. However, Wix is easier to use, affordable, and includes professional-looking templates and the features you need to get your site up quickly.
You Might Also Like…