Wix and GoDaddy are head-to-head competitors, but despite their seemingly similar ease of use, features, and pricing, Wix is the better-known site builder. Wix also provides maximum design flexibility and tons of advanced features. GoDaddy, however, has lower-priced entry-level plans and better built-in booking tools designed to turn service providers' websites into marketing machines.
Here's a quick look at when to use Wix vs GoDaddy:
Wix vs GoDaddy at a Glance
| | | |
| --- | --- | --- |
| | | |
| Expert Score | 4.1 out of 5 stars | 4.28 out of 5 stars |
| Starting Price | $14 per month | $9.99 per month |
| Ecommerce plans | Sell online for $23 per month | $24.99 per month |
| Ease of Use | Beginner to intermediate | Beginner |
| Design | 800+ prebuilt templates | 200+ prebuilt templates |
| Built-in Appointment Booking System | ✔ | ✔ |
| Sell Gift Cards | No | No |
| Accept Recurring Payments (e.g., Subscriptions) | ✔ (with the Business Unlimited Plan, $27 per month) | ✔ (with the Ecommerce Plan, $24.99 per month) |
| Membership Site | ✔ | ✔ (via plugin) |
| | | |
How We Evaluated Wix vs GoDaddy
To help you decide which content management system (CMS) is the best fit for you and your website needs, we compared the two based on a number of factors, from pricing, ease of use, and features to design. We also added in our own expert opinion based on a great deal of first-hand experience using both platforms to build and maintain professional websites.
Click the tabs below for more information on each evaluation criteria:
20% of Overall Score
Site builders provide an affordable way to let you build your own business website. We compared Wix and GoDaddy in terms of price and affordability. To do this, we not only analyzed entry-level plans to find the cheapest, but also the plans required to do things such as sell online, accept recurring payments, and build a membership site. We also considered if the two offer a free version, a free trial, or a money-back guarantee.
20% of Overall Score
In addition to affordability, it's the features that provide its real value for the price. We considered everything—from website basics, such as storage and bandwidth, to freebies like a free domain, a free SSL, search engine optimization (SEO) tools, and built-in analytics, as well as more specific features and capabilities, such as the ability to process payments online, book appointments, and sell gift cards.
20% of Overall Score
Your industry will dictate the website tools and features you need for your business. So we looked at the capabilities of both platforms to see which best meets the needs of businesses, including everything from restaurants, photographers, and dental practices to those selling services or products online.
15% of Overall Score
The purpose of a site builder is to make your life easy and enable you to build your own professional website. We put the two providers' site editors to the test to determine which is really more intuitive and user-friendly. We also considered which is generally easier to use and has a shorter learning curve, in addition to the quality and quantity of its templates.
10% of Overall Score
While you may hope to never need support, quality support can make a big difference when you are in need. We looked at the availability of customer support available from each provider, including its support channels (i.e., phone, live chat, email) and the hours in which support is available to determine which is better.
15% of Overall Score
There's something to be said for hours of first-hand experience with each site builder. So we added in our own expert opinion on Wix and GoDaddy. We also included our thoughts on value for the price, quality of features, ease of use, and popularity.
*Percentages of overall score
Let's take a closer look at Wix vs GoDaddy:
Most Affordable: GoDaddy
| | | |
| --- | --- | --- |
| | | |
| Starting Price | $14 per month | $9.99 per month |
| Starting Price to Accept Payments Online | $23 per month | $24.99 per month |
| Free Trial | Yes, 14 days | Yes, 30 days |
For entry-level plans, GoDaddy is the more affordable option at just $9.99 per month instead of $14 per month. However, you have to consider the features you need and which plan comes with said features to determine the real value for the price. In short, GoDaddy is cheaper for basic websites, and Wix is cheaper for those selling online. Wix's ecommerce plan is also far more robust than GoDaddy's, but more to come on that later on.
Winner: GoDaddy offers more competitively priced entry-level plans. However, if you're planning to build an online store, Wix is slightly more affordable.
Most User-friendly: Wix
| | |
| --- | --- |
| | |
| Wix's true drag-and-drop editor is immediately intuitive, even if you've never used a site builder | It's easy to change themes, fonts, and colors in GoDaddy's site editor |
Both Wix and GoDaddy are very easy to use. However, Wix's drag-and-drop editor is instantly intuitive—just drag the element you want to use onto a page and drop it where you want it. GoDaddy takes a slightly different approach, where you build a site with content blocks, which requires a bit of getting used to.
Building a Site With Wix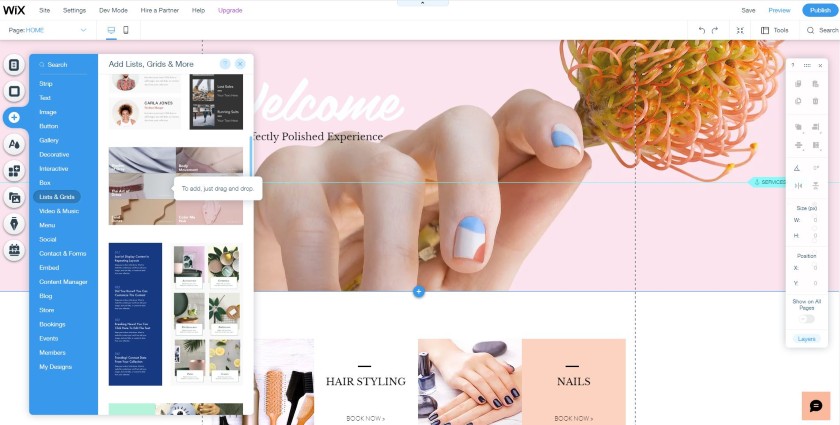 After you indicate the type of website you're creating (beauty, sports, online store, and so forth), you'll have the option of using Wix ADI or choosing a template. The Wix ADI uses artificial design intelligence to create a site for you based on your answers to a few questions. It's a quick way to get a design, but it may not be what you like.
If you go with the template route, pick one that fits your brand the best, and then click edit. You'll go directly to the site editor. The left-hand menu includes everything you need to build your website. Each element includes several options from which you can choose—just drag and drop onto the page.
Follow a step-by-step guide on how to build a Wix website.
Building a Site With GoDaddy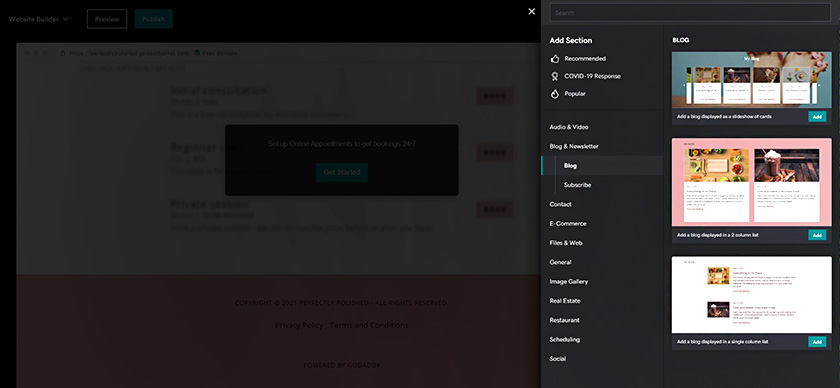 The starting point with the GoDaddy site builder is a question about what your website is for. Are you creating a nail salon, personal site, or marketing consultant site? Depending on your answer, GoDaddy puts together a rough draft of your site. You can choose a different theme any time you'd like, add pages, and add sections as needed.
The menu is on the right side, which isn't as intuitive as most site builders, but it's easy enough to use. As you choose a type of element, you'll get a few design options. Add to your site and then edit the text and images to make them relevant to your business or blog.
Learn more about how to build a GoDaddy website.
Winner: Wix wins for ease of use because user experience (UX) is a big consideration. The menus, options, and how you interact with the builder are all intuitive.
Best Web Design: Wix
| | |
| --- | --- |
| | |
| Wix offers 800+ free templates for you to use | GoDaddy includes ~200 free themes |
If you look at Wix vs GoDaddy in terms of design, it could be a purely subjective decision. Personal opinions aside, let's look at what each offers.
GoDaddy gives you nearly 200 themes from which you can choose. It might look like more, but many of the designs are repurposed for various industries. In fact, likely any theme you choose could work for any type of website. Also, you can change your website's theme any time without losing the content you've added.
Many of GoDaddy's themes can also be adjusted just by color or font, giving your website a different look from the theme. GoDaddy keeps themes simple, clean, and modern, allowing your content to shine more than the design itself.
Wix offers more than 800 templates for you to use as a jump-start for your website. Like GoDaddy, you can use a Wix template that's meant for one industry for another. Most of the Wix templates are simple and clean, but some are busy, cheesy, and a bit outdated. Also, you can't change out your template any time you want. The good news is that Wix has both quality and quantity on its side, and you can create as many new sites as you'd like to try new templates.
Winner: With four times the number of templates—and high-quality templates at that, the winner is Wix.
Best for Selling Products Online: Wix
| | | |
| --- | --- | --- |
| | | |
| Starting Price to Accept Online Payments | $23 per month | $24.99 per month |
| Payment Processing Transaction Fees | 2.9% + 30 cents | No transaction fee (however, your third-party payment processor will charge fees) |
| Physical, Digital, Service Sales | ✔ | ✔ |
| Marketplaces (e.g., Amazon, eBay) | ✔ | ✔ |
| Dropshipping | ✔ | N/A |
Setting up an online store with Wix and GoDaddy is similar to creating a small business website. Even the ecommerce plan pricing is similar—$23 for Wix's Business Basic plan and $24.99 for GoDaddy's ecommerce package. You'll save money over the long run with GoDaddy because it doesn't require you to use a specific payment gateway, whereas Wix Payments charges 2.9% plus 30 cents per transaction (in the U.S.).
For the most part, anything ecommerce-related you can do with GoDaddy, you can also do with Wix. Sell physical and digital products on your online store. You can set up a services page, allowing customers to book appointments and pay for them online. However, Wix offers dropshipping options in its higher-pricing plans, while GoDaddy doesn't offer dropshipping at all.
Winner: Wix gives you dropshipping options, so that you can create a dropshipping business. If you don't need that feature, though, GoDaddy may be a better (and less expensive) choice for you.
Best for Selling Services Online: GoDaddy
| | | |
| --- | --- | --- |
| | | |
| Built-in Appointment Booking System | Yes (included in the Business Basic at $23 per month) | Yes (included in the Basic plan at $9.99 per month) |
| Ability to Select Service Provider When Booking Online (e.g., Select a Stylist at a Salon) | ✔ | N/A |
| Sell Tickets to Group Events | ✔ | ✔ |
| Ability to Accept Recurring Payments | ✔ | ✔ |
There are two ways you can take advantage of an appointment booking system from either Wix or GoDaddy. Set up online appointments, but not online payments, on the lowest-priced plan from GoDaddy. You'll have to take payments in person, but you'll save money on your monthly plan. If you want to accept payments online with a GoDaddy plan, you'll have to upgrade to the Premium plan for $19.99 per month.
Wix doesn't offer appointment booking features in its website plans, so you'll have to go with an ecommerce plan. The good news here is that you get all of the appointment features Wix offers at its lowest-priced online sales plan. Plus, Wix lets you add staff members, so that customers can choose their preferred stylist, tech, and so on.
Winner: GoDaddy wins when it comes to selling services online. Its built-in appointment booking tool is available with all plans, and it's cheaper than Wix to accept payments online for online bookings.
Most Capabilities: Wix
| | |
| --- | --- |
| | |
| Extensive capabilities an app market of 250+ apps | Very limited design capabilities, but great appointment booking options |
To compare Wix vs GoDaddy in terms of customization, you have to look at each service a little differently. GoDaddy isn't the most customizable platform. It offers several elements to add to a website, but you're limited to a structured design. It makes it easy to design within parameters, so your site will always look professional, but it could be frustrating for someone who wants creative freedom. Plus, GoDaddy doesn't include an app store, so you're limited to the functionality GoDaddy offers alone.
Wix provides seemingly limitless customization. You get a lot more design flexibility with far more design elements. Also, you can place those elements anywhere you want on your website. The caveat here is that your design could easily get away from you, and you may end up with a cluttered design. Wix also offers an extensive app store (with many Wix-created apps), so you can extend the functionality of your site or online store with more than 250 apps (and many of them are free).
Winner: Wix offers far more customization in terms of design and functionality than GoDaddy.
Best for Support: GoDaddy
| | | |
| --- | --- | --- |
| | | |
| 24/7 Support | ✔ | ✔ |
| Support via Phone | ✔ | ✔ |
| Support via Live Chat | N/A | ✔ |
| Support via Email or Tickets | ✔ | N/A |
When it comes to types of support, Wix vs GoDaddy are evenly matched—it just depends on which type of support you prefer. Both Wix and GoDaddy offer 24/7 phone support, so that you can get help at any time. GoDaddy goes one step further with 24/7 chat support, but Wix doesn't offer live chat help. You can create a support ticket via email to Wix, but not GoDaddy.
Wix offers on-page prompts in its site editor, which could prevent you from needing to reach out to support for help. GoDaddy includes descriptions of elements, but it doesn't equal the same kind of on-page support as Wix. We've had luck with both Wix and GoDaddy support when we've called and chatted with their representatives.
Winner: While it's a close call as both offer 24/7 support via phone, GoDaddy wins because live chat support is more helpful than support tickets.
Best Alternatives
If the comparison of Wix vs GoDaddy hasn't helped you choose between the two, it's possible you need a completely different solution. There are lots of all-in-one site builders that are excellent Wix alternatives. If a site builder isn't what you're looking for, you may want to consider some GoDaddy alternatives.
Here are some of the best alternatives to Wix and GoDaddy:
There's a solution for every situation, so you just need to compare the best options out there to decide for yourself what's best for you. To create a professional website or online store, start with the best website builders.
Frequently Asked Questions (FAQs)
Can I use Wix with GoDaddy?
If you've registered a domain with GoDaddy, but you want to use Wix for hosting and building your website, you can use Wix with GoDaddy. You'll have to get the name servers from Wix and then update your GoDaddy account so that Wix is your DNS host. Learn more about how to register a domain name.
Do I own my domain name with GoDaddy?
Regardless of where you register a domain, you don't actually own it. It's more like you're leasing or renting the space, rather than owning it. So, you'll have to register it annually, or set up an automatic renewal. Read more about what a domain name is.
What is better than Wix?
There are several website builders out there that may be better than Wix, depending on your needs. If you're looking for complete creative control over your website, you may want to build your site on WordPress. For the best designs, ecommerce, third-party apps, or other features, there may be a better choice out there. For example, consider the comparison of Wix vs Squarespace.
Bottom Line
In the battle of Wix vs GoDaddy, it's a close call. While both have what you need for your small business website, each has a different set of use cases. GoDaddy is more affordable and offers more built-in tools that service providers will want. Meanwhile, Wix offers a good value with the most templates and tons of features you can grow with.
You Might Also Like…