Wix vs GoDaddy: Which Website Builder Is Better
Deciding whether to build a website Wix vs GoDaddy can be tough. Both are affordable and easy to use. Wix is more popular, provides far more design flexibility, and has more advanced features for ecommerce and site optimization. However, GoDaddy's website builder has lower-priced plans, is simpler, and so more beginner-friendly, and has built-in appointment booking tools and chatbots, even in the free version.
Whether Wix or GoDaddy is better for you depends on the features you need in a business website. With that in mind, here's a quick look at when to use the GoDaddy website builder vs Wix:
Wix: Best for small businesses wanting design freedom to build a custom site, the best ecommerce tools, and a better site builder for search engine optimization (SEO)
GoDaddy: Best for budget-conscious businesses, absolute beginners, and for service providers looking to increase appointments and bookings online
Wix vs GoDaddy Website Builders at a Glance
*Billed annually
**Renews at a higher cost
Most Affordable Overall: GoDaddy—in Lower Tiers
*Billed annually
**Renews at a higher rate after the first year
All GoDaddy website builder plans offer introductory pricing for the first year, making it the much cheaper option to start with. GoDaddy's regular prices are cheaper than Wix's for similar plan tiers, including basic ecommerce. However, Wix's ecommerce plans are more robust. Wix is also the cheaper site builder for robust ecommerce, as you'll pay $24.99 per month the first year and $44.99 afterward compared to Wix's robust $27 per month ecommerce plan.
Beyond price, you also have to consider plan features to determine their real value. For example, GoDaddy has unlimited storage and bandwidth on all plans, while Wix doesn't offer unlimited storage on any plan—its cheapest plan only comes with 2GB of storage and bandwidth. On the other hand, GoDaddy limits your site to 50 pages, whereas Wix allows up to 100.
Winner: GoDaddy offers more competitively priced entry-level plans. However, if you're planning to build a relatively advanced online store, Wix's Business Ecommerce plans are far more affordable long term ($27 or $32 per month vs $44.99).
Wix vs GoDaddy for Best Free Plan: It's a Tie
When looking at the difference between Wix and GoDaddy's free plans, the real differentiating factors are storage (Wix is limited), design tools (GoDaddy is limited), and which provider has the paid plans you want to scale with.
Both have free forever plans that host your site on a provider subdomain, include free SSL security, and display Wix or GoDaddy's branding. While we don't recommend that you use the free version for your business, the free versions are still a great way to determine which site builder you prefer. Plus, if you absolutely have to get online for free, you can do that with Wix or GoDaddy.
Wix's free plan lets you test its awesome, full-featured, drag-and-drop editor with no restrictions as to design tools and full access to templates. It also comes with built-in SEO tools and security features like SSL encryption. On the downside, and unlike GoDaddy's free plan, it comes with poor storage and bandwidth limits—both are capped at 500MB.
Though you only get limited access to templates on GoDaddy's free plan (or any plan), it comes with a wealth of basic features that are useful for small businesses on a very tight budget, like native appointment booking, Google Business Profile, social channel integrations, and chatbots. However, if you're looking for amazing website design, Wix is your better option regardless of the price of the plan.
On GoDaddy's free plan, you get unlimited storage and bandwidth, SSL encryption, and access to a robust online booking system for one-time appointments. With Wix, native appointment booking doesn't come until the Business plans, but you can integrate booking through a third-party app in the free version. While GoDaddy allows you to take appointments, to accept payments you'll have to upgrade to the Premium plan.
Winner: It depends. If you want amazing design and marketing despite having a free website, definitely go with Wix. If core features like storage and bandwidth are more useful to you, or if you want reliable and robust built-in booking tools to take appointments, GoDaddy is the better choice.
Most Beginner-friendly: GoDaddy
Both Wix and GoDaddy are generally easy to use, even for beginners. However, the almost limitless freedom of Wix's drag-and-drop editor could make it overly complicated for those without any design experience. This is offset, however, if you use Wix's ADI to choose your template and set up your site since you won't have to make as many design choices.
GoDaddy is better for beginners, in part because design choices are limited. You can't choose from a template library, but can choose various layouts and change colors and fonts. With the GoDaddy site builder, a template is set up based on your answers to questions and you can then add or edit pages, customizing them with premade content blocks. Plus, with less customization to consider, you can get your site built and online faster with GoDaddy.
Wix: Fine for beginners, but more suitable for intermediate and experienced web designers. Also, best for small businesses that want lots of design choices. The editing interface is straightforward and anyone can easily build a Wix site, but beginners without design experience may find it difficult to build with so many customization capabilities.
GoDaddy: Best for absolute beginners or small businesses wanting to build a professional website and get online quickly. The sectional site builder is simple to use, though it lacks the design freedom of Wix's true drag-and-drop editor and vast template library. However, since the design elements are limited, you'd be hard-pressed to break a template or build a site that looks less than professional.
Building a Website With Wix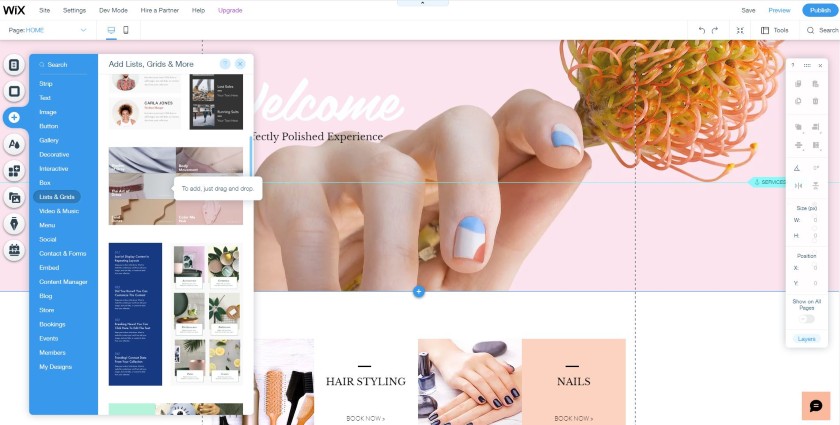 After you indicate the type of website you're creating (beauty, sports, online store, etc.), you'll have the option of using the Wix ADI or choosing a template. The Wix ADI uses artificial design intelligence to create a site for you based on your answers to a few questions. It's a quick way to get a design, but it may not be what you like. Keep in mind that if you go the route of Wix ADI for setup, you will have a section-based editor rather than Wix' famed drag-and-drop interface.
To choose a template and use the drag-and-drop editor, pick one that fits your brand the best, and then click edit. You'll go directly to the site editor. The left-hand menu includes everything you need to build your website. Each element includes several options from which you can choose—just drag and drop them onto the page. Follow our step-by-step guide on how to build a Wix website.
Building a Website With the GoDaddy Website Builder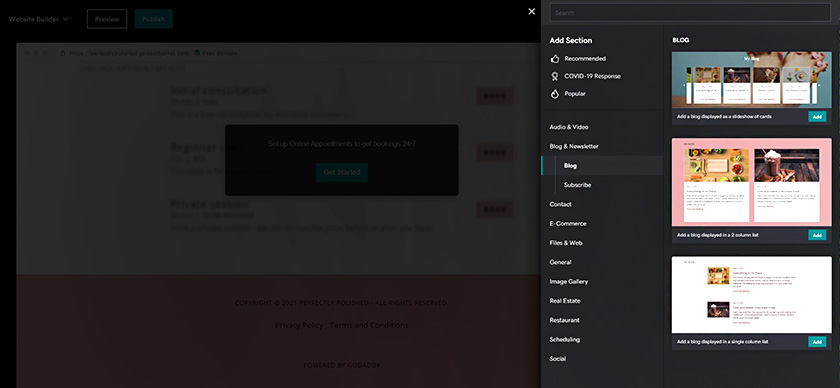 The starting point with GoDaddy is a question about what your site is for. Are you creating a nail salon, personal site, or marketing consultant site? Depending on your answer, GoDaddy puts together a rough draft of your site, including a template. You can choose a slightly different theme any time you'd like, add pages, and add sections as needed. However, you never get full access to the template library, unlike Wix.
The menu is on the right side, which isn't as intuitive as most site builders, but it's easy enough to use. As you choose a type of element, you'll get a few design options. Add them to your site and then edit the text and images to make them relevant to your business or blog. Learn more about how to build a website with the GoDaddy website builder.
Winner: GoDaddy wins for ease of use because it's easy to navigate its sectional editor, and its less design freedom means faster site design. Though Wix's interface may be a little more intuitive, its true drag-and-drop builder (and the freedom that comes with it) leaves more room for design mistakes, but also provides the most ability to customize the look of your site.
Best for Site Design: Wix
If you look at GoDaddy vs Wix in terms of design, it could be a purely subjective decision. But before you choose based on opinion, let's look at what each offers. GoDaddy has around 200 themes but preselects one for you based on your industry. With most templates, there are a dozen or so layout options, so there's enough flexibility to get a design that will work for your business.
As a plus, and maybe as an intentional benefit of the design limitations, you can change your website's theme at any time without losing the content you've added. With Wix, if you change templates, you have to rebuild your site. GoDaddy's clean, modern themes can also be adjusted just by color or font, giving your website a different look from the basic theme.
Wix offers more than 800 templates for you to choose from to jump-start site design, including industry-specific templates. Most templates are simple and clean, but a few are busy, cheesy, and a bit outdated. Also, you can't change your template without starting over. The good news is that Wix has both quality and quantity on its side, and you can create as many new sites as you'd like to try different templates.
Templates aside, where Wix really shines is what you can do with it. In actuality, there's not much Wix can't do. Its true drag-and-drop editor is the most advanced among drag-and-drop website builders, allowing you to achieve extremely unique web design without touching a line of code. As such, it can become overly complicated.
Luckily, Wix's template selection is so vast that you'll probably find one that you like without the need for much editing. Plus, once you've chosen a template, you can add premade content sections (similar to GoDaddy) and customize them vs having to add each new row or element on its own. Learn more in our article showing how to use Wix to build a website.
GoDaddy uses a section-based editor. That means you can edit each of the sections on your page by choosing different prebuilt content sections. Though premade, they aren't as fully designed or developed as Wix's. While GoDaddy is easier for a beginner and much quicker to use, you also will end up with a pretty standard-looking website.
Winner: With exponentially more access to templates, premade content blocks, and countless design options using an awesome drag-and-drop editor, the winner is Wix.
Best for Ecommerce: Wix
*With a 12-month contract
Setting up an online store with Wix and GoDaddy is as easy as adding products and setting up your payment processing details. Though Wix's basic ecommerce plan is more expensive ($27 vs the $24.99 regular price of GoDaddy's ecommerce package), Wix doesn't charge any extra transaction fees. Keep in mind, though, that you'll still pay fees associated with your chosen payment gateway.
In general, anything ecommerce-related you could do with Wix, you can also do with GoDaddy, like sell physical and digital products on your online store. You can set up a services page, allowing customers to book appointments and pay for them online. Both Wix and GoDaddy offer dropshipping on their ecommerce plans.
With that said, Wix includes some pretty spectacular industry-specific ecommerce features in its business plans. At the first Business tier, restaurants get online ordering and reservations management as well as custom menus. There are also robust features for online booking, ticket and event sales, reservations for hotels and vacation rentals, a complete fitness center solution, and the ability for artists to sell their work online.
Though dropshipping is a welcome addition, we're not entirely impressed with either plans' offerings. To open a dropshipping store on GoDaddy, you'll need to manually integrate your dropshipping platform (e.g., Shopify or WooCommerce) with your GoDaddy shop. It doesn't make much sense, since these platforms allow you to build stores through their own site builders.
Though Wix is a step up as it integrates with various dropshipping apps, we're still not too happy. Dropshipping isn't offered on the Business Basic plan, and to get unlimited product dropshipping, you'll need to be on Wix's most expensive business plan. At these prices, it could be better to go with a dedicated ecommerce platform like Shopify instead. Still, it's a nice option to have.
Winner: Wix has far more robust features in its first Business Ecommerce plan than GoDaddy and more robust advanced tools in comparable ecommerce plans overall. Wix also has industry-specific ecommerce tools that GoDaddy lacks. If you only need basic ecommerce features, GoDaddy edges Wix out on price, but GoDaddy also charges transaction fees, while Wix does not.
Best Appointment Booking Tools: Slight Edge to GoDaddy
We are giving the GoDaddy website builder the edge in this category for including native appointment booking tools with all plans, including the free one. This makes it the best choice for service- and sales-oriented businesses wanting to easily add online booking capability to their site.
With the GoDaddy website builder, you can set up online appointments (but not online payments) on the lowest-priced plan from GoDaddy (or even the free one). You can, however, use Pay Links after an appointment is booked to collect payment online.
Otherwise, you'll have to take payments in person, but you'll save money on your monthly plan. To accept payments online with GoDaddy, you'll have to upgrade to the Premium plan. Alternatively, you can also integrate third-party booking software with GoDaddy if you prefer.
Wix doesn't offer native booking features in the lowest-tier plans, but you can add appointment booking through a third-party app, even on the free version. For native booking tools, you'll want to go with one of Wix's Business and Ecommerce plans. If you do, the good news is that you get all of the appointment features Wix offers, including recurring payments and subscriptions, in the lowest-priced ecommerce plan.
Winner: GoDaddy wins when it comes to selling services online. Its built-in appointment booking tool is available with all plans, and it's cheaper than Wix to accept payments online for online bookings.
Most Capabilities: Wix
When you compare Wix vs GoDaddy in terms of capabilities, Wix wins hands-down, thanks to its vast app marketplace. However, GoDaddy's plans scale with most of the features a small business will need. The real choice, as with design, comes down to whether you want native features at your fingertips or you're willing to integrate third-party apps to get the providers and tailored features you want.
Winner: Wix provides seemingly limitless customization, from the design flexibility of its drag-and-drop website builder to the large third-party app marketplace. If you're looking for niche features or specific third-party integrations, go with Wix. But if you want the most ease of use with native tools, GoDaddy will be better for you.
Best for Support: Wix
When it comes to GoDaddy vs Wix as far as types of support, they are almost evenly matched—it just depends on which type of support you prefer. Both offer 24/7 phone support, so you can get help at any time. They also offer round-the-clock live chat. You can create a support ticket via email to Wix, but not GoDaddy.
Wix offers on-page prompts in its site editor, which could prevent you from needing to reach out to support for help. GoDaddy includes descriptions of elements, but it doesn't have the same kind of on-page support as Wix. We've had good experiences with both Wix and GoDaddy support when we've called and chatted with support agents.
Winner: While it's a close call as both offer 24/7 support via phone and live chat, Wix wins for offering slightly more support options.
Best Wix & GoDaddy Website Builder Alternatives
If this comparison of Wix vs GoDaddy site builders hasn't helped you choose, it's possible you need a completely different solution. There are several all-in-one website builders that are excellent Wix alternatives. Here are some of the best alternatives to Wix and GoDaddy:
*Monthly cost with annual billing or pay a higher fee month to month
**Renews at $9.99 per month after the first year
Thinking you might need a WordPress website? Before you decide, read up on how Wix vs WordPress compare to one another. Alternatively, if you need a website builder for a larger ecommerce operation, see why Shopify tops our list of the best ecommerce platforms.
How We Evaluated Wix vs GoDaddy Website Builders
To help you decide whether Wix or GoDaddy offers the best site builder for your small business website, we compared the two based on several factors, including pricing, ease of use, features, and design. We also added our own expert opinion based on a great deal of firsthand experience using both platforms to build and maintain professional websites.
Click the tabs for more info on each evaluation criteria.
Frequently Asked Questions (FAQs)
Can I use Wix with GoDaddy?
If you registered a domain with GoDaddy but want to use Wix for hosting and to build a small business website, you can use Wix with GoDaddy. You'll have to get the name servers from Wix and then update your GoDaddy account so that Wix is your DNS host. If you don't have a domain yet, learn more about how to register a domain name.
Do I own my domain name with GoDaddy?
Regardless of which domain registrar you use, you don't actually own it. It's more like you're leasing or renting the domain name, rather than owning it. With most registrars, including hosting that comes with a free domain, it will be automatically renewed unless you choose to turn off automatic renewals. Read more about what a domain name is.
What is better than Wix?
Which website builder is better than Wix depends on your needs. For all of the tools, plugins, and best SEO, build a WordPress website using the Bluehost Builder or the BoldGrid WordPress site builder that comes with DreamHost plans. For ecommerce features, Weebly is better than Wix as it has free ecommerce tools.
Bottom Line
In the battle of Wix vs GoDaddy, it's a close call. While both have what you need for your small business website, each has a different set of use cases. GoDaddy is more affordable and easier to use. Meanwhile, Wix offers a good value with the most templates and tons of features you can grow with. We highly recommend trying out both and seeing which one works best for your business.
You Might Also Like…