Grasshopper vs RingCentral: Which Is Best in 2023?
This article is part of a larger series on VoIP.
Our Grasshopper vs RingCentral comparison found both platforms offer basic call and text solutions, 24/7 customer support, and base plans priced at about $30 monthly. However, Grasshopper won over RingCentral because it provides flat-rate monthly pricing and straightforward phone features like business texting and call transfers, which small businesses prefer. RingCentral's strengths are built-in virtual meetings and robust integrations.
Based on our comparison, the best use cases for RingCentral vs Grasshopper are as follows:
Grasshopper: Best for businesses needing essential calling and messaging capabilities
RingCentral: Best for growing companies looking for a feature-rich platform with advanced calling solutions
Grasshopper vs RingCentral at a Glance
| | | |
| --- | --- | --- |
| Monthly Pricing | $31 | $30 per user |
| Annual Pricing | $28 | $20 per user |
| Free Trial | 7 days | 14 days |
| User-friendly Interface | Very easy | Easy |
| Call Management Features | Essential | Advanced |
| Scalability | Limited | Scalable |
| Integrations | 2 | Over 300 |
| Equipment Rental | ✕ | ✓ |
| Customer Support | 24/7 hotline, self-service, and ticketing | 24/7 hotline, chat, social media, self-service, and ticketing |
| For More Information | | |
Take our quiz to find out which is better for your business: RingCentral or Grasshopper.
RingCentral or Grasshopper: Which is best for your business?
Best Alternatives
While RingCentral and Grasshopper are leading voice-over-internet-protocol (VoIP) platforms, there are other options available when it comes to VoIP solutions. Companies looking for unlimited international calling, extensive productivity tools, or unlimited domestic team messaging are better with an alternative service provider.
A few Grasshopper and RingCentral alternatives include:
Ooma: Based on our Ooma review, this provider offers a free residential plan excellent for solopreneurs and small teams wanting a scalable option. Its plans include rich mobility features like multi-ring and call flip. It offers unmetered international calling to landlines for up to 70 countries and to mobile phones in over 40 countries
Vonage: As a unified communications (UC) phone system, Vonage's base plan includes unlimited calls and SMS, and it comes with over 50 business phone features, such as call queues and call tracking. It also offers unmetered team messaging and calls within the United States, Canada, and Mexico. To learn more about this solution, see our Vonage review.
Nextiva: This is an ideal provider for businesses seeking a VoIP platform with robust internal collaboration tools like instant messaging and video conferencing. Its Cospace app allows users to coordinate through unlimited group chat, one-on-one or team video meetings, track management, team calendar, and a company directory. Learn about pricing, best-use cases, and features in our Nextiva review.
Best for Pricing: Grasshopper
Grasshopper Monthly Pricing*

Solo: $31 for one phone number, three extensions, and unlimited users
Partner: $51 for three phone numbers and six extensions
Small Business: $89 for five phone numbers and unlimited extensions

RingCentral Monthly Pricing

(per User)**

Core: $30 for message and phone functionality for 20 users
Advanced: $35 for an unlimited number of users, unlimited internet fax, audio conferencing, third-party integrations, and video conferencing for up to 24 hours and 100 participants
Ultra: $45 for automatic call recording, real-time analytics, customer relationship management (CRM) integration, devices status reports, and video meetings with up to 200 participants
*Save over 10% with annual billing.
**RingCentral offers a yearly billing option that saves users up to 33%. Volume discounts are available for 50 or more users.
Grasshopper beats RingCentral's pricing thanks to its flat-rate pricing model. Grasshopper provides three plans with essential features, such as business phone numbers, texting, custom greetings, and transfers. Upgrading your Grasshopper plan gives you more phone numbers and extensions. Grasshopper trumps RingCentral in terms of cost per user for essential communication features.
Grasshopper users gain significant savings by using extensions, which allow multiple users to share a single number. It's a cost-effective solution for teams with multiple users who don't necessarily need dedicated lines. Grasshopper's additional numbers cost $10 each, per month, and you can choose between local, toll-free, and vanity numbers.
However, RingCentral is the better choice for growing businesses looking for a scalable platform with robust call management solutions. It is a leading business phone system offering feature-rich unified communications (UC) capabilities, including team messaging and video conferencing functionality. All plans include basic VoIP features like visual voicemail, business SMS (short message service), and file sharing.
Pro tip: Earn more savings by opting for annual prepay discounts and save from 10% to 33%, depending on your chosen provider.
Best for Integrations: RingCentral
RingCentral outperforms Grasshopper when it comes to integrations thanks to its extensive app gallery and application programming interface (APIs). Illustrating its collaboration with industry platforms, some service providers even offer their own version of RingCentral, called custom-branded apps. For example, RingCentral with Verizon for Salesforce integrates with Sales Cloud and Service Cloud for direct calling and note-taking within your account.
RingCentral APIs also allow businesses to customize apps and support different business requirements. Comparatively, Grasshopper's integrations only extend to Google Voice and Skype. RingCentral is the ideal solution for companies creating a connected communications ecosystem. However, if you're looking for a cloud-based phone system and don't have much need for integrations, Grasshopper is enough for your needs.
If you're curious to know what else RingCentral offers, check out our comprehensive RingCentral review. The guide will help you decide if the solution suits your communication needs.
Best for Remote Work & Mobility: Grasshopper
| | |
| --- | --- |
| Supports unlimited inbound calls and extensions, has an instant response feature, offers desktop and mobile applications, and launches right from a smartphone | RingCentral lets businesses buy, lease, or rent devices, including desk phones, headsets, cordless, and conferencing devices |
Grasshopper ranks above RingCentral on the mobility front because remote teams benefit from Grasshopper's live receptionist, instant response, and call transfer features. Instant response automatically texts callers when you're unavailable to take the call. Its live receptionist add-on also ensures your calls are answered by a live agent even when your team is out of the office. Lastly, call transferring lets you connect remote employees to calls from home or while traveling.
RingCentral has mobile and desktop applications and offers multi-year phone rentals with no upfront costs and easy upgrades. This is an advantage to larger companies, but small companies often prefer to use laptops and mobile devices for increased flexibility. While Grasshopper doesn't offer device rentals, it supports third-party hardware and offers applications for mobile devices.
Best for Ease of Use: Grasshopper
| | |
| --- | --- |
| The basic feature set helps new users navigate the platform easily | The platform has an intuitive interface, but its extensive features take a bit of learning |
RingCentral and Grasshopper interfaces are pretty easy to use and maneuver, but given Grasshopper's simple features, it delivers an intuitive design and seamless experience that inexperienced VoIP users appreciate. Its minimalist design features categories and functionalities on the left and client history and caller information on the right. It keeps your personal and business numbers on one device but separates respective calls and messages.
On the other hand, RingCentral has advanced features that translate to more tabs and icons and can be more challenging to navigate than Grasshopper's applications. Custom features and integration with customer relationship management (CRM) also require initial setup and configuration. Overall, we noted that the initial use of both applications is straightforward. Users simply download and install the applications, and you can begin using and customizing them as needed.
In our Grasshopper review, we recommended the provider to teams needing a straightforward and affordable business phone system.
Best for Basic Call Management Features: Grasshopper
| | |
| --- | --- |
| Essential VoIP features, such as business texting, phone numbers, voicemail, and some advanced capabilities like custom greetings and simultaneous call handling | Extensive VoIP features, communication channels, and advanced features like interactive voice response, in-depth analytics, and agent monitoring |
When it comes to Grasshopper vs RingCentral's communication features, Grasshopper's uncomplicated phone system is the clear winner. All Grasshopper plans come with the same features and vary in the number of phone numbers, extensions, and users across each plan. If you're a small business and only need basic texting and calling, Grasshopper ensures you have all the necessary tools.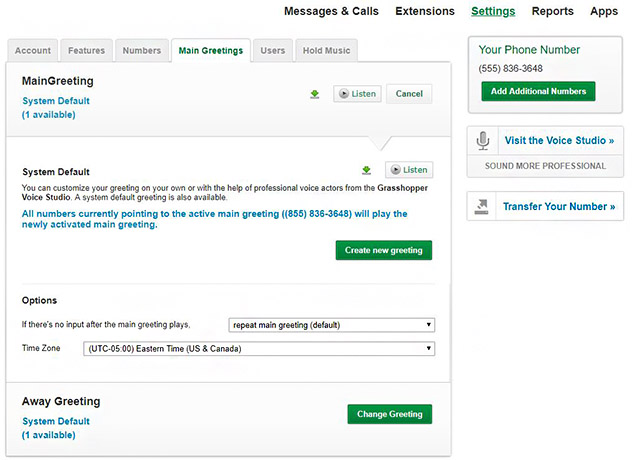 ---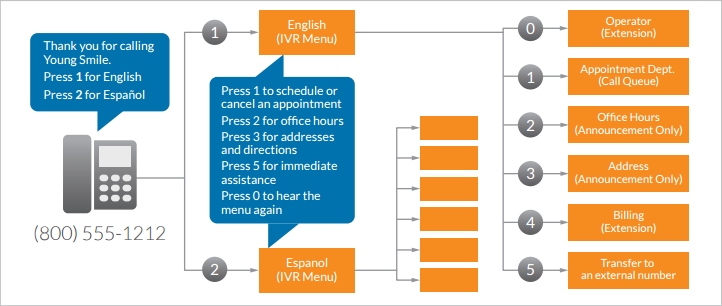 ---
Companies with moderate to high incoming call traffic will appreciate RingCentral's seamless voice, video, and messaging integration. All plans have toll-free minutes, unlimited domestic calling, visual voicemail, call recording, and live transcription. RingCentral also includes interactive voice response (IVR), a self-help, auto-receptionist feature in all plans. These advanced features boost functionality and productivity but can be too much for smaller teams.
Best for Video Conferencing: RingCentral
| | |
| --- | --- |
| Unlimited conferencing with no time limits on group meetings, high-definition (HD) video, transcription, recording, virtual backgrounds, encryption, whiteboard, and webinar add-on | No video conferencing features |
It's worth noting that part of RingCentral's offering is a built-in video conferencing feature, which Grasshopper lacks. RingCentral's base plan includes up to 100 video participants and HD video. It offers unlimited meetings and artificial intelligence meeting insights, live transcription, whiteboard, breakout rooms, virtual backgrounds, and video recording across all plans.
One great RingCentral feature is collaborative notes, which boosts productivity by letting participants simultaneously take notes on a shared file, assign tasks, and insert images from the meeting window. On the other hand, one of Grasshopper's major drawbacks is its lack of video conferencing tools. For those who opt for Grasshopper but still need video conferencing capabilities, check out our list of the best free conference call services for small businesses.
Best for Customer Support: RingCentral
| | |
| --- | --- |
| 24/7 phone, chat, community support, social media, and support case tickets | 24/7 phone, knowledge base, and support ticket system |
Customer support is crucial when choosing a VoIP provider, and in this Grasshopper vs RingCentral client support comparison, RingCentral offers more channels, specifically chat, support case, social media, and community support. It has round-the-clock agent support and extensive resources in community forums and online reference guides for non-urgent matters. It also provides non-English support during business hours.
Like RingCentral, Grasshopper offers 24/7 phone support and a knowledge section, and it therefore doesn't lag too far behind. However, a major sticking point is its lack of live chat support, a channel many customers prefer.
Frequently Asked Questions (FAQs)
Which solution is RingCentral's biggest competitor?
RingCentral is a leading VoIP solution offering unified group work and compatibility with third-party apps and utilities. Similar to RingCentral, other go-to UC solutions exist for companies that want a robust communications stack. Consider Nextiva, Vonage, and Ooma, which are part of this article's alternatives list.
Is RingCentral reliable?
Yes, RingCentral provides a 99.999% service level agreement uptime guarantee and seven layers of enterprise-grade security. Key security features include end-to-end encryption and custom roles and permissions. Like RingCentral, Grasshopper also offers a 99.999% uptime guarantee, equating to less than 26 seconds of downtime monthly.
Can I port my existing number to Grasshopper & RingCentral?
Yes, Grasshopper and RingCentral both offer number porting. Grasshopper allows users to port existing phone numbers for free, and you'll be assigned a temporary number until porting has been finalized. RingCentral also offers the number transfer of existing toll-free and local numbers to RingCentral.
How We Evaluated RingCentral vs Grasshopper
Grasshopper and RingCentral offer similarly priced base plans that include essential communication features. We looked at different critical criteria points to comprehensively evaluate Grasshopper phone vs RingCentral and help you decide which is better for your business. These criteria include pricing, general features, collaboration tools, popularity, and ease of use.
Here's a complete breakdown of the factors we considered in this RingCentral vs Grasshopper comparison:
We compared monthly per-user costs for Grasshopper vs RingCentral and the features it offers across different tiers. Moreover, we looked at the availability of a free plan, free trial, and discounts for annual billing and volume purchases.
In our Grasshopper vs RingCentral features comparison, we considered features essential to small businesses, such as unlimited calling and call routing features like forwarding and IVR. We also considered video messaging capabilities, particularly if the provider has a larger participant capacity and longer meeting duration.
We looked at RingCentral vs Grasshopper and how well the providers support their customers. This included their available channels, whether community resources are accessible, and their operating hours.
The best VoIP providers should be intuitive and easy to use. We tried both platforms for specific activities to determine whether their interface was easy or complicated. In addition, we evaluated each system based on ease of setup and installation process and whether it was straightforward enough.
We analyzed each product's value by considering the feature set, quality of customer support, and usability. We also reviewed verified user feedback to determine the overall popularity of both platforms while considering our own experiences.
Bottom Line
Grasshopper vs RingCentral are cloud-based communication solutions providing secure services and mobile apps. Grasshopper wins because small businesses often want a simple, inexpensive phone system with an uncomplicated interface, which Grasshopper offers. Its flat-rate pricing allows companies to maximize their plans by sharing one account between multiple users.
While RingCentral comes in second in this comparison, its extensive offering upgrades a small business' communication stack. As a leading cloud-based communication solution, RingCentral offers comprehensive integration, customer support channels, and advanced call management features. Whether Grasshopper vs RingCentral is better depends on your business needs.