WordPress is the world's largest, open-source content management system (CMS) used to build websites. It's free to use, but there are costs associated with site building, including web hosting ($3 to $25/month), and optional premium themes ($29-$49) and plugins ($19-$100 or more). Overall, total WordPress website costs range from $0 to $500 or more.
WordPress Pricing
| | Cost | Cost Frequency |
| --- | --- | --- |
| Web Hosting & Domain Registration | $2.95-$25 | Monthly fee |
| Design Costs | $0-$10,000+ | One-time fee |
| WordPress Themes | $0-$90 per theme | One-time fee |
| Plugins | $0-$249 per plugin | One-time or monthly fee |
WordPress Website Costs
The cost of building a WordPress website is based on four necessary site elements: web hosting, themes, plugins, and design. The average cost of a do-it-yourself (DIY) WordPress site is between $50 to $300, whereas the average cost of outsourcing to a web developer can cost anywhere from a few hundred to more than a few thousand dollars.
WordPress Hosting & Domain Costs
For a website to be accessible to the public, site builders must store their website files on a hosting server, accessible via a domain name such as www.yourbusiness.com. There are many providers that offer this service, costing $3 to $25 per month, depending on a number of included features.
Here are seven main variables that affect the cost of web hosting packages:
Shared vs. dedicated hosting: Shared hosting plans share servers with other businesses and therefore cost less than dedicated hosting plans that provide a dedicated server for each hosted website.
Contract length: The average web hosting plan is on a 12-month contract, although it's worth noting that short-term plans, such as month-to-month plans, typically cost more, and long-term plans―more than 12 months―will have a lower monthly rate.
Storage & bandwidth limits: Storage is how much space on a server you have to store your site's media and content. Bandwidth determines how much web traffic your site can handle. Plans with unlimited storage and bandwidth typically cost more than those with limited amounts of storage and bandwidth.
Number of hosted sites: Plans will denote how many separate websites they can be used for. Plans that allow for one site will generally cost less than those that can host multiple sites within one plan.
Customer support: Low-cost web hosting plans, such as free open-source providers, typically do not include support. Premium plans offer more customer support options, such as a dedicated premium support phone number with fast response times.
Private domain name registration: For web hosting plans that include a free domain name, there is also the option to register the domain name privately. A private domain name will hide your contact information from public domain registration databases, minimizing spam risk. This will incur an additional cost of around $12 per year.
Free SSL certificates: SSL certificates help create a secure website connection between a server and browser to protect site visitors' data. Many hosting plans include a free SSL certificate. For those that do not include a free SSL certificate, one can be purchased for $5 to $25 per year, depending on the provider.
Web hosting plans vary greatly in price, service, and quality. It's worth taking the time to understand your hosting needs and to research the best providers. Our overall top web host pick is Bluehost, which boasts a 99.9% uptime guarantee, one-click WordPress installation, a free domain name, a free SSL certificate, and free email for as little as $2.95 per month. Learn more about the top WordPress web hosting providers in 2019.
WordPress Website Design Costs
Website design can be done yourself as the site creator and business owner or can be outsourced to a professional web designer. DIY site design is common—even for those with no technical knowledge—and is free. Hiring a professional designer, however, will ensure you have a professional, attractive site, but can cost you thousands of dollars.
DIY Web Design Costs
It's possible to design your own website for free without web design experience or coding knowledge. Thanks to easy-to-customize themes and drag-and-drop website builders such as Elementor, you can build a WordPress website without outside help easily. Learn more about website builders and how they give those without web design or coding experience the ability to design a professional-looking website in our article on the best website builders.
Professional Web Design Costs
Professional web design services can cost anywhere from $300 to more than $10,000, depending on factors such as site functionality, schedule, and design needs. Those building complex websites who do not have web design or coding experience are advised to hire professionals to build their site to avoid poor design or site dysfunction. To find an affordable designer, consider searching for contract web designers on Fiverr.
The cost to build a website will vary greatly depending on whether you build it yourself or hire a web design professional. Get a detailed breakdown between the two in our article on website costs: DIY vs. professional.
WordPress Website Theme Costs
WordPress themes are templates that are customized to fit the needs of your business. Free themes are available directly through WordPress, but there are also thousands of premium themes ($10 to $90) available from WordPress and third-party developers. While free themes are fully customizable, premium themes often feature more professional design and added functionality, requiring limited customization.
Free WordPress Themes
There are thousands of free WordPress themes available online. You can find these directly from WordPress by navigating to "Appearance" from the left-hand menu on the WordPress dashboard and selecting "Themes." Uses this screen to filter themes by feature or search by keyword.
You can also find free themes from third-party sites, such as aThemes or through a WordPress site builder plugin, such as Elementor. Additionally, sites such as Theme Forest will often provide free monthly themes to members.
Premium WordPress Themes
While there are thousands of free WordPress themes available directly from WordPress, there are also premium themes that can be purchased for $20 to $90. The reason many choose to purchase a premium theme instead of using a free theme is that premium themes come with more plugins and functionality, as well as more professional design, helping to eliminate time spent on customization.
To begin searching for premium themes, browse WordPress's own theme database via the WordPress dashboard. Then, consider third-party sites like ThemeForest, TemplateMonster, and Themify.
"WordPress templates are fantastic resources for adding professional design with relative ease and minimal cost. However, make sure you purchase from a reputable creator that offers long term support after the initial sale. The last thing you want is to invest your time and money on a solution that won't keep up with changes in WordPress."
— Phillipp Lomboy, Founder, Marami Marketing Group
Theme Examples
WordPress themes serve as website templates, and each one boasts unique design and functionality. As you browse themes, consider your industry, branding, and feature needs. Because there are so many WordPress themes available, it's possible to find a theme designed for your business-type that meets all of your website requirements.
Among the thousands of WordPress themes out there, here are a few that stand out.
Price: Free with hosting plan
Fit Web Themes were designed for simple small business websites. They were created by Fit Small Business to accommodate business owners who don't have time to learn WordPress themes with advanced customization options. Enter your business information, upload photos, and choose your color scheme. It's that simple.
Each theme above focuses on the features you need to attract and retain customers, such as prominent contact information, a mobile-friendly design, an easy-to-read restaurant menu―Restaurant theme only―and a "testimonials" section for customer reviews, to name a few. Plus, each theme is easy to customize and launch.
Price: $60; one-time fee
Avada is a highly customizable WordPress theme, but for a fraction of the cost of many others. It features industry-specific layouts, but with a wider selection, including hotel, gym, and church designs, to name a few.
You can modify Avada with simple drag-and-drop tools. Choose between elements like pricing tables, videos, and counter boxes, and position them anywhere on your site's pages. The designer is not quite as elegant as Divi's nor do you get quite as many features like the ability to save page templates or split-test page designs. Still, it's still impressive for the cost.
Price: $89 per year or a $249 one-time free
Divi is one of the most popular WordPress themes because it can be shaped to fit practically any business. First, you can choose between 20 different layouts, which are specially designed for different businesses from restaurants, designers, event planners, business-to-business (B2B) companies, and more. Then, click and drag to modify elements. Everything from text boxes to photos, video players, pricing tables, and sign-up forms can be added or edited in this simple manner.
As a tradeoff for Divi's impressive editing capabilities, you will pay a higher price than most WordPress themes. It costs $89 per year or a one-time payment of $249. Considering there are low-cost, and even free options can provide similar-looking sites, consider trying them first.
Price: $200 to $5,000; one-time fee
Businesses that have a very specific vision for their website may hire somebody to design a custom theme from scratch. This is considerably more expensive than the other options but allows you to create a unique website and/or add features that aren't available elsewhere.
For example, major publications like The New Yorker and TechCrunch are tasked with publishing hundreds of new articles every day. Both use custom WordPress themes to help organize this content in a way that's easy for readers while also establishing a unique brand.
Of course, not every business has the same readership demands as The New Yorker. If you can manage to customize an existing template, this will typically save you a few thousand dollars. If you do decide to create a custom theme, you can find the best rates by hiring an individual freelancer from Fiverr.
WordPress Website Plugin Costs
WordPress plugins are code-based add-ons that give WordPress sites additional functionality and protection. While many plugins are free to use, premium plugins cost $5 to $100 or more. There are certain plugins that are recommended for all websites, however. These include Akismet to block spam, Jetpack for site performance and management, and Yoast SEO for search engine optimization (SEO).
Here are the three WordPress plugins that are recommended for every business website.
What it's used for: Blocking spam
Price: Free to $5 per month
An astonishing number of emails and website comments are spam; that's why it's critical that you use an antispam plugin. Akismet automates this process by tracing the internet protocol (IP) address of site visitors, recognizing keywords they use that signal spam, and blocking them. It's a free plugin with premium plans starting at $5 per month for advanced data and priority customer support for faster response times.
What it's used for: Security, performance, and site management
Price: Free; premium extensions cost $3.50 to $29 per month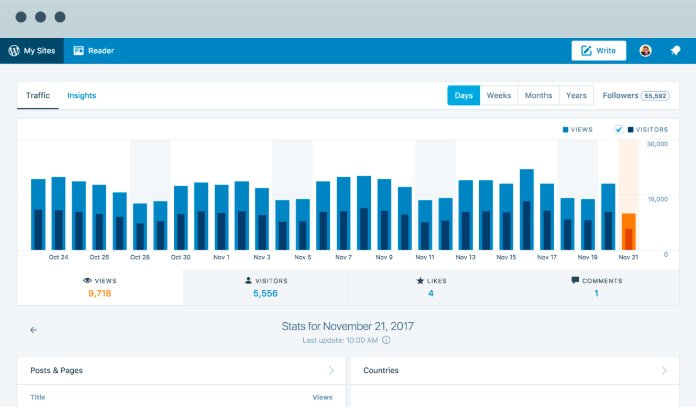 Jetpack is an all-in-one security, performance, and site management plugin. It does everything from helping to prevent site attacks to increasing page load times for better user experience. It also has built-in marketing tools and hundreds of themes that require no code, making it easy for anyone to build and manage a professional site built on WordPress. The basic version is free to use; premium plans start at $3.50 for added features.
What it does: SEO
Price: Free; premium for a one-time fee of $89
Yoast SEO is the leading SEO plugin on WordPress. SEO is a strategic way of improving site design and its content to ensure your website ranks well in Google search results. It does this by analyzing content readability and suggesting changes, scanning for keywords, and site indexing. The basic plugin is available for free; there is a premium version available for a one-time fee of $89.
Pros & Cons of Using WordPress
WordPress is the most popular website CMS platforms, but that doesn't mean it's the perfect solution for every business website. While it offers incredible customization options and a wealth of themes and plugins, it also requires users to be somewhat technically savvy. Those who don't have any web design experience may find WordPress an unnecessary challenge.
Pros of Using WordPress
Robust capabilities: WordPress can be used to build any type of website. This means it can grow with businesses and give them the capabilities they need as they expand.
SEO-friendly: WordPress is one of the best website CMS platforms for creating sites that rank well in Google, largely due to the WordPress site structure. This visibility can mean a lot more traffic to a business's website, ultimately resulting in more sales.
Affordable: It doesn't have to be expensive to build a WordPress site. The CMS itself is free, hosting is relatively inexpensive, and additional site elements—like themes and plugins—can often be found for little or no cost.
Cons of Using WordPress
Steep learning curve: While WordPress was designed to give users an easier way to build a site than full custom coding, it's not as easy as drag-and-drop site builders. If you want a more user-friendly platform, consider Weebly or Squarespace.
Not an all-in-one solution: Unlike website builder platforms such as Weebly or Wix, the WordPress CMS is not an all-in-one website solution. With WordPress, you will need to find hosting, download and install a theme, and find necessary plugins to craft your site.
May require professional assistance: While themes and plugins offer a wealth of design nuance and functionality, businesses may need additional customization that requires coding knowledge.
WordPress is a robust, versatile platform on which to build a small business website. However, it does require some training. If you need a website built quickly and don't have the time to learn a new platform, consider Weebly.
Frequently Asked Questions (FAQs)
What is the difference between WordPress and Weebly?
While WordPress and Weebly are both platforms for building a website, they are very different platforms. WordPress is a CMS that requires a certain level of technical ability whereas Weebly is an all-in-one host and site builder with an intuitive drag-and-drop editor that makes it very easy for those with no web design experience to build a professional website. Learn more about WordPress vs Weebly.
How much does WordPress cost per year?
WordPress is a free website CMS platform, so annual costs are primarily based on web hosting fees and subscription-based premium plugs. With these combined, a WordPress website will cost anywhere from around $36 to more than $100 per year.
Is WordPress free with Bluehost?
Bluehost is a web hosting provider that includes free one-click WordPress installations as part of every web hosting plan. WordPress is free to use for all users, but Bluehost hosting plans come with a number of added features, such as a free domain name— a $12 value—and a free SSL certificate— a $14 value. This makes Bluehost a great value for those building a new website on WordPress.
How do you build a WordPress website?
While building a website using WordPress is relatively easy, it does require several steps, including setting up a host, installing WordPress, picking a theme, and customizing site content and styling. For step-by-step guidance, read our article on how to make a WordPress website.
Bottom Line — WordPress Pricing
WordPress is a free-to-use website CMS platform. Building and maintaining a website with WordPress does involve some cost, however, including hosting, premium themes, premium plugins, and, as needed, professional design and coding. Expect to pay between $36 and $300 on average for a WordPress website per year.