Splash pages are a website's introduction page, and serve as a site's gatekeeper or receptionist. There are multiple reasons businesses use a splash page, but they're most commonly used to gate content (e.g., age verification or login for membership sites), direct site visitors to the right page or site, or to share a broad message, such as event promotion or major news (e.g., a change in business location).
Here are the most common business types and use cases for splash pages:
Age-sensitive websites (e.g., alcohol, tobacco, and gambling-related sites)
Membership and subscription websites
Local businesses with more than one location
Large, multinational companies with multiple websites by country
Businesses that serve many different audiences with specific needs
Service businesses that serve only certain geographical areas (e.g., Uber-type services)
Businesses with major news (e.g., change of location, recent acquisition)
Businesses promoting an upcoming event to all organic site visitors
Does it sound like your business needs a splash page, but you don't know how to get started making one? Get the help of a web design expert to build it for you for as little as $5 with Fiverr.
Splash Page vs Landing Page vs Pop-up
As simple as a splash page might sound, there's still a lot of confusion around how it's different from a landing page or pop-up—and rightfully so. A splash page addresses incoming traffic like a landing page, but it can also be set to trigger on your site like a pop-up. The difference comes down to how each functions on your site.
For example:
Splash page: Used for gating content, directing visitors, and sharing a broad message. Again, think of a splash page like your website's guard. It's working to ensure that only appropriate visitors enter your site, help direct visitors in the right direction, or share a general message that all incoming visitors will need to know.
Landing page: Used for generating leads from paid ads, such as Google Ads. Landing pages, unlike splash pages, are very specific in terms of content, as landing pages are designed to correspond with a specific advertisement. For example, if a user searches for "countertops" and clicks on an ad from Home Depot, the landing page will bring them to the kitchen countertops page. Get more insight with these landing page examples.
Pop-up: As the name suggests, pop-ups appear after a visitor has already entered your site. Like a splash page, a pop-up is often displayed to all site visitors, as opposed to a landing page which is only displayed to the visitors who arrived on your site via a paid ad. However, unlike a splash page, a pop-up is typically used to promote a short-term promotional message or sale.
While it's not often discussed, there is another area of confusion when it comes to splash pages, and that's the one-page website. While a splash page may look like a single-page website, it is designed to be part of a multipage site. If you aren't looking to redirect visitors to other content on your site, head over to the best one-page website for examples for more about this kind of page.
15 Best Splash Page Examples
Now that you know what splash pages are and aren't, let's take a look at some of the best splash page examples on the web. If you're in the process of brainstorming how you will want your splash page to look, checking out how others use them is a great way to get ideas and inspiration for your small business website.
Here are 15 of the best splash page examples from around the web for inspiration:
1. Patron
Best for: Websites with age-sensitive content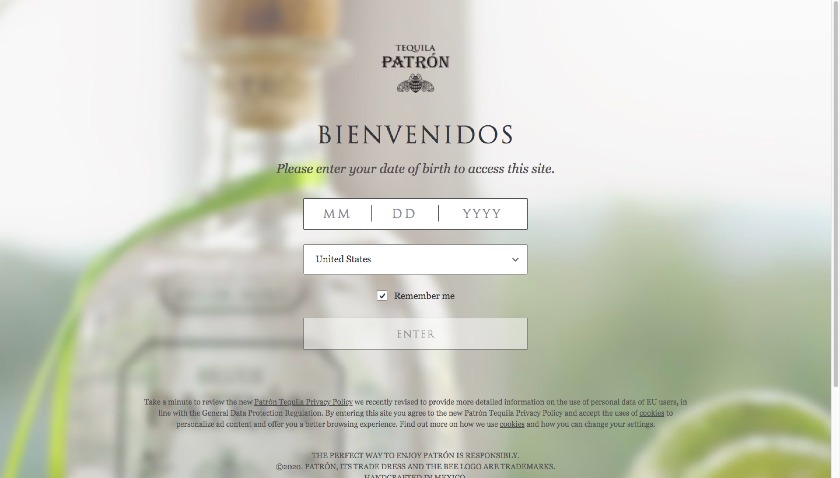 One way that businesses use splash pages is to gate content. For example, liquor and alcohol brands will often use a splash for visitor age verification, such as this one from Patron. Rather than the boring message to make visitors aware that website content is meant for a specific age group, this splash page makes it more effective and the interaction more pleasant. The use of the image in the background also lets the visitor know why the step is necessary.
To create a splash page like this, download the Mount – Age verification splash page template from Design Stub.
2. Audi
Best for: Redirecting visitors to the correct website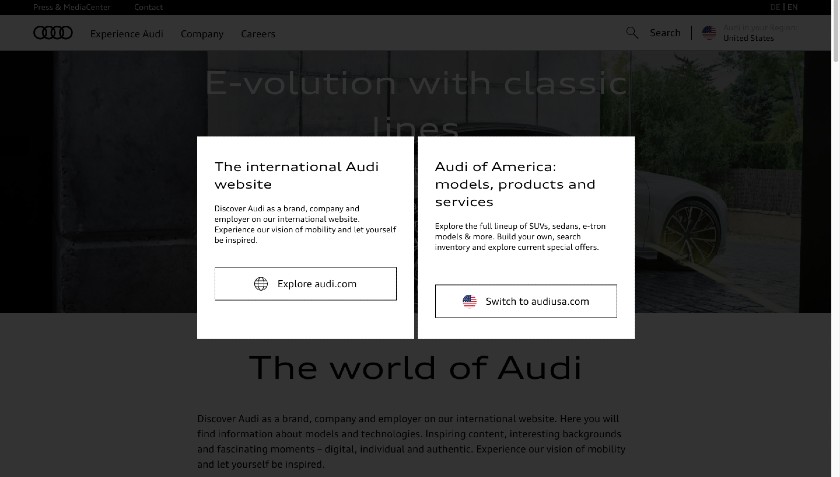 Large, multinational brands commonly use splash pages to help direct visitors in the right direction. In this example, Audi.com uses a splash page to guide visitors to its Audi USA page or stick to its international Audi.com page. U.S.-based users coming to the site to learn more about its models, features, and pricing will likely want to choose the U.S. site in order to get the information they're looking for.
3. Wrap Bootstrap Mira Coming Soon Page
Best for: Businesses with a new website or upcoming event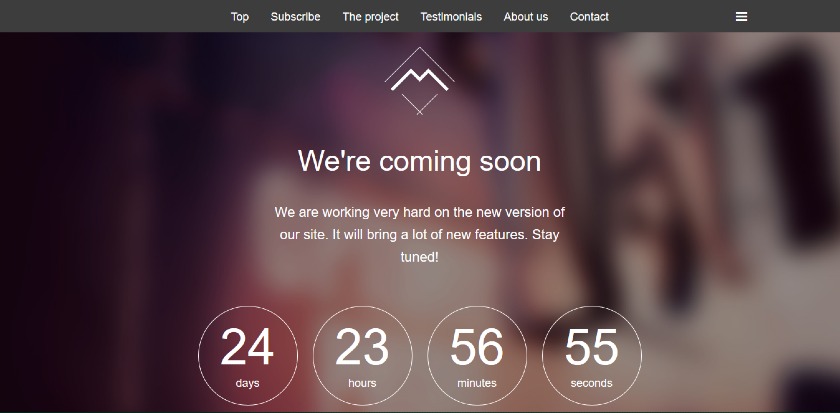 For a website that's still a work in progress or under maintenance, a splash page can be used as a tool to notify visitors that it's under construction. This is a good example of a "coming soon" splash page that includes the business logo, a short message, and a countdown timer to set the visitors' expectations on when the site is going live.
Want this splash page design? Get it from Wrapbootstrap for $12.
4. Zara
Best for: Companies with multiple websites available based on the visitor's country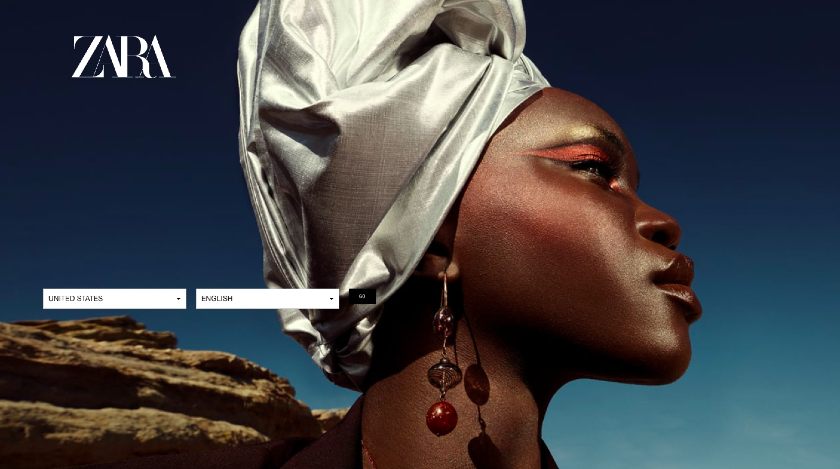 Zara uses two drop-down boxes on its splash page to provide preference options for website visitors. Visitors can select their country, which will provide them with the product catalog and pricing available in the country in which they reside, as well as which language they want to view the site in. This helps to ensure that visitors end up shopping on the right site and have a good user experience by shopping in their preferred language.
5. H&M
Best for: Businesses with a multitude of international websites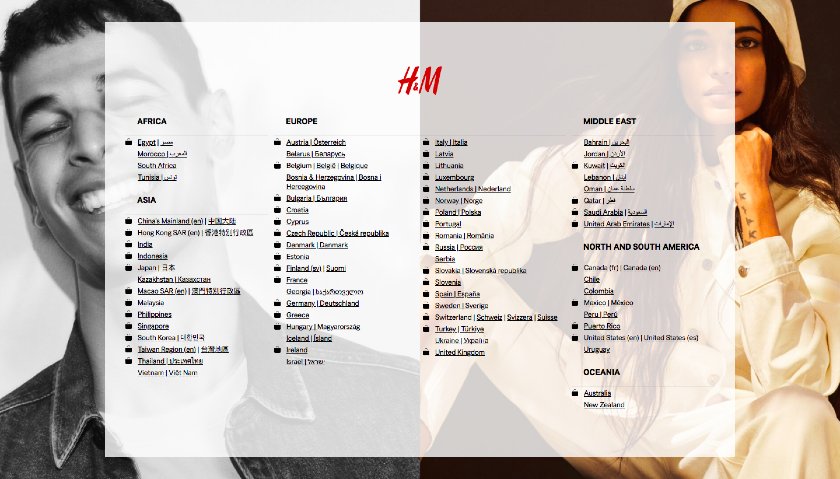 Similar to Zara, the competing multinational clothing brand, H&M, also deploys a splash page that serves as the site's directory by nation and language. However, the two brands approach the same concept for nearly the exact same audience in two different ways. While Zara's splash page is very streamlined and clean with drop-down menus, H&M's splash page lists out every country, making it clear to its audience that it's all over the world.
6. Splash That Event RSVP
Best for: Generating awareness of an upcoming event or deadline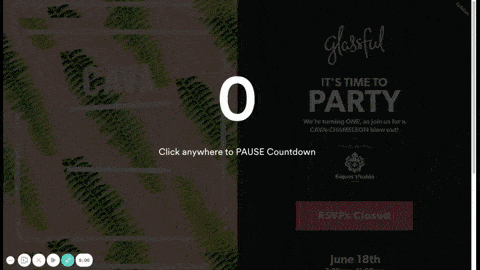 If you're hosting an upcoming event or have some sort of deadline that you want all of your site visitors to see, a splash page is your answer. In this example from Splash That, the splash page serves as an event RSVP form. This type of splash page can help generate awareness of your event and help increase event registration and attendance.
To build your own animated splash page like this one, try designing your own with the free and easy-to-use graphic design platform Canva.
7. Lukas Lindemann Rosinski
Best for: Catching and holding your visitor's attention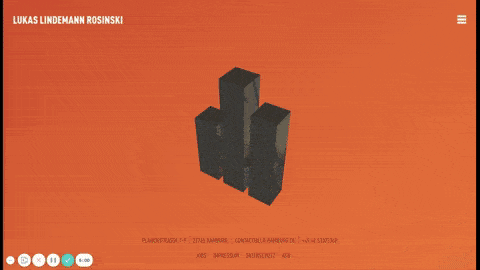 This splash page from Lukas Lindemann Rosinski, an advertising agency, is deceptively simple until one explores the elements to see how much creativity went into the whole page. All the elements, including the 3D logo design, are interactive, allowing the business to showcase its skills and build enough credibility to increase the chances of getting new clients.
8. Matteo Greco
Best for: Creatives and photographers with portfolio websites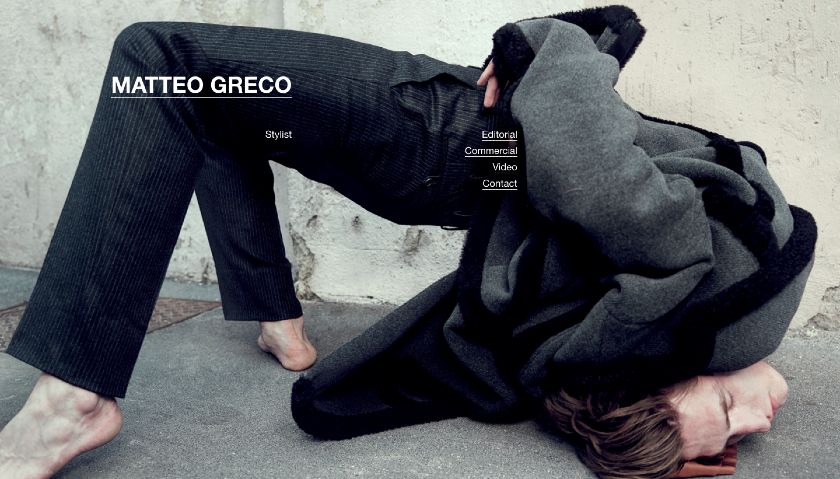 The Matteo Greco website provides an example of how you can use a splash page creatively. While showcasing his work with a full-screen hero image, it effectively redirects visitors to view four different web pages, of which three are different portfolios. This is a good use of a splash page for businesses with different sets of audiences. This way, you can set visitors in the right direction and give them what they came to your site for.
9. Forbes Quote of the Day
Best for: Sharing a message to every site visitor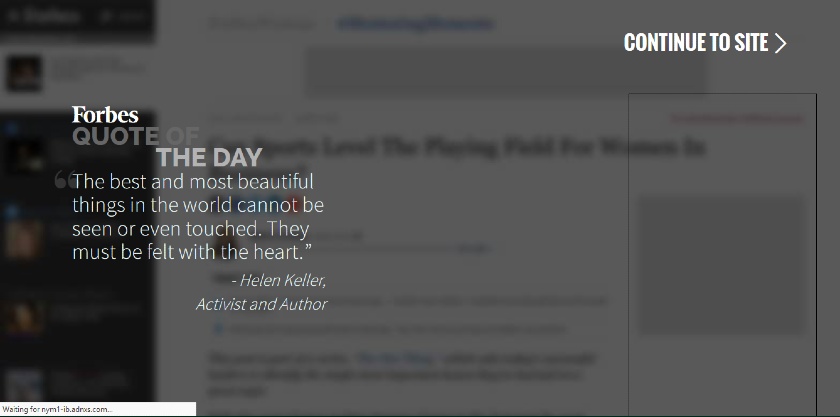 Chances are, you've probably seen Forbes' well-known quote of the day splash page. It's an interesting example of how a splash page can be used to impart a quick message, such as daily wisdom in the case of Forbes—something that has become part of the site's brand and something its followers look forward to every day.
10. Advertisement on Forbes
Best for: Third-party advertisements and events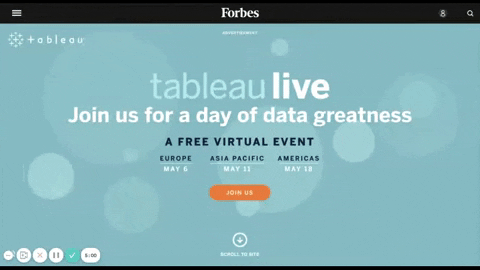 And while we're speaking of Forbes, its use of splash pages doesn't end at its quote of the day. It also deploys splash pages for its advertisements, such as the example above. In this case, the advertisement is promoting an upcoming event that is hosted in three different parts of the world. It includes a call-to-action button to generate more leads and is followed by a scroll-down arrow, enabling visitors to exit the splash page advert.
11. Medium.com
Best for: Websites with gated content, such as publishers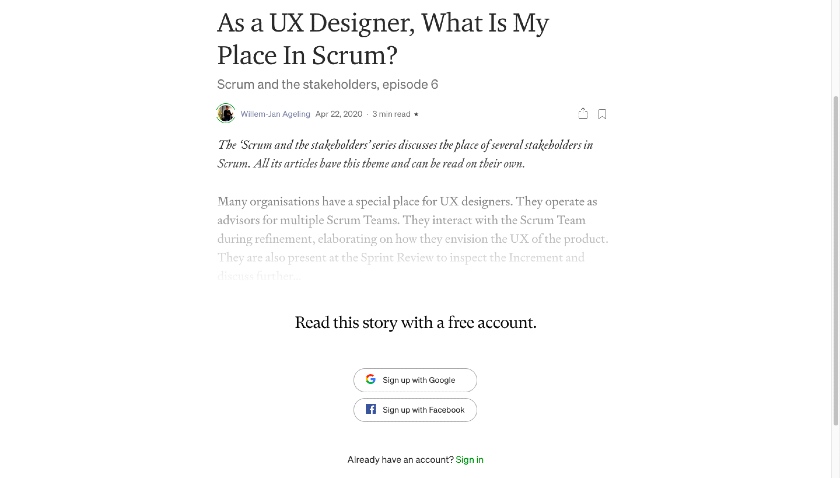 Medium provides a good example of how businesses can use a splash page to gate content. In this case, Medium allows visitors to consume a certain amount of its content without an account. Once you reach its limit, you're faced with the splash page that notifies you that you need to register in order to continue reading. What's unique is that it allows you to view a portion of the article's introduction, making people want to read more and thus sign up.
12. Peapod Grocery Delivery
Best for: Businesses that service specific areas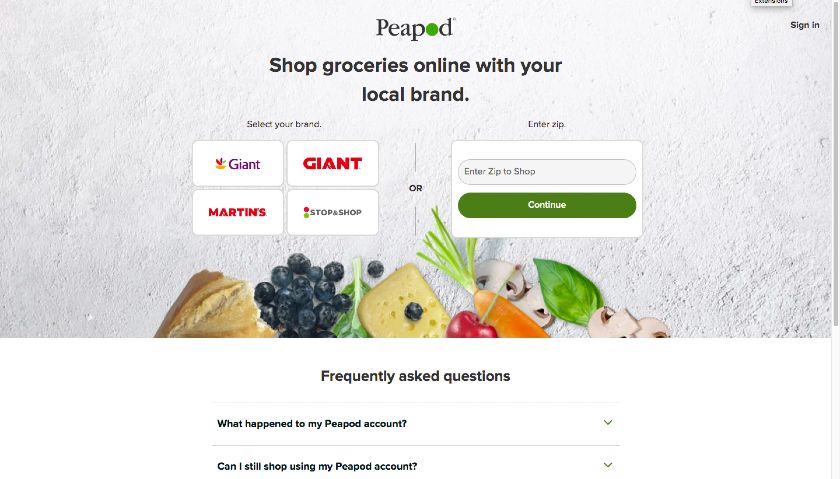 Peapod is a grocery delivery service that provides a good splash page example for businesses that service a particular geographic area. What the splash page achieves, in this case, is to start by qualifying whether or not the site visitor is located within the business' service area. This is particularly useful for growing businesses, and it helps avoid the headache for people coming to your site only to later find that they can't actually order from you.
13. Preply
Best for: Guiding visitors to the content they're looking for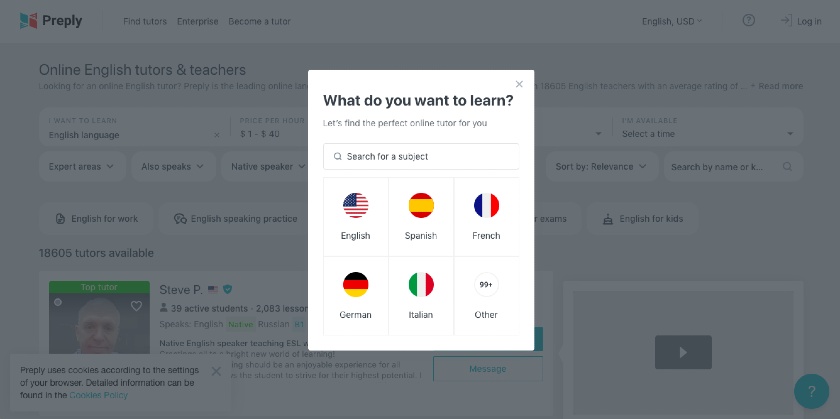 Preply, an online language learning platform, uses a splash page for visitors entering the site outside its homepage to help visitors quickly find the right language tools for them. To do this, it simply asks the visitor which language they want to learn, and it includes the top five most common languages on its site, plus the option to select a different language. This, of course, helps direct visitors to the content they're looking for, creating a better user experience while also decreasing bounce rates.
14. Asana Rebel
Best for: Membership subscription sites that require login to access content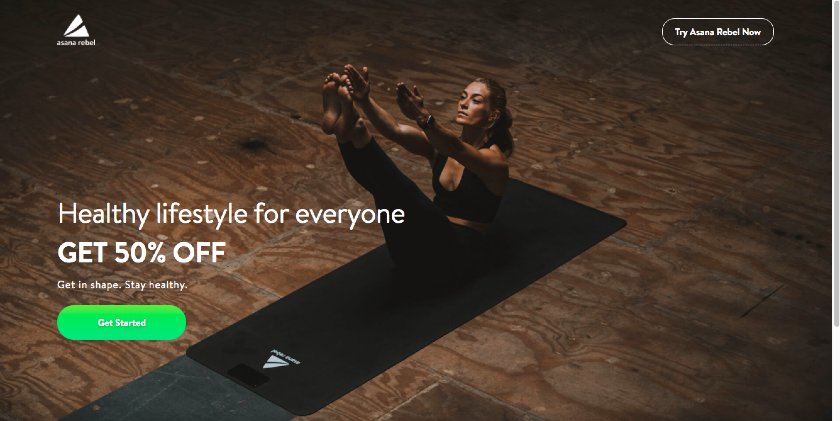 Splash pages are also commonly used for membership sites and subscription-based services as a way to enable non-members to quickly sign up in order to gain access. This is best done with businesses and brands that are well-known, such as Asana Rebel, and therefore do not require a lot of sales information to drive a site visitor to sign up.
15. The Grill on the Alley
Best for: Local businesses with more than one location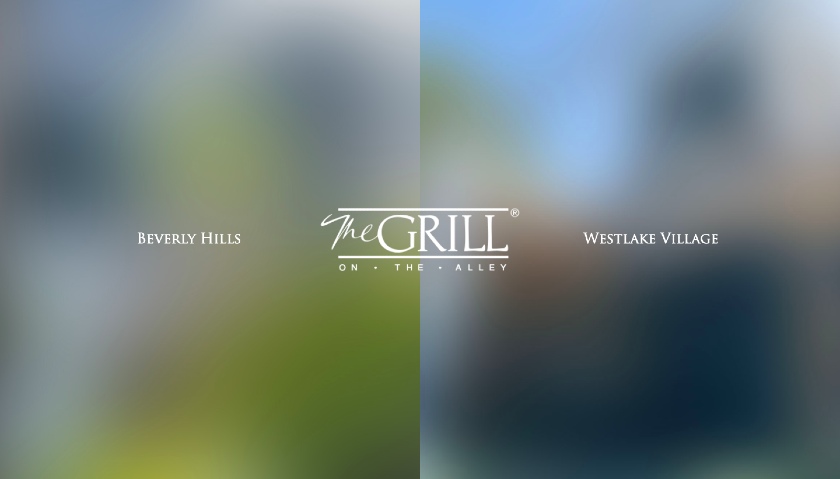 The Grill on the Alley is a restaurant with two locations. Upon landing on its homepage, visitors are met with a splash page, giving them the option between the two restaurants. This gives the restaurant a way to maintain a single website with one domain name in a clean and clutter-free way. It also gives site visitors quick access to the location they're interested in.
Frequently Asked Questions (FAQs)
What are the best tools for building a splash page?
There are a number of great tools that help make it easy to build a great splash page. However, which is the best for you will depend on which content management system (CMS) your site is built on (e.g., WordPress, Wix, or Shopify), your budget, and design capabilities.
In general, Instapages is ideal for those building splash and landing pages, Canva is the best for those with some technical expertise and design skills, and if you're using a site builder, such as Squarespace, you'll be able to build out splash pages from within your site editor.
What is UX web design?
The term "UX" refers to user experience. Its purpose, as the name implies, is to create a great experience for your users and website visitors. UX plays a major role in web design, and good UX holds power to decrease bounce rates and even increase leads and sales. Additionally, providing a good user experience can also help your site increase its ranking in search results. Learn more about how you can improve your site with these UX design principles.
Bottom Line
Splash pages can be a great way for certain businesses to build a website that helps visitors to access and navigate your site easily. Of course, they're not for every business website, but if a splash page is the solution you're looking for, it's a worthwhile investment of your time. Learn more about how to design a website, or if you want to get a great splash page designed from a graphic design pro for a surprisingly affordable rate, check Fiverr.
You Might Also Like…