What Is a Splash Page & 12 Splash Page Examples of Its Use
A splash page, sometimes called splash screens, is an introductory page for your website or a specific section of your site. Based on the examples below, they are commonly used to gate content (e.g., age verification for 21-and-over sites or a login page for membership sites), direct site visitors to the right content, or share a broad message like a major news announcement or event.
Does it sound like your business needs a splash page, but you don't know how to get started making one? Get the help of a web design expert to build it for you for as little as $5 with Fiverr.
Splash Pages vs Landing Pages vs Pop-ups
A splash page addresses incoming traffic, but it can also be set to trigger on your site based on a visitor action. This is why splash pages are often confused with landing pages or pop-ups. The difference between these terms comes down to how each tool functions on your site.
Splash pages: Used for gating content, directing visitors, and sharing a broad message. Think of a website splash page like a receptionist or security guard. It's working to ensure that only the appropriate visitors enter a site or see specific pages, direct visitors in the right direction, or share a general message all incoming visitors need to know.
Landing pages: A landing page is a standalone page used to generate and convert leads from paid ads, such as Google Ads, email marketing campaigns, and so on. Landing pages, unlike splash pages, are designed to correspond with a specific sales or marketing campaign. Get more insights with these landing page examples.
Pop-ups: As the name suggests, pop-ups appear after a visitor has already entered your site. Like a splash page, a pop-up is often displayed to all site visitors, as opposed to a landing page that is only displayed to the visitors who arrived on your site via a specific marketing campaign. However, unlike a splash page, a pop-up is typically used to promote a short-term promotional message or sale.
Another area of confusion when it comes to splash pages is how they differ from one-page websites. While a splash page may look like a single-page website, it is designed to be a navigational element for a website. If you aren't looking to redirect visitors to other content on your site, head over to the best one-page website examples for more about this kind of page.
When to Use Splash Pages
Besides introducing your home page, splash pages can precede other pages of your website, like a product or service, an online store, or an events calendar. Here are some of the most common business types and use cases for splash pages:
Age-sensitive websites (e.g., alcohol, tobacco, or gambling-related sites)
Subscription or membership websites
Businesses with multiple locations where site visitors will be looking for one nearby, such as for location-based pizza delivery
Large, multinational companies with multiple websites by country
Businesses that serve many different audiences with specific needs
Service businesses that serve only certain geographical areas (e.g., Uber-type services)
Businesses with major news (e.g., change of location, recent acquisition)
Businesses promoting upcoming events
Remember that splash pages are not meant to be long or filled with a ton of information. They're only meant to introduce certain sections of your website, whether it's the homepage, a list of services, or your store.
12 Best Splash Page Examples
Now that you know exactly what a splash page is, let's look at some of the best splash page examples on the web. If you're brainstorming how you will want your splash pages to look, seeing how others use them is a great way to get ideas and inspiration for building your business website.
Here are 12 of the best splash page examples from around the web for inspiration:
1. Patron
Best for: Websites with age-sensitive content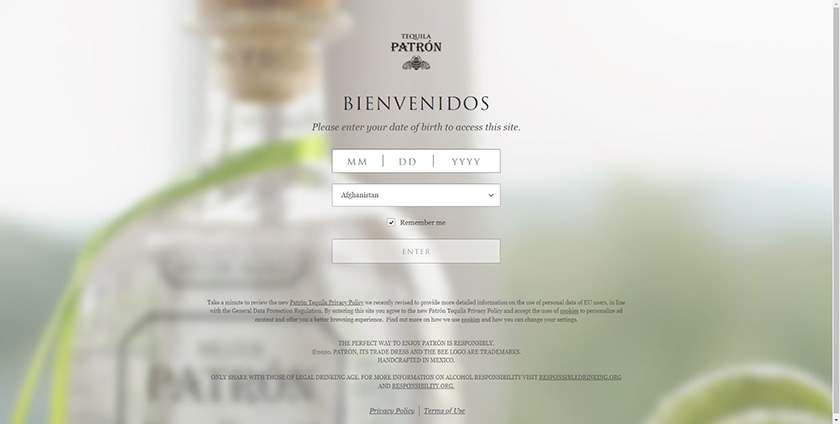 One way businesses use splash pages is to gate content. For example, liquor and alcohol brands nearly always use a splash for visitor age verification, such as this one from Patron.
Rather than a boring message to make visitors aware that website content is meant for a specific age group, this splash page makes it more effective and the interaction more pleasant. The use of the image in the background also lets the visitor know why the step is necessary. Top website builders like Wix make it easy to add splash pages to gate off content on your website.
2. Uterqüe
Best for: Companies with multiple websites available based on the visitor's country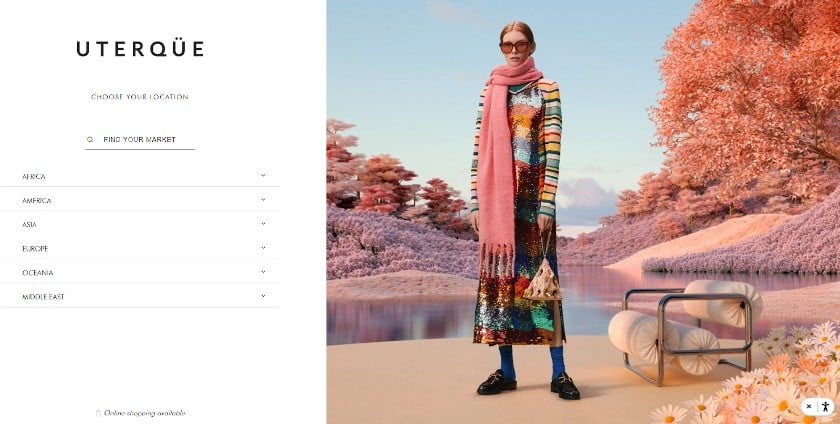 Multinational brands can use splash pages to direct visitors to the right language version of their website. In this example, Uterqüe uses a splash page to guide visitors to its location-based websites.
Each location will have a separate store, with specific prices, currencies, and languages. Not only does this give the most accurate information to customers, but this gives a good user experience by allowing them to shop in their preferred language.
Looking for the best website builder for multilanguage sites? We listed Webnode as the best option for multilingual sites in our list of the best drag-and-drop website builders. With the PROFI plan ($22.90 per month), you can build websites in unlimited languages.
3. Matteo Greco
Best for: Creatives and photographers with portfolio websites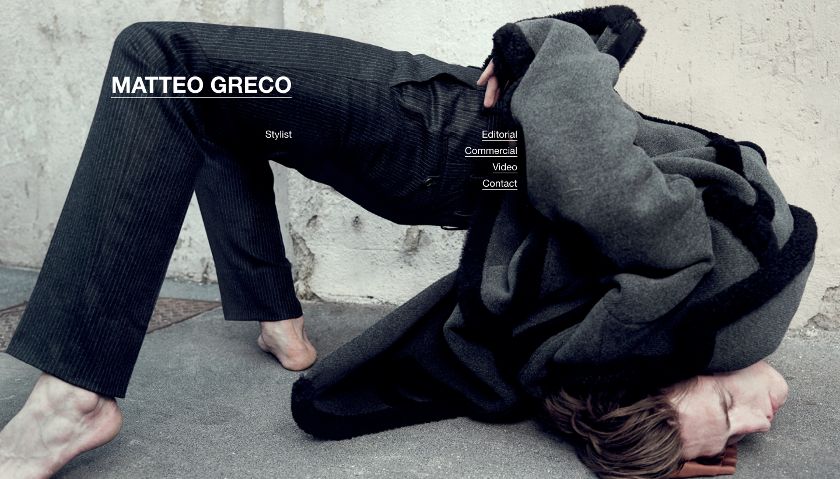 The Matteo Greco website provides an example of how you can use a splash page creatively. While showcasing his work with a full-screen hero image, it effectively redirects visitors to view four different web pages, of which three are different portfolios.
This is a good use of a splash page for businesses with different sets of audiences. This way, you can set visitors in the right direction and give them what they came to your site for.
4. The New York Times
Best for: Websites with gated content, such as publishers
The New York Times provides a good example of how businesses can use a splash page to gate content. In this case, The New York Times allows visitors to consume a certain amount of its content without an account.
Once you reach its limit, you're faced with the splash page that notifies you that you need to subscribe in order to continue reading. What's unique is that it allows you to view a very small portion of the article's introduction, making people want to read more and thus sign up.
5. Facebook
Best for: Businesses that require users to log in or sign up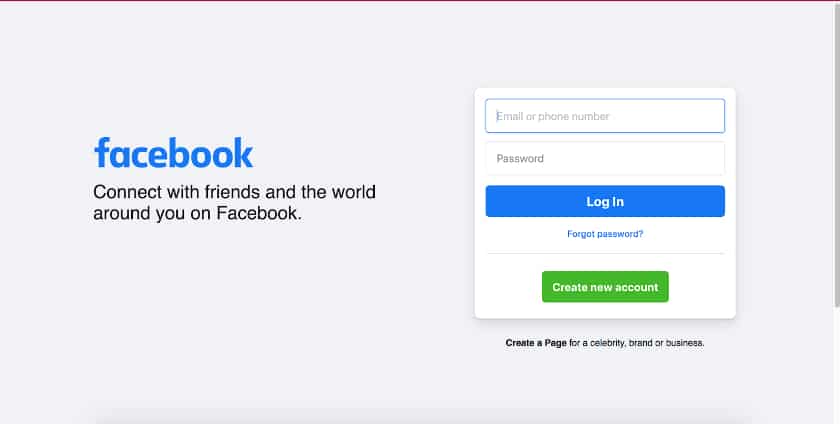 Facebook utilizes an extremely simple splash page to effectively gate off content to users who aren't logged in. This is one of the most common use cases for the page and is typically seen with email providers, social media platforms, and other sites where you store personal information in an account. In Facebook's case, the no-nonsense splash page directs users to either log in or sign up with no confusion.
6. Postmates
Best for: Businesses that service different areas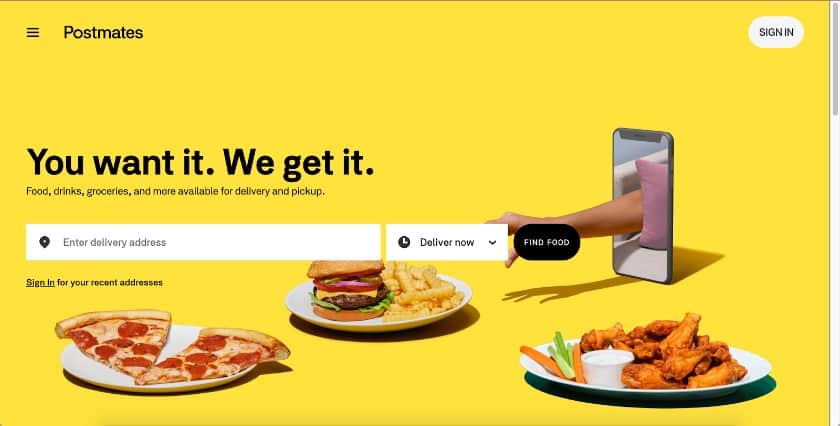 Postmates' food delivery service provides a good splash page example for businesses that service different geographic areas. This example sorts out where customers are located and which restaurants they can order from. This helps narrow down your customer's selection, and it helps avoid the headache for people coming to your site only to later find that they can't actually order from the restaurant they want.
7. Duolingo
Best for: Guiding visitors to the content they're looking for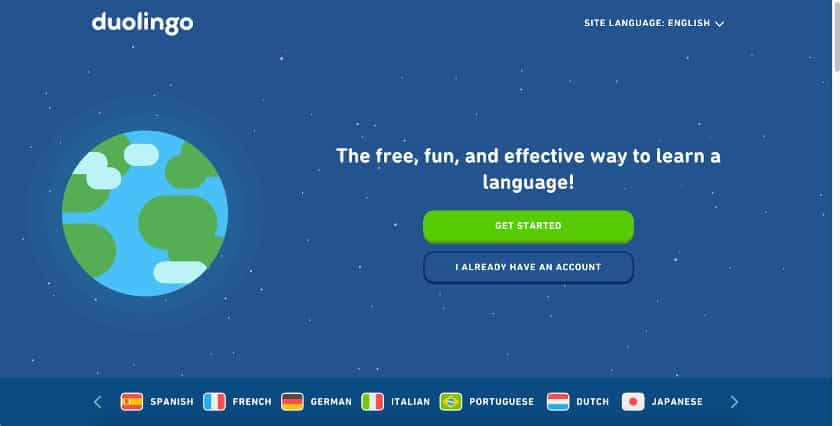 Duolingo, an online language learning platform, uses a splash page for visitors entering the site to help them quickly find the right language tools for them. To do this, it has a quick language selection bar at the very bottom. Because this quickly helps direct visitors to the content they're looking for, it creates a better user experience while also decreasing bounce rates.
Need icons to represent various sections of your website on its splash screen? Envato Elements offers a low-cost monthly subscription with unlimited downloads for web-friendly images and icons.
8. Asana Rebel
Best for: Membership subscription sites that require login to access content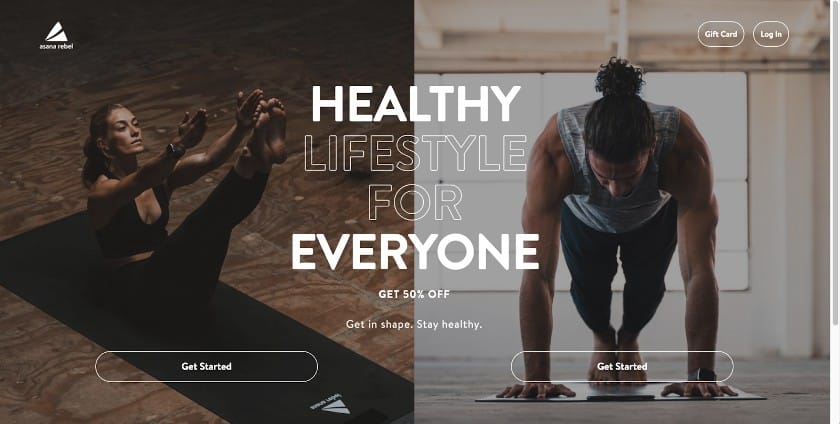 Splash pages are also commonly used for membership sites and subscription-based services to enable non-members to quickly sign up in order to gain access. This is best done with businesses and brands that are well-known, such as Asana Rebel, and therefore do not require a lot of sales information to drive a site visitor to sign up.
9. The Grill on the Alley
Best for: Local businesses with more than one location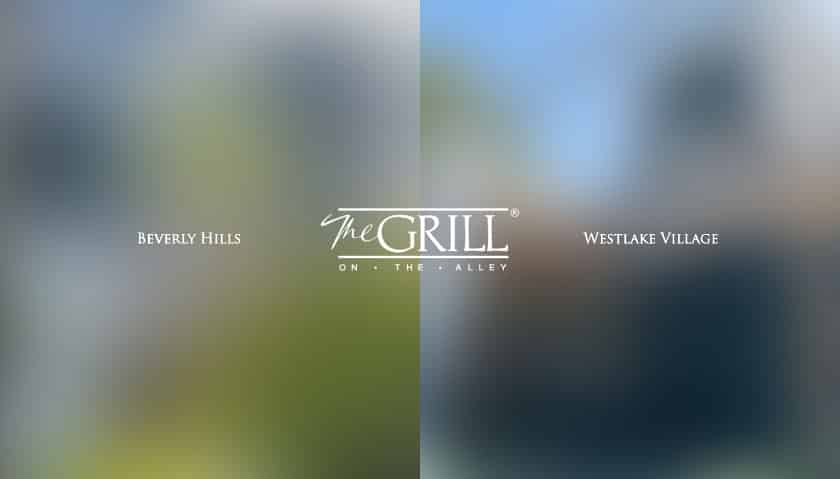 The Grill on the Alley is a restaurant with two locations. Upon landing on its homepage, visitors are met with a splash page, giving them the option between the two restaurants. This gives the restaurant a way to maintain a single website with one domain name in a clean and clutter-free way. It also gives site visitors quick access to the location they're most interested in.
10. Neil Patel
Best for: Promoting a service with a free trial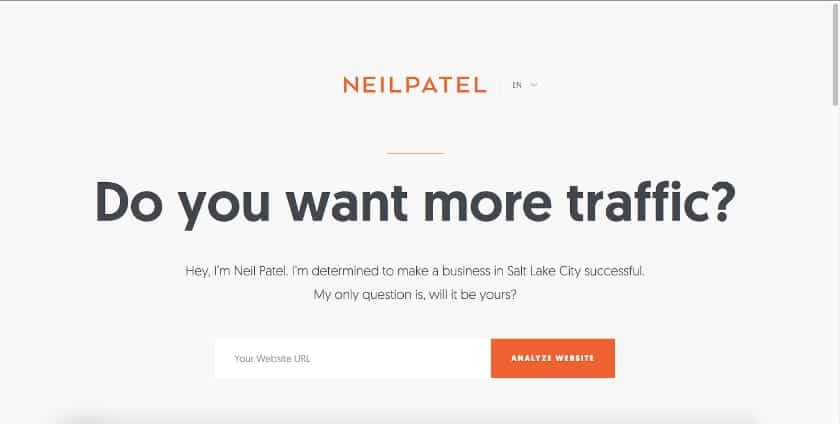 Neil Patel, a well-known marketer, promotes his consulting services via a splash page that appears as soon as you enter his website. By entering your website's URL, you get a free analysis that eventually directs you to a contact form. This is a great example for service-based businesses as a free sample or "lite version" of what your business or software can provide. It is a very effective tool to get your audience to convert.
11. Advertisement on Forbes
Best for: Third-party advertisements and events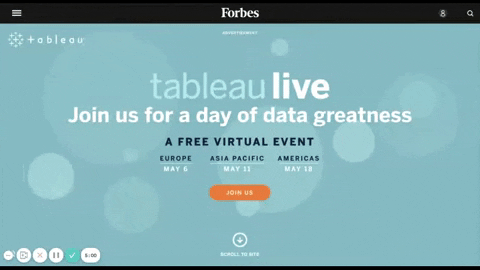 Forbes deploys splash pages for its advertisements, such as in the example above. In this case, the ad promotes an upcoming event hosted in three different parts of the world. It includes a call-to-action button to generate more leads followed by a scroll-down arrow, enabling visitors to exit the page advert.
12. Overwatch 2
Best for: New releases, or businesses announcing an event
Splash pages can generate instant excitement about a new release or event, as evidenced by this trailer for Overwatch 2, a video game currently in the beta stage. When entering the website, you can watch a short gameplay trailer or scroll down to see the rest of the website and have a chance to enter the beta version. While it takes more effort, creating a video about your event or product is a more interactive experience to hype your audience up.
Frequently Asked Questions (FAQs)
What should a splash page contain?
Splash pages should have minimal copy as they are meant to provide a way for your audience to access your website (or a section of your site). This can be done by providing a specific call to action (such as registering for an account), one or more links to specific content on your site, allowing the user to continue by entering qualifying information (like contact information, date of birth, or ZIP code), or giving an exit link to close the splash page.
What are the best tools for creating a splash page?
There are a number of great tools that help make it easy to build a great splash page. However, which is the best for you will depend on which content management system (CMS) your site is built on (e.g., WordPress, Wix, or Shopify), your budget, and your design capabilities. For example, if you're using an all-in-one site builder like Wix or GoDaddy, you can build splash pages from within the site editor.
Alternatively, Unbounce is a software you can use to create various types of splash pages for your WordPress website or to use in conjunction with a site builder. If all this sounds too complicated, you can also hire a professional designer on Fiverr to help you build a custom splash page for your website.
What is UX web design?
The term "UX" refers to user experience. As the name implies, its purpose is to create a great experience for people who visit your website. UX plays a major role in web design, and good UX, such as splash pages to gate content or direct site visitors, holds the power to decrease bounce rates and even increase leads and sales. Plus, providing a good user experience can also help your site rank higher on Google and other search engines.
Bottom Line
Splash pages enable you to help visitors access and navigate your site easily. Of course, they're not for every business website, but if it is the solution you're looking for, it's a worthwhile investment of your time. Build your site on Wix or GoDaddy to easily create splash pages for site access or navigation, or to get an engaging splash page designed by a graphic design pro for as low as $5, check Fiverr.
You Might Also Like…