Landing pages are single web pages designed to increase conversion rates with digital ads, such as Google Ads or Facebook Ads, and in return, generate a higher return on ad spend. Odds are, you've seen hundreds of landing pages before, and yet when it comes to designing your own, it can be tough to come up with ideas. To give you the inspiration you need, we scoured the web for the best landing page examples, including what makes them effective.
1. Airtable Landing Page
Best for: Capturing leads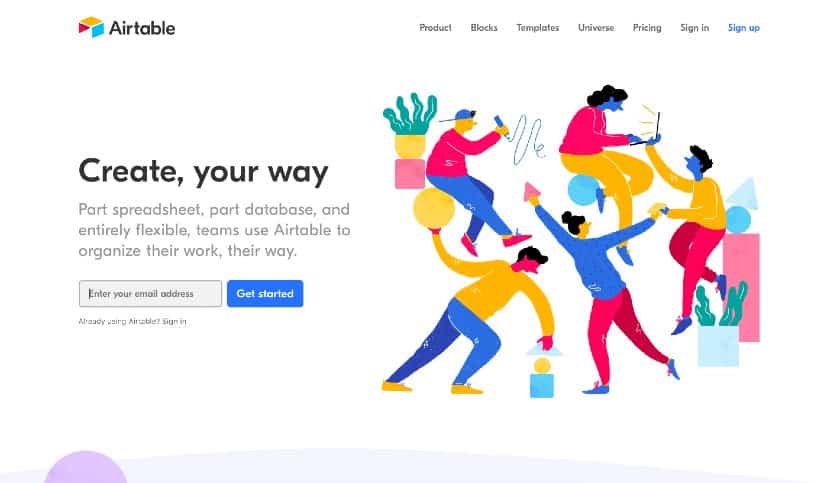 Why it's effective: Airtable's landing page covers everything a landing page should, from a headline that reminds the user of the benefit, to a short explanation of benefits, and a clear call to action (CTA). It utilizes a clean yet whimsical design with a crisp white background in contrast to its bold, black text and colorful illustration.
---
2. Hootsuite Landing Page
Best for: Showcasing a SaaS interface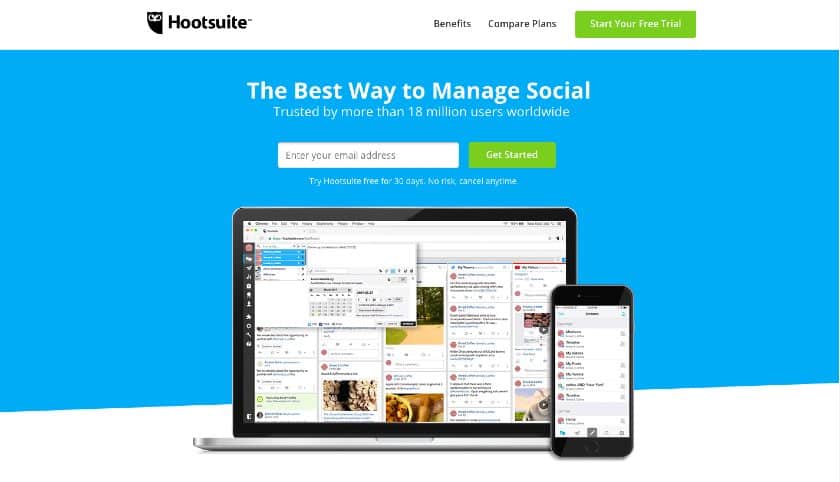 Why it's effective: Hootsuite provides a good example of how a landing page can be designed to incorporate a lot of visual information without appearing cluttered. It uses the computer and phone screens to illustrate its product in action, serving to show users what they will get by following its CTA to get started. It also uses limited text, with one simple line with a powerful message. It backs this message with social proof by sharing that it has millions of users.
---
3. Taboola Landing Page
Best for: Promoting social proof
Why it's effective: Taboola's landing page is a great example of using direct messages to sell itself. By simply saying what the product does, it reinforces the reason why someone visiting the page would want to click one of its two CTA buttons to either go ahead and try it now or learn more about it. This helps lead visitors to the page through Taboola's sales funnel, driving them closer to purchasing the product before ever coming in contact with its sales team.
---
4. Mayweather Boxing + Fitness Landing Page
Best for: Event sign-ups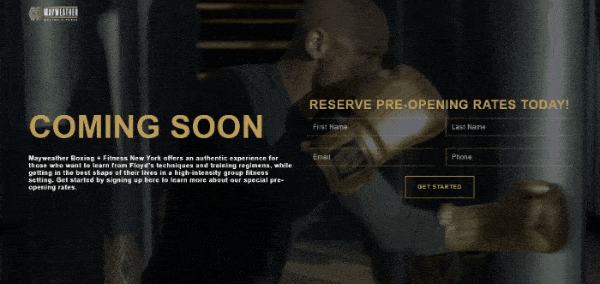 Why it's effective: It uses a simple and straightforward message that is in line with its brand, given that it's a fitness center owned by Floyd Mayweather, a 26-time championship boxer. On top of that, it also includes a high-value offer to try a class for free, which gets people in the door and sold on their services.
---
5. Zenefits Landing Page
Best for: Free trial or demo sign-ups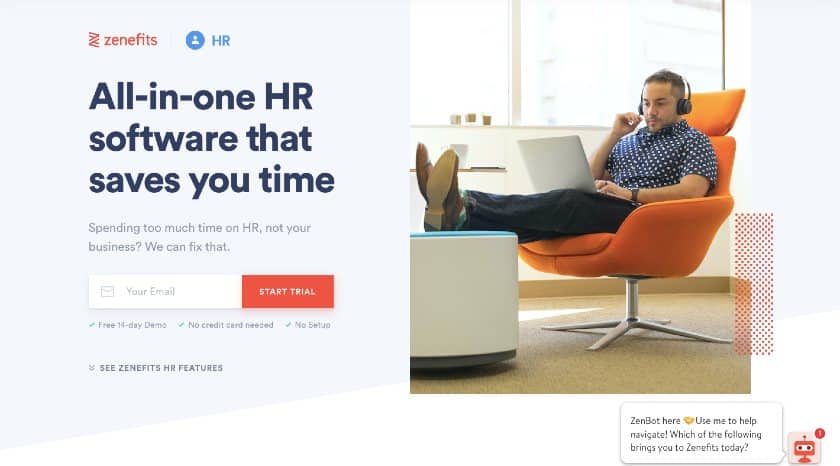 Why it's effective: Zenefits is a human resource software system with a clever approach to its landing page. While the text and visuals on many landing pages match the business without matching each other, Zenefits' image supports its message that its software saves you time by showing a man sitting in a chair casually as if he's not stressed about work. Its message says it saves you time. Meanwhile, its landing page demonstrates visually that it makes your life easier.
---
6. Bench Landing Page
Best for: Minimalistic design to reduce friction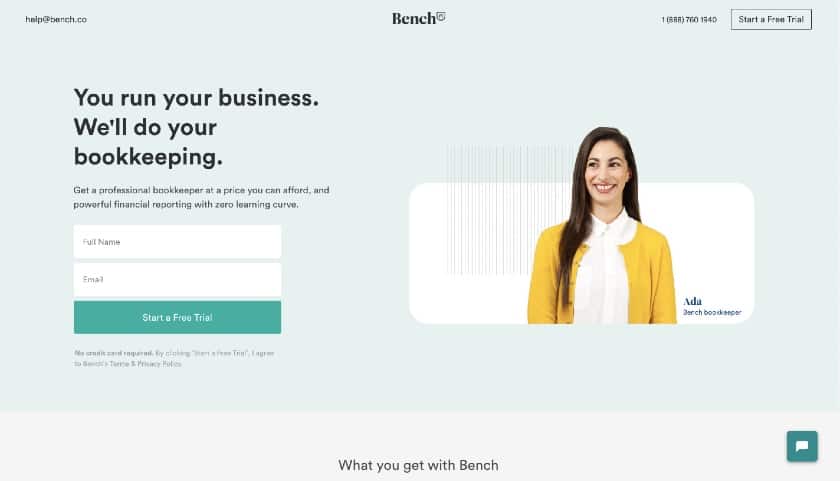 Why it's effective: Bench's landing page is effective because its headline clearly defines why the reader would want to use its product. It not only states exactly what it does but also why a business would choose it. The CTA button supports the landing page's headline by encouraging users to sign up for a free trial, which does not require a credit card, decreasing a user's barrier to entry.
---
7. SpyFu Landing Page
Best for: Enabling visitors to test a SaaS
Why it's effective: SpyFu's landing page is another one that gives users the ability to test-drive its service via a CTA field that does not require any information from the user. Showing users how your service works first-hand—and before requiring them to sign up—is a good way to sell users on what you offer. Its landing page also provides testimonials and reviews at the bottom, supporting its value and increasing sales further.
---
8. Monday Landing Page
Best for: Using psychology to direct a visitor's attention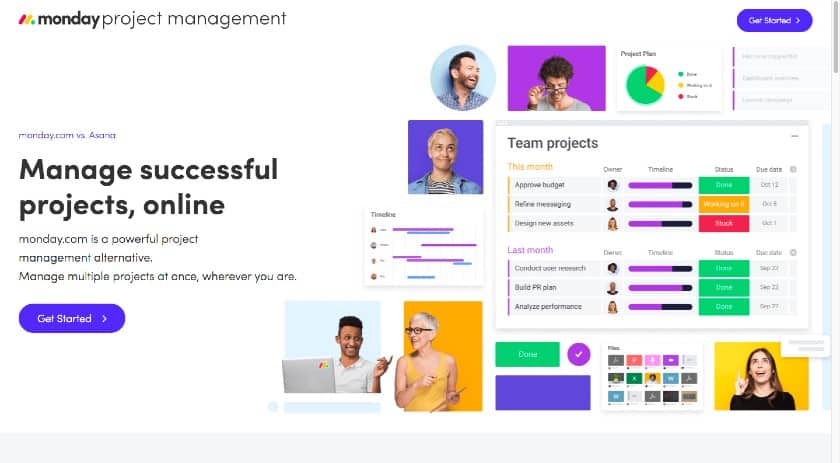 Why it's effective: This landing page example by the project management platform, Monday, illustrates how landing page design can incorporate human psychology tricks to focus and direct a visitor's attention. In this case, notice how the people in the small images surrounding the image of its interface all either look at the image, or point to it. This lends to a colorful and cheery landing page that manages to still feel clean.
---
9. Wix Landing Page
Best for: Achieving single goal with the click of a button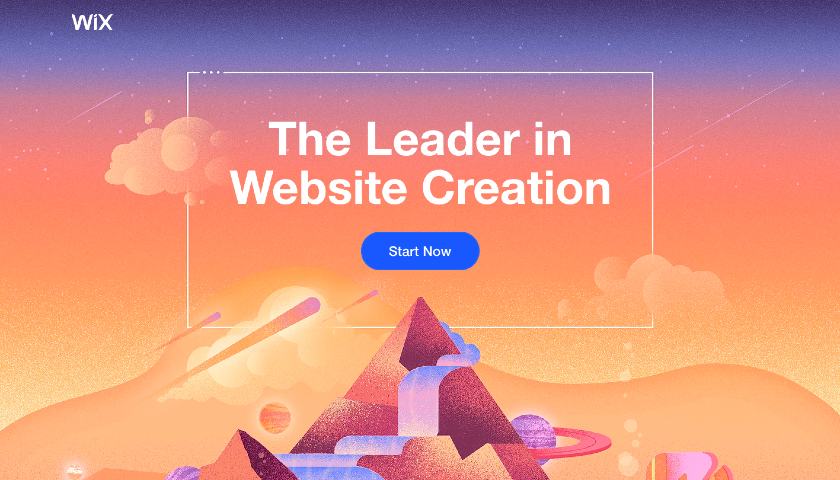 Why it's effective: Wix's landing page is a great example of a modern, visually pleasing landing page. Unlike other landing pages that work to sell themselves through visuals of its products or offerings, Wix uses its landing page as an opportunity to show users that its platform is simple, yet effective. It gives users only one CTA to start building a site. It forgoes the sales pitch and instead focuses on trying to get people to use it, letting the platform speak for itself.
---
10. Smart City Landing Page
Best for: Businesses with multiple physical locations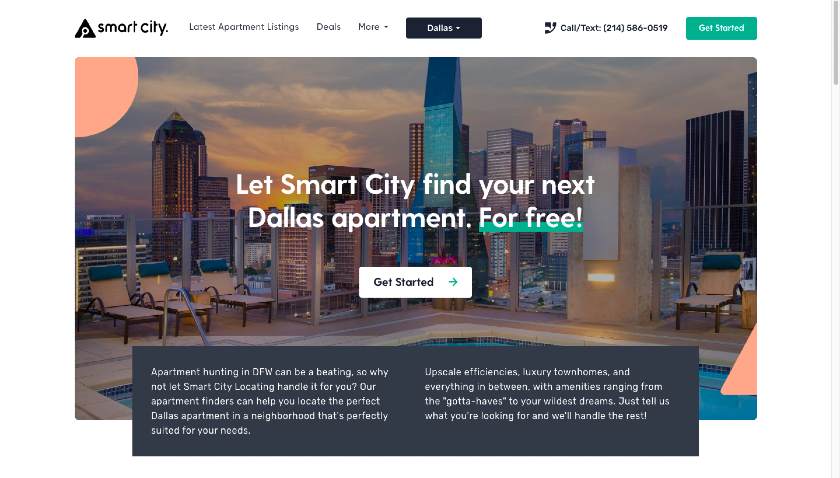 Why it's effective: Smart City puts what they do front and center, and wisely includes insight that its services are free. Aside from strategic copy that resonates with its target audience, the landing page dynamically adds the reader's location to the headline to make it even more relevant to each individual reader―no matter which location they're interested in.
---
11. Bloomscape Landing Page
Best for: Online stores generating traffic from search ads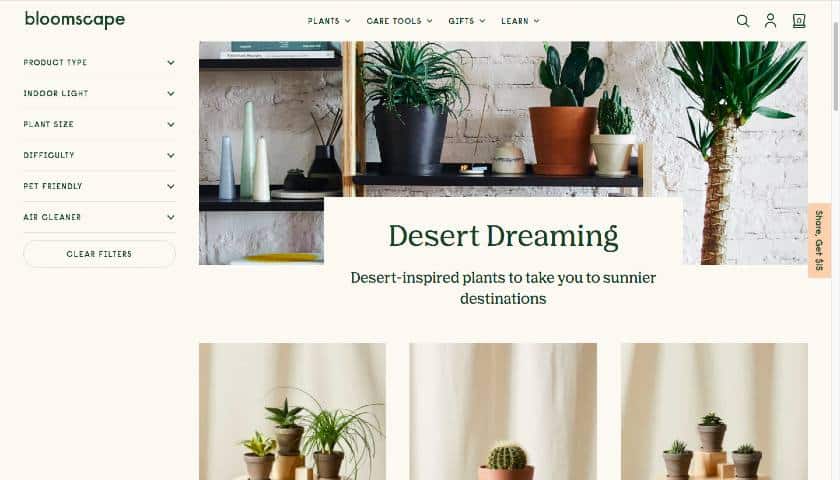 Why it's effective: This landing page from Bloomscape is effective because it gives the visitors what they want. Though the business sells many types of live plants and related products, this landing page is used for Google Ad campaigns using keywords such as "buy cacti online." So when someone clicks on the ad, they're sent directly to the products they're looking for, as opposed to the business' homepage, forcing them to sift through the site.
---
12. A Place for Mom Landing Page
Best for: Online directories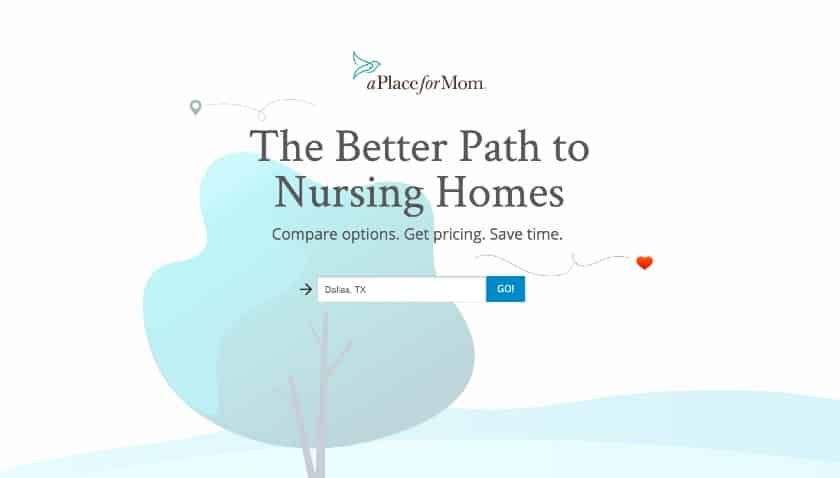 Why it's effective: For a heavy subject, A Place for Mom keeps their landing page very simple and lighthearted with a basic illustration of a landscape and a heart. The landing page focuses on one action: searching for an elder care facility―which keeps it focused on the keyword (nursing homes) used to trigger the ad to appear in Google search results. This gives the user a quick way to find a list of local homes after typing in their location.
---
13. Winc Landing Page
Best for: Membership sites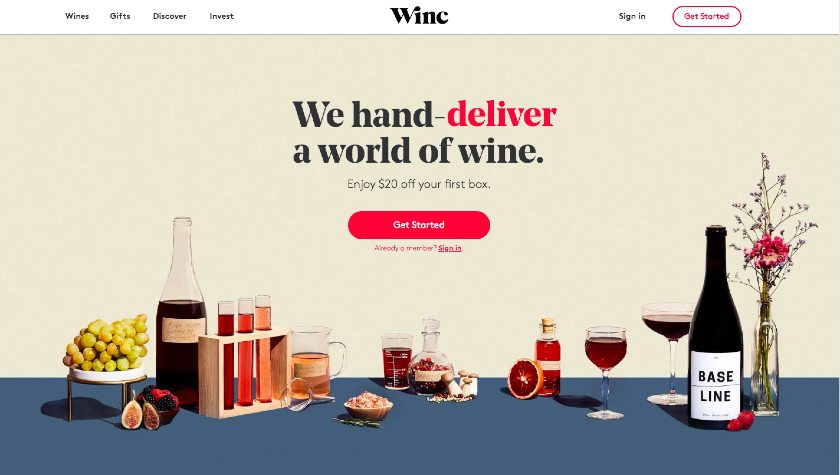 Why it's effective: Winc's landing page combines relevant images and concise messaging to create an effective landing page that converts. The headline uses only three words, with a one-line supporting sentence and a CTA button in a bright, bold color. This landing page takes the "less is more" approach while utilizing eye-catching colors to increase conversions effectively.
---
14. Master Class Landing Page
Best for: Capturing interest through video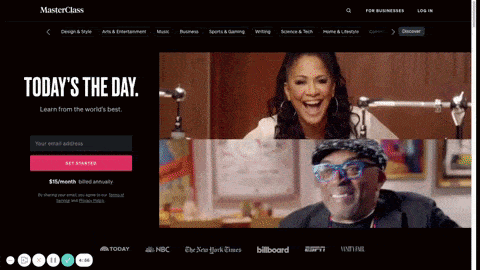 Why it's effective: This landing page from Master Class is unique. It is very informational, but the text does not take up a great deal of space. This is in part due to using a video as the primary media type, which can provide information not included in the text, and breaking out the text into bite-sized portions at the bottom. The CTA button is in red, making it stand out from the dark background, while white text used on the contrasting black background makes it pop.
---
15. Jefferson Park Dental Landing Page
Best for: Service-based businesses looking to acquire bookings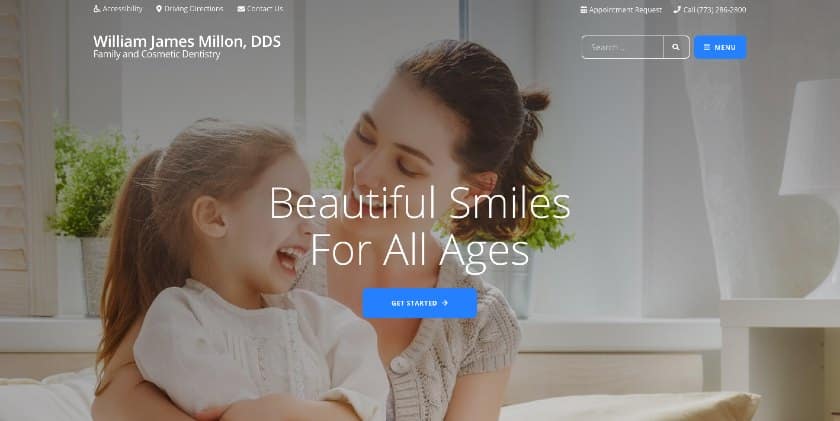 Why it's effective: This is an attractive landing page that elicits the feeling of joy. While many don't associate going to the dentist with happiness, Jefferson Park does a good job of making the reader feel calm and assured about choosing this dental office. The page includes a simple message, "Beautiful smiles for all ages," telling us that it's a cosmetic dental practice that works with both children and adults. It includes a CTA to get started, which directs users to an appointment request form.
---
16. Modsy Landing Page
Best for: Using more than one CTA button
Why it's effective: Modsy's landing page incorporates a good balance between text and imagery. Despite including a fair amount of text, it doesn't feel text-heavy, and the overall design is clean. The CTA gives users the ability to start using the product right away without enduring time-consuming registration, increasing conversions.
---
17. JungleScout Landing Page
Best for: Search ads that use your competitor's name as the keyword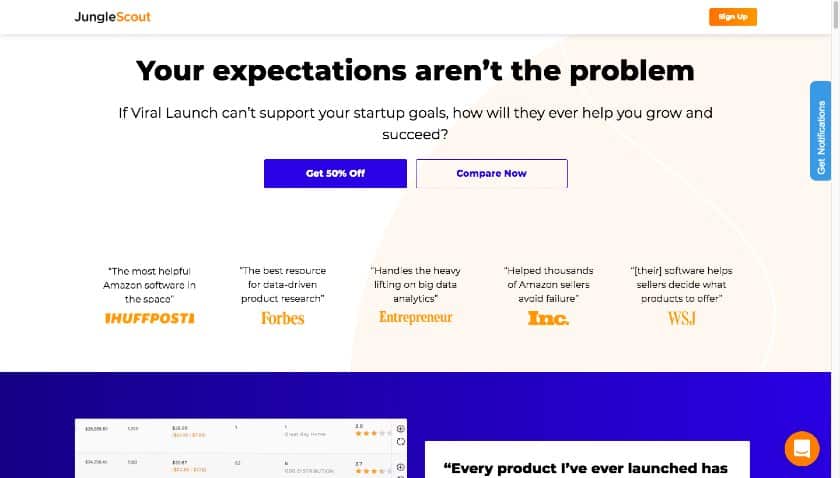 Why it's effective: The all-in-one Amazon selling platform, JungleScout, provides a good example of how businesses using Google Ads should tailor landing pages by ad campaign and keyword. In this case, JungleScout is targeting ads using the name of a direct competitor (Viral Launch). When users click on its Google ad, they are redirected to a page that identifies its competitor's shortcomings and provides a head-to-head comparison.
---
Best Tools for Creating the Best Landing Pages
Landing page tools help you build better landing pages quickly through professional image and video creation, page testing, and design optimization. The landing page tools below are some of the best available and are affordable for small businesses seeking to build successful advertising and marketing funnels.
Here are the top landing page tools and services:
Ready to start designing landing pages? Check out the step-by-step instructions on how to create a landing page.
Frequently Asked Questions (FAQs)
How do I create a landing page for Facebook ads?
If you are advertising on Facebook, you will need to create a unique landing page for your Facebook ads. The reason for this is because Facebook has its own set of requirements and policies for advertisers, which is different from other platforms like Google Ads.
Do I need a separate landing page for mobile ads?
If you are displaying ads on mobile, then you will want to create landing pages specifically designed for mobile devices. The reason is that mobile and desktop screens are different sizes, and each device is used differently.
What is a good landing page conversion rate?
Anything above 5% is typically considered a good landing page conversion rate, but some of the best landing pages see conversion rates of 10% or more. For perspective, WordStream found that the average landing page conversion rate is just 2.35%. Keep in mind this varies from industry to industry, and you always want to be working toward improving your conversation rate.
Bottom Line
Landing page examples provide a good starting point when looking to create custom designs that will increase your conversion rate. With design ideas in mind, keep your landing page on-brand and cohesive with your small business website. If you don't have the time to build your own landing page, try a landing page builder, such as Leadpages, to help you create the best designs possible that effectively increase your return on ad spend.
You Might Also Like…