A landing page is a web page that is specifically designed to capture a visitor's information or prompt a specific action from your target audience. Landing pages are typically linked to social media, email campaigns or search engine advertisements, in order to enhance the effectiveness of a campaign.
By directing users to a landing page that includes elements such as engaging copy, clear call to actions, and a catchy headline, you increase the chance that visitors will take your desired action.
In this article we provide 10 great landing page examples, and explain what makes them work.
---
1. Concise, Catchy Headline
An effective landing page communicates its unique value proposition (UVP) in a simple, clear and interesting way. A well-crafted headline should be compelling and clearly state why you are worth buying – get straight to the point! Tell them immediately what you can do for them.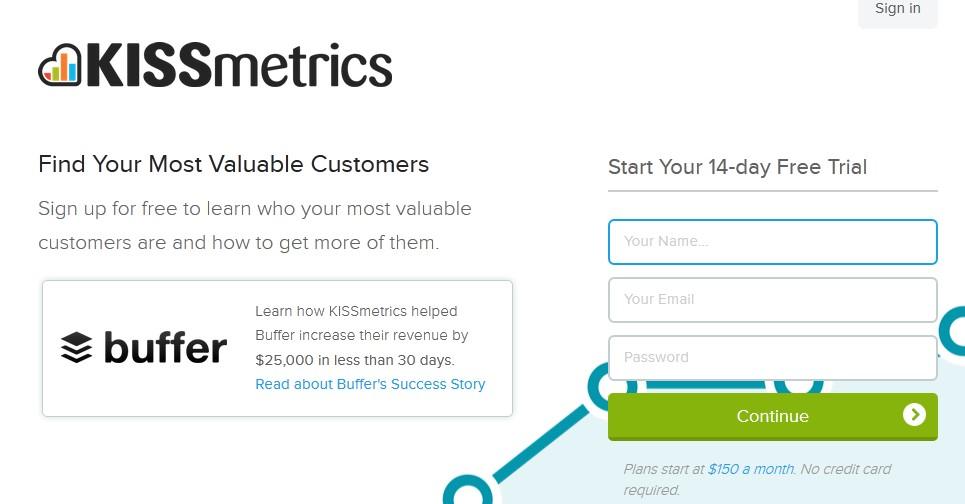 Look at this landing page from KISSMetrics. They state their UVP – that they can help you find and get valuable customers – and very little else. They are able to successfully convey their UVP through their headline.
---
2. Engaging and Cohesive Copy
Use a personal tone to engage readers, and speak directly to your visitors. Using the word "you" or "your" makes your copy feel more personal. Many B2B companies fail to do this and instead use distant, third-person language in their copy.
If your content doesn't engage your readers then it won't do anything to enhance your brand, increase your conversions, leads,or sales. Engaging content can captivate your reader. And this helps lead them to opting in to your list, making inquiries, or buying your product or service.
In writing your copy always try to answer these questions:
What will your visitor get from you?
How can you make your UVP stand out?
What makes your company better than the competition?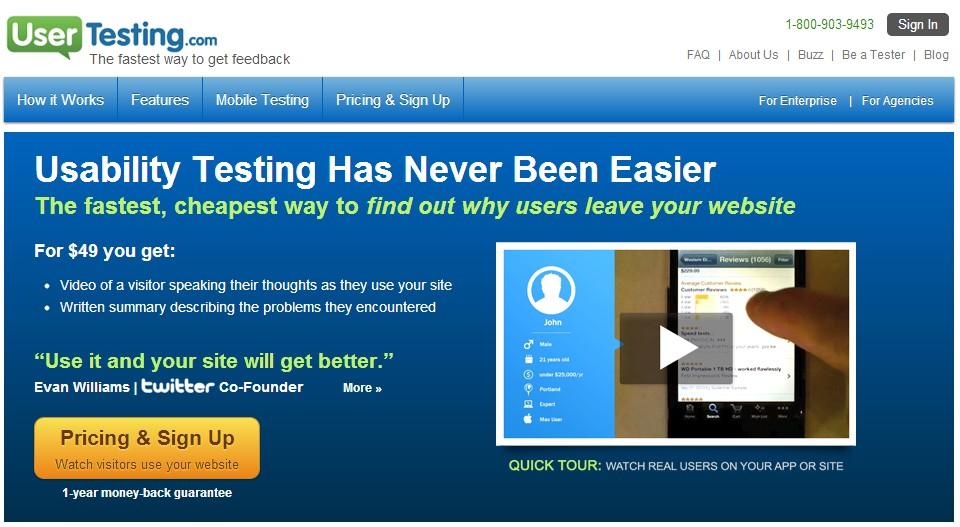 UserTesting.com does a great job in explaining what they offer and their benefits, and they also make the copy personal by writing, "find out why users leave your website". They provide a short and effective video, which tells you what their company or services is all about.
---
3. Clear Call To Action
The call to action (CTA) is a critical element of a landing page. An effective landing page gets the visitor to perform a desired action (e.g. sign up, leave their contact info, download, etc). If the CTA can't compel the visitor to perform that action, then all the efforts given to build the landing page go to waste.
The best CTAs often have the following traits:
Have a single focus or objective
Are strategically placed – ideally above the fold of your website (so visitors see it without having to scroll)
Stand out and easily catch viewer's attention (e.g. using high contrast or bright colors such as orange or yellow)
Use the keyword people interested in your product or service might be searching
Make it clear what the visitor will get when they click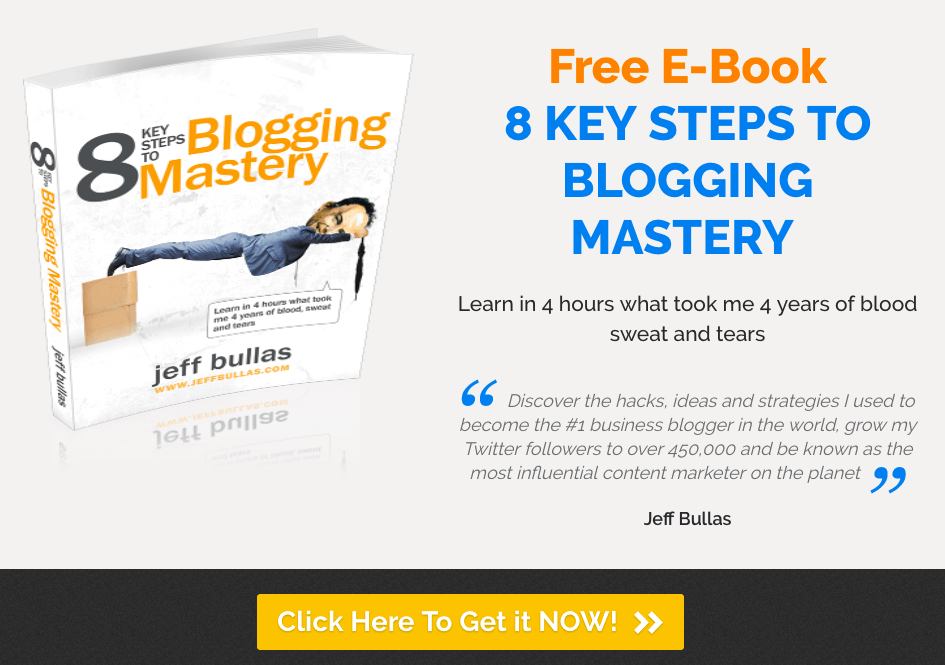 Take a look at the landing page from Jeff Bullas. Aside from having a headline and sub headline that communicates a clear benefit, the CTA button effectively draws prospect attention.
---
4. Clean, Organized and Professional Design
It is important for a landing page to have a neat design that leaves all questions answered. Navigation should be pretty obvious and simple. Ideally, visitors should be able to convert in just one click.
The page must be easy to scan and your visitors should be able to capture the essence of your offer with a quick glance.
Remember that you only have a few seconds to convince your visitor to convert before they choose to close the webpage. Make your main point the headline and use sub headings and bullet points for added info.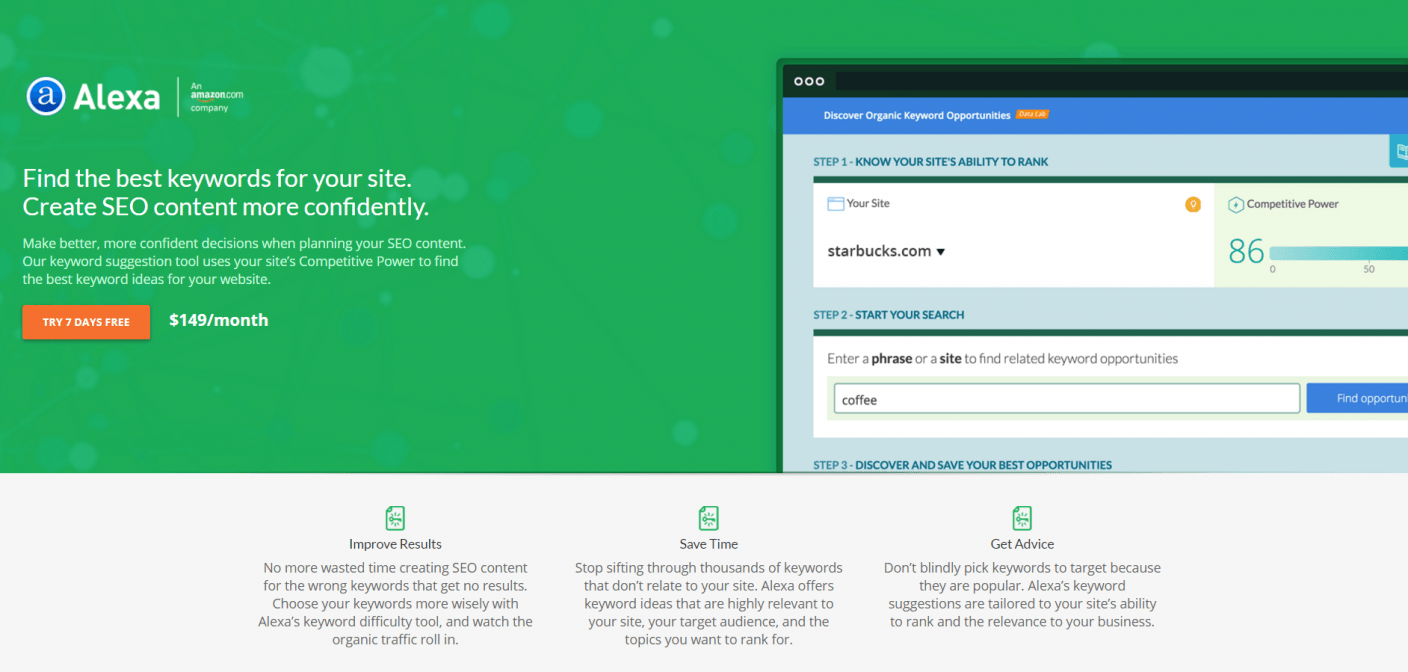 The Alexa landing page above offers good information hierarchy with its design. The page communicates a clear benefit and their copy is separated into digestible chunks of information for easy reading. The minimalistic footer also doesn't distract the visitors from converting with links to other pages or social accounts.
---
5. Trust Signals
In order for your visitors to click on your call-to-action, they have to trust you first. You can build trust by incorporating testimonials, reviews, press mentions, trust badges, guarantee seals, and 3rd party security certification (Better Business Bureau, VeriSign, etc.).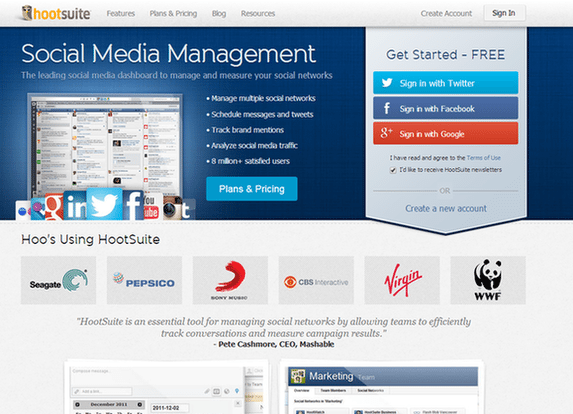 Good landing pages make use of such trust elements to prove trustworthiness and skill. Look at how Hootsuite makes their trust signals and testimonials very noticeable in the middle of their landing page.
---
6. Short Forms
Naturally as an online marketer, you want to collect as much data as you can from your visitors. However, when it comes to creating a great landing page, less is more. The more fields you ask your visitors to fill in, the more likely they are to leave without completing the task. Only ask for the essentials.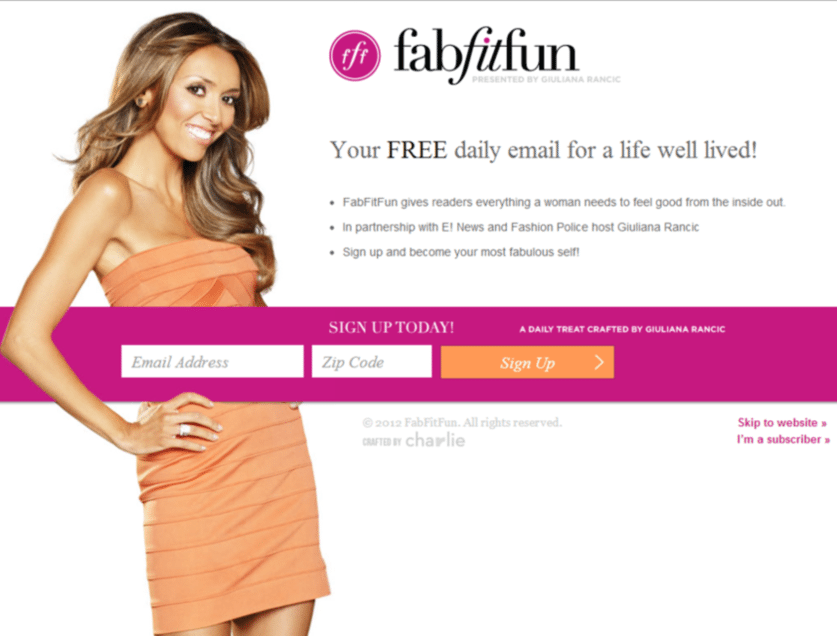 Look at how FabFitFun's form only asks for email address and zip code.
Most visitors won't mind providing their name and email address, but asking for other personal details such as phone numbers or date of birth can cause your drop off rate to increase by as much as 50%.
---
7. Careful With Links
Landing pages have very specific goals and adding extraneous information might distract your visitors and prevent them from taking your desired action. Placing a lot of links may have a negative impact on conversions. Simplicity is key. Ideally, the only clickable links should be your call to action.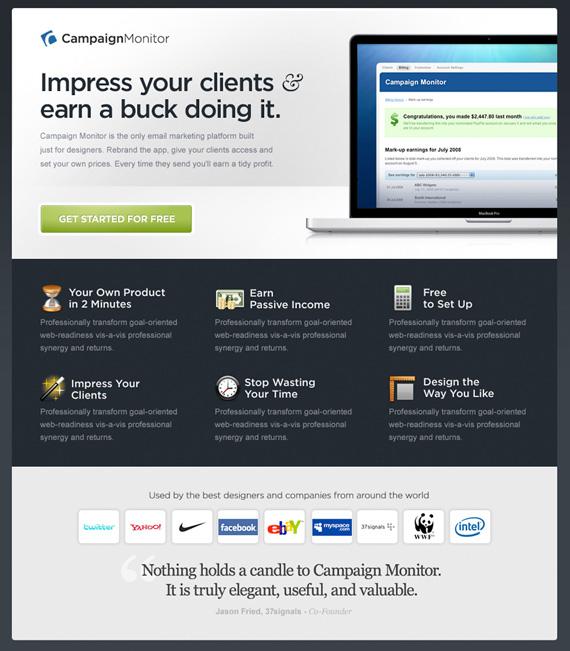 Check out this landing page by Campaign Monitor. Aside from having an organized design and clear message, the above example only contains one clickable link so the viewers won't be distracted with links to other pages or social accounts.
---
8. Awesome Offer
The offer on your landing page is anything you are giving your visitors in exchange for their response to your call to action. Offers could be coupons, discounts, free trials, a consultation, etc. This part of the landing page should be compelling enough to encourage your target audience to act.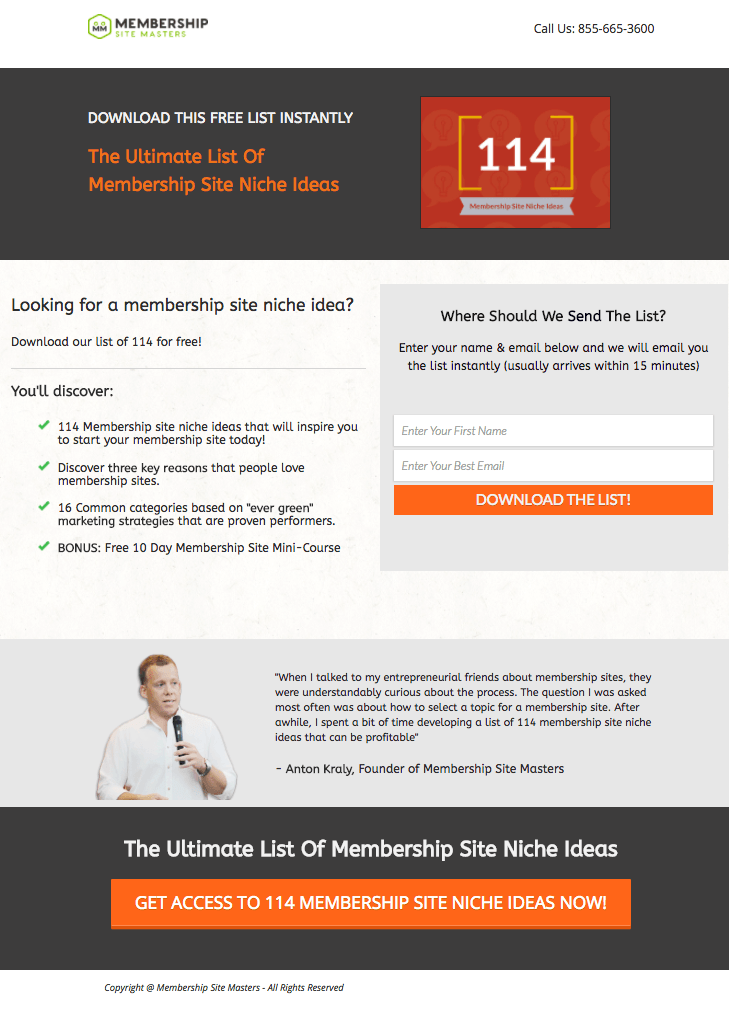 Membership Site Masters has a landing page that not only lists an offer, they also explain how the user will benefit from the free offer with bulleted copy.
---
9. Use of Video and Images
Adding a video to your landing page can make it a much "stickier" experience for the visitor. People are likely to stay on the page longer if there is an engaging video playing.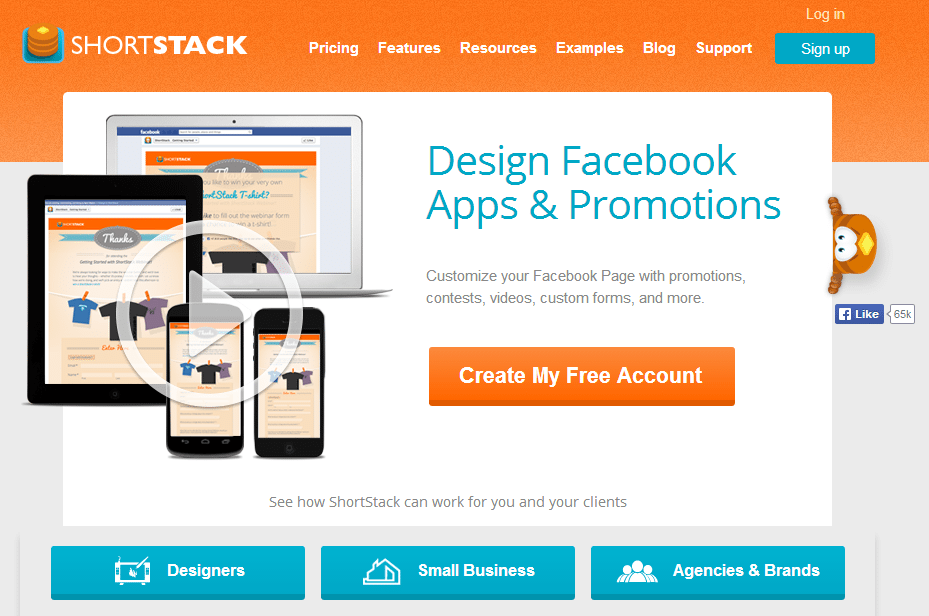 In the example above, ShortStack's video helps to explain what they do far more effectively than a simple wall of text would.
---
10. Mobile Responsive
Unless you've been living under a rock, you probably understand why it is important to have a mobile-optimized landing page. More and more people these days access the internet via mobile devices. So a mobile landing page is critical to your conversion rate.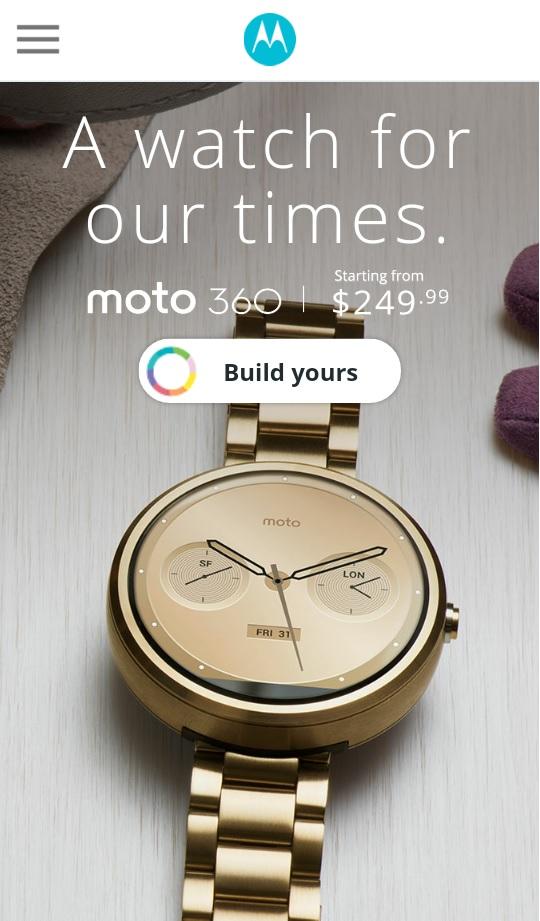 Take a look at Moto 360's mobile landing page. It works well because it follows a basic rule in designing a mobile landing page: everything should be accessible via one finger – from call-to-action button to form field. If a visitor needs to use two fingers in order to manipulate the screen size or access offers, you're likely to get a low conversion rate.
---
Over To You
Are you ready to create your first landing page, or improve a page you already have? Hopefully, you'll find the above landing page examples useful in crafting an awesome page for your brand.
Interested in even more website examples? Check out our article on 10 awesome one page websites.