The 16 Best Landing Page Examples & Why They Convert
The best landing page examples show you exactly how to increase site visitor conversion rates. They do this through compelling language and engaging design that create a sense of urgency and extend clear calls to action (CTAs). To inspire you, we scoured the web for examples of landing pages that convert, detailing what exactly makes them so effective.
Need a free business landing page solution that drives conversions through web forms? GoDaddy's website builder may just be the perfect solution. Not only can you build a website with landing pages, but you can also incorporate lead generation through appointment booking tools and chatbots, even in the free plan.
1. Landing Page Examples for Products: Apple AirPods Max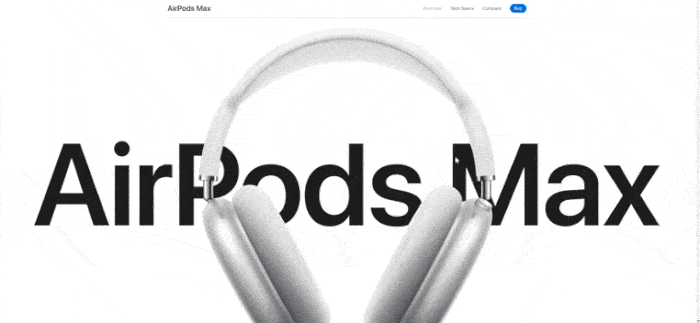 Why it's effective: Apple employs a long scrolling page to promote sales of AirPods Max. Though packed with tons of information, the page has the clean, high design you expect from Apple, creating an aspirational desire to own this product for the site visitor. In addition, a mix of font sizes and widths are used to highlight key features, and comparison tables tell the site visitor exactly which product is best for them.
Aside from the way they present their information, Apple makes generous use of high quality visuals and parallax scrolling. Parallax scrolling is when the images in the foreground and background move at separate speeds, giving a page more depth. You can achieve a similar look by building your landing page on Squarespace.
2. Mobile App Landing Page Example: Zova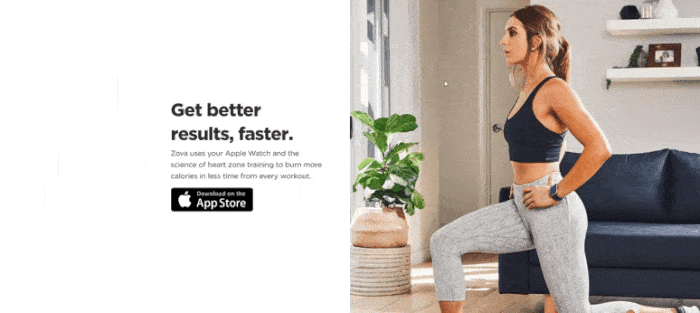 Why it's effective: Zova is a great example of how simple landing pages are often more compelling. Instead of a long page that includes all the information about the app, a short explanation of what the buyer can accomplish with it is at the very top of the page.
This is immediately followed by a prominent app download call-to-action (CTA) button that takes the site visitor directly to the app's download in the Apple store. As a result, increasing the chances of immediate conversion.
3. Advertising Landing Page Example: Taboola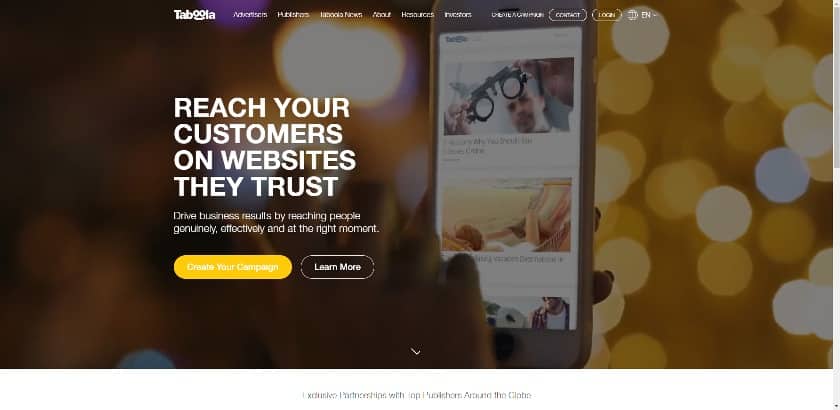 Why it's effective: Taboola's landing page is a great landing example of using direct messages to sell itself. Simply saying what the product does reinforces the reason why someone visiting the page would want to click one of its two call-to-action (CTA) buttons to either go ahead and try it now or learn more about it.
Giving the page visitor the ability to create a campaign and try the product adds them to Taboola's sales funnel for lead nurturing and in turn, driving them closer to purchasing the product before even coming into contact with its sales team.
4. Fitness Landing Page Example: Gold's Gym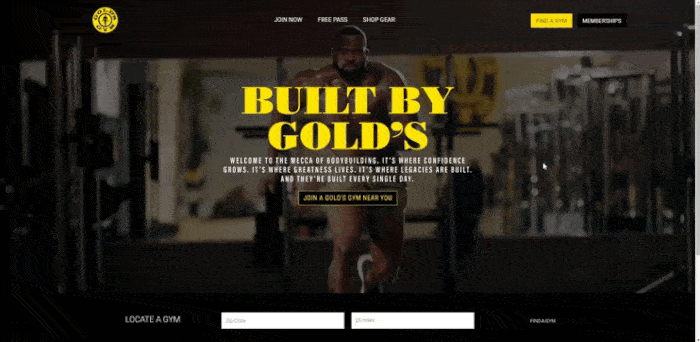 Why it's effective: The video background that Gold's Gym uses shows its different services in a fun and appealing way. It also helps the viewer visualize being able to achieve their likely goals in attending a gym, such as gaining strength and improving their fitness.
It uses a straightforward message that aligns with its brand and a CTA that helps clients quickly and easily find the Gold's Gym nearest them without any commitment. Though built on WordPress, you can easily create a video for your landing page's heading area using the Video Backgrounds feature you get with the Wix all-in-one website builder.
Build landing pages on Wix now
5. HR Software Landing Page Example: Zenefits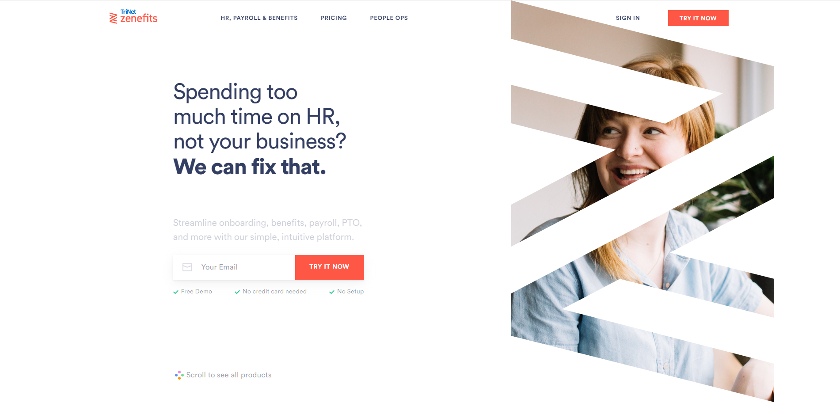 Why it's effective: Zenefits is a human resource (HR) software system with a clever approach to its landing page. While you can scroll down to see its various products, the most important part is displayed at the top of the page—a CTA for a free trial with absolutely no commitment. Like Zenefits' unique selling proposition, the overall message of the landing page says it saves you time.
6. Coming Soon Landing Page Example: Juicy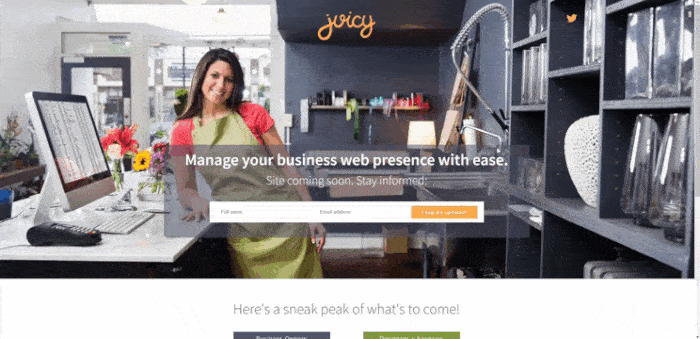 Why it's effective: The best "Coming Soon" landing page examples include a sign-up call to action to get updates for when the site or product goes live. This is especially imperative when building a website for your business as a way to start building prospect lists for lead nurturing.
This landing page directly appeals to multiple audience types (business owners vs agencies and web designers) to get the maximum amount of conversions. Having a call to action on the banner and at the end of the webpage ensures that no matter where the visitor looks, they'll be able to sign up for the waiting list.
7. Analytics Software Landing Page Example: SpyFu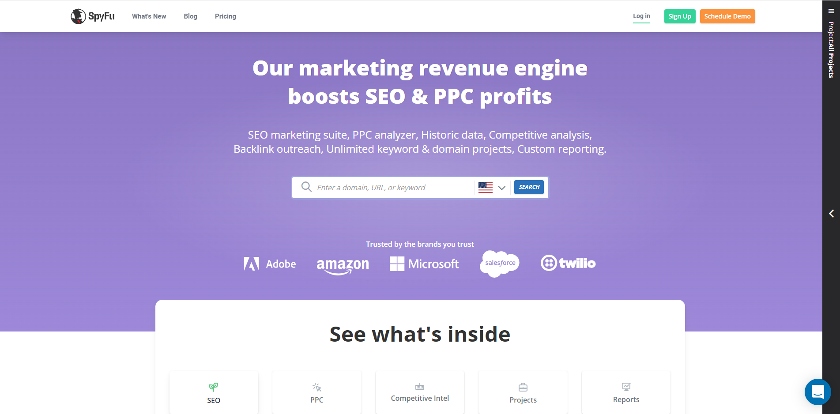 Why it's effective: SpyFu's landing page gives users the ability to test-drive its service by entering a domain (e.g., fitsmallbusiness.com), specific page URL, or keyword. Showing users how your service works firsthand before requiring them to sign up establishes trust and is an effective way to get the best leads to self-identify as interested in learning more.
The SpyFu landing page also provides testimonials and reviews at the bottom. This further creates trust and supports its value claims, and, in turn, increases sales even further.
8. Architecture Firm Landing Page Example: Battesti Associes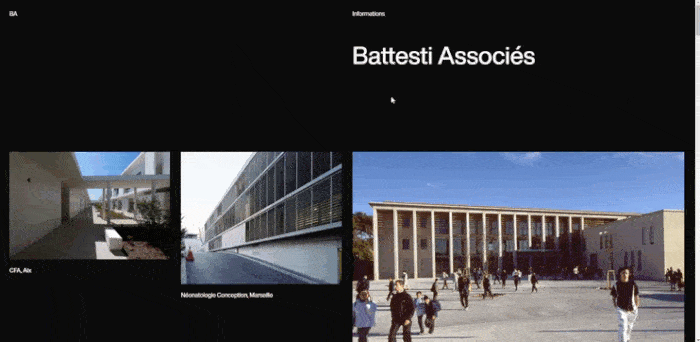 Why it's effective: This landing page example by the architecture firm Battesti Associes eliminates the need to build a separate portfolio. Having their portfolio displayed on the main landing page sells their services effectively without the need for any text.
9. Skincare Company Landing Page Example: Curology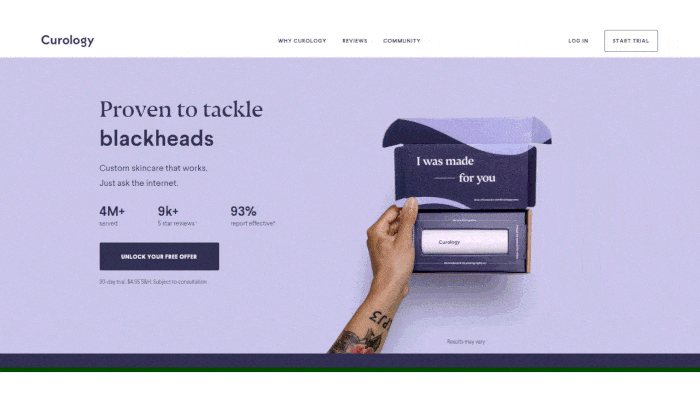 Why it's effective: Curology's landing page promises the site visitor a custom, personalized, and exclusive-feeling offer and specific results. To make it even more enticing, they placed statistics above the CTA, providing social proof to support the claim made in the headline, thus attracting more clicks. It also uses motion simply and effectively to get the site visitor's attention by changing one word in the headline repeatedly.
10. Real Estate Landing Page Example: Smart City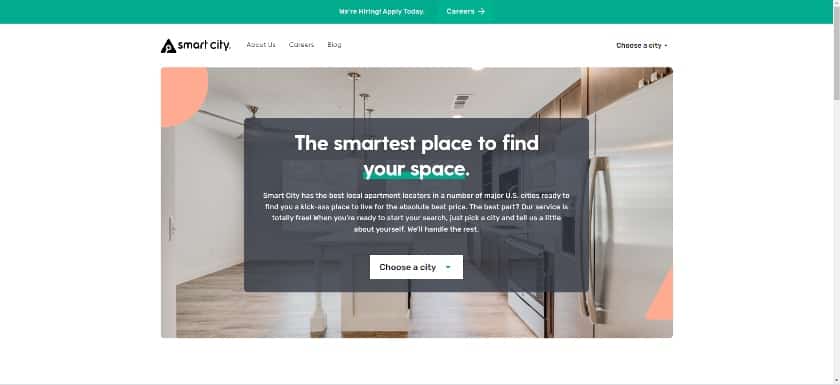 Why it's effective: As in the SpyFu example above, Smart City invites the visitor to engage right away by choosing a location of interest. Features like this, which elicit immediate engagement, reduce your site's bounce rate, in turn boosting its search engine optimization (SEO). The page's copy also appeals to the ego, essentially praising the intellect of users by telling them they found "the smartest place" to find their space.
11. Ecommerce Landing Page Example: Pet Milestone Cards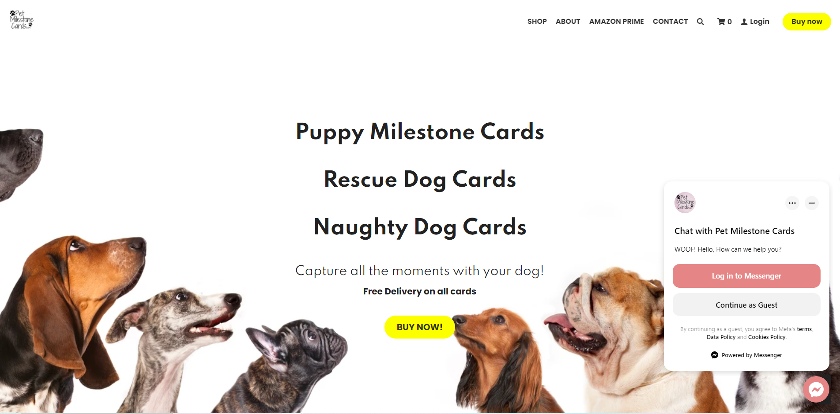 Why it's effective: This landing page from Pet Milestone Cards draws your attention to the offer and CTA physically. All of the dogs are looking toward the button—directing the visitor's eyes to where they need to click. Aside from the very clean banner, this site is extremely easy to navigate as it's a one-page website. Build something like this for free with Strikingly.
Try Strikingly's one-page site builder
12. Online Directory Landing Page Example: A Place for Mom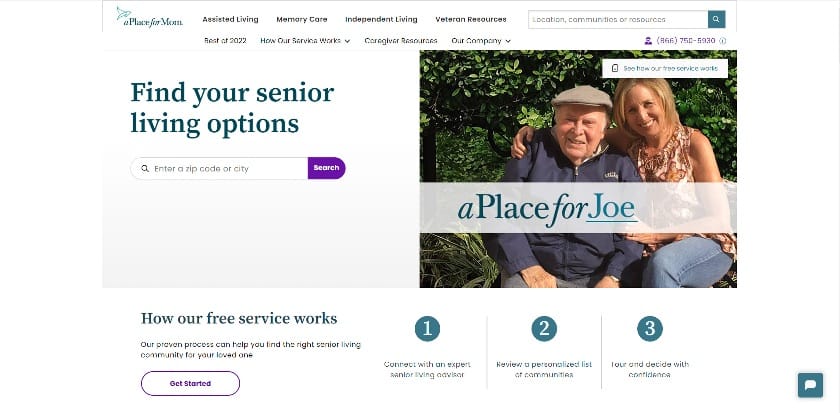 Why it's effective: A Place for Mom keeps its landing page simple and lighthearted with a happy, heartwarming image on what can be an emotional subject. As in some examples above, the site visitor is immediately invited to search for an independent living retirement community, assisted living, or skilled nursing facility in a desired location.
Rather than displaying results, however, the next step is a quiz that further narrows your search parameters. Once through the quiz, a web form is used to capture contact information before giving you access to results. This enables A Place for Mom to add your information to lead nurturing email campaigns and connect you with a sales agent who can help you find the best option for you or your loved one.
13. Membership Landing Page Example: Winc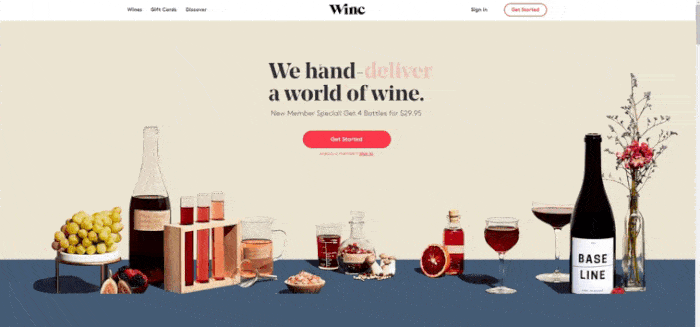 Why it's effective: Winc's landing page combines relevant images and concise messaging to create an effective landing page that converts. The animated headline highlights the fact that its products are carefully chosen and its customers receive personalized delivery, and is followed by an action-oriented "Get Started" CTA button in a bright, bold color.
14. Transportation Landing Page Example: Lyft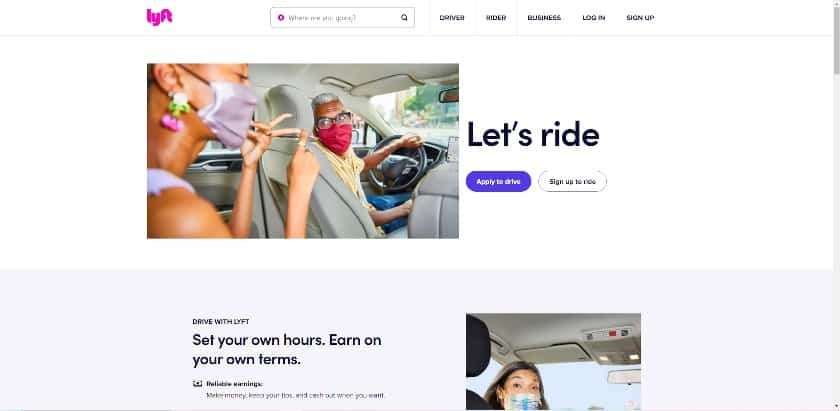 Why it's effective: Unlike the other landing page examples on this list, the ridesharing app Lyft uses two distinctly different CTAs. This is because Lyft offers two separate services with different audiences. However, in general, it's better to keep to a singular, focused call to action and create separate landing pages for different audiences.
15. Design Portfolio Landing Page Example: Jung Design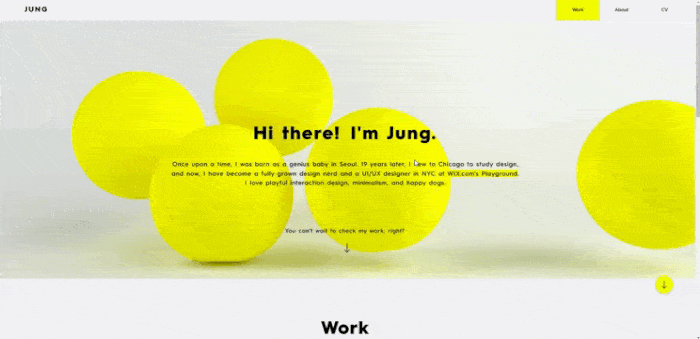 Why it's effective: From the animated, friendly banner to the high-quality video, this attractive landing page elicits the feeling of joy. Jung Design does a good job of making the reader feel assured about choosing him as a designer. The page includes a simple message and a CTA to contact him, which directs users to an email form.
16. Accounting Services Landing Page Example: Seal+Co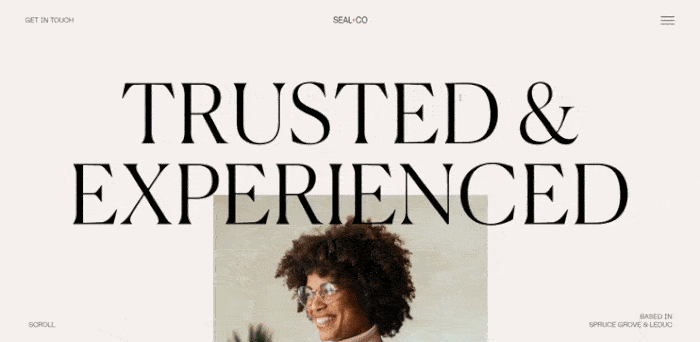 Why it's effective: Seal+Co's dynamic landing page includes a very clear section on how to contact them at the very bottom. Making it easy for your potential clients to reach out increases the chances of conversion. In addition to offering a variety of ways clients can contact the firm directly, they include a link to a contact form.
With an all-in-one site builder like GoDaddy, you can build a landing page (or even a multipage website) in a matter of hours, starting from free. Your pages can house web forms for lead generation and appointment booking tools clients can use to get on your schedule for services or sales presentations.
4 Key Statistics on Landing Pages That Convert
Now that you've seen some of the best landing page examples, you may be wondering what is a good conversion rate for landing pages. Anything above 5% is typically good, but some of the best landing pages see conversion rates of 10% or more.
For perspective, WordStream found that the average landing page conversion rate is just 2.35%. Keep in mind this varies from industry to industry, and you always want to be working toward improving your conversation rate. Here are other landing page statistics to keep in mind:
How to Create a High-converting Landing Page
While design elements may vary widely, a high converting landing page will nearly always include these five key elements:
Best Tools for Creating Landing Pages
Landing page tools help you build better landing pages quickly through professional image and video creation, page testing, and design optimization. The landing page tools below are some of the best available and are affordable for small businesses seeking to build successful advertising and marketing funnels.
Here are the top landing page tools and services:
Ready to start designing landing pages? Check out the step-by-step instructions on how to create a landing page.
Frequently Asked Questions (FAQs)
Do I need a separate landing page for mobile ads?
If a large number of your site visitors view your content on mobile devices, you may want to create separate landing pages specifically designed for mobile devices. However, if your website is responsive, this may not be an issue. Plus, all-in-one business website builders like Wix, Squarespace, and GoDaddy can help you easily create landing pages that are automatically optimized for different devices.
How many landing pages should I have?
It's ideal to have a landing page for each of the main products or services you sell. This allows you to convert more site visitors with unique CTAs that match their intent. You may also want unique landing pages for traffic from social channels, emails, ads, and quick response (QR) codes. This increases the number of links (and traffic) coming into your site, improving its SEO and your ability to measure the effectiveness of various campaigns.
Do I need separate landing pages for Facebook ads?
If you are advertising on Facebook, you should create a unique landing page for your Facebook ads. The reason for this is that Facebook has its own set of requirements and policies for advertisers, which is different from other platforms like Google Ads. See their list of requirements here.
Bottom Line
These landing page examples provide good tips for improving conversion rates. With design ideas in mind, be sure that you still keep your landing page on-brand and cohesive with your small business website. If you don't have the time to build your own landing pages, hire a professional to help you out via Fiverr for as low as $5. They can help you create the best designs possible to increase conversions and sales.
You Might Also Like…