CareerBuilder does not have forever-free job posting options, but it does offer a five-day free trial and provide access to more than 250 million resumes. It's great for businesses wanting smart, user-friendly job postings and applicant matching tools as it uses artificial intelligence (AI) to match you with qualified candidates.
Once you set your budget, you can choose a plan, create and post your job ad, and watch applicants roll in. Learn more from our CareerBuilder review or sign up for a free trial today.
Step 1: Sign Up for a CareerBuilder Account
To start, you'll need to create a CareerBuilder account. Go to the signup page and fill out your information. Make sure you select the "Employer" box.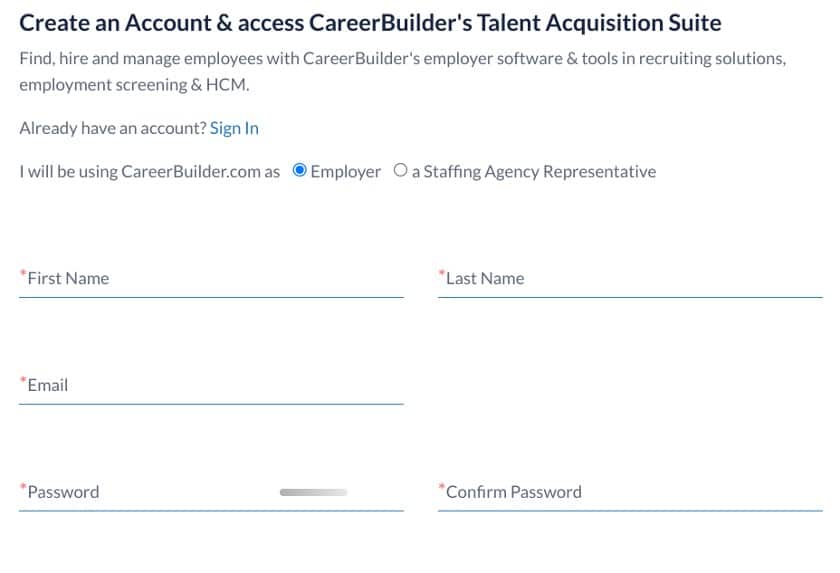 Step 2: Choose Your Plan
While it doesn't offer free plans, CareerBuilder has many pricing options. Here's a quick breakdown:
For most small businesses, one of the first two plans listed will be most efficient and most economical. CareerBuilder also offers a free demo so you can at least try out the product to make sure you like it before you commit to a plan.
After you've signed up for your account, you'll need to choose one of these plans. Remember, the monthly plans each come with a five-day free trial so you can try it out.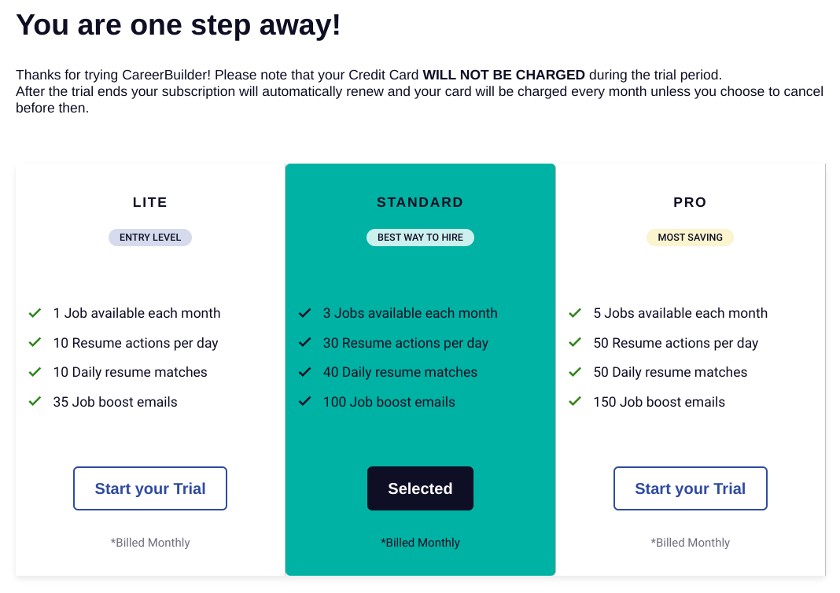 Upon successfully signing up, you'll receive an email confirming your plan selection and reminding you of the free trial period.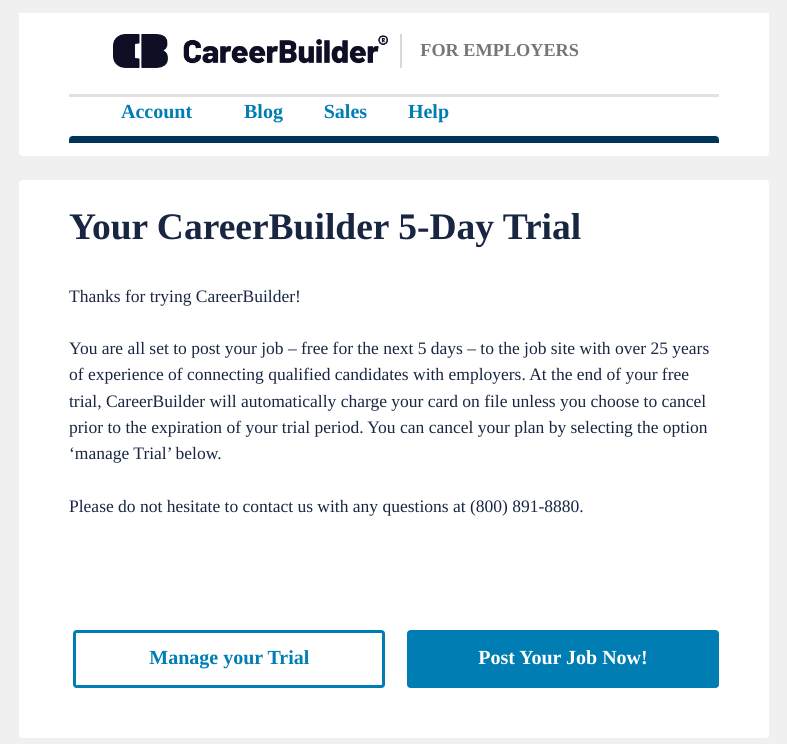 Step 3: Sign In to Your Account & Fill Out Your Company Details
CareerBuilder will direct candidates to your employer page for additional information about your company. Don't leave this empty. Fill it out before you post your job so it's ready for candidates to view.
On your dashboard, click on your company name in the top right corner and select "Admin Tools." Then select "Company Branding."

Then select "Add Company Profile" next to the Company Profiles section.

This opens a new page where you fill out all of your company information, including your company overview and benefits. This is also the place where you can add your company branding, like your company logo and pictures from employee retreats.
Step 4: Post Your Job Ad
From your employer home page, click on "Post Job" to start the process.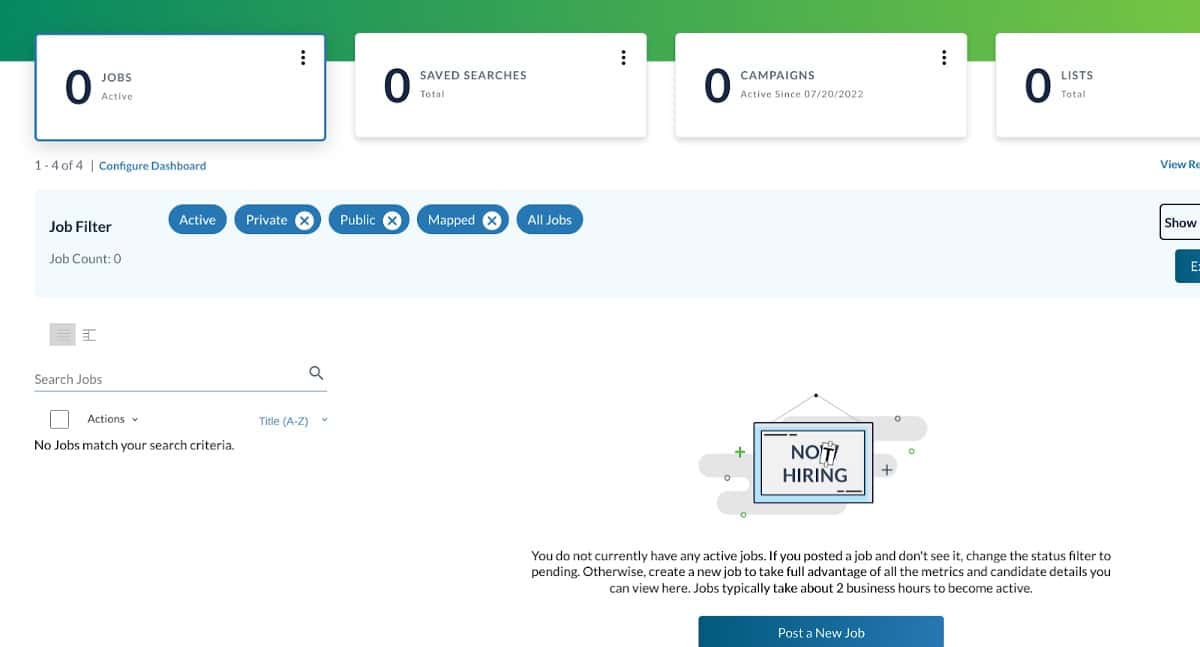 CareerBuilder walks you through building an attractive job ad. You should absolutely have your job description handy, but make sure you don't just copy and paste. You need to add some details about what makes your company special and why a candidate would want to work for you.
Step 5: Review Resumes
Once your CareerBuilder job ad is posted, you'll probably start getting applications the same day. Review these resumes and continue with your standard hiring process. You can also track candidates and leave notes. The number of candidates you can keep in your file depends on your plan.
You can also search for candidates by clicking on "Candidates" at the top.

If you're posting multiple jobs at once, you can save searches specific to each job. You can also save candidates to lists broken down by job.
CareerBuilder Alternatives
Depending on your needs, CareerBuilder may not be the best job posting site for you. We recommend the following alternatives to CareerBuilder.
You may also check out our comprehensive list of the best job posting sites for more options.
Bottom Line
Finding employees you love doesn't have to be hard. Using CareerBuilder to post your job ad, you immediately gain access to millions of potential candidates. Get your job ad up today and start receiving applications immediately.
You May Also Like…