A sales plan is a document used to establish sales objectives and develop strategies necessary to achieve them. Typically, this document establishes a plan for revenue growth and other measurements of success. Sales plans consist of sections outlining goals, identifying key customer attributes, and listing necessary strategies, tools, metrics, and estimated expenses.
Start With Our Free Sales Plan Template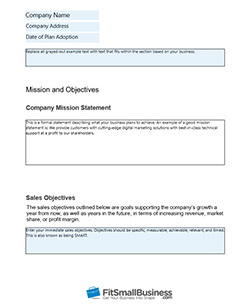 Whether you are using our template or your own, there are key elements you should include. Here are seven specific steps needed to create your sales plan:
1. Outline Your Mission & Objectives
Start by outlining your company mission statement, as well as your sales objectives in terms of growth. This section will serve as the foundation of your sales plan and define your unique selling proposition. As a result, it is critically important to your plan's success as it will guide your future sales efforts.
Define Your Mission
Make sure you have clearly defined your mission statement, which is a formal statement describing what your business stands for and what it aims to achieve. A mission statement should be the framework for all strategic planning and a cornerstone of your sales management practices. An example of a great mission statement is:
"We provide customers with cutting-edge digital marketing solutions with best-in-class technical support at a profit to our shareholders."
Establish Your Sales Objectives
Sales objectives are goals supporting the company's growth both now and into the future and usually include revenue, market share, or profit margin. They relate to your mission by helping you to execute and make it a reality. By establishing these sales goals, you are explaining what success will look like in the clearest terms while also giving your team targets to rally around.
It can be helpful to think about sales objectives in terms of the S.M.A.R.T. framework: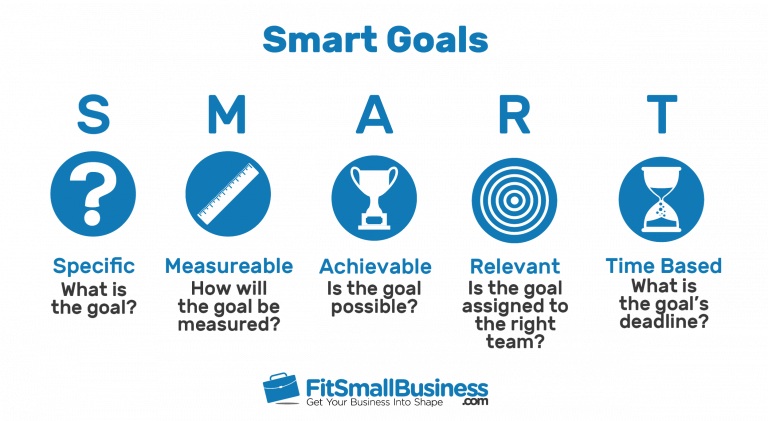 Start by creating one to three SMART objectives for your plan's first year. SMART goals are helpful because they make sure everyone is clear on what the goal entails, how its success will be measured, whether the goal is feasible, how it is relevant to the mission, and when the goal should be accomplished.
2. Describe Your Sales Team's Roles & Responsibilities
As a sales leader, your plan should list the roles of your sales team as well as any separate marketing and agency support. Summarize the responsibilities of each role and their expected contribution to the sales process by:
Listing the names of the individual team members that fill those sales roles
Identifying their personal key performance indicators (KPIs)
Creating clear expectations for performance and providing details on how they will be held accountable
3. Define Your Customer Persona
A customer persona is a fictional representation of your target customer. It brings your ideal audience to life with a narrative that describes their pain points, demographics, and needs, while helping to bring to light the best solution you can offer.
For example, if you're using a business-to-business B2B sales model, consider factors such as relevant job titles, key responsibilities, memberships and clubs, and the communication channels they use. On the other hand, if you primarily sell to consumers (B2C), your ideal customer profile will include attributes such as gender, age, family life, homeownership status, income, education, interests, and available sales channels.
To help you get started, we've created a free template you can use to create a customer persona: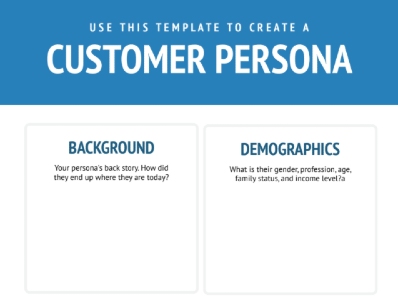 Download Our Free Customer Persona Template
Identify Customer Buying Patterns
Consider the buying patterns of your customers. For example, if you are a business-to-consumer (B2C) swimsuit apparel company, your sales plan will be more aggressive and have higher revenue goals in the warmer months, and you'll want to focus on clearance sales during the fall and winter. For business-to-business (B2B) sales, you'll focus on factors such as company size, annual revenue, quarterly budgets, and industry trends.
Define Your Sales Territory
For both B2B and B2C businesses, define the sales territories where you expect to find your ideal customer. This should be a description of the geographic region that you are going to operate within and why you believe it will support your sales goals.
4. Establish Your Strategies & Tactics
This section of your sales plan template is where you define the longer-term strategies and day-to-day tactics you'll use to acquire new business and grow business with existing customers. These are the tasks your team will use to execute your sales plan and forecast future sales.
In your sales plan, list strategies for adding new customers or prospects that fit your ideal customer persona. Then, identify at least two tasks that will be performed by members of the sales team on a daily or weekly basis to help them meet their sales quota.
Here are three strategies for adding new customers you can use in a sales plan template:
Setting Clear Expectations
Make no less than 60 cold calls of introduction to new prospects each week
Make no less than 10 face-to-face contacts with new prospects each week
Make no less than five sales pitch presentations each week
Increase Awareness for Products, Services & Solutions
Participate in no less than three professional associations in which my best prospects and customers belong per year
Attend all trade shows and conventions that my best prospects and customers attend
Purchase the mailing list of these associations and send a letter of introduction
Obtain Referrals From New Customers
Within 30 days of delivering my product or service, I will follow-up with each of my new customers to ensure that they are satisfied.
If they are not satisfied, I will aim to resolve this so that I can go back to seek customer referrals at a later date.
If they are happy with their purchase, I will ask them to send at least three customer referrals.
5. Determine Your Sales Tools & Systems
Use this section of your sales plan to summarize the sales enablement tools you will use to support your team in successfully implementing each of your strategies. This will ensure your sales process is managed and activities are performed using the most effective methods.
Three common types of tools that will help you create a sales plan include:
Customer Relationship Management (CRM) Software
CRM software lets you manage sales activity in real time, measure performance, access information quickly, and allows you to make updates even when you are away from the office with robust mobile apps. Some CRMs allow you to structure your sales pipeline into meaningful stages and measure every aspect of your plan as you implement it, without needing to create additional sales reports.
A CRM designed for small businesses can help streamline your sales process by keeping relevant information about contacts such as title, relationship details, and call notes in one central place. For example, Freshsales is an easy-to-use, but powerful tool that manages all of your relevant information and can be accessed via the mobile app when you're on the go.
Video Conferencing Software
While some meetings take place in person, as our society becomes more digital, video meetings are increasingly convenient, helping your team engage with prospects. There are many affordable video conferencing software choices available, such as Zoom, which offers a free version for meetings up to 40 minutes and has affordable plans for longer meetings.
Scheduling Software
Scheduling meetings manually can be a pain when you're working with several opportunities. There are programs available that can automate the process, eliminating the back and forth of finding a convenient meeting time. For example, Calendly can automatically connect to your calendar, so prospects know when you're free to meet. You send them your personal Calendly link and they can choose a meeting time, then it's automatically put onto both of your calendars.
6. Assign Your Sales Plan Metrics
Once you have decided upon your sales objectives, decide how to measure your sales performance to monitor the health of your sales plan and meeting those sales objectives. Do this by establishing a sales process, defining the critical steps in each stage, and then describing success in terms of conversion rates and resource time or process flow.
For example, common metrics you will measure on a monthly or quarterly basis include:
Year-over-year (YOY) revenue: How do your sales this year at the same time compare to last year's sales?
New business revenue: Track your monthly and quarterly revenue coming in from new accounts.
Individual sales rep performance: Monitor the performance of each sales rep by tracking their monthly, quarterly, and YOY sales targets.
Recurring revenue: Track how much revenue is coming in from current accounts (loyal customers).
Customer churn: Monitor how many customers you are losing to churn on a regular basis. If your churn goes up significantly, you'll know you need to analyze the reasons and create a win-back campaign.
7. Create Your Sales Plan Budget
A sales plan cannot help you achieve your sales objectives if the plan costs more than your business is expected to gain. By itemizing expected costs, you are able to measure the anticipated return on your investment. Not all expenses are recurring, which is why it is also an excellent idea to break your budget out into one-time expenditures as well as ongoing costs.
Some examples of the major budget items to include are:
Sales team salaries
Commissions and bonuses
Service subscription costs like CRM, video conferencing software, task management tools, internet, and telephone subscriptions
Purchase of prospect lists
Travel expenses
Bottom Line
Having an effective sales plan is a critical component of a sales culture for startups and small businesses. While this sometimes gets merged into the overall business plan, it makes much more sense to break out your sales plan as a separate document. Whether you create your own or use the sales plan template we've provided, it should be the lifeblood of any small business sales process.
Once your sales plan is in place, having a CRM to help you manage it can make all the difference in whether your team is successful in reaching new customers. Freshsales helps you stay organized and measure your progress against sales objectives. They offer a free-forever plan and paid plans starting at $15 per user, per month. Get started with a 21-day free trial.