Sales plans enable businesses to set measurable goals, identify resources, budget for sales activities, forecast sales, and monitor business progress. These all contribute to guiding the sales team toward the company's overall strategy and goals. In this article, we explore how to create a sales plan, including details on creating an action plan for sales, understanding the purpose of your business, and identifying your ideal customers.
What Is a Sales Plan? A sales plan outlines the strategies, objectives, tools, processes, and metrics to hit your business' sales goals. It entails establishing your mission statement, setting goals and objectives, determining your ideal customer, and developing your sales strategy and sales funnel. To effectively execute your sales plan, assign roles and responsibilities within your sales team and have metrics to measure your outcomes versus your goals and objectives.
Download and customize our free sales planning template and follow our steps to learn how to create a sales plan to reach your company's revenue goals.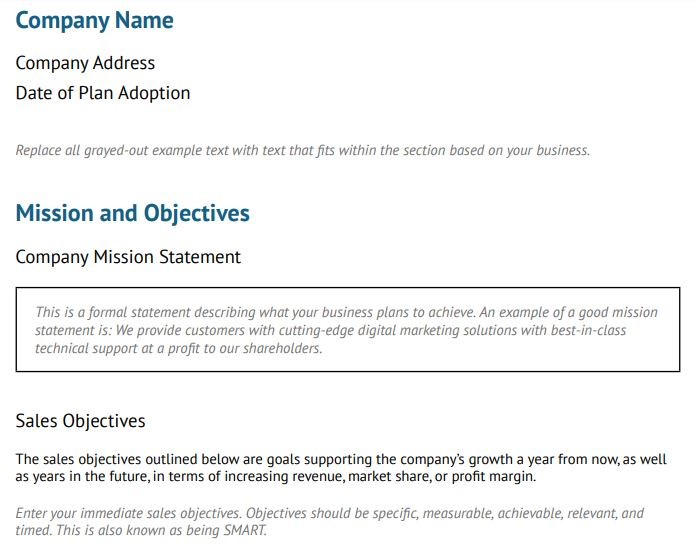 Thank you for downloading!
💡 Quick Tip:
Once you've created a sales plan, give your sales team the tools to execute it effectively with robust customer relationship management (CRM) software.
Use a CRM like HubSpot CRM to help your sales team collaborate on deals, develop sales reports, track deals, and create custom sales dashboards
Visit HubSpot CRM
1. Establish Your Mission Statement
A mission statement summarizing why you're in business should be part of your action plan for sales. It should include a broad overview of your business' products or services and your brand's unique selling proposition. For example, you wouldn't say, "We provide customers with insurance policies." Instead, you might frame it as "We provide customers with cost-effective financial risk management solutions."
It's essential to fully understand your unique selling proposition before creating a mission statement. This allows you to learn why you're different from competitors in your industry. It also helps you determine how your unique proposition suits a niche market better.
For instance, using the same insurance example above, you may realize specific markets are easier to sell based on that selling proposition. Therefore, it's a good idea to narrow in on your mission statement by saying, "We provide startup businesses with cost-effective risk management solutions."
2. Set Sales Goals & Objectives
Once you have summarized why you're in business in a mission statement, begin setting sales goals. Typically, business goals will include one year, but may also include three- or five-year projections.
Here are a few options for how to set sales revenue goals for your business:
Set sales amount: You may have a specific amount in mind for a sales goal. For instance, you may determine that $200,000 is a reasonable sales goal based on prior sales and your company's ability to generate new business.
Desired profitability: First, calculate the total anticipated expenses for the set time period to find the break-even point. From there, you can calculate how much revenue your team needs to bring in to make a certain profit margin. For example, if annual operating costs are expected to be $100,000, and you want to make a 30% profit, your sales goal is $130,000.
Projected sales forecast: Based on an industry-standard or estimates you attained by running a sales forecast, you may find it's better to use a projected sales forecast as your sales goal.
Pro tip: Projecting sales can be challenging without a suitable sales forecasting model. Our free sales forecast templates help you create simple, long-term, budget-based, multi-product, subscription-based, and month-to-month business sales forecasts. Some customer relationship managers (CRMs) like Freshsales have sales goal-tracking functionalities that allow you to set and assign sales goals for your team.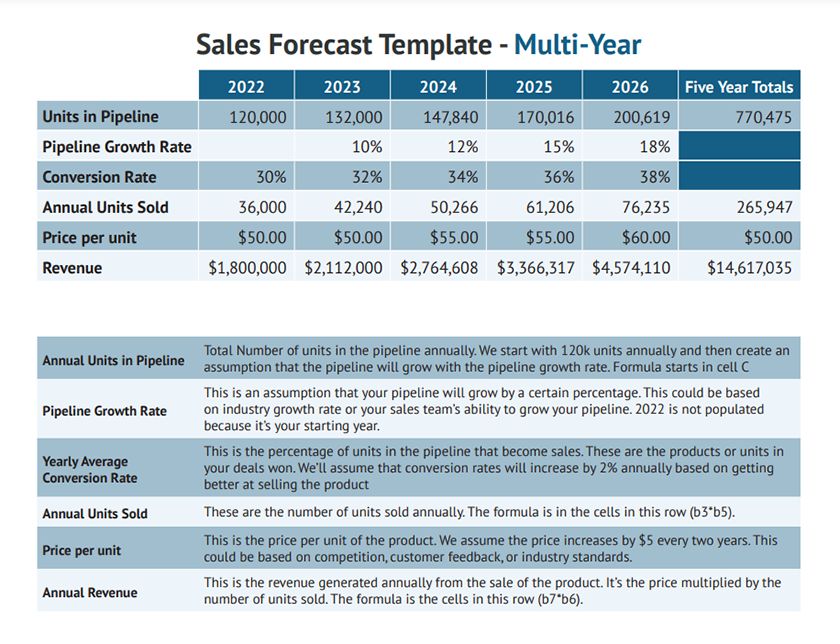 ---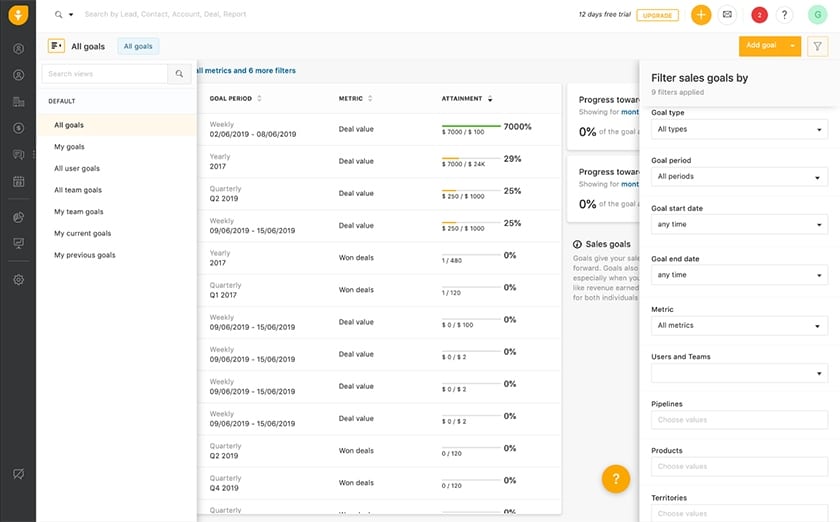 ---
Sales goals must reflect new business revenue and sales from existing or recurring customers. Then, you must add specific sales objectives that identify and prioritize the sales activities your team needs to complete to meet sales goals. This creates an objective way to measure success in hitting goals at all levels: organizational, sales department, team, and individual sales rep, which is an essential part of sales management.
For example, imagine your total revenue goal is $200,000 in year two and $300,000 in year three. You then add an objective, such as stating you want your business' revenue from existing customers to grow 15% in year three. This can be measured by evaluating your percentage of revenue from existing customers in year three compared to year two.
3. Determine Your Ideal Customer
Determining the ideal customer or target market is the next step of your business plan for sales reps. It may have been accomplished when you developed your mission statement, but also when you set your sales goals and discovered how broad your market needs to be to reach them. Describing your ideal customer helps dictate who you're selling to and your selling approach.
One way to establish your ideal customer is by creating a series of unique customer profiles. Each profile specifies key demographics, behaviors, interests, job positions, and geographic information about one of your ideal buyer types. Based on your customer profiles, you can then develop more targeted marketing strategies for lead generation and nurturing to move leads through the sales process more efficiently and close more deals.
Pro tip: Making a customer persona can be challenging, especially if it is based on the wrong data or if you just focus on the demographics. Check out our article on creating a customer persona to help you define your company's ideal buyer types and guide your lead generation and marketing activities.
4. Set Your Sales Budget
After establishing your objectives and identifying your ideal customer personas—and before developing your actual strategies and tactics—you must identify a sales budget to work with. It should include estimated expenses for salaries, travel expenses, and the cost of any software tools or service providers used to help with sales and marketing. While these are meant to be estimates, research and due diligence should be done to avoid financial errors.
One way to set your sales budget, particularly for software tools and services you may be interested in, is to create and issue a request for proposal (RFP). Issuing an RFP allows you to post a summary of your needs to solicit proposals on potential solutions. In addition to providing accurate budget estimates from various qualified vendors and contractors, it may also help you discover cost-effective or high-performing options you were previously unaware of.
5. Develop Sales Strategies & Tactics
A sales strategy explains how you plan to outsell your competitors and accomplish your sales goals. It defines specific, detailed tactics your team will use to pursue your sales goals. These may involve using Google Ads, cold calling, and drip email marketing campaigns as part of a lead generation strategy. Available strategies differ depending on your company's resources, skill sets, sales operation, and product or service offerings.
Strategies and tactics should be personalized for your ideal customers based on their unique interests, behaviors, and the best ways to connect with them. For example, some customer profiles show your ideal buyer generally only makes purchases based on trusted referrals. In this case, you could implement a referral strategy that provides incentives to generate more customer referrals.
Plus, different sales strategies will be needed to acquire new business vs keeping existing customers. When selling to existing customers, for example, your strategy could include cross-selling tactics where additional products are recommended based on prior purchases. The short-term cross-selling tactics could require customer service reps to send 30 emails per week recommending a complementary product to existing customers.
For a new business strategy, sales reps might rely on emotional selling methods when using cold calling as a tactic. Instead of product features, cold calling scripts would be geared to evoke feelings that lead to buying decisions. Tactics could reflect the objective of having reps make 15 cold calls each week. They could use a script that opens with a story about how a purchase made a customer feel or how someone felt because they didn't purchase the product.
Pro tip: Ensuring your strategies are properly executed requires excellent sales leadership and a healthy environment for sales reps to operate in. Our how-to guide for building a positive sales culture shows you how to create an environment that promotes high job satisfaction, low employee turnover, and profitability.
6. Implement Sales Tools
Your sales strategy template should reference the software, hardware, and materials you use to manage the sales operation and make each team member more efficient. One of the most notable tools to include is the customer relationship management (CRM) system. It allows your team to organize contact information, streamline sales tasks, and facilitate communication with customers and leads.
HubSpot CRM, for instance, makes it easy to organize information about leads, contacts, and deal opportunities. Additionally, from a HubSpot CRM lead profile, you can initiate a conversation with that contact by calling, emailing, or scheduling an appointment.
CRMs are also used to monitor and report sales progress. For example, many have dashboards and functionality, such as alerts, which make it easy to identify where your team may be underperforming. These could also tell you which leads are most likely to convert and should be focused on. Sales information such as deals closed, revenue generated, and leads created can be presented in a detailed report.
These types of insights can also be shown on the CRM's system dashboard. Pipedrive is an example of a CRM that has a customizable dashboard that displays both activity information and performance-based data. Activity data include emails sent, received, and outstanding tasks to be completed. Performance-based data, on the other hand, have deals lost or the average value of won deals.
Other sales enablement tools can make your sales team more effective. These include voice-over-internet-protocol (VoIP) phone systems, lead generation platforms, email campaign tools, content creation platforms, and task automation software. These tools can be found within CRM software or through CRM integrations and standalone applications.
In addition to technology tools, sales and marketing templates should be used to streamline outreach initiatives. Scenario-based, premade sales email templates, for instance, allow salespeople to have an email already crafted for their specific situation.
Creating and storing business proposal templates in your CRM also streamlines the contact procurement and business proposal generation process. This way, whenever a prospect says they'd like to receive a quote or you're responding to a request for a proposal, you already have a customizable template ready to go.
Pro tip: Effective cold calling scripts sales reps can use as a guide when placing calls to new leads is a tremendous sales tool to include in your action plan for sales. Get started using our guide for writing a cold calling script, which includes examples and free templates.
7. Develop Your Sales Funnel
Setting up a sales funnel within your sales strategy template lets you visualize the stages of the customer journey, from becoming aware of your business to buying from it. By creating and understanding the different statuses of your leads, you can track progress and determine how effective you are at converting leads to the next stages in the funnel.
Using a sales funnel with conversion rates also makes it easier for you to adjust your sales strategies and tactics based on how effectively you're getting leads through the funnel. For instance, let's say you have 100 leads in the awareness stage of the funnel. You decide to cold call 50 of them and write a sales email to the other 50 to qualify leads by setting up a product demonstration.
After each campaign, you find you were able to qualify seven of the leads that were cold-called and only two of the leads you had emailed. Based on these funnel conversion rates of 14% (7/50) from cold calling and 4% (2/50) from emailing, you would likely adjust your tactics to focus more on calling instead of emailing.
Do you need help creating a sales funnel for your business? Our guide to creating a sales funnel explains the step-by-step sales funnel creation process and provides free templates and specific examples.
8. Create Your Sales Pipeline
Once your sales process' sales funnel stages are identified, develop the sales pipeline stages. These stages include your team's sales activities to move leads through the funnel. For example, you need to get a lead from the sales funnel stage of brand awareness to show interest in learning more about one of your services. To do this, you could add a sales pipeline activity like setting up a demo or presentation appointment through a cold call.
Adding your sales pipeline to your sales strategy is essential because it describes all the activities your sales reps need to do to close a sales deal. CRM systems like Freshsales allow you to create and track the pipeline stages for each lead or deal within the lead record.
Listing each pipeline stage also helps you identify tools and resources needed to perform the activities for each stage. For example, if you use phone calls to initiate contact with or introduce a product to a lead, you could develop outbound sales call scripts for your team.
After the initial contact by phone, you may use email to follow up after a call and then nurture leads throughout the sales process. As part of your follow-up, create and automate a sales follow-up email template to get them to the next pipeline stage.
The sales funnel shows where a lead is in the sales process. The sales pipeline, on the other hand, lists activities needed to drive leads to the next stage in the sales funnel. Both should be used in your sales strategy when defining the repeatable steps required to generate leads and close deals. Check out our article to learn how to create a winning sales process with insights on both creating a sales process and measuring its success.
9. Assign Roles & Responsibilities
Regardless of the size of your business or sales operation, your business plan for sales reps should include the role and responsibility of each person in the sales team. Each role should have a name, such as someone being a sales development representative (SDR). There should also be a summary of their responsibilities, such as "the SDR is responsible for setting up sales appointments using the activities listed in the sales pipeline."
Measuring the performance of any sales position is simple through key performance indicators (KPIs). Specific KPIs should be used to measure performance for each role and should be included in your plan. Below are some examples of KPIs that can be used by the members of the sales team and their respective responsibility:
Sales development representative: Responsible for introducing products and services, qualifying leads, and setting up appointments for the account executive. Performance is measured by calls placed, emails sent, and appointments generated.
Account executive: Responsible for nurturing qualified leads, delivering the sales pitch, sending quotes, and closing deals. Performance is measured by business proposals sent, the average time in the proposal consideration stage, deals closed, and deal closing rate.
Customer service representative: Responsible for managing customer needs, handling billing, and managing service tickets by assisting customers. Performance is measured by customer satisfaction, retention rates, and total tickets resolved.
Sales manager: Responsible for the entire sales operation or team for a specific region or product/service line. Performance is measured by job satisfaction rates of sales reps, pipeline and funnel conversion rates, team sales deals closed, and team revenue growth.
While assigning roles in your plan, a sales rep's territory could be based on geography, industry, potential deal size, or product/service line, creating more specialization for better results. Our six-step process on proper sales territory management is an excellent resource for segmenting, creating, and assigning sales territories.
This section of the business plan is also a prime spot for individually setting sales quotas for each rep or team needed to hit your organizational sales goals. Sales quotas should be a specific KPI for that sales role and be set based on the experience, skill level, and resources of that individual or team. These quotas should also be based on your organizational, department, and team goals and objectives.
10. Monitor Progress & Adjust Accordingly
Once the strategic business plan is in motion, monitor its progress to make any required adjustments. For instance, while your sales operation is running, you may find certain sales tactics are working better than expected, and vice versa. Your sales goal template should account for using that tactic more, as well as any new sales tools, budgetary changes, new roles, and possibly even a new sales goal.
As in the earlier example, if you found that cold calling was significantly more effective than emailing, reduce or abandon the email method in favor of cold calling. You could also invest in sales tools especially useful for cold calling, such as power dialing using a voice-over-internet-protocol (VoIP) phone system, or hire additional staff to place calls. All of these will be part of your updated business plan.
Pro tip: Focusing on the big picture by creating, executing, and adjusting a strategic business plan is one of the most critical traits of an effective sales leader. For more insights on what it means to be a sales leader and how to become one, check out our ultimate guide to sales leadership.
Examples of Other Free Small Business Sales Plan Templates
Apart from our free downloadable sales strategy template, other providers have shared their version of a free strategic sales plan examples. Click on our picks below to see if these templates fit your business process better:
HubSpot's free sales planning template helps users outline their company's sales strategy. It contains sections found in most sales plans, as well as prompts for you to fill out your company's tactics and information. These include company history and mission, team structure, target market, tools and software used, positioning, market strategy, action plan, goals, and budget.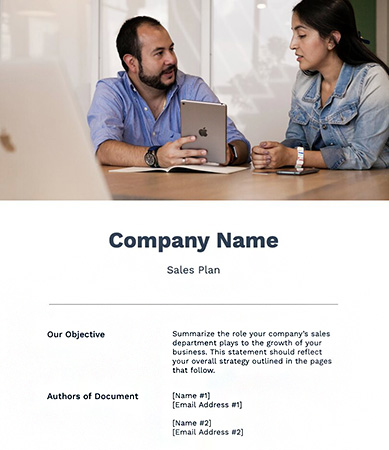 ---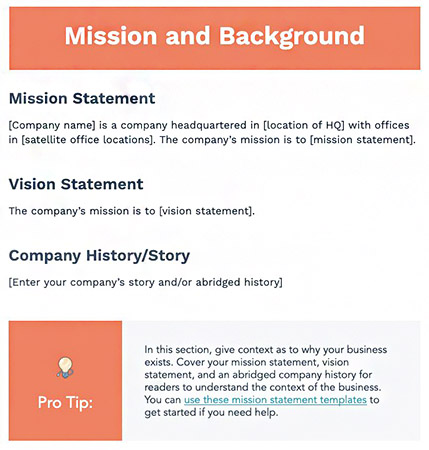 ---
---
Asana's free sales plan template helps organizations analyze their current sales process, establish their sales objectives, identify success metrics, and plan actionable steps. The sales business plan template is embedded within Asana's platform, automatically integrating aspects such as goals and measuring them against results or sales performance.
---
Sales Planning Frequently Asked Questions (FAQs)
Sales planning is creating a document that outlines your sales strategy, objectives, target audience, potential obstacles, and tools to achieve goals within a specified period. This may include your daily, monthly, quarterly, yearly, and long-term revenue objectives.
---
A sales strategy plan template typically includes the following key elements:
Target customers, accounts, or verticals
Stock-keeping units (SKUs)
Revenue targets or forecasts
Strategies and tactics
Pricing and promotions
Deadlines and directly responsible individuals (DRIs)
Team structure and coordination
Resources
Market conditions
---
The type of strategic planning for sales that you choose for your team ultimately depends on different factors. These include your revenue goals, available resources, the ability and bandwidth of your sales team, and your personal commitment to your plans. Once you have determined the details of these factors, you can choose from these types of strategic sales planning:
Revenue-based sales action plan template: This is ideal for teams aiming for a specific revenue goal. It focuses on in-depth sales forecasting, improvement of conversion rates, and closing more deals.
Sales business plan based on the target market: This plan is best for businesses that cater to several markets that are different from each other. In this situation, you must create separate sales goal templates for enterprise companies and small businesses.
Sales goals plan: This focuses on other goals such as hiring, onboarding, sales training plans, or sales activity implementation.
New product sales business plan: This plan is developed for the launch and continued promotion of a new product.
---
Bottom Line
While any business can set bold sales goals, creating a sales plan outlines how your team will achieve them. By following the best practices and 10-step process laid out above, your sales goal template defines what your sales process will look like. It will help establish baselines for accountability and identify optimal strategies, tactics, and the tools needed to make your team as efficient as possible.