Retail Commission Structure: Everything You Need to Know
A retail commission structure is when a business compensates an individual each time they close or contribute to a sale. Retail commission structures take many forms, from fixed to variable rates, and can be based on individuals or teams. You can also offer commissions to employees or contractors.
Commission-based compensation is a store management approach designed to motivate employees while also boosting sales.
Types of Retail Commission Structures
A common payment structure in retail is a base rate—usually hourly or an annual salary—plus a sales-based commission. How you determine commission rates and what actions warrant reward is up to you. Some common retail commission structures are outlined below:
Fixed: A fixed commission rate is when you give all associates the same commission rate on all sales. This structure works well for luxury or high-priced goods, such as furniture or art.
Commission draw: This is when you pay your employees an upfront, flat commission at the beginning of a sales cycle, based on your sales forecast for that period. At the end of the period, you deduct the initial commission draw from the total commissions earned. The draw is intended to create a sales goal and motivation for your salespeople and is a retail commission structure you find in more technical fields.
Revenue commission: Commission is calculated based on the sale price, not accounting for expenses or cost of goods sold (COGS).
Gross margin commission: Rather than total revenue, the commission is calculated as a percentage of the gross margin. This structure takes COGS into account.
Residual commission: Commission is based on the initial sale as well as ongoing expenses. You might choose to establish a minimum—for example, an associate can receive a commission for sales as long as the customer spends a certain amount each month. This structure is ideal for subscription-based businesses or retail stores that have frequent repeat customers.
Straight commission: You only pay people commission—so they only earn money if they make a sale. This is a standard arrangement for influencers or brand ambassadors, especially since they're independent contractors rather than employees.
Tiered commission: A tiered or variable commission structure is when payout is based on hitting a tier, or level, for sales milestones. For example, you might offer 5% commission for associates who drove up to $10,000 in sales, while those who earned $10,000 to $15,000 might earn a 7% commission.
Team-based: This approach involves a flat, equal commission paid to each member of your team. While this certainly fosters a team-based environment, it also allows for some individuals to ease up on their responsibilities and leave it to other people to pick up the slack. Restaurants pooling tips and dividing them equally among staff working during that shift is similar to how this works.
​​What Is the Best Commission Structure for Retail?
The best commission structure for retail depends on the nature of your business, business structure, location, industry, product, price point, and profit margins. If you have high profit margins, you can afford to offer tiered or revenue commission. But if your margins are smaller, consider a fixed rate or gross margin commission, for example.
Typical Commission Rates for Sales
Commission rates vary depending on the company, product, industry, and level of sales experience of the employee. Per Mailshake, the average sales commission is between 20% and 30% of gross margins. For retail sales, the standard commission structures and rates vary widely.
According to Zippia, the average car salesman stands to make about 25% per sale, while Auto Cheat Sheet says the range is anywhere from 15% to 40%. But a beauty consultant selling $40 skin cream may expect to earn a smaller commission, as 25% is likely to eat into the business's profit margin.
As you can see, there is no typical or average commission rate for retail as a whole—rather, there are ranges and various structures for every type of retail business. As you consider what type of retail commission structure will work best for you, research other big names in your specific industry, weigh your overall budget, and consider other factors like your location, industry, and product line.
How Commissions Work in Retail
Commission works in retail by motivating your staff to generate sales while creating a pay structure that's scalable and profitable for the business. Having a commission structure encourages your staff to engage with customers proactively, with the intention of making a conversion.
When a sale is made, the employee earns a commission based on the predetermined commission structure and rate. The commission may be paid immediately as part of their regular paycheck, or it can be accumulated and paid out monthly, quarterly, or even annually.
Typically, the employer will set sales goals or targets for individual employees or teams. These targets can be based on various metrics, such as total sales revenue, number of units sold, or achieving specific sales quotas. This Commission Jewelry Sales Consultant role at Robbins Brothers, for example, mentions minimum monthly volume and gross profit quotas.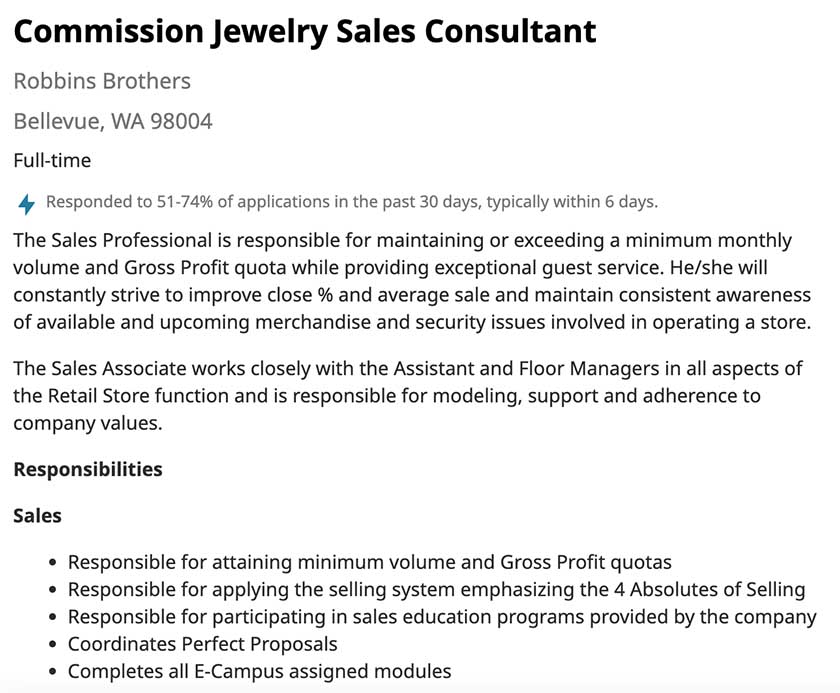 You might also consider performance tiers or incentive programs to further motivate employees. For example, reaching a certain threshold of sales can earn additional bonuses or higher commission rates.
Often, commission-based compensation is supplemented with a base salary or hourly wage. This ensures stable income for employees, especially during slower sales periods or when they face circumstances outside their control (i.e., low foot traffic because of rainy weather). This job ad from Pure Barre in Newcastle, WA, for example, promises an hourly wage plus sales-based commissions.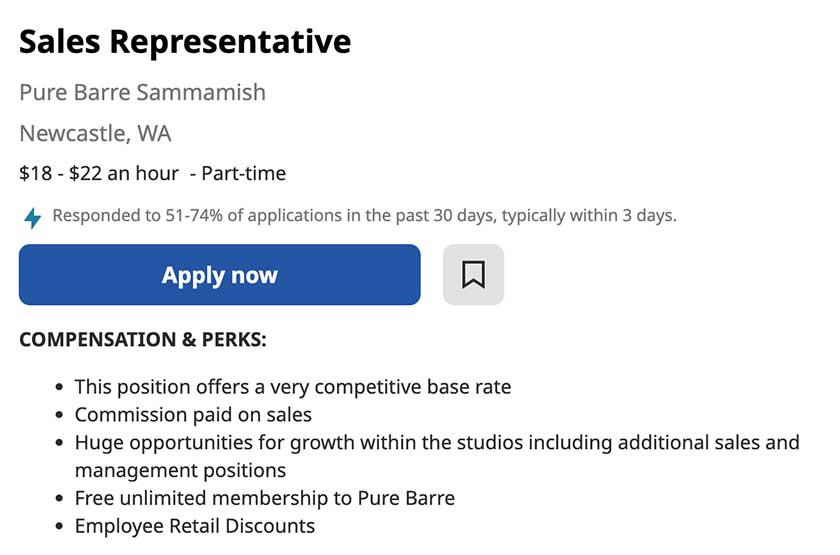 Drawbacks of Commission-based Pay
Commission-based pay has a few potential drawbacks, each with its own mitigation strategy:
Employee Engagement & Motivation
Commission structures that introduce variable rates run the risk of rubbing employees the wrong way. This may foster unhealthy competition, favoritism, or resentment among your team—especially if high performers are repeatedly rewarded more than their colleagues who don't hit the same numbers.
What's more, in a team-based commission structure, you risk underperforming staff riding the coattails of their motivated and engaged colleagues. If the team needs to hit a certain number, some employees may slack off, knowing their peers will hit the numbers on behalf of the team.
Employees may also feel pressured to use aggressive sales tactics or prioritize their personal commission over the interests of the customer. To mitigate this risk, emphasize the importance of ethical selling practices and provide adequate training and support.
Tracking
Commission-based compensation requires more accurate sales tracking so you know who's responsible for which sales and can calculate what they should earn for each of those sales. Many modern point-of-sale (POS) systems have features that allow for various user accounts, so each associate can ring up their own sales. But, this leaves you susceptible to human error. Plus, it gets tricky when multiple associates contribute to the same sale—how do you split that up?
Sometimes, the person who earns the commission is different from the person executing the transaction. In such a case, you'll want to look for a POS system that allows you to allocate sales to different individuals for commission-based payment. You can also implement commission tracking software like Performio, QCommission, and Commissionly. However, these often come at an extra cost.
Taxes & Payroll
Taxes and payroll depend on how the person's employment is arranged, and this can get complicated. Typically, the business withholds taxes when paying out commissions. However, this isn't always the case and can vary depending on the nature of the employment and how commissions are classified. It's always best to check with a qualified small business accountant who can advise on your specific circumstances.
How to Set up a Commission Structure for Your Retail Business
Follow these steps to implement a commission structure, whether you're an established retailer or just getting started in your retail business.
Step 1: Choose a Retail Commission Structure
You'll first want to iron out the details of your commission structure. Along with determining the type of structure you want to use and how much you want to pay, consider the following:
Add commission caps to protect yourself from paying out too much.
Determine the frequency of your commission payouts. Is it going to be annually or monthly, or at the end of each sales cycle? Or maybe you treat it as a year-end bonus?
Determine who qualifies for the commission structure. Is it limited to your wholesale sales representatives, or will you also offer it to in-store sales associates who work the floor? Or perhaps you're rolling out a commission-based affiliate program.
Determine your requirements. Do you pay out commission on all sales or just product sales? Are there minimum quotas for individuals or teams?
If you're a franchise, determine if all the locations need to offer the same commission structure. Pure Barre, for example, has varying structures. Some stores pay commission on membership and retail sales, while some stores only offer commission on one, or none at all. Some employees have also reported that monthly meeting attendance is required to be eligible to receive commission payouts.
Step 2: Track Employee Sales
To ensure transparency and accuracy in commission calculations, you'll want to maintain a record of each employee's sales transactions. You can use most modern POS systems to do this. You might also need to track employee hours vs sales, depending on the structure of your commission payout. To track the corresponding commission earned, you can use your POS or a dedicated software that automatically calculates the commission based on predefined rules and rates.
Here are some more resources to help you track employee sales and commissions:
Step 3: Roll It Out
Once you've structured your commission program, it's time to share it. It's important to roll it out strategically to get your whole team on board and excited about it.
First, communicate the goal of the commission program. Pay extra attention to the benefits not only for the business but for your team. What's in it for them?
Be sure to document everything clearly. That way, everyone is on the same page. You want to be transparent about the commission structure—you don't want anyone to think they've been slighted or create confusion about how people will get paid. Store the document in a centralized, accessible location for everyone to review and reference at their leisure.
Create clear guidelines and policies regarding the commission structure. Outline eligibility criteria, commission calculation methods, and any additional rules or expectations. Ensure the guidelines are fair, transparent, and easily understood by all team members. Be prepared to answer questions.
Bottom Line
Commission-based compensation can be a powerful incentive for sales associates to achieve sales targets and promote products. By aligning individual performance with organizational objectives, commission structures encourage employees to provide excellent customer service and contribute to the overall success of the retail business.