The power of a modern POS system comes from its inventory management capabilities. Harnessing those capabilities to manage inventory will save you tons of time and allow you to update your product count automatically in real time, automate purchase orders (POs), dramatically reduce inventory shrink, increase sales efficiency, and more.
Lightspeed is our top pick for the best POS system for inventory management. If you haven't signed up with Lightspeed yet, you can try it free for 14 days (no credit card required), and follow the guide below to see if it's the right fit for your business. Visit Lightspeed to set up a free trial.
In this article, you will learn how to manage inventory using Lightspeed POS. To learn the basic process of inventory management, read our guide on how to organize inventory for small businesses.
How to Manage Inventory Using Lightspeed POS
Step 1: Log In to Your Lightspeed Account
Once you have an account set up, go to the Lightspeed website (www.lightspeedhq.com) and enter your login credentials to get to your dashboard. From there, you'll see a vertical navigation bar on the left. Select "Inventory."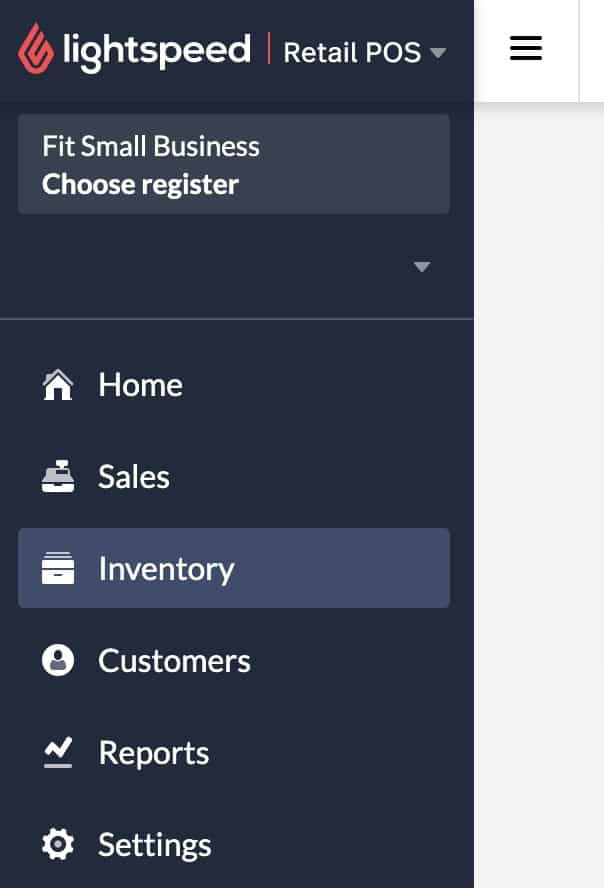 Step 2: Add Your Products
Before you can manage inventory with Lightspeed POS, you need to input your product information. This information includes everything from the product name, wholesale and retail price, and product description, as well as vendor and manufacturer information, SKU numbers, and UPC.
There are three ways you can add your products to Lightspeed: import items from a database, import items from a vendor catalog, and/or add products manually.
1. Adding Products From a Database
If you have a spreadsheet with the product information, Lightspeed can import everything for you. To do this, click on Inventory and then Import Items.

In the upper right corner, you'll see a green + New Import button. Click that.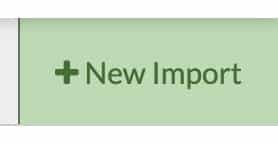 On the next screen, you can drag and drop or click to select your CSV or XLSX file. You can also choose whether this is an entirely new import, an update to existing items, or a combination of both.

If you don't know how to format the spreadsheet, you can scroll down and download a template from Lightspeed.

Similarly, Lightspeed will also import all your vendor and customer information. In the end, this means a quick move to a more effective POS system without losing important data.
2. Adding Products From Lightspeed's Supplier Market
Lightspeed has an integrated supplier market that allows retailers to place wholesale orders and import products into their databases directly from Lightspeed POS. Using this method, it takes just a few minutes to assemble a PO and ensures accurate product data, as you are importing it directly from the supplier.
3. Adding Products Manually
Lightspeed also allows you to input products and product information manually. When you begin with Lightspeed, this would be a time-consuming process unless you have a limited inventory list. However, adding products manually makes more sense post-setup, when you only need to add one or a few items.
To do this, click on Inventory and then New Item.

On the next screen, you'll see a form with fields for various product information—pricing, SKU, vendor, category, etc.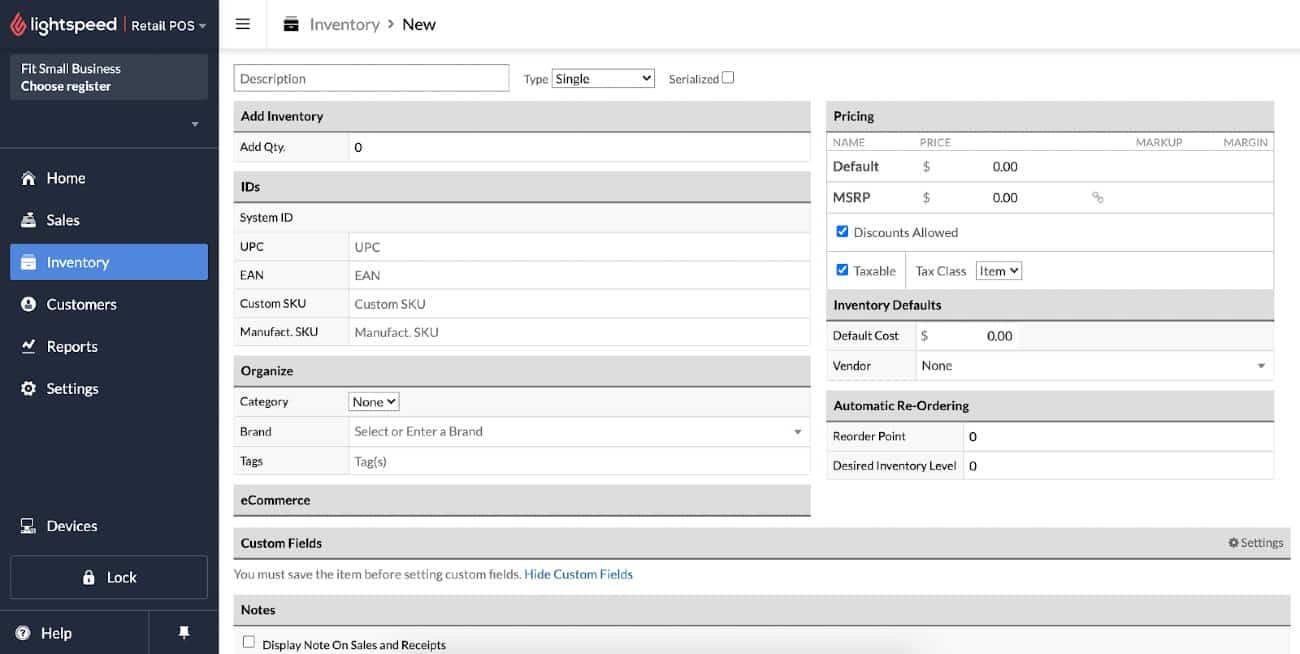 Additionally, you can add products to a product matrix. This matrix allows you to quickly add products that have different colors or sizes all at once while also noting different inventory levels or prices as needed.
Step 3: Create and Submit Purchase Orders Manually or Automatically With Lightspeed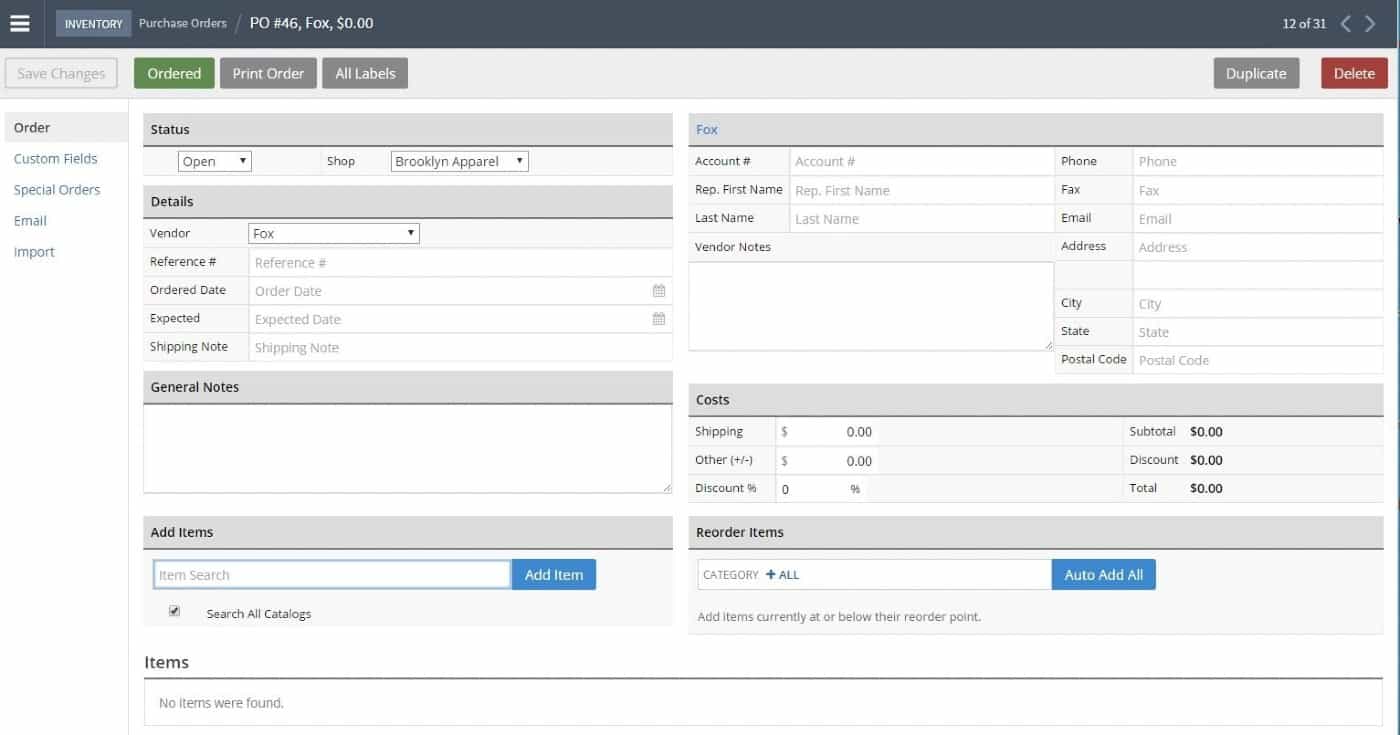 Much of the difficulty and time in preparing a PO come from figuring how much of which products you need. With the right settings, Lightspeed can configure POs for you. By noting your inventory on hand and reducing your inventory count after each sale, you can set up specific rules in Lightspeed that will generate POs automatically.
Lightspeed POS will also combine POs for the same vendor so that everything is in one place and easy to track. All you have to do is review the PO and submit it to your vendor.
You can also select different rules for different stores. For example, let's say you have two physical locations (Stadium Store and City Store) and an online store (nmbr1fan.com), and each of those three stores carries and orders their own inventory.
Team Pompoms might sell more quickly at one location than another. If that's the case, you can set up a rule for each store. Stadium Store can automatically reorder 100 Team Pompoms when it reaches an on-hand inventory level of 25, but City Store can automatically generate a PO for 15 Team Pompoms when it reaches an on-hand inventory level of 5.
To set this up, go to Inventory and choose Item Search.

From here, select a product to see its details, pricing, and costs, as well as current Stock in the upper right corner and Automatic Re-Ordering in the center: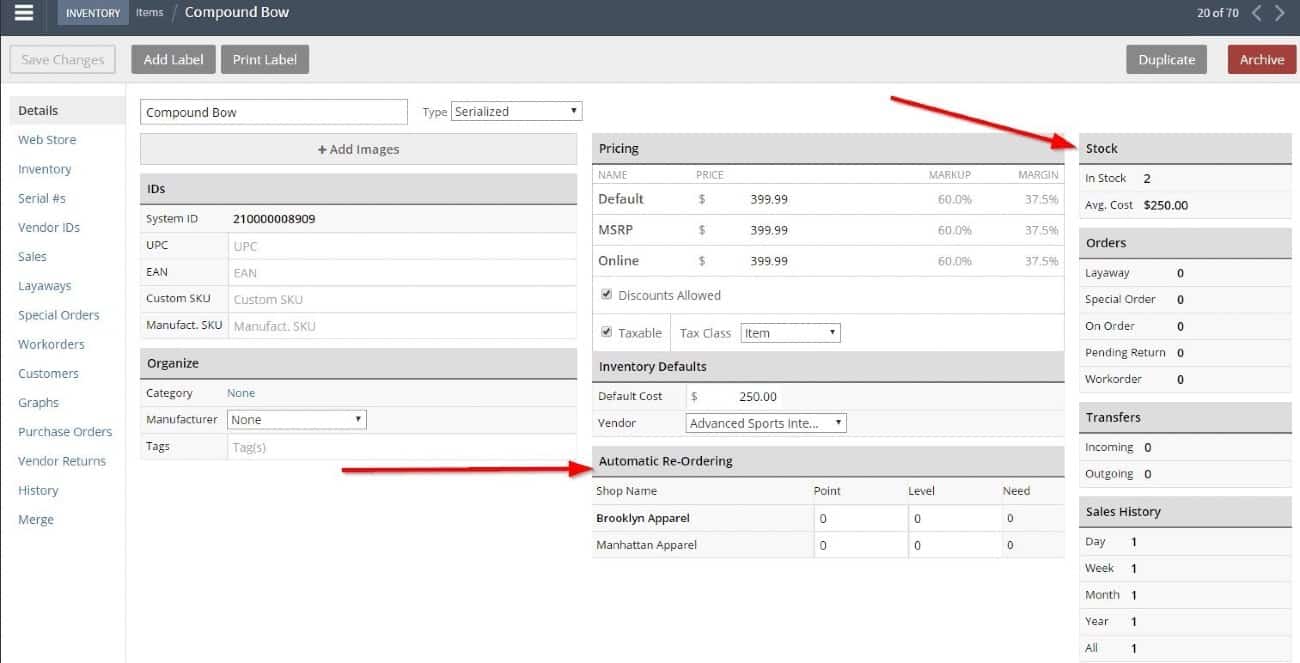 To implement automatic reorders, set a reorder point (the point at which your stock level will trigger a reorder) and a reorder level (the number of the product you want to automatically reorder). Remember, if you have more than one location ordering inventory, these levels can be different if the product sells at a different rate.

When you're ready to submit your POs to your vendors, all of these automatic reorders will be ready for you to add. You do so by going from Inventory to Master Order and selecting Add Reorders.

It's important to note that automatic reorders aren't automatically submitted to your vendors. They still require your approval so that you can always make changes.
Step 4: Receive Inventory With Lightspeed POS
Inventory shrink happens for many reasons, including administrative errors, vendor error, and fraud. Assuming you're submitting accurate purchase orders, delivery of the inventory is the first point to identify those costly errors.
It's important to make sure you receive the correct products, quantity, price, and quality from your vendors. You can do these checks with your Lightspeed POS.
5 Tips When Receiving Inventory
Review each invoice with the delivery person. Confirm PO, invoice, and shipment match.
Note any and all inconsistencies between PO, invoice, and shipment.
Resolve any discrepancies with your suppliers before paying the invoice.
Report discrepancies to your vendor within 24 hours to explain and correct the invoice.
Update inventory counts before storing or stocking the inventory.
When you follow the above tips, you will know exactly how much inventory is coming into your store and prevent any overcharging for extra items or items you didn't receive. For more tips like this, read our guide to inventory shrinkage.
When you receive a delivery, you can use Lightspeed mobile to check your items. You can also do it on desktop: Go to Inventory and then select Purchase Orders.

From there, pull up the corresponding PO. This will show you everything you ordered from the vendor.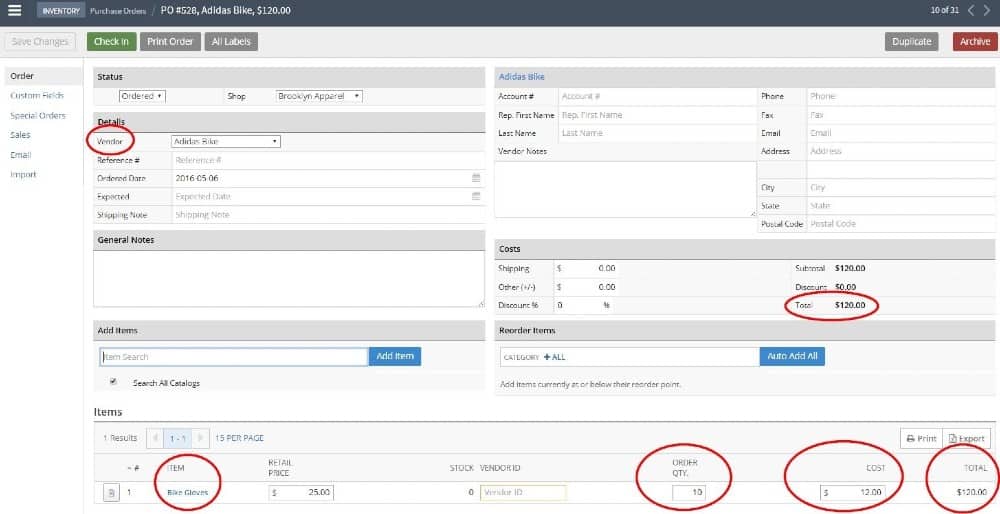 Next, select Check In in the upper right corner.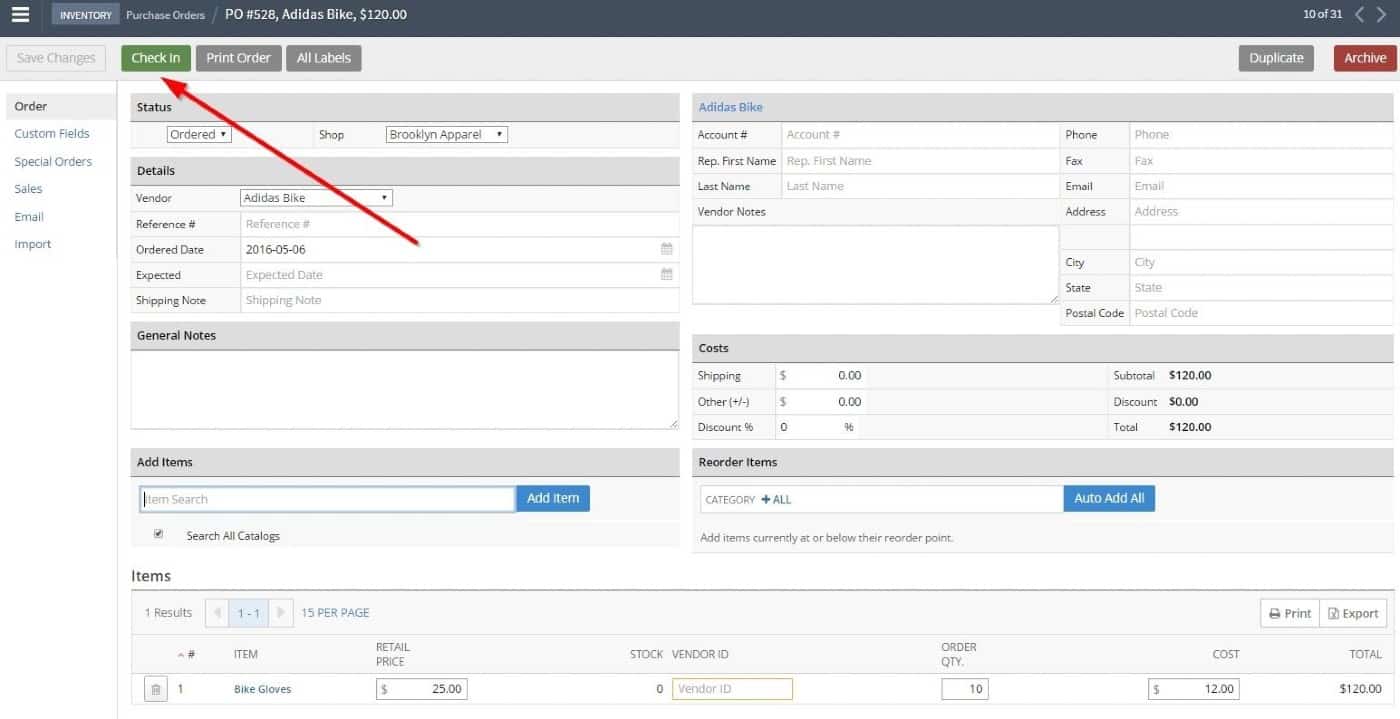 Now you can accept deliveries. Scan each item with a bar code reader or manually select it. If it's a small order and you can account for everything quickly, you can select Receive All Items to make the process go more quickly.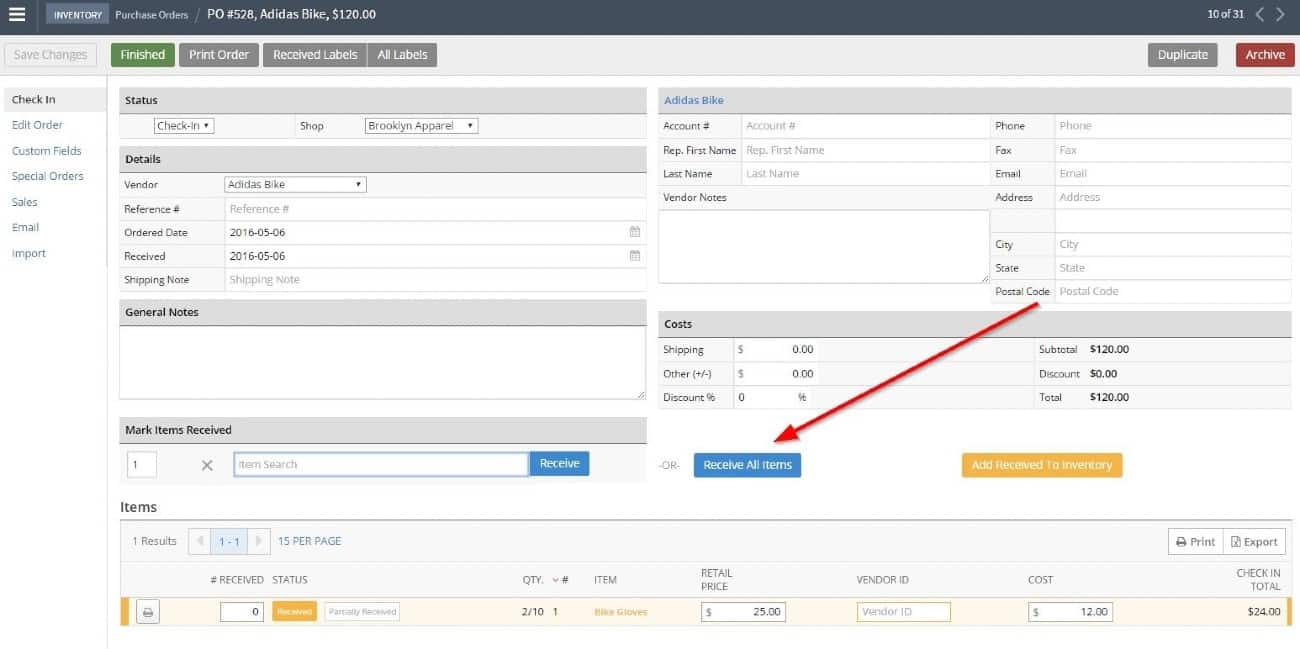 After you've confirmed the delivery, select Add Received to Inventory. All items received will be added to that location's inventory on-hand count. When you're done, select Purchase Order Finished.
At this point, if you failed to check an inventory item, it will be displayed as Not Received or Partially Received in the PO.

While still in the PO, you can select email and email copy of the PO along with a note detailing the discrepancy to your vendor.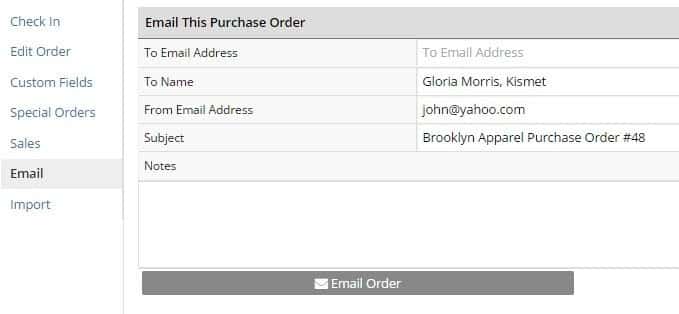 After you've received inventory and added it to your database, go back to Lightspeed's Inventory and search for the item or items delivered. You'll see updated total stock counts.
Step 5: Tag Inventory – Label Inventory and Stock the Shelves (optional)
Your inventory may come with its own bar codes. If that's the case, you might just need to add a price tag with your logo on it, and the product is ready to sell.
However, if you're selling your own or others' craft products, your inventory will likely not come with bar codes. You can create and print your own unique bar code stickers with Lightspeed. It recommends using a Zebra Label Printer, but others are compatible as well.

Tagging your inventory now will save you tons of time in the future. During customer checkouts, your associates no longer have to guess the price or the specific inventory item. A simple scan tells pricing info and adjusts inventory counts accordingly. You'll also save time during physical inventory counts when all you have to do is scan an item with a Bluetooth bar code scanner.
How to Conduct Physical Inventory Counts With Lightspeed POS
The first advantage a modern POS system provides you is a current, accurate inventory count based on sales. You already have a head start. The second advantage a POS gives you is speed.
Go to Inventory and then Inventory Counts.

From there, select the green + New Inventory Count button in the upper right corner.

Now you can either scan bar codes or manually select products and mark the counts. If something comes up that demands your attention, the system will save so you can come back to it later.
How to Reconcile Differences With Lightspeed
Once you've completed your physical inventory count, you're ready to reconcile.
In a perfect world, there would be no differences between what you physically counted and what your POS had listed as stock on hand. If there are differences, now's the time to account for them and make sure your POs will replenish inventory levels to the correct amount.
If your physical count is still up, great. If not, return to it by selecting Inventory, clicking Inventory Counts, and then opening the specific count you're looking to reconcile. Assuming your physical count is complete, select Reconcile:

Reconciling your number will update your inventory number to reflect the number from your physical count. Now it's time to review Shrinkage:

The reporting for Shrinkage will show you the difference between what your POS thought you would have based on recorded deliveries and sales and what your physical count found you actually had. It will show you differences by product, both in number of units and total value.
At this point your inventory counts are updated and you're ready to return to submit new purchase orders with your vendors accordingly.
Bottom Line: It's Easy to Manage Inventory With Lightspeed POS
Lightspeed POS and other modern POS system can revolutionize the way your small business manages inventory. For many small businesses, inventory management is the one area where people are still using the same technology and methods used generations ago.
Upgrading to a new POS system with Lightspeed is quick and easy since the platform is intuitive and powerful. If your small business is moving any kind of product in volume, this is an easy way to save yourself time and money. It will pay you dividends day after day, quarter after quarter, year after year. Visit Lightspeed for a free 14-day trial.
You May Also Like…