The power of a modern POS system comes from its inventory management capabilities. Harnessing those capabilities to manage inventory will save you tons of time and allow you to update your product count automatically in real time, automate purchase orders, dramatically reduce inventory shrink, increase sales efficiency and more.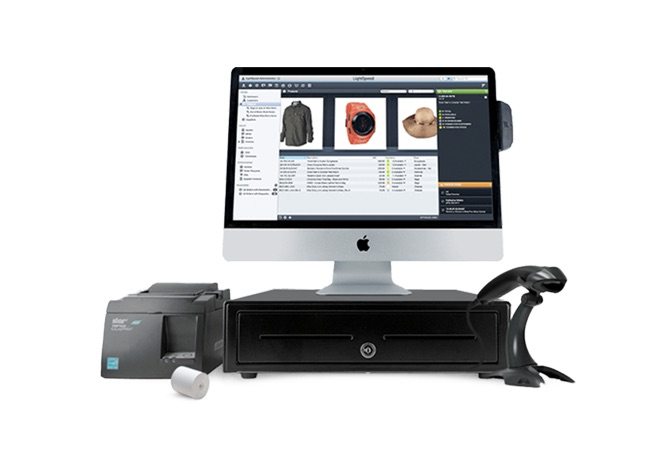 In this article, I'll show you how to manage inventory using Lightspeed POS in 7 easy steps.
If you're still keeping inventory in a notebook or spreadsheet and it's not integrated with your register, you need to read our article about how a modern POS will revolutionize your small business.
Try Lightspeed POS for 14-days completely free.
The Seven Steps to Inventory Management Using Lightspeed POS
Add Your Products – All your products in one place.
Create Purchase Orders – Ordering inventory from your vendors.
Receive Inventory – Accept deliveries and update your inventory counts.
Tag Inventory – Label inventory and stock your shelves.
Sell Inventory – Integrated checkout tracks and updates sales instantly.
Count Inventory – Physical counts made easy with barcode reader.
Reconcile Differences – Accurate data means reporting you can act on.

Step 1: Add Your Products
Before you can manage inventory with Lightspeed POS you need to populate the POS system with your product information. Products information will include everything from the product name, wholesale and retail price, and product description as well as vendor and manufacturer information, SKU, and UPC.
There are 3 ways you can add your products to Lightspeed: import items from a database, import items from a vendor catalog, and/or add products manually.
1. Adding Products from a Database
Whether you're just starting out or are switching over from a different POS, you can email Lightspeed a spreadsheet with the product information and they will import everything for you. The spreadsheet needs to be formatted in a specific way and have certain headings. For all formatting requirements go here. An example spreadsheet can be viewed here. This process requires a little bit of work on your end, but it will save you many hours of work in the long run.
Similarly, Lightspeed will also import all your vendor and customer information. In the end this means a quick move to a more effective POS system without losing important data.
2. Adding Products from Vendor Catalog
Lightspeed will also scan and upload catalogs from the vendors you want to order from. In fact, because the vendor catalogs that are uploaded become available to all Lightspeed customers, there is a good chance your vendor's catalog is already available. From there, it takes just a few clicks to assemble your purchase order and stock up on inventory.
3. Adding Products Manually
Of course, Lightspeed also allows you to input products and product information manually. When you first begin with Lightspeed, this would be a time consuming process unless you have a very limited inventory list. But this becomes more helpful after set up and you only need to add one or two products. Additionally, you can add products to a product matrix. This allows you to quickly add products that have different colors or sizes all at once while also noting different inventory levels or prices as needed.
Step 2: Create and Submit P.O.s Manually or Automatically with Lightspeed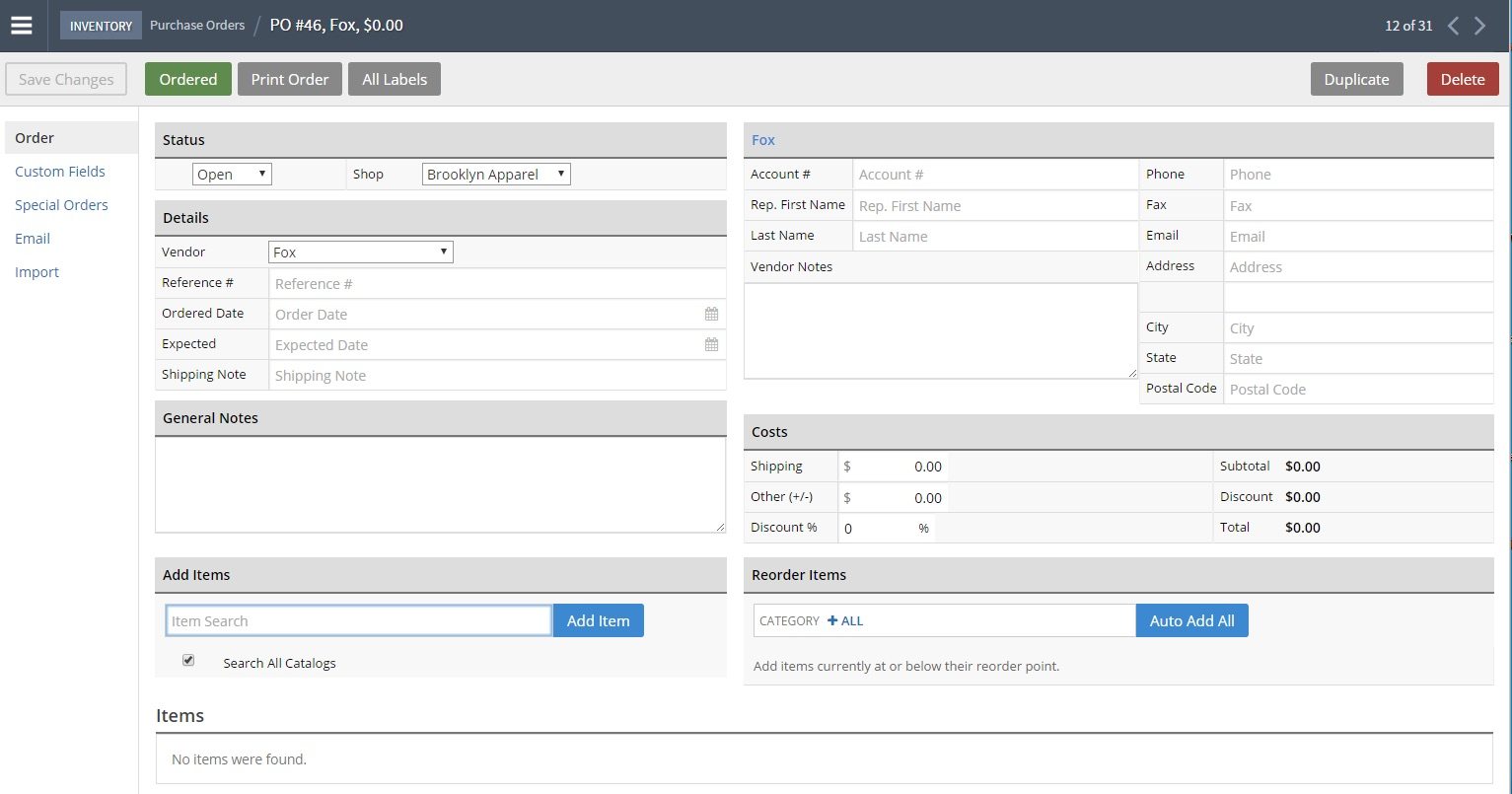 Much of the difficulty and time commitment of preparing a purchase order (P.O.) comes from figuring how much of which products you need (a topic we touch on throughout this article). But wouldn't it be great if your POS system could simply prepare the P.O. for you based on simple rules?
That's exactly what Lightspeed allows you to do.
Lightspeed can place your purchase order preparation on autopilot. By noting your inventory on hand and reducing your inventory count after each sale, you can set up specific rules in Lightspeed that will generate P.O.s automatically.
Lightspeed POS will also combine purchase orders for the same vendor so everything is in one place and easy to keep track of. All you have to do is review the P.O. and submit it to your vendor.
Not only that, you can also select different rules for different stores. For example, let's say that you have two physical locations (Stadium Store and City Store) and an online store (nmbr1fan.com) and each of those three stores carries and orders their own inventory.
Well, Team Pompoms might sell more quickly at one location than another. If that's the case, you can set up a rule for each store. Stadium Store can automatically reorder 100 Team Pompoms when it reaches on-hand inventory level of 25. But City Store can automatically generate a P.O. for 15 Team Pompoms when it reaches an on-hand inventory level of 5.
To set this up, go to Inventory, then choose Item Search, and then select a product. You will see all product detail, pricing, and costs. But you will also see current Stock in the upper right corner and Automatic Re-Ordering in the center.: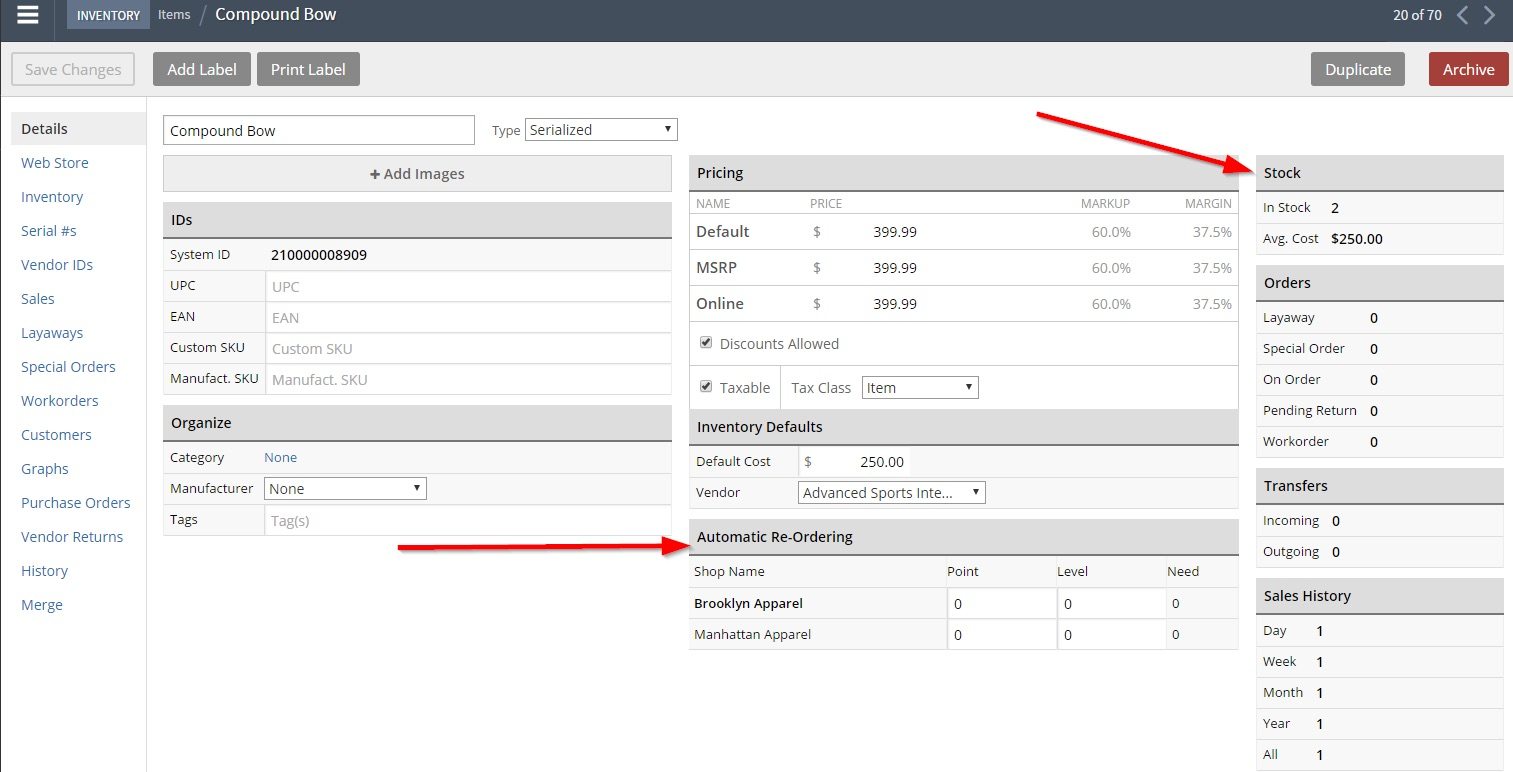 To implement automatic re-orders, set a Re-Order Point (the point at which your stock level will trigger a reorder) and a Re-Order Level (the amount of the product you want to automatically re-order). Remember, if you have more than one location ordering inventory, these levels can be different if the product sells at a different rate.
When you're ready to submit your P.O.s to your vendors, all of these automatic re-orders will be waiting for you and can be added. You do so by going from Inventory to Master Order and selecting Add Reorders.

Automatic Re-Orders are not automatically submitted to your vendors. They still require your approval first. So if you want to make any changes to the automatic reorder (for instance, order more than usual during the holiday season) you are able to.
Likewise, you always have the option of manually generating purchase orders. You are in complete control of what you add to automatic re-order and what you leave off and you always get to review to P.O. prior to submitting it.
Lightspeed streamlines the P.O. process but you remain in the driver's seat.
Step 3: Receive Inventory with Lightspeed POS
Close to 7% of inventory shrink is due to vendor error or vendor fraud. Another 16% of shrink is due to administrative errors. Assuming you're submitting accurate purchase orders, then delivery of the inventory is the first point to identify the errors that are costing you money.
As we have discussed in previous articles, there are ways you can limit discrepancies between your order and delivery. Checking to make sure you got the correct products, quantity, price, and that everything is in good shape is critical.
Lightspeed POS makes these checks quick and easy.
5 Tips When Receiving Inventory
Review the invoice with the delivery person. Confirm P.O., invoice, and shipment match.
Note any and all inconsistencies between P.O., invoice, and shipment.
Resolve any discrepancies with your suppliers prior to paying the invoice.
Report discrepancies to your vendor within 24 hours to explain and correct the invoice.
Update inventory counts before storing or stocking the inventory.
When you follow these steps, you will know exactly how much inventory is coming into your store and prevent any overcharging for extra items or items you didn't receive.
When the delivery is made to your store (or warehouse) you'll want to have Lightspeed POS available to you. This is very simple if you're using a mobile device like a tablet or mobile phone. If you're using a desktop you'll want to make sure the delivery is made during a slower time or that you have an extra person available to handle intake.
From Lightspeed, go to Inventory and select Purchase Order. From there, pull up the corresponding P.O. This will show you everything that you ordered from the vender.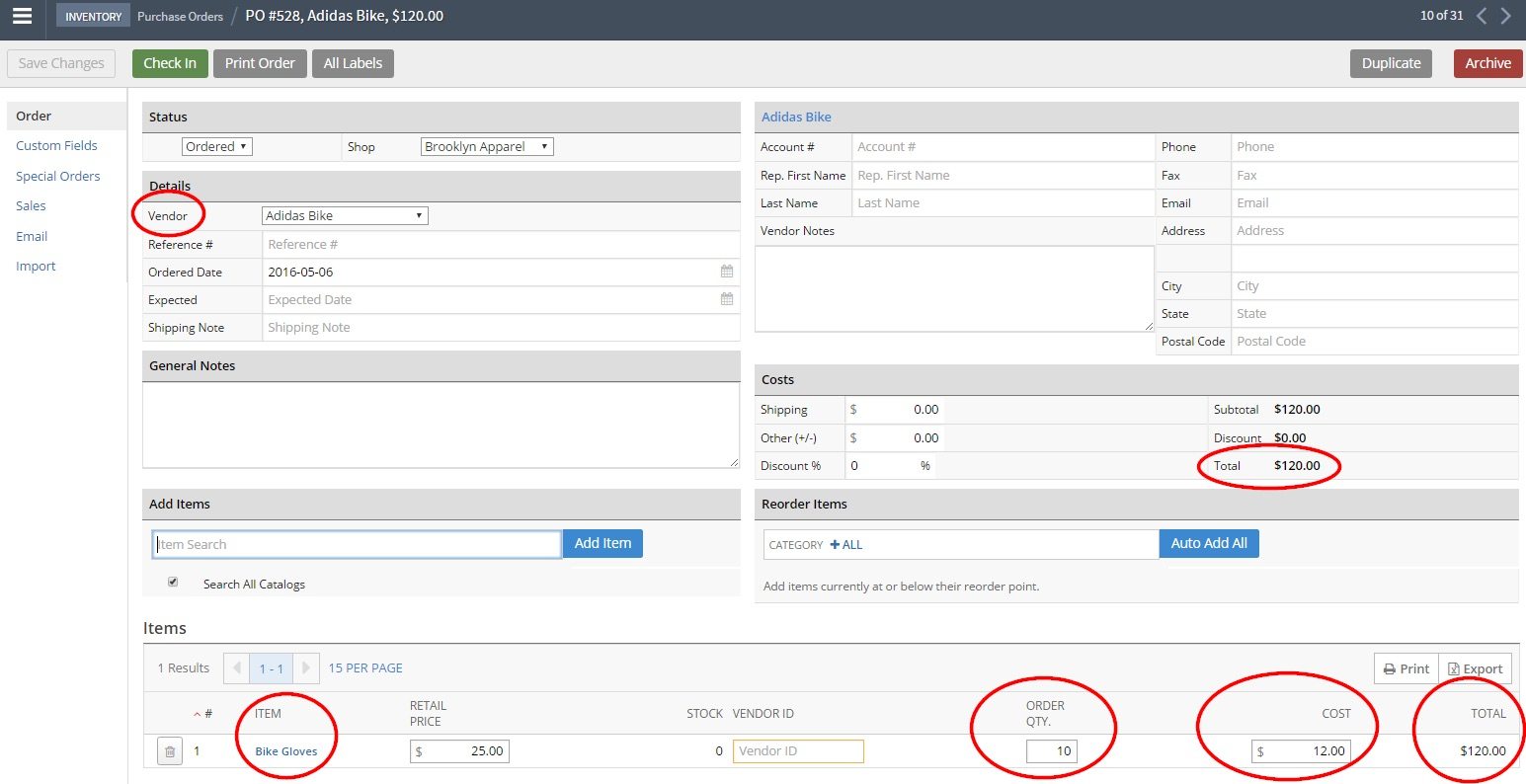 Next, select Check In in the upper right hand corner.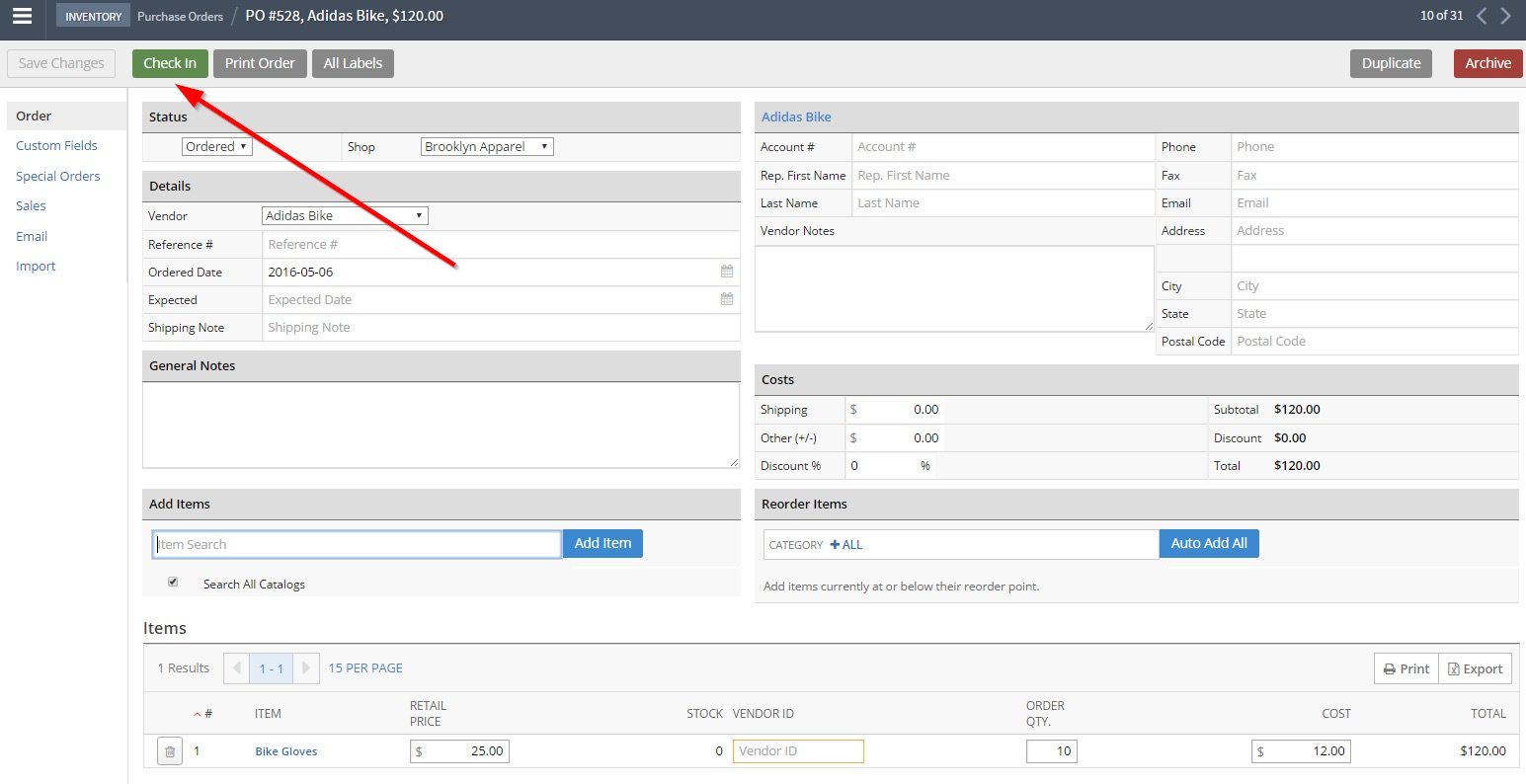 You're ready to begin accepting items. You can scan each item in with a Bluetooth barcode reader or simply make the selection manually on your mobile device or desktop. If it is a small order and you are able to account for everything quickly and want to save time, you can select Receive All Items.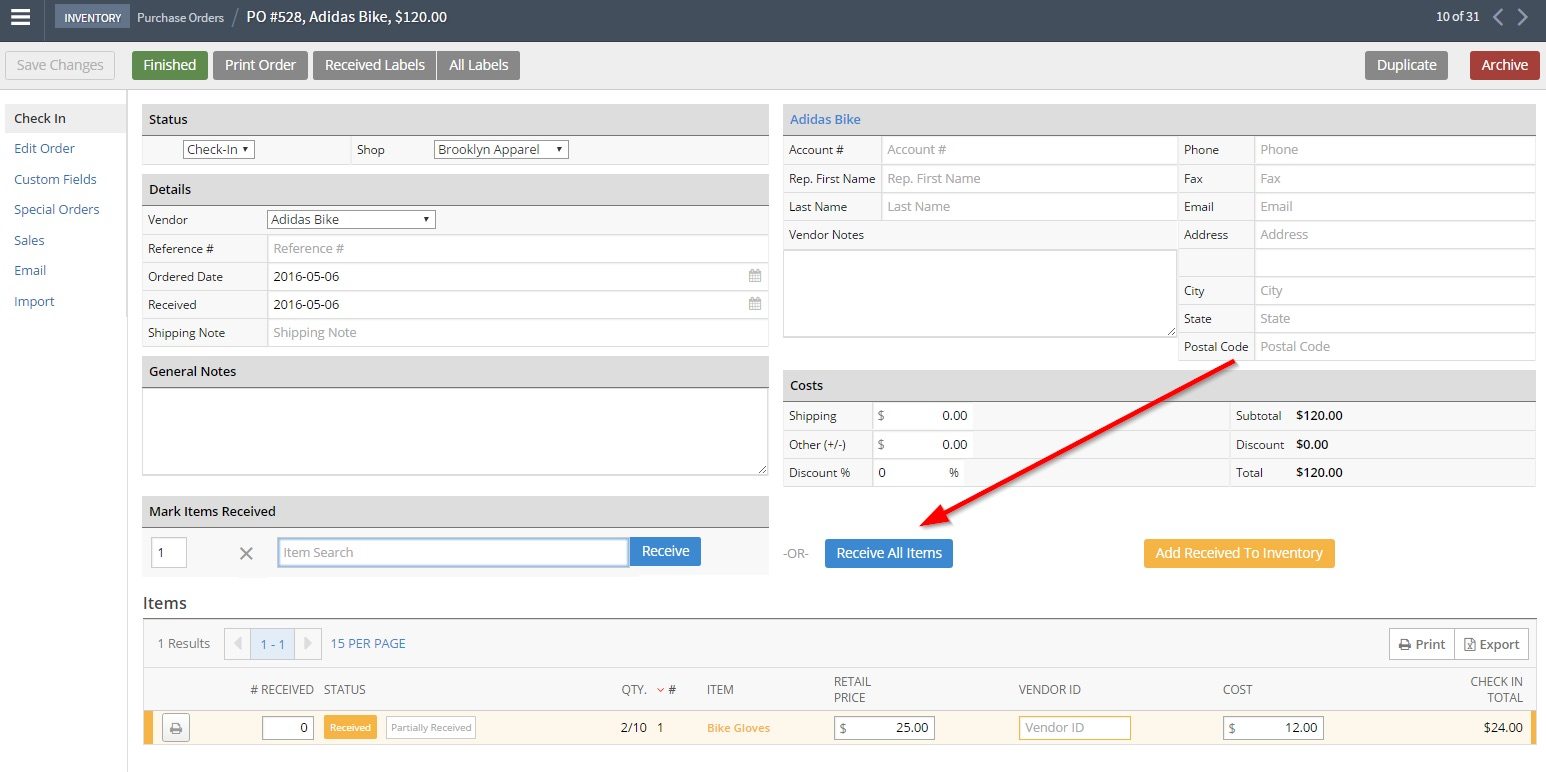 When you are finished confirming the delivery, you can select Add Received to Inventory. All items received will be added to that location's inventory on-hand count. When you are done, select Purchase Order Finished.
At this point, if you failed to check in an inventory item it will be displayed as Not Received or Partially Received in the P.O.

While still in the P.O. you can select Email and email copy of the P.O. along with a note detailing the discrepancy to your vendor.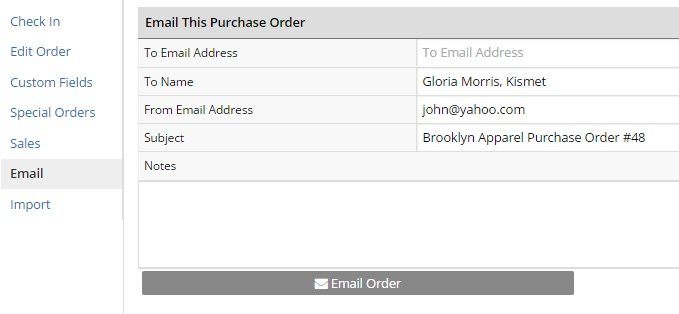 With your inventory received and added to your on-hand inventory, you go back to Lightspeed's Inventory, and search for the item or items delivered. You will see that their addition is reflected in the total stock counts.
No matter how accurate your inventory management, receiving a vendor delivery should be a point of concern. A modern POS system with a robust focus on inventory management, like Lightspeed POS, will help you address those concerns.
Bonus: Receiving Transfers from Other Locations
Lightspeed allows you to transfer inventory from one store to another. This is especially helpful if one location is particularly well suited to take in and store inventory than another location.
An employee simply goes to Inventory then select Transfer: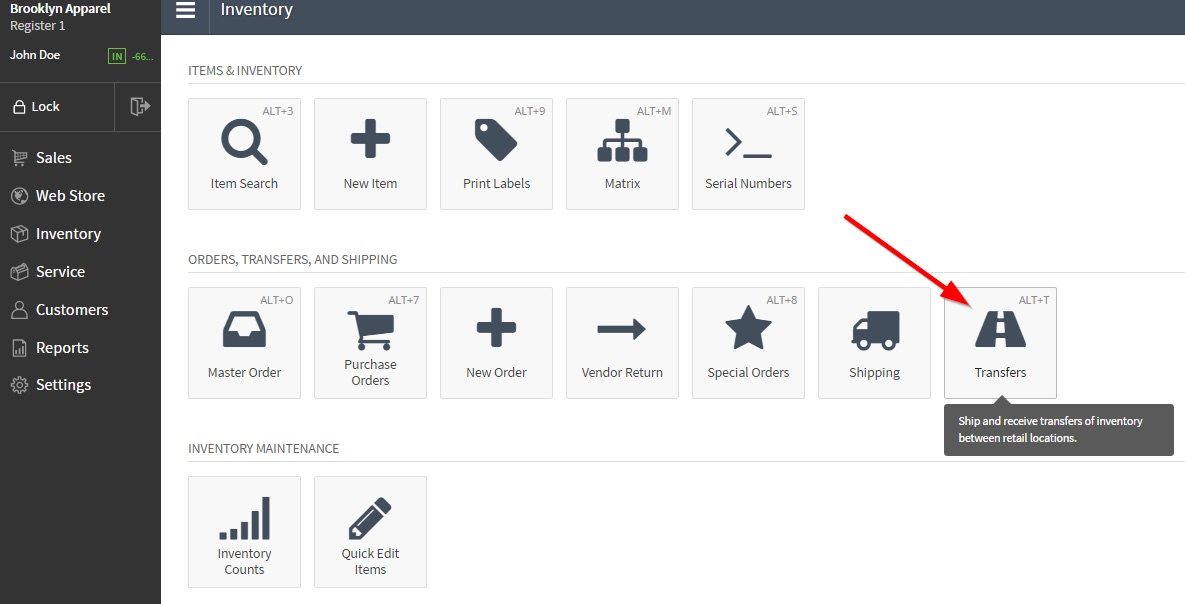 From there, the employee would create a New Inventory Transfer in the upper right hand corner and select which products are needed and when they are needed by.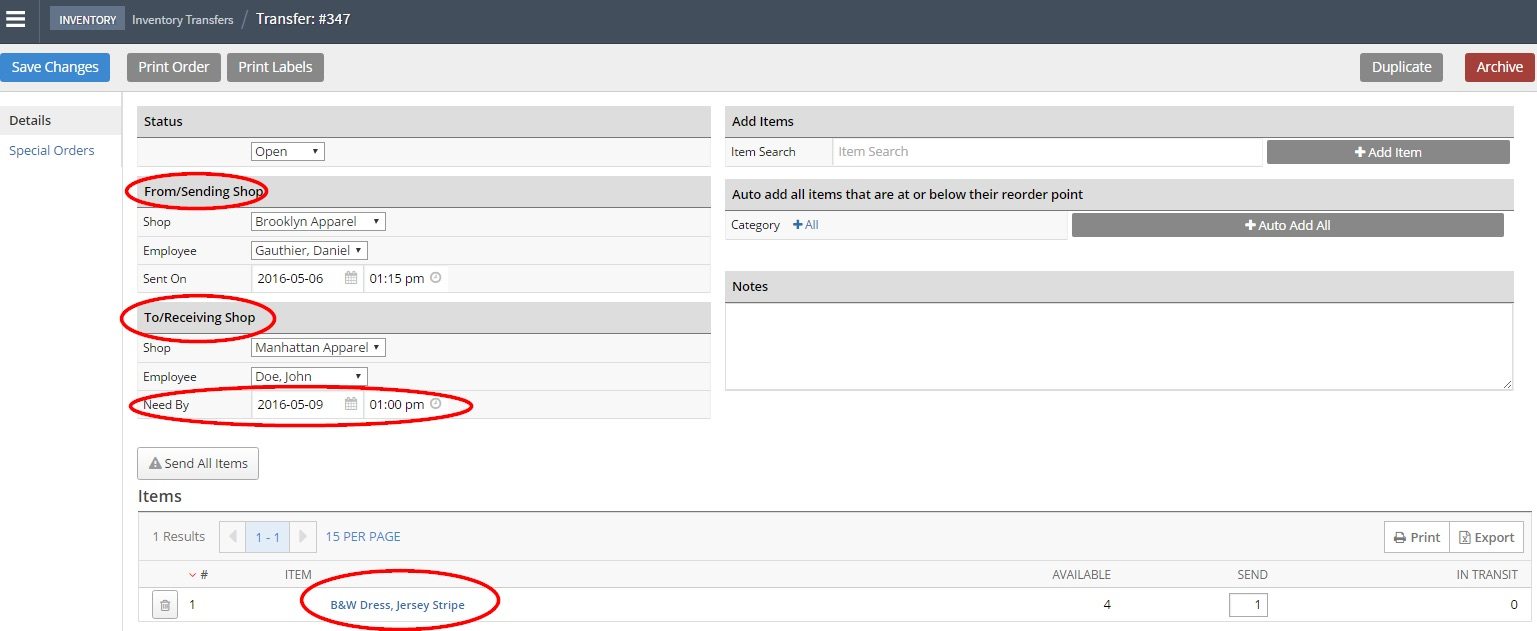 The location that has the inventory will see the request and send the inventory. The status of the transfer will change to Sent until the order is logged as Received at the location that requested it.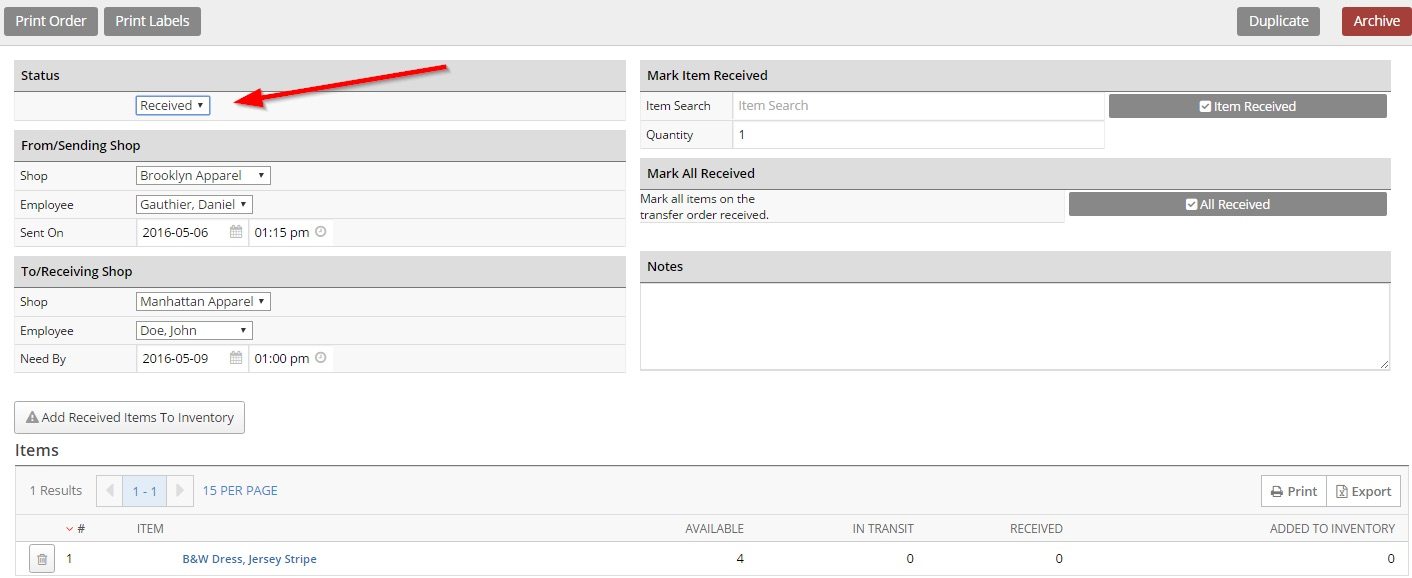 Finally, the location that originally made the request will update their inventory levels to account for the new products in stock.
Step 4: Tag Inventory – Label Inventory and Stock the Shelves (optional)
Your inventory may come with its own barcodes. If that's the case, all labeling might consist of is adding a viable price tag that features your store's logo. Then the product is ready to be sold.
However, if you're selling your own or others' craft products your inventory will likely not have barcodes. Luckily, most modern POS systems make printing your own unique barcode stickers easy. Lightspeed is no different. They recommend the Zebra Label Printer but other are compatible as well.

Tagging your inventory now will save you tons of time. During customer checkouts, clerks are no longer guessing on price or the specific inventory item. A simple scan gives the right price and adjusts inventory counts accordingly. You'll also save time during physical inventory counts when all you have to do is scan a an item with a Bluetooth connected barcode scanner.
Step 5: Sell Inventory – Fully Integrated Checkout
Selling your products with a modern POS system like Lightspeed is more accurate than using a traditional cash register and fully integrated with your inventory reporting.  Plus, it's easy to learn and makes for much quicker transactions.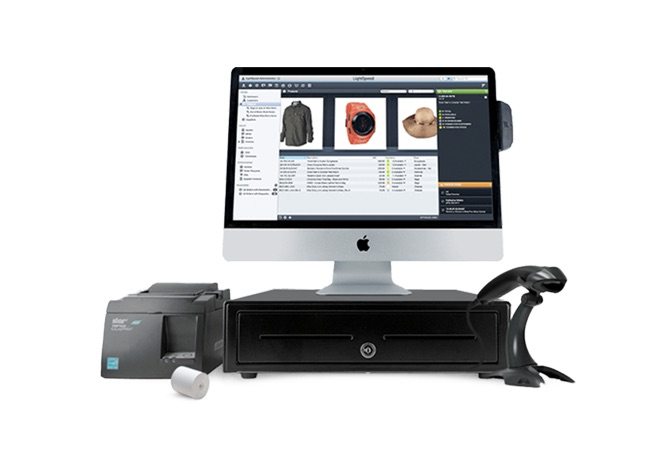 As we discussed above, administrative errors like inaccurate inventory counts make up a large percentage of retail shrink. Another reason for shrink in a lot of stores is employees ringing up items incorrectly or applying discounts in error.
How LightSpeed Helps Reduce Costly Employee Errors
With the ability to quickly label all your products with barcodes and scan them in the register, you all but eliminate the problem of misidentifying products at the register. Even without the barcode scanner, using a select and add method works because pictures and product descriptions reduce the likelihood of misidentification.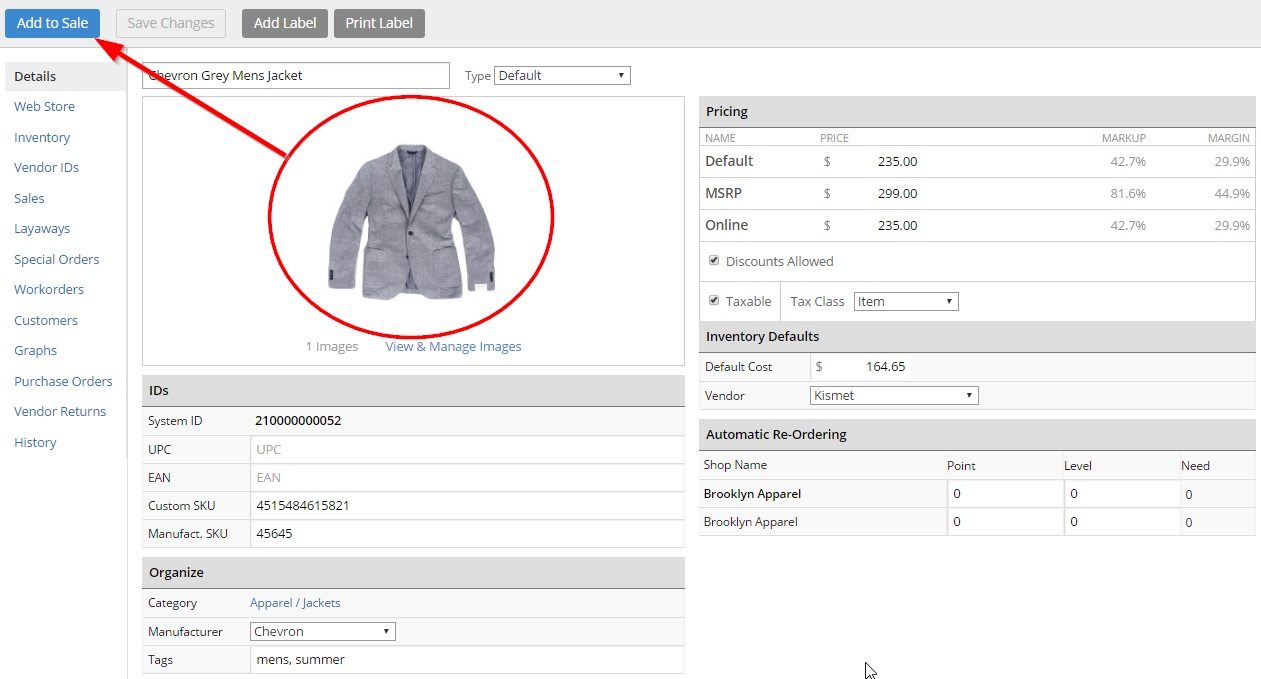 And because a POS system like Lightspeed's fully integrates your sales and inventory, you have access to up to the moment inventory counts and sales reports. Coupled with the occasional physical inventory count to double check your numbers, this provides you with deeper, more accurate inventory insights that you can access on any device with internet access.
This will result in all kinds of sales efficiencies, including
Inventory levels automatically updated
P.O.s generated for products you have set up automatic re-orders
IDing products aren't a guessing game with barcodes
No memorizing promotional pricing
Intuitive format means quicker employee training
Increasing the speed of the sales transaction  might not seem like a boon to inventory management. But this efficiency allows you to devote more employee hours to other tasks, like inventory counts.
Step 6: Count Inventory – Physical Counts Made Easy
Lightspeed and POS systems like it make physical inventory counts faster and more accurate. The days of walking the floor with a clipboard and pencil are long gone. With a barcode scanner or a simple tablet, physical counts can be done by any employee at anytime.
The first advantage a modern POS system provides you is a current, accurate inventory count based on sales. You already have a head start.
The second advantage a POS give you is speed. Log into Lightspeed and got to inventory and then to Inventory Counts.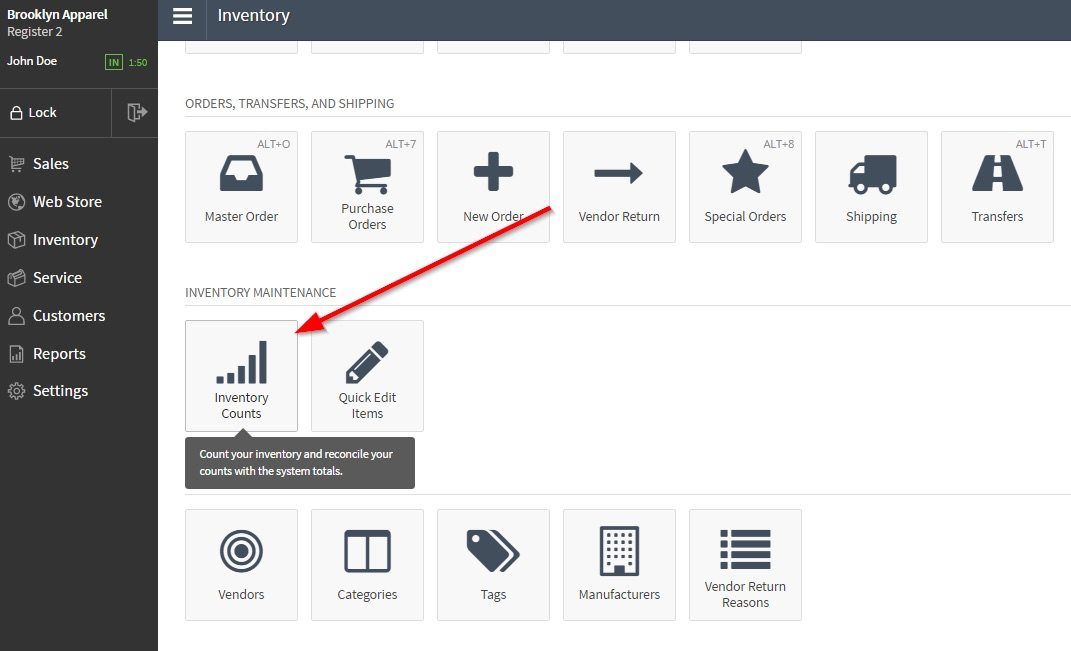 From there, either select a saved count you would like to do again (for a particular department or vendor) or select New Inventory Count to start from scratch.

From there it's all scanning barcodes or manually selecting products and marking the counts. If something comes up that demands your attention, the system will save and you can come back to it later.
Step 7: Reconcile Differences
Once you've done your physical inventory count you're ready to reconcile.
In a perfect world there will be no differences between what you physically counted and what your POS had listed as stock on hand. If there are differences, now's the time to account for them and make sure your P.O.s will replenish inventory levels to the correct level.
If your physical count is still up, great. If not, return to it by selecting Inventory, clicking Inventory Counts, and then opening the specific count you're looking to reconcile. Assuming your physical count is complete, select Reconcile :


Reconciling your number will update your inventory number to reflect the number from your physical count. Now it's time to review Shrinkage:


The reporting for Shrinkage will show you difference between what your POS thought you would have based on recorded deliveries and  sales and what your physical count found you actually had. It will show you differences by product both in number of units and total value.
If shrinkage is a significant issue you might be losing out to shoplifting or employee theft. We cover ways to use Lightspeed POS to address those issues in our next article.
At this point you're inventory counts are updated and you're ready to return to submit new purchase orders with your vendors accordingly.
Summary: It's Easy to Manage Inventory with Lightspeed POS
Lightspeed POS and other modern POS systems can revolutionize the way your small business manages inventory. For many small businesses, Inventory management is the one area where people are still using the same technology and methods used generations ago.
Upgrading to a new POS system with Lightspeed is quick and easy. The platforms are intuitive and powerful. If your small business is moving any kind of product in volume this is an easy way to save yourself time and money. It will pay you dividends day after day, quarter after quarter, year after year.
Try Lightspeed POS now. Take advantage of their free 14-day trial.