Retail inventory management is stocking products that buyers want, using pricing and promotions to sell profitably, and maintaining inventory at levels that meet demand without over-purchasing. An overall inventory management plan guides how this all gets done, from intelligent purchasing and pricing to procedures covering receiving, inventory counts, and location tracking.
In today's data-driven economy, retail point-of-sale (POS) systems like Square for Retail help small retailers manage inventory tasks faster and far more effectively than manual methods. Inventory counts are automatically adjusted with each sale, profits are tracked in real time, and accurate, up-to-date data is always at your fingertips. The best part: these tools are included at no additional cost. Visit Square for Retail to manage your inventory for free.
How Retail Inventory Management Works
Retail inventory management best practices are made up of people, processes, and technology. Ideally, every retail business should have a clear set of procedures that cover how inventory-related tasks are handled. Activities like receiving, cycle counts, and restock orders should be outlined and assigned to specific employees or staff groups. Likewise, small retailers should have a data management system capable of supporting, tracking, and automating inventory management processes store-wide.
An end-to-end POS system like Square for Retail helps small retailers do all of this seamlessly, plus get real-time insight into every aspect of their business — from sales and inventory counts to product performance and profits.
The benefit of using a POS system with inventory management is it ties every activity — from sales and returns to stock ordering, receiving, and unit tracking — within a centralized system. Having stock counts adjust per-sale, automated reorder alerts, product-specific profitability reports, and barcode tracking, helps stores run at maximum efficiency. Plus it lets owners make data-backed inventory decisions for everything from stock reorders to sales promotions for slow-moving items.
With the right inventory management tools and techniques in place, a plan is surprisingly easy to maintain. But getting to that point is the challenge that many small business owners face. It takes time to understand which retail inventory management best practices fit your operation, then define procedures and adopt the right technology. So, this project often gets pushed to the bottom of the list. But interim shortcuts invariably lead to stock shortages or overstocks, bad buys, and low-profit sales can ultimately impact the bottom line. Clearly, making the effort to put an inventory management plan in place is time well-spent.
If you don't have a sound inventory management plan in place yet or are looking to improve your current tools and tactics, we'll show you how to get it all done in seven simple steps.
Retail Inventory Management in 7 Easy Steps
Our seven-step plan covers retail inventory management best practices and procedures that any retail store needs to have to move products in and out the door profitably. We'll explore the tasks related to each procedure and cover ways to accomplish them using a variety of tools — paper records, computer spreadsheets, or a POS system with fully integrated inventory, like Square for Retail.
If you don't have a POS system or other inventory tracking tools in place, download our free workbook and follow the seven steps below to get started.
Download Free Inventory Management Workbook
Here are the seven primary inventory management procedures that retail stores use and how to put them into action in your own operation:
1. Track & Maintain Accurate Product Data
Any inventory management plan starts with creating a centralized record of data for every product stocked. This makes it easy to access any information needed to complete your inventory management tasks — from reordering costs and department locations to sales tracking.
Whatever technology you use — paper logbooks and files, computer spreadsheets, or a POS system — you need to create a Product Data Management Procedure that outlines the process and instructions that guide how you:
Record Product Data: Outline where and how product data is recorded for each item you carry — paper logs, spreadsheets, or a POS system like Square for Retail — and the process used to record and track this data.
Track Product Information: Key product data recorded should include:

Product name
Your internal SKU
Variants like colors or sizes
Your regular and sale pricing
Your sales category, department, or class
Brand, line, or collection details
Attached to store promotions – if any
All suppliers for the item
Supplier SKUs and/or UPC code
Product cost
Case pack amounts for stock orders
Lead times for reorders
Inventory on-hand (or adjust following new product receipt or a stock count)

Enter New Product Data: Note when new products are entered into your system — before or after delivery to your store.
Handle Product Data Updates: Vendor prices and other purchasing information changes over time, have a plan to make these updates as-needed.
If you use a POS system, you can also add a product description and images to your product data entries. This helps clerks answer customer questions, speed up store checkout, and connect product data to online sales channels.
The important thing to remember as you set up this procedure is that smart inventory management requires a full record of product data details — not just an item name, SKU, and stock amount. The more information you track — pricing, product costs, vendor lead times, store categories and departments, etc. — the easier it will be to handle other inventory management tasks and gather meaningful data.
2. Track Where You Store & Display Stock
You have to know where your stock is to properly merchandise and sell it. Forgotten products shoved to the back of displays or storeroom shelves result in unsold goods, miscounts, over-ordering, and excess stock. All of this equals money lost for a small retailer. A stock tracking and locating procedure prevents all of these issues and is easy to adopt once your inventory data is organized in a management system.
There are different ways to track stock locations in a store — department or category mapping, SKU numbers, barcode labels, color codes, even high-tech RFID tagging. A very simple and efficient option for any size store is creating an internal SKU system with a category or department-specific SKU coding, like this: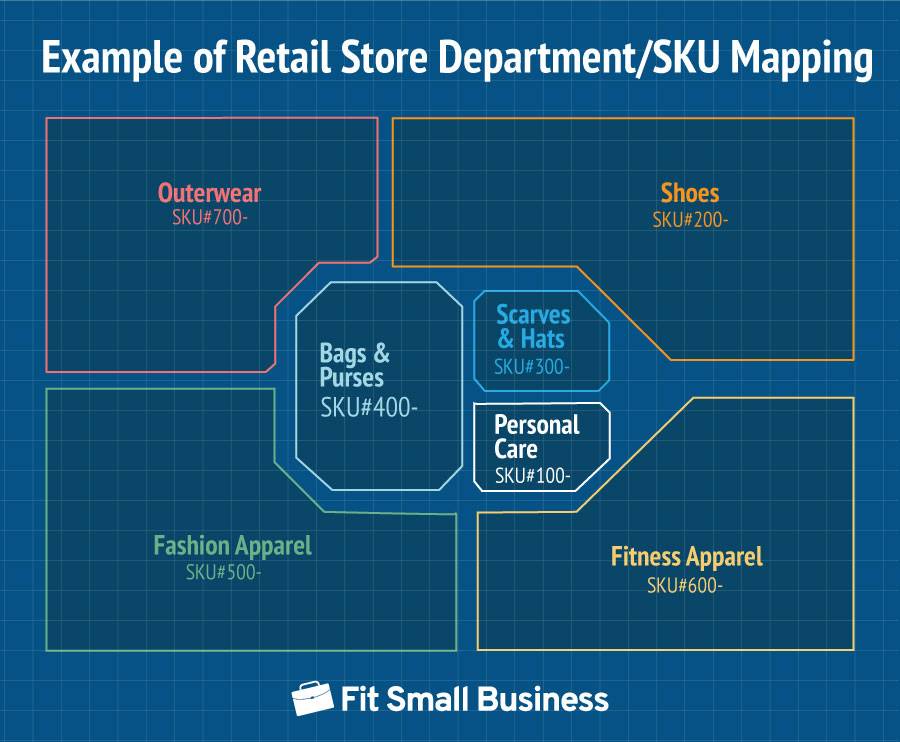 This method is easy to launch but infinitely expandable, so it's good for solopreneurs through multi-store businesses. It also works with or without barcode labels and with any type of inventory management system you use — paper records, spreadsheets, or a POS system.
Here's how to set up a SKU and Department (or category)-based Stock Tracking Procedure like the one pictured above:
Create Departments (or Categories): Create master departments and/or categories that you can group goods under.
Identify Departments In-store: Link these departments or categories to specific areas and special displays on your sales floor.
Map Your Departments: Create a physical map of your sales floor and identify these departments or category areas.
Use Product SKUs with Identifiers: Create a SKU numbering system that includes department or category identifiers within the number — see our guide to creating SKU numbers for more on this.
Assign SKUs to All Products: Create unique SKUs for all of your products using this system
Record SKUs with Product Data: Enter these SKUs when you enter your product data into your inventory management records or POS system
Print Product SKU Labels: Create and print labels with the new SKUs — with barcodes if you're using a POS system that prints SKU barcode labels with product names and pricing, like Square for Retail.
Tag Stock with SKU Labels: Tag existing and incoming stock with SKU labels during receiving procedures.
Note Overstock Storage Locations: When needed, note overstock locations in your product data system so stored stock isn't forgotten.
Note Stock Moves or Special Displays: Also when necessary, note any stock moved to different areas, such as store windows or displays, in your product data system.
Make it Public: Train staff on the new stock tracking system and post a printout of the sales floor department map in the backroom and by registers for quick reference.
Once in place, with a quick glance at a product tag or SKU lookup, you'll know where the item is located on your sales floor. This speeds up restocking and reshelving tasks, and more importantly, lets you provide better customer service and sell more goods.
3. Maintain Accurate Stock Counts
Stock counts are an integral part of any successful inventory management plan and retail store operation. If you don't know what products you have in stock and how many of each, it's impossible to place accurate restock orders. This leads to sell-outs and overstock situations — all of which impacts profits. Plus without accurate counts, you won't know when you need to reorder or when you're sitting on excess stock that needs to be marked down to move out.
Maintaining accurate stock counts prevents all of these costly headaches. Along with keeping inventory levels on-track, counts help you spot inventory problems. Issues like incorrectly shelved or displayed goods and inventory shrink from theft, unrecorded damage, or receiving errors all come to light through inventory counts.
Inventory Count Procedures guide how you handle the two different types of stock counts that retailers use — cycle counts and annual counts.
Cycle Count Inventory Counting Procedure
Periodic counts, called Cycle Counts, are partial counts of a line, department, or other groupings of goods. A Cycle Count Procedure includes:
Select Items to be Counted: Filter items in your POS system or spreadsheet, or make a list of items to count if using paper logs. Get free templates in our inventory count guide. If you track inventory using a POS system like Square for Retail, it's easy to filter the goods to be cycle counted by specific line, category, or custom selection.
Print an Inventory Count Sheet: Count sheets show the expected current amount on-hand and have a place to write the actual number of products counted.
Assign Counts to Staff or Teams: For small counts, one person can handle counting and recording numbers. But larger counts are faster and more accurate in teams of two.
Spot-check Major Discrepancies: If you find unexpected shortages or overages, double check to ensure all stock was found and counted, including overstock, and that the correct items were counted.
Adjust Inventory Numbers As-needed: Make adjustments to counts in your inventory management system and note the reasons for each adjustment for accounting purposes.
How often you perform cycle counts depends on your business and the inventory management technology system you use:
Paper Logs or Spreadsheets: If you don't adjust inventory daily or weekly to reflect sales, you'll need to perform cycle counts to get accurate stock numbers each time you reorder.
A POS System: When using a POS system like Square for Retail, stock numbers automatically update with each sale, so cycle counts will mainly help spot-check stock numbers on fast-moving goods and guard against inventory shrink through receiving errors and theft.
Annual Inventory Count Procedure
Annual counts are done for year-end accounting and tax purposes and are a full count of every item in-stock. Since these are store-wide tasks, annual counts are generally done after hours or on a day the store is closed. Depending on the size of your operation, it can be handled with just staff, or you might have helpers come in to speed up the process.
Here's an example of an Annual Inventory Count Procedure:
Prepare Sales Floor and Storage Areas: Organize and tidy all stock areas and locate any overstock that's not on the sales floor so counters don't waste time looking for products on their lists.
Have a System Cut-off Time: If you use a POS system, make sure all pending sales and returns are completed, then have a system cutoff so no sales or other inventory-affecting transactions are logged between your pulling count lists and updating the counts.
Print Inventory Count Lists: Print or prepare your count lists and sort them by line, category, or department; whichever works best for your counting teams.
Assign Two-person Counting Teams: Assign two-person teams to count specific areas, lines, or categories. Ideally, one person is counting (or scanning) and the other is recording (if using paper sheets) and spot-checking counts. The two-person team is widely used and a proven way to get the job some quickly with very few — if any — errors.
Spot-check Major Differences: Like cycle counts, if you find unexpected shortages or overages, double check to ensure all stock was found and counted, including overstock, and that the correct items were counted.
Adjust Inventory Numbers: Adjust your on-hand counts in your inventory management system after the counts and spot checks are complete, and note the reasons for each adjustment (damage, shrink) for accounting and tax purposes.
Print a Year-end Inventory Report: If using a POS system or spreadsheets, it's a good idea to create a complete printout of your annual count for your records. This should include your final adjusted on-hand numbers, plus your year-end inventory valuation for accounting and taxes.
Resume Operations: After your adjustments are complete and you print your year-end report, you can resume sales operations.
If you perform regular cycle counts, your annual count should reveal few surprises. If you do end up with big shortages or overstock issues, address adjustments and valuations with your accountant to be sure they're recorded correctly for tax purposes. Then, see if you can identify the problem — poor receiving practices, theft, inaccurate purchases due to bad stock counts — and put the procedures covered here in place to prevent these in the future.
4. Make Data-Backed Purchasing & Promotional Decisions
Once you've set up a data management system, stock tracking, and inventory count procedure, you're set to make profitable purchasing and pricing decisions. Now you can combine your sales data with your inventory numbers and make smart purchasing and pricing decisions. How you do this depends on how your track your sales and inventory — using a POS system, or manually using paper logs or spreadsheets — but it all can be outlined with procedures.
Purchasing procedures tell you what you need to purchase, how much, and how often. Pricing and promotional procedures spot slow-selling items and apply promotions to move them out quickly and profitably. Here are sample procedures for each task.
Create a Purchasing Procedure
The goal of purchasing is to order enough stock to cover sales over a period of time, but without over-ordering excess stock that you'll eventually have to mark down. This is one of the biggest ongoing tasks for any retail store owner. The procedure you'll use depends on how you track your sales and inventory — by hand, in spreadsheets, or using a POS system with automated purchasing features.
Here are the steps in a typical Retail Purchasing Procedure:
Set Aside Time for Purchasing: Rushed purchases can be problematic, so set aside time to run your numbers and make smart restock orders.
Review Low Inventory Numbers: A POS will alert you when the number hits the low threshold, and you can pull reports to see other low levels. If you use a spreadsheet, you can sort your numbers low to high. For paper records, pull your low counts or tallies.
Run Your Sales Numbers: Pull your sales reports and see which hot sellers and evergreen products are sold out, below, or nearing reorder levels. This is the start of your reorder list. A POS system does this for you, but you'll need to manually compare spreadsheet or paper logs.
Plan Your purchases: Hot selling, profitable goods that aren't hitting the end of the season should be first on your reorder list. After those, plan low-level reorders based on stock levels, how fast these items are selling (sales velocity), and how long it takes items to arrive once ordered (lead time). This is called forecasting and it's a science. Manual methods require keeping your sales and inventory records updated and accurate, and closely reviewing them each time you create a purchase order. But there are POS systems that also let you quickly and easily create purchase orders based on the reorder points you set.
Use Markdown and Promotions Procedures
Along with purchasing to maintain stock levels on hot sellers and evergreen products, you'll want to regularly review sales velocity and levels on slow-moving items, too. Slow movers should be marked down and moved out as quickly as possible to free up cash and floor space for more profitable items.
Slow movers include:
Products Related to Slowing Trends: Trends hit hard and these items can be some of your best sellers, for a short while. If you stocked up, put these on sale the minute you see the trend dip because they rarely make a quick comeback.
Seasonal Products Nearing the End of the Season: Swimsuits, holiday-themed goods, outdoor dining, and winter sports gear, the list of seasonal goods goes on and on. Put these items on sale mid-season to ensure you don't have them on clearance at loss pricing months later. Or, put return agreements in place with suppliers for unsold seasonal goods — many do this.
Bad Buys: Are tea cozies not the comeback hit you thought they'd be? Or are the must-have see-through jeans not flying off the shelves? Cut your losses fast on bad buys by slashing prices. Or, if you're taking a chance on specialty market goods, have a return agreement with your supplier in case the product is a dog.
Don't hesitate to clear out your slow movers regularly using Markdown and Promotion Procedures.
Identify Slow-movers: Purchasing reviews are a good time to scan for your slow-movers
Create Markdown Schedules: Have a markdown plan over a prescribed time period, 10 percent off for week one; 15 percent off for week two, and so on. This bumps up sales at more profitable price points rather than instant deep discounts.
Use Sales and Savings Displays: Don't hide your sale items in a sad clearance corner. Instead, use them for attention-grabbing displays to draw customers throughout your store.
Send Out Promotions: Market deals through social media, ads, email, and loyalty program promotions, like buy-one-get-one (BOGO) deals or invitation-only clearance events.
Discounts and markdowns are part of healthy inventory management, so don't shirk this task. Use this procedure to keep inventory moving out so you can bring in fresh stock. Done right, sales promotions customers in for the deal, plus give you the chance to cross-sell more profitable goods, too.
5. Record Stock Receipts Correctly
A receiving procedure is an inventory management technique that retailers should put in place from day one. Suppliers make mistakes, plain and simple. They ship orders short, have unreported backorders, ship the wrong goods, plus damage occurs en route. Without a tight receiving procedure to accurately check and record received goods, and catch errors and damage, you'll wind up with problems.
Inaccurate stock receipts directly affect your counts and that trickles down to all related inventory management tasks. Ultimately, receiving errors lead to surprise stock outages or unrecorded overstock, incorrect reorders, and paying for items you didn't order — all of which eats into your profits. The fix is putting Receiving Procedures in place following them to the letter. If you do, you'll sidestep huge inventory management headaches and costly mistakes down the line.
Here are the steps to include in your Receiving Procedure:
Count All Units in the Shipment: Before opening boxes or unpacking pallets, make sure you received all of the packed units expected. If your shipping labels or freight bill-of-lading state "1 of 4, 2 of 4," etc., make sure you have all four units. If not, track those to see if they're still en route and arriving separately.
Organize Your Unpacking: Unpack the entire shipment and organize products for a receiving count
Count Products Against Your Purchase Order: This is the most important step! Don't rely on your supplier's packing slip for accurate receiving — any mistakes they made can be reflected there and you won't catch them. Instead, check-in received goods against your purchase order to make sure what you received is what you ordered.
Note Errors, Shortages, and any Damage: If the received goods don't match your purchase order, note problems on the paperwork and follow up with your supplier.
Adjust Inventory Counts for Received Goods: Update the stock counts in your inventory management system. If you use a POS system like Square for Retail, you simply receive the purchase order and it automatically adjusts your stock counts. If using paper logs or spreadsheets, you'll need to make count adjustments manually.
A POS system can also make tagging goods part of your receiving process. When you receive your purchase order, you can set your POS to automatically print your price tag labels — including barcodes if you use them. This lets you get any tagging done during receiving and get goods out on the floor quickly.
6. Handle Damage, Defects & Supplier Returns Quickly
It's important to get unsellable inventory off your floor — and your books — as quickly as possible. This includes unsellable returns, incorrect or damaged stock shipments, in-store damages, and unsold stock like seasonal goods can be returned to the supplier. This inventory — often referred to as "dead stock" — has a bad habit of stacking up and affecting inventory counts and valuation reports. So, you need to regularly deal with these goods by adjusting counts and values, recording reasons, and disposing of as-needed.
Here are the steps you can use to create your own Deadstock Procedure that keeps your shop tidy and stock counts and books up-to-date.
Log All Damages and Unsellable Returns: Keep a running log of damaged goods and unsellable customer returns and plan to deal with these regularly, like weekly, bi-weekly, or monthly.
Removed Goods from Stock Counts: If you use a POS system, unsellable customer returns can be removed from counts when returns are processed, and in-store damages can be adjusted when found or in a weekly batch. For paper logs or spreadsheets, regularly review your tracking logs and make adjustments as needed.
Specify Holding Areas: Designate a space to hold damaged, unsellable, and misshipped goods off the sales floor.
Dispose of Unsellable Goods Regularly: Don't let your holding area stack up. Keep this tidy by regularly donating unsellable, but otherwise usable, goods to local charities and returning misshipped or defective goods back to suppliers — preferably using their prepaid return shipping labels. If needed, photograph damaged or defective items as a record for supplier credits. Deal with these items as instructed by the supplier.
Deal With Pullbacks Promptly: Pullbacks are items removed from the sales floor and shipped back to suppliers for credit, like seasonal goods or other unsold items with return agreements. Pull, document, and return pullbacks per supplier instructions in a timely manner to receive credit and clear your sales floor for profitable goods.
Purchasing and markdown/promotion procedures can be occasional projects for a solo operation, or daily for a busy retail store. The key factor is taking the time to deal with these important inventory management techniques to maintain stock levels for hot and evergreen goods, and clear out inventory on slow movers so you can focus on filling those spaces with profitable goods.
7. Understand Small Business Retail Inventory Metrics
At the end of the day, profits are the reason you're in business. Yes, what you do can be rewarding and feed your soul — but you also have to feed yourself and pay your staff and your bills. For that, you need money. So, a major factor in retail inventory management is knowing where your cash is invested, and if you're selling your inventory profitably.
For this, you need to understand basic business formulas and metrics, which we explore below. If you use a POS system like Square for Retail, it takes care of the math for you and delivers reports that tell the full story of your business. With paper logs or spreadsheets, you'll need to assemble numbers manually and pull out the calculator.
Procedure-wise, you simply need to regularly set aside time in your schedule to review your POS sales and inventory reports — or do the math yourself.
Product Profits
You need to know which products bring in the most profits. Some may be highly profitable but sell slowly. Others can have a low-profit margin, but a high sales volume that makes them profitable. So, you need to know these details when you review your purchasing and promotion needs.
Sometimes, slow movers are very profitable when they do sell, so there's no need to mark them down. Or, hot sellers can have impressive sales volume, but take up a lot of space and have high return rates, so in the end, they deliver few profits.
If you have a POS system, it may provide a Sales and Cost of Goods Sold (COGS) report that shows per-product profitability so you can instantly get an accurate picture of the products to make you money, and those that don't. It also reports total COGS for all products sold over a period of time, like a week, month, or year.
Without a POS system, you can determine Cost of Goods Sold (per item or overall) using the following formula applied to updated inventory numbers:
COGS = Beginning Inventory + Purchases during the period – Ending Inventory
Then, insert your per-item (or overall) sales figures for the period to determine your gross profit and profit margins. A POS system does this math for you, but you can learn more about these formulas in our retail pricing guide.
Inventory Value
It's handy to know how much cash you have sitting in inventory at any given time. This figure is important for accounting purposes, but it also gives you insight into how much profit potential you have sitting in unsold inventory. If you include product cost in your manual inventory tracking logs or spreadsheets, you can just use this formula to find per-item inventory values, then add up all of your totals:
Stock Value = (Item Wholesale Cost + Averaged Inbound Shipping) x Quantity in Stock
Inventory Turnover Rate
Once you have average inventory values and COGS number, covered above, you can determine how often you sell-through your inventory. To figure this, you'll insert these numbers into this formula:
Inventory Turnover = Cost of Goods Sold / Average Inventory
Most stores figure the inventory turnover rate on an annual basis. For example, Store A ends the year with a COGS of $250,000 and runs an average inventory value of $35,000, has a 7.14 turnover rate once we plug the numbers in:
$250,000 / $35,000 = 7.14%
While Store B's numbers have a much lower turnover rate:
$250,000 / $65,000 = 3.84%
This means that, on average, store A sold out of its inventory about 7 times throughout the year, while Store B turned its stock half as fast, and had more cash tied up in unsold goods throughout the year.
What These Numbers Mean to You
Of course, the inventory turnover rate is an average figure that includes hot sellers, slow movers and everything in between. But, it's a metric that you can use to determine whether you're stocking enough, or too much, inventory over time.
Using our example, you can see that Store A has a lower inventory investment and likely more cash-on-hand. Store B has a lot of money invested in unsold stock, which can make it vulnerable to sales slumps and less able to quickly free up cash profitably if needed.
These are just a few of the many inventory-related metrics that a successful small business should monitor. However, these three metrics — Product Profits and COGS, Inventory Value, and Inventory Turnover Rates quickly tell the story of how well you're handling your retail inventory management.
Bottom Line
Retail inventory management is critical to efficient operations and effective cash management. It's helpful to turn inventory management techniques into a set of procedures to ensure that product data, stock counts, receiving, and location tracking is all handled quickly and accurately. Procedures can be developed around whatever inventory management tools you use — paper logs, spreadsheets, or a POS system that directly ties inventory to all sales activities.
Using a POS system like Square for Retail simplifies every aspect of retail inventory management and makes it easy to create efficient procedures. It connects inventory data, sales activities, and more within one system and automates many tasks. See how Square for Retail can make a difference in your business by signing up for a free account–you pay nothing until it is used for sales.