Inventory shrinkage is the difference between a product's recorded stock count and the amount physically on hand. The difference between these two amounts is referred to as "shrink." In a retail setting, this is sometimes called retail shrink. Either way, it means the same thing—you're missing inventory you thought you had.
Shrink or lost stock can be caused by theft, inventory control issues like receiving errors, unrecorded damages, cashier mistakes, and misplaced items. Some level of shrink is an unavoidable part of retail. It is important, however, that you prevent shrinkage whenever possible to avoid losing money and time.
How to Calculate Inventory Shrinkage
To get an accurate count of your inventory and its shrinkage you must track your inventory levels. You can use our Inventory Management Workbook to create a system that will work for you. Plus, the guide includes an inventory shrinkage calculator to help automate this process.
You can calculate inventory shrink by looking at your recorded inventory and your actual count.
Inventory Shrinkage = Recorded Inventory – Actual Inventory
Here, your recorded inventory either comes from an integrated POS system like Lightspeed that will automatically track and run reports on your inventory or from a manual count that you do yourself by hand.
In this case, your inventory shrinkage will be the actual amount of inventory you lost, expressed in units.
Say you run a gift shop, and at the beginning of the tourist season, you recorded 500 units of ornaments in your inventory management records. At the end of the season, your ornaments are gone, but you only sold 477 of them. In this case:
Inventory Shrinkage = Recorded Inventory – Actual Inventory
Inventory Shrinkage = 500 – 477
Inventory Shrinkage = 23 units of ornaments
You can also track your inventory shrink using the inventory shrinkage rate. Your inventory shrinkage rate measures the percentage of goods lost between what you recorded and what actually sold.
Inventory Shrinkage Rate =
Recorded Inventory — Actual Inventory
× 100
Recorded Inventory
Unlike for inventory shrinkage, your inventory shrinkage rate is expressed as a percentage.
Going back to the same example. If you wanted to find the rate of inventory shrinkage for your ornaments, you would follow this formula:
Inventory Shrinkage Rate =
Recorded Inventory — Actual Inventory
× 100
Recorded Inventory
Inventory Shrinkage Rate =
500 — 477
× 100
500
Inventory Shrinkage Rate =
23
× 100
500
Inventory Shrinkage Rate = 4.6%
In this case, the inventory shrinkage rate is 4.6%, meaning that something is happening where 4.6% of your gift shop's ornament inventory is going missing. If nothing is done, then you can expect to continue to lose 4.6% of your ornaments to shrinkage.
The average shrink rate for retailers nationwide is 1.6%. However, over 15% of retailers have shrink rates of 3% and higher.
Causes of Inventory Shrinkage
Typically, you attribute shrinkage to either shoplifting/theft or recording errors. Here we will look at the typical causes for inventory shrink so that you can spot (and stop) them at your business.
Shoplifting & Customer Theft
The 2020 National Retail Security Survey found that shoplifting incidents are at an all-time high and now account for 1.62% of a retailer's bottom line—costing the industry $61.7 billion. This is staggering, but you get an even better idea of how shoplifting can impact your store when taken on a case-by-case basis.
Did you know?
The average shoplifting incident amounts to $461.86 in merchandise.
Shoplifters take advantage of vulnerable and unobserved areas in your store. The spaces between aisles and racks and dressing rooms are a few ideal places to do their dirty work.
Businesses that sell high-value, high-demand products are also often targeted by shoplifters. For example, when I managed retail spas, aestheticians had to put away products after finishing treatments and before leaving the room. Before we started that practice, it was common for customers to slip skincare products into their purses or pockets when redressing after a treatment.
Tag swapping is another pervasive form of retail shrink that directly affects inventory numbers and profits. Tag-swappers place a lower-priced item's tag on a higher-priced product and then complete the purchase. This strategy hides the theft initially, but it throws inventory numbers off for both goods. Unfortunately, most retailers detect this during stock counts, long after the fact.
Other types of customer theft, like coupon scams or online fraud, also affect your profits and bottom line but aren't necessarily revealed as missing units. You can spot this type of loss by examining sales figures and discount reports—this is where using a robust POS system really comes in handy.
Employee Theft
Although employee or internal theft is the exception and not the norm, the cost of just one dishonest employee on average is $1,551.66.
Unfortunately, internal theft can be tough to spot and remedy. Since employees have access to extended areas of the store and know sales and inventory control processes, it's easy for untrustworthy staff to steal goods under the radar. Marking sellable goods as damaged, stock receipt miscounts, sliding items to friends during checkout, and applying excessive discounts are some of the ways internal theft takes form.
Later, we will look at some of the ways you can deter employee theft, from making a pleasant work environment to installing access controls.
Stock Control or Clerical Errors
Stock control and clerical errors are other common causes for retail shrink. Some errors might be as simple as miscounts and do not reflect physical losses. Others can be costly, like recording all of the goods in a supplier shipment as "received in full" when some items were actually missing from the shipment.
Clerical errors can also create a false sense of inventory shrinkage because they result in an inaccurate picture of your actual inventory counts. For example, if you thought that you had 120 units of a shirt and recorded it as such, but then you really only had 100 units and lost none, you would falsely believe that your shrinkage rate was near 17%.
We will go into more detail below, but the best way to mitigate recording errors is to automate your inventory management with a POS system wherever possible.
Tips for Preventing Inventory Shrinkage
While you most likely will face some amount of shrinkage in your retail business, you can take steps to mitigate issues like theft and clerical errors to minimize your retail shrink. Here we will look at strategies and technologies that you can use to prevent customer theft, employee theft, and reporting errors.
Shoplifting and Customer Theft Prevention
As we mentioned earlier, theft can affect your bottom line drastically; with more than 400 million incidents of shoplifting per year, it's a serious issue that you need to arm your business against. Here we will take a look at some of the ways that you can prepare your business for shoplifters and deter them from taking your goods.
Position Your Checkout Near Entry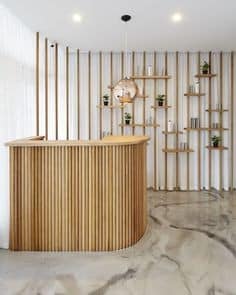 When planning your retail store layout, position your checkout near your store's entry, so that you and your staff are positioned by the exit path. This will make it easy for associates to see every person that comes and goes, deterring both grab-and-run thieves and more savvy shoplifters.
Tip: Train your staff to greet every customer as they enter so any would-be thieves know they've been seen and can be described to authorities.
If you can't place your checkout counter at the entry, just make sure that there is a clear line of sight from your cash wrap to the exit. Mirrors or cameras, as we'll discuss next, can also help. For example, my boutique was a long rectangular room with a small space jutting out to one side in the middle of the rectangle. My cash wrap was in this jutted-out space, but I still had a line of sight to the exit, and there were mirrors to help me keep watch over the areas of the store that were harder to see.
Install Obvious Mirrors, Signage, and Cameras Throughout the Store
Don't be afraid to let customers know you're watching them. Honest customers won't care, and the precaution will make thieves wary. Security mirrors and video cameras can be placed strategically so that you can watch over areas that are hard to see from the checkout and other staffed areas. Add a few signs letting people know that they are being watched.
Additionally, if you do suspect a theft, video footage can be provided to authorities and used for insurance claims and staff training. Anytime someone would steal from any of our boutique locations, all management would receive a photo of the thief from the security footage with instructions about what to do if they shopped with us again.
Display Expensive Goods in Secure Cases or Areas
Higher-end goods are not only more alluring to thieves, but their loss will also be a bigger hit on your business. Take extra steps to protect your expensive goods with secure cases or by placing them close to watchful eyes. Your register or other areas where staff members are always present are great places to merchandise your most valuable items.
Here are a few good examples of cases for displaying high-value items:
Try a Security System
According to a survey from the National Retail Security Survey, in 2020, seven in 10 retailers said that they were going to invest in technological tools to address theft and the resulting shrinkage issues. This makes sense. Not only does the sight of a camera act as a huge theft deterrent, but security systems also allow you to keep watch over your store, sound alarms, and get alerts if something were to happen.
If you are interested in trying a security system, we recommend SimpliSafe. SimpliSafe provides an affordable option with 24/7 monitoring, customizable program options, app-based controls, and a proven ability to effectively save businesses money.
Train Staff for Theft Warning Signs
Train your staff to look out for any suspicious behavior and report it without hesitation. Have them assist customers entering and exiting dressing rooms and pay attention to what merchandise goes in and comes out. During checkout, you can also train your clerks to spot-check that purchased bags are empty and that tags correctly match the items. Also, warn your staff to watch that customers leave wearing what they came in with—not pieces from your racks.
Remember, while you want your staff to do what they can to prevent theft, you should never encourage anything that might jeopardize their safety. Deterrent methods like those above are great, but tell your staff never to try to stop a leaving thief nor approach anyone aggressively.
---
Employee Theft Prevention
Employee theft is a frustrating topic and often uncomfortable to broach. However, every retail store owner eventually comes across a less-than-honest employee. And even otherwise loyal staff sometimes push the limits by stacking discounts or giving employee discounts to friends.
Here are six ways to protect your business from less-than-upstanding staff:
Implement a Strong Screening Process for New Employees
The best way to prevent employee theft is to hire honest staff in the first place. Retailers are proactively taking steps to find better candidates and identify red flags during the hiring phase. Increased employee screening has been adopted by more than a quarter of retailers to help fight inventory shrinkage from internal theft.
Run background checks (such as those done by GoodHire), follow up with references, and incentivize employee referrals to grow a strong team.
Use a POS System With Employee Logins
A POS system that supports unique staff logins gives business owners a powerful tool to prevent employee theft-related inventory shrinkage. Assigning each staff member a unique ID makes it easy to track every transaction they make. POS systems let you see detailed reports, and see which staff member handles receipts, sales, inventory adjustment, returns, and even applied coupons to sales. If you uncover shrink, like a stock receipt that doesn't match the vendor's bill, you can see who logged the receipt and investigate the issue.
You can learn more about POS systems on our website, or if you want to try one for yourself, we recommend Lightspeed.
You can also use staff logins to limit staff access to only the systems and areas they need to get their job done. With a POS system, you can assign specific permissions to staff IDs that allow or disallow actions like stock adjustments, price changes, discount creating, and purchase order receipts. This way, only employees you trust can access shrink-sensitive data.
Conduct Regular Audits
An audit is when you pull sales reports, investigate your inventory, and take stock of your physical storefront to assess the overall health of your merchandise and brand. Audits are great for detecting shrinkage; if done regularly, you won't be swimming in reports, so it will be easy to track down the source of any discrepancies.
Audits not only let you stay on top of things and track down the source of retail shrink, but they also deter employees from engaging in theft and make stealing much more difficult to get away with. For example, say a staff member offered her friend an employee discount for her whole purchase. You would see this in the audit, and with your sales record, you could see who rang up the transaction and investigate further.
Install Video Cameras in Stock Room and Behind Register
Don't hesitate to use video cameras in your store's backroom and break, storage, and receiving areas. Employees have access to many out-of-the-way spots in your store, and that's where theft generally occurs. Review footage regularly to ensure staff is not taking advantage of their employee privileges.
Use Staff Checks and Balances
Stock counts and receiving tasks are opportunities for dishonest staff to hide theft within inventory adjustments and stock receipts. Having a two-person system for stock check and receiving creates more accountability and makes it harder for dishonest employees to steal.
If you're afraid staff might be teaming up on theft, step in yourself to make sure the numbers add up correctly. As we will cover below, accurate stock counts are extremely important, so take steps like double-checking and assigning two-person teams to make sure that your stock records are collected honestly.
Create a Positive Work Environment
Your staff is made of humans, and humans need to feel happy and motivated if you expect high performance. Part of this involves creating a positive work environment. If your employees respect you and your business, they will be less likely to try and take advantage.
Pay your staff appropriately, offer perks and benefits, and treat them with compassion. Remember, you want your employees to be honest, as well as ambassadors of your business both on and off the clock.
---
Clerical Error Prevention
Accurate stock counts are essential for spotting theft-related shrinkage quickly. Clerical errors, however, happen all the time, despite being the easiest inventory shrinkage issue to solve. It is typically a matter of fixing your receiving, counting, and tracking procedures as well as automating your processes.
Here are steps you can take to mitigate clerical errors:
Implement an Inventory Management System and Procedures
Establishing a sound inventory management system is the first step for preventing inventory shrinkage due to clerical and stock control errors. Creating a set of inventory management procedures will help you accurately order, count, and receive your merchandise so that you know exactly what quantities you have.
For example, when we would receive shipments at my store, we would count and divide the items among our different boutique locations to ensure that the numbers we were expecting actually came to fruition. Through the counting system that we had in place, we rarely let shrinkage issues get by us and maintained an accurate count.
After the initial count, you can continue to manage your inventory manually, although we recommend an integrated POS system like Lightspeed to track your merchandise and run reports on your sales. This will not only help you maintain accuracy in your stock counts, but it will save you time and allow you to spot shrinkage faster and easier.
Conduct Regular Cycle Counts
Cycle counts are partial stock counts conducted regularly to spot retail shrink and other stock control issues, like misplaced or mistagged stock. For example, if you own a general store, you might count all of your tools in a cycle count every week and then all of your car equipment in another cycle every three months.
In an ideal world, you would perform cycle counts for all your merchandise daily, but as a general rule of thumb, be sure you are doing cycle counts for each product at least once a quarter. You will want to keep a closer eye on your more expensive inventory through more frequent cycle counts. A $300 television would be a bigger loss than a $1.99 soft drink, after all.
Use Barcode Labels to Prevent Scanning Errors
Another way that you can prevent clerical errors is by tagging your merchandise with scannable barcode labels and SKU numbers. This will reduce associate entry errors and speed up your checkout process. Additionally, if you use an integrated POS like Lightspeed, scannable barcodes and SKU numbers will keep your sales and inventory counts accurate.
Try First-In, First-Out (FIFO) Inventory Management
The first-in, first-out inventory management, known as FIFO, assumes that your oldest items get sold first. This inventory management system is used widely by businesses that sell products that spoil or have expiration dates, like food, personal care, and cosmetics. Promoting FIFO in your inventory management typically looks like shelving older items in front of newer items and running promotions on old products. Because you look a bit closer when shelving, it helps catch misplaced items and keep your stock under control.
Receive and Record Stock Shipments Quickly and Accurately
Receiving stock shipments promptly and correctly helps prevent all sorts of inventory shrinkage headaches. To receive inventory correctly, companies should receive and unpack all boxes in the same space, count each box, and check the items received against original purchase orders.
You should only record your inventory numbers after vetting them closely. Sloppy receipts lead to inaccurate numbers, missing inventory, and payments to suppliers for stock not received.
Remove Damaged Items From Stock Count
Damaged goods are inevitable in retail. Inbound stock can suffer damages in transit, and in-store shoppers damage products and reshelve them to avoid having to pay—it just happens. When you discover damage, it's important to quickly adjust your stock count and then dispose of the item. If you don't, your counts will be off, and the missing unit will falsely look like a shrinkage issue after you've forgotten about the damaged goods.
Be sure to make this a store policy, and educate your staff on how to dispose of and record damaged goods.
Automate Where Possible
Did You Know?
According to the 2020 National Retail Security Survey, POS analytics remains the most popular loss prevention measure, deployed by 56.5% of retailers; only 20% of surveyed retailers had no current plans to implement POS analytics.
If you can automate your processes with software solutions, do so wherever possible. This will not only make your inventory counts more accurate, but tech solutions will also make all of your inventory processes faster, allow you to pull retail analytics reports, make it easier to budget, give you insights into your revenue stream, and make it easy to learn more about your customer base. The solutions are endless, and you should utilize them wherever you can.
---
Bottom Line
Inventory shrinkage can be a huge detriment to your business and lead to huge losses. Either due to theft or clerical errors, inventory shrinkage is a part of retail, but that doesn't mean you shouldn't try and prevent it. Here, we looked at how you can calculate your inventory shrinkage, the issues that typically cause shrinkage, and ways that you can mitigate shrinkage in the future.
You May Also Like