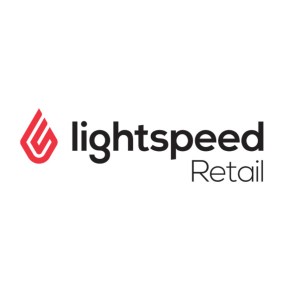 Lightspeed Retail is a popular cloud-based POS software that's typically used by brick and mortar shops with extensive inventories or high SKU counts. Lightspeed offers one of the best POS systems for small businesses because the software includes unbeatable stock management and analytic insights at a price point that's accessible to small businesses.
In the News: Lightspeed Supplier Network
On January 12, 2021, Lightspeed launched a supplier network that allows retailers greater efficiency and visibility into their supply chains. With the network, retailers can discover products, submit purchase orders, and track shipments from within Lightspeed POS.
What We Recommend Lightspeed Retail For
After spending years reviewing POS systems and demoing Lightspeed Retail, I can say it offers some of the most robust and granular product management features out of any system I have reviewed. Lightspeed does an excellent job of providing reports with data and takeaways that are easy to understand, with graphics, tips, and instructions on how to interpret the data.
Although Lightspeed is primarily a point-of-sale software, the company also offers a comprehensive ecommerce platform that rivals standalone ecommerce solutions like Shopify and BigCommerce.
In particular, Lightspeed is best for:
When Lightspeed Retail Would Not Be a Good Fit
For new businesses with limited SKUs: New storefronts and shops with a limited inventory selection simply might not need all of the features Lightspeed offers and could be better served with a more streamlined mobile POS app.
Businesses on a budget: New and small businesses looking the most affordable option might be better served with a free POS system.
Food-based retailers: Lightspeed is not one of our recommended choices for convenience stores or cafes and coffee shops.
Lightspeed Retail Overview
| Lightspeed Retail Pros | Lightspeed Retail Cons |
| --- | --- |
| Granular matrix inventory management | Pricey |
| 40+ pre-set reports with data visualizations and customization options | Complex interface |
| Powerful integrated ecommerce platform | Steep learning curve |
| Free trial | Not available on Android |
| 24/7 support and free onboarding | |
| Built-in RACS compliance | |
Lightspeed Retail Pricing
Lightspeed Retail has five different pricing plans. While each plan offers unlimited products and transactions with built-in payments, each level up adds new features. The prices below are for one register. Additional registers are $29 each per month. Every plan also comes with a free payment terminal. Enterprise-level and high-volume customers can negotiate custom packages.
Basic

Starter

Standard

Advanced

Pro

Monthly price

(monthly billing)

$79

$119

$139

$189

$259

Monthly price

(annual billing)

$69

$99

$119

$169

$229

POS and Payments

✔

✔

✔

✔

✔

Ecommerce

N/A

✔

✔

✔

✔

Accounting

N/A

N/A

✔

✔

✔

Loyalty

N/A

N/A

N/A

✔

✔

Analytics

N/A

N/A

N/A

N/A

✔
Lightspeed Retail Payments
Built-in, flat-rate payment processing
2.6% + 10 cents for chip, tap, and swipe payments
2.6% + 30 cents for keyed-in payments
Contactless payments
Volume discounts for retailers processing over $250,000
Dispute management and chargeback assistance included
EMV compliant, end-to-end encryption
Recurring and membership billing with Lightspeed Subscriptions
More and more POS systems are offering built-in payment processing, and Lightspeed is no exception. This is a great option for many small businesses because it streamlines your operations—you're just working with one tech company for POS and payments.
Lightspeed also allows retailers to connect an outside payment processor. However, this option comes with higher monthly software fees.
Lightspeed Retail Hardware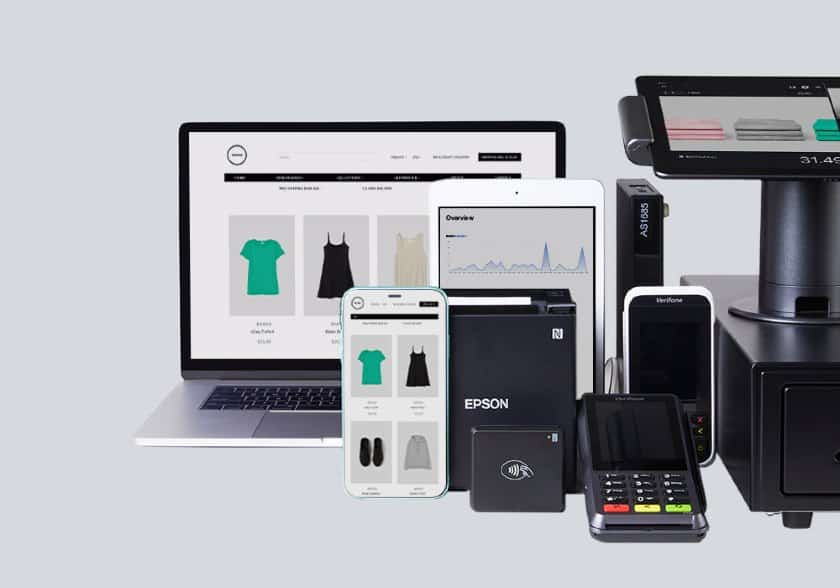 Lightspeed is a browser-based POS, meaning it can run on any computer. Lightspeed also has an iPad POS app so you can use an iPad as your main register or to process transactions on the sales floor or curbside.
Businesses can use their own hardware, or purchase kits and individual items directly from Lightspeed. For new businesses, Lightspeed offers two starter kits that range from $500 – $1,000 depending on the model and version of each piece of equipment:
Desktop hardware kit: USB receipt printer, cash drawer, USB scanner.
iPad hardware kit: LAN receipt printer, cash drawer, Bluetooth scanner, iPad stand, receipt printer.
iPads and computers/monitors sold separately. Individual items for purchase include:
Zebra label printer
Cash drawer
Bluetooth bar code scanner
USB bar code scanner
TM-m30 printer
Mobile card reader
iPad countertop stand
Verifone P400 terminal
Many POS systems lock you into using their proprietary hardware. That's not the case with Lightspeed. We like that it can be used on any desktop, laptop, or iPad. This flexibility really reduces your startup costs, allows you to choose the hardware you're most comfortable with, and if you ever need to switch systems in the future you are not stuck with unusable devices.
Because of this flexibility, Lightspeed is one of our top choices for:
Lightspeed Retail Features
Lightspeed Retail is a flexible POS designed for businesses in the apparel, bike, footwear, CBD and vape, electronic, gift, decor, liquor, pet, sporting goods, and toy industries. In particular, Lightspeed is built for small to medium storefronts that want all the tools you need to scale your business and compete with chain stores.
Robust inventory and analytics tools are the main draws for Lightspeed, though it also has a really strong ecommerce platform with integrated marketing tools and an omnichannel customer loyalty program. The main drawback of Lightspeed is all of these features result in a busy and complex interface.
When ringing up a sale, you can scan in items with a SKU or UPC code (Lightspeed supports bar coding) or search for products by the item name or keyword. When starting a transaction, the cursor defaults to the item field, so if you just start scanning, the products will be added to the sale (which is nice, and not the case in some legacy POS systems).
It's also possible to scroll or filter through your entire product catalog if needed. This is slightly different from other popular app-based POS systems that organize the checkout and product search screens by categories and using icons.
You'll have the option to attach a customer to the sale, collect as much information as needed, and add custom notes to each transaction. You can also add discounts to each item or the entire transaction, but you can only choose from discounts you have already added in settings. At any point, save the transaction so you can navigate to other functions, and pull it back up to complete the sale at any time. When completing the sale, Lightspeed offers an array of payment options including gift cards, layaway, on-hold, cash, check, credit, debit, and NFC mobile wallet payments.
We'll dive into Lightspeed's inventory, analytics, ecommerce, and loyalty features below. In addition to those core features, Lightspeed also offers:
Accounting integration: Connect your POS to QuickBooks Online, QuickBooks Desktop, Xero, or Sage One for automatic nightly sync of your sales and purchasing data.
Mobile access: Access reports and business data anywhere from any mobile device.
Personalized branding: Customize your POS according to the look and feel of your store.
Multi-location management: Manage multiple storefronts through one account with centralized reporting, inventory, and customer data.
Third-party integrations: In addition to accounting integrations, Lightspeed also connects with over 50 other popular software including Drizzly (online liquor sales), Homebase (employee scheduling), Mailchimp (email marketing), RetailNext (foot traffic counting and analytics), and SKUvault (warehouse management).
Lightspeed Retail Inventory Management
Customizable matrix inventory
Built-in purchase ordering
Over 3,000 pre-loaded vendor catalogs
Serial number and SKU tracking
Real-time low-stock alerts
Bulk import, edit, and download tools
Track assembled products
Word-order management
Track unit costs
Change pricing and price rules in bulk
Granular variant control
Automated return management
Vendor returns
Lightspeed's robust inventory features are included with every plan, even the Basic package. This is rare, as most POS systems that offer advanced inventory tools charge a premium to access tools like return and work order management.
Lightspeed's software covers all the inventory tracking basics—real-time stock counts based on transactions, low stock alerts with customizable reorder points, product descriptions, and options to organize products with tags and categories. Create and track serial numbers and/or SKUs, and manage bundled or kitted products.
Standout features include the ability to manage products purchased in bulk, yet sold individually such as water bottles or built-your-own six packs. Lightspeed also has features to book service and repair appointments, set up the order, monitor progress, print claim checks, and bill based on time worked. Create quotes, invoices, or orders that can be turned into sales. Attach photos to work orders to send to customers such as for before and after photos.
We've already mentioned, but it's worth repeating, Lightspeed has over 3,000 built-in product catalogs. Most POS systems include features to track reorder points and reports you can export and use to create purchase orders in a separate email. Lightspeed, however, lets you manage vendors, submit purchase orders, and track orders all from within the software. Plus, when receiving orders, you can use the Return to Vendor feature to send back incorrect or damaged orders, or customer returns that fall under warranty.
These detailed product management tools also tie nicely into Lightspeed's reporting functions, which we'll detail next.
To learn more about how to use Lightspeed's inventory tools, read our how-to guide on managing inventory with Lightspeed Retail.
Lightspeed Retail Reporting and Analytics
Lightspeed Reporting
Included in every plan
40+ built-in reports
Sales tracking
Multi-location management
Employee performance tracking
Graphs to easily view information
Lightspeed Analytics
Only available in Pro-level plan
Customizable reports
Automated data visualizations
Three separate dashboards for inventory, employees, and customers
Guides for how to use reports
Schedule custom report emails
Although Lightspeed's advanced Analytics platform (which we highly recommend for businesses looking to scale) is only available in the Pro plan, Lightspeed Reporting is included with every plan and comes with over 40 built-in reports for revenue, inventory, and employee performance. See sales, profit, and items sold over any period of time. Print or export reports as needed, filter data too.
Because Lightspeed has such detailed inventory, vendor and purchase order management, you can easily track individual product costs and margins. Lightspeed can help make your products work for you by anticipating shopping trends so you have the right items in stock at the right time. Also identify old inventory that is eating into your cash flow.
In addition to product insights, Lightspeed 40+ built-in reports include employee performance tracking. See how often employees are capturing customer data like name and email address, view average order or basket sizes, and how often employees are discounting. The employee reporting tools also help you plan with scheduling for peak rush hours.
Lightspeed's Analytics tool, which is only available with the Pro plan, offers more in-depth and customizable reports. Quickly see which inventory is turning a profit, taking up space, or costing money. Insights are broken up into three separate categories with their own dashboards: Sales and Inventory, Employee Performance, and Customers and Marketing.
The interactive dashboards for each of these categories includes a snapshot overview of your data. You also get notified if there are any issues that need to be resolved in order to make the reports more accurate. For example, if you are trying to see your most profitable product categories, but have uncategorized products.
In the Analytics dashboards, you can view helpful reports, customize them, or create new ones, and view an automated data visualization for each one. The visualizations make it a lot easier to interpret reports, especially if you are new to using a data-driven approach to make decisions around things like product ordering and employee scheduling. You can also set business goals or employee performance goals and monitor progress.
However, one of the most valuable aspects of Lightspeed's Analytics tool is the guide provided with each report that walks you through what the report is, how and when to use it, along with tips on how to interpret the information and even actionable insights you can take based on the information.
This is extremely valuable, because while some other POS systems offer detailed reports, Lightspeed does the best job at helping to translate the information into actual takeaways and next steps so there is no guesswork involved.
If you want to try these tools out for yourself, Lightspeed offers a free 14-day trial with no credit card required. Visit Lightspeed to test the Analytics platform firsthand.
Lightspeed Retail Ecommerce
50+ mobile-friendly, customizable themes
Syncs with in-store POS
Centralized product, data, and customer management
Buy online, pickup in-store
Customers can leave product reviews
Shipment tracking codes
Order tracking
Conversion reports
Google Pay and Apple Pay one-click checkout
Real-time product counts across in-store and online orders so you can't oversell items
Built-in SEO tools
Facebook and Instagram integration
Monitor marketing campaigns
Shoppers profiles for returns and wish lists
14 languages, multiple currencies, and international shipping options
App marketplace
Integrated shipping carriers
Though Lightspeed doesn't function as a standalone ecommerce platform like Shopify or BigCommerce, it offers a powerful online selling solution for brick and mortar retailers. Choose from over 50 professionally designed themes that are mobile-friendly and can be customized to your store. Options include themes specifically designed for apparel, bike, electronic, home decor, jewelry, and sporting goods retailers.
Sync your inventory from your POS to Lightspeed ecom for centralized management including low-stock cutoffs and providing customers with visibility into product availability.
Add more detailed descriptions into your product pages and upload HD photos. Optimize your product listings for SEO with meta descriptions, keyword tags, and page headers. Add extra features like a blog, testimonials, size guides, and embedded videos. Once your site is built, preview your online store before launching.
Once live, customers can create accounts to leave product reviews, start a return or exchange ticket, and create wish lists. These are great tools that, surprisingly, are not included in base or mid-level packages of many popular ecommerce platforms. So, although Lightspeed is primarily for brick and mortar stores, the online features do not disappoint.
For multi location retailers, customers can view product availability at different locations. If you want to expand your customer base internationally, Lightspeed ecommerce supports 14 languages, multiple currencies, and variable or flat international shipping rates.
View a conversion report to see where you can increase online sales. Offer buy-one get-one (BOGO) discounts at checkout to boost average order values. Offer your customers free shipping for orders over a certain size for different regions (so the offer doesn't eat into your margins for customers that are further away from your shipping center). You can also perform A/B tests on your checkout screen to find the best feature configurations, and integrate your Lightspeed account directly with shipping carriers for streamlined fulfillment.
Lightspeed Retail Loyalty, Customer Management, and Marketing
Customer database
Points-based omnichannel loyalty program
Auto-segment customers based on purchases
Drag-and-drop email builder
SMS and email promotions
Sell products on Facebook and Instagram
Built-in blogging tools
Promotions and coupons
Automated birthday coupons
Track customer habits
Although every plan includes a customer database, the Standard plan offers online marketing tools like email marketing, blogging, and customer behavior tracking. The Advanced and Pro plans include the omnichannel points-based loyalty program to reward customers for purchases at any store location or through your online store. The Advanced and Pro plans also offer categorized rewards, automated smart customer groupings, and one-time rewards such as for birthdays or VIP customers.
Lightspeed Retail Ease of Use
24/7 support
Guided onboarding and setup
Bulk product upload and data editing
Compatible with any computer or iPad
Library of guides and videos
Busy interface
However, all of the features create a much busier interface than some of the more streamlined app-based POS systems that are available to small businesses. It can take some time to learn the ins and outs of Lightspeed and to configure everything to your liking.
Considering the detailed features Lightspeed offers including flexibility with inventory management and robust customer profiles, it's initiative to operate and user-friendly in the sense that all of the functions are where you would expect to find them.
At checkout, specialty stores will appreciate the options to add detailed customer information and transaction notes. However, for high-volume retailers, the number of possible entry fields could result in a slower checkout process.
Lightspeed Retail Alternatives
| Square for Retail | Vend | Shopify |
| --- | --- | --- |
| Best for: New stores wanting free POS software | Best for: Growing brick and mortar retailers | Best for: Multichannel retailers |
| Software from: $0 | Software from: $99 | Software from: $29 monthly |
| Hardware from: $49 | Hardware from: Varies | Hardware from: $49 |
| | | |
If you're not sure Lightspeed is right for you, see how it compares with other popular retail POS systems.
What Users Think of Lightspeed Retail
Users and other critics alike agree with our assessment of Lightspeed Retail being a top POS choice for inventory management. At the time of publication, Lightspeed has earned the following scores on popular user review sites:
Finances Online has a Customer Satisfaction Algorithm that gathers reviews, comments, and opinions on software from many different social media sites and analyzes the data to provide a score out of 100. According to their algorithm, Lightspeed Retail has a 98% user satisfaction rating.
When reading through Lightspeed POS reviews, here are some of the trends that I noticed:
| Users Like: | Users Don't Like: |
| --- | --- |
| Speedy and helpful customer service | Pricey |
| Comprehensive system | No features to manage rentals |
| Detailed inventory management | Complex to use |
| Easy implementation with lots of training | No functionality without internet connection |
Bottom Line
Lightspeed Retail offers incredibly robust inventory management that is ideal for almost any independent retailer. Plus, the user-friendly analytics platform provides insights to keep your business profitable. Top-of-the-line ecommerce tools help your shop compete with the chain stores in your neighborhood. Though Lightspeed is pricier than other options, and has a more cluttered interface due to all the features, I believe it offers a great overall value for retailers, especially if you are serious about growing your business.
Visit Lightspeed for a free 14-day trial, no credit card required. Or, continue reading below to see what other small business owners think of the software.