2022 Lightspeed POS Review for Retailers
This article is part of a larger series on POS Systems.
Lightspeed is a cloud-based POS system with software offerings specific to both retail and restaurants. In this Lightspeed review, we will focus on the retail POS solution.
In our evaluation of the best POS systems, Lightspeed came in third overall with a score of 4.47 out of 5. It comes equipped with an ecommerce platform, integrated payments, and detailed checkout flow. However, what makes it truly stand out is its granular inventory control and best-in-class analytics platform.
Lightspeed

Overall Score:
4.47
OUT OF
5
RATING CRITERIA

Pricing and Contract
4.31
OUT OF
5
Register Features
3.75
OUT OF
5
Management Features
4.75
OUT OF
5
Ease of use
5.00
OUT OF
5
Expert Score
4.50
OUT OF
5
What We Like
Granular matrix inventory management
50+ pre-set reports with data visualizations and customization options
Robust, integrated ecommerce platform
24/7 customer support and onboarding
14-day free trial
Option to choose payment processor
What's Missing
User interface can take time to learn
Can be expensive for small businesses
Shipping integrations are limited
When to Use Lightspeed
When to Use an Alternative
In our Lightspeed POS review, we found the solution stands out for its robust and granular inventory management features that make it easy to manage large quantities of merchandise and stay on top of your incoming and outgoing goods.
It does an excellent job of providing inventory reports that not only display the information but also offer key takeaways, suggestions, and graphics, tips, and instructions on how to interpret the data. There is also the ability to make custom reports where you can analyze specific product sectors.
In addition to being a top POS software company, Lightspeed offers a comprehensive ecommerce platform that rivals standalone ecommerce solutions like Shopify and BigCommerce. This makes it easy to seamlessly integrate your online store with your POS system and manage all your sales channels from one dashboard.
Lightspeed is also a cloud-based POS system, so it can run on any computer. It also has a companion iPad app and mobile card reader for ringing up products on the sales floor or processing orders curbside.
While a great platform for retailers with smaller inventories or budgets, Lightspeed tends to have more tools (and fees) than are necessary. It is also not a great option for mobile sellers, as the hardware packages that Lightspeed offers are not conducive to on-the-go sales.
Lightspeed Deciding Factors

Supported Business Types

Retail

Retailers, wholesalers, dropshippers

Standout Features

Retail sector-specific POS software options
Integrated, flat rate payment
Dedicated account manager
Rich analytics and inventory management features

Monthly Software Fees

Average

$89–$269 (with Lightspeed payments) + $29 per additional register

Setup and Installation Fees

$0

$89–$269 (with Lightspeed payments) + $29 per additional register

Contract Length

Month-to-month

Lower your monthly cost by signing up for an annual plans and opting for Lightspeed payments (included free in every account)

Payment Processing Options

Lightspeed payments (option to integrate third-party processors)

Payment Processing Fees

Tapped, inserted, or swiped: 2.6% + 10¢

Manually keyed-in: 2.6% + 30¢

Customer Support

Excellent

24/7
Lightspeed POS Alternatives
If you're unsure Lightspeed is right for you, see how it compares with other popular retail POS systems.
| | | | |
| --- | --- | --- | --- |
| | | | |
| | | | |
| Monthly software fee: $0–$29 (custom pricing available) | Monthly software fee: $29–$299 | Monthly software fee: $0–$165 (custom pricing available) | Monthly software fee: $0–$60 (custom pricing available) |
| Hardware: $149–$799 | Hardware: $49–$149 | Hardware: Quote-based | Hardware: $149–$799 |
| | | | |
Lightspeed has three plans with monthly fees that vary based on features and payment cadence. It earned points because each of its plans offers unlimited products and transactions, along built-in payments. Not only that, the higher plans offer additional features to support you as you grow. It lost points for not offering a free plan, like we see with Square, and the generally high price point of its plans.
The prices below are for one register—additional registers are $29 each per month. Every plan also comes with a free payment terminal. Enterprise-level and high-volume customers can negotiate custom packages.
While Lightspeed does offer a 14-day free trial, it lost points in our evaluation for its overall high price point and limited features in the base plan.
Lightspeed Retail Pricing Plans
Plans

Lean

Standard

Advanced

Monthly price*

(monthly billing)

$89+**

$149+

$269+

Monthly price

(monthly billing)

$69+

$119+

$199+

POS and Payments

✓

✓

✓

Ecommerce

N/A

✓

✓

Accounting

N/A

✓

✓

Omnichannel Loyalty

N/A

N/A

✓

Advanced Reporting

N/A

N/A

✓
*Pricing plans are based on accounts that opt for Lightspeed Payments
**Additional $29/month/location for additional registers/locations
Check out the FAQ section at the bottom of this article for how you can save on your Lightspeed monthly fee.
Lightspeed Retail Pricing Plans
Every account includes free access to Lightspeed's in-house payment processor, Lightspeed Payments. This means that you can start accepting payments and processing transactions as soon as you sign up—there is no need to integrate a third-party payment processor. Not only that, but when you opt to use Lightspeed payments over another processor, you will save money on your monthly POS subscription fee.
Lightspeed Payments offers a flat processing rate across plans with 2.6% + 10¢ for chip, tap, and swipe payments and 2.6% + 30¢ for keyed-in payments. For retailers processing more than $250,000 each month, however, you are eligible for custom volume processing rates.
Lightspeed can take all major credit cards via contactless, chip, and swipe. You will also have access to dispute management officers and chargeback assistance, and Lightspeed Payments has taken steps to ensure your and your customers' information stay secure with EMV-compliant end-to-end encryption.
If you would rather use a third-party payments processor or operate outside of North America, Lightspeed integrates with several other options, including Worldpay triPOS, Cayan, Element Express, Mercury, Tyro, BNP, and Concardis. However, opting for a third-party processor will yield an increase in your monthly software fees.
---
Lightspeed Hardware
Lightspeed is a browser-based POS system, meaning it can run on any computer browser. It also has an iPad POS app, so you can use an iPad as your main register or use the app for mobile sales.
To run your POS system, you can either use your own third-party hardware or purchase kits and individual items directly from Lightspeed. For new businesses needing hardware, you will be paired with a sales manager who will help match you with the right equipment from top to bottom.
Lightspeed can run on any POS hardware that can pair with an internet-enabled device. You can also mix Lightspeed hardware with third-party devices.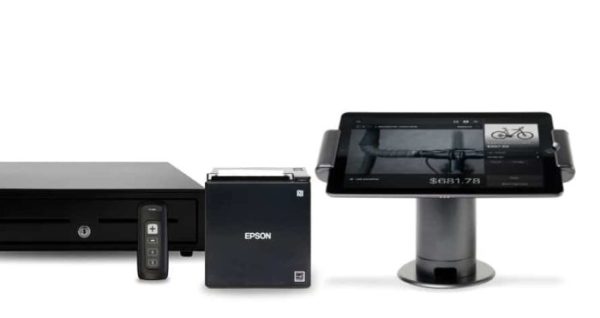 ---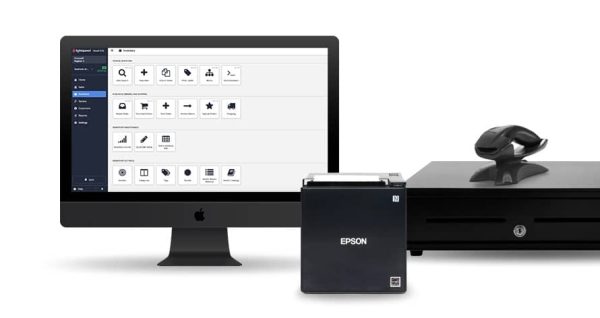 ---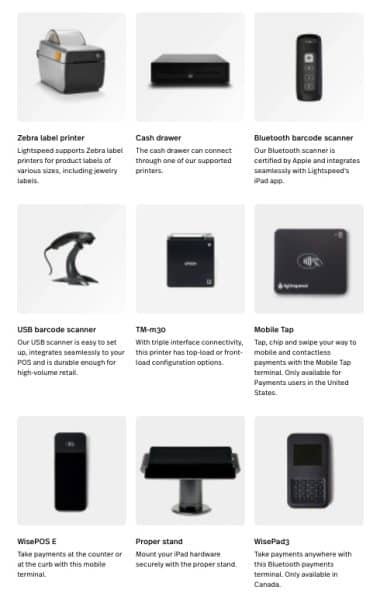 ---
---
Lightspeed earned a 3.75 out of 5 in our evaluation of its checkout screen, mainly losing points for its lack of customization options. Lightspeed does, however, feature an easy-to-use checkout process with both mobile app and desktop checkout options. The system prompts you through each transaction, making it nearly impossible for you or your staff to make errors. There is also a convenient spot on every transaction to leave notes and add customer information.
Easy Product Lookup
Lightspeed has both barcode scanning and a product search function right on the checkout screen. You cannot only search products by name and product code but also by keyword, making it easy to track down anything you need. When starting a transaction, the cursor will default to the item field, so if you start scanning or typing in items, the products will be added to the sale automatically, which is not the case with all legacy POS systems.
Auto-save Transactions
Another great Lightspeed checkout feature is that you can exit the transaction to explore other parts of your POS system, whether that be your inventory log or customer list, and then pull it back up to complete the sale at any time.
Variety of Payment Types
You have a variety of tender options with Lightspeed's checkout process, including gift cards, layaway, on-hold, cash, check, credit and debit cards, and NFC mobile wallet payments.
Detailed Customer Profiles
Lightspeed gives you the option to attach a customer to the sale, create customer profiles, and add custom notes to each transaction as you make your sales.
Controlled Discounts & Promotions
You can add discounts to individual items and your entire sales, but you can only choose from discounts you have already added in settings. By limiting the applicable discounts, you ensure that your employees only add valid discounts and make no promotional errors. Available discounts include
Percent discount
Buy one get one free
Seasonal sales
VIP discounts
Giveaways
Donations
Free shipping
In addition to a feature-rich checkout, Lightspeed has tons of backend tools to help you better understand and manage your business, earning it an impressive 4.75 in our scoring. Not only that, but Lightspeed also includes a fully-integrated ecommerce website platform, Lightspeed Ecommerce, in its Standard and Advanced plans and a fully-integrated loyalty program for Advanced subscribers.
Robust Inventory Management
Customizable matrix inventory
Built-in purchase ordering
Over 3,000 pre-loaded vendor catalogs
Serial number and SKU tracking
Real-time low-stock alerts
Bulk import, edit, and download tools
Track assembled products
Work order management
Track unit costs
Change pricing and price rules in bulk
Granular variant control
Automated return management
Vendor returns
Multilocation syncing
Integrated supplier network catalog (over 3,000 vendors)
Mobile access
Bulk pricing
While Lightspeed's price tag is slightly higher than its competition, the POS system's robust inventory features are included with every plan—even the Basic package. This is for good reason. Of everything that Lightspeed has to offer, what sets it apart from other POS systems is its advanced inventory controls and reporting capabilities. Unlike competitors Square or Shopify, Lightspeed is made to organize and track large quantities of inventory and help you manage high sales and order volumes.
Its software covers all the inventory tracking basics—real-time stock counts based on transactions across sales channels, low stock alerts with customizable reorder points, detailed inventory catalogs with rich product descriptions, and options to organize products with tags and categories.
You can also create and track serial numbers and/or SKUs and manage bundled or kitted products in order to monitor joint performances. All information about your inventory is broken down on the analytics page, where Lightspeed will also provide you with tips and key takeaways.
Want to try out Lightspeed's inventory management with its 14-day trial? Upload our downloadable inventory list to Lightspeed's inventory so that you can experiment with all the tools that the platform has to offer.
Lightspeed's standout features really come into play with larger inventory quantities and its order management features. With the POS system, you can manage products purchased in bulk yet sold individually, such as water bottles or build-your-own six-packs. You can also manage your inventory orders with its built-in purchase order forms, order tracking, and integrated supplier network catalog.
Essentially, Lightspeed lets you discover vendors, purchase their products, and then organize and track those products all from one dashboard–without involving any third parties.
---
Best-in-class Reporting & Analytics
Reporting
Included in every plan
50+ built-in reports
Sales tracking
Multilocation management
Employee performance tracking
Graphs to easily view information
Analytics
Only available in Advanced plan ($269/month on monthly billing)
Customizable reports
Automated data visualizations
Three separate dashboards for inventory, employees, and customers
Guides for how to use reports
Schedule custom report emails
Seg goals
A/B testing
Although Lightspeed's advanced analytics platform (which we highly recommend for businesses looking to scale) is only available in the Advanced plan, Lightspeed Reporting is included with every tier and comes with over 50 built-in reports for revenue, inventory, and employee performance. See sales, profit, and items sold over any period, print or export reports as needed, filter data, and explore segmented (or individual) inventory performance.
Not only will Lightspeed show you how your store and inventory are performing in real and past time, but the POS software can also anticipate shopping trends and alert you to projected stock outages. This makes keeping the right items in stock at the right time simple.
Lightspeed will even identify old inventory that is eating into your cash flow, show you your top-performing products, and allow you to run reports on specific inventory items and categories.
In addition to store performance insights, Lightspeed's built-in reports include employee performance tracking. See how often employees are capturing customer data like name and email address, view average order sizes, look at their individual shifts, and spot how often employees are discounting. The employee reporting tools also help you plan with scheduling for peak rush hours by identifying busy periods and making staffing suggestions.
With Lightspeed's advanced plan analytics tool, you can access even more in-depth reporting and have the ability to make custom reports for your unique business. On the Lightspeed Analytics dashboard, insights are broken up into three separate categories with designated reporting pages: Sales and Inventory, Employee Performance, and Customers and Marketing.
The interactive dashboards for each of these categories include a snapshot overview of your data that you can view at a glance and multiple manipulations for each report that you can use to analyze your business and make projections.
Additionally, Lightspeed ensures that your reports stay up to date with automated notifications that arise if there are any issues that need to be resolved to make the reports more accurate, such as having uncategorized products.
Further, you can set business or employee performance goals and monitor their progress with the tools in Lightspeed Analytics.
You can also create custom reports, edit existing ones, and access visual representations of all your reports' findings. In my experience, these visualizations make it much easier to interpret reports, especially if you are new to using a data-driven approach to make decisions around things like product ordering and employee scheduling.
Lightspeed, however, does not leave you hanging. It understands that data can be difficult to interpret and make actionable, so with Lightspeed Analytics, you will be provided with report walkthroughs, information on how and when to use the information, tips on how to interpret the report, and even actionable insights you can take based on its findings.
This is a feature unique to Lightspeed, making it perfect for people looking to incorporate more data-driven decisions into their business model.
If you want to try these tools out for yourself, Lightspeed offers a free 14-day trial with no credit card required. Visit Lightspeed to test the Analytics platform firsthand.
Powerful Native Ecommerce Platform
50+ mobile-friendly, customizable themes
Syncs with in-store POS
Centralized product, data, and customer management
Buy online, pick up in-store
Customers can leave product reviews
Shipment tracking codes
Order tracking
Conversion reports
Google Pay and Apple Pay one-click checkout
Real-time product counts across in-store and online orders so you can't oversell items
Built-in SEO tools
Facebook and Instagram integration
Monitor marketing campaigns
Shopper profiles for returns and wish lists
Fourteen languages, multiple currencies, and international shipping options
App marketplace
Integrated shipping carriers
Though Lightspeed doesn't function as a standalone ecommerce platform like Shopify or BigCommerce, it offers a powerful online selling solution for brick-and-mortar retailers that integrates seamlessly with your POS system.
To begin building your Lightspeed ecommerce site, choose from over 50 professionally designed themes that are mobile-friendly and can be customized to your store. Options include themes specifically designed for apparel, bikes, electronics, home decor, jewelry, sporting goods, and other niche retailers.
Add more detailed descriptions to your product pages, upload HD photos, and optimize your product listings for SEO with meta descriptions, keyword tags, and page headers. You can also incorporate extra features like a blog, testimonials, size guides, and embedded videos.
Once live, customers can create accounts to leave product reviews, start a return or exchange ticket, view in-store availability across locations, and create wish lists. At the same time, all your online orders, inventory levels, e-shop visits, and overall store performance will be measured in real time right on your POS system.
You can view reports about your online store, analyze its performance, manage your orders, and watch as your customer database grows across your sales channels—all from a single platform.
These web and reporting tools are surprisingly excluded in base or mid-level packages of many popular ecommerce platforms, like Shopify. So, although Lightspeed is primarily for brick-and-mortar stores, the online features do not disappoint.
If you want to expand your customer base internationally, Lightspeed ecommerce supports 14 languages, multiple currencies, and variable or flat international shipping rates.
Loyalty, Customer Management & Marketing
Customer database
Points-based omnichannel loyalty program
Auto-segment customers based on purchases
Drag-and-drop email builder
SMS and email promotions
Sell products on Facebook and Instagram
Built-in blogging tools
Promotions and coupons
Automated birthday coupons
Track customer habits
Every one of Lightspeed's plans includes a customer database where you can store customer information and view their purchase histories. If you move up to the Standard plan, however, you will also get online marketing tools like email marketing, blogging, and customer behavior tracking.
On top of that, with the Advanced plan, you get access to an omnichannel points-based loyalty program that rewards customers for purchases at any store location or through your online store. It also offers categorized rewards, automated smart customer groupings, and one-time rewards such as for birthdays or VIP customers.
24/7 support
One-on-one guided onboarding and setup
Bulk product upload and data editing
Additional free training
Compatible with any computer or iPad
Library of guides and videos
Busy interface
Dedicated account manager
Branded POS dashboard
Lightspeed earned a perfect score for its customer support and ease of use. However, it is feature-rich, and all its features create a much busier interface than some of other POS systems available to small businesses. It can take some time to learn the ins and outs of Lightspeed and configure everything to your liking, and it also has fewer dashboard customization options than software like Square or Shopify.
Looking for a more streamlined POS interface? We love Square for Retail and Shopify POS.
Lightspeed earned a 4.5 out of 5 in our expert score category. We love it for the incredible amount of control it allows you to take over your inventory and performance metrics. The ecommerce platform is also strong, the online support is great, and the overall bank of features is rich.
However, all of these features come at a cost, and Lightspeed is at the top end for POS subscription fees. The user interface can also be a bit challenging to get the hang of, mainly because it has to accommodate so many options and information.
What Users Say in Lightspeed POS Reviews
Users agree with our assessment of Lightspeed Retail being a top POS choice for inventory management. At the time of publication, it earned the following scores on popular user review sites:
When reading through Lightspeed POS reviews, we noticed some of these trends:
PROS

CONS

Speedy and helpful customer service
Pricey
Comprehensive system
No features to manage rentals
Detailed inventory management
Busy interface
Easy implementation with lots of training
No functionality without internet connection
Ability to handle bulk order and inventory
Integrates only with Lightspeed online stores
Methodology: How We Evaluated Lightspeed
In our Lightspeed review and all of our POS reviews, we start by looking for affordability and basic POS functions like check and order management, the ability to process multiple forms of payment, and inventory tracking.
We test every POS ourselves, including Lightspeed, to determine ease of use, quality of features, any standout functionality, and limitations. Finally, we consider user reviews, feedback we've received from talking to business owners, and our personal experience using the software.
Click through the tabs below to see the full evaluation criteria for our Lightspeed POS review:
30% of Overall Score
We prioritize POS systems that include a free plan or free trial, affordable subscriptions, and additional plans so that you won't grow out of the system. While Lightspeed doesn't offer a free plan, it can grow with your business.
We also award points to systems with affordable integrated payment processing, flexible hardware options, and no restrictions on the number of users, inventory, and transactions -all of which Lightspeed has.
15% of Overall Score
Businesses need speedy and customizable checkout tools, easy customer management, mobility to sell anywhere, a process to track orders, and a way to process online orders. We also considered contactless payments, integrated online ordering, and online store features. While Lightspeed has powerful register tools, it does not have many customization options, so businesses cannot adjust the software to meet their checkout needs.
15% of Overall Score
The most important feature we considered was inventory tracking. We also considered how sophisticated and user-friendly the reporting dashboard of each system is and what marketing and employee management tools are available. Inventory and analytics is where Lightspeed really shines, so it earned very high marks here.
20% of Overall Score
We prioritize systems with 24/7 phone support and consider help tickets and email or chat support, installation processes, and whether or not the system has an offline mode or hybrid installation so that you can continue operations when you lose internet access. While Lightspeed has a bit of a learning curve, it offers excellent 24/7 support and a detailed online knowledge base.
20% of Overall Score
We considered the overall quality of Lightspeed, along with system stability, and security. We evaluated whether it offers a good value for its price point and standout features. Finally, we accounted for our experts' personal experience using each system and interacting with customer service representatives, its reviews, and the personal experience of other small business owners.
Lightspeed is one of our personal favorites because it offers much better inventory and analytics than other small business POS systems on the market. However, it comes with a steep price point and learning curve.
*Percentages of overall score
Lightspeed is one of our personal favorites because it offers much better inventory and analytics than other small business POS systems on the market. However, it comes with a steep price point and learning curve.
Lightspeed POS Frequently Asked Questions (FAQs)
Who should use Lightspeed POS?
We recommend Lightspeed to brick and mortar or omnichannel sellers with large inventories or those looking for a high level of inventory control. Almost all of Lightspeed's standout features revolve around its inventory management, with granular controls, custom reports, and in-account purchase ordering and vendor management—there really isn't a better option for retailers whose focus is controlling and maximizing their inventory.
---
When should I use a Lightspeed alternative?
While Lightspeed is a great option for many retailers, if you are in search of a free POS option or your focus is mobile sales, you might want to look to Square. Its basic plan is full of great POS features and is completely free to use for one location. It is also designed to be mobile, with card readers and an app, ideal for on-the-go sellers.
---
What is Vend by Lightspeed?
In 2021, Lightspeed acquired Vend, another retail POS competitor product. All Vend users can still use their accounts, and other than improved integration with Lightspeed products like payments and ecommerce, no features and pricing options will change.
Currently, Vend's new name is Vend by Lightspeed, but Lightspeed is working on transitioning Vend over to an in-house product called Lightspeed Series X in the coming months. The transition is incomplete, so you will see the product referred to both Vend by Lightspeed and Lightspeed X Series in the interim.
---
How can I get a better rate on my Lightspeed subscription?
We know that Lightspeed is on the pricey side when it comes to POS software. There are, however, several ways to lower your monthly rate—including paying annually and opting for Lightspeed Payments (included free with every account).
| | Monthly Pricing (w/o Lightspeed Payments) | Monthly Pricing (w/ Lightspeed Payments) | Annual Pricing (w/o Lightspeed Payments) | Annual Pricing (w/ Lightspeed Payments) |
| --- | --- | --- | --- | --- |
| Lean | $139 | $89 | $119 | $69 |
| Standard | $199 | $149 | $169 | $119 |
| Advanced | $319 | $269 | $249 | $199 |
---
Bottom Line
Lightspeed Retail offers incredibly robust inventory management ideal for almost any independent retailer. Plus, its user-friendly analytics platform provides insights to keep your business profitable, and its top-of-the-line ecommerce tools help your shop compete with the chain stores in your neighborhood.
Though Lightspeed is pricier than other options and has a more cluttered interface due to all the features, it offers a great overall value for retailers, especially if you are serious about growing your business. Begin its 14-day trial today, no credit card required.