Lightspeed vs Shopify: Which Is the Best POS?
This article is part of a larger series on POS Systems.
Lightspeed Retail and Shopify are excellent point-of-sale (POS) systems with strong in-store, online, and mobile selling tools. Both offer reasonably priced cloud-based POS software that regularly appear on our list of the best POS systems for small businesses.
When comparing Lightspeed vs Shopify, the main difference between the two is that Shopify is designed to support primarily ecommerce businesses, whereas Lightspeed is designed for brick-and-mortar stores, though it can also support online sales.
In short:
Lightspeed Retail: Best for brick-and-mortar stores with large or complex inventories and businesses managing high-risk or age-restricted items like tobacco or CBD
Shopify: Best for online retailers, dropshipping companies, and multichannel sales
Lightspeed vs Shopify at a Glance
Best for

High-risk sales, complex inventories, specialty shops

Ecommerce and multichannel sales

Free trial

14-day

3-day

NEW: 2 months for $1

Monthly POS fee

$89–$269

Ecommerce plans: $39–$399

(basic POS included)

POS Pro: +$89

Integrated sales channels

In-person, Lightspeed online store, Instagram, Facebook, Amazon, Ebay, TikTok, Twitter

In-person, Shopify online store, Instagram, Facebook, TikTok, YouTube, Walmart, Google

Integrations/extensions

60+

4,100+

Payment processors

Lightspeed Payments or third-party integration*

Shopify Payments or third-party integration

Processing fees**

In person: 2.6% + 10 cents

Online: 2.6% + 30 cents

In person: 2.4%–2.7%

Online: 2.4%–2.9% + 30 cents

(rates vary based on plan)

Loyalty

With Advanced Plan

With third-party app

Marketing tools

With Advanced Plan

Included in all plans

Customer support

24/7

24/7

Real-world user score***

4.2

4.4

International sales

✓

✓

FSB reviews

 
*Monthly fees increase if you use a third-party processor
**Rates based on Lightspeed and Shopify payment processors
***User scores are averaged from multiple third-party user review sites
Both Shopify and Lightspeed offer different types of POS systems and meet different industry needs. We've been impressed by both Lightspeed and Shopify for years. You'll find them both on our lists for:
When to Choose Lightspeed vs Shopify
PROS

CONS

Extensive inventory management that includes vendor catalogs and waste tracking
Need higher-tier plans for analytics, accounting integrations, ecommerce
Integrations with Amazon and eBay
Higher learning curve
Free onboarding
Not great for mobile sales; poorly rated mobile apps
24/7 support
No dropshipping tools
Choice of payment processors (ability to choose high-risk or interchange plus processor)
High price point
Lightspeed's Retail POS is primarily for in-store use, especially for businesses with large, complex inventories, those needing to process high-risk sales, or specialty shops. With built-in product catalogs where you can shop and place orders straight from your POS, tons of reporting and analytics, and the ability to manage warranties, special orders, and work orders, Lightspeed has a unique set of features that make it perfect for all kinds of operations, including
Additionally, the ability to use a third-party payment processor means you can choose one with interchange-plus pricing or a high-risk processor.
PROS

CONS

Smart omnichannel and inventory tools
Third-party apps can get pricey
Easy to use
No offline functionality
Best-in-class ecommerce platform
Must have ecommerce account to access POS
Dropshipping and delivery features
2023 price increase (from $29–$299 to $39–$399)
Shopify works a little differently from Lightspeed. Rather than being POS first, Shopify primarily focuses on ecommerce, and you have to sign up for an ecommerce account to access the POS software. This, plus the fact that Shopify has the leading ecommerce platform, means that we recommend it for businesses that sell primarily online, including dropshippers.
Shopify has incredible shipping tools, great sales channel integrations, in-house payments, marketing tools, and tons of free and paid compatible add-ons for your site. It is the best option for online retailers.
Most Affordable: Shopify
Monthly POS fee

Lean: $89
Standard: $149
Advanced: $269

Discounted annual financing available

Basic: $39
Shopify: $105
Advanced: $399

+ $89 for Shopify POS Pro

Discounted annual financing available

In-person transaction fee

2.6% + 10 cents

2.4%–2.7%

Online transaction fee

2.6% + 30 cents

2.4%–2.9% + 30 cents*

Third-party payment processing fee

Unable to confirm

+ 0.5%–2% per transaction (depending on plan)

POS Terminal

Quote-based

$99–$149 (tablet not included)

Card reader

Quote-based

$39–$49

$0 for iPhone tap to pay

Mobile hardware

Quote-based

$399–$429

Chargeback fees

$15

$15

Loyalty program

Advanced Plan

Third-party app

Marketing

Included

Included
*Rates vary based on plan
Why Shopify Is More Affordable
Overall, Shopify is a more affordable option than Lightspeed. Shopify's Basic plan starts at only $39/month and includes both a Shopify ecommerce store plus the basic POS—you'll have to subscribe to Lightspeed's Standard plan ($119/month) to get an online store. That, plus Shopify's affordable hardware options, transparent pricing, unbeatable shipping discounts, and lower processing rates for Shopify and Advanced plans, makes Shopify a better bang for your buck.
Shopify includes its POS Lite plan for free, but if you need more POS features, such as advanced inventory and staff permissions, then you are adding another $89 per month to your plan. In that case, Lightspeed becomes the less expensive option.
---
On a tight budget? Consider one of the best free POS software systems. They are not always as feature-rich as Lightspeed or Shopify but are nonetheless good for new and small businesses.
Best for Ecommerce: Shopify
| | | |
| --- | --- | --- |
| | | |
| Ecommerce platform | Included with Standard and Advanced Plans | Included in all plans |
| Syncs with in-person POS | ✓ | ✓ |
| International online sales | ✓ | ✓ |
| Sales channel integrations | Facebook, Twitter, Pinterest, Instagram, Google, Amazon, eBay, and TikTok | Facebook, Instagram, Buy Button, Google, and wholesale channels |
| Shipping management tools | ✓ | ✓ |
| Ecommerce integrations | ✓ | ✓ |
| Dropshipping | ✕ | ✓ |
| Languages | 14 | 20 (Shopify Lite only allows one) |
| Multiple currencies | ✓ | ✓ |
| BOPIS tools | ✓ | ✓ |
| | | |
Why Shopify Is Better for Ecommerce
Shopify was built for ecommerce, and it shows. It ranks No. 1 on our list of best ecommerce systems, with great tools for creating your website to managing your orders and other sales channels.
Additionally, it offers a chat function tool, hundreds of free and paid app integrations for your site, discounted shipping with the most popular carriers, and even tools for dropshipping and selling wholesale.
Another advantage Shopify has over Lightspeed is its one-click Shop Pay, which saves customer information and allows them to checkout with just one or two clicks. Additionally, Shopify includes the "Buy Button," a shopping widget that you can add to any website to make it shoppable.
Learn more in our Shopify ecommerce review.
Lightspeed eCom might not be able to beat out Shopify, but it still has impressive online selling tools. With over 50 website templates, integrated shipping tools, great sales channel integrations, and international selling capabilities, it's still a great option for ecommerce. If you are more interested in in-store sales but need a strong online component, Lightspeed is a great POS option.
---
Best for Inventory Management: Lightspeed
| | | |
| --- | --- | --- |
| | | |
| Customizable matrix | ✓ | With POS Pro |
| Built-in purchase ordering | ✓ | With Stocky app |
| Vendor catalogs | ✓ | ✕ |
| Variants | ✓ | ✓ |
| Kitting | ✓ | ✕ |
| Smart pricing | ✓ | ✕ |
| Wastage tracking | ✓ | ✕ |
| Low-inventory alerts | ✓ | With Stocky app |
| Syncs online and in-store inventory | ✓ | ✓ |
| Sync inventory with social sales channels | ✓ | ✓ |
| Layaway | ✓ | ✕ |
| Multi-managed inventory | ✓ | ✓ |
|   | | |
Why Lightspeed Is Better for Inventory Management
Lightspeed offers the best POS system for inventory. It blows Shopify away in its depth of categorization, smart pricing assistance, kitting tools, waste tracking, and ability to manage work orders and track warranties. It even has vendor catalogs on the POS where you can shop and order products and even list your own if you apply.
Lightspeed's ability to kit items and track wastage is yet another reason it works so well for shops that make custom items.
If your online store is the priority, Shopify still offers all the basic inventory management tools you need, especially if you add the Stocky app. Additionally, if you are a dropshipper or sell wholesale, Shopify is going to be a better option for you.
---
Best Mobile POS: Shopify
 

Card reader

Quote-based

$49

Integrates with POS

✓

✓

Back-end access

✓

✓

Customizable checkout

✓

✓

Barcode scanning

Extra app

✓

Offline payment processing

✓

✕

Android User Ratings

Lightspeed eCom: NA
Lightspeed Retail (S):

iOS User Rating

Lightspeed eCom: NA
Lightspeed Retail (R):

Tap to Pay

✕

iPhone only
Why Shopify Is Better for Mobile
Shopify offers better mobile apps than Lightspeed. First, they are better quality, as the higher user ratings show. Second, they are available for both Android and iOS.
Shopify's mobile POS app makes it easy to take your store anywhere, with a customizable checkout that lets you offer all payment types, collect customer information, scan barcodes using your phone's camera, and accept payments with iPhone tap to pay. You can even create a shopping cart for a customer, and if they decide not to purchase, save it and email them about it later. Lightspeed does not have this tool.
The ecommerce app lets you run your online store from your smartphone or tablet. You can process orders, manage products, run campaigns, and access reports. Additionally, you can use the app to contact customers.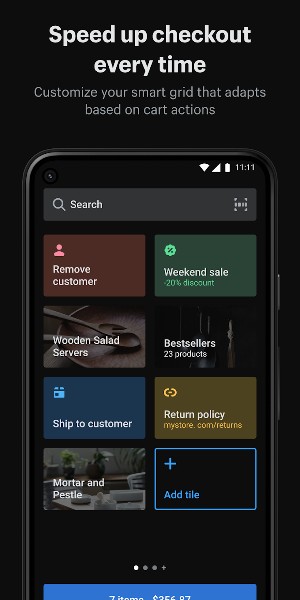 ---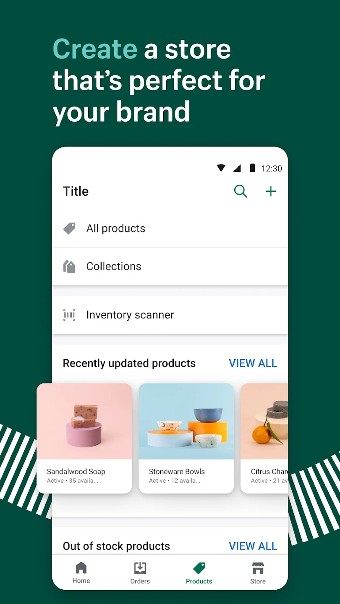 ---
Lightspeed has a few different retail POS systems, each available on different devices and none receiving very good user reviews, especially compared with Shopify. Nonetheless, Lightspeed's retail POS apps do have fully functioning checkouts with offline mode and all sales will sync with your POS, so they do the job. If you are not doing very much mobile selling and Lightspeed is a better choice for your other business needs, then the Lightspeed mobile apps will do the trick.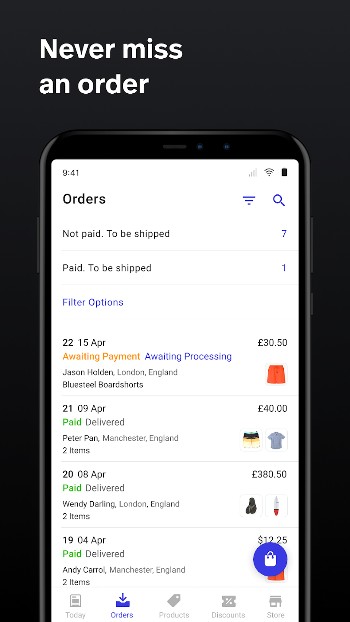 ---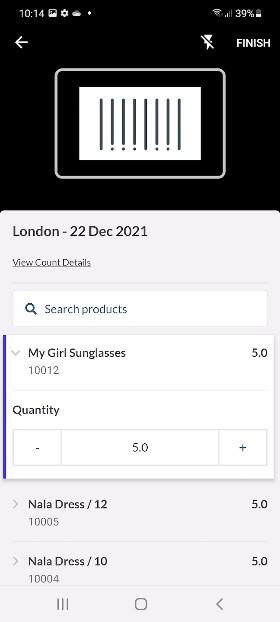 ---
---
Best POS Hardware: Shopify
POS

App or desktop

App only

POS terminals

✓

(quote-based)

$99–$299 (tablet not included)

Card readers

✓

(quote-based)

$39–$49

Handheld POS

✓

(quote-based)

Shopify Go: $399–$429

Financing options

✓

✓

Self-service kiosk

✓

(quote-based)

✕

Hardware bundles

✓

✓
Why Shopify Is Better for Hardware
While Shopify and Lightspeed both offer high-quality POS hardware, Shopify offers more affordable options and more transparent pricing, so it beat Lightspeed out by just a hair in this category.
With mobile hardware, affordable POS terminals, financing options via Affirm, and the tap-to-pay feature that eliminates hardware needs, Shopify is going to provide you with all that you need at a more affordable rate. Not only that, you can order your Shopify hardware directly from the site, whereas with Lightspeed, you have to work with a sales rep.
While Lightspeed hardware is more expensive, there are a few areas where its offerings might better suit your needs. First, unlike Shopify's POS which is only on the POS app, Lightspeed's POS is app and browser-based, so you can process transactions from your laptop or desktop, not just mobile devices or tablets.
Additionally, Lightspeed offers a top-of-the-line self-service kiosk, perfect for retailers that face chronic long lines or are looking to automate their checkout.
---
Best for Ease of Use: Shopify
| | | |
| --- | --- | --- |
| | | |
| Onboarding assistance | ✓, dedicated account manager and sales rep to match you with hardware needs | ✕ |
| Learning curve | High | Low |
| Website setup help | ✓, dedicated account manager | ✓, Shopify partnership program |
| FSB Ease of Use Score* | 5 out of 5 | 5 out of 5 |
| Real-world user scores** | 4.16 out of 5 | 4.41 out of 5 |
|   | | |
*We averaged third-party user reviews from sites like Capterra and G2
**Based on scores from the best retail POS system review
Why Shopify Is Better for Ease of Use
Overall, Shopify's intuitive POS and ecommerce features, along with its extensive community and professional resources, make it better in the ease of use category.
Shopify provides users with free business tools to help them sell more and grow their businesses, including creating a logo, generating a business name, generating QR codes, writing a slogan, and developing a domain name. It also has the Shopify partners program where they recruit ecommerce experts to answer all Shopify user needs and questions as well as get your suite up and running.
Even without all the additional tools to make using Shopify a breeze, Shopify POS is very easy to use, with great user reviews and a much more streamlined interface than Lightspeed.
Because of the complex features it offers, Lightspeed is more complicated to navigate, offers fewer customization options, and has an overall higher learning curve than Shopify.
That being said, Lightspeed offers a dedicated account manager to all new users to help guide you through the initial setup (even though most users have said the setup is easy).
Additionally, you will meet with a sales representative to get paired with all the right software and hardware before you buy, a unique feature to Lightspeed. If you want this level of assistance getting started, then Lightspeed might be a less intimidating option than Shopify.
---
Best Customer Support: Shopify
| | | |
| --- | --- | --- |
| | | |
| Support hours | 24/7 | 24/7 |
| Online help articles | | |
| Video tutorials | Extensive | None |
| Advanced training | | |
| Advanced support | | |
| User reviews—customer support only* | 4.2 | 4.4 |
|   | | |
Why Shopify Customer Support Is Better
While both score well on customer service in terms of what they offer and in overall user score.
Shopify takes the lead because it is the most consistently helpful. In over 100 of the most recent reviews, we saw only one one-star rating and one two-star rating. Lightspeed, meanwhile, ran either hot or cold, with almost half the reviews in the four- and five-star range and the other half getting one- or two-stars.
If you are a visual learner and want to use online resources rather than looking to a customer support agent, then Lightspeed is a better option. Lightspeed offers an extensive library of how-to videos on YouTube and their blog—just be sure you are looking at the correct series.
---
Lightspeed vs Shopify Frequently Asked Questions (FAQs)
Click through the questions below to get answers to some of your most pressing questions about Lightspeed vs Shopify.
Yes. Shopify can create a website for restaurants, with online menus, pickup and delivery functions, and more. However, Lightspeed is your best option.
---
Lightspeed has some appointment-setting abilities, and its Lightspeed Golf version is great for golf courses. Shopify offers very little for appointment-setting. For a better, inexpensive POS option for appointment-based businesses, consider Square for Appointments.
---
Shopify has recommended agencies and freelancers on its website who are experts at creating Shopify sites. It lists pricing at $500 to $1,500 for restaurant sites. Lightspeed only offers the tools to create a beautiful online store, but you may find a Lightspeed expert who also does webstore design.
---
Shopify offers special plans for nonprofit organizations. We did not find any nonprofit plans or discounts for Lightspeed, although it does support nonprofits with donations and sponsorships.
---
Bottom Line
When it comes down to it, both Shopify and Lightspeed are excellent choices for POS systems, with in-person and online tools as well as some of the best inventory controls on the market. The choice of Lightspeed vs Shopify comes down to, "Where are your sales?"
If mostly online, then Shopify, with its heavily featured, ecommerce-first solution, is the best way to go. However, if you are a brick-and-mortar business, especially if you do custom work or sell age-restricted products, then Lightspeed is your better choice. Visit Lightspeed or check out Shopify to sign up for free trials.