How to Organize & Track Sales Leads in 7 Steps
This article is part of a larger series on CRM.
Lead tracking is a stage in the lead management process that involves monitoring lead activity across all marketing channels and pursuing actions to close a sale. It includes identifying lead sources, choosing the right tools for lead tracking, distributing leads to team members, and nurturing and prioritizing leads. To succeed in this phase, follow the seven steps in organizing and tracking your sales leads.
Freshsales is one example of a customer relationship management (CRM) software that offers an excellent lead management system. Its features include activity tracking, lead capture, lead distribution, lead nurturing, lead scoring, lead segmentation, and source tracking. Freshsales has a freemium plan, and its paid options start at $29 per user, per month. You can try it out for free for 21 days.
Below are seven steps you can take to organize and track sales leads effectively.
1. Determine & Define Your Lead Sources
Lead sources are channels from where your customer heard about you for the first time. Here are some common examples of lead sources:
Social media
Email newsletters
Paid ads
Organic search
Blog articles
TV, radio, and billboards
Online and in-person events
Referrals from past customers
Backlinks
Direct mail
In the lead tracking phase, sales teams monitor where leads are coming from to maximize the marketing budget. They determine which marketing channels are working best for the business and which ones are not. You can also shorten your sales cycle by zeroing in on the leads who are ready to make a purchase.
To measure how many leads are coming from a source properly and how many of them are converted into customers, you need a lead tracking tool. These tools are often incorporated into CRMs, marketing software, and sales software. They track lead source data by monitoring your leads' email opens, social engagement, page visits, and content downloads.
2. Evaluate & Select Lead Tracking Options
When choosing a lead tracking tool, consider several factors, including your budget, the amount of time your team can devote to manual data entry, and the learning curve of the software. You also have to anticipate how fast you can expect your lead generation activities to pick up.
If there is an influx of large volumes of customer data, you may find it hard to manage if you're using spreadsheets to track your leads because of its limited storage capacity. In addition, spreadsheets don't provide you with a means to track communication with your leads, prospects, and customers.
Here are a few of the lead tracking options from which you can choose.
Lead Tracking CRMs
Many CRM solutions offer lead tracking and deal management features through the sales pipeline. These programs go beyond the basic lead management function by adding customer lifecycle management, managing converted leads, gaining customer loyalty, and leveraging cross-selling and upselling opportunities.
Below are some of the CRM solutions that you can use for lead tracking:
| | | |
| --- | --- | --- |
| | | |
| Best for: Businesses that want a CRM with a comprehensive feature set to support the sales pipeline | Best for: Teams that use their sales pipeline reporting for strategic decision-making | Best for: Organizations that want a CRM with visual sales pipeline tools |
| Starting price: $19 per user, per month | Starting price: Free or $9.99 per user, per month | Starting price: $14.90 per user, per month |
| | | |
For an in-depth look into the best lead management software options, check out our article on the top six lead management CRMs.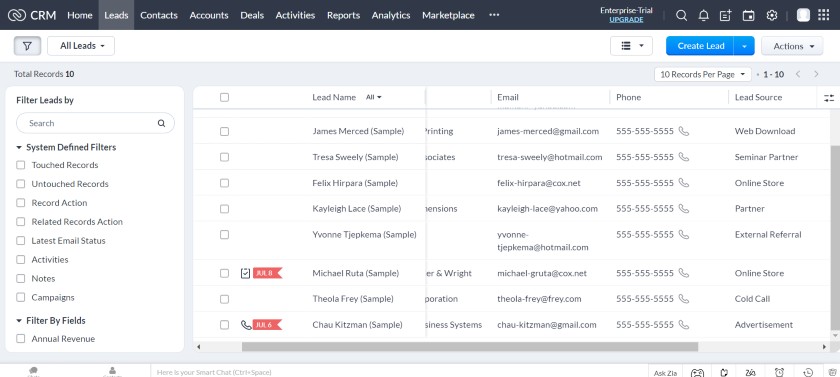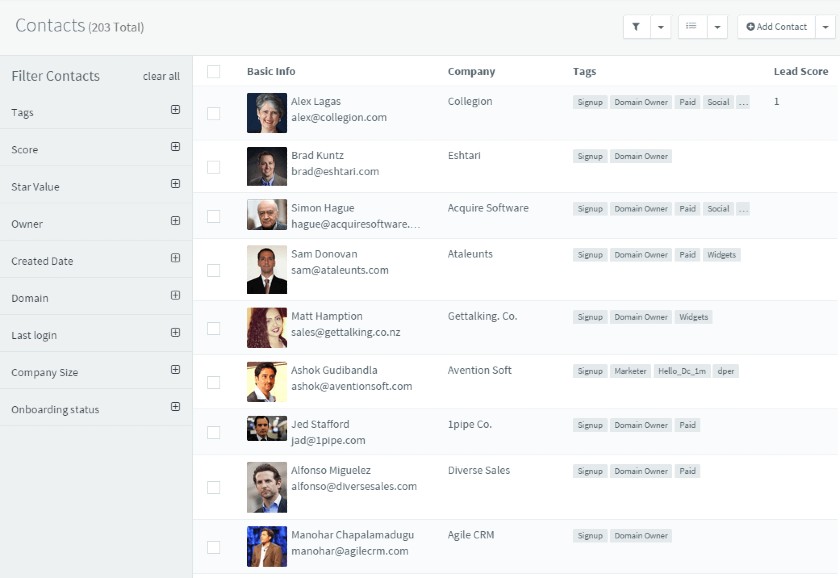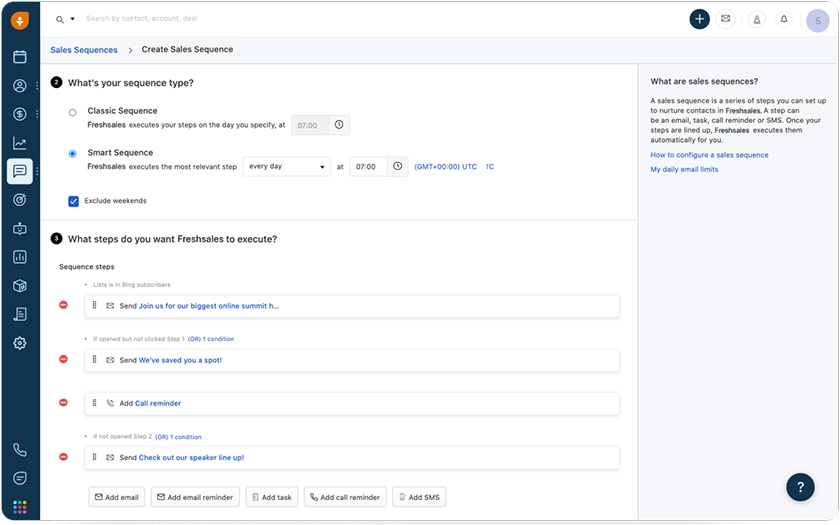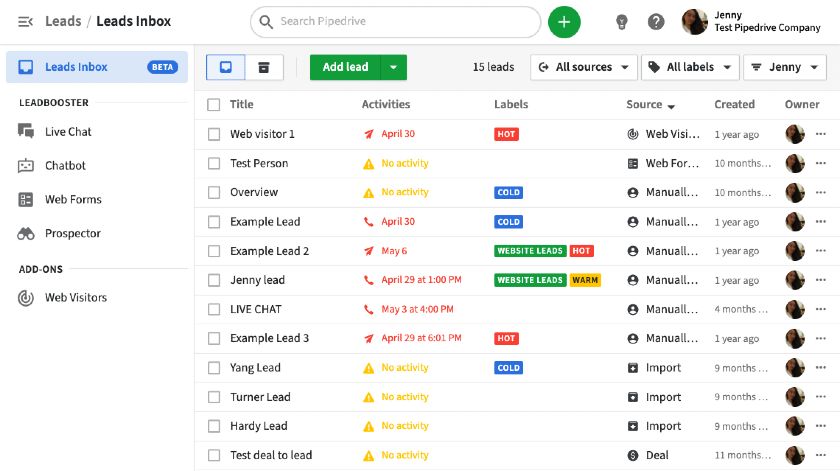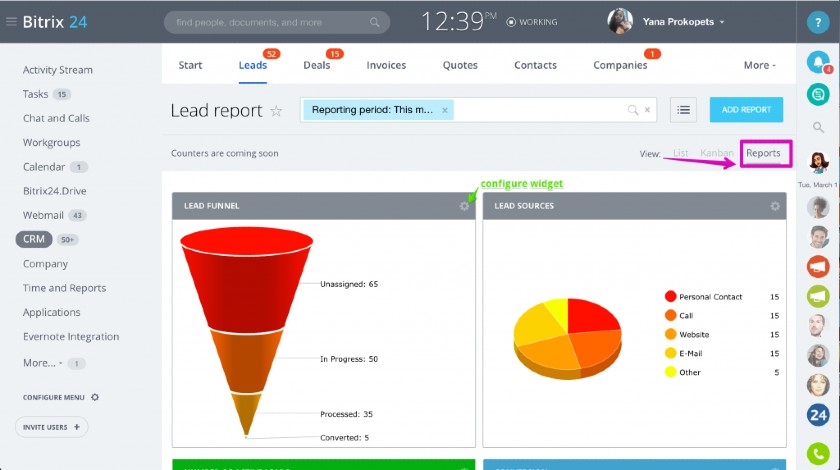 Spreadsheets
Spreadsheets like Microsoft Excel or Google Sheets can provide small businesses with a no-frills solution for lead tracking and lead organization. You can use them temporarily before you implement a CRM. However, they are not the best options for tracking leads because they entail manual data entry, taking a lot of time and effort. There is also a higher risk of errors in entering and manipulating data.
Our guide on how to use Google Sheets as a CRM walks you through this method and provides you with a free template.
Email Campaign Tools
If email is a major part of your lead nurturing process, you can choose an email campaign software like Mailchimp for your lead tracking needs. These tools generally feature a contact database and mass email capabilities as well as email open and click-through rates tracking. However, they don't usually track calls or website visits. If your email campaign tool integrates well with your existing CRM, you can address this issue without switching apps.
3. Set Up Your System & Test It
Key tools for setting up and testing your new lead tracking system:
Tutorials and knowledgebase
Onboarding session
Free trial
Add-on features
After choosing software for lead tracking and organization, the next steps are to create a CRM strategy and test it. Most of these tools come with tutorials, walk-through videos, or other online resources that guide you on how to get started. Some providers offer live training and support via phone, email, and live chat. Sales teams usually conduct CRM onboarding sessions, helping the team understand how they plan to organize and track leads using the platform.
Once your CRM strategy is complete, test your lead tracking system before buying it or letting your whole team use it. Take advantage of free trials and explore the tool's interface, ease of use, and features to find out if it's the right fit for your business.
If there's something that you think does not work for your current processes, don't be afraid to make changes to your CRM strategy or configuration. You can also opt for add-on features like a built-in dialer or workflows as needed.
4. Roll Out Your Lead Tracking System
Tips for successfully rolling out your lead tracking system:
Commit to a software package
Demonstrate how it will help increase your sales and productivity
Train your team on how to use it
Make it mandatory
Once you have tested out your new lead tracking system, you are ready to roll it out to the rest of your team. Start by committing to either a free or paid package if you have signed up for the free trial.
Get your sales team to own the system by showing them how it can make their work easier. Conduct training sessions on how to use its lead tracking and organization features. Making it mandatory and providing incentives for quick adoption of the new tool are also helpful in rolling out the lead tracking system successfully.
5. Input & Assign Leads
You can enter data into your lead tracking system either manually or by importing them from another tool, such as a spreadsheet or an existing CRM. After the leads are in, assign them to the appropriate sales team members who can nurture them and close deals.
If you are using a lead tracking system or a CRM, you can build targeted email campaigns based on lead characteristics. Unlike spreadsheets, CRMs can track these campaigns to let you know which leads are most likely to respond positively.
Spreadsheets vs Lead Tracking Software
When using spreadsheets for lead input and assignment, remember that entering and assigning leads manually can be tedious and time-consuming, especially if large volumes of data are involved. In contrast, using lead tracking software allows you to automate data entry and lead assignment, saving you time and effort so you can focus more on selling your products and services.
6. Nurture Your Leads & Track Activities
Lead nurturing is the process of building relationships with your prospects in every stage of the sales funnel. It encompasses activities, such as tracking leads according to deal size and recording calls and conversations to help your team follow up with leads. The goals of lead nurturing include turning leads into customers and building brand loyalty.
CRMs offer features like call recording, email tracking, and website engagement to help you track your lead nurturing activities. If you are using spreadsheets, format your columns to have drop-down options, making it easier to input lead tracking status.
7. Prioritize Your Leads
Lead prioritization is the process of separating quality leads from those who are less likely to buy so that your team can concentrate their efforts on those that are most likely to purchase first. This is done through lead scoring, a point-based system for ranking prospects based on various factors like their characteristics, behavior, location, and engagement with your business.
There are standalone lead scoring tools, but some CRMs have a built-in AI-based system that automatically ranks your leads based on available lead data. Freshsales' AI-powered assistant, Freddy AI, allows you to customize your lead scoring system to fit your business needs. It also provides you with insights into your leads' interest level and factors that contributed to their scores.
Bottom Line
No matter the size of your business, a robust lead tracking and organization system is key to managing long sales cycles and keeping up with your competitors. You can use spreadsheets to track your sales leads but leveraging the automation power of CRM software is more efficient. Lead tracking software or CRMs provide you with insights that tell you which leads and sales activities are worth pursuing so that you become more efficient and profitable.