The customer relationship management (CRM) process refers to the steps and decisions businesses make to manage and improve their relationships with leads, prospects, and customers. A CRM system is a useful tool in this process as it streamlines operations and customer interactions, making them more efficient and effective. In this article, we outline six steps for creating a CRM process and the roles sales, marketing, and support teams play in the overall CRM process cycle.
What is a CRM process?
A customer relationship management process is a strategy for maintaining personalized and meaningful customer interaction through its CRM stages, which are discussed in the next section. Its goal is to improve the company's sales, marketing, customer service, and product development efforts. Modern businesses generally rely on a CRM system to provide sales lead tracking capabilities and the tools they need to nurture and convert leads into customers.
What Are the Steps in the CRM Process?
The process steps are also a collaborative effort among a company's sales, marketing, and support departments. Below are the said CRM steps, how teams work together in every stage, and how a CRM system helps you achieve each step.
1. Generate Brand Awareness
The first step in the CRM business process is to make potential customers aware of your products and services through different marketing channels like social media and advertisements. The marketing team begins this task by researching your target audience's demographics, purchasing behavior, interests, and preferences.
As part of the CRM development process, the team creates customer personas to segment the audience into groups. Then, you can launch marketing campaigns tailored to your target audience's interests. Knowing your customer demographics and creating their persona helps you create effective marketing messages that resonate with your customer base.
A buyer persona is a fictional character representing your ideal customers, with details such as their demographics, behavioral interests, values, and challenges. This helps businesses identify their target market and understand what they need to provide their customers.
An excellent small business CRM system collects data, uncovers patterns in the behavior of past leads, and shows you which approaches lead to more conversions. Use this data to customize your marketing campaigns based on what appeals most to your target audience to convert more prospects into customers.
Download our comprehensive CRM e-book to learn more about choosing and implementing the right CRM system for your small business.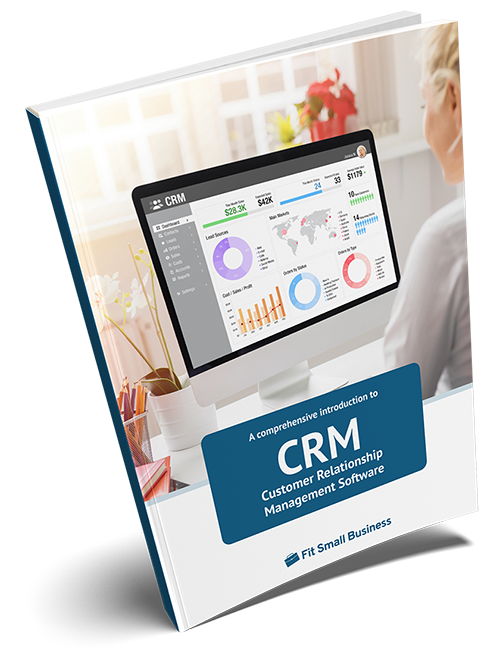 The Expert's Guide to Customer Relationship Management
Small Business Use Cases + Pro Tips
2. Acquire Leads
After introducing your brand to potential customers, the second step is generating leads. The sales or marketing team (or both) engages with your target audience via available communication channels.
For example, the marketing team could use the sign-up form on your website to encourage visitors to subscribe to newsletters. The sales team can use your CRM's live chat function to respond to visitors and request their contact information. CRM platforms like Zoho CRM have lead generation and enrichment tools to help you pull important information like addresses and employment history from your site visitors. This makes it easier to personalize prospect outreach.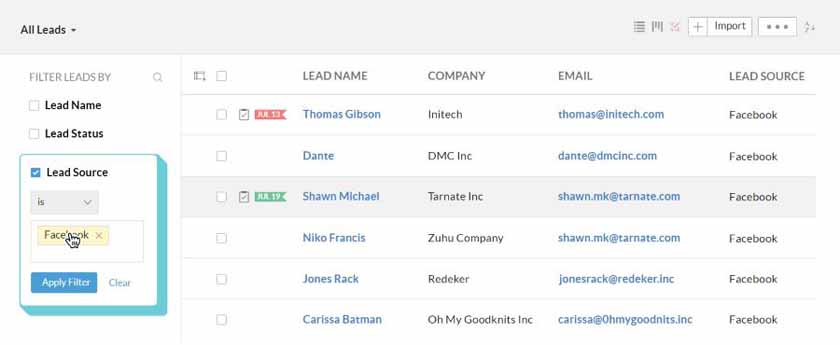 ---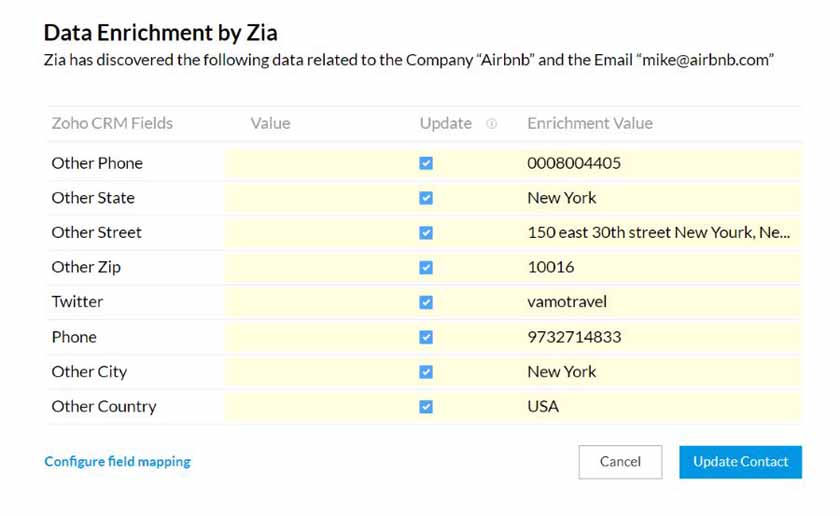 ---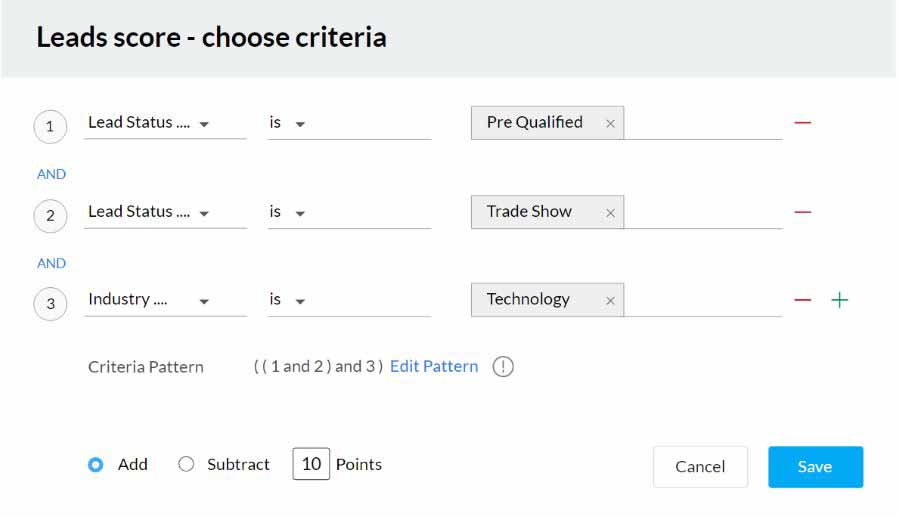 ---
Lead generation is the process of attracting leads or potential customers into your sales funnel. This is done through multichannel engagement and by generating content that captures the interest of your audience. It also involves nurturing them through the buying process to increase the chances of turning them into customers.
3. Convert Leads Into Customers
Once you have captured the attention and interest of your prospects, the next step is to convert them into paying customers. To do this, you can combine content marketing and marketing automation. The CRM analyzes and captures contacts and leads' interaction with these activities. Then, the sales team gauges lead interest and builds further trust with them until they decide to make a purchase.
Lead conversion varies based on the offering of a business. For example, a lead conversion tactic for a retail business might involve sending a series of promotional marketing emails to encourage potential customers to buy. Meanwhile, a lead for a high-value service, such as real estate, will include more complex business and CRM procedures. These could cover sending and revising proposals, contract and cost negotiations, and multiple follow-up conversations before a purchasing decision is made.
In Freshsales, when you convert a qualified lead into a contact, the data of that lead is automatically copied into corresponding fields under the associated contact, account, and deal. This way, you don't have to manually transfer all the information once the lead is converted. Read our Freshsales review for more details.
4. Nurture Leads
Nurturing leads is crucial in building customer loyalty, wherein customers keep coming back to you and making repeat purchases. One of the most effective ways to nurture customers is through email marketing, where you continuously share relevant content based on their preferences.
This is where email marketing list segmentation plays an essential role because you shouldn't utilize a one-size-fits-all approach since your customers have diverse preferences. Therefore, build various email marketing distribution channels based on factors such as past purchase history, demographics, and pages visited on your site.
HubSpot CRM offers free email marketing tools for building personalized marketing emails using its drag-and-drop email editor. You can also choose from dozens of free email templates on its marketplace. Our HubSpot review provides more insight into the platform's nurturing tools.
Here are some examples of content sales professionals can use to nurture their leads:
Introductory product demo videos
Whitepapers with customer case studies and testimonials
Survey about customer goals or product preferences
Blog posts about key features of a product
Email newsletters about useful services
Link to relevant webcasts or podcasts
How-to articles or e-books
5. Provide Quality Customer Support
The customer relationship management process does not end when a customer makes a purchase. Your business must retain customers to grow—and this is where your support team comes in. Excellent customer service keeps clients coming back for your products or services. Ensure you deliver superior service, preferably via various communication channels (live chat, email, and phone) whenever your customers need it.
Leverage your CRM's help desk and service system to understand your customer's user experience after they make a purchase. Getting honest feedback from them is important to understand the changes you need to make to improve their experience.
For example, with Freshsales, you can integrate live chat software like Freshchat for centralized management of customer service needs. This integration allows your team to immediately respond to customer complaints from within the CRM as soon as they crop up.
6. Drive Upsells & Cross-sells
Once you've built and established your customer database, the goal is to introduce repeat buyers to your other products or services. To do this, you use upselling and cross-selling strategies.
Upselling is a sales strategy used to convince existing customers to buy additional products or upgrades related to their original purchase. One example of this is offering warranties in addition to a gadget and letting customers know another product offers more features than the one they chose.
Meanwhile, cross-selling is a sales strategy for obtaining more value from a deal or sales transaction. It involves suggesting additional products or services complementing an existing purchase so you can generate more revenue from one deal from customers already in the buying mindset. For instance, cross-selling works when a product is paired with a service, such as purchasing a laptop sleeve after buying an actual laptop.
Use a customer relationship management platform to organize your customer list according to purchase history and send custom email templates about relevant products for each group. You can also set reminders for regular check-in calls with repeat customers. This is your chance to ask them for feedback about your product or service and how they think you can improve their experience.
Key Benefits of Incorporating Software Into Your CRM Process
A robust CRM solution offers tangible benefits that help make processes more effective and drive sales return on investment (ROI). There are different types of CRMs to choose from depending on your business needs. Still, all of them contribute to the growth of your business in ways that help you improve your sales process, manage marketing initiatives, and offer quality customer support.
Best CRM Software Providers for Small Businesses
When choosing a CRM provider, keep in mind the best solution for small businesses should be reasonably priced and easy to use, especially for beginners who do not have technical knowledge. It should also include core CRM features like contact management, account management, lead management, sales automation, and reporting. Below are our top picks for the best CRMs for small businesses.
Small Business CRM

Recommended Use Case

Free Plan

Starting Price of Paid Plans

($ per Month)*

Best scalable, free CRM for unlimited users

✓

Unlimited users

$18 (includes 2 users)

Best overall for small businesses needing a robust CRM with affordable plans

✕

$15 per user

Best CRM for social media integration and inventory management

✓

3 users

$14 per user

Best for users who want an easy-to-use system with visual sales pipelines

✕

$14.90 per user

Best CRM with a built-in phone for in-app calling

✓

Unlimited users

$49 per month (includes 5 users)

Best simple contact management tools

✓

2 users

$17 per user

Best advanced features like lead generation, reports, and case management

✕

$25 per user
*Based on annual pricing; monthly pricing is also available at a higher rate.
For a closer look at the features, strengths, and weaknesses of each provider mentioned above, read our guide to the best CRMs for small businesses.
Bottom Line
Following a proper customer relationship management process helps create a better customer experience in each stage of the customer lifecycle, and this is made easier by using a reliable platform and having a good CRM strategy in place. By using and choosing the right CRM, you have access to the customer data you need to personalize your audience engagement, making the whole process more efficient.