Payline Data Review: Is It Right for Your Business?
This article is part of a larger series on Payments.
Payline Data is a merchant services provider with in-person, online, and mobile payment solutions for businesses. Features include a point-of-sale (POS) system, automated clearing house (ACH) payments, invoicing, and hundreds of integration options for ecommerce stores. It has an upfront, transparent pricing model that charges users a monthly subscription fee, without cancellation and early termination fees, making it ideal for businesses providing high-ticket sales and services. Contact Payline Data for a free one-month trial or apply online for same-day approval.
Payline Data

What We Like
Transparent pricing
Supports high-risk merchants and nonprofits
Same-day account approval
What's Missing
Monthly fee for merchant accounts
Charges additional monthly fee for use of virtual terminal
May charge extra for fraud protection
Limited business management tools
Deciding Factors
Monthly fee: $10-$20
Transaction fees: Interchange plus

In-person: 0.2% + 10 cents
Online: 0.4% + 20 cents
Nonprofit: 0.1% + 10 cents
Medical: 0.2% + 10 cents
High-risk: 1%

Virtual terminal fee: $10/month
ACH fees: Not disclosed
No setup, cancellation, or Payment Card Industry (PCI) compliance fees
Deposit speed: 1-2 business days
Hardware: Mobile and POS
Free first-month subscription
Supports high-risk and nonprofit businesses
Includes free setup and use of gateway
What We Recommend Payline Data For
After spending years reviewing merchant services, I can say Payline Data offers notable features that make it a good fit for many small and large businesses. It is one of our top picks for the best virtual terminals for small businesses.
In particular, Payline Data is best for:
Medical offices: Healthcare businesses get Health Insurance Portability and Accountability Act of 1996 (HIPAA)-compliant payment processing at a special rate with its Payline Medical offering.
Retail businesses: Fair, transparent pricing and over 200 ecommerce integrations earned Payline Data a spot on our list of the best retail credit card processors.
Restaurants and catering businesses: ACH processing and a user-friendly virtual terminal make Payline a good option for restaurant businesses that do a lot of phone orders or catering companies needing to process deposits.
Nonprofits and educational institutions: Although Payline Data has not made our most recent list of top nonprofit payment processors, its website advertises a discounted processing rate that starts at interchange + 0.1% and an overall competitive transaction fee of less than 2%. Contact Payline Data's sales team for more pricing information.
When Payline Data Would Not Be a Good Fit
Payline Data isn't the best fit for every business—those that process international sales or have very low sales volume, for example, might consider a different provider:
Payline Data Alternatives & Fees Comparison
| | | | | |
| --- | --- | --- | --- | --- |
| | | | | |
| Best for | High-volume businesses that need billing or recurring payments | New and small businesses that need a free POS solution | Individuals who need a reliable solution for occasional payments | Established businesses that want interchange-plus pricing with no monthly fee |
| Monthly Fee | Starts at $99 | Starts at $0 | Starts at $0 | $0 |
| Card-present Transaction Fee | Interchange + 8 cents | 2.6% + 10 cents | 2.7% | Interchange + 0.1% + 5 cents to 0.3% + 8 cents |
| Keyed Transaction Fee | Interchange + 15 cents | 3.5% + 15 cents | 3.5% + fixed fee | Interchange + 0.1% + 10 cents to 0.5% + 25 cents |
| Ecommerce Transaction Fee | Interchange + 15 cents | 2.9% + 30 cents | Starts at 3.4% + 30 cents | Interchange + 0.1% + 10 cents to 0.5% + 25 cents |
| | | | | |
Since Our Last Update:
After a recent update in the last quarter of 2021, Payline Data's website no longer advertises its nonprofit and Payline medical pricing plans, although it still publicly offers these services. Also, high-risk payment processing is now available for some verticals, such as tobacco and cannabidiol (CBD). We also take a closer look at Payline Data's pricing, application process, and onboarding procedures.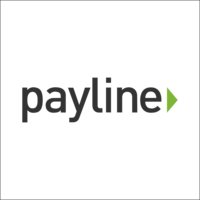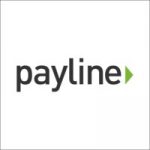 Payline Data Payments Calculator
Enter your current in-store and/or online sales volumes and average order values for an estimate on the monthly fees you would pay using Payline Data.
Payline Data Pricing
| | In-person | Online |
| --- | --- | --- |
| Monthly Fee | $10 | $20 |
| Transaction Fee | 0.2% + 10 cents | 0.4% + 20 cents |
| Virtual Terminal | $10 | $10 |
| Cancellation Fee | 0 | 0 |
| Deposit Speed | 1–2 business days | 1–2 business days |
Payline Data allows you to accept card-not-present (CNP) payments and in-person mobile and chip, swipe, or tap card payments. It also offers electronic ACH payment processing and customer billing options through recurring payments or invoices. With a subscription interchange plus pricing model, merchant account holders pay for a monthly fee in exchange for low processing rates and inclusive of incidental fees. Add-ons, such as PCI fees, payment gateway (setup and use) fees, and QuickBooks integration are already included in the monthly plan.
Try the fees calculator on Payline Data's website to get an idea of how much you would pay every month in payment processing costs. This not only includes the markup fee you pay to Payline Data but also covers an estimate of the interchange price that goes to the acquiring bank and card networks. There's no long-term contract and new subscribers will also be offered the first month free.
A quick computation dividing the total monthly cost ("Monthly Charges" on Payline Data's calculator) by the average number of transactions you process in a month―computed as average monthly volume divided by average transaction amount―will show you how much you spend for processing each time you accept a payment. Use this figure to compare against alternative providers.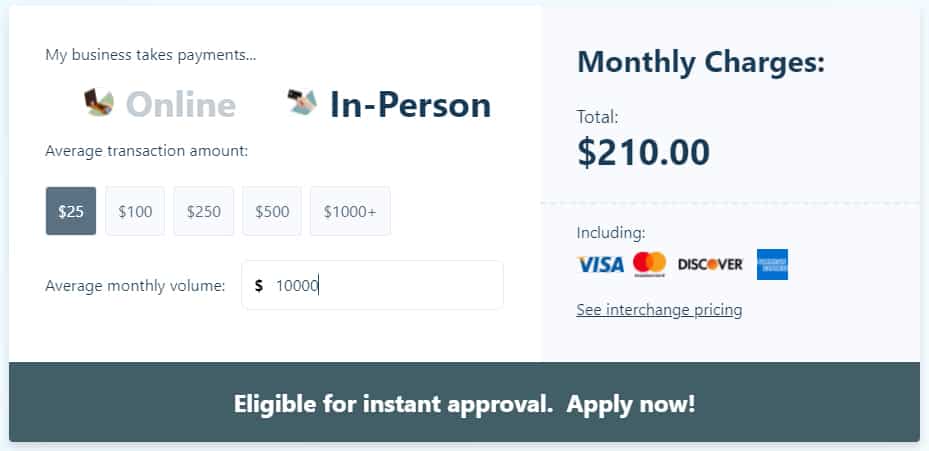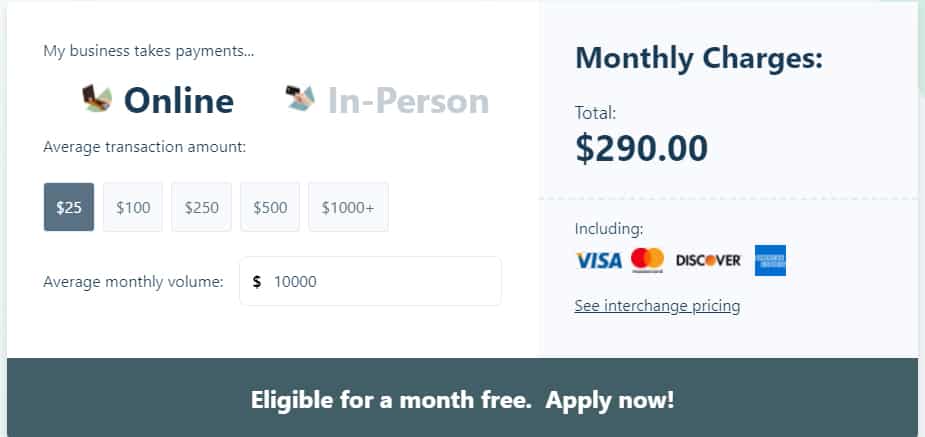 Payline Data provides separate pricing plans for online and brick-and-mortar businesses.
(Source: Payline Data)
However, note how Payline data charges a monthly virtual terminal fee, which most businesses need, and other processors like Square offer for free.
Payline Data's pricing plans are based on whether you process online or in-person transactions. This means that if your source of revenue is divided heavily between sales from your website and storefront, you may be presented with a custom plan that's higher than what is advertised.
Its payment processing for medical, nonprofit, and educational institutions, and high-risk merchants―while still being offered―is also no longer explained thoroughly on the website. Recently, however, we were quoted the following rates:
Medical: Interchange plus 0.2% + 10 cents
Nonprofit: Interchange plus 0.1% + 10 cents
High risk: Interchange plus 1%
If you need any of these services, it's important to ask all your questions around transaction rates and incidental charges when you get on a call with a Payline Data representative.
Payline Data Hardware
Payline Data does not advertise hardware pricing but does support in-person payment processing including mobile, countertop, and smart terminals. It also integrates with several POS systems like Clover and Vend. In some cases, Payline Data offers free hardware in your contract but note that this will most likely require you to sign up for a long-term contract. Contact Payline Data's sales team for more information.
Mobile & Countertop Hardware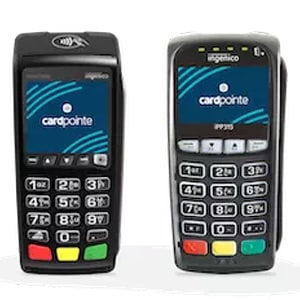 Countertop terminal
Best for accepting payment from a countertop checkout
Accepts magnetic stripe reader (MSR), EMV, and near-field communication (NFC) transactions
Can be programmed to accept electronic benefits transfer (EBT) payments
Point-to-point encryption (P2PE)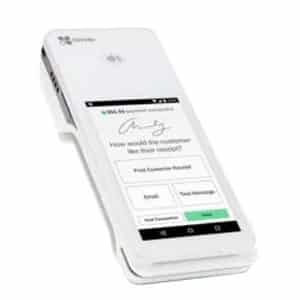 Wireless terminal*
Best for processing payments anywhere within your store
Accepts EMV, and NFC transactions
Signature capture and touch screen enabled
Internet Wi-Fi connectivity
P2PE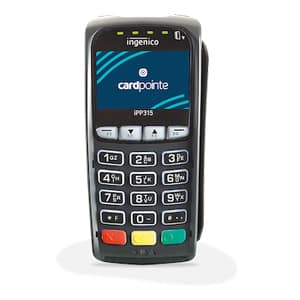 PinPad (customer-facing) device
Best for pairing with Desk terminal
Accepts dipped, tapped, and swiped card payments
P2PE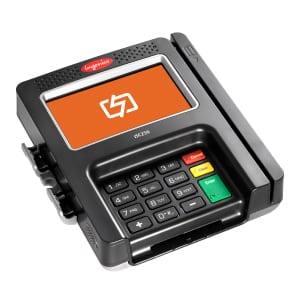 Hardware for virtual terminal
Best for multilane stores
Accepts EMV transactions
Signature capture and touch screen enabled
Supports Payline Data's virtual terminal
P2PE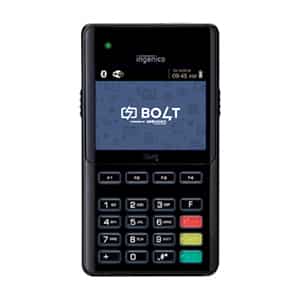 Hardware for virtual terminal
Best for mobile checkout
Accepts EMV, NFC, and PIN Debit transactions
Tip selection enabled
Supports Payline Data's virtual terminal
P2PE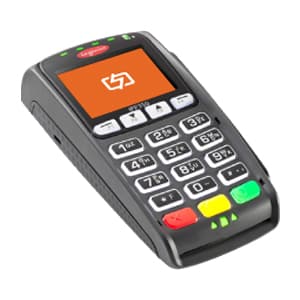 Hardware for virtual terminal
Best for mobile checkout
Accepts EMV chip and PIN payments
Supports Payline Data's virtual terminal
P2PE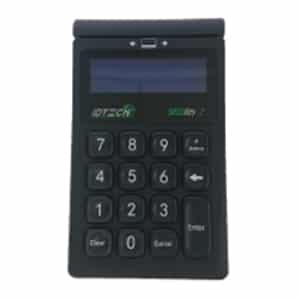 Hardware for virtual terminal
Best for mobile checkout
Accepts EMV, NFC, and PIN Debit transactions
Tip selection enabled
Supports Payline Data's virtual terminal
Internet Wi-Fi connectivity
P2PE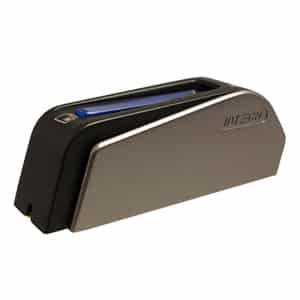 Hardware for virtual terminal
Best for countertop checkout
Accepts EMV and magnetic stripe transactions
Supports CardPointe and Transax virtual terminal
USB connectivity
*Verifone, DejaVoo, and FD wireless terminals are also available.
POS Hardware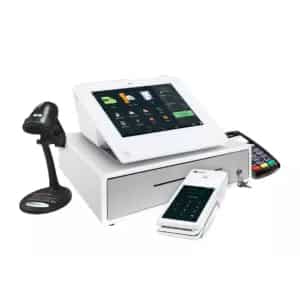 Offers a range of POS hardware including mobile, countertop, and smart terminals and is an ideal choice for busy retailers and restaurants. It can be preprogrammed to support Payline Data's primary backend processor, Vantiv.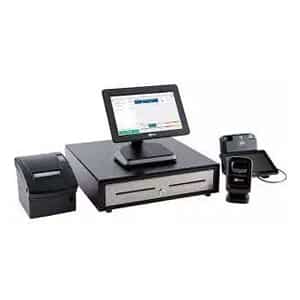 NCR's hardware is designed to handle multiple sale types including food retail, making it an ideal solution for grocers and convenience stores.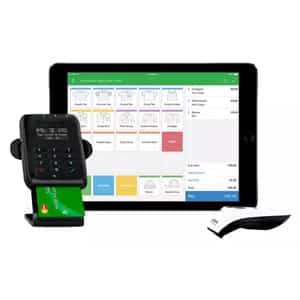 Payline Data recommends Vend for its merchants who prefer using their own iPad for processing payments at checkout. Pair your tablet with Vend's mobile card reader with an option to purchase outright or lease from Vend's Portal Advantage website.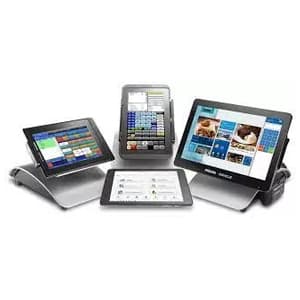 Micros is a secure POS system often used for retail restaurants, ticketing, and hospitality, such as hotels, resorts, casinos, and arenas. It offers the widest support service reach of more than 180 countries.
Payline Data Features
Setup & Application
Signing up with Payline Data starts with sending an inquiry from its website. You'll need to fill out the online form with your contact information. The next window will take you to an online calendar where you can set up an appointment for a call with a Payline Data sales representative.
Included in Payline Data's initial service is a statement analysis where an account manager will provide you a detailed comparison of your current payment processing fees against Payline Data's pricing. Instant approval is also available for low-risk merchant account applicants signing up for the In-Person plan.
---
Contract & Terms of Service
Generally, Payline Data offers a month-to-month contract to its merchant account holders. This means you can cancel your account at any time and not have to worry about early termination fees or cancellation fees. On top of that, Payline Data's transparent pricing gives you a pretty good idea on the amount of fees you can expect to pay every month, with most of your incidental fees already covered in its subscription pricing model.
However, you will need to contact a representative to get the finer details of its terms and condition of service. As with most merchants, a customized plan will mean paying only for services you need to run your business but, in turn, certain conditions on the contract may change significantly such as:
Accepting ACH payments
Higher monthly fees for businesses with heavily blended sales channels
Free (or leasing) hardware in exchange for a long-term contract with early termination fees
Additional monthly fees and set up fees when using certain payment gateways
Higher monthly fees and transaction rates for high-risk merchants
Terms and conditions, including incidental fees, of chargeback management dependent on Payline Data's partner integration
Separate fees for fraud protection tools
For instance, Payline Data partners with CardPointe, NMI, Transax, and Authorize.net for its payment gateway and virtual terminal solutions. These third-party integrations vary in their basic plan fees and features, so you may be charged an additional fee if you require functionalities that are included in its more advanced plans.
---
Mobile Payment Processing
This solution comes with both pricing plans at no extra cost. Payline Data offers a mobile card reader and payment app you can use anywhere with any Android- and iOS-compatible mobile device. It offers tokenization and encryption tools for processing swipe, chip, tap, and NFC payments. Additional features allow you to upload and manage your products in sync with your POS system; manage recurring billing; auto-calculate taxes and gratuity; process surcharges, voids, and refunds; and send electronic receipts. The mobile payment app also lets you view reports and manage cash transactions.
---
Invoicing & Recurring Billing
Manage one-time and recurring billing with Payline Data's payment management platform. It allows you to send emails to collect payment, set up billing plans, view reports, and more. The dashboard features design and templating tools, customization options, and a customer database you can use to set up profiles for recurring billing functions.
---
Ecommerce Features
Payline Data offers different tools for accepting online payments. The Payline gateway lets you process debit, credit, and other electronic payments online securely through hosted payment pages while the virtual terminal allows you to accept payments from phone orders through manual input (keyed in or using card readers). Additionally, it integrates with popular third-party virtual terminal and gateway providers such as CardPointe, NMI, Transax, and Authorize.net.
For those wanting a more customized payment processing experience for their customers, Payline Data gives you access to its application programming interface (API) at no extra cost. This also makes it easy for businesses that require omnichannel payment features for synchronizing sales made in-store and online. Payline Data's onboarding team also helps set up this functionality if you need them.
---
Payment Security
Keep payments secure with card verification value (CVV) and address verification and a fraud protection tool that screens transactions for suspicious activity. You'll need to reach out to Payline Data's account manager to check for any additional cost for this service. As for chargeback protection, Payline Data uses Verifi's Cardholder Dispute Resolution Network to provide up-to-date dispute data and comprehensive coverage.
---
Business Loans
Payline can help businesses apply for up to $1 million to use for business operations or growth with a small business loan from Lendio. It responds to applications within 24 hours.
---
Payline Medical
Payline Medical is a HIPAA-compliant payment processing product created exclusively for healthcare businesses and offered at a special medical rate. Although no longer advertised, Payline Data offers specialized rates and tools for businesses in the medical profession, including options for hardware and point-of-sale.
---
Nonprofits
Nonprofit businesses qualify for a reduced rate and hosted payments page. Payline gateway and other third-party payment gateway partners provide advanced security features for ensuring safe and secure collection of donations. Payline Data also provides a secure form to gather donor information without requiring adding an extra step to your online donation process.
---
High-risk Merchants
Payline Data supports high-risk merchants operating in industries like travel, tobacco, and CBD. It works with more than 20 bank partners to provide you with the most opportunity for getting approved for a merchant account. Also, among Payline Data's list of partner payment gateway solutions is Network Merchants Inc. (NMI). High-risk merchants will benefit from its load balancing feature and ability to manage multiple merchant accounts through one gateway to avoid being unnecessarily flagged for potentially fraudulent transactions. It can also route transactions to specific accounts automatically.
---
Payline Data Ease of Use
Software Integrations
Payline Data offers hundreds of shopping cart and accounting software integrations for you to customize a solution that works best with your needs. Payline's secure gateway payment processor integrates with more than 200 online shopping carts, so you can accept payments online easily without impacting the customer experience. The QuickBooks integration allows you to check out real-time financial information and automate accounting tasks.
Not all payment processors offer a payment app like Payline Data, with POS features such as inventory, CRM, and reporting tools. However, if you want to run a small but growing business, you may find these functionalities somewhat limited. You will need to integrate with popular POS systems like Clover, Vend, and Shopify.
Next-day Funding
Deposit speed for your payment proceeds takes one to two business days. Payline Data commits to having your funds sent to you the next day, making it a competitive option for businesses that require fast access to funds.
Payline Data Customer Support
Payline Data has a customer support team available via email or phone. Phone support is available Monday to Friday from 8 a.m. to 5 p.m. Central time. You can also review the frequently asked questions (FAQ) section to troubleshoot on your own and check the gateway service status page if you're having trouble processing payments. Payline Data also has a YouTube channel and blog where you can search for and discover helpful resources and information about merchant services.
What Users Think of Payline Data
While there aren't many reviews available online, most users have given Payline Data a five-star rating and value its excellent customer service and fair processing fees.
Below are trends we noticed when reading through Payline Data reviews:
| Users Like | Users Don't Like |
| --- | --- |
| Professional customer service | Cannot process international payments |
| Easy to use | Limited integrations |
| Fair pricing | Occasional software glitches |
Bottom Line
Payline Data is a subscription-based merchant services provider offering payment processing with a transparent pricing model that works well for both small and large businesses. There are features for in-person and online transactions, and Payline Data offers POS, mobile readers, and other payment processing hardware. Other features include virtual terminal, fraud protection, and chargeback prevention. Payline Data also has small business loans and exclusive merchant services solutions for nonprofit, medical, and high-risk businesses.
Payline Data offers a free one-month trial—you can schedule a call with someone from its sales department or apply online for same-day approval.