A timesheet keeps track of how many hours an employee worked during a specific period of time. Timesheets can be used not only for small business employees, but also for independent contractors and freelancers who bill by the amount of time they work. In this guide, you'll find free downloadable timesheet templates for weekly, biweekly, monthly, daily, and semi-monthly pay schedules. We also included a project timesheet for freelancers or staff that submit billable hours.
Is manually taking care of payroll every week stealing valuable time away from growing your business? Switch to a digital system such as Homebase and pay your employees faster and more accurately. It's free, so sign up today:
1. Free Weekly Timesheet Template
Use this weekly timesheet if you calculate employee time worked, PTO and wages on a weekly basis. If you want to add things up manually, download and print our PDF. Otherwise, download the Excel spreadsheet or Google sheet, and it will handle the calculations for you based on formulas included within the spreadsheet cells. In addition, spreadsheet versions of these timesheet templates are customizable so you can add information to the timesheet such as employee location, employee number, or job title.
Download as PDF
Download as XLSX/Google Sheets
2. Free Biweekly Timesheet Template
Use this timesheet if you pay or calculate wages every two weeks. Open the Excel or Google spreadsheet if you want it to handle the calculations for you. Otherwise, download the PDF for your employees to complete manually. Of course, this means you'll have to calculate their hours manually.
Download as PDF
Download as XLSX/Google Sheets
3. Free Monthly Timesheet Template
Use this timesheet if you pay or calculate wages on a monthly basis. Like the other templates, this one is customizable if you download the spreadsheet version.
Download as PDF
Download as XLSX/Google Sheets
4. Free Daily Timesheet Template
In some situations, like when employees are working an event or spending all day at an offsite training session, you'll have a daily timesheet, and may need all employees to sign in and out on the daily timesheet so that you can track hours worked by all workers at the event. This can also be used by non-profits who don't need to pay employees, but do need to track volunteer hours worked each day.
Download as PDF
Download as XLSX/Google Sheets
5. Free Semi-Monthly Timesheet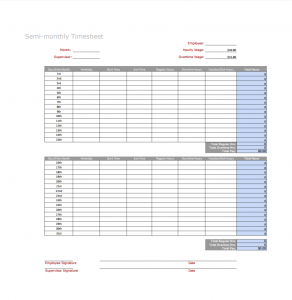 If your company pays twice a month, as opposed to every two weeks, then your timesheet will need to have fields to track time for days 1-15 and days 16-31. You can manually input the day and date into the spreadsheet, or simply list the month. If you use this timesheet in a spreadsheet format, a good practice is to create a new tab for each month of the year. Employees would then input time-worked data in the correct tab (Jan, Feb, March, etc.), so you'll have a running total of all hours worked for the year.
Download as PDF
Download as XLSX/Google Sheets
6. Project Timesheet
This template can be used by freelancers who need to calculate hours worked on projects. It can also be used in offices where workers' time is tracked against customers or projects, or when staff need to designate billable hours so that customers can be invoiced property.
Download as PDF
Download as XLSX/Google Sheets
Other Free Timesheet Options
If our timesheets aren't exactly what you're looking for, there are other timesheet templates available. If you use Microsoft Office, their templates are free. For example, here's a nice weekly time sheet in MS Word that you can print out. And here's one in MS Excel that does the calculations for you. Pinterest users also sometimes post their timesheet templates as freeware for anyone to use.
Online Timesheet Software
If you want to stop asking employees to fill out paper timesheets, we recommend using employee scheduling software like Homebase that includes not only the timesheet but lets you create employee schedules, record clock-in/clock-out times, and calculate time without having to do any manual calculations. Or consider a basic time clock with online features.
You can also export timesheet data from packages like Homebase directly to QuickBooks and several other payroll software providers, so you can run payroll without having to manually input hours or calculate wages.
Bottom Line
Tracking employee time worked is important to the bottom line of every small business. If you prefer to use paper timesheets, choose the template above that works best for your business. You can print the timesheet template as a PDF for your employees to complete manually, or download and customize the templates as an MS Excel file or a Google sheet so employees can input their time on the computer, and either print or email their timesheet to you when done.
If you want to try switching to a free digital solution, we suggest checking out Homebase. You can check out our comparison here.