Free timesheet templates are preformatted documents—Word documents, Excel spreadsheets, PDFs—employers use to save time tracking hours worked by their employees or contractors. The type of template employers need depends on their pay schedule—weekly, biweekly, monthly, daily, semimonthly. For businesses with 10-plus employees, upgrading to automated timesheet software can save hours of work.
Is taking care of payroll manually every week stealing valuable time away from growing your business? Homebase is a free online timesheet software with a drag-and-drop scheduling tool, online timesheets with automated error tracking, and a free app-based time clock for easy clock-ins. It also syncs with popular payroll software, like Gusto, for easy payroll processing. Start tracking your employees' time worked for free.
1. Free Weekly Timesheet Template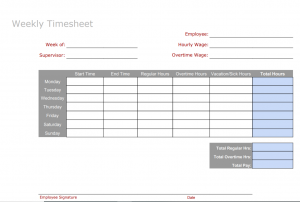 Use this weekly timesheet if you need to calculate employee time worked, paid time off (PTO), and wages every week. To calculate total work time manually, download and print the PDF. Otherwise, download the Excel spreadsheet or Google Sheet, and it will handle the calculations for you based on formulas within the spreadsheet cells. Also, spreadsheet versions of these timesheet templates are customizable so that you can add information to the timesheet such as employee location, employee number, or job title.
Download as PDF
Download as XLSX/Google Sheets
2. Free Biweekly Timesheet Template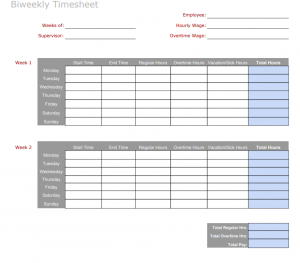 Use this timesheet if you pay or calculate wages every two weeks. It's divided into two seven-day workweeks, Monday through Sunday and considers overtime and PTO in its calculation of hours worked. Because the template covers a biweekly pay period, you'll need to complete one for each employee every two weeks.
You can open the spreadsheet in Excel or Google Sheets if you want the software to handle the calculations for you. Otherwise, download and print the PDF for your employees to complete manually. Of course, if you opt to print the timesheet, you'll have to calculate their hours manually.
Download as PDF
Download as XLSX/Google Sheets
3. Free Monthly Timesheet Template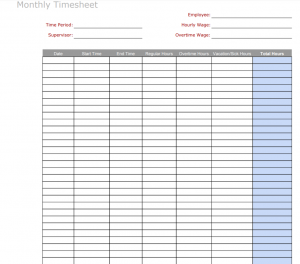 Use this free timesheet template if you pay or calculate wages every month. Like the other templates, this one is customizable if you download the spreadsheet version. There's space on the form for you to input hours worked for each day of the month, and the totals populate automatically after you've entered the data. If you only pay once a month, you'll only use 12 copies of this for each employee throughout the entire year.
Download as PDF
Download as XLSX/Google Sheets
4. Free Daily Timesheet Template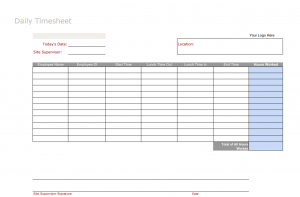 In some situations, like when employees are working an event or spending all day at an offsite training session, you'll need to use a daily timesheet. If necessary, you can require all employees to sign in and out on the daily timesheet so that you can track hours worked by all workers at the event. This can also be used by nonprofits who don't need to pay employees but do need to track volunteer hours worked each day.
If you need to use the daily template for an event, you'll need to download it in PDF and print so that you can carry it with you. If you or your employees need to track work or volunteer hours electronically, download the file as a spreadsheet to take advantage of the automated formulas—the sum total work hours.
Download as PDF
Download as XLSX/Google Sheets
5. Free Semimonthly Timesheet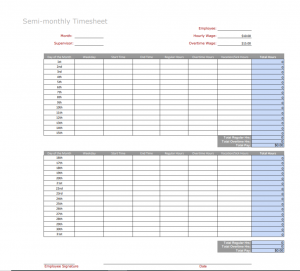 If your company runs payroll twice a month, as opposed to every two weeks, your timesheet will need to have fields to track time for days one to 15 and days 16 to 31. You can manually input the day and date into the spreadsheet or list the month.
If you use this timesheet in a spreadsheet format, a good practice is to create a new tab for each month of the year. Employees would then input time-worked data in the correct tab—January, February, March, and so on—so you'll have a running total of all hours worked for the year.
Download as PDF
Download as XLSX/Google Sheets
6. Project Timesheet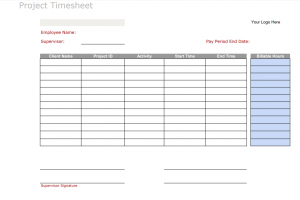 This template can be used by freelancers or contractors who need to calculate hours worked on projects. It can also be used in offices where workers' time is tracked against customers or projects, or when staff needs to designate billable hours so that customers can be invoiced property. There's space to list project IDs and associated work activities that were done.
Contractors who work in the field may find it more beneficial to download the PDF versions because they can bring the timesheets with them from site to site. However, freelancers who work from home, like writers, graphic designers, and so forth, who use the computer for most of their work, would most likely prefer the spreadsheet version. It has formulas that will save them time from having to calculate hours worked manually.
Download as PDF
Download as XLSX/Google Sheets
Payroll Integrations With Time Tracking Software
Tracking time worked for employees is an essential step in the payroll process. Calculating payroll amounts and processing employee paychecks are also essential, and they're all much easier to do if you streamline the process. Using Homebase for employee time tracking will make it easy. The software seamlessly integrates with many of the best payroll services.
Here is a list of the top payroll services that integrate with Homebase:
To process payroll efficiently, you should create or sign up for a time tracking system that integrates into your payroll process with ease. Managing employee work hours and calculating their paychecks goes hand in hand.
Bottom Line
Tracking employee time worked is important to the bottom line of every small business. If you prefer to use paper timesheets, print a PDF version of the timesheet template that works best for your business— think pay schedule. You can download and customize the templates as an Excel file or a Google Sheets file, so employees can input their time on the computer, enjoy automated calculations of total time worked, either print or email their timesheet to you when done.
If you want to stop asking employees to fill out paper timesheets, try switching to a digital system. Homebase lets you create employee schedules, record clock-in and clock-out times, and calculate time online without having to do any manual calculations. Start tracking your employees' work time for free today.