Point-of-sale (POS) marketing is a promotional strategy where products are placed right before check out to motivate customers for a last-minute purchase. In ecommerce, POS marketing includes cross-selling and upselling at the shopping cart or checkout stage online. In this article, we'll cover point-of-sale marketing ideas along with insights and tips to improve your POS marketing game.
Here are 20 examples of POS marketing ideas for physical shops and online stores:
1. Add Displays to the Line for Cashier
Google's latest consumer research shows 80% of holiday shoppers will consolidate their spending to make fewer trips than they did in previous years. So while most in-store shoppers already know what they want to buy, you can still entice them to make last-minute purchases if it helps finish their shopping faster.
How to start: Display complimentary items of your top-selling products by the checkout counter. It's also a great opportunity to display new items and test product lines. Consider offering great discounts for in-demand products from not-so-popular brands. Chances are, shoppers would heavily consider picking them up instead of spending extra time in other stores. When in doubt, opt for items that are small in size, appeal to a wide audience, and have a lower in price-point.
2. Install a LED Display at the Checkout Counter
With the recent health crisis, shoppers would be more inclined to visit stores that ensure the least in-person contact. In fact, consumer surveys show that 53% of shoppers who plan to shop this season said they'd choose to shop at stores that offer contactless shopping. LED displays are a great alternative, not only for in-store marketing but also for price-checks and self-service checkouts.
How to start: If you're wondering how much this type of POS marketing strategy costs, it all depends on your requirements, so get quotes and compare. There are lots of free digital signage software like Digital Signage and Chrome Sign Builder that offer a variety of features, while media players (hardware) cost starts at $190.
3. Include In-Store Ads That Answer Customer Pain Points
As much as possible, use messaging that provides answers to common customer problems. Nowadays, in-store shoppers always have a purpose, and while customers usually know what they came to buy, they are still open to alternatives. Knowing your customers' pain points will be your selling strength and should be the highlight of your in-store advertising.
How to start: In-store retail signages can cost anywhere from $10 to $1,000. But if you're feeling creative, you can make your own and get huge savings. Make sure your ads are short and straight to the point. Use large, legible fonts in eye-catching colors, and try viewing them from afar. Stay relevant in your choices for design and regularly update to match upcoming events and seasons.
4. Add a Creative Cashier Counter Display
Checkout counters in brick-and-mortar shops are the most natural areas to encourage impulse buys, which 80% of shoppers admit to doing so before the COVID-19 outbreak. However, this can be challenging when products come in all colors and sizes. Use a point-of-sale display that ensures all your products are eye-catching without being visually overwhelming to the customers.
How to start: Keep your display rack simple. Get creative by going against the grain, and instead of designing larger signage, use unexpected, and sometimes even inexpensive, materials for a unique approach to display marketing.
5. Set up a Sales Floor Samples Area
Google's latest consumer insight report shows 66% of consumers are planning to shop more at local small businesses. This is a great opportunity for local businesses to market their products through samples. Placing them strategically near your checkout counter will ensure that customers can be encouraged to make instant buying decisions before they leave your store.
How to start: Contact your supplier for sample-sized inventory. Most of the time, suppliers would not mind sending them out for free. Food treats and other consumable goods are always popular with customers. Set up in an area closest to the checkout counter while making sure that it doesn't get overcrowded and disrupt the queue.
6. Display Possible Cross-Selling Items Together
By early 2019, nearly 70% of US consumers had placed multiple click and collect orders. Of these shoppers, more than 80% end up buying other products while picking up their order at the register. Even while exercising caution, cross-selling is still an effective retail strategy. Use your display to suggest ideas, and customers will be happy that they don't have to walk around looking for it inside the supermarket.
How to start: The quickest strategy in deciding what to cross-sell is to work with the seasons. Capitalize on key celebrations, holidays, and events in your community and push sales of your slow-moving inventory with cross-sells. You can also put up signages to announce your cross-selling offers near the store entrance.
7. Use a Compelling Call To Action
Call to actions (CTAs) were already being used on physical store signages for a long time. And just like any website, the right CTA can drive as much as a 90% increase in foot traffic and increase potential sales. Store owners should, therefore, know how to create strong and compelling CTAs and add it to their point-of-sale marketing strategy.
How to start: Keep your CTA simple and straight to the point. The message should be short and sweet, starting with a strong verb and keywords like "yours," "now," and "discount" to make it compelling. The sign should be big enough to catch customer attention and direct them to the product. Use bold fonts and colors that highly contrast the background of your point-of-sale or point-of-purchase countertops to make sure they stand out.
8. Feature Specific Products Prominently
Research shows that convenience is a major consideration for consumers, and 40% of brick-and-mortar shoppers want the most convenience during checkout. This is why being able to anticipate what customers need, even before they realize that they need it, is a huge driver for sales. Customers who walk into specialty shops, for instance, already know what they want to buy. Adding a display of certain products that they won't expect to see but might want to have along with their current purchase can easily trigger impulse buys.
How to start: Add a display of a product that's unexpected but complementary to your items in that section of your store and place it in an area where it will stand out. These products can be effectively displayed by the checkout counter, where customers can decide to grab last-minute items.
9. Provide a Unique, Limited-Time Service
Even with the current health crisis, 31% of Americans have attended product demonstrations, while 20% have visited popup shops in 2020. Providing a unique service, like special customization only available in your popup stall, is an effective form of experiential marketing. And because it's a limited-time offer, customers will fear missing out. Set it up near your checkout counter for convenient payment.
How to start: Start a customer journey mapping exercise that emphasizes safety and make this process transparent. Showing customers your safety protocols is a great way to market your pop-up shop. This will boost consumer confidence and build excitement among your target audience.
10. Make Your Exclusive Online Products Available
Investment in in-store technology rose to 60% in 2019 as consumers demanded a more personalized shopping experience from brick-and-mortar stores. And while not all small businesses can afford high-tech features such as smart fitting rooms and smartphone app-based ordering, having their own online store is a good step in the right direction.
How to start: Place tablets at your checkout counter area so customers can explore your online shop. This works great especially if you sell drop-shipped products or offer a wider selection of products online than in-store. Aside from giving shoppers the ability to browse the rest of your catalog, you can also build loyalty by providing this extra feature in your store. Be sure to also offer ship-to-store and store pickup services for customers that place online orders in-store.
11. Entice Shoppers With Free Shipping
Studies show that 23% of shoppers end up adding more items to their basket at checkout to qualify for free shipping. This strategy is great for boosting your bottom line because you can pick a free shipping threshold that doesn't dig into your margins while also encouraging higher average order values.
How to start: Add callouts to get your customer's attention and countdowns to free shipping. Use bold colors to highlight your message or small callout boxes that clearly shows where the added value comes from.
12. Suggest Similar Products in Your Catalogue
Sometimes, a huge catalog can end up making shoppers miss items that they might otherwise buy. So, right before checkout, opt to display products that are similar to what the customers have in their cart. This should give them a second chance to view the previous items they were interested in and reconsider buying any of those in the list at the last minute.
How to start: Use upsell tools. Platforms like Shopify have an app marketplace where you can subscribe to tools that lets you customize upsell features in your online store. Some are free like SpurIT, while others come with a monthly subscription and you can choose based on the design and level of optimization.
13. List Products That Complement Items in the Cart
The chances of selling to existing (or those committed to becoming) customers is 60% to 70% better compared to those who are still undecided. This is because customers have already made a buying decision, which makes it the perfect time to suggest another item that will work best alongside their purchase.
How to start: Offer premium add-ons. Your complimentary items are not limited to your regular inventory products. Consider offering premium services such as in-home installations, extended protection plans, and even add-ons like free test samples of premium products that complement their current purchase.
14. Pull From the Same Brand
Instead of looking for similar or related items, some customers might be more interested in being able to see more products from the same brand. This works best if you carry a variety of products from different manufacturers, which makes it easy for customers to miss items they might be interested in buying.
How to start: Offer brand exclusive deals. Create special sales around occasions and events and bundle products of the same brand. Nowadays, satisfied shoppers are quick to share the best deals they get on their social media, which makes for a great social proof to boost your business.
15. Show the Customer's Recently Viewed Items
Before arriving at a choice, customers view a number of items that they might eventually have forgotten by the time they are ready to pay. This means that the customer had considered buying those products and they might consider getting them at the last minute if they are reminded at the checkout page.
How to start: Offer bulk discounts. Previously viewed products are usually a result of choosing the best option. A bulk discount will give most buyers the last push they need to purchase both (or all) items instead of picking just one.
16. Send Out Abandoned Cart Recovery Emails
In 2019, the cart abandonment rate in the US was 77.13%. Customers who end up abandoning their cart right before check out are not yet a lost cause. You can set up a series of reminder emails to be sent and offer incentives, such as discounts, coupons, and even free returns to motivate customers to return to their cart and complete their purchase.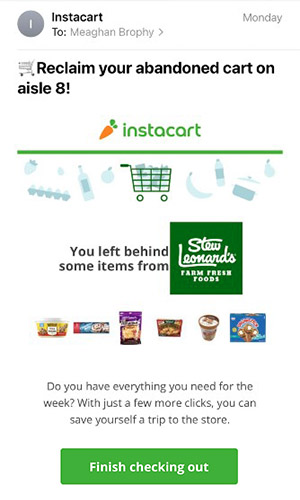 How to start: Consider adding social proof in your cart abandonment email. This could be as simple as adding star ratings to show your recipient that other shoppers loved your product. Information like this would trigger their fear of missing out and effectively send them back to your checkout page.
17. Campaign for a Cause
According to Google's 2020 Retail Holiday Guide, 46% of US shoppers would prefer buying from businesses that align with their values. This is the perfect time for stores to get their customers more involved supporting good causes through active marketing campaigns. This means updating your website, in-store displays, and even your Google My Business information.
How to start: Get more involved in your local community. Use your self-service kiosk display to advertise campaigns for local causes. Supporting local causes such as fundraising for the local football team or working against unemployment by hiring more people to work in your store will attract customers who share the same values.
18. Market From Self-Checkout Counters
Nielsen's recent Grocery Shopping Consumer Survey shows that customers spend only between 19–50 minutes doing their grocery shopping. Even without the pandemic, this fast-moving lifestyle is partly why automation is becoming more popular in brick-and-mortar stores. Self-checkout kiosks have an add-on display and a one-touch button for automated upselling.
How to start: Setup a less expensive alternative. The cost of a new self-checkout kiosk starts at $30,000 to $150,000. However, small businesses can opt for a mobile point-of-sale system which will make it possible to have checkout counters anywhere within the store. You can use any mobile device and transform it into a mobile POS with the right POS system provider.
19. Display a QR Code at Checkout
Last year, statistics showed 81% of adults in the US have QR scanning capable smartphones. Amazon Go is taking the lead in the use of QR codes. Customers can shop in any brick-and-mortar store, scan a QR code, and any item they leave with is automatically charged to their Amazon account.
How to start: Use QR codes for marketing campaigns. Some customers might still be hesitant in using QR codes for contactless payment, but would not mind using it to get a discount. Offer the discount in exchange for an email address and start a loyalty program in one go.
20. Have Customer Service Available at Checkout
In the age of online shopping, there's no denying that social proof will attract more customers compared to advertising. TrustPulse reports that 83% of shoppers trust reviews by fellow consumers over information from product ads. Business owners will have to provide excellent customer service from checkout to ensure positive feedback and online reputation.
How to start: Upgrade to a POS system. Providers like Square have integrated tools that offer cloud-based management of additional features including instant cashbacks and refunds so that businesses can attend to unhappy customers immediately.
Bottom Line
The retail environment will keep changing as fast as consumer behavior evolves, and businesses will have to adapt to stay competitive with their online counterparts. This includes knowing how to position the right merchandise at the point of checkout where customers make the most of their buying decisions. So whether you have a brick-and-mortar shop or an online store, these point-of-sale marketing ideas can help keep your business boost sales all year-round.
Technology will continue to keep business owners on their toes, and it will need more than an effective point-of-sale marketing strategy to keep up. Here are additional resources to "future-ready" your retail business: