16 Effective POS Marketing Ideas for Driving Sales
This article is part of a larger series on POS Systems.
Point-of-sale (POS) marketing refers to the merchandising and promotional efforts that take place around the register or the online cart and checkout pages. When done effectively, POS marketing can help boost your business's upselling and cross-selling potential, reinforce your brand, improve customer experiences, and enhance your store's visual appeal.
Here are 16 in-store and online POS marketing ideas to drive sales.
1. Line Your Checkout Space With Displays
Place shelves or free-standing displays around your register to showcase small, inexpensive products. Doing this will keep your customers shopping as they wait in line and will promote impulse buys.
Impulse buys:
An unplanned purchase. When a customer buys items they were not planning on buying, or when something is bought "on a whim."
Impulse buys can be a great way to drive sales, even more so in today's climate. In January 2020, before the start of the COVID-19 pandemic, the average American spent $155.03 on impulse buys each month. In April 2020, that number had risen by 18% with consumers spending an average of $182.98 on impulse purchases each month.
When stocking your shelves with impulse items, use products like snacks, small accessories, or other little items that customers can add to their purchase without much thought. Another strategy is to display odds and ends that customers might have forgotten—like batteries, lighters, and nail clippers.
For example, at my boutique, we had fashion tape, static guard, and small accessories around our register. Customers constantly would add a roll of tape or fun ring to their initial purchases—products they may have forgotten or never considered had the items not been marketed around our POS system.
2. Add Countertop Displays
In addition to your checkout area, you can incorporate displays and capitalize on impulse buys on your actual checkout counter.
If you do not have a large counter space, avoid overcrowding it by incorporating under-counter shelving for displaying products and inspiring impulse buys.
Create small displays like the ones below, which showcase items that customers can easily add to their purchase or small products that they may have forgotten to shop for.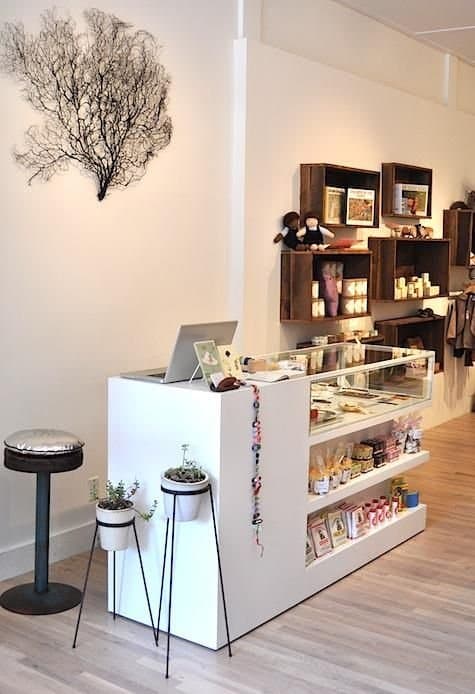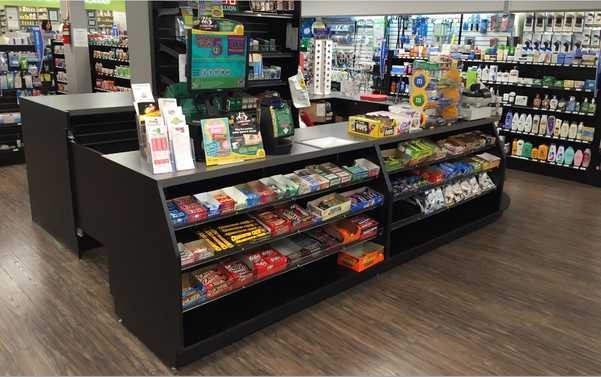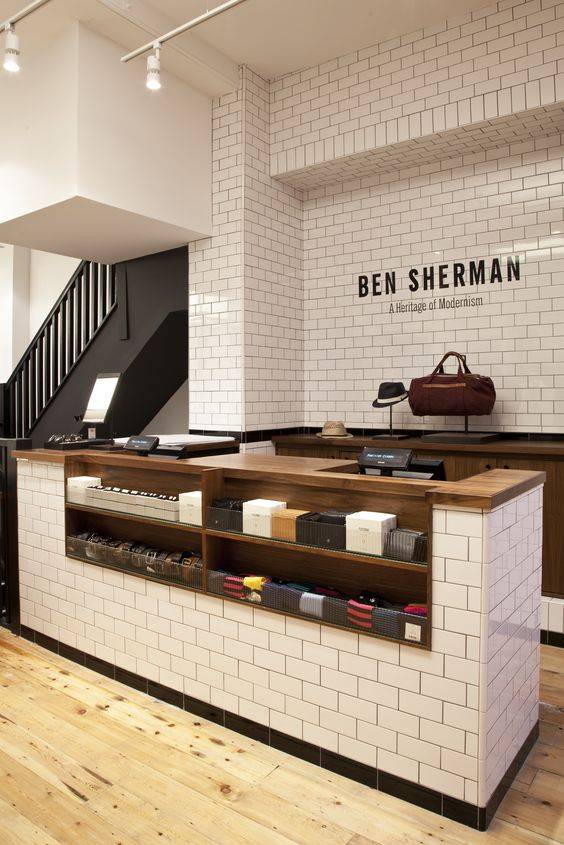 The countertop POS marketing strategy is especially useful if you don't have a lot of space around your cash wrap for shelving displays. Displaying products on your counter is a great way to utilize product space without taking up additional square footage.
Another way that you can enhance your countertop displays is with guiding signage. Spark inspiration among your customers with signs telling them how to use your product or what it is best suited for. If customers are able to envision how they would use your products, they will feel even more subliminal pressure to make an impulse purchase.
3. Create a Sampling Area
Another way that you can boost customer engagement and drive sales around your POS is by creating a sampling or demo station. Whether you are sampling a new snack or showing shoppers how to use a featured product, a sampling area is a great way to introduce customers to new products and boost your sales.
To begin, you can either create your own samples and station or contact your supplier for sample inventory and displays. Most of the time, suppliers don't mind sending them out for free, and they will often include a temporary sampling station for you to use. Otherwise, a small folding table with some signage should do the trick.
Set up your sampling in an area closest to the checkout counter, but be sure that it doesn't get overcrowded or disrupt the queue. This will allow you to capitalize on customers about to make a purchase, drive impulse buys, and maintain order in your checkout area.
4. Cross Merchandise Complementary Products
When customers are in the checkout line or are preparing to pay, use POS marketing to cross merchandise complementary products. Cross merchandising can save customers time, make their shopping experience easier and more convenient, remind them of need, spark ideas, and drive your sales.
Cross merchandising:
The practice of displaying items from different product categories together to incentivize customers to make multiple item purchases. You can learn more about cross merchandising strategies with our cross merchandising guide.
For example, a grocery store might place pasta and pasta sauce at an endcap by the register so customers can easily add both products to their cart at the end of their shopping trip. Or, a boutique might display scarves and hats near its POS so customers can grab all their cold-weather essentials in one place. Placing items that are commonly sold together near your POS is a great strategy for upselling.
Upselling:
A sales strategy in which you encourage shoppers to purchase additional suggested products or services that are directly related to the original item of interest.
To get started, identify items that complement each other and make sense to sell together. Of those products, choose the ones that can easily fit at your cash wrap and are small and relatively inexpensive. Remember, even with cross merchandising at your POS, the products you choose should fall into the "impulse" category, remaining small and easy for customers to add to their purchases.
Market these products around your POS, and don't forget about guiding signage—these can be especially helpful to elucidate your product pairings and clarify how customers can use them together in their personal lives.
5. Use Compelling Calls to Action
Use call to action signage around the products at your POS to make shoppers more likely to buy. For example, "try me," "buy now," or "check me out" verbiage calls customers to take some kind of action and is a great way to drive impulse purchases.
Call to Action (CTA):
A marketing term for any display that is designed to prompt an immediate response or a sale.
Keep your CTA simple and straight to the point but also bold and attention-grabbing. The message should be short and sweet, starting with a strong verb like "buy" or "try" to incite action. Then use other words like "yours," "now," and "discount" to make your CTA compelling and eye-catching. In terms of design, use bold fonts and colors to make sure your signage stands out, and position it at eye level to ensure maximum visibility.
Did you know?
Personalized CTAs have a conversion rate over 200% greater than nonpersonalized ones. Do you best to address your shoppers directly with your CTAs, and use familiar, branded language.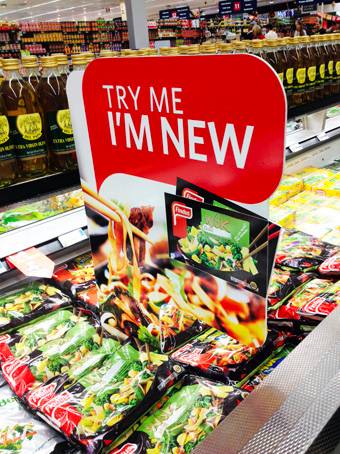 6. Set Up 'Dump Bins'
Dump bins are floor-standing open containers that hold loose products, like swimming noodles and school supplies. Dump bins typically hold products that are categorically the same and are on sale or discount.
I am sure you have seen the large wire bins of old $6.99 DVDs at your local supercenter. Those bins are dump bins, and they are a POS marketing strategy aimed at promoting impulse purchases and moving clearance products.
If you have large numbers of low-cost clearance items, consider displaying them in a dump bin near your register. Use signage to draw attention to their price and make them accessible from all sides. This will keep customers shopping as they wait in line and promote impulsive, discount motivated purchases.
Did you know?
Anywhere from 76%–89% of US shoppers would be willing to try a new product if offered a discount or sale price.
7. Display a QR Code at Checkout
The checkout line is a great place to use QR codes to engage customers with your brand and keep people shopping as they wait in line. With a QR code shoppers can use their phones to scan and go directly to your website, social media pages, a survey, or even to make payments—it's up to you and what you want to show them.
Customers who are in line to check out have already connected with your brand, so if you offer them more engagement, they are likely to want to partake. Place QR codes around your register to boost engagement, promote online sales, and create an exciting and engaging customer experience.
8. Make Customer Service Available at Checkout
Be sure that your customers can get assistance at or near your checkout counter. This placement of your customer service area is not only logical to most shoppers, but it will help to ensure that customers are able to make their purchases with a positive experience.
Tip: Place flyers or displays with common customer questions around your POS. Include things like your return policy, parking information, and current promotions—anything you think your customers might need or want to know.
Depending on how much space you have, your customer service desk will either be part of your POS station, or it will be located at a separate desk. Equip your service area with a handbook of company policies, its own POS kiosk (for looking up orders and processing returns and refunds), and any supplies your associates might need to help customers with returns, exchanges, or other product issues.
For example, at my boutique, our customer service area was located at our POS. So, we had a sewing kit, static guard, tide sticks, and pantyhose for women to use to try on clothes. We also had tissues, paper, and ribbons for wrapping, and office supplies for any paperwork or shipping information.
9. Entice Online Shoppers With Free Shipping
POS marketing is not just for brick-and-mortar stores; it is also an important part of creating an effective online presence. When it comes to ecommerce sites, POS marketing refers to all the design and marketing efforts that take place around the shopping cart and checkout pages.
Just like in real stores, effective ecommerce POS marketing can help you drive impulse sales, upsell, and make shopping easier for your customers.
Your shipping prices are a huge factor in customers' decisions to make a purchase or not. In fact, in both 2021 and 2022, Jungle Scout found that shipping prices are more influential than product prices when it comes to making purchasing decisions.
You can set yourself ahead and make people more likely to purchase if you offer free shipping. The biggest consideration you will have to make is how much your business can spend on shipping costs. Typically, small businesses are not able to offer free shipping as a standard policy. There are, however, several ways you can offer free shipping without sacrificing your bottom line.
Minimum Purchase: You can offer free shipping once a customer reaches a certain ticket amount.
Factor shipping cost into price: One way you can offer free shipping on all orders is by bumping up your prices slightly to account for shipping costs.
Limited Time: You can offer limited-time shipping promotions to incentivize shopping during slow seasons or to stay competitive during peak times.
Coupons: You can offer to exchange email or texting information in exchange for free shipping codes.
Membership: You can make free shipping available to customers who have a membership or pay a flat annual shipping fee.
Tip: Want to learn how you can offer free shipping on your online orders? Check out our free shipping guide for instructions.
One of the best places to advertise your shipping deals is around your POS. Flash your shipping offers around the shopping cart icon, when customers add things to their cart, when they are in their carts, and again when they are inputting their information. This will ensure that customers know your offerings and benefits when they are making their purchasing decision.
10. Suggest Complementary Products at Checkout
Another way that you can boost your sales with POS marketing is by incorporating product suggestions at checkout. Product recommendations are when you suggest similar or complementary products based on what shoppers are viewing or have added to their carts.
For example, if a customer has a pair of denim shorts in their cart, you might suggest matching tops and shoes that could make the item a complete outfit. Product suggestions are a great upselling strategy that make shopping easier for customers.
Using a product recommendation software like Vue.ai, you can show product recommendations when people are checking out so that they see everything they might be interested in before they make their final purchase. Be sure to flash options for similar products and complementary items and products from the same brand.
11. Show Recently Viewed Items
In addition to showing online shoppers product recommendations, you can remind them of what they have already viewed as a POS marketing technique. Showing them things they have shown interest in is a great way to bring previous products to the top of their minds and drive them to purchase them—sometimes, a second reminder is all you need. Also, displaying recently viewed items will make it easier for shoppers to navigate your site and re-find their favorite products.
Incorporate a "Recently Viewed Items" section at the bottom of your shopping cart page. You may also want to consider using a "Quick Add" button on these products so that customers can simply click it without having to leave their shopping carts. This will help to cut out the inertia of adding something new to the cart when your shoppers are already on the checkout page and presumably done shopping.
12. Send Abandoned Cart Recovery Emails
On average, between 70%–75% of online shopping carts are abandoned, which means they were filled up but the shopper left before completing the purchase. Without any infrastructure to beckon customers back to their carts, all of these carts are simply a lost cause. However, if your website sends out a series of emails to remind customers about all they have left behind, you are more likely to end up turning that abandonment into a sale.
Using your website builder or a third-party software like Wunderkind, you can track which customers are abandoning their cart and send them reminder emails. I would suggest sending these emails out between 24 and 48 hours from the time of abandonment so you are catching people when the cart is still fresh in their minds but not too close to the time of abandonment.
Keep your recovery email short and simple—you are just sending them a reminder. What is really going to inspire a purchase is not the message but seeing the product they almost bought. Show pictures of what they left behind, and consider sweetening the deal with a discount or shipping offer.
13. Campaign for a Cause
Another way that you can craft your customers' experience and enhance your POS marketing is by making community partnerships and advertising them on the POS page or counter. This will let customers know what your business stands for and how they can become involved. Not only that, but your business's alignment with a cause can even boost your sales.
Did you know?
According to Google's 2020 Retail Holiday Guide, 46% of US shoppers prefer buying from businesses that align with their values and seek out these brands.
Contact your local blood bank, look to community Facebook pages, and talk to your community center to learn where you can get involved. The cause you choose, however, will attract a certain customer, so be sure you are choosing groups and causes that align with your brand and how you want to represent your business.
14. Advertise Your Loyalty Program
When customers are checking out, they have already connected with your brand and are ripe for becoming a loyal customer. This makes it the perfect time to let them know about your rewards, VIP, or loyalty programs. Advertise your loyalty program in your POS area to get customers when they are most engaged with your brand and help turn them into loyal shoppers.
In addition to creating more loyal customers for future purchases, if you are able to offer a sign-up deal, advertising your loyalty program at the POS will also incentivize shoppers to go through with their purchase or even buy more.
For example, a customer is about to buy a candle from your site, and then a 15% off loyalty member signup coupon comes on the table at checkout. The customer would not only be more likely to buy the candle, but would also be incentivized to make a larger purchase at that moment to maximize the coupon.
I would suggest having a sign-up spot on your shopping cart and checkout pages. I would also prompt customers to join again on the order confirmation page. These three spots should make it easy for customers to find signup opportunities at any time, and remind them of the opportunity again right before they leave your site.
15. Incorporate Self-service Kiosks
Another way you can enhance your checkout process and add to your POS marketing is by incorporating a self-service checkout kiosk into your store. It is a device that includes a digital screen, barcode scanner, and bagging area that customers can use to check themselves out and complete their purchases. You have probably seen them at your local grocery store or Target, as pictured below:
Self-service checkouts will not only add a high-tech flare to your store but will also keep lines at bay—improving your customers' experience. They have also shown to yield higher ticket values, boosting sales. The majority of customers even prefer self-service kiosks for their convenience.
Want to learn more about kiosks and the different types you can add to your store? Check out our article on all things kiosks.
16. Advertise Your Social Media Pages
Another POS marketing technique that you can use is advertising your social media pages near or on your checkout counter. Add posters, QR codes, and flyers that advertise your socials. As we have talked about, shoppers waiting in your checkout line have already connected with your brand and like your products, so capitalize on this connection and seek to deepen it by providing them a new outlet for engagement and a way to stay up to date with your business.
Use strong, action-oriented language on your social media signage and do what you can to make it easy for customers to find and follow you. You don't want to create too many barriers as this will deter them. You can even sweeten the deal by offering a promotion for following your brand on socials, say 15% off a purchase for each new platform they follow.
For example, at my store, we had posters with all of our social media handles listed boldly. The poster asked customers, "Have you followed us on social media yet?," a presumptive question aimed at inspiring action. We also had QR codes for each social media page so that shoppers wouldn't have to take too many steps to find us and give us a follow. We also noted that we ran social media-exclusive promotions to create even greater incentive.
Bottom Line
POS marketing is a great way to boost your revenue, strengthen your brand, and drive impulse buys right before purchase. Both in-store and online, POS marketing is vital to the success of your business and keeping your customers happy. Use the tips above to create an effective POS marketing campaign and watch your business grow.
You May Also Like …