What's the Difference Between POP vs POS?
This article is part of a larger series on POS Systems.
The point of purchase (POP) and point of sale (POS) are two important transactional elements of every retail store. Although some people use the terms interchangeably, POP and POS don't mean the same thing.
So what's the difference?
The POP is the point at which a shopper decides to buy an item, and the POS is where they pay for that item. POP displays promote products and build awareness, while the POS system processes transactions and helps you manage other parts of the business. Let's take a closer look.
POP and POS in Brick-and-Mortar Stores
Point of purchase: The POP is the location where the customer makes their decision to purchase a product. Despite how it sounds, the point of purchase can be anywhere in the store—not just where the transaction takes place. You'll typically hear POP used when talking about in-store displays and marketing strategies.
Point-of-purchase display: A POP display is signage or merchandise that captures a shopper's attention. You commonly see POP displays at cash registers or where customers are waiting to make a purchase. POP displays can also be endcaps, shelves, cardboard signs, and other in-store signage and visual merchandising.
Point of sale: The POS refers to the moment (including the time and place) when a customer makes a purchase. Essentially, the POS is where the transaction actually happens.
Point-of-sale system: A POS system is used in in-person selling environments. It refers to the hardware and software that actually administers and processes the transaction. Hardware might include a card reader, barcode scanner, receipt printer, computer or mobile device, and cash drawer. The software handles payment processing, inventory management, warehousing, and accounting. The POS system is also sometimes called the POS terminal or just the POS.
POP and POS in Ecommerce Stores
POP: Although they serve a similar purpose, in-store and digital POP displays are different. Ecommerce POP displays could be anything from branded shopping apps and pop-up deals during checkout to sample-size products. Online retail is rapidly evolving—expect to see new ways to deploy digital POP displays in the near future.

POS: The POS is no longer limited to the register and checkout counter. Now, mobile (mPOS), ecommerce, and omnichannel have extended the POS's footprint—the sale can take place just about anywhere. Online, many POS systems have integrated payment options for various credit/debit cards, mobile wallets, digital currency, gift cards, subscriptions, payment installments, and more.
The Role of Point of Purchase in Retail Sales
In retail, the POP plays a few roles. It's meant to capture the attention of customers, educate them about your product or offerings, and encourage them to make a purchase. POP displays can also emphasize branding and contribute to the customer experience.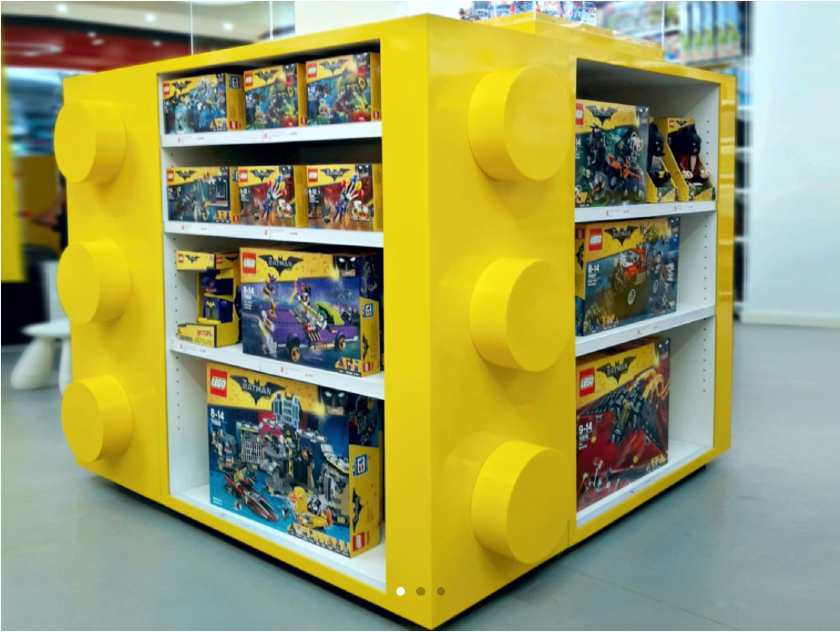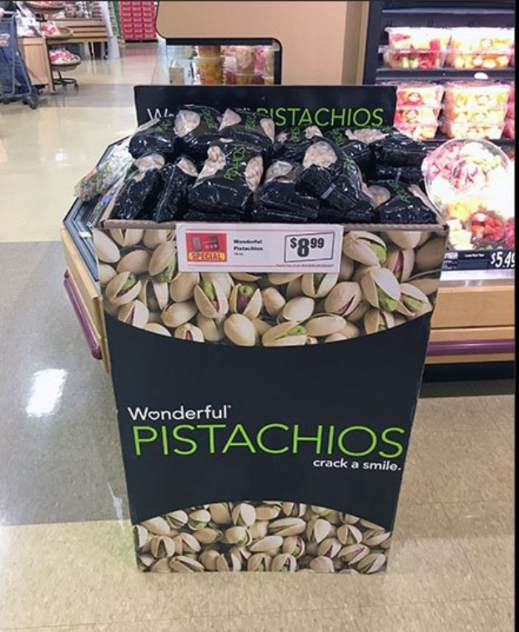 POP displays are strategically placed and typically promote "nice-to-have" items or impulse buys. For example, if you ever walk into a Marshalls or TJMaxx, you'll see the POP displays by the registers full of small, tempting items that are easy to pick up and add to your cart. Most people don't visit stores specifically for the POP display items but many walk out having purchased one.
POP displays are an easy way to increase average order value (AOV) or move aging stock. They also give you an opportunity to test new ideas. For example, you can roll out a POP display in a single store to see if it's effective before investing in rolling it out in all your locations.
Tips for Creating POP Displays That Stand Out
You want your POP displays to educate buyers and inspire them to make a purchase. Here are some tips to keep in mind when building your POP displays:
Choose highly trafficked areas of your store. Use a foot traffic analysis tool to understand how shoppers move through your space, including where they spend the most time. Target areas with high dwell time to increase POP engagement and sales.
Promote small or seasonal items. POP displays can promote almost any product, but impulse buys or small necessities (e.g., batteries or hand sanitizer) are the most common items.
Try new tools and technologies. In-store POPs are evolving far beyond cardboard cut-outs and signs. Now, retailers can get detailed insights into how shoppers move through their store and target in-store customers on mobile devices using Bluetooth technology. You can even create your own mobile app—one report found that mobile app adopters make more purchases.
Analyze and optimize your POP displays. Using the data from your POS system, you can see how well your POP displays perform. Make adjustments based on these insights to improve performance.
Optimizing the Point of Sale to Drive Additional Purchases
Let's start with the traditional take on the POS: the checkout counter. Every customer that ends up in the checkout area will have encountered your products at the POP or POS displays. Take advantage of that opportunity by making the checkout process simple and enjoyable for customers.
Vocal Promotion
In addition to physical displays, associates can talk to customers about popular products or promotions. Keep in mind that pushy promotional scripts or tactics often put off customers.
Stress-Free Transactions
The POS should be a quick, simple, and stress-free experience. With an advanced POS and well-trained staff, you can speed up the checkout process. Plus, mPOS options give associates the chance to meet customers where they're at—on the floor. This means no waiting in line and fewer reasons to reconsider the purchase.
Personalized Shopper Recommendations
You can also use the POS to get to know your customers and offer personalized recommendations based on their information and behavior. POS technology allows for customer relationship management (CRM), loyalty programs, gift cards, discount codes, and other promotional options to drive more sales.
Self-Checkout
In some scenarios, like grocery stores, POS technology allows shoppers to self-serve. Customers who might not be feeling social or who might feel self-conscious about their purchase are more likely to add more to their cart if they have a self-checkout option.
How POS Systems Connect the Point of Purchase and Point of Sale
To keep up with customers' expectations and how quickly retail is changing, all of your systems have to work together. Businesses increasingly need their tech systems to "talk" to each other. That means choosing integrated systems or connecting them with custom API solutions.
If you're wondering how to use a POS system to analyze and optimize both your POP and POS, there are a few key features and capabilities to look for:
Inventory Management
Most POS systems have some inventory features. Many allow you to create and manage SKU numbers, bar codes, product categories, supplier profiles, shipping labels, and other important product information.
Many POS systems will also track stock levels across all of your commerce channels. This brings together your POS and POP displays by syncing inventory levels and alerting you when there's an issue, like if an item is selling out quickly or not selling fast enough, giving you enough leeway to adjust.
Selling out: You'll either want to reorder quickly (some POS software can do this automatically) or add some sort of messaging that the items are selling out soon.
Not selling: You might consider adding those items to the POS and POP displays or encouraging employees to promote them.
Customer Relationship Management (CRM)
With your POS system, you can collect customer information with every interaction. You might get customer names, phone numbers, ZIP codes, or email addresses and add that to the POS system—the perfect information for loyalty programs, birthday gifts, and more.
Your POS system will also track customers' purchase history, including how much they spend, what they buy, which payment methods they've used, which location they've shopped, and if and when items were returned, among other behaviors.
You can use these insights to create your POS and POP strategies. Segment your customers based on similar behavior and create displays based on your most valuable segments. For your online store, this helps you create insight-driven, targeted digital marketing initiatives.
Reporting
POS systems break down sales data in detail—noting exactly when items are purchased and who made the sale, among other information. Advanced POS systems also drill down into where the purchase decision was made.
Reporting data from your POS system can tell you many things, including:
Which items are popular from POP displays
Which POP displays are most effective
When and where customers make the purchase decision, the actual POP
Sales upticks or drops in relation to POP displays
Which employees are responsible for the most sales
How quickly products sell when in a POP display vs not in a POP display
Which displays shoppers interact with most
Omnichannel
Today, customers have so many touchpoints with businesses. And even though they may be interacting with you on a multitude of channels at different times and days, it's important to always provide the same level of service and the same experience regardless of where or how you're engaging with the customer. Your POP and POS come into play here because they can help create that seamless experience in your permanent store, at events and pop-ups, on social media, via email, and on your online store.
Shoppers expect their entire experience to be seamless. Transparency, data security, multiple payment options, and a good user experience are musts for small businesses. Recent research found that 18% of US online shoppers have abandoned an order in the past quarter due to a lengthy or complicated checkout process, and 17% abandoned because they didn't trust the site with their credit card information.
This is especially important because consumers no longer take a linear path to purchase. There are many research channels and other touchpoints that happen in a nonlinear fashion before a customer feels compelled to make a purchase.
New technologies integrate various business tools and systems to centralize data and provide well-rounded analyses about your POP and POS.
Bottom Line
The POP and POS are two key drivers in every retail store and can improve the customer experience and sales for your business when used effectively. It's important to understand how they compare so that you can leverage the power of both to optimize your retail business. Learn how to get more from your POS with the resources below.