QuickBooks Payments enables QuickBooks users to accept payments via credit and debit cards and ACH transfers in person, via mobile, and through the QuickBooks platform. Its other features include recurring payments processing, invoicing, next-day deposits, and analytics reporting. There are no upfront costs with QuickBooks Payments, which charges transparent flat-rate transaction fees; however, monthly QuickBooks Online subscriptions start at $15.
In our review of the best merchant services providers, QuickBooks Payments earned an overall score of 3.87 out of 5. Although it can accept various payment types and offers competitive processing fees, it is only a suitable option for QuickBooks subscribers.

Pros
Transparent, flat-rate pricing
Invoicing and recurring billing tools, including ACH payment processing
Automatic bookkeeping
Cons
Must have QuickBooks account
No phone customer support
Does not process international currencies
When to Use QuickBooks Payments:
When to Use an Alternative
If you are not using QuickBooks Online and do not want to sign up for it
If you need an international merchant account for accepting international payments
If you need a provider with lots of integration options
Supported Business Types

Flexible

Ecommerce, professional services, B2Bs, retail, nonprofit

Standout Features

Mobile app for accepting in-person payments and works as a virtual terminal
No additional fees for existing QuickBooks Online users
Instant payout to QuickBooks checking accounts
Comes with excellent accounting software
Full integration with QuickBooks system

Monthly Software Fees

Very Competitive

$0–$20

(requires a QuickBooks Online subscription with fees ranging from $15–$200 per month)

Setup and Installation Fees

$0

Contract Length

Month-to-month

Point-of-Sale Options

QuickBooks GoPayment

Payment Processing Fees

Competitive for small businesses

In-person transactions (using the card reader): 2.4% + 25 cents
Invoiced/Online transactions: 2.9% + 25 cents
Keyed-in transactions: 3.4% + 25 cents
ACH payments: + 1% (max of $10)

Customer Support

Chat support, Monday–Friday, 6 a.m.–6 p.m., Pacific time
Support center
Community forum
| | | | | |
| --- | --- | --- | --- | --- |
| Best for | QuickBooks users | Processing less than $10,000 in monthly transactions | Occasional sales | Low-cost payment processing |
| Monthly fee starting at | $0 | $0 | $0 | $79 |
| Card-present transaction fee | 2.4% + 25 cents | 2.6% + 10 cents | Starts at 2.29% + 9 cents | Interchange + 8 cents |
| Keyed transaction fee | 3.4% + 25 cents | 3.5% + 15 cents | 3.49% + 9 cents | Interchange + 18 cents |
| Ecommerce transaction fee | 2.9% + 25 cents | 2.9% + 30 cents | Starts at 2.59% + 49 cents | Interchange + 18 cents |
| | | | | |
Looking for something else? The payment processing rates you will pay can vary based on your business size, type, and average order value. To find the most affordable option and compare multiple processing rates, read our guide on the cheapest credit card processing companies.
Although you may use QuickBooks Payments without paying any monthly fees, you will still need a QuickBooks account to be able to use it. QuickBooks Online monthly subscription fees, ranging from $15 to $200 per month, make QuickBooks Payments less affordable than other payment processors. There are no cancellation fees, so you can sign up and cancel anytime.
QuickBooks offers two different transaction rates depending on whether you are using QuickBooks Online or QuickBooks Desktop. QuickBooks also has a Gmail plugin and a mobile app, QuickBooks GoPayment, and the same processing fees as QuickBooks Online apply. Miscellaneous fees, such as chargebacks and return and reject fees, are common regardless of the platform.
Since our last update:
QuickBooks Payments is currently available for those using QuickBooks Desktop, with different monthly and processing fees. However, QuickBooks has announced the discontinuation of the service for most QuickBooks Desktop versions after May 31, 2023.
| | QuickBooks Online | QuickBooks Desktop "Pay as you go" plan | QuickBooks Desktop "Pay monthly" plan |
| --- | --- | --- | --- |
| Monthly Fee for Using QuickBooks Payments | $0 | $0 | $20 |
| Swiped Transactions | 2.4% + 25 cents | 2.4% + 30 cents | 1.6% + 30 cents |
| Keyed-in Transactions | 3.4% + 25 cents | 3.5% + 30 cents | 3.3% + 30 cents |
| Online/Invoiced Transactions | 2.9% + 25 cents | 3.5% + 25 cents | 3.3% + 30 cents |
| ACH Transactions | 1% (max $10) | $3 | $3 |
If you do not have a QuickBooks Online or QuickBooks Desktop account, you will need to sign up for one to use QuickBooks Payments. The subscription fees for QuickBooks Online range from $15 to $200 per month, while QuickBooks Desktop plans range from $799 to $1,410 per year.
Check the monthly fees for the different QuickBooks Online and QuickBooks Desktop plans.
---
| | Rate | Applied to |
| --- | --- | --- |
| Chargeback Fee | $25 plus the full chargeback amount | All card transactions |
| Reject/Returned Check Fee | $10 | ACH/e-check transactions |
| Instant Deposits | 1% | Per request of Non QuickBooks Checking users |
| PCI Service | $9.95/month | Free plan users |
Hardware
QuickBooks offers mobile card readers that can accept insert, tap, and digital payments. These are sold separately but you'll often find promotional pricing offers for its POS devices. All hardware purchased from Intuit includes a one-year limited warranty and a 60-day money-back guarantee.
QuickBooks Mobile Card Reader

$49 or $79 with Power Stand

Accepts swiped, EMV chip cards, and NFC contactless payments (including Apple Pay and Google Pay)
Connects via Bluetooth with both iOS and Android GoPayment App
Since our last update:
QuickBooks has a more powerful QuickBooks POS that works with QuickBooks Desktop. It offers a different set of hardware that includes the Ingenico PIN pads. However, Intuit has announced that it is no longer selling QuickBooks Desktop POS to new users, and support will be discontinued for all existing users starting Oct. 3, 2023. Read more about the QuickBooks POS discontinuation.
---
Being able to successfully sign up for a QuickBooks platform account does not mean you are already approved for a payments merchant account. However, access to any of QuickBooks' platforms does provide you with the means to apply for payment processing. So, if you don't have a QuickBooks account yet, you will be asked to sign up for one; otherwise, the website will prompt you to log in to your account.
There are no setup, application, or termination fees related to a QuickBooks Payments account; however, your QuickBooks platform may impose separate terms and conditions. For instance, legacy accounts that have not updated to the new pricing plans are subjected to tiered pricing. Custom plans with discounted rates are also available for businesses with large volume transactions but may apply different contract lengths and terms.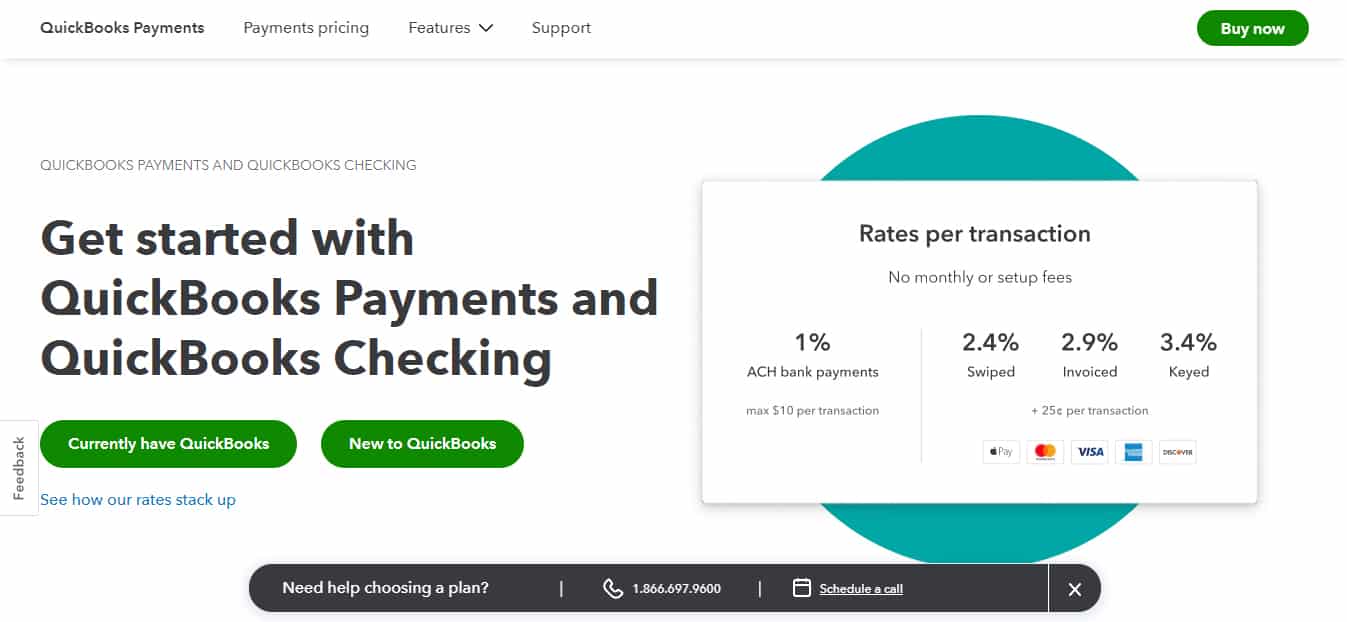 ---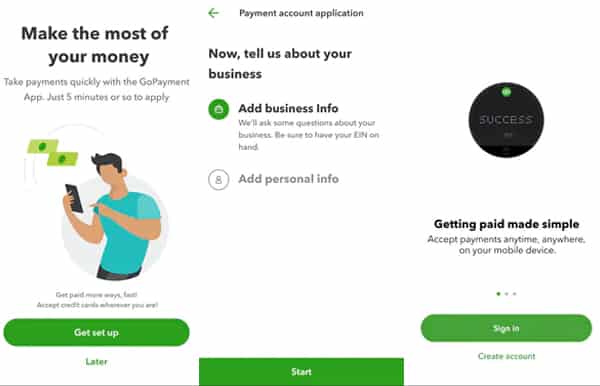 ---
Signing up for a payments account is relatively quick, particularly for its mobile payment app QuickBooks GoPayment. Once you have downloaded the app and logged in to your GoPayment account, you will automatically be guided through the application process, or you can click on the "Get set up" button.
Signing up for QuickBooks Online instead? We've put together a few guides on how to get going with QuickBooks:
---
Stipulations on the use of QuickBooks Payments can be found under Section N: Merchant Payment Service. While it's important to read the document in its entirety, you may want to clarify the following terms and conditions around payment processing with a QuickBooks sales representative:
You give QuickBooks access to your QuickBooks account information to conduct creditworthiness verification.
QuickBooks reserves the right to assign, set, or decrease limits to your per transaction or aggregate monthly transaction volume and can impose sanctions, including termination of your payments account if you exceed your processing limit.
You may be required to set up and maintain a Reserve account and QuickBooks may require you to increase the balance of this account at any given time.
In the event of changes in your average transaction amount or processing pattern, unusually high monthly percentage of different transaction types, or excessive chargebacks, QuickBooks is authorized to place holds on your transactions or Merchant Account.
---
QuickBooks Payments accepts all payment types we considered, earning it perfect scores for this category. Although it is limited to those who use QuickBooks, it is a flexible payment processor for those who already have QuickBooks accounts.
QuickBooks Payments accepts all Visa, Mastercard, Discover, and American Express cards, ACH bank transfers, PayPal, Venmo, and NFC payments, including Google Pay and Apple Pay. QuickBooks Online Payments allows you to process remote transactions and is supported by a variety of business tools to track and manage your funds. QuickBooks GoPayment, on the other hand, provides tools for accepting in-person cash, check, and card payments with a card reader connected to your mobile device.
---
QuickBooks allows you to integrate your payment processing tools with popular ecommerce platforms such as BigCommerce, Shopify, WooCommerce, and UltraCart. Online invoicing lets you create payment button links you can include on emails you send to your customer to offer instant card payment options. Your QuickBooks Online platform can then securely process your payments, record your transaction, calculate taxes, and issue a digital receipt for your customers.
---
ACH and e-check payments are generally cheaper to process compared to paper checks and are funded faster. QuickBooks processes your digital checks with the Automated Clearing House (ACH) and then sends the details to your bank over a secure connection. While it typically takes up to five business days to process these types of payments, qualified merchants using QuickBooks Payments are offered next-day deposits at no extra cost.
---
Create, customize, and send invoices directly from QuickBooks. It offers invoice generator and invoice template tools to easily design invoices and manage them according to your business type. Customers can easily pay invoices online through payment buttons, over the phone, or in-person with a mobile card reader. You can also set and accept recurring payments and send recurring invoices.
---
QuickBooks offers a lot of powerful business management features. However, it needs better customer support and faster deposit speeds (without extra fees) to earn higher overall scores for its features.
QuickBooks Payments integrates seamlessly with other QuickBooks tools, such as payroll and accounting. This integration gives you a full view of your business's cash flow and makes it easy to manage online, in-person, and even over-the-phone payments.
---
With QuickBooks Checking, you can sign up for a business bank account with Green Dot Bank, where you can receive instant deposits and faster ACH transfers at no extra cost. You also earn from your savings and manage your cash with an ATM card that earns you points each time you use it for cashless purchase. Sign-up is free, with no monthly fees or minimums to maintain, and you get seamless integration with your QuickBooks Payments and QuickBooks Payroll accounts.
---
Though QuickBooks works best within its own ecosystem, there are also integrations with external platforms like Amazon, PayPal, Square, and Shopify, there is also a long list of third-party integrations to choose from. Aside from the ecommerce platforms we mentioned, it is also compatible with SOS Inventory, QuickBooks Time (formerly TSheets), and Fathom. These integrations allow you to use QuickBooks Payments with your tech stack.
---
QuickBooks GoPayment is a free app that allows you to process payments by keying in your customer's card details on your mobile device or with a mobile card reader. Merchants can also get a mobile card reader so that they can accept in-person payments on the go.
---
Historically, QuickBooks would take two to three business days to deposit funds from card transactions and even longer for ACH payments. However, with a QuickBooks Checking account, you can get free instant deposits (including nights and weekends).
---
Look for the Help button on any screen when in your dashboard to find QuickBooks' self-serve support content. If you can't find what you need, you can reach out via the website to start a live chat or request a callback. QuickBooks also has a community forum where you can ask and answer questions of other QuickBooks users.
---
QuickBooks Payments earned perfect scores for its popularity and integrations. Although it requires a QuickBooks account, it comes with a lot of useful and easy integrations both within QuickBooks and with other platforms.
It lost a few points for its pricing, which is slightly higher than other providers, and ease of use. For those who do not have a QuickBooks account yet, the pricing can be a bit confusing, and there is a lot more to learn because the main product you are signing up for is for accounting and bookkeeping purposes.
What Users Say in QuickBooks Payments Reviews
Users generally enjoy using this platform. Many QuickBooks Payments reviews highlight the program's intuitive and straightforward design. Users are also impressed with QuickBooks Payments' ability to integrate easily with other programs.
QuickBooks Online Payments
Capterra: QuickBooks Payments earned an average rating of 4.2 out of 5 from over 60 user reviews, with the highest ratings for ease of use.
G2: While there are fewer than 20 user reviews, QuickBooks Payments is rated 3.8 out of 5 stars.
QuickBooks GoPayment
The mobile payments app has the following ratings:
While QuickBooks Payments reviews were mostly positive, some users found the fees to be high and lacked transparency.
Users Like

Users Don't Like

How easy it is to use for payment processing
Poor customer service
Simple system to learn and become accustomed to
Reliance on QuickBooks' accounting platform
Methodology—How We Evaluated QuickBooks Payments
We test each merchant account service provider ourselves to ensure an extensive review of the products. We then compare pricing methods and identify providers that offer zero monthly fees, pay-as-you-go terms, and low transaction rates. Finally, we evaluate each according to a range of payment processing features, scalability, and ease of use.
The result is our list of the best overall merchant services. However, we adjust the criteria when looking at specific use cases, such as for different business types and merchant categories. This is why every merchant services provider has multiple scores across our site, depending on the use case you are looking for.
Click through the tabs below for our overall merchant services evaluation criteria:
25% of Overall Score
We awarded points to merchant account providers that don't require contracts and offer month-to-month or pay-as-you-go billing. Additionally, we prioritized providers that don't charge hefty monthly fees, cancellation fees, or chargeback fees and only included providers that offer competitive and predictable flat-rate or interchange-plus pricing. We also awarded points to processors that offer volume discounts and extra points if those discounts are transparent or automated.
QuickBooks Payments earned average overall scores for this category. While it scored high for its month-to-month contract and zero cancellation fees, it lost a few points for the required QuickBooks Online monthly fees and other miscellaneous fees, such as the high chargeback fee.
30% of Overall Score
The best merchant accounts can accept various payment types—including POS and card-present transactions, mobile payments, contactless payments, ecommerce transactions, and ACH and e-check payments—and offer free virtual terminal and invoicing solutions for phone orders, recurring billing, and card-on-file payments.
QuickBooks Payments aced this category with perfect scores for all payment types we considered.
25% of Overall Score
We prioritized merchant accounts with free 24/7 phone and email support. Small businesses also need fast deposits, so payment processors offering free same- or next-day funding earned bonus points. Finally, we considered whether each system has affordable and flexible hardware options and offers any business management tools, like dispute and chargeback management, reporting, or customer management.
QuickBooks Payments scored lowest in this category because of the additional fees for faster deposits and the limited customer support. Although it has a good mobile app, more powerful POS options are only available via integration.
20% of Overall Score
We judged each system based on its overall pricing and advertising transparency, ease of use (including account stability), popularity, and reputation among business owners and sites like Better Business Bureau. Finally, we considered how well each system works with other popular small business software, like accounting, point-of-sale, and ecommerce solutions.
Its popularity and other integrations helped QuickBooks Payments earn perfect scores for these sub-criteria. It would have scored higher in the other subcategories if it has simpler standalone pricing and was easier to use.
*Percentages of overall score
QuickBooks Payments Frequently Asked Questions (FAQs)
If you're already using QuickBooks for accounting, using QuickBooks Payments can make it easy to manage your payments within the same software. It can accept a wide range of payment options, and its GoPayment app makes it easy to accept in-person payments.
---
QuickBooks has partnered with the leading PCI service provider, SecurityMetrics. The partnership includes threat prevention tools and card data breach protection. Users need to sign up with SecurityMetrics for PCI compliance.
---
There is no monthly fee for QuickBooks Payments. However, it is only available with a QuickBooks Online account, which has monthly fees ranging from $15 to $200.
---
QuickBooks Payments make it easy for those with QuickBooks accounts to accept payments. It allows you to add payment buttons or links to invoices and accept payments via credit or debit cards, PayPal, Venmo, and ACH transfers.
---
Bottom Line
QuickBooks Payments is a payment processor available to QuickBooks users. This easy-to-use tool is great for businesses that want to keep a closer eye on their cash flow. Its best features include invoicing, recurring payments, next-day funding, mobile payments, and a mobile card reader.