Quicken vs QuickBooks: Differences & What's Best
While Quicken and QuickBooks have similar names, they're separate products that serve different purposes. The difference between Quicken vs QuickBooks is that Quicken is primarily for managing personal finances, whereas QuickBooks is a double-entry bookkeeping system for small businesses. However, Quicken does have features to track income and expenses of rental houses and simple one-person businesses.
Definition: A double-entry bookkeeping system tracks assets and liabilities as well as income and expenses. This enhances the reliability of income and expenses by ensuring that all changes in assets and liabilities are reflected in net income.
Quicken vs QuickBooks at a Glance
| | QuickBooks Online | Quicken |
| --- | --- | --- |
| Who It's Best For | Most small businesses | Rental property owners |
| Pricing Plans | $30 to $200 per month | $3.49 to $9.99 per month, billed annually |
| Double-entry Bookkeeping System | ✓ | N/A |
| Payroll Add-on Available | ✓ | N/A |
| Inventory Tracking | ✓ | N/A |
| Separate Business & Personal Expenses | ✓ | ✓ |
| Schedule C & E Reports | N/A | ✓ |
| Print Income Statement & Balance Sheet | ✓ | N/A |
| Rental Property Center | N/A | ✓ |
| Grant Access to Accountant | ✓ | N/A |
| Number of Users Included | 1 to 25 | 1 |
| Ease of Setup & Use | Easy | Moderate |
| Mobile App | | |
| | | |
When To Use QuickBooks

As our choice for the best small business accounting software, QuickBooks Online is almost always a better option than Quicken for tracking your business's income and expenses. The sole purpose of QuickBooks is small business accounting, and it's best for the following:
You're a small business owner: QuickBooks offers flexible plans for small business owners. It's also easy to find QuickBooks ProAdvisors or independent bookkeepers to manage your books since many accounting professionals are more acquainted with QuickBooks than with Quicken. So, if you ever need assistance with bookkeeping so that you can focus on managing your small business, QuickBooks is your best choice.
You invoice customers: In addition to its full-featured double-entry bookkeeping, it also has an excellent invoice creation and management system. You can personalize your invoices, keep track of outstanding invoices, and record payments. That's why QuickBooks is our top-recommended invoicing software.
You manage bills: QuickBooks, one of our leading recurring billing software, especially if you're collecting sales tax, lets you manage billings from inventory purchases, keep track of vendor billings, and account for credit memos. You can also create recurring bills to streamline fixed yet repetitive payments.
You're part of a church or nonprofit: We recommend QuickBooks Online over Quicken for both churches and nonprofits as proper fund accounting within Quicken would be extremely difficult.
Read our QuickBooks Online review to see our in-depth case study of the software.
When To Use Quicken

We rated Quicken as the best real estate accounting software for individuals with around three rental properties. It's predominantly a personal finance tool that tracks personal expenses, investments, and retirement accounts. However, Quicken Home & Business, which is for Windows users only, works well for tracking tenants, rental rates, and lease terms of your rental properties—functions the more expensive QuickBooks Online doesn't do. As such, Quicken is best for:
You manage around three properties: Technically, Quicken can manage 100 rental properties with 100 units per property, but we only recommend it for managing three or fewer rental properties. If you have more than that, it would pay to use a more extensive software, such as Buildium.
You need to budget and track personal expenses: Although Quicken isn't a double-entry accounting software program, it offers personal finance features like expense tracking, budgeting, and income tracking.
You track retirement assets: As a personal finance software, Quicken is better than QuickBooks for tracking your retirement investments and assets. It can provide monthly to yearly projections of your investment accounts, which can help you make decisions for a better investment outcome.
Check out our Quicken review to learn more about its finance and rental features.
When to Use An Alternative
You want a free platform: Both Quicken and QuickBooks Online only have paid subscriptions, so you may want to try Sunrise, our best free accounting software. We also recommend it if this is your first time using accounting software.
You want unlimited users: Quicken works well for one user, whereas QuickBooks accommodates up to 25 seats. So if you have more than that, you will want to try Xero, which allows unlimited users.
You want a more powerful property management software: Quicken offers rental property features, but it's not as powerful as Buildium, one of our leading real estate accounting software.
---
We also have many excellent QuickBooks alternatives, and some are even free.
Is Quicken or QuickBooks Best for You?
Answer a few questions about your business, and we'll give you a personalized product match.
Quicken vs QuickBooks: Pricing
| | Quicken | QuickBooks Online |
| --- | --- | --- |
| Monthly Pricing | $3.49 to $9.99 billed annually* | $30 to $200* |
| Numbers of Users | 1 | 1 to 25 |
| Special Promo | 30-day, risk-free trial | 50% off for three months or 30-day trial |
| | | |
QuickBooks is priced much higher than Quicken, with QuickBooks Simple Start costing three times as much as Quicken Home & Business. However, the cost of QuickBooks will be worth it if you need the features of a full bookkeeping system, such as tracking assets and liabilities and printing a balance sheet. Quicken offers great value, provided that all you need is to track income and expenses.
Note that Quicken's Home and Business edition is only available for Windows users. It's the only subscription that lets you track business income and expenses and manage rental properties.
Quicken vs QuickBooks: Features
| | Quicken Home & Business | QuickBooks Online |
| --- | --- | --- |
| Platform | Desktop | Web browser |
| Track & Categorize Spending | N/A | ✓ |
| Double-entry Bookkeeping | ✓ | ✓ |
| Track Unpaid Bills | ✓ | ✓ |
| Connect Bank Accounts | ✓ | N/A |
| Manage Lease Terms, Rental Rates & Security Deposits | ✓ | Limited |
| Investment Reporting Features | ✓ | Limited |
| | | |
Quicken and QuickBooks Online offer very different features. Quicken's are geared mostly toward managing personal expenses and investments, but the Home & Business edition adds some business income and expense tracking along with a suite of rental management tools.
Meanwhile, QuickBooks is designed to track assets, liabilities, income, and expenses of a business accurately. It includes features many businesses require, such as collecting and remitting sales tax, paying employees, and tracking the cost of inventory.
Quicken vs QuickBooks: Ease of Use
QuickBooks Online is easier to set up than Quicken because it's purely web-based, so you have nothing to download or install. QuickBooks Online is also easier for tracking business income and expenses because that's its primary focus; Quicken has many other personal finance features that can be confusing and unnecessary for tracking business income.
| | Quicken | QuickBooks Online |
| --- | --- | --- |
| Overall Ease of Use | Moderate | Easy |
| Online Help Section | ✓ | ✓ |
| Community Support | ✓ | ✓ |
| Email Support | N/A | N/A |
| Live Chat Support | Monday to Friday 5 a.m. to 5 p.m. Pacific time | ✓ |
| Phone Support | Monday to Friday 5 a.m. to 5 p .m. PT | QuickBooks Support will call you |
| Third-party Support | Limited | Extensive |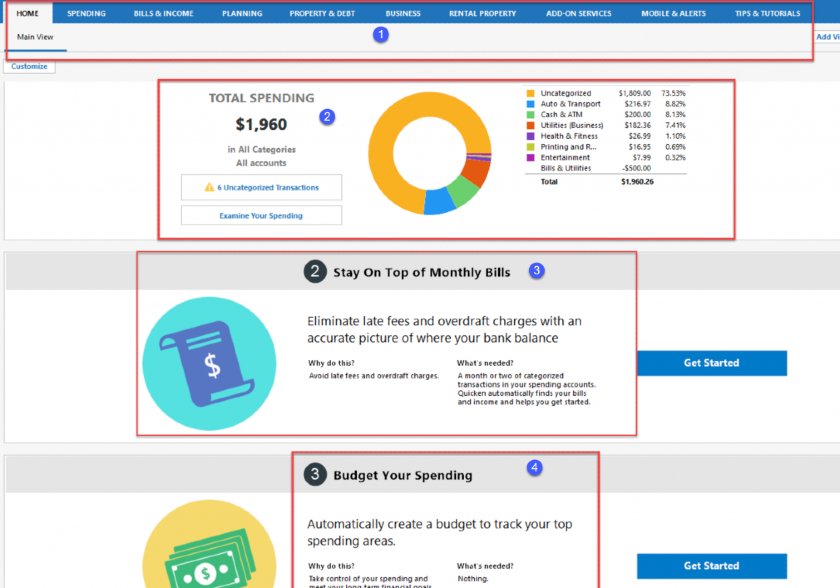 Menu bar: Click on the top menu bar to navigate to the various areas of the program like Bills & Income, Rental Property, and Tips & Tutorials.
Total spending: Keep tabs on where your money is going by reviewing the graph that shows the amount spent by category, such as Auto or Utilities.
Bills to pay: Stay on top of monthly bills that you pay using the Bill Pay feature.
Budget: Create a budget to help you find ways to decrease your spending and save more money.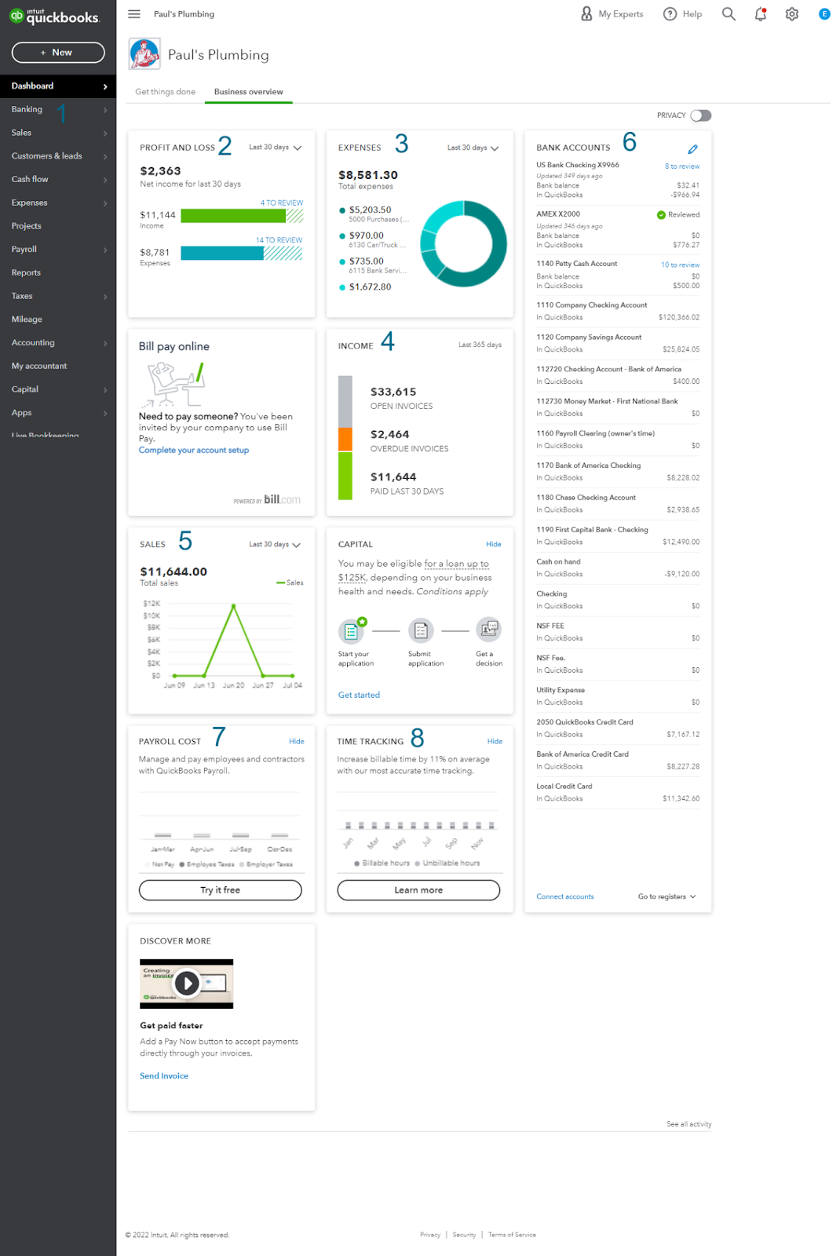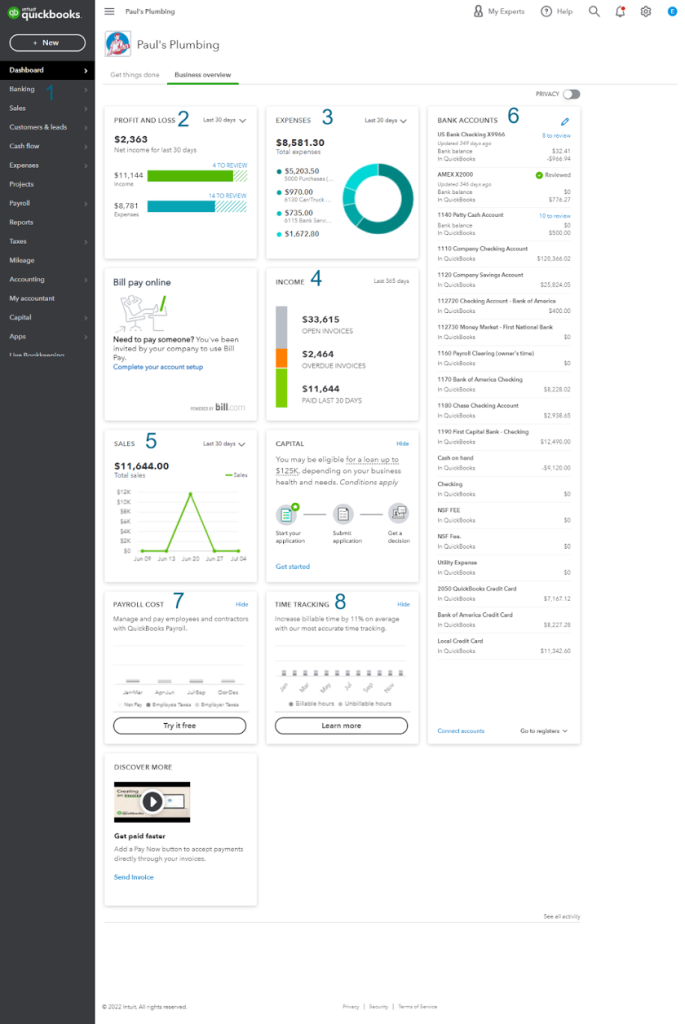 Left menu bar: You can access just about any task from the left menu bar, including creating invoices, bank accounts, and reports.
Profit and Loss: Stay on top of your profit and loss (P&L) without having to run a report.
Expenses: In this section, you'll see the total expenses for a selected period along with the top three categories: Maintenance & Repairs, Job Expenses, and Cost of Goods Sold (COGS).
Income: In this section, you can see what your customers owe you―accounts receivable (A/R)―as well as the total amount of payments collected that you have deposited versus undeposited funds.
Sales: Keep an eye on your sales throughout the year so that you can recognize trends and make any necessary adjustments.
Bank Accounts: Here, you'll see all of your connected bank accounts and cards, including a comparison of balance per bank and per books.
Payroll Cost: You can view your payroll obligations here if you're using QuickBooks Payroll.
Time Tracking: You can track hours worked with QuickBooks Online's time tracker for billable hours.
Quicken also offers Quicken for Web, a companion app to the desktop version. However, you still need to purchase Quicken for desktop to use its web version. Meanwhile, QuickBooks Online is purely a web-based accounting software and can be accessed via any browser.
Quicken vs QuickBooks: Mobile App
| | Quicken | QuickBooks Online |
| --- | --- | --- |
| Availability | iOS and Android | iOS and Android |
| View Transactions & Account Balances | ✓ | N/A |
| Attach Receipts | ✓ | ✓ |
| See Budgets | ✓ | N/A |
| Add Customers & Vendors | N/A | N/A |
| Create Invoices | N/A | ✓ |
| Enter Vendor Bills | N/A | ✓ |
Quicken and QuickBooks Online allow you to access your data on the go with their mobile apps. However, if you want a top-notch mobile accounting app, then we recommend Zoho Books because it can perform advanced functions, such as assigning time worked and expenses to customers or projects.
Quicken vs QuickBooks: Integrations
Quicken has limited integrations while QuickBooks Online has more than 600, making QuickBooks the clear winner. It even has built-in integrations, like QuickBooks Online Payroll, QuickBooks Time, Intuit Merchant Services, and Bill.com. On top of these, you can add apps like Shopify and Square to manage your ecommerce business. To see the full list, see the QuickBooks App Store.
Meanwhile, Quicken integrates with PayPal for accepting online credit card payments from customers; Dropbox to store important documents, such as rental agreements and contracts; and Zillow Zestimate, which is a tool that you can use to calculate the value of your home. Similar to QuickBooks Online, it has a built-in bills payment tool, allowing you to pay bills online. Check out Quicken's Service Center for more information.
Bottom Line
QuickBooks Online is the clear winner for small business bookkeeping. However, Quicken is better for businesses with around three rental properties and solopreneurs whose business activities are integrated with their personal bank and credit card accounts. Most businesses need more than Quicken offers, but you may go for it if you're also looking for a personal finance app.