As a business owner, deciding which small business accounting software to use for your business can be overwhelming. There are a number of good products on the market, including Quicken and QuickBooks. In this article, we compare pricing and features of Quicken vs QuickBooks so that you can decide which is best for you.
While Quicken and QuickBooks are owned by Intuit and have similar names, they are separate products that serve different purposes. Here's the big difference between Quicken and QuickBooks: QuickBooks is our highest-rated small business accounting software, while Quicken is used for managing personal finances. However, Quicken does have features to track income and expenses of rental houses and simple businesses.
When to Use QuickBooks

QuickBooks is almost always a better option than Quicken for tracking your business' income and expenses because QuickBooks' sole purpose is small business accounting. Quicken is more focused on personal finances, but does have the ability to account for rental houses and very simple businesses.
When to Use Quicken

Quicken works well for rental property owners. While it is predominantly a personal finance tool that tracks personal expenses, investments, and retirement accounts, it works well to keep track of tenants, rental rates, and lease terms for rental properties you own. That is something the more expensive QuickBooks Online does not do.
If you don't want to use QuickBooks for your small business accounting, there are other QuickBooks alternatives that are probably better than Quicken. While Quicken is great for personal finances, the remaining article focuses on how the business accounting available in Quicken "Home & Business" compares to QuickBooks Online.
Quicken vs QuickBooks Features & Pricing Table
QuickBooks Online

Quicken

Who It's Best For

Most small businesses

Rental property owners

Pricing Plans

Self-Employed: $15/month
Simple Start: $25/month
Essentials: $40/month
Plus: $70/month
Advanced: $150/month

Starter: $34.99/year
Deluxe: $49.99/year
Premier: $74.99/year
Home & Business: $99.99/year

Manage Accounts Receivable

✔

✔

Manage Accounts Payable

✔

✔

Payroll Add-on

✔

N/A

1099 Reporting

✔

N/A

Inventory Tracking

✔

N/A

Separate Business & Personal Expenses

Self-Employed Only

✔

Schedule C & E Reports

Self-Employed Only

✔

Rental Property Center

N/A

✔

Accountant Access

✔

N/A

Number of Users Included

Self-Employed: 1
Simple Start: 1
Essentials: 1
Plus: 5
Advanced: 25

1

Ease of Setup/Use

Easy

Moderate

Mobile App
Is Quicken or QuickBooks Best for You?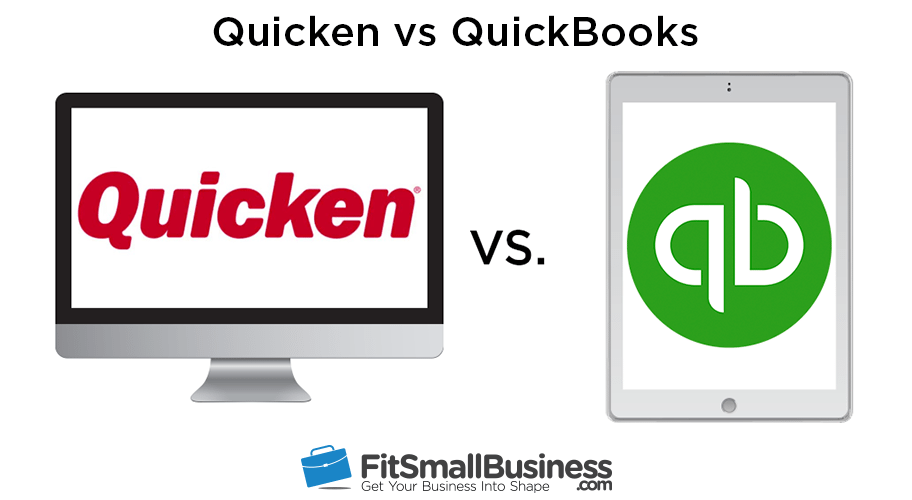 Why We Chose QuickBooks Over Quicken
QuickBooks beats Quicken hands down because it was designed for businesses to do their bookkeeping, whereas Quicken was created for consumers as a way to track their personal finances and investments. In addition, QuickBooks is not limited when it comes to sharing your data with other users or providing direct access to your accountant.
Beyond the fact that it's specifically for businesses, here are three reasons why QuickBooks beats Quicken every time:
1. Gives Multi-user Access
QuickBooks Online (QBO) is a cloud accounting software, which means that anyone with a user ID and password can access your data from anywhere at any time. This feature gives you the ability to give your bookkeeper and tax professional access to your data so they can do their work without having to bother you.
Quicken is a desktop application, but will synch your data file to the cloud and allows remote access through a smartphone or web app. However, the apps have limited functionality and cannot be used to do any business activity such as sending invoices and recording bills. Furthermore, you do not have the ability to add additional users in Quicken, such as an employee or partner, or to allow your accountant access to your data.
2. Mileage Tracking
Small business owners can deduct 57.5 cents per mile in 2020 for any miles driven for business purposes. This is a huge expense for people. QuickBooks Online includes an app that can be loaded on a smartphone that uses the GPS function to automatically track and document your business miles.
Quicken has a mileage tracker available in the desktop program, but you'll need to track your miles manually and then input them. No mileage tracker is available in the mobile app, which is where it would be most useful.
3. Grows With Your Business
With QuickBooks Online, you don't have to worry about switching accounting software as you grow. You can activate payroll (for an additional fee) when you hire your first employee. You can start tracking contractors in order to issue 1099s when the need arises. You can even track inventory if you start selling products.
Quicken's many limitations for business accounting will likely make it a short-term solution. When your business grows, you will need to switch to another accounting software like QuickBooks Online. However, there is no integrated method of transferring Quicken information into QuickBooks.
What QuickBooks Is Missing
While we do recommend QuickBooks Online over Quicken, there are a couple of disadvantages of which you should be aware. First is the steep price. The cost of Quicken at $99.99 per year is far less than even QuickBooks Self-Employed at $180 per year ($15 per month).
Second, you can easily transfer your data from Quicken to TurboTax if you have a rental property business or something similar. Unfortunately, with QuickBooks (except for Self-Employed), you will have to run your profit and loss statement and then manually enter the data into TurboTax.
When You Should Consider Quicken Instead of QuickBooks
Quicken is an excellent choice for people who want help managing their personal finances and also own a rental property. Quicken Home & Business has a rental property center. Within this center, you can manage every aspect of your rental property business, including keeping track of your tenants, monthly rent, rent increases, lease terms, and more. If you want an accounting software that is customized to meet the needs of your rental property business, Quicken Home & Business is a good choice.
In-depth Comparison: Quicken Home & Business vs QuickBooks Online Plus
In this section, we will provide you with details on pricing, ease of use, features, integrations, and the mobile app for Quicken Home & Business versus QuickBooks Online Plus. This will provide the details you need to select the right software.
Features: Quicken Home & Business vs QuickBooks Online Plus
Both Quicken Home & Business and QuickBooks Online Plus include the following features:
Customer invoicing
Create estimates
Connect bank and credit card accounts
Track income and expenses
Accept online credit card payments
Pay bills online
Email invoices and receipts
Run profit and loss and balance sheet reports
QuickBooks Online Plus Features
In addition to the features list above, QuickBooks Online Plus also includes the following features:
QuickBooks ProAdvisors
QuickBooks has a wide support network of independent accountants who pay a membership fee and pass a test to become ProAdvisors. ProAdvisors (for a fee) can view your QuickBooks Online account and assist you when problems arise. Many successful QuickBooks users do the majority of the work themselves, but also have a ProAdvisor who answers questions during the year and then prepares the tax return after year-end.
Quicken is generally not supported by many accountants because it's not primarily intended as a business accounting package. If you do use Quicken for your business income and expense, be thorough in your separation of personal and business expenses so your accountant does not bill you for excessive time dealing with your personal expenses.
1099 Reporting for Contractors
QuickBooks Online Plus allows you to easily keep track of payments made to 1099 contractors throughout the year. When you set up a vendor in QuickBooks Online, you can flag them as a 1099 vendor so that they will appear on a 1099 report that you can run in QuickBooks. With this report, you can create your 1099 forms and submit them by the due date.
Inventory Tracking
If you sell products, you will need to keep track of your cost, quantities, and total value of each item. With QuickBooks Online Plus, you can easily set up all of your products and track this information. Unfortunately, Quicken Home & Business does not have the functionality to track inventory.
Quicken Home & Business Features
In addition to the features included in both Quicken and QuickBooks, Quicken Home & Business includes the following features:
Separate & Categorize Business & Personal Expenses
While it's best practice to keep business expenses separate from personal expenses, Quicken Home & Business allows you to categorize income and expenses as business or personal even when they come from the same bank account. This ensures that the income and expenses reported on your tax return are only those related to your business.
QuickBooks Online Plus does not include categories for personal expenses like Quicken Home & Business. However, QuickBooks Self-Employed does have this functionality, but is missing many of the other features of the more advanced versions of QuickBooks Online.
Schedule C & E Reports
Each business expense category (e.g., office supplies, meals, and entertainment) in Quicken Home & Business is linked to a tax line on Schedule C if it is a tax deductible item. This built-in feature allows you to run a Schedule C report to see where you stand for tax purposes throughout the year. No more waiting until April.
By the same token, if you are in the rental property business, you can easily run Schedule E to see what your tax position is anytime you choose to. At tax time, you can easily export your data to TurboTax to prepare your tax return. Unfortunately, you cannot run Schedule E reports or export your data from QuickBooks Online to TurboTax.
Manage Rental Property
Unlike QuickBooks Online Plus, Quicken Home & Business has the capability to manage all aspects of a rental property business. This includes, but is not limited to, tracking tenant information, reminders for rent payments that are coming due or past due, and recording income and expenses for each property. You can also manage lease terms, rental rates, and security deposits within Quicken.
While QuickBooks may not be the best choice for rental properties, there is plenty of property management software to choose from other than Quicken. Of course, Quicken is nice because it keeps your rental property activity in the same place as all your other personal financial information.
Pricing: Quicken vs QuickBooks
Quicken and QuickBooks Online are both purchased on an annual subscription. QuickBooks Online has a monthly subscription that will continue until you cancel it. Quicken is purchased by the year and the subscription will auto-renew each year unless you cancel.
QuickBooks Online Pricing
QuickBooks Online has five pricing plans that are billed monthly:
Self-Employed: $15 per month
Simple Start: $25 per month
Essentials: $40 per month
Plus: $70 per month
Advanced: $150 per month
Each of these plans comes with different features, and you should do a comparison of features to find the QuickBooks Online version that is right for you. While the price tag for QuickBooks Online Plus ($70 per month) is a lot steeper than Quicken Home & Business ($8.33 per month), QuickBooks Online is a complete business accounting system while Quicken Home & Business focuses on personal finances with the ability to track business income and expenses.
Quicken Pricing
Quicken has four pricing plans that are billed annually:
Starter: $34.99
Deluxe: $49.99
Premier: $74.99
Home & Business: $99.99
Only the Home and Business plan provides the functionality of tracking business income and expenses and the Quicken rental property feature. At $99.99 per year ($8.33 per month), this plan is a bargain compared to any QuickBooks Online plan—provided all you need is to track rental income and expense.
Ease of Use: Quicken vs QuickBooks
QuickBooks Online has purely a web-based interface while Quicken is a desktop program. Quicken requires the user to download and install a program while QuickBooks is ready to go as soon as the subscription is purchased.
QuickBooks Online Ease of Use
QuickBooks Online is much easier to navigate than Quicken. Tasks are grouped by workflow, making it much easier to find the desired task. The QuickBooks Online dashboard has a left menu bar that allows you to easily navigate the program. The dashboard shows a summary of the total paid and unpaid customer invoices, total expenses, profit and loss, and sales for the time period you choose.
A snapshot of the dashboard in QuickBooks Online is below:
The five primary sections found on the QuickBooks Online dashboard are:
Left menu bar: You can access just about any task from the left menu bar, including create invoices, bank accounts, and reports.
Invoice: In this section, you can see what your customers owe you (accounts receivable), as well as the total amount of payments collected that you have deposited versus undeposited funds.
Expenses: In this section, you will see the total expenses for a selected time period along with the top three categories (e.g., Maintenance & Repairs, Job Expenses, Cost of Goods Sold).
Profit and loss: Stay on top of your profit and loss without having to run a report.
Sales: Keep an eye on your sales throughout the year so that you can recognize trends and make any necessary adjustments.
Quicken Ease of Use
Quicken is more difficult to use than QuickBooks Online when conducting business activities because the program is designed to do so much more than business accounting. The dashboard, shown below, includes all business and personal transactions. Business activity can be recorded by clicking on the "Business" menu and then selecting "Business Tools."
A snapshot of the dashboard in Quicken is below:
The primary information you will find on the Quicken dashboard is:
Menu bar: Click on the top menu bar to navigate to the various areas of the program, like Bills & Income, Rental Property, and Tips & Tutorials.
Total spending: Keep tabs on where your money is going by reviewing the graph that shows the amount spent by category (e.g., Auto, Utilities)
Bills to pay: Stay on top of monthly bills that you pay using the Bill Pay feature in Quicken.
Budget: Create a budget to keep track of spending to help you find ways to decrease your spending and save more money.
Integrations: Quicken vs QuickBooks
When it comes to integrations with other software products, there is no comparison between Quicken and QuickBooks. Quicken only integrates three other products, while QuickBooks integrates with over 600 programs.
QuickBooks Online Integrations
In addition to integrating with more than 600 apps, QuickBooks includes built-in integrations like Intuit Online Payroll to manage and pay employees, Intuit Merchant Services to accept online credit card payments, and Bill.com so that you can make online bill payments. On top of these, you can add apps to manage your ecommerce business (Shopify and Square).
Check out the Intuit Apps Center to see the full list of apps available.
Quicken Integrations
When it comes to integrating with other software, Quicken is extremely limited. Quicken integrates with PayPal for accepting online credit card payments from customers, Dropbox to store important documents (such as rental agreements and contracts), and Zillow Zestimate, which is a tool that you can use to calculate the value of your home. Similar to QuickBooks Online, it has a built-in bill payment tool that allows you to pay your bills online. Check out the Service Center for more information.
Mobile App: Quicken vs QuickBooks
Both Quicken and QuickBooks Online allow you to access your data on the go with their mobile app. The app for both products is available for both iOS and Android devices. Read on to learn what you can do with each mobile app.
QuickBooks Online Mobile App
You can do just about everything that you can on a desktop computer with the QuickBooks Online mobile app. This includes adding new customers and vendors, creating invoices, and entering bills.
Some of the tasks that you can complete with the QuickBooks Online mobile app are:
Quicken Mobile App
With the Quicken mobile app, you can perform some useful tasks and view your bank account transactions. Unfortunately, you cannot create customer invoices or enter unpaid bills in the mobile app. Any transactions that are entered on the mobile device will automatically be synced with the file on your desktop computer.
A few of the tasks that you can perform with the Quicken mobile app are:
View account balances and transactions
Input account transactions and attach receipts
View your budget created with the desktop program
Customer Service & Support Options: Quicken vs QuickBooks
One of the areas where a lot of accounting software programs fall short is offering live customer support. Both Quicken and QuickBooks Online have live customer service reps that you can call when you need help.
QuickBooks Online Customer Service & Support
QuickBooks offers live customer support. Unlike Quicken, you can also chat with a customer service rep. To start a chat, log into your account and click on the Help menu. Customer service reps are available Monday through Friday, 6 a.m. to 6 p.m. Pacific Time and Saturdays 6 a.m. to 3 p.m. Pacific Time.
QuickBooks also has a learn and support page that includes step-by-step articles and videos on the most frequently asked questions. If you can't find your answer, you can also send an email to the support team and they will respond within 48 hours.
Last but not least, Fit Small Business has designed a free QuickBooks Course to teach you everything you need to know to get your business up and running on QuickBooks in no time.
Quicken Customer Service & Support
In addition to a customer service line, Quicken also has a frequently asked questions section and a Tips and Tutorials section that includes detailed "How To" guides on just about everything. You must be logged into your account to access this information. The customer service team is available Monday through Friday, 5 a.m. to 5 p.m. Pacific Time.
Customer Reviews: Quicken vs QuickBooks
We thought it would be helpful to share with you what customers are saying about Quicken and QuickBooks. Below, we have provided you with what customers say each software does well and what they don't do so well.
QuickBooks Online Reviews
On the positive side, QuickBooks customers really like the mobile app. The feedback is that you can perform almost any task using the mobile device and everything syncs up nicely. Unfortunately, customers are not impressed with the customer service (or lack thereof). The feedback from customers is that they have to spend a lot of time on the phone talking to someone who may or may not be able to resolve their issue.
I have had the same experience with contacting customer support. My recommendation is that you try using chat to get help. By using the chat support, you can continue to work while you are waiting for someone to locate the answer to your question. Check out our customer QuickBooks Online reviews to learn more about what small businesses are saying about QuickBooks.
Quicken Reviews
Most customers rate Quicken very highly. Reading through the recent reviews, most customers are very happy with the ease with which information can be organized and reports printed. On the downside, users reported glitches and quirks in the program, especially when connecting to banks. One user notes that customer support can't even find the source of some glitches. Check out our customer Quicken reviews for more information.
Bottom Line
Now that you know the difference between Quicken and QuickBooks, it's time to make your decision. If you own rental properties, go with Quicken. However, if you're looking for a robust accounting software for your small business, QuickBooks is the way to go.