Retail loss prevention is the practice of understanding the causes of shrinkage (or inventory loss) and taking steps to mitigate them. Retail losses primarily happen through shoplifting, returns fraud, and employee theft.
Follow these retail loss prevention tips to safeguard your business and prevent inventory shrinkage:
1. Organize Your Store to Minimize Shoplifting
Poorly organized stores make it easier for thieves to take something without being seen, even if you have vigilant employees or security cameras. You can reduce retail loss due to theft by ensuring maximum visibility—create displays that aren't too tall to see over, and likewise, avoid large clusters of products that will prevent employees from keeping an eye on shoppers.
Pro Tip: Consider installing mirrors in strategic locations throughout your store. Mirrors can reduce blind spots and enable employees to monitor customers without hovering or being too aggressive.
In addition to improving visibility, an organized storefront will make it easier to tell when merchandise is missing. This not only creates a deterrent for thieves but increases the likelihood that you'll notice missing products sooner so that you can account for the loss in your records.
For more details on how your merchandising strategy can impact loss prevention, download our free step-by-step guide to planning an effective store layout.
Download Free Store Layout Checklist
2. Greet & Assist Your Customers
Another key loss prevention tip is training associates to be attentive while on the sales floor. This starts with greeting each shopper as they arrive, making eye contact, and engaging shoppers in conversation. Many customers appreciate the extra attention, and would-be thieves are less likely to steal if they know someone is actively keeping tabs on the sales floor.
3. Train Employees to Spot Suspicious Behavior
Most retailers spend time training employees on products and sales tactics. However, it's also important to teach sales associates how to spot suspicious behavior. Teach your staff to keep an eye out for red flags, such as:
Picking up items and replacing them repeatedly
Looking around to see whether they're being watched
Moving away from employees
Swapping price tags
Moving products to different packaging
Frequent visits without purchasing anything
Wearing oversized or baggy clothing, particularly in warm weather
Entering fitting rooms with merchandise and leaving without it
Exhibiting nervous behavior or unusual body language
Protect your business by establishing protocols for employees who spot concerning behavior or active shoplifting. Also, provide regular training on the location of duress buttons, how to handle the security alarm, and any safety phrases for communicating between team members when theft is occurring.
Did you know?
In 2020, the National Retail Federation (NRF) reported that the average dollar loss per shoplifting incident is $461.86, and the average loss per robbery is $7,594.48, which is significantly higher than in previous years.
4. Install a Security System
According to the NRF, 52% of retailers are planning to allocate more resources to theft prevention technology. If you already protect your store with a security service like ADT, find out what kind of interior monitoring hardware it offers. This may be more expensive than some options, but a security professional can help you choose the best places to install cameras and help you set up the monitoring equipment. Alternatively, try a provider like SimpliSafe that lets you set up a wireless security system for less than $200, plus optional monitoring.
See our top picks for the best business security systems.
In addition to investing in storewide security measures, consider tagging products and installing an exit sensor system. These strategies can't guard against fraudsters swapping price tags or packaging, but they will likely deter would-be thieves and thwart any actual shoplifting attempts.
5. Advertise Your Security Measures
Security cameras are a visible way to show that your store keeps an eye on the premises and takes theft seriously. Often, the mere presence of security equipment is enough to deter shoppers and employees from stealing or swapping price tags. You can even consider installing fake equipment that gives the illusion of a comprehensive security system if you can't afford actual cameras.
Potential thieves may also be deterred by signage that warns them of security cameras and the consequences of stealing from your store. Remember, however, that too much signage can be off-putting to paying customers. Keep it professional and decide what's appropriate for your business and clientele.
At my boutique, for example, we had signage at the entry that let shoppers know they were being watched. Our security cameras had not functioned properly for years, but the sign and broken cameras were enough to keep thieves from attempting to steal.
Here are a few examples of good security signage: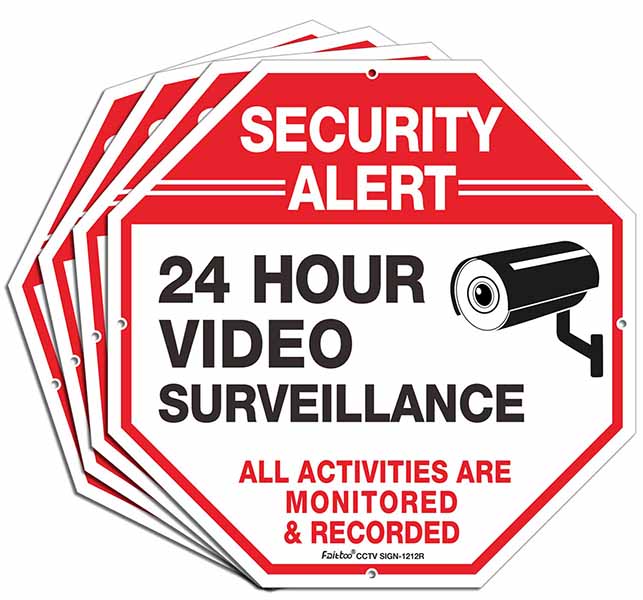 ---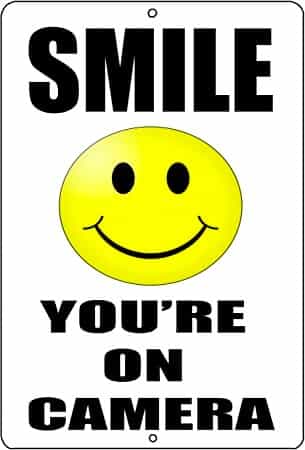 ---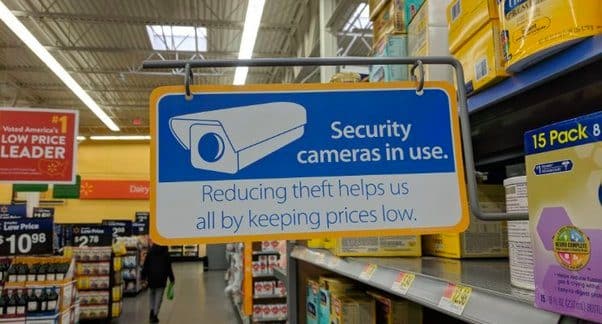 ---
6. Track Inventory Using Your POS
Inaccurate inventory tracking can lead to retail loss and make it more difficult to spot theft, fraud, and human error when it occurs. Use a point-of-sale (POS) system to keep an accurate count of your inventory so that you can detect when you are missing items you shouldn't be.
Did you know?
In the 2020 National Retail Security Survey, POS analytics remains the most popular loss prevention measure, deployed by 56.5% of retailers.
A POS system can also help employees spot fraudulent returns and ensure customers are otherwise complying with the store's return policy. You'll also be able to identify ongoing issues with shoplifting by regularly reconciling your POS system with what's actually in stock.
To learn more about the best POS systems on the market, check out our top-recommended POS systems for retailers.
7. Tag Your Products With RFID Technology
Radio Frequency Identification (RFID) tags are another helpful tool in the retail loss prevention toolkit. These tiny electronic devices use radio waves to transmit information and can significantly reduce theft and enhance inventory accuracy.
By attaching them to your products, RFID tags help you track inventory in real time. They can provide greater visibility into the status of your inventory, minimizing the discrepancies between your point-of-sale system and actual stock count. This level of accuracy helps you identify losses sooner and reduce the chance of theft going unnoticed.
Plus, RFID systems also serve as a powerful deterrent for would-be thieves. The tags can be used to set off alarms if items leave the store without being deactivated during purchase, which alerts store associates.
Did you know?
On average, businesses that adopt RFID technology see their inventory count accuracy go from 63% to 95%.
Installing an RFID system usually requires an upfront investment, but many retailers find that the benefits make it a cost-effective loss prevention solution in the long run.
8. Minimize Cash Payments
Having a cash drawer at your place of business can make you an easy target for third-party thieves and employees. It leaves you susceptible to counterfeit bills, cash skimming, and fraudulent returns. Eliminate this type of retail loss by reducing cash payments and encouraging shoppers to use credit cards, digital wallets, and other more secure forms of currency.
9. Require Receipts for Returned Items
Refund scams can be another substantial cause of retail loss. While some people steal items and then return them for a refund, others buy merchandise, use it, and return it for a full refund. Retail losses may also be due to fraudsters who counterfeit receipts and return items for cash.
Consider using these loss prevention tips to mitigate return-related loss:
Require a receipt for all returns
Advertise and enforce a strict return window—30 days is common
Confirm that the returned items exactly match those on the receipt
Require customers to provide personal information when initiating refunds
Customize your receipts in a way that makes counterfeits more easily recognizable
Train employees to recognize the signs of returns fraud
Issue refunds to the original payment method, not cash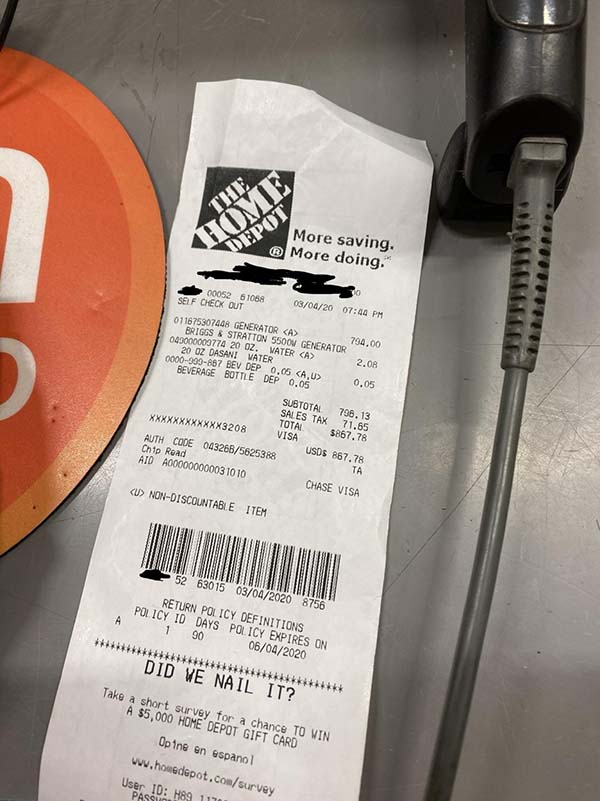 10. Take Steps to Limit Employee-related Loss
Unfortunately, retail loss can also occur from employees, whether intentionally or not. Inexperienced and poorly trained employees may fail to adequately track inventory and forget to ring up items in a customer's cart. Even your best sales associates can fall prey to a fraudulent return. Sometimes, you even get dishonest associates who steal merchandise and cash.
Employees who aim to steal from your business may shoplift items, create fake returns and pocket the cash, or steal customer credit card information to make fraudulent purchases elsewhere. These losses may also be related to friends and family. Consider, for example, an employee who uses his discount to make purchases for a friend or doesn't ring up all of his friend's items when checking out.
To limit your store's susceptibility to employee-related losses, consider all new hires carefully and obtain professional references when possible. Once an associate joins your team, provide adequate training to avoid inadvertent losses from shoplifters and colleagues. An incentive program that rewards employees for preventing retail loss may also be effective.
Why Loss Prevention Matters
Loss prevention is more important now than ever, as 69% of retailers reported the COVID-19 pandemic increased fraud, crime, and overall risk to their company. On top of that, studies reveal a 26.5% increase in organized retail crime in 2021, which continues to rise.
Using effective loss prevention steps helps protect you from shrinkage, which is one of the biggest threats to retail businesses. Loss prevention strategies can:
Protect your profit and bottom line
Prevent theft, such as shoplifting
Improve overall store security, creating a safer shopping environment for customers and staff
Reduce employee theft
Reduce administrative errors, such as incorrect pricing and account issues
Improve customer satisfaction by ensuring sufficient inventory to meet demand
Prevent supplier error or fraud
Prevent products from going bad, getting lost, or being wasted
Boost operational efficiency by minimizing the time and resources spent on dealing with losses
Provide valuable insights and data that can help in strategic decision-making and planning
Retail Loss Prevention Frequently Asked Questions (FAQs)
Shrinkage is a term used in retail to describe when a business has fewer items in stock than in its recorded inventory, meaning that products are missing. Retail shrinkage is mainly caused by shoplifting, employee theft, administrative errors, product damage, and vendor fraud.
During the past five years, the average rate of shrinkage for retailers in the US was 1.5%. Most businesses use retail loss prevention techniques to aim for a shrink rate of 1% or less.
---
Loss prevention methods commonly used in retail include:
Training employees to spot theft and fraud
Installing security systems with cameras
Using point-of-sale programs to track inventory and transactions
Minimizing cash transactions
Using anti-theft technology like RFID tags
Frequently assessing stock counts
---
Retailers use a variety of strategies to catch shoplifters and prevent inventory losses. CCTV cameras and strategically-placed mirrors are common techniques for spotting a thief, but some stores are now using more advanced technology, such as facial recognition and RFID tags.
Most stores also train their employees to spot shoplifters by looking out for suspicious behavior. Some high-risk stores (like large grocery stores) will even hire professional security guards to stop and prevent theft.
---
Bottom Line
Retail loss prevention is necessary to reduce the impact of shrinkage on a business's bottom line. Because shrinkage—or retail loss—is such a common issue, there are several ways to deter shoplifting, reduce human error, and prevent employees from stealing. Once you familiarize yourself with the types of retail loss and how they're impacting your business, you can start incorporating our loss prevention tips to safeguard profits.