RentPrep Review: Is It Right for Your Real Estate Business?
RentPrep offers comprehensive tenant screening solutions, such as credit checks, nationwide eviction reports, and judgments and lien reports. They assist landlords in finding the best quality tenants. According to RentPrep reviews, landlords were impressed by its ease of use, simple tenant screening services, and accurate reports, which help them make informed tenant-related decisions. RentPrep is excellent for property owners seeking cost-effective and customizable tenant screening services.

What We Like
Fair Credit Reporting Act (FCRA)-certified screeners perform RentPrep's background checks to provide efficient and accurate reports.
Landlords have the choice of letting the applicant pay through its TransUnion Full Credit Report.
Allows you to customize each report depending on your needs.
Background checks are reasonably priced, and discounts are offered for property owners with 50 or more units in their portfolio.
What's Missing
A credit report and in-depth information on the prospective tenant's financial situation must be purchased separately by the landlord.
The basic plan does not provide the actual Fair Isaac Corporation (FICO) score.
The basic plan does not include income verification.
It does not offer residence or employer verification.
Recommended for:
Property owners looking for a per-screening, cloud-based tenant screening service provider
Landlords who want FCRA-certified screeners to screen their prospective tenants
Property owners seeking a customizable tenant screening report
Not Recommended For:
Landlords who need an actual FICO score on their potential tenant reports
Property owners who want extensive income information of a prospective tenant
Landlords who have a limited budget and are looking for a free trial
RentPrep Pricing
RentPrep Background Check: $21 per applicant
TransUnion Full Credit Report: $40 per applicant
Other Articles Featuring RentPrep
RentPrep Reviews: What Users Think
As of this writing, there aren't many RentPrep tenant screening reviews available online. Its website states landlords love to utilize RentPrep because of its ease of use and simple tenant screening services. One landlord also appreciated the reports since they were prompt, self-explanatory, and straightforward, which helped them make the appropriate judgments.
Facebook: 4.7 out of 5 based on 118 RentPrep reviews
Yelp: 3.5 out of 5 based on eight RentPrep reviews
There were also some negative RentPrep tenant screening reviews. One user complained about the company's customer service, calling the staff rude. Another landlord complained that RentPrep's customer service was unavailable on Saturday, despite the company claiming to have chat and phone lines open that day. Check out Avail if you're looking for a tenant screening service with excellent customer service.
Would Our Expert Use RentPrep?
Based on our RentPrep.com review, we recommend this tenant screening service provider as it doesn't charge you a membership fee or a subscription and provides fast, simple background and credit checks for your potential tenants. We like how RentPrep allows you to easily set up an account, place orders, and tailor your reports based on your needs.
However, we are dissatisfied with RentPrep's lack of extensive credit checks and financial information reports. If this is an issue for you, we recommend a different top tenant screening provider like Buildium instead. Buildium provides affordable, all-inclusive tenant screening services for landlords with up to 5,000 units of multiple properties. It enables you to access detailed credit, criminal, and eviction history data.
RentPrep Alternatives
Software

Best For

Providing thorough tenant screening services at an affordable rate

Landlords who require automated reference checks and free, customizable screening reports

Independent landlords seeking bundled tenant screening packages

Landlords who want a free tenant screening service and rental advertising

Key Features

Supports multiple listing platforms
Affordable pricing for reports
Powered by TransUnion
E-signatures

Detailed and customized tenant screening reports
The portal includes a messaging center and applicant communication tools
Option to charge applicants for tenant screening

Results within minutes of tenant completion
SafeRent score summarizes the potential risk of the applicant
Free online rental application form

Mobile app
Easy-to-use platform
Comprehensive tenant screening reports
Property listing and third-party integration

Starting Price

$15 per screening for landlords or $30 per screening for applicants

Pricing varies per state; starting from $30 for each report or $55 for bundled packages

$24.99 per applicant

$55 per application

Learn More

or

or

or

 

 
RentPrep Plans & Pricing
RentPrep, as a tenant screening service, does not provide monthly subscription plans. Instead, landlords can choose between two packages: RentPrep Background Check ($21 per applicant) and TransUnion Full Credit Report ($40 per applicant). Every package includes reports on bankruptcies and nationwide eviction history. But, you will need to pay for add-ons if you wish to get the applicant's income verification.
To compare the two packages, see the table below:
| Plans | RentPrep Background Check | TransUnion Full Credit Report |
| --- | --- | --- |
| Who Plan Is Best For | Landlords seeking standard background and identity checks | Landlords in need of extensive tenant screening reports |
| Pricing | $21 per applicant | $40 per applicant |
| Nationwide Evictions | ✓ | ✓ |
| Bankruptcies | ✓ | ✓ |
| Judgment & Liens | ✓ | ✕ |
| Full Credit Report With ResidentScore | ✕ | ✓ |
| SSN Verification | ✕ | ✓ |
| Nationwide Criminal & Sex Offender Search | ✕ | ✓ |
| Applicant Pay Option | ✕ | ✓ |
| Income Verification | ✕ | ✕ |
RentPrep's Background Check plan includes a comprehensive rental background check that does not require tenant involvement. If you have the applicant's information, order this in-depth report compiled and validated by RentPrep's in-house screening professionals. Additionally, completing the data requires the applicant's email address and involvement.
On the other hand, with RentPrep's TransUnion Credit Report, you'll receive comprehensive information that includes a full credit report, ResidentScore, and a rental background check. This plan also gives you the option to charge the tenant for the report. This package requires the applicant to reply to an email to complete the data and receive the results.
Add-ons
If you need more information about your potential tenant, you can customize your reports with the following add-on features:
Nationwide Criminal and Sex Offender Search: $6.00
Credit Decision Report: $11.00
Income Verification: $10.00
Judgment and Liens: $7.00
General Features
FCRA-certified screeners
Enterprise solutions
RentPrep tenant screening API platform
Nationwide eviction and bankruptcies reports
RentPrep's tenant screening is facilitated online. This helps you obtain reports easily, assisting you in finding the best quality tenants who are more likely to pay their rent on time, stay for a long period, and uphold other lease responsibilities.
Furthermore, landlords can access various background information, including eviction history, criminal background checks, and financial records. These are available for purchase as separate reports or as a bundle. Additionally, quickly predict a potential tenant's future behavior using MyRental's exclusive TransUnion ResidentScore algorithm, minimizing the danger of a costly eviction process and dealing with property damage.
As part of this RentPrep.com review, here is a further breakdown of the features that RentPrep provides:
Hand-compiled by FCRA-certified screeners
Standard tenant background check
Global Homeland search
RentPrep's background checks are all hand-compiled by its team of FCRA-certified screeners. It includes Social Security number (SSN) verification, checks for judgments, liens, bankruptcies, evictions, previous criminal history, and sex offenses.
The background check also includes a Global Homeland search, which scans for more serious offenses like terrorist activities, illegal imports, money laundering, fraud against government agencies, drug trafficking, and violations of federal banking regulations. This is beneficial for landlords to get a full picture of the people they are allowing to live in their investment properties.
---
Credit decision report
ResidentScore
Pass or fail decision with explanations
RentPrep has a tenant credit check called "Credit Decision Report." It shows the ResidentScore of the potential tenant. This score was developed by TransUnion to predict and give insight into the outcome of a lease.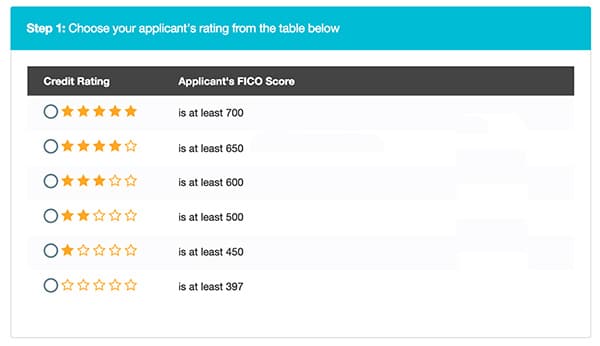 ---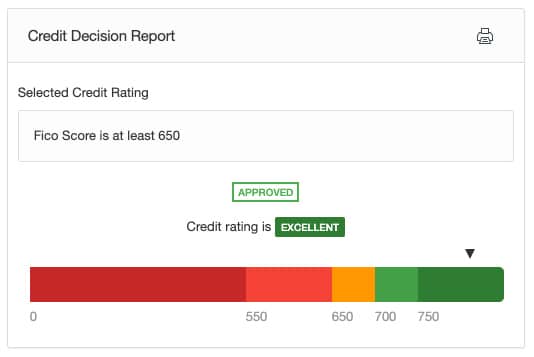 ---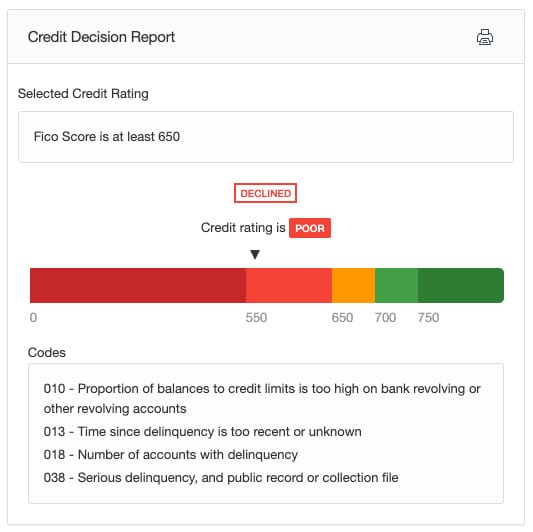 ---
Furthermore, this report includes a "pass" or "fail" decision, depending on whether the tenant meets your minimum FICO score criteria. If your tenant applicant has a 650 or higher FICO score, you will see an additional report added to your background check. If they do not meet those criteria, you will be notified they failed and provided the reasons why they did not pass.
---
Net income summary
Average monthly net income
Instant access to detailed deposit reports
The income verification service from RentPrep aids in verifying the claimed income of your applicant. This report contains information on the applicant's annual net income summary, average monthly net income, and current account balances on connected accounts. However, this is an additional service that costs an extra $10, regardless of your package. It cannot be completed automatically and requires applicant assistance.
---
Highly experienced and knowledgeable
Helps in interpreting and validating the reports
Assists in solving issues and explaining the reports
RentPrep hires highly experienced and knowledgeable, FCRA-certified screening agents to aid with the interpretation and validation of rental background checks. These experts assist when issues emerge or when it is necessary to explain the findings of data that have been reported. This takes a lot of the heavy lifting out of the landlords' hands, saving them time and effort.
---
Offer discount rates
Property owners with 50 or more rental units in the portfolio
Customizable reports
For property management companies and individual landlords with 50-plus rental units under management, RentPrep offers customized Enterprise Solutions. This package enables clients to enjoy direct access to credit reports at discounted rates. To become an Enterprise client, you must request a custom quote, complete onboarding, have company stationery and signage, a business office in a commercial setting, and undergo an onsite inspection to ensure legitimacy.
---
Ease of Use
RentPrep features an easy-to-use online interface for requesting reports, placing orders, screening tenants, and storing information. It is intended to deliver all of your required information in an easy-to-understand format. Aside from this, RentPrep made it incredibly easy for landlords to find a suitable tenant by providing a detailed background report on the applicants. With RentPrep, you can make a prudent decision on whether to pass or fail a tenant's application.
Bottom Line
RentPrep is a reliable and excellent tenant screening service for landlords managing rental investment properties. Their customizable and extensive reports make it easy to gather background data on your renter applicants, saving you time and enabling you to make wise choices about who to rent to.