7 Best RingCentral Alternatives & Competitors
This article is part of a larger series on VoIP.
RingCentral has become the gold standard for many businesses, offering unified communications (UC) features, unlimited calling, texting, video conferencing, and collaboration tools. While it is a full-featured voice-over-internet-protocol (VoIP) service, not everyone finds its pricing or lack of unlimited international calling a good fit. For this reason, we've lined up seven RingCentral alternatives so you can find the right communications solution.
Based on our research on dozens of providers, here are the best RingCentral competitors as well as one honorable mention:
Want to know more about RingCentral's features? Check out our detailed RingCentral review to understand its strengths and weaknesses.
RingCentral & Best Alternatives at a Glance
Providers

Monthly Starting Price

VoIP Features

UCaaS Features

FSB Rating

$29.99 per user

99.999% service level agreement (SLA)
Toll-free numbers
Voicemail-to-text

Team messaging
Breakout rooms
Up to 200 video participants

N/A

$30.95 per user

99.999% service level agreement (SLA)
Voice-to-email notifications
Unlimited internet fax

CoSpace team collaboration software
Internal file sharing
Up to 250 video participants

4.69 out of 5

$15 per user

99.999% service level agreement (SLA)
Unmetered international calling
Mix-and-match plan

High-definition (HD) audio and video
Social media
Up to 500 video participants

4.31 out of 5

$32 per user

Unlimited extensions
Smart call routing
Local, vanity, and toll-free numbers

Free video conferencing for up to 40 minutes
Team messaging
Up to 250 video participants

4.03 out of 5

$23 per user

Custom voicemail greeting
Voicemail transcription
Custom off-hours routing

Meeting countdown timer
Internal file sharing
Up to 100 video participants

3.81 out of 5

$14.99 per user

Live receptionist option
Dial-by-name directory
Number porting

Up to 100 video participants
Screen sharing

3.78 out of 5

$19.95 per user

99.999% service level agreement (SLA)
Unlimited international calling
Virtual receptionist

Up to 100 video participants
Google Calendar integration
Screen sharing

3.45 out of 5

$31

Automatic text messaging
Voicemail transcription
Bilingual assistants via Ruby

No unified communications features to speak of

N/A
Here's a quick quiz that will help you identify which VoIP provider offering services similar to RingCentral is best for you.
Which RingCentral alternative is right for you?
Answer a few questions about your business, and we'll give you a personalized product match.
Nextiva: Best Overall RingCentral Alternative
What We Like
Both annual and volume discounts
Huge list of integrations
Remove and add lines on demand, which further boosts scalability
What's Missing
Extensive integrations require a subscription to higher-tier plans
Essentials plan is missing audio and video conferencing
Unlimited video conference and call recording is only available at Enterprise tier
How It Compares to RingCentral
As you see in our international calling cost guide, Nextiva has pricing similar to RingCentral
Nextiva has a higher video conferencing attendee cap (250 participants) than RingCentral's 200
Nextiva's unique Call Pop feature displays quick details about every caller
Nextiva's base plan scales up to 100 users, while RingCentral's only scales up to 20 users
When comparing two of the best business phone systems, Nextiva and RingCentral, it's easy to find similarities as both deliver on business communications. For example, both provide VoIP calling and unified communications (UC). Similarly, most companies will be satisfied by the number of communication channels they offer.
Still, Nextiva begins to display its value when taking a look at pricing. While both start out at similar price levels and offer volume and annual discounts, Nextiva's pricing just ends up being more compelling. On a monthly basis, you pay approximately $24 per user for Nextiva's service with an annual plan. As you scale, this is cut significantly. At 100 users, you'll only be paying about $17.95 per user.
RingCentral's base plan isn't available to that many users, and its second tier, Standard, will cost about $22.99 per user. Additionally, Nextiva has a higher number of video conferencing participants; whereas RingCentral permits 200 attendees, Nextiva allows for 250 participants per meeting.
Nextiva also matches RingCentral for its uptime service level agreement (SLA); both have a 99.999% guaranteed uptime. In fact, these are two of the industry's highest, only being beaten out by Dialpad's 100% guaranteed uptime.
Nextiva Monthly Pricing at a Glance*
Essential: $30.95 for unlimited voice and video calling as well as Google and Outlook integrations
Professional: $35.95 with Call Pop for up to 250 contacts, unlimited conference calls for 40 participants, and unlimited video conferencing for up to 250 people
Enterprise: $45.95 for unlimited voice and video conferencing, unlimited Call Pop, and unlimited video call and conference recordings
*Prices are per user, and are based on a monthly payment for one to four users. With more users and paying annually, the price per user decreases significantly.
Nextiva Features
Call Pop: This call center technology gives agents information about the customer before (or during) the call, reducing call times and improving the overall customer experience. You have access to unlimited Call Pops from the Enterprise tier and up.
Integrations: Third-party integrations for Microsoft Outlook and Google contacts are available starting at the Essential Plan. Similar to RingCentral, integrations like Salesforce, Zendesk, HubSpot, and Microsoft Dynamics also become available as you move up tiers.
Multilevel auto-attendant: Available in the Professional Plan and above for more control over how you route calls, increasing efficiency and reducing transfer time.
Not sure if this is the right RingCentral alternative for your business? Check out our detailed Nextiva review for more information.
8×8: Best for Reaching International Customers
What We Like
Unlimited international calling to 48 countries
Health Insurance Portability and Accountability Act of 1996 (HIPAA)-compliant at all tier levels
Team messaging in every tier
What's Missing
Mobile app falls slightly short on features compared to the desktop version
Not as many third-party integrations as other providers
Numerous fees come with higher-plan tiers
How It Compares to RingCentral
Full month to try 8×8, twice as long as RingCentral's 15-day free trial
Despite having more plan options with RingCentral, you'll usually pay less per month with 8×8
8×8 includes an auto-attendant at the base tier; you have to upgrade to the second tier to get this in RingCentral
500 maximum video conferencing attendees with 8×8, which is more than double RingCentral's 200
For small businesses looking to reach overseas markets, 8×8 is a great option, thanks to its unlimited calling plans and international number availability. While there was a time when small business was almost exclusively local, today, any business can establish inroads in foreign countries. This is primarily thanks to VoIP and its underlying technologies that help users avoid the expensive infrastructure of landline communications systems.
Unlike RingCentral and Nextiva, which have metered rates to popular countries, 8×8 has unlimited calling to 47 countries, perfect for those consistently making calls overseas. Some included countries for unlimited international calling are the U.K., Ireland, China, Brazil, Hungary, Israel, and Poland. If you need a way for those international customers to reach you, 8×8 also offers international virtual phone numbers, making those international calls local.
From a call management perspective, 8×8 is a very competitive RingCentral alternative, which you'll see in our RingCentral vs 8×8 piece. Regardless of plan, 8×8 is fully HIPAA-compliant for those businesses that deal with sensitive patient information.
You even get call monitoring features like call barge and whisper, which are useful for most businesses with call centers and client-facing agents. Also, accessing contact center features merely requires an upgrade with 8×8. With RingCentral and Nextiva, this requires a totally different plan structure.
8×8 Monthly Pricing at a Glance*
Express Plan: $15 for unlimited domestic calls, unlimited chat, and audio and video conferencing with up to 100 participants
X2 Plan: $28 for unlimited calls in 14 countries, integration with Salesforce, and video and voice conferencing for up to 500 participants
X4 Plan: $57 for unlimited calling in 48 countries and agent monitoring features like call whisper and call barge
*Pricing is per user, and is based on monthly payments. 8×8 does offer annual rates for its X2 and X4 plans that reduce the monthly cost by up to 23%.
8×8 Features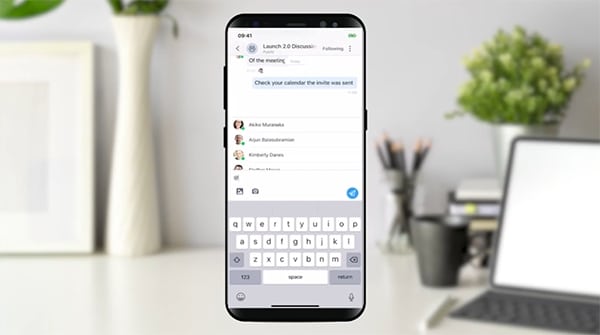 ---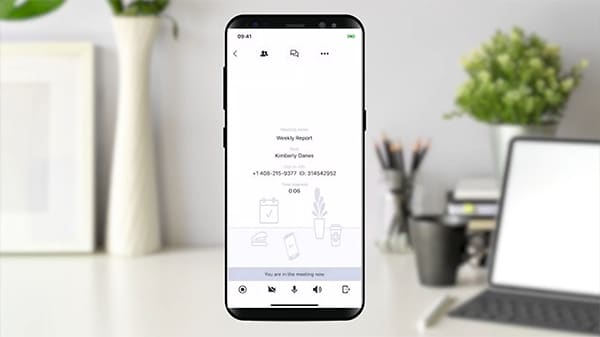 ---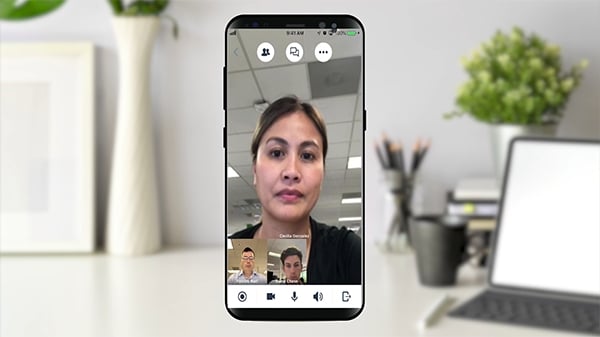 ---
HD audio and video: HD-quality audio and video ensure teams can collaborate easily—making tasks more efficient—and improving the customer experience.
Integrations: Similar to RingCentral, integrations with popular apps, like Salesforce, Microsoft Teams, HubSpot, and Zoho, are available right out of the box to make your team more productive.
Mix-and-match plans: Mix-and-match plans for better communication and team collaboration to create an ideal plan for your business needs. RingCentral plans are less flexible, so if you need a feature only available at a higher tier, you must upgrade to get it.
Check out our deep-dive 8×8 review to learn more about the provider.
GoTo Connect: Best RingCentral Alternative for Conferences
What We Like
Plans include one year of recording storage
Very user-friendly and easy to navigate
A competitive array of useful business-ready call handling features
What's Missing
GoTo Connect's SLA of 99.99% equates to 52 minutes of yearly downtime
Only 69 integrations
Middling audio call quality
How It Compares to RingCentral
Like Nextiva, GoTo Connect has a 250-participant cap on video conferences, 50 more attendees than RingCentral
Meetings held on GoTo Connect have unlimited durations; RingCentral's are limited to 24 hours
GoTo Connect users above the Standard tier are granted free calling to more than 50 countries; RingCentral users pay international calling rates
GoTo Connect's dial plan editor makes it easier to set up IVR submenus; RingCentral requires more steps and doesn't have a drag-and-drop interface
GoTo Connect, part of LogMeIn's GoTo suite of software, has a more robust conferencing setup with no duration limits and accommodates 250 attendees. With GoTo Connect, you're able to view 25 video feeds at a time—significantly more than the 16 simultaneous views on RingCentral.
Pricing-wise, like Nextiva and RingCentral, GoTo Connect offers annual and volume discounts. With both annual and volume discounts active, GoTo Connect's Basic monthly plan cost will reduce from $32 per user to $24.
Like 8×8, international calling is easy with GoTo Connect. Unlimited calling is available in more than 50 countries. Still, despite having slightly more unmetered options, you have more countries to dial with the metered plan using 8×8, including Antarctica. Additionally, GoTo Connect is missing international calling numbers,
GoTo Connect is also known for its ease of use. As we covered in our article on GoTo Connect vs RingCentral, the app functionality is very intuitive, and it's easy to video conference, text, send team messages, and call directly from the mobile application.
GoTo Monthly Connect Pricing at a Glance*
Basic Plan: $32 for smart call routing as well as local, toll-free, and vanity numbers
Standard Plan: $43 for unlimited auto-attendant greetings, 1,000 toll-free minutes, and unlimited meetings for up to 150 participants
Premium Plan: $54 for free international calling in over 50 countries, 5,000 toll-free minutes, and unlimited meeting duration for up to 250 participants
*Prices are based on a monthly payment for one user. GoTo Connect does offer annual rates that reduce the monthly cost by up to 11%. Volume discounts are also available.
GoTo Connect Features
Customizable dial plans: Set call flow according to your business needs using a drag-and-drop system to implement things like hours and holidays so calls are routed properly.
International calling: At the Standard and Premium tier, calling to more than 52 countries is included. This is not quite as much as the RingCentral Global Office Unlimited plan, but GoTo Connect is a good option to consider if you are calling only within these 52 countries.
Team messaging: A simple, easy-to-use way for team members to communicate and stay connected.
Check out our GoTo Connect review for a closer look at the provider's numerous features.
Dialpad: Best for Its Artificial Intelligence (AI) Capabilities
What We Like
Voice Intelligence (Vi) suite adds artificial intelligence (AI) to every customer encounter
Team messaging platform with essential business features like channels and keyword search
100% uptime guarantee at the Enterprise level
What's Missing
Analytics suite could be stronger
Enterprise tier pricing isn't published
Extensions are only available at the highest tier
How It Compares to RingCentral
At $15 per month, Dialpad is significantly cheaper than RingCentral, which starts at $19.99
Integrations start in Dialpad's base-level plan; for advanced integrations through RingCentral, you have to go to higher tiers
Dialpad gives access to more advanced servers and multiple data centers
Reporting is provided at no additional cost in the Analytics tab; most reports in RingCentral aren't available without upgrades to the Standard and, for some reports, the Premium tier
For the past few years, Dialpad, which we covered in this review, has been one of the leading providers of the adoption of artificial intelligence (AI). Its Voice Intelligence (Vi) is designed to engage with customers. It uses natural language processing and machine learning to boost agent performance and create a bigger picture from each interaction.
Dialpad says Vi is there "before, during, and after every call." This means your agents will be provided pertinent information before a call, coached during the call, and prompted to contribute additional customer data after the call. Dialpad also recently purchased Kare Knowledgeware, another AI platform the provider will use to further improve customer experiences.
With RingCentral, there are AI options like sentiment analysis, but this is done using external apps like Theta Lake and Velvetech. Put simply, these aren't nearly as advanced as the AI features offered by Dialpad.
Dialpad comes in at a much cheaper price point than RingCentral, which starts at $19.99 per user, per month, when using both annual and volume discounts. At the base plan level, you pay a per-user price of just $15 each month for Dialpad when paying annually. You are instantly granted access to several integrations, such as those for Google Workspace and Office 365.
In fact, Dialpad's annual discount is about 35% per month, which beats RingCentral's maximum 33% annual discount rate. Read more about how these two competitors match up in our Dialpad vs RingCentral guide.
Dialpad Monthly Pricing at a Glance*
Standard Plan: $23 per user for as little as one license
Pro Plan: $35 per user for more than three licenses, local numbers in more than 50 countries, and integration with Salesforce
Enterprise Plan: Contact Dialpad if you need more than 100 licenses
*Pricing is based on a monthly payment, but annual billing is also available at a significant discount.
Dialpad Features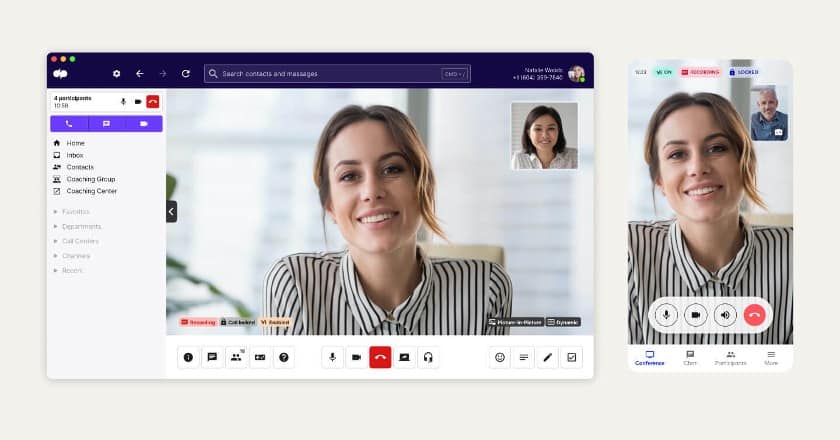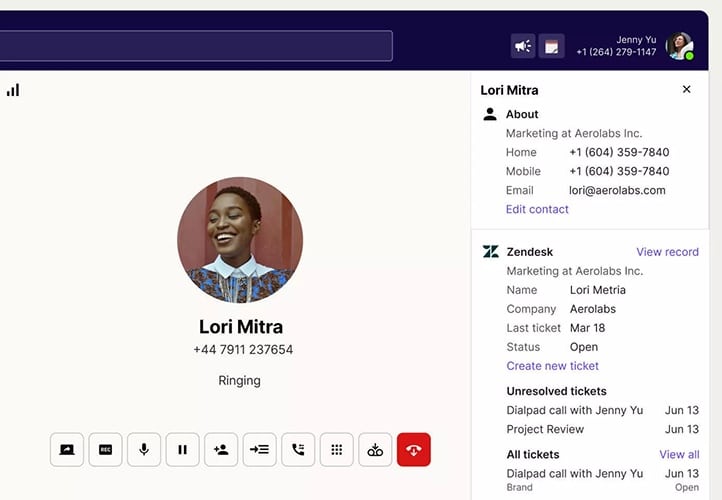 ---
Voice Intelligence: When used across a company, agents can provide better customer service, improve sales, and reduce call time by being prepared for customer conversations by pulling up past interactions.
IVR system: IVR menus route calls more efficiently when agents are unavailable, minimizing call transfers and getting customer calls where they need to be quickly.
Integrations: Like RingCentral and Nextiva, Dialpad has a variety of integrations available that improve productivity, starting with Google Workspace and Office 365 on the lowest tier.
Phone.com: Best for Metered Communications
What We Like
Plans cost as little as $11.99 per month with metered options as well
Pro users can stream on YouTube
Built-in address book
What's Missing
Charges a monthly fee for the use of its desktop application
Supports very few integrations
Only Pro users have access to call analytics
How It Compares to RingCentral
Phone.com provides both metered and unmetered plans; RingCentral only has unmetered options, which can be overkill for small businesses
Phone.com supports video conferencing for up to 100 participants, about half what's offered by RingCentral
With discounts intact, Phone.com costs $11.99 per user on a monthly basis, whereas RingCentral's lowest base tier plan is $19.99
Call queueing is available in all Phone.com plans but is unavailable in RingCentral's base tier
Of the various competitors of RingCentral, Phone.com and our honorable mention, Grasshopper, serve more as virtual phone systems rather than VoIP or UCaaS providers. This means that you'll be using this provider primarily for inbound and outbound calls. This is great for a small business that doesn't need complex communications solutions.
Phone.com also offers mix-and-match as well as metered and unmetered plans, so small businesses have options with the provider. In addition to this, like Nextiva and GoTo Connect, Phone.com is a RingCentral alternative that offers both volume and annual discounts.
Baseline features include an automated attendant, call forwarding based on business hours, and follow me, which forwards calls to your preferred device when inbound calls come in. Phone.com is one of the rare virtual phone systems that also includes limited, 25-attendee video conferencing.
Phone.com Monthly Pricing at a Glance*
Basic Users: $14.99 for one number per account, 300 minutes and 1,000 pooled text segments per user, 50 standard VoIP features, an auto-attendant, and video conferencing with 10 participants
Plus Users: $19.99 for one phone number per person, unlimited minutes and texting, video recording and whiteboarding, 25 video meeting participants, and voicemail transcription
Pro Users: $29.99 for one phone number per person, unlimited minutes and texting, video recording transcription, customer relationship management (CRM) integrations, call analytics, and 100 video conferencing participants
*Pricing is per user and based on monthly payments. Switching to annual payment saves businesses an additional 20%
Phone.com Features
Mix-and-match plans: Phone.com lets you choose different packages for each user, which helps you save money. Your team shares minutes and text message allotments on the metered plans or uses an unlimited subscription for added features.
Collaboration tools: While Phone.com provides fewer features than a full-featured business phone system like RingCentral, it comes with content sharing, team chat, and conferencing tools.
Add-on options: Phone.com packages come with more than 50 VoIP features. However, you don't have to upgrade to a higher plan tier if you want to add call recording or a live receptionist to a phone line. Instead, simply add these features to one line or all of them.
Take a look at our Phone.com review for more information about its dedicated features.
Ooma: Best RingCentral Alternative for Scalability
What We Like
The Ooma Home plan (with the Ooma Telo) is useful for smaller businesses and solopreneurs
Up to 70 international locations with unmetered calling
Virtual receptionist included with Office plans
What's Missing
While Ooma is scalable, it doesn't offer much in the way of pricing discounts
Ooma doesn't grant access to vanity or international numbers
Doesn't really have support for call or contact center features
How It Compares to RingCentral
Unlike RingCentral, Ooma has a "free" plan with the purchase of a Telo, which comes with voicemail, call hold, caller ID, and call return
Ooma only allows for 25 video conference attendees, which is significantly lower than RingCentral's 200
Ooma's free trial is 30 days, while RingCentral only has a 15-day trial
Ooma provides unlimited international calling to 70 countries, while RingCentral only has metered rates
One of the most noteworthy features of the Ooma phone system is how well it scales. A very small business can easily start out with its base plan that requires an Ooma Telo analog telephone adapter and make calls virtually for free. While this does require roughly a $100 investment, this gives new businesses a dedicated phone number for customers. Even at its cheapest, you'll quickly outstrip this cost with RingCentral within a few months.
As the company grows, it's relatively easy to scale up to one of the Ooma Office plans, which serve as its VoIP or UCaaS business communication systems. For those looking for different plan levels, the Office plans include Office Essentials, Office Pro, and Office Pro Plus. These have all of the basics, including auto-attendants, virtual fax, and call management features.
Ooma has unlimited international calling to more countries than 8×8 (in total, 70). This means that regular calling to specific countries will be cheaper. Still, Ooma doesn't quite win for building an international presence due to its lack of international call forwarding. It does help new businesses build inroads without worrying about international calling rates building up to unmanageable levels.
Ooma Monthly Pricing at a Glance*
Ooma Home: Free with the purchase of an Ooma Telo device. Includes several add-on options, such as enhanced voicemail, voicemail transcription, and additional virtual numbers.
Ooma Office Essentials: $19.95 for a virtual receptionist, extension-to-extension dialing, call forwarding, call flip, and multidevice ring
Ooma Office Pro: $24.95 for video conferencing, call recording, enhanced call blocking, and voicemail transcription
Ooma Office Pro Plus: $29.95 for features like Salesforce integration, hotdesking, find me, follow me, and call queueing
*Pricing is per user; Ooma doesn't provide volume or annual discounts
Ooma Features
Extensive hardware and software support: While Ooma is known for the Telo, there are other VoIP-powered phone options. Ooma has several device options from Grandstream and other VoIP phone manufacturers.
Multidevice ring: With many businesses shifting to hybrid work, the multidevice ring allows inbound calls to ring on multiple devices. This allows agents to select the device they want to use to engage customers. Devices supported include the softphone, IP phone, and smartphone app on their Android or iOS device.
Enhanced call blocking: Ooma Pro plans have the ability to block more than 2 million confirmed telemarketing companies. Subscribers also have the ability to add numbers to the Ooma Office block list as needed.
Wondering about more of Ooma's in-depth features? Check out our Ooma review, and for a better understanding of how it compares to RingCentral, check out our Ooma vs RingCentral write-up.
Honorable Mention: Grasshopper
What We Like
Staple set of calling features for solopreneurs
Competitive pricing that scales easily
Quick and easy internet faxing capabilities
What's Missing
No international calling
Little to no UC features
Team collaboration is limited
How It Compares to RingCentral
With its simplified design, Grasshopper is much easier to master than RingCentral
Grasshopper is more budget-friendly than RingCentral
Grasshopper is designed for simplified business communication without the extra UC features of RingCentral
Like Phone.com, Grasshopper is a virtual phone system that's dedicated to providing small companies with VoIP-assisted inbound and outbound calling. Unlike RingCentral and alternatives that provide UC in addition to calling features, Grasshopper focuses only on phone-based business communication.
As such, it didn't perform as well based on our criteria, since it is a different type of product than other RingCentral alternatives. For more details, read out Grasshopper vs RingCentral head-to-head comparison.
With that said, not every business needs UC features, especially if it's very small or a solopreneur. Grasshopper delivers simplicity with business calling features like internet faxing, call transfers, and robust reporting.
Call blasting is also available, so up to 15 lines can ring simultaneously when your business receives calls. Additionally, unlike RingCentral and Nextiva, you get three extensions at the base tier.
Grasshopper Monthly Pricing at a Glance*
Solo: $31 for unlimited users with up to three extensions
Partner: $51 for unlimited users with up to six extensions
Small Business: $89 for unlimited users with unlimited extensions
*Grasshopper has annual pricing, which helps businesses save over 10%.
Grasshopper Features
Virtual numbers: By default, you receive one virtual phone number to use as a second number with the Solo plan, three with the Partner plan, and six with the Small Business plan.
Ruby Receptionist integration: Grasshopper has a partnership with Ruby Receptionist for those needing a virtual receptionist, and Grasshopper subscribers get a 35% discount.
International calling: Grasshopper offers international calling using a per-minute billing structure. If your business makes frequent international calls, there are also customized plans that can help you save.
Considering Grasshopper? Get a closer look at this office phone system using our dedicated review.
How We Evaluated the Best RingCentral Alternatives
While doing our research, we selected several RingCentral competitors that provide a wide range of features most businesses find attractive. We took a look at cost, general features all users need, specific and advanced features that could be useful for various businesses, popularity, and ease of use.
Here's a breakdown of how we measured each provider:
25% of Overall Score
For just about every business, the cost is a prime determining factor. When evaluating alternatives to RingCentral, we took a look at which ones offer free trials, how many plans are available, pricing per month, and whether discounts are offered for annual pricing.
30% of Overall Score
General features for any VoIP/UC provider include things like meeting recording, team chat with features like presence, analytics, calling and text (short message service or SMS) features, and call routing technology like interactive voice response (IVR) and auto-attendant.
25% of Overall Score
While niche features aren't needed by every business, they make a difference for many. For the sake of this guide, we considered platforms with mobile and desktop apps, international calling, high-definition (HD) video conferencing, and desk phone support.
20% of Overall Score
Popularity and ease of use are critical when evaluating RingCentral software alternatives. In addition to our own firsthand experience with the products, we looked at user and expert reviews, value for the money, and how each provider ranks overall for features.
*Percentages of overall score
Bottom Line
Having a stable and reliable VoIP provider is critical for most businesses, and while RingCentral is a great provider, there are several worthy RingCentral competitors to consider. Which small business VoIP service RingCentral alternative you consider will depend significantly on your business needs.
Based on our research, the best on the market is Nextiva. It provides strong local and international calling, extensive UC features, and advanced AI, as well as integration capabilities and calling features that are on par with RingCentral.