RingCentral is the leader in voice-over-internet-protocol (VoIP) solutions for companies. Its feature-rich plans come with voicemail-to-text, team messaging, and over 10 call management features. However, some business users may prefer RingCentral alternatives offering lower rates or unlimited international calling. We reviewed RingCentral competitors by looking at top features, mobile app functionality, and customer service options.
Based on our criteria, the six best RingCentral alternatives include:
How We Evaluated RingCentral Alternatives
VoIP small business phone systems keep your staff and customers connected while providing local and toll-free phone numbers. Most services include intuitive mobile applications, auto-attendants, and a range of affordable plans. Although RingCentral is one of the best VoIP providers, business users may find that a RingCentral competitor offers a better fit for their company's needs.
With a score of 4.67 out of 5, Nextiva is the best RingCentral alternative. It gets the best ratings for features, offers plans comparable to RingCentral, and costs less. Its volume-based discounts make it a great choice for companies wanting to add more users and take advantage of a comprehensive VoIP phone system.
You can click on the tabs below to learn more about our evaluation criteria:
30% of Overall Score
While reviewing options, we considered overall pricing per plan, additional fees for add-on services or hardware, and per-minute calling rates. Plus, we looked at volume-based or contract-based discounts.
20% of Overall Score
We evaluated the availability of basic calling features such as an auto-attendant, SMS text messaging, voicemail, and conferencing. We also assessed mobile and desktop apps for ease of use.
20% of Overall Score
We looked at each phone service's high-level functionality to find top solutions, including integrations with business software, international calling plans, video calling, and voicemail options.
30% of Overall Score
Our research assessed user reviews and our own experience using the application in our workplace to uncover the best solutions. In doing so, we identified services that are easy to set up and use while providing valuable features at affordable prices.
*Percentages of overall score
Nextiva: Best Overall RingCentral Alternative

Nextiva is a RingCentral competitor offering a unified communications platform to connect your teams and clients. Standard features include voicemail-to-email alerts and MS Outlook or Google Contacts integrations. Nextiva's plans are similar to RingCentral packages, but you'll get 1,500 toll-free calling minutes on the base plan compared to only 100 minutes with RingCentral's cheapest plan. Pricing starts at $30.95 per user, per month, but this price drops to $23.95 with an annual payment and lowers further as you add users.
Nextiva Pricing*
Essential: $23.95 per user, per month for unlimited calling in the U.S. and Canada, 1,500 toll-free minutes, and unlimited internet fax
Professional: $27.95 per user, per month with unlimited conference calling for up to 40 participants, video calling, and 3,000 toll-free minutes
Enterprise: $37.95 per user, per month for unlimited conference calling and participants, call recording, and 12,500 toll-free minutes
Ultimate: $67.95 per user, per month for automated surveys, customer journey analytics, and 12,500 toll-free minutes
*Pricing is based on annual payments for one to four users. Adding more users or opting for 24-month or 36-month plans reduces your price further.
Nextiva Features
Integrations: Easily connect your MS Outlook and Google Contacts accounts to your VoIP service on the basic plan or add extended integrations on upper-tier plans with software like Salesforce, HubSpot, Zendesk, Microsoft Teams, Oracle Sales Cloud, and ServiceNow.
Call Pop: Personalize every phone call with customer data at your fingertips. You can customize your app to include industry-specific information and view customer sentiment data. Call Pop is available on all plans, except for the Essential package.
Voicemail options: Allow each user to select the best method for accessing voicemail. Nextiva offers voicemail-to-email notifications, voicemail-to-SMS alerts, and voicemail transcription.
Grasshopper: Easiest to Use RingCentral Alternative

Grasshopper uses your cellular data, Wi-Fi, or VoIP to send and receive calls. The company is well-known for its sheer simplicity and ease of use, with its iOS app earning 4.7 out of 5 stars, whereas the Android application gets 4.1 out of 5 stars. With four steps, you can have your new VoIP business phone service running. Plans start at $26 per month when paid annually and include one phone number and three extensions. Although Grasshopper offers fewer features than RingCentral, it's an excellent option for solopreneurs or small teams.
Grasshopper Pricing*
Solo: $26 per month for one number and three extensions
Partner: $44 per month for three phone numbers and six extensions
Small Business: $80 per month for five phone numbers and unlimited extensions
*Pricing is based on an annual payment plan, but monthly plans are available for roughly 10% more over a year.
Grasshopper Features
Instant response: If you miss a call, you can automatically send a text message letting your caller know that you're unavailable and giving the option to respond with callback information.
Virtual receptionist: The auto-attendant answering system provides a custom greeting and routes callers according to your call forwarding rules. You can change your greetings, rules, or extensions at any time.
Voicemail transcription: Turn your voicemails into searchable records by converting voice calls to text that's sent to your email. You can read your new messages on any device.
8×8: Best for Unlimited International Calling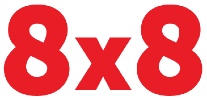 Although unlimited calling in the U.S. and Canada is fairly standard on VoIP plans, international calls still get charged per-minute rates. However, 8×8 business phone plans offer unlimited international calling and call management features with package costs similar to RingCentral. The cheapest plan, 8×8 Express, doesn't include international calling. But its X2 plan starts at $24 per user, per month for calling to 14 countries when paid annually. With 8×8, you can stay in touch with customers worldwide while benefiting from feature-rich plans.
8×8 Pricing
Express: $12 per user, per month for unlimited calling in the U.S. and Canada, intelligent call routing, and video, voice, and messaging features
X2: $24 per user, per month for unlimited voice calling to 14 countries, audio and video conferencing, and SMS, MMS, and team messaging*
X4: $44 per user, per month for unlimited voice calling to 47 countries, monitor, whisper, and barge features*
*X2 and X4 plans are based on annual payments, but month-to-month options are also available.
8×8 Features
Mix and match plans: 8×8 lets you select plans for different team members, so you can save money by using the Express plan for some employees while opting for unlimited international calling plans for others.
Multilevel auto-attendant: Add virtual receptionist options based on location, customer size, or priority. You can create several auto-attendants with different profiles and configure personalized call flows.
Integrations: Help your staff serve customers quicker by integrating your phone system with Microsoft Teams, Salesforce, ServiceNow, or dozens of other applications.
Phone.com: Excellent Value for Budget-conscious Businesses

Phone.com is a VoIP phone service providing metered and unlimited plans. You get an unlimited number of extensions for a low monthly cost. All plans offer more than 40 standard features, such as voicemail-to-email, dial-by-name directory, and audio conferencing. Plans start at $12.99 per user, per month for one to four users. You can also mix and match plans, making it ideal for growing companies. If you want to connect many users but don't expect a high call volume, Phone.com provides the best value.
Phone.com Pricing*
Basic: $12.99 per user, per month for 300 monthly minutes, 1,000 text messages, and over 40 features
Plus: $19.99 per user, per month for unlimited monthly minutes and text messages, video recording, and voicemail transcription
Pro: $29.99 per user, per month for unlimited minutes and text messages, customer relationship management (CRM) integration, and call analytics
*Plan pricing based on monthly payments, but annual plans are available. There are volume discounts as well.
Phone.com Features
Unlimited extensions: With unlimited extensions, you can add every employee to your phone system without incurring a large monthly cost. This offer works exceptionally well when you want team members accessible, yet they don't need unlimited minutes.
Click-to-call: Make it easy for website visitors to call by adding a piece of code to your website. People can click the button, which initiates an outbound call to the potential customer's phone number.
Dial-by-name directory: Customize your auto-attendant by adding an employee directory. Users can enter the first or last name of the desired staff member, and the auto-attendant provides the employee's name and extension.
Vonage: Flexible Calling Solutions

Vonage provides a flexible solution for small to medium business owners. You pay one low price for more than 50 VoIP features, such as click-to-dial, music-on-hold, and unlimited team messaging. Plus, you can add various services, such as call recording or information technology (IT) support as a separate charge. Plan prices start at $19.99 per line, per month but drop to $14.99 with 20 or more users. Vonage works well for companies needing an affordable solution that offers features you can add as your business grows.
Vonage Pricing*
Mobile: $19.99 per line, per month for unlimited calls in the U.S., Canada, and Mexico, unlimited SMS, and team messaging
Premium: $29.99 per line, per month for unlimited video meetings with up to 100 participants, a multilevel auto-attendant, and CRM integrations
Advanced: $39.99 per line, per month for 15 hours of on-demand call recording, visual voicemail, and white glove setup services
*Plan pricing based on one user with discounts given when adding five or 20 users.
Vonage Features
Vonage IT support: For $9.99 per user, per month, you can get an IT team at your disposal. Vonage Support PLUS powered by Soluto™ helps you with hardware installation, virus removal, and third-party integrations, like Dropbox or QuickBooks.
Multiple phones on one line: Select up to three phones to use on one extension so you never miss a call. Plus, with the call flip features, you can seamlessly switch devices while remaining on the line with your customer.
Team messaging: Once your team downloads the Vonage apps, everyone can start or join group chats, share files, and participate in video and voice calls.
Ooma: Best for Small Remote Teams

If your office relies on remote teams, then Ooma is an affordable VoIP service. As with RingCentral, you'll get call park, voicemail, and easy-to-use mobile apps. However, Ooma's plans are less expensive, starting at $19.95 per user, per month with no contract required. Ooma also receives great ratings for its responsive customer service, making it a fantastic choice for business owners wanting to connect and support remote teams.
Ooma Pricing
Ooma Office: $19.99 per user, per month for unlimited calling in the U.S., Canada, Mexico, and Puerto Rico, along with more than 35 standard call management and mobility features
Ooma Office Pro: $24.99 per user, per month for video conferencing, call recording, and voicemail transcription
Ooma Features
Ring groups: Reduce lost calls by creating ring groups for business departments. You can assign users and add multiple devices. Plus, you can choose from sequential or simultaneous ring options.
Conference bridge: With Ooma, all users get a conference bridge, allowing them to host a meeting with up to 10 participants. Small businesses can conduct meetings with each other or clients quickly and securely.
Virtual receptionist: Along with standard auto-attendant features, you can develop custom messages with general business information, create multilanguage menus, and set different rules for business or after-hours calls.
Bottom Line
Staying connected is vital to business communications. Several RingCentral competitors offer phone systems with similar features at a lower cost. Although our top pick is RingCentral, if you want a RingCentral alternative, go with Nextiva. You'll get more toll-free minutes along with the unified communications features you can't work without. For a detailed comparison of the two, you can also read our Nextiva vs RingCentral article.