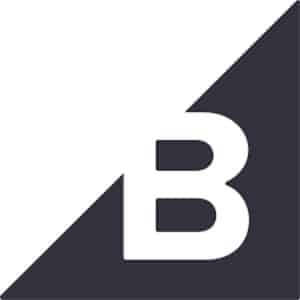 BigCommerce is a fully hosted ecommerce platform that lets you build an online store and sell on multiple platforms, namely enterprise and ecommerce apps. BigCommerce is known for its zero transaction fees and scalable solutions, making it best for high-revenue and growing businesses that need a scalable sales platform. Its monthly plans start at $29.95.
What We Recommend BigCommerce For
BigCommerce is one of our top picks for best ecommerce platform, scoring 4.38 out of 5 in our evaluation. In fact, we consider BigCommerce as a close runner-up to Shopify in being the best overall ecommerce platform.
Though BigCommerce is a runner up to Shopify, we recommend BigCommerce specifically for the following:
High-revenue enterprise businesses looking to save on transaction fees: BigCommerce lets you choose your own payment platform with no added markups or transaction fees (unlike Shopify, which charges a fee if you use a third-party processor). So, you can shop around for the lowest rates. Additionally, BigCommerce offers exclusive PayPal discounts, connects with over 55 gateways, and accepts multiple currencies.
Online stores with complex product assortments: BigCommerce lets you set up 250 product options and up to 600 variants, which is more than other e-commerce platforms, including Shopify.
When BigCommerce Would Not Be a Good Fit
Not sure what's right for you? Read our Shopify vs BigCommerce comparison to see how the two top ecommerce platforms for small businesses compare.
BigCommerce Overview
PROS

CONS

No transaction fees with numerous payment processing integrations
Customization tools aren't beginner-friendly
Ability to sell on enterprise and ecommerce apps (Google Shopping, Walmart Marketplace, and PriceGrabber)
Has sales volume limits on its plans
Strong SEO features
No shipping discounts available
Real-time shipping quotes even on basic plan
Abandoned cart recovery is only available in higher plans
Well-reviewed 24/7 customer support
Lacks native POS tool (needs third-party integration)
Extensive reporting tools
BigCommerce Pricing
BigCommerce's pricing guide shows four subscription plans with fees that start at $29.95. The main differences between the tiers are the sales limits per year and access to premium features—such as stored credit cards, Google customer reviews, and unlimited API calls.
BigCommerce Pricing Plans
Standard

Plus

Pro

Enterprise

Monthly Fees

$29.95

$79.95

$299.95

Contact BigCommerce

Annual Fees*
($/Month)

$29.95

$71.95

$269.95

Online Sales Per Year**

Up to $50,000

Up to $180,000

Up to $400,000***

(Optional) Special Credit Card Fees from PayPal Braintree
($/Transaction)

2.9% + 30¢

2.5% + 30¢

2.2% + 30¢

2.2% + 30¢

Stored Credit Cards

N/A

✔

✔

✔

Google Customer Reviews

N/A

N/A

✔

✔

Unlimited API Calls

N/A

N/A

N/A

✔
*Lump-sum billing
**Computed on a trailing 12-month basis
***Pro plan only: Starts at $299.95 per month for online sales of less than $400,000, then $150 per month for every additional $200,000
The prices quoted above do not include all forms of tax (e.g., US sales, VAT, and GST).
All plans include the following:
No transaction fees
Unlimited staff accounts, products, file storage, and bandwidth
Sales channels: online storefront, Amazon, eBay, Walmart, Google Shopping, and social media channels
Access to 24/7 live support
BigCommerce mobile app and POS tool
Payment integrations (Apple Pay, Google Pay, and Amazon Pay)
Multi-currency
SSL certificate
When you sign up for Standard, in addition to everything mentioned above, you get real-time shipping quotes and professional reporting tools, as well as coupons, discounts, and gift cards.
Plus includes all features of the Standard tier, plus an abandoned cart saver, persistent cart saver, customer groups, and stored credit cards.
Pro, meanwhile, provides product filtering, custom SSL (Secure Sockets Layer), and Google customer reviews, in addition to all the features mentioned in Plus. Enterprise is a custom tier for those who exceed $400,000 in annual online sales revenue. Unlimited API calls, price lists, and custom capabilities are its added premium features on top of all the ones included in the lower plans.
BigCommerce Features
BigCommerce offers a 15-day free trial, no strings attached. You just need to sign up with an email address, type in your store name, answer a few questions about your business, and from there, get taken to the dashboard to start building your store.
You can watch a video tour of the platform first, or go through the prompts in setting up your store. If you feel stuck or need help, then connect with its support team through phone or live chat.
Take a look at some of BigCommerce's standout features below.
Website Builder
BigCommerce offers 12 free and over 100 paid (starts at $150) website themes, all of which are mobile-friendly and AMP-enabled (Accelerated Mobile Pages). If you look closely, however, its free themes have striking similarities, with differences only in color, as compared to Shopify's nine free themes with two to three variants and Squarespace's over 115 theme bundles.
What's great about BigCommerce's themes, though, is that they provide options for stores that carry small or large catalogs. You can also search by industry or preferred layout (grid or large images).
There has been some feedback about difficulty in applying design changes to a BigCommerce site. However, BigCommerce recently released a new page builder called Store Design. In the past, you needed to customize your storefront in two separate areas. With this new feature, you can customize page sections and see them reflected in real time—similar to most ecommerce platforms that offer drag-and-drop builders.
Product Management
BigCommerce is the only ecommerce platform that lets you sell physical, digital, and service-based products without having to use a third-party app (often at a cost). Subscriptions, however, require an app.
One of BigCommerce's strongest features is its extensive product variant management. Unlike Shopify (which allows you to set up to three product options only), BigCommerce allows you to create up to 250 product options. It can also auto-generate SKUs for all the different combinations of variants you set up. Its limit on product variants is up to 600, a far cry from Shopify and Squarespace's equivalent limits of only 100.
BigCommerce also has native custom product fields or work tools. If your store products have customization options such as engraving, image uploads, and more, then setting this up using custom fields and image uploads are easily done in BigCommerce. Image uploads up to 500MB are accepted. This can only be done using third-party apps in Shopify.
However, BigCommerce is less impressive when it comes to product categories. While creating products and their variants is straightforward and simple, you need to manually assign individual products into categories. This is a far cry from Shopify, which automatically categorizes products based on product name or tags.
Inventory Management
BigCommerce lets you keep track of inventory for your storefront products and set up low-stock alerts—although you need to set this up manually and not depend on EOQ (Economic Order Quantity) reports. Syncing between multiple sales channels can be done through third-party integrations.
You can also set up how to communicate stock alerts to your customers, such as hiding a product when it is sold out or showing a sold-out message and availability date. You can also charge "authorize only" transactions—this allows you to authorize the charge without actually withdrawing the funds from your customer's account until you approve it. This is an advantage when you are selling products that don't need inventory such as refurbished items, wholesale goods, or on-site produced goods.
Payment Processing
BigCommerce is known for not charging sales transaction fees, but note that you still incur the usual credit charges from your payment gateway. BigCommerce offers preferential PayPal rates—that decrease as you subscribe to its higher plans—when you use its default payment option, PayPal powered by Braintree.
It gives you over 55 other integrated payment gateways to choose from, all of which can still allow you to do a one-click checkout setup in your site, accept mobile payments, and support multiple currencies.
Multi-Channel Selling
BigCommerce offers many ways to sell your products aside from your online store—like on social media platforms (Facebook, Pinterest, and Instagram). You can also list your items on ecommerce marketplaces such as eBay and Amazon.
When you integrate your Facebook, Amazon, and eBay accounts, your product listings and inventory are synced across all platforms. For example, if you edit a product title in your BigCommerce dashboard, then the change will carry across all platforms. This cuts out a lot of manual work for you. When you integrate with Instagram, you can make the user journey experience better by displaying up to five products with detailed product views on your account.
Multi-Currency and Multi-Language Capabilities
The platform accepts over 100 currencies and offers local payment options with your preferred gateway. You can also localize your store's front-end according to the language of your market.
BigCommerce's free themes even facilitate automatic currency conversion based on a site visitor's IP address. It definitely beats other platforms that don't offer this feature (like Squarespace) or don't offer it unless on a more expensive plan (like Shopify).
Sales and Marketing Features
BigCommerce offers a wide range of marketing tools such as site banners, coupon codes, gift certificates, discounts, abandoned cart notifications, and product reviews in Yahoo Search Marketing and Google Trusted Stores.
The abandoned cart recovery feature, however, is only available in Plus, Pro, and Enterprise, making it a little more expensive compared to Shopify, which has this feature available even on its basic plan.
That said, BigCommerce's abandoned cart recovery feature is more flexible than those on Shopify and other platforms. While most of these platforms limit you to one automated email, BigCommerce lets you send three follow-ups. This can increase revenue with little effort—other than the time spent setting up the automated messages.
This feature usually pays for itself and if your site receives a lot of visitors, purchasing a BigCommerce plan that includes abandoned cart recovery will be a smart decision.
SEO
All BigCommerce websites are mobile-friendly, and SEO features such as automated image optimizer, on-page SEO capabilities, sitemap generation, and site speed enhancers are included. AMP is implemented on all BigCommerce themes as well.
You can customize your store products' metadata, header tags, and titles as well as create and change product-specific URLs easily. Unlike Shopify and Squarespace, you can also create short URLs (e.g., www.domain.com/custom-name instead of www.domain.com/products/custom-name).
The AMP feature is also an SEO advantage. It is a project developed by Google that aims to deliver your site content more quickly to mobile users, reducing the number of mobile visitors who leave your site because your content loads too slowly.
Akamai Image Manager, an image optimization feature, was recently introduced by BigCommerce. According to BigCommerce, users who used this feature saw as much as 70% improvement in site load times.
Shipping Tools
BigCommerce allows you to set up different shipping rules such as the following:
Free shipping
Flat rate
Price-based rate
Weight-based rate
In-store pickup
Real-time shipping rates from third-party carriers
Compared to other platforms that offer this on higher plans, third-party real-time shipping rates are available in any of BigCommerce's plans. However, unlike on Shopify, discounted shipping rates are not yet available for BigCommerce.
BigCommerce Ease of Use
Help center
Knowledgebase: user and developer docs, guides, videos, and webinars
Community: Q&A, groups, forum, and town halls
24/7 email, live chat, and phone support
BigCommerce's user interface is straightforward, relatively similar in appearance to Shopify and Squarespace's dashboards. One of its features is a drag-and-drop builder, though most user reviews say that it is not as intuitive as Squarespace's layout builder.
While it is easy to get started with setting up and managing products, BigCommerce has a lot of room for improvement when it comes to managing the storefront layout. It is not as easy to set up compared to Shopify and Squarespace.
BigCommerce, though, provides a huge advantage to its users by providing 24/7 phone, email, and live chat support. When you sign up for a free trial, you are entitled to have a 10-minute call with its experts to discuss your business, goals, and how BigCommerce can help you succeed.
If you are subscribed to its highest plan (Enterprise), you are provided priority support. You are given an onboarding consultant and prioritized phone calls with its most senior and highly-trained support staff.
In addition to phone, live chat, and email, you can also make use of its comprehensive help center and library of video tutorials.
Top BigCommerce Alternatives
| Square Online | Shopify | Squarespace |
| --- | --- | --- |
| Best for: Small storefronts wanting to add an online store | Best for: Small businesses with ecommerce as their backbone | Best for: Artists and creators wanting top-rated templates |
| Monthly fee from: $0 | Monthly fee from: $9 | Monthly fee from: $12 |
| | | |
Shopify remains to be BigCommerce's biggest competitor. Read about how they stack up with each other in our BigCommerce vs Shopify review. If you're not sure BigCommerce is right for you, see how it compares with our top ecommerce platforms.
What Users Think About BigCommerce
BigCommerce is one of the most popular ecommerce platforms based on the number of reviews online. A majority of user reviews reflect satisfaction with the platform, citing its customization, zero transaction fees, and 24/7 support as strong advantages. Most of them also agree that while the ability to customize is great, it presents a steep learning curve for those who aren't well-versed at coding.
At the time of publication, BigCommerce reviews earned the following scores on popular user review sites:
When reading through user reviews, I noticed some of these trends:
| Users Like | Users Don't Like |
| --- | --- |
| Great 24/7 customer support | Has a learning curve |
| Provides more sales tools, cross-channel integration, and SEO features | Can get more expensive as your store gets more sales |
| Gives more freedom when it comes to website design/customization | You need to know HTML or CSS in order to customize BigCommerce templates |
Bottom Line
BigCommerce is one of our top picks for an ecommerce platform and with good reason. It is one of the most feature-packed ecommerce platforms out there, with its basic plan already providing capabilities—such as strong SEO features (AMP functionality and image optimization), multiple currency support, and ability to set up hundreds of variants—suited for scaling and growth. This makes it perfect for large, fast-growing, and high-revenue businesses. If you're not looking for growth, or are a total beginner, then the platform isn't for you.
When it comes to choosing an ecommerce platform for your business, it's all going to boil down to what kind of business you have. If you run a large enterprise that requires numerous user accounts or an exhaustive product catalog, you need BigCommerce.
You can sign up to a 15-day free trial for BigCommerce today.
You May Also Like …