ShippingEasy Review: Best Shipping Software for Small Business
ShippingEasy is a cloud-based order fulfillment and shipping solution that integrates with ecommerce platforms and shopping cart applications. It's designed for ecommerce retailers and other online businesses shipping products to customers.
In our evaluation of the best shipping software for small businesses, ShippingEasy ranked #1 with a score of 4.2 out of 5, earning points for its excellent value, accessible customer support, and powerful features.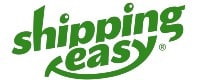 What We Like
Affordable, competitive pricing
Easy-to-use, intuitive interface
Robust marketing tools
High-level reporting and analytics
What's Missing
No mobile app
Limited dropshipping functionality
Restricted customer support on "Starter" plan
When to Use
In-house fulfillment operations: Manage orders, inventory, and shipments from your desktop or mobile device
Ecommerce businesses: ShippingEasy connects with all of the leading digital platforms, carts, and marketplaces and tools
Shipping auxiliary goods: Works for non-retail products like samples, swag, bonuses, or crowdfunding rewards
When to Use an Alternative
Outsourcing fulfillment: ShipBob provides hands-off fulfillment and shipping to save more time
Dropshippers: Ordoro delivers better functionality for managing dropshipped orders
Low-volume shippers and ecommerce beginners: We recommend OrderCup's free starter plan
ShippingEasy can help businesses improve their in-house fulfillment workflow by increasing efficiency, minimizing errors, and saving on label costs. Thanks to its integration capabilities and order management features, the platform is a solid choice for ecommerce businesses. Plus, ShippingEasy's range of plan options makes it accessible for high-volume merchants, startups, crowdfunding ventures, and businesses shipping auxiliary goods (like samples, swag, or bonuses).
While ShippingEasy can save you time, it's not a hands-off solution; businesses seeking to outsource their order fulfillment should look to ShipBob (our top pick for third-party order fulfillment). Due to the restrictive limitations on ShippingEasy's free starter plan, low-volume shippers and ecommerce newcomers may want to consider an alternative.
ShippingEasy Deciding Factors
Supported Business Types

Small to midsize businesses, enterprise-level businesses, startups, ecommerce stores, retail stores, DTC sellers, B2B sellers, resellers, subscription-box services

Standout Features

Powerful multicarrier rate comparison tool
Discounted shipping rates
Exclusive Priority Mail service rates
Robust marketing tools
Competitive pricing
Basic inventory, order, and returns management features
Basic automation capabilities
Generates scan-based or pay-upon-use (POUR) return labels
Highly rated in user reviews

Carrier Discounts

USPS Commercial Base Pricing plus exclusive discounts; discounted UPS rates

Free Starter Plan

25 shipments/month

Pricing

From $29/month for 500 shipments to $159/month for 10,000 shipments

Contract Length

1 month

Peripheral Integrations

Supports thermal printers, laser printers, barcode scanners, hotkeys, and USB scales

Average Rating in User Reviews*

4.72 out of 5

Customer Support

Via phone, email, and live chat 8 a.m.–6 p.m. Central Time, Monday through Friday
*Aggregate rating based on total scores from Capterra, Shopify App Store, TrustRadius, and G2
ShippingEasy Alternatives
| | | | |
| --- | --- | --- | --- |
| | | | |
| Best for: Small-scale sellers and ecommerce beginners | Best for: Companies scaling to meet shipping demands | Best for: High-volume sellers seeking a multipurpose tool | Best for: Managing all aspects of a warehouse or in-house fulfillment operation |
| Price: Free-$180/month | Price: $9.99-$159.99/month | Price: Free-$999/month | Price: $1,850-$1,995/month |
| | | | |
ShippingEasy scored highly in our pricing category thanks to its functional free plan, competitively priced paid plans, and helpful shipping discounts. Its range of plan options isn't as accommodating as competitors like Shippo and Ordoro, which brought its final score down slightly.
Here's a breakdown of ShippingEasy pricing:
Free Starter Plan
Like most of our top shipping software picks, ShippingEasy offers a free starter plan—which allows one user 25 monthly shipments. It also comes with some other notable restrictions. Starter plan users can't contact customer support via the standard channels (phone, email, and chat). Instead, users must post issues and questions on the community forum and wait for a team member's response.
While this method of communication is reasonably effective, you'll receive help on the support team's schedule—not your own.
Furthermore, some key features aren't available to Starter plan users—such as international shipping, FedEx integration, and reporting and analytics. CSV upload is also unavailable to starter plan subscribers.
For these reasons, we recommend choosing ShippingEasy's Basic plan or looking elsewhere for a more functional starter program. OrderCup has a highly rated free plan that provides exceptional customer support and up to 50 shipments a month. If you're looking for a greater shipment allowance, Ordoro's free starter plan provides a whopping 1,000 labels per month.
Paid Plans
ShippingEasy's pricing varies based on five paid subscription options. The main differences between the plans are the number of monthly shipments, user account allowance, customer support accessibility, and access to certain features.
Plans

Pricing

($/Month)

Monthly Shipments

Users

Free Trial

30-day

Basic

$29

500

2

Plus

$49

1,500

3

Select

$69

3,000

5

Premium

$99

6,000

Unlimited

Enterprise

$159

10,000

Unlimited
As a user, you can cancel or switch plans at any time. There's no contract to use ShippingEasy, so all changes take effect the very next month. A 30-day free trial is available to test out any paid plan before subscribing.
If a user goes over their monthly shipment limit, ShippingEasy will automatically upgrade you to the next higher plan for the month. This structure isn't as customer-favoring as Ordoro's "flex pricing" approach, which charges you a cost-effective, prorated amount for any overages.
That being said, ShippingEasy beats Ordoro when it comes to its store and channel allowance. The latter limits users to just two sales channels on its $59 per month plan, and charges $10 for each additional store above that limit. ShippingEasy allows unlimited channels on all plans.
ShippingEasy users can add additional user accounts to any plan for $5 per month, making the plans somewhat customizable. The software's marketing suite add-on—which provides customer marketing tools, email marketing, campaign management, feedback requests, and interactive metrics—is available for an additional $14 per month.
ShippingEasy offers a powerful, cloud-based platform equipped with the shipping features needed to operate and scale. It comes with unlimited sales channel usage, batch support, and impressive peripheral connectivity—which helped bolster its score in this category.
It also delivers prebuilt integrations with many leading platforms, though providers offering more native integrations scored higher. We also deducted points for lacking a feature to display live rates at checkout.
Here's an overview of the factors we considered when assessing ShippingEasy's functionality:
We found that ShippingEasy's analytics are best-in-class. Its reporting feature can generate:
Shipment reports
Order reports
Shipped product status reports
Unshipped product status reports
Billing reports
Summary of product sales
Scheduled reports (automatically emailed)
A wide range of customized reports
The feature also allows you to export data based on your needs—such as customers, orders, and unshipped orders.
---
ShippingEasy's customer service team can be reached via phone, email, and live chat from 8:00 a.m.–6:00 p.m. Central Time, Monday through Friday. Its customer service is highly rated by users in ShippingEasy reviews.
Additionally, after-hours support is often available. The company states, "We do check our email across the weekend for urgent requests so don't be shy." In previous years, the company has also featured extended support hours during the holiday season, including full weekend availability.
These communication channels are only available to Basic-level users and above. Users on the free Starter plan must contact customer support through a community forum. This limiting factor can pose a significant problem if you have a time-sensitive issue. But, for non-urgent requests, it appears to work sufficiently.
---
Like any high-performing platform, ShippingEasy has somewhat of a learning curve. We found that the resources available to users can make the learning process sufficiently simple, and they go beyond the scope of the program itself.
Users can reference the following online resources created by ShippingEasy:
Blog
Tutorial and Guide Library (with over 1,500 articles)
Marketing Resources Hub
Case Studies
Definitive Guide to Shipping
The SMB Holiday Checklist
Guide to Flat-Rate Shipping
2021 Rate Change Guide
Brick-and-Mortar to Online Guide
Dimensional Weight Calculator
USPS Shipping Calculator
Postage Savings Calculator
---
ShippingEasy offers turnkey integrations with most of the leading ecommerce tools. These direct integrations are free and quick to set up, and many are two-way compatible.
The software has an easy-to-use API for custom connectivity with platforms for which it hasn't yet developed turnkey integrations. This process takes longer, and usually incurs an additional cost.
ShippingEasy integrates with the following platforms and solutions:
Shopping carts: 3dcart, PayPal, Ecwid, Xcart, Opencart, Stripe
Ecommerce platforms: Shopify, Magento, WooCommerce, BigCommerce, AmeriCommerce, Volusion, Squarespace, ChannelAdvisor, Storenvy, Sears, PrestaShop, Shopodex, Spree, nopCommerce, ePages
Marketplaces: Amazon, eBay, Etsy, Walmart, Wish, Yahoo!, Bonanza, Jane, Reverb, Google, Tophatter, Sears, Eleventh Avenue, Jet, Newegg, Sassy Steals, Auctiva, Yahoo!, Powersports, Cratejoy, Paparazzi Premiere
Inventory management: SolidCommerce, Scout, Finale Inventory, SynCommerce, Zenventory, Qstock, Shift4Shop
Returns management: Happy Returns, LoopReturns, Returnly
Accounting and ERP: QuickBooks, Webgility, Xero, AAATex Corp, Oracle NetSuite, FarAoo, ADS Solutions, Cloud Cart Connector, Connex
API and EDI integration: GeekSeller, OneSaas, AmoSoft
Misc: GroovePacker, AlgoPix, Brandable Box, Feedonomics, the ILS Company, ePages, 3M, Auctiva, Crux, Range.me
---
ShippingEasy works with shipments on a wide variety of carriers. Many of these integrations allow you to use your own pre-negotiated rates and presets.
The following carriers can be added to your ShippingEasy account:
USPS
FedEx
UPS
DHL
DHL Express
RR Donnelley Logistics
OnTrac

International Mail Service
International Bonded Couriers
Globegistics
DHL Global Mail
Asendia
APC Postal Logistics
RR Donnelley
International shipping capabilities and FedEx integration are only available to users on the Basic plan ($29 per month) and higher.
---
ShippingEasy's core features include order management, giving you split, combine, and recombine functions, batch processing, CSV entry, customizable grouping, manual entry and editing, gift options, and returns management. Customizable packing slips and location support for picking and packing are also included.
The software also helps with inventory management, allowing users to manage stock with real-time inventory tracking, product catalog support, product image support, customizable categories, and barcode creation.
ShippingEasy performs well when it comes to these basic components, but we found that competitors like Ordoro deliver better order and inventory management with higher levels of control.
It also offers additional features to tackle more complex shipping tasks as well as marketing, which earned it points in this category. However it doesn't come with purpose-built features for dropshipping, which brought its final score down.
Here are some of the features that set ShippingEasy apart from its competitors:
ShippingEasy provides a straightforward and intuitive rate comparison feature. It serves as a shipping calculator as well as a rate-shopping tool.
It has the most functional interface compared to its competitors—the tool displays multiple delivery methods and carriers on one screen (rather than requiring you to re-adjust preferences before generating comparative rates).
When comparing rates, you see the actual rate you will be paying when your bill comes. This includes your pre-negotiated discounts as well as ShippingEasy-exclusive discounts, like Flat Rate Green (explained below).
---
One of the biggest perks of using shipping software is discounted postage. By leveraging partnerships with carriers, ShippingEasy receives special high-volume pricing and passes those savings to its users.
These shipping discounts are available for all ShippingEasy subscribers:
USPS Commercial Plus rates: Commercial Plus Pricing is a program offered by the U.S. Postal Service that provides deeply discounted postage rates normally reserved for high-volume shippers. These discounts are available through ShippingEasy regardless of your sales volume.
Discounted UPS rates: Users get up to 66% off UPS 2nd Day Air service and up to 50% off UPS Ground shipments.
Discounted insurance: ShippingEasy offers significant discounts on shipping insurance. Users can insure parcels for a fraction of the standard cost.
Flat Rate Green pricing: Flat Rate Green is ShippingEasy's exclusive discounted dimensional pricing for USPS Priority Mail services. It provides low costs on parcels weighing 20 lbs. or less, with more dimensional flexibility than standard Flat Rate packaging.
---
Most of our top picks offer limited support for peripheral devices, but ShippingEasy allows for the most comprehensive list of hardware connectivity.
Through its proprietary connection app called ConnectEasy, you can directly integrate the following devices:
Thermal printers
Laser printers
USB scales
Barcode scanners
The software allows you to use hotkeys to control your connected devices, as well as set detailed automation rules (even when using multiple printers).
---
ShippingEasy can speed up your fulfillment process by automating various tasks that would normally require extra steps on your part.
Automations work by programming "if, then" rules into the software—for example, a rule could dictate "if an order is valued at $150 or more, then purchase insurance for the parcel." For every order meeting the criteria, ShippingEasy will automatically insure the package. The program's automation interface makes creating these rules easy for anyone.
Here are some of the tasks that can be automated through ShippingEasy, based on rules or triggers set by you:
Auto-populating values from peripheral devices
Sending outbound emails
Printing shipping labels, packing slips, and forms
Auto-populating customs forms
Creating return labels
Purchasing insurance
Selecting shipping carriers based on custom mapping
---
For $14 per month, users can add a suite of customer marketing tools to their ShippingEasy program. These features work in tandem with the platform's automation tools, so you can automate campaign workflows to never miss a beat.
The customer marketing package includes:
Email marketing: Manage unlimited contacts, subscribers, and email campaigns with customizable templates, customer notes and tags, and more.
Amazon reputation management: Request seller feedback and product reviews, track and respond to negative and neutral reviews, integrate Fulfillment by Amazon (FBA) and Seller Fulfilled Prime support, and more.
Campaign management: Use the drag-and-drop template editor or HTML editor to create a gallery for all of your campaigns—like promotions, holidays, buy-again reminders, welcome notifications, and follow-ups. Access analytics for delivery, opens, and clicks, schedule sends, automate abandoned cart emails, and more.
Reports: Email-generated sales revenue, new customer growth data, and open/click-rate percentages can be viewed from an intuitive metrics dashboard.
Support: The add-on comes with a 30-day free trial, full onboarding and training, one-on-one marketing consultation with an expert, and phone, email, and chat support.
---
Staying true to its name, ShippingEasy is pretty easy to use. Our evaluation of the software and its reviews found that the biggest struggle it presents is its connectivity (such as integration syncing). For this reason, we deducted points in this category, but ShippingEasy maintained a decent score thanks to its high-quality user interface and user management options.
Here are the contributing factors to ShippingEasy's overall ease of use:
Customer service hours: Support is available from 8:00 a.m. – 6:00 p.m. Central Time, Monday through Friday, and the support team is said to monitor for urgent emails over the weekends. Extended holiday support hours are typically available.
Customer service accessibility: All paid plans can access support via phone, email, and live chat. Free starter plan users are limited to an online community forum.
Reliability: ShippingEasy reviews report that the service tends to glitch, lag, or disconnect occasionally—which can complicate integrations and label printing.
User management options: Paid plan subscribers with multiple user accounts can customize user permissions at a granular level.
Insurance: ShippingEasy provides the option for discounted shipping insurance on all domestic and international parcels (valued up to $300) and advertises an easy claims process.
Returns: The platform includes returns management features that support Pay-on-Use Return (POUR) labels, which only trigger payment once they're used.
We gave ShippingEasy high marks in our Expert Score category, taking into account its features, popularity, and overall value.
The software comes with many crucial features for ecommerce that competing providers are missing—like marketing tools and robust peripheral hardware connectivity. Plus, ShippingEasy is priced within a few dollars of generally weaker options (like OrderCup), giving it good value for the money.
It also has an impressive reputation among its users, which we consider an important indication of performance. ShippingEasy has thousands of online reviews and a very high overall rating.
All things considered, ShippingEasy is our top recommendation for small business shipping software. It has everything you need to efficiently run an in-house fulfillment operation plus an array of helpful resources to scale.
That being said, ShippingEasy's starter plan is much more restrictive than other options. If you're seeking free shipping software for your business, we recommend Ordoro or OrderCup.
Another downside is that ShippingEasy doesn't offer a mobile app, which may pose a problem for users who need access to their shipping software on the go. ShipStation and EasyShip are two of our other top picks that come with a downloadable app for iOS and Android.
What Users Say in ShippingEasy Reviews
Online reviews of ShippingEasy are highly positive, especially in recent years. Most users express satisfaction with its pricing, features, and customer support. Some added that the software's inventory management and automation capabilities are very effective, and others mentioned the savings on postage and insurance they've received.
A few older reviews commented on the lack of analytics capabilities, which have since been resolved.
The negative reviews of ShippingEasy are largely due to technical connectivity issues. Multiple users report trouble with integrations syncing, peripheral connections glitching, and occasional duplicate orders being created. Other reviewers state that they were charged for up to three months after ending their ShippingEasy subscription.
Capterra: 4.8 out of 5 from 1,000-plus reviews
G2: 4.6 out of 5 from about 50 reviews
Shopify App Store: 4.6 out of 5 stars from about 600 reviews
PROS

CONS

Helpful and accessible customer support
Connectivity problems with ecommerce platforms
Ease of use and simple onboarding
Difficult learning curve
Software functionality and interface
Glitchy hardware connectivity app
Low shipping costs
Difficult to stop service
Methodology: How We Evaluated ShippingEasy
To evaluate ShippingEasy and other shipping software, we used a 28-point assessment that measures how well it meets small business shipping needs. We researched the provider through third-party reviews, user ratings, relevant articles, and the company's own content. Then, we personally assessed ShippingEasy's platform.
We look for high-performing functions, an intuitive interface, effective customer support, and additional features that go beyond the scope of shipping.
To find the best tool for small businesses, we prioritized economical pricing and factors that contribute to overall ease of use. Our ecommerce experts also weighed in with their assessments of each provider.
Click through the tabs below for our full evaluation criteria:
20% of Overall Score
This criterion considers whether each provider offers a free starter plan, and assesses the range of paid options available.
The contenders were graded on how competitively priced their plans are. We considered the features and benefits available at each pricing tier and docked points for limits on the functionality of lower-level options.
We only featured recommendations that support your own negotiated rates with UPS, FedEx, and DHL, and offer heavily discounted USPS Commercial Plus rates. The top-ranking providers on our list give users multicarrier discounts.
ShippingEasy earned a score of 4.75 out of 5 in this category thanks to its free starter plan, competitively priced paid plans, and industry-leading discounts. It was only docked for its range of plan options, which isn't as wide as some competitors.
20% of Overall Score
We looked at the availability of key functions that maximize efficiency and accessibility for businesses of all sizes. This includes features like batch capabilities, label printing, CSV entry, and peripheral hardware compatibility.
Providers were also evaluated on the number of prebuilt integrations offered, access to an open API, sales channel allowance, and automation capabilities.
ShippingEasy delivers all of the functions we look for in this section of the assessment—with the exception of an option to display live shipping rates at checkout. It was also docked for its list of prebuilt integrations, which isn't as extensive as other providers on our list. Ultimately, it earned a score of 3.41 out of 5.
20% of Overall Score
This score considered the standard features of each shipping solution—including reporting and analytics, returns management, outbound email notifications, and user management options—and assessed how well they work. Shipping software with robust, well-developed features was awarded the most points.
The best shipping tools are multitaskers that save you time and money by handling functions outside of shipping management, so we also evaluated each provider on their dropshipping, order management, inventory management, and marketing features.
We gave ShippingEasy points for its impressive suite of marketing tools, international shipping support, and robust reporting and analytics. However, it's missing purpose-built dropshipping features, and we found that other providers offer better inventory and order management capabilities. In the end, ShippingEasy scored 4.63 out of 5 here.
20% of Overall Score
We evaluated each company for its user interface by considering how intuitively it works, reported uptime, site speed, and the learning curve to start.
This factor also looked at the range of learning resources available from each company—including webinars, demo videos, blogs, FAQs, case studies, libraries, guides, calculator tools, and forum activity.
Lastly, customer service accessibility was weighted heavily to provide the best recommendation. We considered hours of availability, contact methods, location of support staff, and quality of service.
ShippingEasy earned points in this category for its highly rated user interface and excellent online resources. It was docked for its customer service hours and accessibility, bringing its final score down to 3.5 out of 5.
20% of Overall Score
This score combined our ecommerce experts' final evaluations of value, ease of use, and standout features with scores from real-world users. We combed through thousands of reviews to identify consistent pain points and high-performing features of each tool.
We gave ShippingEasy an Expert Score of 4.69 out of 5, which reflects its hard-to-find features, good value, and overall popularity. Due to the restrictions on its free starter plan and reported glitches, ShippingEasy's ease of use brought the score down slightly.
*Percentages of overall score
ShippingEasy Frequently Asked Questions (FAQs)
ShippingEasy is a cloud-based software that works by connecting with your online stores, shopping carts, and marketplaces. From there, your order and inventory data are synced in real time, allowing you to manage shipments from all of your sales channels in the ShippingEasy web app.
---
ShippingEasy's paid plans add a minimal amount to your monthly shipping outlay, and those costs are usually outweighed by the shipping discounts it provides. On top of that, it comes with tools and features that can save you significant amounts of time and labor.
That being said, other shipping solutions offer free starter plans that are better than ShippingEasy's free option. So, if you're shipping 500 or more orders per month, you'll likely find that ShippingEasy is well worth it—but if you're a low-volume shipper, we recommend checking out Ordoro and OrderCup for their free starter plans.
---
Bottom Line
Shipping software is an immensely helpful tool for ecommerce businesses to have in their arsenal. Our #1 pick for small business shipping solutions is ShippingEasy—thanks to its economical pricing, high ease of use, impressive functionality, and deep shipping discounts.
Unless you're seeking a free starter plan or considering outsourced fulfillment, ShippingEasy is likely the best choice for your shipping workflow. Its 30-day free trial makes it safe and simple to give it a try.
You May Also Like…