CRM Team Training in 7 Steps for Small Business
This article is part of a larger series on CRM.
Maximizing the use of customer relationship management (CRM) software is only possible when team members know how to use its various functionalities. It is crucial they understand how the use of the tool fits into their day-to-day business processes. In this guide, we share seven steps for CRM training involving planning, utilizing various resources, and holding refresher courses to ensure your team is up to date with using the system.
We explore each essential step in detail to guide you through the process. You can create an effective CRM software training and implementation plan offline by downloading and completing our free training checklist.
1. Determine Which Members Need CRM Team Training
Before planning your training program, determine who will be involved. By identifying the right people, you will also identify how to conduct the training, when, and what the scope will entail. The "who" should account for the personnel managing the CRM software training and the trainees.
When referring to CRM (trainees) users, most people initially think about the sales teams. However, depending on which CRM system you will use, other departments, like the marketing, customer service, and accounting teams, should also be part of the onboarding process.
Below are a few examples of other departments outside of sales that should be involved in the training process if you plan on using features other than sales tools. You can also learn more about why these other departments need to be included in a training plan in our CRM software ultimate guide.
Some CRM providers have features dedicated to marketing automation, such as the ability to run email marketing campaigns or social media marketing. This particular kind of CRM offers marketing features that marketing executives may find useful, especially if they need tools for ad tracking or landing page building.
CRMs used for customer service are also common. Some CRMs have customer support features that let users file tickets for queries, resolve customer complaints, and record customer conversations to improve customer service quality. There are also CRM tools that can measure customer satisfaction with products and services offered by the company.
Many CRM systems have tools designed for the financial functions of a business, including invoicing, payment processing, bookkeeping, resource management, and financial analytics. This is generally done through third-party integrations with popular applications. However, there are a number of CRMs in the market with tools that are helpful for accounting.
Pro tip: Ideally, the heads of the various departments who will be using the CRM system should be involved in the CRM selection process. It is vital to involve the end-users in the decision-making process as they will use the system daily.
Assign your core CRM team to select who will take the lead in the training and designate a CRM project manager—the person who knows the CRM tool in and out. The project manager can then work with the heads of each department to help them roll out the CRM training, so the needs of each team are properly addressed. We discuss how to build your core CRM team in our guide to CRM implementation.
2. Identify the CRM Training Resources You'll Use
Once you've determined who is in charge of rolling out your CRM sales training, it's time to identify the resources you'll utilize. Choosing resources for the CRM team training heavily depends on your organization's budget, goals, and the tools offered by each CRM. Below are some questions to consider when selecting a training route:
Do your employees prefer individualized training or a group setting?
Do employees want a more hands-on approach or a straightforward lecture approach?
Should we focus more on job-specific or general-use training?
Should we do more training through an online course or in a live setting?
After answering these questions, determine the potential training resources. Below are the most common choices:
The initial training resources are those directly offered by the CRM software company. Many of the best CRM software providers offer CRM software training in the form of either video training modules or documented tutorial guides, such as Zoho CRM and HubSpot CRM. In some cases, where the organization has a dedicated customer success manager included in its subscription plan, a series of live training sessions can be arranged.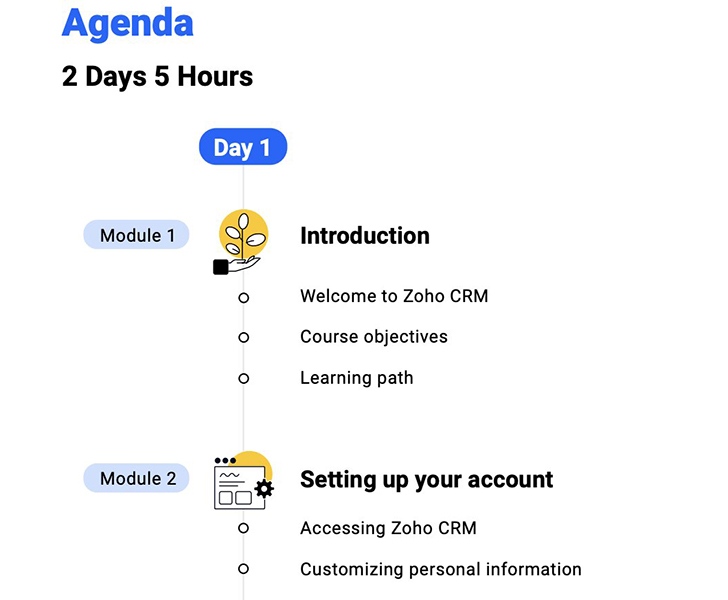 ---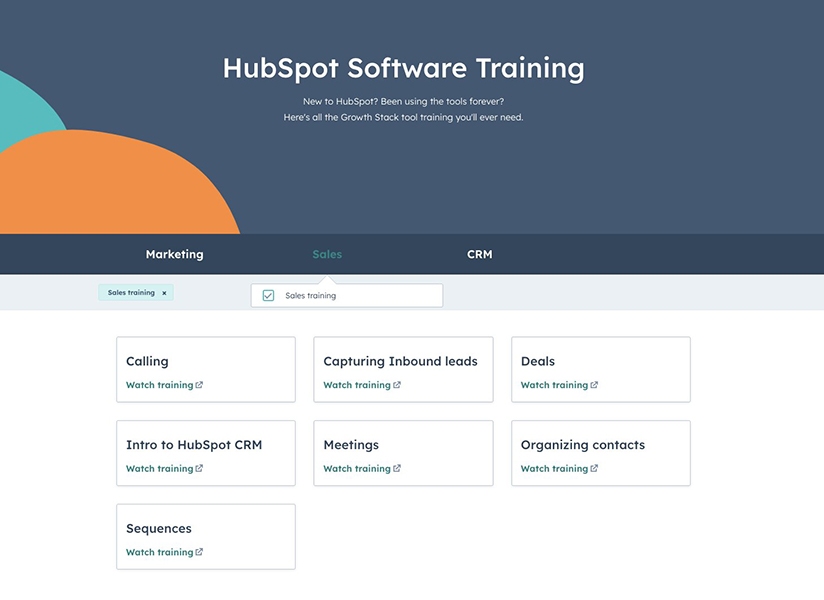 ---
Looking to take certification exams after undergoing vendor-provided certification courses or training? Check out our guide on the best CRM certifications.
---
While it can be more expensive, many third-party consultants on the market specialize in CRM training. Because of their expertise in sales technology and job training, you ensure a high-quality result. However, when choosing a consultant, it is crucial to look for someone who specializes in the kind of CRM your organization will use. This is because there are several types of CRM, and every consultant usually has their own specialization.
---
By keeping all of your CRM training in-house, your organization reaps the benefits of schedule flexibility for running a training session and cost savings. Another advantage of this training route is that if the trainer is a manager, they can develop the data entry and procedural standards.
---
3. Create a Strategic CRM Training Plan
Creating a thoughtful plan is part of a comprehensive CRM strategy. It should outline segmented timelines, assignments of trainees, and the overall objectives for each training area.
When setting an overall timeline for completing the training plan, it's best to set a date by when you want your team to be entirely comfortable with using the CRM. After determining your ideal timing, you can work backward in splitting up and scheduling specific modules.
Pro tip: Avoid doing the session in one go when training your team to use the CRM. If possible, make the training process staggered throughout a week or two. This way, your team won't be overwhelmed with information, and it will allow more time for the information to sink in.
Once you have a tentative timeline in place, notify the training leaders and trainees about each of their assignments. If you plan to use video training, set deadlines for when members need to have each completed. For live training sessions, organize which trainees are to attend and which trainers must be prepared to conduct the training.
Another aspect to keep in mind is when assigning attendees to individual training sessions, optimize time by only sending them modules relevant to their role in the organization. For example, assign members of the sales team modules about using the lead management tool of the CRM. Don't send them a module about updating inventory information because this is something they won't likely use.
The objective of each training area needs to be specific and relevant to a particular module. For example, "Learn how to use CRM software" is too broad. An excellent way to break up modules and set the objectives is by dividing the features within the platform—doing so is easier if you segment the features based on which team will use them.
"Learn how to create a new lead" or "Learn how to create insights-driven sales reports" are more specific topic modules that are less likely to overwhelm trainees. Essentially, by completing the training module or session, the trainees should be able to accomplish the predetermined objective.
4. Determine CRM Procedures & Standards
To keep a uniform set of rules and best practices, set standards for using the CRM and ensure they are followed. This is primarily about how lead and customer data should be entered, which permissions should be set, and how the system should be maintained.
Examples include requiring periodic system checks to avoid double-entry and mandating all new leads to have lead source information every time a new entry is made. You must only enable select team members, such as managers, to access certain data in the system. Proper CRM procedures and standards ensure a smooth process so your CRM reporting analytics are as accurate as possible.
5. Schedule & Conduct Training Sessions
Once you've determined which training resources will be utilized and which data entry standards should be enforced, it's time to schedule and run the training sessions. These sessions should include a chance for trainees to gain firsthand experience with the platform and feature processes that are part of their day-to-day jobs. Consider setting up a fictional customer in your software so individuals can practice adding contact records or tracking deals.
For live sessions run by the CRM vendor, outside consultant, or employee, find times in advance that work for all stakeholders. Business calendar applications, such as Google Calendar or Microsoft Dynamics 365, are convenient for scheduling and organizing sessions. One or two hours a day is optimal for training as attendees should be able to remain attentive and still manage most of their daily workload.
6. Evaluate Training Results
Once the training is completed, evaluate training results to ensure your team is on track with immersing themselves in using the system by requesting feedback. Evaluating the effectiveness of the training in the early stages of using the CRM helps you identify modules your team finds easy to understand, as well as areas they need more help with. It also enables you to increase CRM adoption within the company.
Below are some areas you can request feedback on:
---
Ask them which features and functionalities they found most useful in the platform so you can see if using these features supports your business goals. For example, features such as lead management, pipeline monitoring, and sales reports should be something the sales team members find beneficial and easy to use. This is because these features significantly impact their work and your business performance.
---
Ask which features they are least likely to use so you can customize the system and remove them as necessary. If this kind of customization is not possible, you can potentially see if you can switch to a different or more affordable plan that only includes the CRM features they need.
---
Apart from the areas above, getting general feedback about how the training was rolled out is essential. Ask your team what areas they found most useful or interesting in the session, which areas need improvement, and which items they can do without. Doing so will help you identify areas to include the next time you hold refresher training sessions. You can get feedback via one-to-one meetings, surveys, or group discussions.
Pro tip: In the following weeks, after finishing the training, start measuring the initial usage of the CRM system by looking at some basic areas, including the number of user logins and data entries. These basic things, no matter how small, are a good measurement of CRM adoption.
7. Repeat the Training Process for Updates & Knowledge Retention
Continual training is a step often neglected in the CRM training process. CRM software involves constant updates, and many organizations don't take the time to learn about new available functions. Some also forget to review the items discussed in the initial training that may have been missed.
Below are some instances that require refresher CRM training:
Conducting periodic sessions to refresh your team with the use of the system enables them to maximize the use of your CRM. As they become more familiar with the CRM platform, they may have additional questions about features they haven't used before and want to try. Providers may also release new features and updates that need to be introduced through new training modules.
---
A decrease in CRM usage after a while may be caused by the lack of understanding of some of the features in the system. Holding refresher training courses to reintroduce the fundamental CRM features helps address this.
---
When your company grows, you will have new team members who need to be trained on how to use the CRM. While you can provide them with resources for self-paced video training, holding an actual refresher session gives them a robust learning experience.
---
CRM Training Best Practices
Introducing a new system for your team typically requires a significant adjustment period—especially if it's something they haven't used before. Hence, it is essential to ensure they understand the value that it adds to their day-to-day work and make them feel involved in the process.
Below we share some best practices to observe while training your team on how to use your CRM:
Itemize the tool's benefits. Everyone on your team needs to understand how using the CRM to the best of its ability benefits the company and, ultimately, the employees.
Make sure the company's decision-makers take the lead in the training process. If employees see that management is committed to the plan, they will also get on board.
Ensure the training plan is enforced on all employees. By setting requirements and not giving an employee a pass, they know the training and transition to the new CRM is mandatory, not voluntary.
Respect the trainees' time and effort. Keep the sessions relevant to the objectives and try to find a way to reward employees who are actively involved in each session to promote a positive learning environment.
Bottom Line
CRM software is exceptionally valuable when used to its full potential because it helps save time and generate revenue—so providing proper training for your team is paramount. Requiring your team to learn how to use CRM tools entails planning, executing, and evaluating results. In addition, a proper CRM training program enables your company to achieve specific business goals by allowing you to measure results in real time.