Customer relationship management (CRM) software is only advantageous for your organization if the users know how to use its functionality and understand how the use of the tool fits within their day-to-day business processes. In this guide, we have shared eight practical CRM training tips involving planning, getting your team to buy-in, utilizing resources, determining best practices, and creating training modules to make the most of your investment.
You can also create an effective training and implementation plan offline by downloading our free CRM training checklist.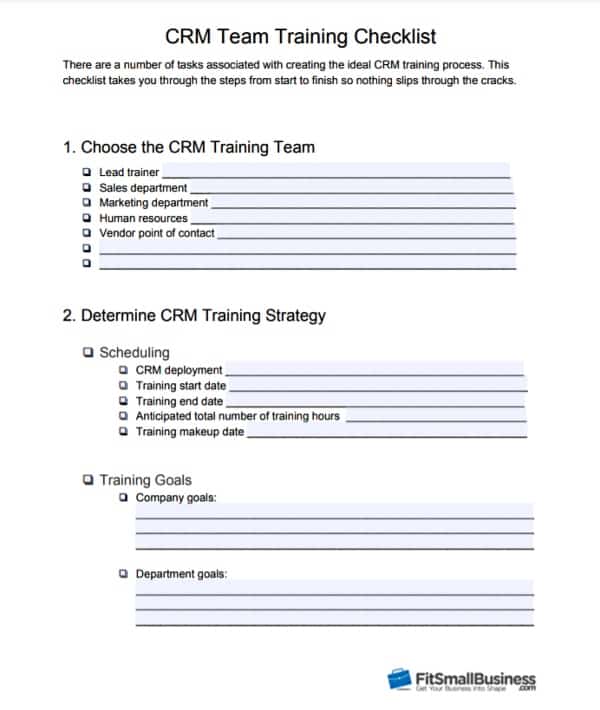 1. Determine Which Members of Your Team Need CRM Training
Before even planning for organizational CRM training, you need to determine who will be involved. By identifying the right people, you will also be able to identify how training will be conducted, when, and what the scope of the training will entail. The "who" should account for both the personnel who will manage the training and the trainees.
When referring to CRM (trainees) users, most people will initially just think about the sales teams. However, depending on which CRM your organization plans on using, other departments should also be part of the onboarding process.
Below are just a few examples of other departments that should be involved in the training process if you plan on using some of the advanced features offered in a CRM:
Marketing teams: Some CRM providers have features dedicated to marketing content management, such as the ability to create email marketing campaigns, manage social media posts, or create ad forms online, all within the CRM platform.
Accounting teams: Many CRM systems have tools designed for the financial functions of a business, including invoicing, payment processing, bookkeeping, resource management, and financial analytics. This is generally done through third-party integrations with popular applications.
Human resource (HR) teams: Commission management has become a popular feature within CRM platforms because CRMs are used for sales development. Commissions are handled mainly by payroll, which a lot of organizations delegate to HR departments. Furthermore, CRMs can also be used by HR teams for employee management functions, such as tracking performance reviews and organizing the hiring process.
Service management teams: Many CRM software offer project management capabilities and tools for organizing customer inquiries.
For selecting who will take the lead and conduct the training, the best move is typically a manager within a specific department. That person is responsible for either hosting the modules or keeping all of the trainees on track if your business plans on using outside training or training resources offered by the CRM provider.
There are two main reasons why a manager should be the one to take the lead:
As decision-makers, they will set the procedures and best practices to be used for operating the CRM. For example, suppose a sales team member is inputting a new lead. In that case, you want to set specific requirements for all of the information that needs to be added to the system and ensure all team members stick with set requirements for CRM uniformity.
Top-down support and enforcement will generate more employee buy-in and commitment. For example, more people will get on board with the training if a Regional Vice President of Sales is leading the initiative.
Pro tip: Choose some of these trainer stakeholders in your CRM training process as early as possible. Even better, involve your trainers in the purchasing process of your CRM, as it will allow for a smoother overall process since they will already have some background knowledge on the features.
2. Create a Strategic Training Plan
Creating a well-thought-out plan is part of a comprehensive CRM strategy. Your plan should outline segmented timelines, assignments for each training leader and trainee, and the overall objectives for each training module.
Timeline
When setting an overall timeline for completing the training plan, it's best to set a date when you want your team to be entirely comfortable using the CRM and then work backward in splitting up and scheduling specific modules. Be sure to be realistic in your desired end date and how everything is segmented.
Stakeholder Assignments
Once you have a tentative timeline in place, notify the training leaders and trainees on each of their assignments. If you plan to use video training, set deadlines for when members need to have each completed. For live training sessions, organize which trainees are to attend and which trainers need to be prepared to conduct the training.
Another thing to keep in mind is when assigning attendees to individual training sessions, don't waste their time by sending them to modules that their department will likely never use. For example, a sales representative probably won't need a module about updating inventory information.
Objectives
The objective of each training session needs to be specific and relevant to the particular module. For example, "Learn how to use the CRM" is way too broad. An excellent way to break up modules and set the objectives is by dividing the features within the platform.
"Learn how to create a new lead" or "Learn how to send an invoice within the CRM" is much more specific and less likely to overwhelm the trainees. Essentially, by completing the training module or session, the trainees should be able to accomplish the preset objective.
3. Generate Employee Buy-in
Once your plan has been created, get employees on board with it. There are a few critical ways to facilitate employee buy-in:
Itemize the tool's benefits. Everyone on your team needs to understand how using the CRM to the best of its ability will benefit both the company and, ultimately, the employees within it.
Make sure that the company's decision-makers are the ones taking the lead on the training process. If employees see that management is committed to the plan, they will also get on board.
Make sure that the training plan is enforced on all employees. By setting mandatory requirements and not giving an employee a pass, they know that the training and transition to the new CRM are critical, not voluntary.
Respect the trainees' time and effort. Keep the sessions relevant to the objectives and try to find a way to reward employees who are actively involved in each session to promote a positive learning environment.
4. Utilize Training Resources
Choosing resources to use for training heavily depends on the organization's budget, goals, and the tools offered by each CRM. Below are some things to consider in selecting a training route:
Do your employees prefer individualized training or a group setting?
Do employees want a more hands-on approach or a straightforward lecture approach?
Should we focus more on job-specific or general-use training?
Should we do more training through a video or in a live setting?
Vendor-provided Training
The initial training resources that can be used are those directly offered by the CRM software company. This can take the form of either video training modules, documented tutorial guides, or even live sessions directly from a professional trainer employed by the vendor.
External Trainers or Consultants
While it can be more expensive, many third-party consultants on the market specialize in CRM training. Because of their expertise in both sales technology and job training, you'll be able to ensure a high-quality end result.
Internal Employee Trainer
By keeping all of the training in-house, your organization reaps the benefits of schedule flexibility for running a training session and cost savings. Another advantage of this training route is that if the trainer is a manager, they can set all of the data entry and procedural standards and present them as educational content within each session.
5. Determine CRM Procedures & Standards
To keep a uniform set of rules and best practices, your organization needs to set standards for using the CRM and ensure they are followed. This is primarily regarding how data should be entered.
Examples include requiring periodic system checks to avoid double-entry or requiring all new leads to have lead source information included in each entry. Proper CRM procedures and standards ensure a smooth process and that reporting analytics are as accurate as possible.
6. Schedule & Run Training Sessions
Once you've determined which training resources will be utilized and the data entry standards that will be enforced, it's time to schedule and run training sessions. These sessions should include a chance for trainees to gain some first-hand experience with the tool and should feature processes that are part of their day-to-day jobs.
To do this, consider setting up a fictional customer in your software so that individuals can practice adding contact records or tracking deals. If your organization plans on focusing on video tutorials offered by the CRM vendor, set completion deadlines for each trainee.
For live sessions run by the CRM vendor, outside consultant, or employee, find times in advance that work for all stakeholders. Business calendar applications, such as Google Workspace or Office 365, are convenient for scheduling and organizing sessions. One or two hours a day is optimal for training as attendees should be able to remain attentive and still manage most of their workload.
7. Evaluate Training Results
Once all of the training is completed, you'll want to evaluate several items to help increase CRM adoption within the company. The first is general feedback regarding the training. This can be done via one-to-one meetings, surveys, or group discussions. The feedback should be used for improvement in future training endeavors.
Another longer-term evaluation is whether the training and implementation of the new CRM are beneficial to the organization overall. If many tasks are centralized and automated by the CRM, are those results showing on the financial statements and employee morale?
Financial results, good or bad, will not be seen immediately. Your business needs some time to get in the rhythm of using the CRM functions before any data can be gathered regarding results.
8. Repeat the Training Process for Updates & Knowledge Retention
Continual training is a step often forgotten in CRM training. CRM software involves constant updates, and many organizations don't take the time to either learn about new functions available or review content discussed in the initial training that may have been forgotten.
If you see employees aren't taking advantage of a particular feature within the CRM, it may be because they don't know how to use it or don't see its value. Once this type of situation is observed, it's time to plan a new training.
Bottom Line
A CRM is exceptionally valuable when used to its full potential because they help save time and generate revenue. Using a CRM efficiently and effectively starts with solid planning, executing, and evaluating results from CRM training. Proper CRM training, when implemented correctly, enables your company to achieve specific business goals.