For most companies, buying customer relationship management (CRM) software is a sizable financial investment. However, CRMs are only effective when used properly, which all begins with creating a proper team training program that ensures team buy-in, is broken out into digestible sessions, and incorporates the best practices that fit your business.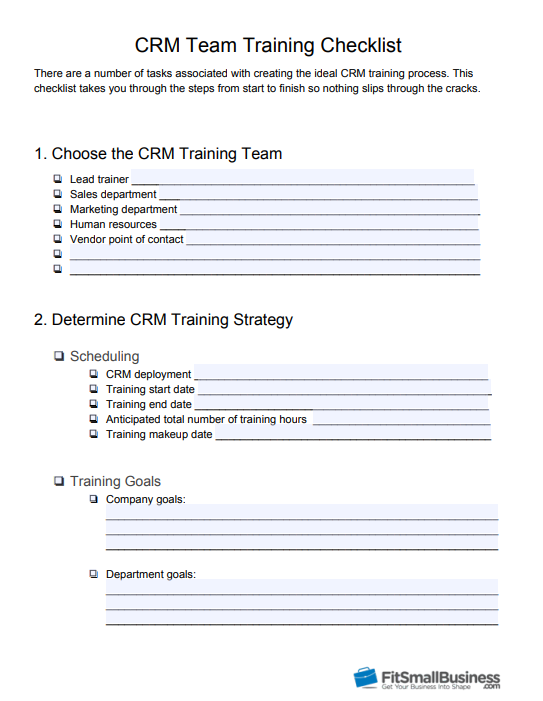 Free CRM Training Checklist
A well-thought-out implementation strategy can mean the difference between a team embracing the benefits of your newly purchased CRM or avoiding using it. Because so much of CRM implementation and follow-up training requires meetings and face-to-face interaction, we've created a helpful checklist that can walk you through setting up an effective training program for your CRM.
You can use this template or take these steps to create a training strategy to get the most out of your CRM investment:
1. Choose Who Will Own the CRM Training Process
Before beginning any CRM software training initiative, decide which team members will own or contribute to the process. Depending on the size of your company, you may have different people handling different parts of instruction. For example, sales management is usually responsible for establishing the rules and best practices for CRM protocols. Sales operations staff would set guidelines to ensure the consistency and accuracy of data input in the long term.
While the technical aspects of CRM training are often provided by your CRM provider, you still need to establish an internal contact to act as the owner, or main point of contact, for the training program. This person will be responsible for ensuring the vendor has the background they need about your company's processes to make the training relevant, communicating the importance of the program to the team, and making sure training sessions take place.
Because it is most critical for your sales team to know how to properly use your CRM, the training owner is typically a sales manager. However, anyone in the company can serve in this role. Additionally, while the training owner is ultimately responsible for ensuring everyone expected to use the CRM participates in the training, they can ask other stakeholders in the company to facilitate a training session when it makes sense.
The earlier you can choose stakeholders in your CRM training process, the better. If possible, these stakeholders should also be involved in the purchasing process of your CRM. Sitting in on the sales pitch and demo portion will allow for stronger training abilities because they'll have a background on the features already.
2. Establish a Training Strategy
A well-structured training plan is part of a comprehensive CRM strategy. This plan should include timelines, training leader assignments, and lists of which employees need to attend separate training sessions. Be sure to include the goals and outcomes you're expecting. It's essential to keep the purpose of CRM implementation in mind and how your training sessions will help to achieve it.
Timeline
You'll want to put together a timeline that states when the CRM will go into effect, when it will be introduced to the team, dates for ongoing training, and an estimate of how many cumulative hours of training will be needed. Schedule any future training ahead of time as well. However, as a best practice, do not schedule a solid week of training, as this will overwhelm your team. Instead, block off an hour or two per day over a month to lay a solid learning foundation.
An established timeline is important because without start and end dates in mind, you run the risk of spending too much time on CRM training. Having a schedule in mind will keep the team organized and prevent wasted business hours. Once the initial training is completed, you should plan for when your future follow-up training will take place and how often.
Ongoing or Future Trainings
After the initial CRM implementation, there may be future occasions where it makes sense to offer additional training, so plan accordingly. Create processes for newly onboarded employees or newly formed policies that will impact CRM usage. Also, keep in mind some people may be pulled into critical meetings on the day of a training, causing them to miss a session, so have a backup plan to help them stay up to speed on learning the new platform.
Goals & Outcomes
CRM is meant to increase business productivity, so your training plan should also be attached to your desired outcome. "Learn how to use the CRM" is not specific enough. Instead, set goals that are objectively measurable, such as, "increase customer satisfaction ratings by 25%, shorten lead time by 35%."
Stakeholders
Know ahead of time who will lead training sessions and own specific processes. For example, one member of your team may be responsible for all communication with the CRM vendor, while another could be responsible for making sure training courses are completed on time.
Departments & Attendees
While having the whole company involved in CRM training may be necessary, it can get out of hand quickly. Your finance department will not need to know the same information as the sales team, so avoid wasting your employee's time by lumping everyone into one group session. Plan and determine which department will receive training specific to their roles.
3. Get Employee Buy-in
One of the most significant factors in successful CRM training is getting buy-in from your team. If employees don't see how using the CRM will directly benefit their job, they won't be motivated to learn about it, and will see it as just another administrative task to check off during the learning curve period. This is why it is important your team understands that while using CRM may seem time-consuming at first, it will ultimately reduce administrative tasks and save time.
To get buy-in, make it personal. Be sure to state how the CRM will improve business processes and benefit their specific roles within the company. A common mistake companies make is stressing the importance of CRM to the sales and marketing team, but not to the executives. Include C-level employees in the training to send the message that CRM is vital for the entire company.
Make training mandatory and make sure the policy extends to everyone. Set the expectation that attendance without phone and email are mandatory. In return, reassure workers you'll keep sessions short and space them out appropriately to ensure customers are taken care of in a timely fashion and that productivity isn't adversely affected.
4. Choose Your Resources for CRM Training
Choose which tools and resources will be used for training and how they'll be organized. Employees have different learning styles, so use multiple modalities to make sure the training respects the needs of your whole team.
These two popular training methods appeal to the widest base of learners:
Hands-on, Scenario-based Training
This training method uses a "follow-along" approach where your team can watch the trainer complete a task, then complete the same task themselves. The "monkey-see-monkey-do approach" is an effective way to make sure the information sticks. Hands-on training is done best in person. However, trainers can also present to a group remotely using web conferencing software like Zoom or Skype.
Role-based vs Group Training
This engaging approach trains groups of workers based on what they need to do their jobs, then brings all the departments together for a final group session. Training employees on their job-specific tasks should be done first, and group training can come later once they thoroughly understand their own responsibilities.
Use Vendor-provided Training
Most CRM vendors include some training with the purchase of their solution. Instruction provided by vendors is typically done group-style remotely via Skype or Zoom Meeting. Vendors usually have a designated account manager to oversee the customer relationship and provide technical training. Many CRM users find it helpful to have a single point of contact with a CRM vendor to turn to with questions.
Hire External Trainers or Consultants
Consultant services vary, but they typically drive the CRM training process from start to finish. They can handle everything from preparing the environment to managing the individual learning styles of your staff.
Before hiring a consultant, determine what type of services you'll need. The scope of work will be different for consultants brought on after a CRM is already implemented versus the beginning phases. Outside consultants usually specialize in one or two CRM systems, so be sure to shop around for one who is an expert in your particular platform.
Hire a Staff Sales Operations Manager
Hiring a sales operations manager is an internal alternative to hiring a consultant. On top of training your staff on how to use CRM, your sales operations manager will guide the company on correct usage. The sales operations manager will also be responsible for approving deals and orders in the system and developing rules of engagement for the sales team.
Build a Resource Library With Training Documents
To foster ongoing training and refresher opportunities, create a folder of training resources all CRM software users can easily access in your company. Depending on your CRM vendor, this folder might already be built into the software by them. If not, check with them to determine the best training materials to make available to employees.
5. Establish Rules & Best Practices
Establish best practices to keep all data input uniform. For example, if the marketing team needs to measure their progress, they'll need to track where sales leads originate. Therefore, the sales team needs to include lead origin information when creating contacts. There should be clear rules for creating a contact so reps don't have to waste time adding lead sources at a later date.
6. Schedule CRM Training
Scheduling a group of busy people for training can be difficult, but here's where the anticipated total number of training hours you budgeted for while establishing a training strategy will come in handy. Calculate the number of weeks there are between the dates your training begins and ends, then divide your estimated training hours between them equally. Now you know how many one- to two-hour training sessions you'll need.
Business calendar apps like G Suite and Outlook can assemble the individual work schedules of several people and find common free time among them. If that's not an option, try to select training times toward the beginning of the workday when people are fresh and less likely to get stuck in meetings that run overtime.
7. Evaluate Training Results
Once CRM training is complete, be sure to evaluate the results to see what went well and where there's room for improvement in future training sessions for new employees. There are a few ways to collect feedback from your employees. An informal group get-together, evaluation surveys, and one-on-one meetings are all great opportunities to find out what workers thought of CRM training.
No matter which approach you choose, be sure employees know all opinions are welcome—both positive and negative. Once the data is collected, revisit your training syllabus and materials and use the feedback to make improvements where necessary.
Bottom Line
Adoption and correct usage of your CRM begins with solid training, so create a training strategy that ensures the process is painless, efficient, and useful. Make sure it includes specific goals and is inclusive of different learning styles. Most of all, make sure to keep the team engaged so the training pays off by improving customer relationships and closing more deals.