40 CRM Statistics Every Small Business Should Know for 2023
This article is part of a larger series on CRM.
Customer relationship management (CRM) software gives businesses a centralized system for organizing contact data, managing opportunities, and communicating with customers. Companies should understand the statistics around using a CRM to grasp why this sales technology is so popular and to learn the types of tangible returns it offers. Like other aspects of business, CRMs come with benefits and challenges these CRM statistics help explain to assist you in making sound business decisions.
Download our in-depth CRM e-book to learn how to select and implement the right CRM system for your small business.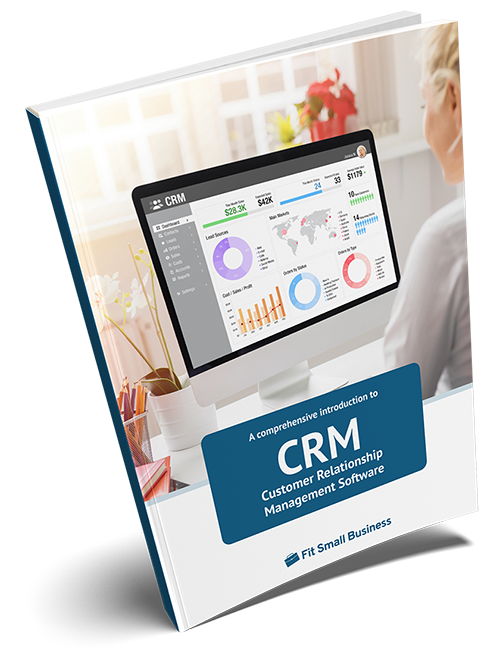 The Expert's Guide to Customer Relationship Management
Small Business Use Cases + Pro Tips
CRM Popularity & Projections
A CRM system is crucial to an organized and productive sales operation, which is why so many businesses invest in this technology. These CRM stats demonstrate how popular CRMs are, how most companies are using them, and where the CRM industry is heading in the future.
1. The CRM software market is projected to generate a revenue of $7.9B in 2023.
Takeaway: There is an increasing need for data and customer insights due to the large amount of data that can be gathered online. This is a major factor in the rising demand for enterprise tools like CRMs, Business Intelligence (BI), and Enterprise Resource Planning (ERP) software. In fact, the revenue for CRM software is expected to have a compound annual growth rate (CAGR) of 10.68% from 2023 to 2028.
(Source: Statista)
2. The CRM software market's average spend per employee is expected to rise to $22.81 this year.
Takeaway: Many startups and small businesses don't use CRM tools because they are intimidated by the cost, which could include the subscription, setup, training, configuration, and customer support. However, when you use your CRM well, it can help you significantly cut the cost of client acquisition, customer retention, and support.
(Source: Statista)
3. The CRM market size is expected to expand at a compound annual growth rate (CAGR) of 13.9% by 2030.
Takeaway: In 2022, the global CRM market size had a value of $58.82B, and this amount is expected to grow by 13.9% in the next seven years. This is partly due to the increased adoption of CRM software across various platforms and the growing trend of personalized customer service.
(Source: Grand View Research)
4. The CRM analytics segment has a forecasted CAGR of 13.7% from 2023 to 2030.
Takeaway: The analytics features of CRM platforms provide businesses with rich customer and business insights. Business owners can use these insights to tailor their sales and marketing strategies, including improved communication with customers.
(Source: Grand View Research)
5. Large enterprises had the largest CRM market share of 61.1% in 2022.
Takeaway: Large enterprises are looking for solutions with artificial intelligence (AI) and analytics capabilities to improve their productivity and reduce manual labor through automation. This is considered a major factor that would further drive the demand for CRM software among large enterprise teams.
(Source: Grand View Research)
6. The small to medium enterprise CRM market share is expected to grow at a CAGR of 15.5% from 2023 to 2030.
Takeaway: At present, small and midsize businesses (SMBs) cannot fully invest in well-established IT infrastructure because of their limited resources. However, they can choose a provider like HubSpot that offers a free option that already comes with basic sales, marketing, and customer service tools.
(Source: Grand View Research)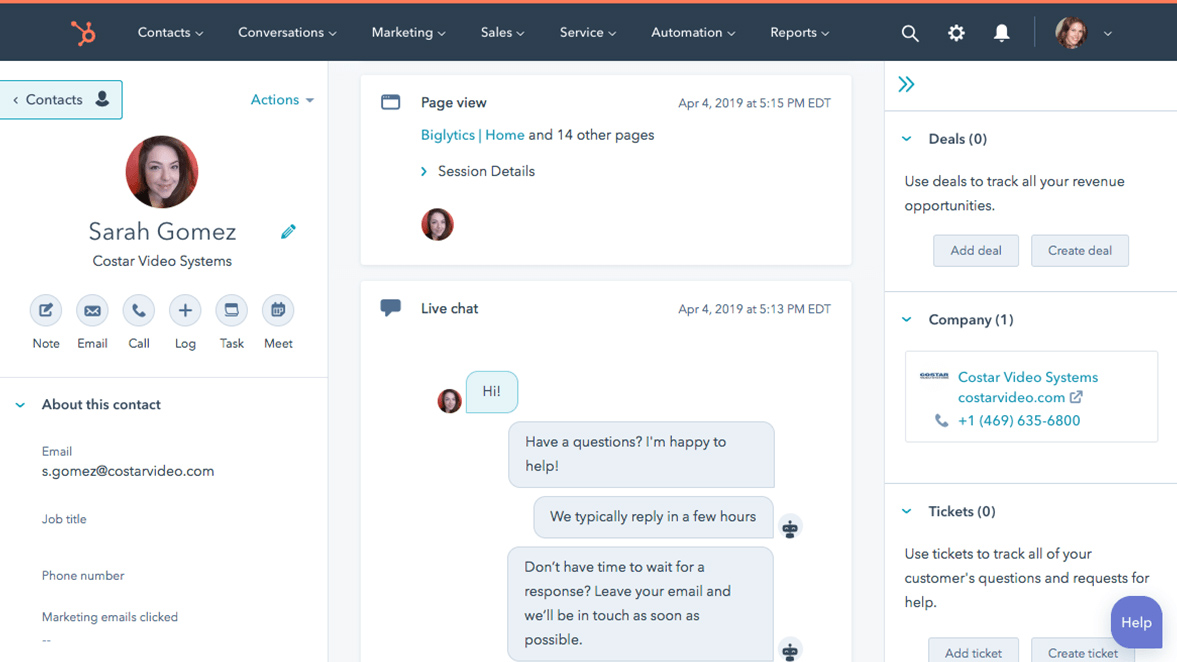 ---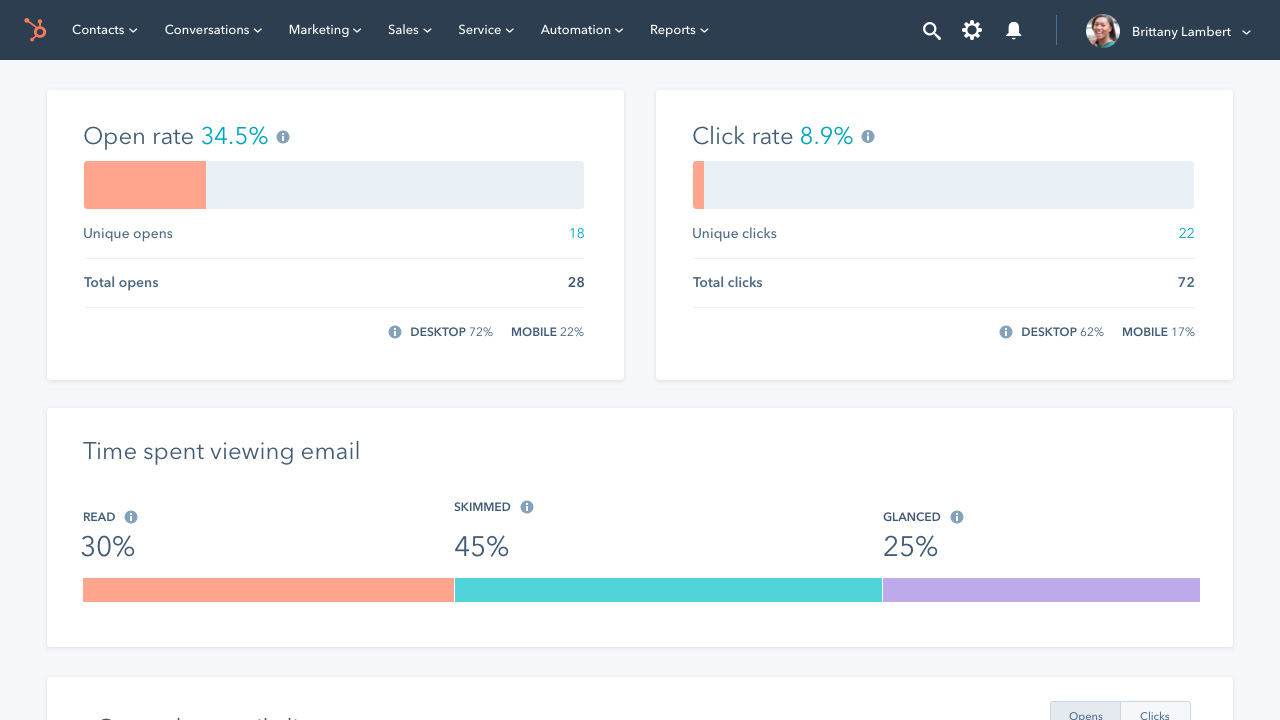 ---
7. AI-powered automation in CRM systems is expected to be used by 79% of organizations this year.
Takeaway: A CRM system is more than just a customer or contact database. This year, the future of CRM sees improved workforce productivity through workflow automation, which relieves employees of repetitive, manual daily work processes. This saves valuable time and allows reps to spend more time nurturing prospects and building relationships.
(Source: Salesforce-Forrester)
8. Salesforce Sales Cloud is the overall most popular CRM based on ratings & quantity of user reviews.
Takeaway: Out of 50,412 CRM user reviews on G2, Salesforce Sales Cloud garnered an average of 4.3-star rating with 13,506 reviews. These Salesforce stats are a result of this provider's robust lead management tools and advanced analytics capabilities. HubSpot Sales Hub ranks second with a 4.4-star rating with 9,924 reviews. As of this writing, there are 743 CRM platforms listed on G2.
(Source: G2)
9. HubSpot Sales Hub & Less Annoying CRM are the top CRM for small business owners, with overall satisfaction ratings of 98%.
Takeaway: Next to HubSpot Sales Hub and Less Annoying CRM are ClickUp (97%), ActiveCampaign (95%), and Copper CRM (94%). The top CRM platforms for small business were evaluated using a proprietary algorithm that analyzes satisfaction ratings from user reviews.
(Source: G2)
CRM Adoption Statistics
One of the most common challenges with implementing a CRM is getting users to fully utilize its features. These CRM stats tell precisely how difficult it can be to adopt a CRM and why businesses choose to invest in these platforms.
10. Most (66%) users are able to implement their CRM software in less than a month.
Takeaway: Implementing CRM software can be challenging because this tool is highly utilized within the company or organization. This process has different stages, including software installation, CRM process review, design, configuration, third-party app integrations, staff training, and post-implementation support.
(Source: G2)
11. A small portion (10%) of businesses take up to 10 years to adopt their CRM system.
Takeaway: CRM adoption is the percentage of end-users in a company or organization that actually use a CRM platform compared to the total number of seats they paid for. Some companies take longer to adopt a CRM because of the lack of management commitment, cooperative work culture, financial resources, system development, and data privacy regulations.
(Source: Zippia)
12. Only 35% of employees use CRM software in the later stages of the customer lifecycle.
Takeaway: About a third to almost half of sales teams use CRM systems during the first few stages of the customer lifecycle, which are the stages of awareness, engagement, and purchase. However, CRM usage drops significantly in the stages of customer retention, growth, and advocacy. This fragmented usage makes it challenging for them to provide customers with personalized support and experience.
(Source: Salesforce-Forrester)
13. 73% of businesses that adopt CRMs use cloud-based programs & 27% use on-premise systems.
Takeaway: Most businesses that use on-premise CRMs are in the hospitality, banking, financial services, and nonprofit industries. These include manufacturing and consulting companies. Cloud-based CRMs are more beneficial for small businesses because they are easy to install, cost-effective, and provide easier access to data.
(Source: Zippia)
14. SMB sales teams are equally divided into those who currently use a sales CRM & those who still do not use one.
Takeaway: SMB sales teams prioritize cultivating relationships with existing accounts and expanding their operations. To accomplish these goals, teams must embrace technology and adopt a full sales CRM system or update their existing program with more robust tech features.
(Source: Zendesk)
Pro tip: Check out our guide to the top CRMs for startups. This article features our top-recommended CRM solutions with low-cost subscriptions and easy-to-use interface that suits brand-new businesses.
15. Only 8% of SMB sales teams do not plan to use a CRM, while 42% want to buy their first sales CRM.
Takeaway: Sales teams are embracing the need for CRM software and data analytics. In fact, the majority of teams who currently do not use a sales CRM now want to buy their first one. In addition, 24% want to keep their current CRM, while 26% want to replace their existing CRM with a new provider.
(Source: Zendesk)
Pro tip: Consider using Zoho CRM if you are looking to buy your first company sales CRM. This platform is one of our top recommendations for startups because of its affordable, scalable options, as well as its robust system customization capabilities.
16. Nearly half (49%) of SMB sales teams integrate their CRM with customer service tools.
Takeaway: There are more (59%) midsize sales teams that integrate their CRM with customer service tools compared to their SMB counterparts. This may be one of the factors that affect the quality of collaboration between sales and service teams. They cannot collaborate well if the tools that they use are not integrated.
(Source: Zendesk)
Pro tip: While CRMs are typically used to manage sales activities, some have case management and communication features that you can use to boost customer satisfaction. Follow our step-by-step guide on how to use a CRM for customer service to get leverage your CRM's capabilities beyond sales management.
17. The retail industry (18%) & business services (10%) are the top users of CRM software.
Takeaway: Retail businesses take advantage of CRM platforms' sales and marketing automation features to promote their products and to get more people to buy from them. They also use it to store, manage, and track customer data and interaction history. Other top industries that use CRM software are technology (10%), banking/insurance/finance (7%), and manufacturing (6%).
(Source: Zippia)
Pro tip: Check out our list of the best retail CRM software to find the right solution for managing your store's products and inventory. Our top picks also include features for order and payment processing.
18. Business-to-business (B2B) companies make up 55% of CRM users.
Takeaway: B2B companies rank second among the largest share of CRM users, with business-to-consumer (B2C) companies taking the top spot with a share of over 60%. Other organizations like business-to-government and nonprofits each have a 10% share. Please note that this survey allowed companies to choose more than one segment.
(Source: Zippia)
CRM Statistics on Benefits & Return on Investment (ROI)
If you invest in a CRM and use it to its fullest capabilities, you will see tangible benefits in the form of sales production, conversions, and financial returns. These statistics show you how a CRM investment helps your business grow.
19. By 2027, the average spending on CRM per employee is expected to reach $33.21.
Takeaway: In 2021, the average spending on CRM was $18.53 per employee. The projected increase in the average spending is influenced by several factors, which include the upfront cost, add-on features and CRM integrations, and onboarding and training costs.
(Source: Zippia)
20. 40% of sales professionals say their CRM platform is highly effective at improving the alignment of their sales & marketing departments.
Takeaway: CRM software is designed to remove silos between sales and marketing teams and gives them access to the same set of customer data to facilitate faster communication. An overwhelming majority of sales professionals agree, since 18% label their CRM as slightly effective at doing this and 39% say it's moderately effective.
(Source: HubSpot)
21. More than half (55%) of CRM buyers see a return on investment (ROI) in six months or less, while 5% see an ROI from 24 to 36 months.
Takeaway: Various factors affect the total cost of a CRM system. Aside from the upfront subscription or license costs, a company may also have to pay additional for the system setup, custom integrations, and training.
(Source: G2)
22. More than half (65%) of salespeople who use mobile CRMs hit their sales targets.
Takeaway: In comparison, only 22% of salespeople who don't use mobile CRM are able to hit their sales quotas. In addition, companies say using a CRM increases their sales productivity by 50%, directly impacting sales.
(Source: Zippia)
Pro tip: Find the best solution for your remote team by reading our guide to the top mobile CRM apps. Our best recommendation is Freshsales, which offers a free mobile CRM app for up to three users with cost-friendly and scalable paid options.
23. Businesses that use CRM tools see a 20% decrease in labor costs.
Takeaway: CRM automation minimizes the time reps spend on manual and repetitive tasks like data entry and follow-ups. In addition, it reduces labor costs because you require less staff as you can use the CRM system to book meetings, provide answers to frequently asked questions (FAQs), and acquire new leads.
(Source: Zippia)
24. Almost half (47%) of sales professionals who use CRM solutions say it improves their customer retention rates.
Takeaway: The same proportion (47%) of sales professionals say using CRM improves customer satisfaction, a major factor in customer retention rates. Other self-reported benefits of CRM software are higher sales revenue (45%) and improved upselling and cross-selling success rates (39%).
(Source: Zippia)
25. Almost a third (30%) of companies reported improved reporting capabilities using CRM tools.
Takeaway: Most modern CRM systems allow you to generate reports based on sales activity data gathered and stored in their database. These actionable CRM reports help you evaluate your operations and gain insights into your sales team's performance and challenges.
(Source: Zippia)
26. Teams that use a shared CRM are 14% more likely to provide excellent customer service.
Takeaway: A shared CRM system helps an organization improve data accessibility, which translates to excellent customer service. It contributes to a more seamless work process and collaboration between different teams or departments within an organization.
(Source: Salesforce-Forrester)
CRM Challenges
Sales teams may encounter challenges implementing and maintaining their CRM system. These could include cost, limitations in IT structure, poor integration, and lack of communication. Read the CRM stats below to learn about the common challenges sales professionals encounter.
27. Only 3% of sales professionals feel their CRM is not effective at all at improving their sales & marketing alignment.
Takeaway: There are factors that affect how a salesperson perceives the effectiveness of a CRM when it comes to sales and marketing alignment. Some of these factors include using different tools, the usability of the CRM system, and the difficulty of sharing data between the teams. Make sure your sales and marketing teams are using the same data source and contact management system for a smoother user experience.
(Source: HubSpot)
Pro tip: Read our guide to the best contact management software to learn your best options for CRM tools that let you store, manage, and search for customer and lead data. Pipedrive, one of our best recommendations, has a Smart Contact Data feature that pulls in publicly available contact data from the web.
28. 57% of executives struggle to maintain good customer service with remote work because their CRM software is not well-integrated & accessible.
Takeaway: CRM adoption is critical in the ability of a business to adjust to disruptions while maintaining operations, people, assets, and brand equity. This is why 42% of executives report they could easily shift to remote work and maintain their customer engagement levels because their CRM systems were well-integrated and easy to access.
(Source: Salesforce-Forrester)
29. 63% of executives ranked productivity as their biggest employee experience (EX) challenge in their shift to remote work.
Takeaway: Next to productivity, executives named information access (55%) and communication (55%) as the biggest challenges created by the shift to remote work. Having a unified CRM system that can adequately support the customer lifecycle helps build business resiliency and enables you to maintain excellent customer service regardless of where you are working.
(Source: Salesforce-Forrester)
30. For employees, the top challenge created by the shift to remote work is communication & coordination with colleagues.
Takeaway: While 54% of employees ranked communication as their top challenge in the shift to remote work, they also included productivity (49%) and complex workflows (45%) in this list. Again, a cohesive CRM system can help organizations deal with these challenges. It provides a unified platform for communication, data sharing, and automation of complex work processes and workflows.
(Source: Salesforce-Forrester)
31. The top challenges companies face in using CRMs are manual data entry & a lack of third-party integrations.
Takeaway: The same proportion (17%) of companies cited manual data entry and lack of integration with other tools as their top challenges in CRM usage. Other top hurdles are the unwillingness of the sales team to use the CRM (16%) and the difficulty of tracking their sales funnel (12%).
(Source: Zippia)
CRM Stats & Trends From Salespeople
Sales professionals from varying business sectors have differing views on how a CRM tool works for them. Read the stats below to learn the importance of CRM to sales leaders and top performers, the difference between midsize and SMB reps, and what salespeople think could improve their overall CRM experience.
32. 47% of sales leaders consider CRM usage the top indicator of sales productivity.
Takeaway: Sales management leaders want to track CRM usage to know the real-time activities, progress, and productivity of their sales reps. Calls made (41%), emails sent (37%), conversations (36%), and use of sales tools (35%) are the other top indicators of sales productivity next to CRM usage.
(Source: HubSpot)
33. 47% of high performers who exceeded their goals in 2022 describe their CRM as very important to their sales process.
Takeaway: Top-performing salespeople have some things in common, which include the use of a CRM and analytics during the sales process and aligned sales and marketing teams. A CRM can help them achieve the latter by giving them a single platform for communication and customer data access.
(Source: HubSpot)
34. More midsize sales reps (76%) can see their prospects' customer service interaction history compared to SMB sales reps (59%).
Takeaway: No matter how big or small your organization is, collaboration is one of the keys to growing sales because you cannot develop independently. You need to work with your customer service team to clearly understand what your customer and prospects are looking for. Midsize sales teams are ahead of SMBs in terms of collaboration and sharing data.
(Source: Zendesk)
35. Less than a third of executives (32%) & employees (27%) believe their CRM system provides them with a complete & unified view of customer data.
Takeaway: This situation is largely due to the fragmented use of CRM systems. This can be remedied by using a unified CRM platform that all teams across an organization can use as a single source of truth for their customer data.
(Source: Salesforce-Forrester)
36. An overwhelming majority of executives (90%) & employees (94%) value using a CRM system as a single source of truth about their customers.
Takeaway: It is essential to have a unified system that provides all team members with a complete view of their customer information. This facilitates smoother and more personalized customer engagement and experience across all departments in an organization.
(Source: Salesforce-Forrester)
37. 53% of employees believe better onboarding & training would make their CRM system more effective.
Takeaway: Next to better CRM onboarding and training, 47% of employees believe that data availability across all departments would make their CRM system more effective. In addition, 43% of employees noted that artificial intelligence (AI)-powered insights and recommendations would also contribute to the effectiveness of their CRM platform.
(Source: Salesforce-Forrester)
Pro tip: Some platforms, like Salesforce, have AI assistants that provide smart predictions and recommendations on sales opportunities based on existing customer data. Salesforce Einstein also helps you create personalized marketing content for your prospects or customers.
CRM Features
When it comes to CRM usage in sales, there are specific features users are particular about, such as workflow, project management, and document creation. Here, we explore CRM facts and stats that reveal the CRM features users place value on.
38. Workflow automation is the highest-rated (97%) CRM software feature for small businesses, followed by project management (95%) & process development (95%).
Takeaway: CRM workflows are crucial because they automate a series of steps required in a business process, like email marketing campaigns and customer feedback. Automating repetitive tasks and sales activities allow reps to focus more on building customer relationships, managing opportunities, and closing deals.
(Source: G2)
39. The highest-rated niche features of a CRM system among general users are two-way text messaging (98%) & text scheduler (98%).
Takeaway: There are specific features users consider to be the most essential in CRM software. The other highest-rated niche features of a CRM system are a document builder interface (97%), application programming interface (API) integrations (97%), and PDF creation (96%).
(Source: G2)
40. For small businesses, the CRM features that rank the lowest are video creation, social media capabilities & quote generation.
Takeaway: Based on G2's study, small business CRM users give low ratings when they dislike a platform's video creation, social media, and quote generation features. The average rating for these three features is 92%, which is still a high figure considering they were asked what they dislike about a provider. In general, users still appreciate the value of these CRM features despite their flaws.
(Source: G2)
Pro tip: Check out our guide on how to choose a CRM system based on the type of CRM needed, features required, and the budget of your business. This article includes six essential steps in the CRM selection process and a downloadable template to narrow down your choices.
Bottom Line
Using a CRM makes your business more streamlined, organized, and collaborative through the features they offer. Despite the common user-adoption challenges many organizations face, these CRM statistics prove that if implemented properly, businesses will improve their sales efficiency and close more deals. More new business brought in means higher revenue for your firm and leads to strong ROIs your CRM helps generate.