How to Ensure an Effective CRM Implementation (+ Free Templates)
This article is part of a larger series on CRM.
Customer relationship management (CRM) implementation is the process of setting up and deploying CRM software. While most CRM tools designed for small businesses have a plug-and-play nature, careful planning and rollout increases the likelihood of its proper use. Implementing your CRM includes setting up a team, establishing goals and objectives, identifying data to migrate, integrating apps, training your team, and measuring adoption.
This guide is intended for those who have already selected a CRM system for their business and are ready to maximize their investment. If you're still in the research stage of scouting for the best CRM, download our in-depth CRM e-book to discover everything you need to know about choosing the best CRM for your sales team.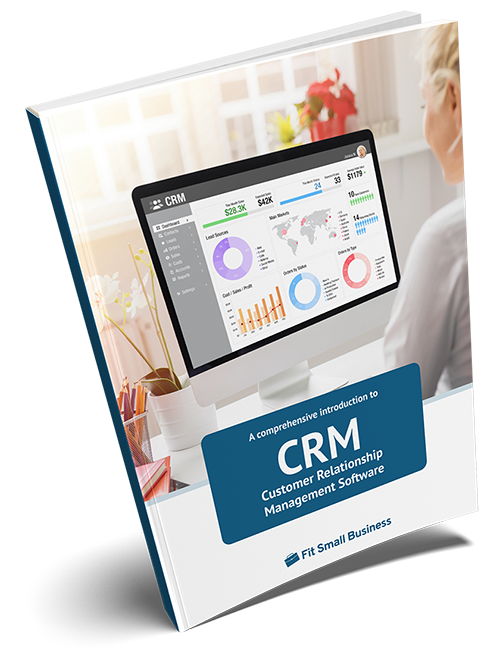 The Expert's Guide to Customer Relationship Management
Small Business Use Cases + Pro Tips
We'll discuss each step in detail to guide you through the process.
Thank you for downloading!
💡 Quick Tip:
Implementing your CRM properly means you'll be able to manage all your customer data in a centralized system, track leads and deals, and analyze your overall business performance.
Consider providers like Pipedrive which has robust tools that include contact and lead management, visual sales pipeline, and sales analytics tools.
Visit Pipedrive
1. Assemble Your CRM Team
It's essential to have a designated CRM team whose job is to make sure your CRM is used correctly and adopted across the organization. This team doesn't need to be solely dedicated to running the CRM—it could be assigned to current employees with existing roles and add overseeing the CRM to their areas of responsibility.
Below are the key members you need in your CRM implementation team:
CRM project manager: The lead person in charge of the system who is involved in the entire process. They are responsible for ensuring the platform is being used as planned—gatekeeping the key administrative details and giving access to end users.
IT manager: An in-house IT manager is responsible for supporting the implementation of the software itself and should assist the project manager in the event of roadblocks and technical difficulties.
Sales team managers: Sales managers are the ones who oversee the data and information being processed in the system once it's rolled out.
For those implementing highly complex, enterprise-level CRMs such as Salesforce or SugarCRM, consider having the following people on board to make the process as smooth as possible:
Software analyst: A software analyst is a team member responsible for data migration and organization. Thus, they must understand how each functionality works, as well as the bells and whistles of the software.
Software or app developer: The software developer fully customizes the software, ensuring the pipelines and processes configured in the software match the business' processes and address its requirements.
Software test engineer: The software test engineer leads the testing of various software features. They must work closely with all the core team members to ensure it runs smoothly prior to the deployment to the larger team.
In addition to having a core CRM implementation team, it's also crucial to gather all identified end users, such as members of the sales, marketing, and service teams. Getting feedback from them helps you determine what features they need most, how much training they'll need, and a variety of additional data points that help you introduce the new tool with ease.
Questions you ask your CRM users should include whether they have used a CRM in the past, what types of routine tasks they wish were automated, and what other business applications they regularly use. This will shape your CRM training plan, identify workflow automation tools needed, and pinpoint essential third-party integrations your team needs.
2. Establish Your CRM Goals & Objectives
Define your objectives for using the CRM. Outline the goals you want to achieve by laying out the parameters of how your team will be measured within the system and how the platform is expected to be used.
Your goals must include specific and tangible results you can measure your business performance against within a specific period. Having clearly defined goals helps you come up with a realistic action plan.
Here are some examples of high-level goals to jump-start creating your own:
| Goals | Action Plans |
| --- | --- |
| Increase monthly incoming leads to 25% | Evaluate existing communication touchpoints (website forms, social, landing page, newsletter sign-ups) weekly to see how many leads are coming from each and focus efforts on the channel(s) that generate the most leads |
| Convert 30% of warm leads into deals | Send high-value nurture emails weekly to provide value-add information to your leads and keep your products and services top of mind |
| Increase month-on-month sales revenue by 15% | Sell into larger manufacturing companies that have bigger budgets and require more of your services |
Pro tip: Set your CRM goals using the SMART goals method as a guide. It helps you develop specific, measurable, achievable, relevant, and time-bound goals for sales. This way, you ensure your organization's smart CRM goals are not open-ended but designed to yield results you can evaluate to determine your success.
3. Identify What Data Needs to Be Migrated
A commonly overlooked step in the CRM implementation process is determining ahead of time what data needs to be migrated into the new system and where it currently resides. Proper planning minimizes instances of missing important customer data that needs to be migrated to the new system.
Contact, company, and deal data is exported from other business tools or CRMs using a simple, comma-separated values (CSV) file uploaded to the new platform. Some CRMs, like Zoho CRM, also come with an import tool to automate the process. However, each solution handles data migration differently, so it's critical to evaluate what's needed from the start.
Pro tip: Do not move all your data at once. Test the integrity of the data transfer using a small sample first.
You don't need to migrate all data from your existing systems. You can opt to leave some behind, especially if it will not serve a purpose in your CRM and will only occupy storage space. These could include outdated sales reports and customer details, duplicated customer information, and poorly formatted spreadsheets that may clutter your new CRM.
4. Define CRM Settings & Customizations
Another crucial component of creating a CRM implementation plan is defining system settings and processes ahead of time. CRMs include a range of settings that can be adjusted to suit your team's needs, including:
Company profile and settings
Custom fields
Drop-down menu selections
User permissions and management
Admin settings
Apart from general settings, many CRMs also offer customizable options for roles, reports, work automation, pipeline stages, and mailing lists. Before building out these functions, revisit your customer journey—from the first point of contact to purchase. Below are the typical stages of a customer journey:
Awareness: Prospects learn about your products and services through various channels, such as your website, social, advertisements, referrals, and cold calls.
Consideration: Customers consider if your products and services are a good fit via inquiries, introductory calls, product demos, and free trials.
Purchase: User's decision on whether to purchase your product/service or not through your available purchasing channels.
Aftersales: Customers are strengthened by reliable customer service and overall satisfaction with products, as well as sustained contact through channels such as newsletters and requests for feedback.
Loyalty: Loyal customers help businesses grow through repeat purchases, peer recommendations, and loyalty programs. There is also a potential to cross-sell and upsell products.
Examining your customer journey along with inputs you receive from your team will guide most of the CRM's settings, permissions, and customizations. This step during the planning phase of your implementation will save time when you roll out a system that's user-ready from the start.
5. Integrate Third-party Apps
Integrating your CRM system with third-party applications like Facebook, Microsoft Outlook, Mailchimp, and Slack maximizes your organization's efficiency. This stage in the CRM implementation process allows your team to switch between apps and access key customer data without leaving the CRM platform.
CRMs usually offer dozens to hundreds of third-party integrations, so prioritize them according to what your sales teams say is most important to them. For a deeper dive, check out our comprehensive guide on how to integrate your CRM with other third-party apps.
Popular integrations include:
Email apps
Lead generation tools
Project management tools
Messaging and communication platforms
Live chat programs
Help desk apps
Marketing and email automation programs
Support and ticketing apps
Analytics tools
6. Test Your New CRM Environment
Testing your CRM environment means you're almost finished with your implementation process, and it's time to verify if the software is fully operational and works according to your needs. Through testing, you'll learn how individual components work together and will be able to evaluate customer touchpoints that connect with the CRM to ensure they work as intended.
There are several components to test, including:
| Component | What to Test |
| --- | --- |
| Migrated Data | All imported records are matched to the correct fields, with no duplicate data |
| Contacts | All assigned data fields are recognized and fillable |
| Email Capture | Email exchanges are associated with the correct contact and two-way email sync works as expected |
| Lead Routing | Leads route to the correct sales rep according to predefined rules |
| Pipeline Management | Deal columns in each pipeline match the sales process |
| Automated Tasks | Task triggers work as expected |
| Integrations | All business apps are connected correctly |
| Reports | Data matches expected results |
| Website Forms | Form displays correctly, fields are fillable, and completed form is routed properly |
Many CRMs are easy to set up and maintain, no matter your level of experience. If you have a particularly complex migration or need help setting up integrations, consider the type of support your new CRM offers.
Troubleshooting options for free solutions like Capsule and HubSpot CRM's free plan are generally limited to email support, online resources, and online user community forums. On the other hand, paid CRM vendors, such as Salesforce, include guided setup and onboarding from start to finish with their service plans.
7. Train Your Users
Once the testing stage is finished and all components of your CRM are properly rolled out, it's a good idea to involve your team and show them how it works. Make sure to gather your team's feedback to get insights on how you can further improve the system. It's also an excellent practice to get feedback from them regularly to minimize roadblocks and issues with using the system.
Download our free checklist to create a CRM team training plan to help your team hit the ground running.
Thank you for downloading!
💡 Quick Tip:
Some CRM tools, such as Pipedrive, provide users with a rich pool of resources that include educational articles and webinars, which can help agents get familiar with the features of the software.
Visit Pipedrive
8. Measure CRM Adoption
The CRM implementation process doesn't end when your employees learn how to operate the system. The final stage of your CRM implementation project involves making sure they put it to good use. Below are some metrics you can track to measure usage rate among your end users:
Track user logins: One of the simplest ways to gauge system usage is to check the number of logins and see which of your employees are doing so regularly. However, this is simply a mere indicator of usage, and not a measurement of adoption quality.
Monitor data inputs: Look at how your employees add customer and business data into the platform, such as leads, contact information, opportunities, tasks, and activities.
Track CRM-generated reports: Encourage your employees to process data and produce reports using analytics tools within the CRM. This will help in eventually migrating all your sales and business data into the system.
Measure KPIs using the software: Use the CRM to measure the sales performance and KPIs of your agents, such as calls made, deals closed, and revenue generated.
Remember, these metrics will take time to materialize, so don't expect to measure all these overnight. If you've recently implemented your CRM system and want to make sure your employees take advantage of it, read our guide on how to increase CRM adoption.
The Importance of Having a Robust CRM Implementation Plan
Implementing CRM software is not a straightforward task. It's a multistage process that includes proper planning—beginning with putting a team in place, refining workflows, identifying data for migration, and conducting proper testing and training. Having a sound CRM implementation strategy in place will help you avoid common pitfalls, such as:
Low adoption rate among your target users: If no training is put in place to make the users understand why you're implementing CRM, then there's a high chance they will not use it.
Not mandating usage among managerial employees: If implementing and using the CRM is embraced by the highest levels of your organization, individual employees are more likely to follow suit.
Users don't understand their roles: Identify a team that will oversee the usage of the CRM tool and assign specific roles to each to make them accountable.
Implementing the software all at once: Getting users to familiarize themselves with the new CRM won't happen overnight. Map out the data and the processes you want to house inside the CRM and do it over time, so users learn to use it progressively.
Poor migration of existing data: Whether current customer information is stored in Google spreadsheets or another formal CRM, it must be fully and properly imported to the new CRM to maximize its accessibility and usability.
Bottom Line
While most CRMs are designed to work out of the box, remember it's not a one-size-fits-all solution that any member of your team can use immediately. A successful CRM implementation plan involves extra time integrating, customizing, testing, training, and getting feedback so your team is on board with using your new CRM solution.