How to Get Started With Bing for Business
Bing Places for Business is Microsoft's free business directory. It's equivalent to Google's Google My Business accounts, which also appear in local search results. Those who take advantage of this platform reap the benefits of exposure to over 1 billion monthly users—and get a big leg up on the competition. What's more, it's free and easy to set up a Bing Places account. All you need to do is go to Bing, sign up for an account, and follow the prompts to complete your business profile.
The more detailed steps are as follows:
1. Create (or Sign Into) Your Microsoft Account
Go to bingplaces.com and sign in to your Microsoft account. If you don't have one, sign up for a free account. You can do this with an email address or phone number. After you've added all the necessary information (password, birthdate, confirmation code), you'll solve a quick CAPTCHA test to prove you're human.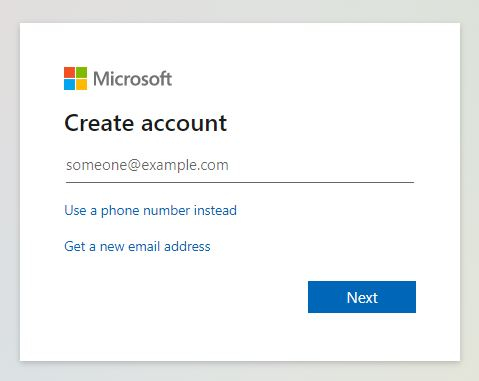 Go back to Bing Places and sign in with your login information.
2. Claim or Add Your Bing Places for Business Listing
Bing has two options for getting a Bing Places listing for single-location businesses: adding or claiming the listing manually, or importing your details from your Google My Business listing. There's also a different process for companies with more than 10 locations, so be sure you choose the correct option for your business size.
You will then be asked to select the business type that makes the most sense for your business. There's an option for small businesses without a physical address, as Bing Places works well for professionals who don't have an office too.
Use your business phone number or business name with a ZIP code to check whether your listing exists on Bing Places already. If it exists, you'll see your business on the map. If Bing can't find your business, then create a new business listing.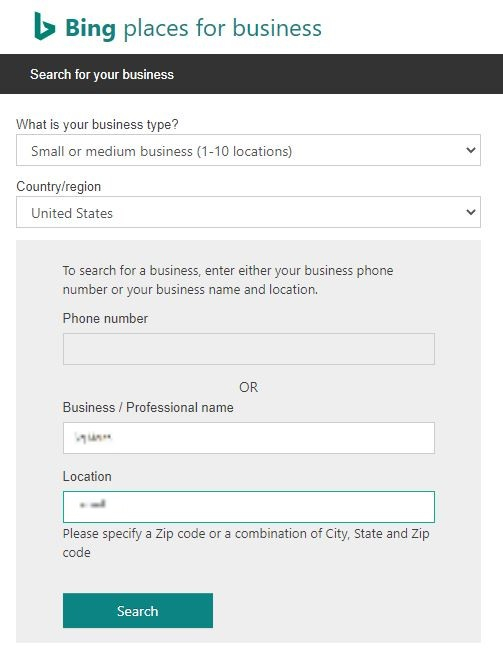 Use the drop-down box to learn more about the different process for adding a Bing Places for a single location versus adding it for multiple locations:
Create a New Bing Places Listing
To add your business listing manually, just fill in the fields with your business information. Be sure to enter the exact same address and contact details you've used when adding your business to other directories. If you're not sure where you should list your business, use our online directory master list to get started.
Tip: If you already have a listing on Google My Business (and if you don't, you should), then you can choose to import your listing information from your Google profile to Bing. You'll get directions for logging into your Google account, allowing Bing Places to access your Google My Business profile.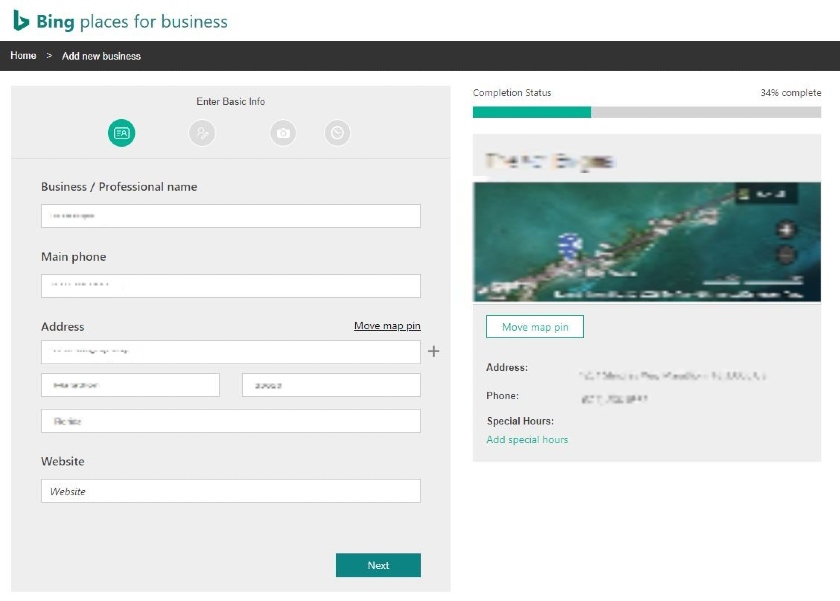 Add More Than 10 Locations to Bing for Business
If you have more than 10 locations under your business name, you'll follow a different method to add your listings. Fill out the name of your chain business, your website, and the number of locations. On the next screen, add the corporate information to verify your locations.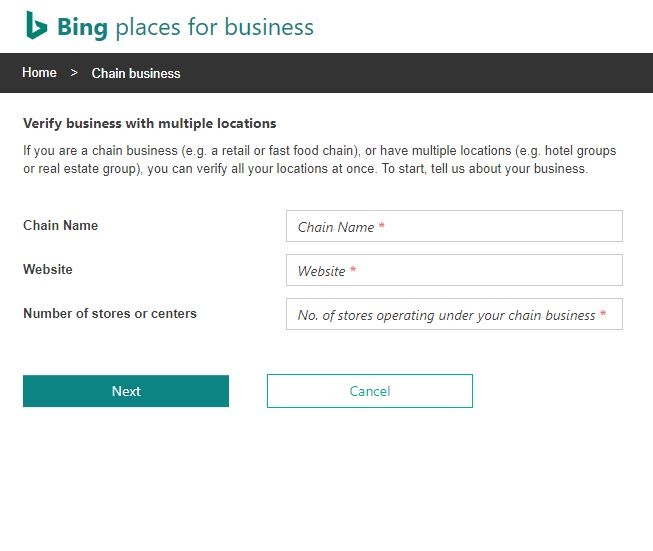 3. Add Category & Description to Your Bing Places Listing
Next, you'll be prompted to choose your business type. If you're not sure, you can choose the last option from the list of business segments and then type in your business category. Then, add your address, or if you don't wish to display a physical address, you can hide your address.
Continue to follow the prompts to add your email, social media links, and directory profile links (e.g., Yelp for Business), and finally, add up to 100 photos to display on your Bing Places listing.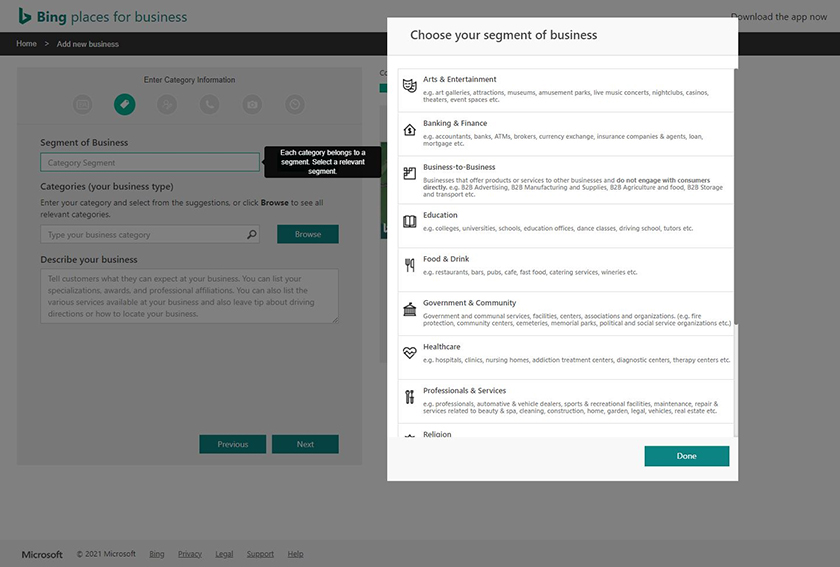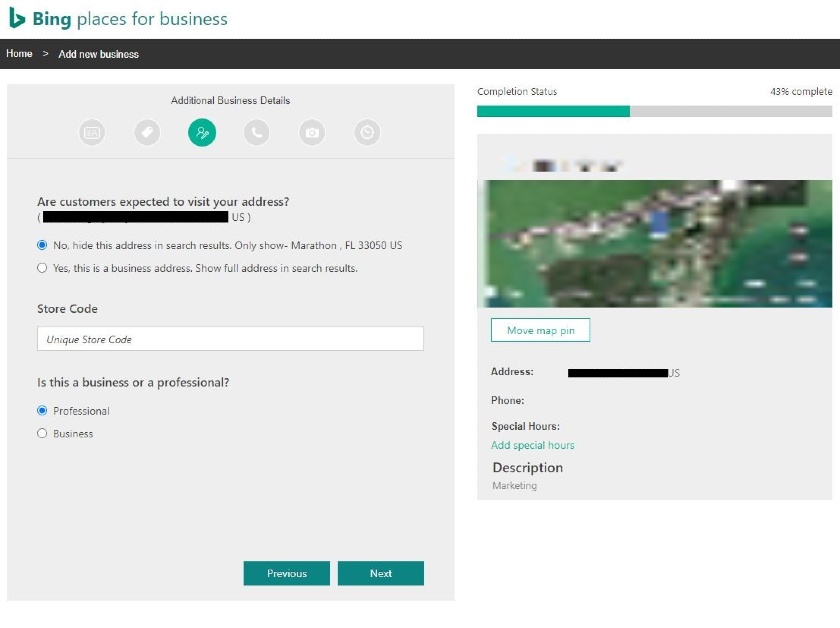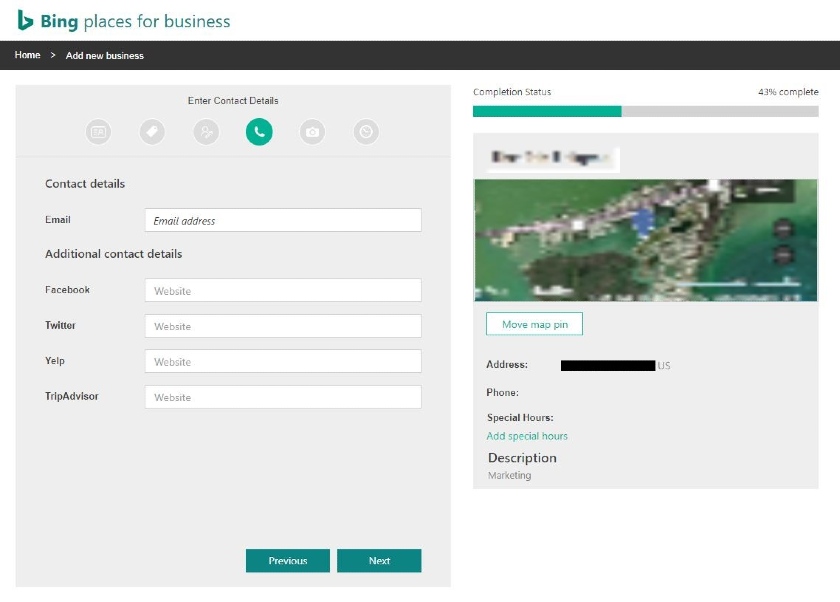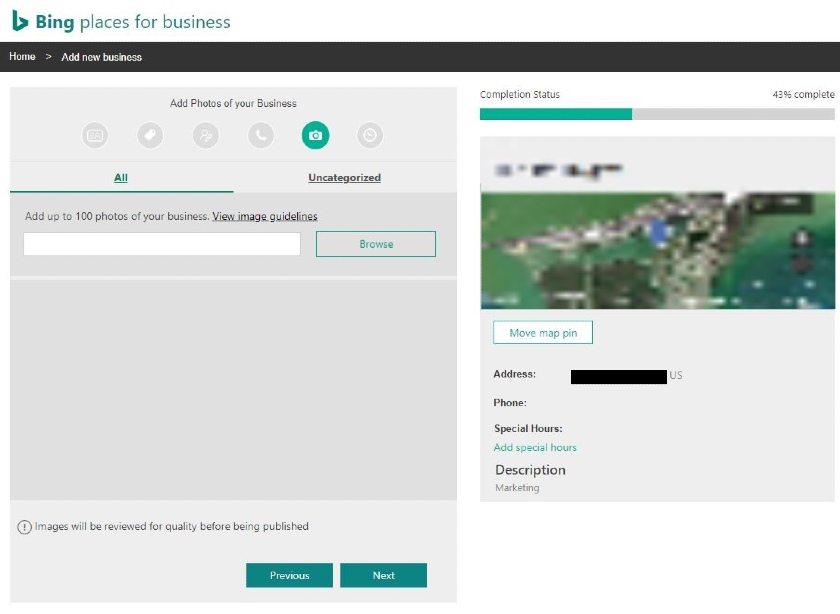 4. Verify Your Business With Bing for Business
After you press the submit button, you'll get a prompt to verify your business. If your phone number is registered as a business phone and Bing can verify that on its end, you'll be able to verify by phone or text. If your business is too new, or you've not registered it yet as a business line, you may have to verify by post. The process could take up to a week to do.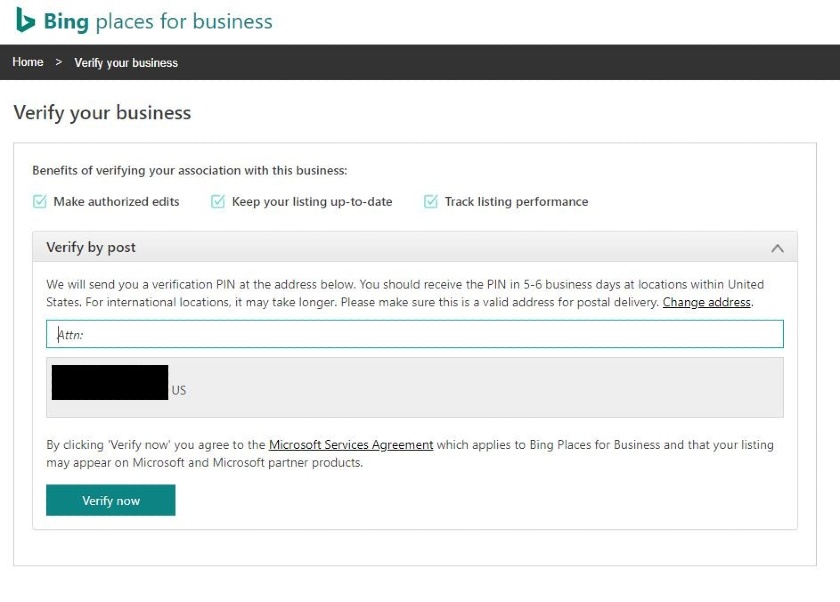 After verification, it should take one to two weeks to see your business listing in Bing for Business results.
Reasons to Use Bing for Business
Your business should show up on Bing Maps and in local search results within a week or two. By listing your small business with Bing Places, you'll have a chance of tapping into an audience that may not use other search engines at all.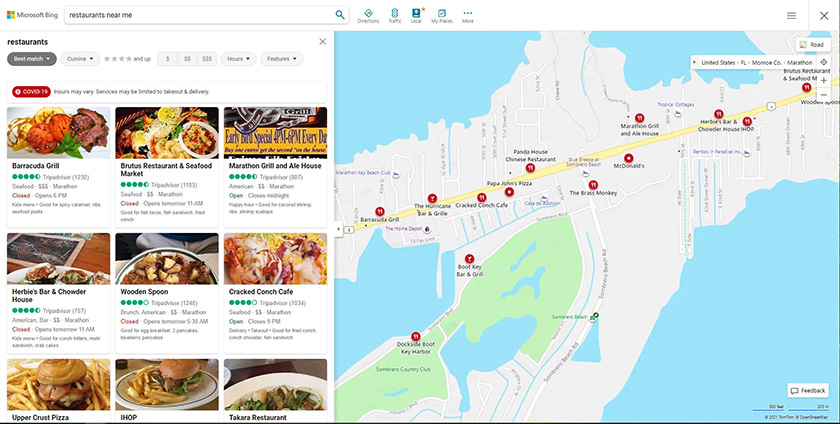 Here are some benefits to using Bing for Business:
Gain more organic exposure from the second-most used search engine
Capture the attention of a different audience
Find new customers who may have more disposable income
Get essentially free marketing by ranking high in Bing Places local search results
Combine local search with Bing Ads to increase exposure
Even if you don't advertise on Bing, you'll show up in organic search results, so you're visible to an audience that may not use Google. It's an easy, free way to potentially gain more customers.
Frequently Asked Questions (FAQs)
What's the difference between Bing Places & Google My Business?
Bing Places and Google My Business are both free directories for local businesses, but they're created by different search engines. The local results from Bing may be different than those in Google based on which businesses have profiles on the two different directories. Learn how to register on Google My Business.
How do you target more reviews online?
Use a variety of strategies to target more online reviews of your business. You can start by simply asking your customers after you've made a sale or provided a service. Look for more ways to get more reviews on Google and Bing to help you show up higher in local search results.
What's the difference between SEO & PPC?
Search engine optimization (SEO) is all about building organic traffic to your website, usually through content creation for keywords that make sense for your business. Pay-per-click (PPC) advertising also targets keywords, but you pay to show up as an ad in search results. Read more about all the various search engine marketing methods.
Bottom Line
Increase your business' visibility by listing on Bing for Business and see how exposure to over 1 billion people per month can help boost your business. Similar to Google My Business, Bing Places for Business will help locals find you online, so that you can generate more in-person traffic and sales. What's more is that it's free and easy to use, so there's nothing to lose, but a lot to gain from using Bing Places.
You Might Also Like…
---
---