Setting up a Bing Places for Business listing gives your brand more visibility in online searches on Microsoft's search engine: Bing. Similar to Google (i.e., Google Business pages), it allows you to manage your online listings as well as generate and manage customer reviews and comments. To use Bing Places to promote your business, ensure your business qualifies, then sign up for an account, complete your business profile, and verify it.
1. Determine Your Eligibility to Use Bing Places for Business
Almost all local businesses are eligible to sign up for Bing Places for Business. Bing users include restaurants, car dealerships and repair shops, lawn care services, electronics boutiques, and professional services (like tax prep companies and bookkeepers).
To help you navigate setup and to ensure accuracy, Bing divides businesses into three broad categories:
Small businesses: Businesses operating from a single location
Businesses with multiple locations: Businesses like national or regional chain stores, real estate management companies, or restaurants with more than one location
Businesses without a physical store: Service providers and other home-based businesses.
Depending on the type of business you're operating, you may be asked to provide certain documentation to verify the business prior to your listing going live. Bing makes the registration process as simple as possible, though, as you'll learn below.
2. Sign In to Your Microsoft Account (or Create One)
Go to bingplaces.com and sign in to your Microsoft account. If you don't have one, sign up for a free account. You can do this with an email address or phone number. After you've added all the necessary information (password, birth date, confirmation code), you'll solve a quick CAPTCHA test to prove you're human. After that, you can sign in with your login info.
3. Claim (or Create) Your Business Listing
Bing has two options for getting a listing for single-location businesses: adding or claiming the listing manually or importing your details from your Google My Business listing. Keep in mind that there's a different process for companies with more than 10 locations, so be sure you choose the correct option for your business size.
You will then be asked to select the business type that makes the most sense for your business. There's an option for small businesses without a physical address since this listing is also appropriate for local professionals without a physical location for customers to visit.
Use your business phone number or business name with a ZIP code to check whether your listing already exists. If it does, you'll see your business on the map. If Bing can't find your business, then create a new business listing.
Search for your business on Bing to claim an existing profile.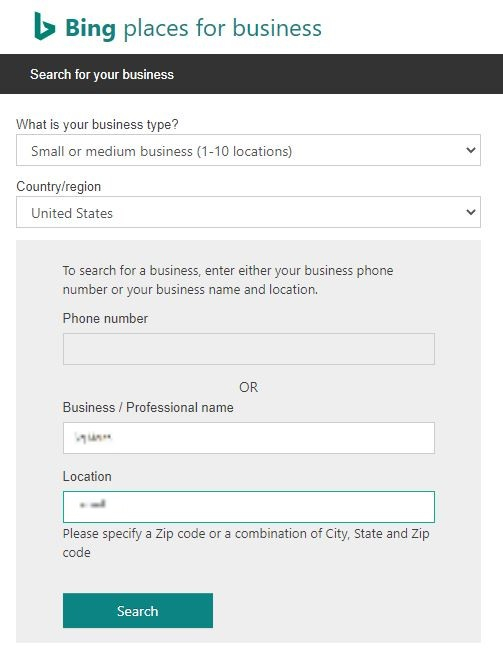 Use the drop-downs below to learn more about the different processes for adding a Bing Places for a single location versus adding it for multiple locations:
To add your business listing manually, just fill in the fields with your business info. Be sure to enter the exact same address and contact details you've used when adding your business to other online directories. If you're unsure where you should list your business, check out our list of the best online business directories for small businesses to get started.
If you already have a Google Business Profile (if you don't, you should create a Google Business Profile), then you can import your listing information from your Google profile to Bing. When you choose this option, follow the directions for logging into your Google account and allowing Bing Places to access your Google Business page information.
---
If you have over 10 locations under your business name, you'll follow a different method to add your listings. Fill out the name of your chain business, your website, and the number of locations. On the next screen, add the corporate information to verify your locations.
---
Pro tip: Managing all your listings across the internet can be time-consuming, especially if you have multiple locations. Save time by using BrightLocal to monitor and update your listings across thousands of online directories from just $29 per month.
4. Add a Category & Description to Your Listing
Next, you'll be prompted to choose your business type. If you're unsure, you can choose the last option from the list of business segments and then type in your business category. Then, add your address; if you don't wish to display a physical address, you can hide your address.
Follow the prompts to add your email, social media links, and directory profile links (e.g., Yelp for Business), and finally, add up to 100 photos to display on your business listing.
5. Verify Your Business to Complete Your Listing
Unless you imported your info from Google in step three, you'll have to verify your business to complete the setup of Bing Places for Business. If you did import your listing details from a verified Google business page, your Bing page will be automatically and instantly verified.
After you press the submit button, you'll get a prompt to verify your business. If your phone number is registered as a business phone and Bing can confirm that on its end, you can claim your Bing business listing by phone or text.
If your business is too new or you've not registered it as a business line, you may have to verify by mail, which could take up to a week. After verification, it should take one to two weeks to see your Bing business listing in Microsoft's default search engine.
How to Make a Good Bing Business Listing
A Bing for Business listing is a vital part of establishing a strong digital brand presence, but a good business listing doesn't happen automatically. You need to take the time to plan and execute your listing to maximize the impression your business makes on potential customers.
Here are a few factors that make a great Bing for Business listing:
Ensure accuracy: See to it that your listing accurately reflects the kinds of goods or services you provide to your customers. This means choosing the correct categories for your business to display in and matching your description to the kinds of things your customers are looking for.
Incorporate search engine optimization (SEO) keywords: It might sound obvious, but keywords will help your listing get found. Bing is a search engine, so incorporating keywords, phrases, and questions people would ask when searching for a business like yours makes it more likely for your listing to be displayed in search results.
Indicate the exact location: Provide precise location information. If your business operates at a shared address, such as a strip mall or office complex, be sure to include your suite or unit number.
Add contact information: You'd be surprised how many profiles get wrecked because they don't include the correct phone number—or worse, the phone number rings to the fax line. Double-check your phone number before you submit your profile.
Include your website: Many businesses overlook the simple step of including a website. During setup, ensure you enter your website address and that it's correct. You don't want to lose customers due to a missing or broken link.
Add images: You can add images to your listing, and you should display images that relate to what your customers are looking for. For example, if you're an auto repair shop, you might show photos of a well-organized repair bay, whereas a restaurant should probably post photos of its food.
Encourage reviews: Getting reviews can be challenging. Encourage your customers to post reviews online on sites like Bing, Yelp, and Trustpilot. Bing aggregates reviews from many sources to provide potential customers with an overview of past experiences.
Be consistent across platforms: Represent your brand consistently in all of your local SEO citations, from creating a Google Business page to your social profiles and more.
Top Tools for Managing Bing Business Listings
Listing your business in online directories—such as Google, Bing, and Yelp—is an effective way to increase your rankings in an online search. It also gives prospects and customers another way to discover and engage with your business. However, adding, optimizing, and managing your business' listings can take a lot of time and effort.
There are services and tools that can help your small business rank high on Google and on Bing. Here are some of the top local SEO tools for managing your Bing (and other) business listings online:
When you already know how to claim a business on Bing and when your listing goes live, getting customers to leave positive reviews for your business can help your website rank higher. Learn how to get more reviews to increase rankings.
Benefits of Using Bing Places for Business
Creating a listing on Bing can bring many benefits to small businesses. First, it improves your visibility in online searches on Bing, which can result in more customers finding your business. Secondly, Bing listings are optimized for search, which means your listing is more likely to appear higher in search results. Finally, creating a complete and accurate Bing business listing can help inform more people about your products and services.
By listing your small business here, you'll have a chance to tap into both an audience that may use Bing exclusively for search and users who use multiple search engines. Here are some benefits of knowing how to get listed on Bing:
Get more organic exposure for your brand from the second-most used search engine
Capture the attention of a different audience
Find new customers who may have more disposable income
Get free marketing by ranking high in local search results
Plus, you can combine the use of Bing Places to rank in local searches with Bing Ads to increase exposure for your brand even more. But even if you don't advertise on Bing, you'll appear in organic search results, making you visible to an audience that may not use Google. It's an easy, free way to potentially gain more customers.
If you want to further increase your site visibility and boost your traffic, read our comprehensive guide to search engine marketing.
Pro tip: Make your Bing Places for Business listing a part of a strong local marketing plan and build your digital footprint right.
Bing for Business: 7 Bing Search Statistics You Need to Know
Here are some key Bing search statistics you need to know to make the most of Microsoft's default search engine. These can be used to steer the direction of your business and help you make informed decisions.
Frequently Asked Questions (FAQs)
Yes, it's totally free to use. This free listing service from Bing helps businesses manage their online presence. By creating and optimizing a business listing, businesses can appear in search results on Bing.com and map results on Bing Maps, gain and manage customer reviews, and increase brand awareness, web traffic, and sales.
---
Bing processes more than 1 billion searches a day, and many of those searches are for local businesses. Given the search volume, combined with the fact that Bing Places for Business is a free service, it makes sense to tap into this pool of potential customers. Listing your business on Bing is easy, and you can even import your Google Business Profile into Bing if you've already set your business up on Google.
---
To improve your chances of appearing on Bing's search results, ensure your website is Bing-friendly. This means creating high-quality content that contains the keywords that people are likely to use when searching for your type of business on Bing. Once your website is ready, submit it to Bing for indexing by going to the Bing Webmaster Tools site and submitting the URL of your home page. Then, create your business listed in this article.
---
Bing Places for Business and Google Business Profile (aka Google My Business) are both free directories for businesses, but they belong to different search engines. Plus, while Bing Places is intended for local businesses (with or without a physical location), every business can (and should) create a Google Business Profile and consider adding business listings in other top online business directories as well.
---
Bottom Line
Increase your business' visibility by using Bing for business and see how exposure to over 1 billion people per month can help boost your business. Similar to Google My Business, your Bing listing will help locals find you online so that you generate more in-person and website traffic and sales. What's more is that Bing Places for Business is free and easy to use, so you have nothing to lose.