What Is Shop Pay? One-click Checkout for Shopify Businesses
This article is part of a larger series on Payments.
Shop Pay (formerly Shopify Pay) is a customer-facing checkout that saves a buyer's details so they can purchase items quickly by clicking the Buy Now button. It works only with Shopify stores, but it works across every Shopify store that uses Shop Pay. So, if a customer purchased something in one Shopify store, then all their information is already loaded—which means when they buy something from your store, they can check out with a click.
Shopify Pay vs Shopify Payments
Shopify Payments is the payment processing service Shopify provides retailers, while Shop Pay is the front-facing checkout customers use. Shopify Payments is your backend merchant service, and it needs to be enabled for Shop Pay to work.
| Shop Pay | Shopify Payments |
| --- | --- |
| Customer-facing checkout | Backend payment processing |
| Saves buyer details | Lets sellers offer multiple payment options |
| Needs Shopify Payments to work | Works without Shop Pay |
Who Should Use Shop Pay & Why
All Shopify sellers using Shopify Payments could benefit from enabling Shop Pay as a customer payment option. Shopify says that Shop Pay is 70% more efficient than a standard checkout process and leads to a 1.72 times higher conversion rate. The ease of checkout gives more time for shopping and reduces the frustration of filling out the same information again and again. This makes for a better customer experience, which promotes customer loyalty. It's also more secure and lets customers select their local pickup or delivery preference.
When Not to Use Shop Pay
If you don't use Shopify Payments to accept credit card payments online, then you cannot use Shop Pay. If you do international sales or your business is not in one of the 20 supported languages, you may not be able to use it.
How Shop Pay Works
Shop Pay works much like other express checkouts—by taking customer information once. Shopify encrypts and saves the information on its PCI-compliant servers. Then, when a customer wants to make a later purchase, the information is already loaded, along with pickup and delivery options.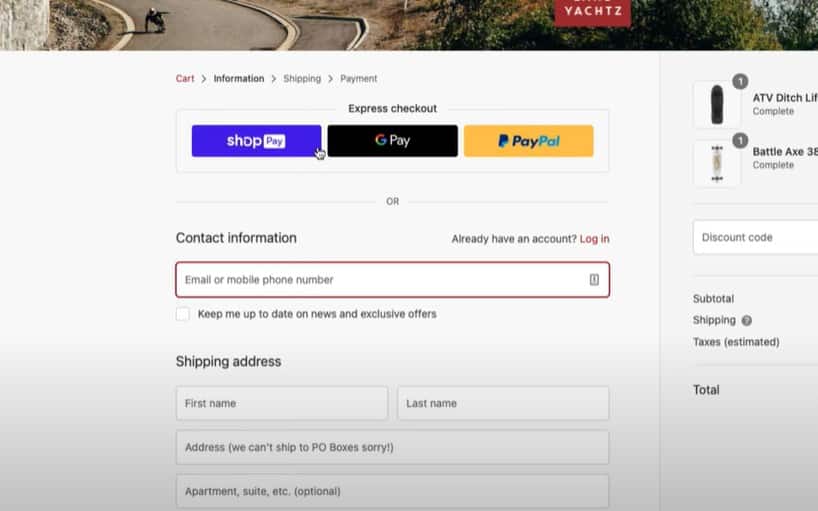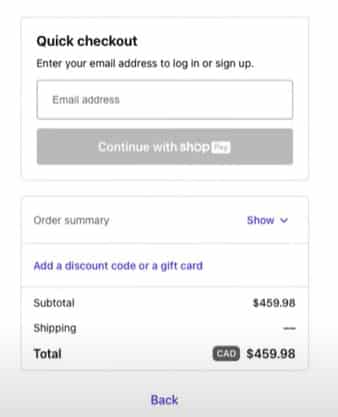 The process is equally easy for you. If you've enabled the Shop Pay app, then the option appears on the Express Checkout with any other express options you offer.
If a customer is paying for the first time, they will be invited to join Shop Pay. They can then have their information saved, including contact information, credit card info, and delivery address. The next time they purchase from a Shopify store, they can choose the express option.
If they use the Shop app, they will be asked to verify their purchase on the app; otherwise, they receive a six-digit verification code via text. Once the purchase is verified, they can use the saved information to pay. They are also given the option to pay in installments (if you have enabled Shop Pay Installments) and to have the item delivered or picked up in-store.
Customers can change their information at any time through Shop Pay or opt out as desired.
Shop Pay Benefits & Key Features
PROS

CONS

Quicker checkout
Needs Shopify Payments
Saves customer information across all Shopify stores
Does not work in every language supported by Shopify
Secures and encrypts customer information
Higher fees for Shop Pay Installments
Takes <5 minutes to set up
The selling point of Shop Pay is the ease of use for your customers. However, Shopify has included other valuable features to make shopping at your store with Shop Pay even better:
Easy to set up: It takes only a few steps to set Shop Pay up, and it's nearly as simple for your customers to set up an account. After that, Shopify handles all the grunt work of creating the buttons and handling the transaction information.
Secure checkout: All the information is encrypted end-to-end and stored on Shopify's PCI-compliant servers. You don't need to handle the responsibility—or liability—of securing your customer's payment information yourself.
Reduce abandoned carts: According to Baymard Research, 18% of customers abandon their cart because the checkout was too long or complicated. Another 17% left because they didn't trust the site with their credit card information. With Shop Pay's simple, secure checkout, you can nip these issues in the bud.
Verify purchases: To use Shop Pay, customers need to verify purchases on the Shop app or with a texted code, helping ensure someone isn't using their information for fraudulent purchases. This helps protect you against chargebacks.
Local pickup or delivery: If your store has local pickup or delivery, you can let customers choose their option during checkout with Shop Pay.
Offsetting carbon emissions: Each year, Shopify gives a certain percentage of its Shop Pay transactions to help replant trees in deforested areas to offset the effect of carbon emissions. In 2022, it's working with WeForest to restore the Casamance Mangroves in Senegal, Africa. Offering Shop Pay is an easy way to help the environment. With 53% of consumers saying they prefer green businesses, it's a nice way to stand out.
Buy Now, Pay Later (BNPL) installment payments: If you choose, you can give Shop Pay customers the option of paying in four installments through Shop Pay Installments. Customers pay one installment every two weeks and can even set up automatic payments. This applies to orders between $50 and $3,000, and there are no extra charges to the customer. However, Shop Pay Installments does have higher transaction rates than standard purchases—and these fees are not returned if you issue a refund. According to a Shopify representative, these are typically 5.9% + 30 cents.
How to Add Shop Pay to Your Online Checkout
You must be using Shopify Payments as your payment processing service before adding.
Once you have set up your Shopify store, adding Shop Pay to your store is very easy. If you are already using Shopify Payments, it may already be enabled. If not, or if you're unsure, follow these steps.
Step 1: From Settings, click on Payments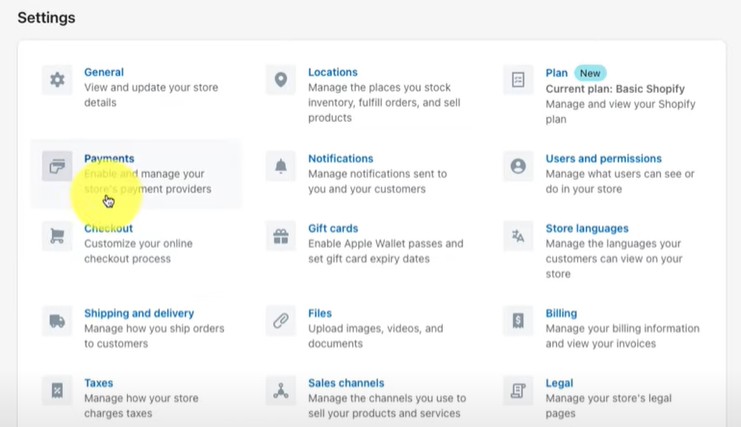 Step 2: Under Shopify Payments, click on Manage

Step 3: Scroll to Shop Pay and click on the box to enable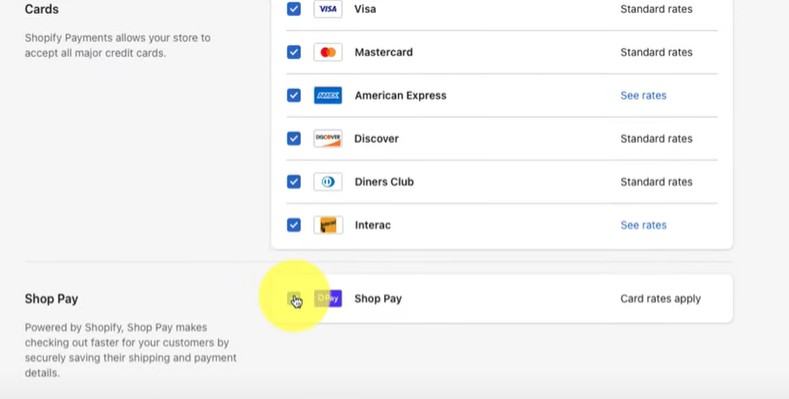 That's it! Shopify does all the backend work for you.
Shop Pay Frequently Asked Questions FAQs
Can I use Shop Pay without a Shopify store?
No, you need a Shopify store and Shopify Payments to use Shop Pay. Shopify is our top choice for the best ecommerce platform and ranks high in several of our best POS apps lists because of its ease of use. It can be used with a brick-and-mortar store as well, and it's an affordable platform (learn more about Shopify and its pricing).
---
What is the Shop app?
Shop is Shopify's mobile shopping application. It lets customers shop in any Shopify store through one central application. Consumers can search for products, locations, and stores; select how they pay; track orders and receipts; and get recommendations. You can use the app to conduct analytics, manage what inventory is on your Shop app store, and run marketing campaigns.
---
Is Shop Pay safe?
Yes, it is. Shopify protects customer information with end-to-end encryption and stores it in its certified Level I PCI DSS compliant servers. Shopify is also SOC 2 Type II and SOC 3 compliant, as well as GDPR and CCPA compliant. In short, it meets and exceeds industry standards.
---
Is Shop Pay the same as Afterpay?
No. Shop Pay is an express checkout system, whereas Afterpay is a third-party BNPL service similar to Shop Pay Installments. (Square acquired Afterpay in October 2021.)
---
Is Shop Pay the same as PayPal?
No, although Shop Pay does work like PayPal checkout in terms of speed. However, Shop Pay is unique to Shopify and can store any credit card information. The two can be offered alongside each other to give your customers a choice.
---
Bottom Line
If you have a Shopify store and use Shopify Payments as a payment processor, then Shop Pay is a simple and free tool that gives your customers an easy, secure, and fast checkout experience. With a three-step setup process and features that go beyond the checkout, it's a great way to give your online store a boost. Log in to your Shopify account and activate Shop Pay today—or head over to Shopify and start your online store.