25 Key Shopify Statistics You Need to Know in 2023
Shopify is one of the top ecommerce platforms and multichannel POS systems for new and established small businesses—even if you're focusing on your physical presence. If you're wondering how to start a retail business with a reliable online presence, consider these Shopify statistics to see if it's the platform for you.
You can learn more about Shopify's full suite of offerings by exploring our related articles below:
Shopify Stats: The Basics
1. Shopify has been around for 17 years
The company launched in 2006. Founder and CEO Tobi Lütke established an online store selling snowboards in 2004. When he realized that the software was more valuable than his products, the founding team launched Shopify as an ecommerce platform. It has since created a whole suite of business tools, including point of sale, shipping services, and chatbots, to name a few.
2. Shopify's brand value is worth about $960 million
As of 2022, Shopify's brand value was Can$1.3 billion (or about $960 million). This represents a 68% increase from the year prior.
3. Shopify has a presence in 175 countries
The Canadian company is global. It has a presence in 175 countries around the world.
4. More than 11,600 employees work at Shopify
Shopify is a big-time employer. According to its website, it has more than 11,600 employees.
5. More than 780 professionals are Shopify Experts
Among Shopify's resources are Shopify Experts. These are professionals with expertise in a specific vertical to help you build, manage, and grow your Shopify store. There are more than 780 official Shopify Experts.
Shopify Stats: About the Platform
6. There are more than 10,000 Shopify Apps
Shopify has its very own app store. There, you can find more than 10,000 Shopify Apps to add to your store, both free and paid. Apps span nearly every business function.
7. Shopify has more than 150 themes in its theme store
When building an online store, you can use a selection of premade themes, some paid and some free. As of this writing, you'll find more than 150 options to choose from in the Shopify theme store—more than 10 free themes, and a little over 140 paid ones.
8. Shopify supports 8 sales channels
Multichannel selling is where Shopify really shines as a platform. It offers eight distinct selling channels:
Online store
Shop
Facebook
Buy Button
Instagram
Shopify Inbox
Wholesale
Handshake
Shopify Usage Statistics
9. Nearly 7 million websites use Shopify
Among the billions of websites out there, almost 7 million use Shopify as their chosen website builder. Nearly 65% of those (around 4.4 million) are currently live, with the rest historical.
10. Nearly two-thirds of live Shopify sites are based in the Americas
As of April 2021, most (around 66%) active Shopify stores were based in the Americas. In comparison, there were 51,394 Europe-based Shopify stores, representing about 17% of Shopify stores. Some estimates say there are 2.68 million Shopify stores in the US alone.
11. 16% of sellers say Shopify is their preferred Amazon alternative
As many as 16% of sellers say Shopify is their top choice as an alternative to Amazon. Shopify is edged out by eBay, which nearly a quarter of merchants choose as their top Amazon alternative. Walmart came in third, with 15% of sellers.
12. Shop Pay has around 2.4 million monthly downloads
Shop Pay, Shopify's online checkout service, gets around 2.4 million monthly downloads. It can help speed up the checkout process, boosting conversions.
13. Retail is the top industry using Shopify & Shopify Plus
As far as which industries are using Shopify the most, retail takes the top spot. Other top industries include apparel and fashion, manufacturing, food and beverage, and construction. Retail also takes the top spot for Shopify Plus (a customizable enterprise upgrade of the original), although usage is more evenly distributed across industries.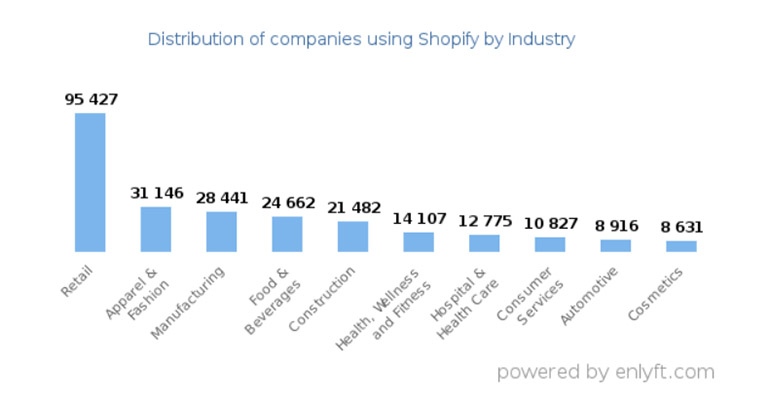 ---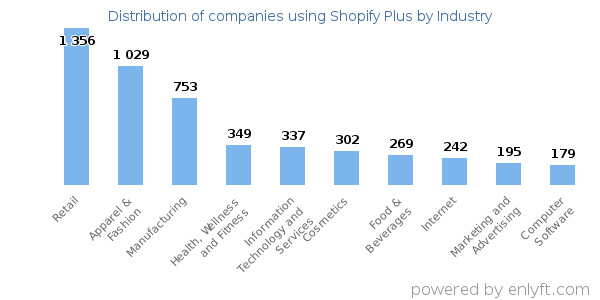 ---
Shopify Store Statistics: The Financials
14. Shopify has a $61.94 billion market capitalization
One of the more impressive Shopify facts is that it sits in spot No. 17 in the list of biggest internet companies ranked by market capitalization as of April 2023. Its $61.94 billion is similar to Uber's $64.6 billion, but dwarfed by those in the top spots—Alphabet (the parent company of Google), Amazon, and Meta (the parent company of Facebook and Instagram)—with market caps of $567 billion to $1.4 trillion.
15. Shopify drove $5.6 billion in total revenue in 2022
Shopify earned about $5.6 billion in total revenue in 2022, up from $4.6 billion the year prior. Overall, its revenue has grown by more than $4 billion since 2015.
16. In 2022, Shopify's subscription services and merchant solutions revenues were $1.4 billion and $3 billion, respectively
Shopify is more than just an ecommerce site builder. It includes a suite of tools and services for merchants. In 2022, its subscription services generated $1.4 billion in revenue. Its merchant services generated approximately $3 billion in revenue the same year.
17. Shopify's GMV is $49.6 billion
According to Shopify's Q1 2023 financials, its gross merchandise volume (GMV) is $49.6 billion, a 15% increase over the first quarter of 2022. GMV "represents the total dollar value of orders facilitated through the Shopify platform including certain apps and channels for which a revenue-sharing arrangement is in place in the period, net of refunds, and inclusive of shipping and handling, duty and value-added taxes."
18. Shopify's operating loss was $193 million in the first quarter of 2023
The platform's operating loss came in at $193 million, or 13% of revenue, in the first quarter of 2023—compared to $98 million, or 8% of revenue, the year prior. Its adjusted operating loss was $31 million, or 2% of revenue. Shopify attributes these metrics to a falling gross margin percentage and a rise in operating expenses related to products and services like Deliverr.
19. $477 million was distributed in the first quarter of 2023
Through Shopify Capital, its lending service that offers merchant cash advances and small business loans, merchants borrowed $477 million in the first quarter of 2023 alone. There was approximately $629 million outstanding as of March 31, 2023.
Shopify Store Stats & Sales
20. There have been about $700 billion in sales on Shopify
Since its 2006 launch, Shopify has hosted more than $700 billion in ecommerce sales.
21. The AOV on Shopify stores is $85
One survey of Shopify stores conducted by Littledata in September 2022 found the average order value (AOV) for Shopify sites to be $85. As far as benchmarking goes, the top 20% of Shopify stores have an AOV of at least $192, while the bottom-performing 20% of Shopify stores have an AOV of $50 or less.
22. The average revenue per customer on Shopify stores is $92
The same September 2022 survey concluded the average revenue per customer to be $92 for Shopify merchants. The top 20% of Shopify sites earn more than $209 in revenue per customer, while the bottom 20% earn $53 or less in revenue per customer.
23. The average mobile conversion rate on Shopify stores is 1.2%
Littledata also took a look at conversation rates and found the average mobile conversion rate for Shopify stores is 1.2%. For benchmarking purposes, businesses with a mobile conversion rate of at least 2.7% fall into the top 20% of Shopify stores. On the other side of things, anything less than 0.3% falls into the bottom-performing 20% of Shopify stores.
Consumer Behavior on Shopify
24. ColourPop Cosmetics is the most-visited Shopify store
In terms of traffic, ColourPop Cosmetics earns the most visits of all Shopify merchants. According to November 2022 data, its traffic ranking from Alexa (web traffic analytics firm) was 3,311.
However, there's plenty of traffic to go around—Colour Pop isn't the only Shopify merchant with such visibility and success. The top 10 Shopify stores and their respective Alexa traffic rankings are as follows:
ColourPop Cosmetics: 3,311
Jeffree Star Cosmetics: 4,262
Fashion Nova: 5,015
Red Dress Boutique: 8,014
Gymshark: 9,848
Cupshe: 15,785
Omaze: 16,579
Mnml: 17,065
Yeezy Supply: 18,729
Kith: 18,733
25. 10% of American consumers buy secondhand products on Shopify
While eBay, Facebook Marketplace, and OfferUp dominate the secondhand market, Shopify sites are earning traction. One in 10 US-based consumers say they've purchased a secondhand product from a Shopify merchant. This is one of the more interesting and outlying Shopify trends to consider.
Bottom Line
Since 2006, Shopify has evolved from a simple ecommerce platform into a comprehensive suite of tools and services catering to a wide range of business needs. With more than 10,000 apps, over 150 themes, and eight selling channels, Shopify has all the tools you need to create an online presence that syncs with your physical retail business.