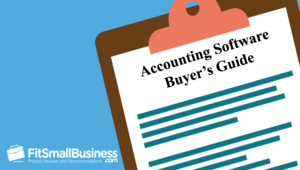 In this buyer's guide, we give you all the information you need to select the best accounting software for your business. This guide was written by Fit Small Business's CPA and accounting software expert Crystallyn Shelton. In addition to writing for Fit Small Business Crystallyn is an Adjunct Instructor at UCLA Extension where she has taught hundreds of small business owners how to use Accounting Software.
For this guide Crystallyn has narrowed the field of more than 20 small business accounting software down to the 3 options that represent the best range of features and functionality for small business owners. QuickBooks and Xero were selected because they both offer features that go beyond the basics, such as inventory management and budgeting. Wave stood out because it is a free option packed with great features. Below you will find a summary overview of each option, followed by Crystallyn's recommendation for the best accounting software for different types of small businesses, and an in depth comparison of the 3 options.
Small Businesses Accounting Software Summary Table
QuickBooks Online: Best Overall Accounting Software for Small Business Owners

There are four primary reasons why we chose QuickBooks Online as the best accounting software for small businesses:
1. QuickBooks ecosystem
Accounting software is different from other types of software because you'll be giving other users, such as your accountant or bookkeeper, access to your information. It's important for people that you share access with to be familiar with the system you're using, and that's almost guaranteed with QuickBooks. It's the most commonly used accounting system with over 1 million customers and is regarded as the 'default' accounting software. This is also an advantage in terms of integrations or if you need help understanding how to do something in QuickBooks. There are over 20,000 accountants and bookkeepers who are certified in QuickBooks and a large network of ProAdvisors (myself included) all all across the country.
2. It's easy to use
Most business owners do not have an accounting background. The QuickBooks user interface consists of completing forms to bill your customers and to pay bills or write checks. Once you understand how to complete the forms, QuickBooks does the accounting behind the scenes for you.
3. QuickBooks will grow and expand with your business
It has advanced features like inventory tracking and the ability to create budgets. In addition, you can easily add on payroll once you hire your first employee, and sign up for an Intuit Merchant Services account when you are ready to accept credit card payments from your customers. These services come with an additional cost, but the good news is that you can add them with just a click of a button and there is no need to upgrade to a new version.
4. Create financial statements in minutes
QuickBooks comes with 40 + reports that you can run in minutes. This includes a Profit and Loss Statement, Balance Sheet Report and Statement of Cash Flows, which provide you with a complete picture of how well your business is doing. Xero offers similar reporting capabilities. While you can run a Profit and Loss Statement and a Balance Sheet Report in Wave, you cannot prepare a Statement of Cash Flows in Wave.
Even with all of the great features that QuickBooks Online offers, if you do find that it does not do something that you need it to do, adding an app just might be the solution. QuickBooks syncs with over 400 business apps, including inventory management, ecommerce, and payroll apps.
If there is a downside to QuickBooks, I would have to say that the quality of the support that you get when you contact them for help can be inconsistent. As a QuickBooks ProAdvisor, I have had a lot of experience with calling support while at a client's office or using the chat support feature when available. My experience with using the chat support channel has been much more successful than when I call the support line. The good news is there are some other great help resources that you can take advantage of. We will discuss those in the Support and Training section of this guide.
Xero: Best Accounting Software for Free Payroll Processing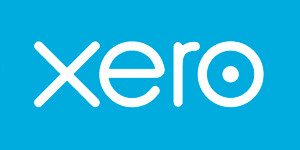 Xero is not as well known as QuickBooks and is sort of the "new kid on the block," but it is quickly making a name for itself with over 700,000 small business subscribers. Xero has over 16,000 certified advisors who can help you get up and running. You can find a Xero certified advisor by entering your city, state and zip on the website.
In my opinion, the look and feel of the Xero interface is very similar to QuickBooks Online, so it is perfect for existing QuickBooks users that are thinking about making a change.
Xero includes payroll processing for up to 5 employees in their product offerings (up to 10 in premium edition). The benefit of course is that when your business grows to where you need to hire employees, there is no need to upgrade or any additional costs to pay. With QuickBooks, you need to pay an extra cost if you want payroll functionality.
Unlike QuickBooks, Xero allows an unlimited number of users to access the program at no additional charge. This is great if you have several people like your tax professional, CPA, and employees that need access to your data. Similar to QuickBooks, you can set each person up with their own user id and password and give them access to just the areas of Xero that they need.
The downside to Xero is their customer support. Free email support is included in all plans but if you would like to talk to someone, then you have to include a request for a telephone call in your email. The response time for emails is generally 3-4 hours. The other disadvantage with Xero is that they don't have a direct relationship with most US commercial banks. Therefore, they have to use a 3rd party company called Yodlee to allow you to connect your bank account to your Xero account. In general, this seems to work, but just involves a few extra steps to set up. Lastly, although Xero is quickly catching up to QuickBooks, they still don't have the same number of local experts/certified advisors. So if you're thinking of choosing Xero, make sure your accountant or bookkeeper is onboard.
Wave: Best Free Accounting Software

Heard of Wave before? Neither had I before I started doing some research for this guide. With a price tag of FREE, I must say that I didn't expect much. But, I was pleasantly surprised at the long list of features this accounting software has to offer for absolutely free. There are limitations on what you can do with Wave, but for a free accounting tool, the functionality is quite extensive.
Wave was designed for contractors, freelancers, and businesses with 9 or fewer employees. They have over 2500 Pros who support small businesses that use Wave. This is significantly less than the 20,000 QuickBooks Pros and the 16,000 Xero Pros out there so it might be more challenging to find a local expert. However, the program is pretty easy to use and they have some great training resources that we will explore in the Support and Training section of this guide.
Wave is able to handle the day to day business basics like invoicing customers, importing credit card and debit card transactions, and running financial statements like profit and loss and balance sheet reports. However, you cannot run a statement of cash flows in Wave. Also, it is limited when it comes to paying bills. You can enter your bills and manage their due dates in Wave, but you cannot actually write a check in Wave. Therefore, you will have to manually write checks to pay your bills and then go into Wave and manually mark your bills as paid. Since this process is manual, your accounts payable account will not be up-to-date until you have manually marked the bills as paid.
There's also another catch: you will see display ads on the right side of the screen. But to be honest, after working in the program for an hour, I forgot they were there.
QuickBooks vs. Xero vs. Wave In-Depth Review
Pricing
The three companies we compare in this guide range the gamut in terms of price. Wave is free, and Xero and QuickBooks are pretty evenly priced, at $30 and $40/month respectively. Here's a summary of pricing and what you get with our recommended edition and the premium edition of each product.
---
Ease of Setup
One of the key factors that you should consider when deciding which accounting software to use is how quickly can you get up and running. As part of our research, we set up demo accounts for all three products so that we could experience the product first hand. QuickBooks Online and Xero are relatively easy to set up, but Wave is the easiest (though that comes with certain limitations of how you can use the software).
For all three products, setup will generally take you about two hours. Of course, this will vary based on how much historical information you are bringing over from your existing system. If you are a brand new business, then it should take you even less time since you don't have any historical transactions to bring over.
The initial account sign up for QuickBooks Online, Xero, and Wave just requires you to enter some basic information about your business, such as legal business name, address, telephone number, email, and website address, if applicable. This part of account setup will generally take no more than 10 minutes.
Once you have an account, the next step is to set up the following key areas:
Chart of Accounts
Set Up Open Balances
Customer List, Vendor List, and Products and Services List
Connect Bank and Credit Card Accounts
Set Up Multiple Users
---
Ease of Use
After test driving all three of these products, I think that the user interface is pretty intuitive for all three. QuickBooks, Xero and Wave all have their version of a company dashboard on the initial login page. The purpose of the dashboard is to give you a snapshot of your business cash inflow (income) and outflow (expenses) without having to run a report. To drill down to run reports and other detailed info, all three products have easily identifiable menu tabs so that you can quickly navigate to the information that you need.
QuickBooks Online Dashboard and Menus
Above is the QuickBooks dashboard for a fictitious company, Paul's Plumbing. Notice the Income and Expenses section as indicated in the screenshot above. You can click on any of the colored bars right below the Income section to get additional information about customer invoices. For the Expenses section, you can click on any section of the graph to get additional detail about the expenses for each category.
There are multiple types of menus in QuickBooks. One is a "hidden" menu (accessible by clicking the "X" at the top center of the screen) that includes a list of the transactions categorized into four groups: Customers, Vendors, Employees, and Other as indicated below. The intent of this menu design was to keep the dashboard from being cluttered. However, I also think it makes it harder for new users to find what they are looking for.
The other menu is the left menu bar as indicated in the screenshot below. This menu allows you to navigate to a specific area of QuickBooks, like Customer Center or the Reports Center.
Xero Dashboard and Menus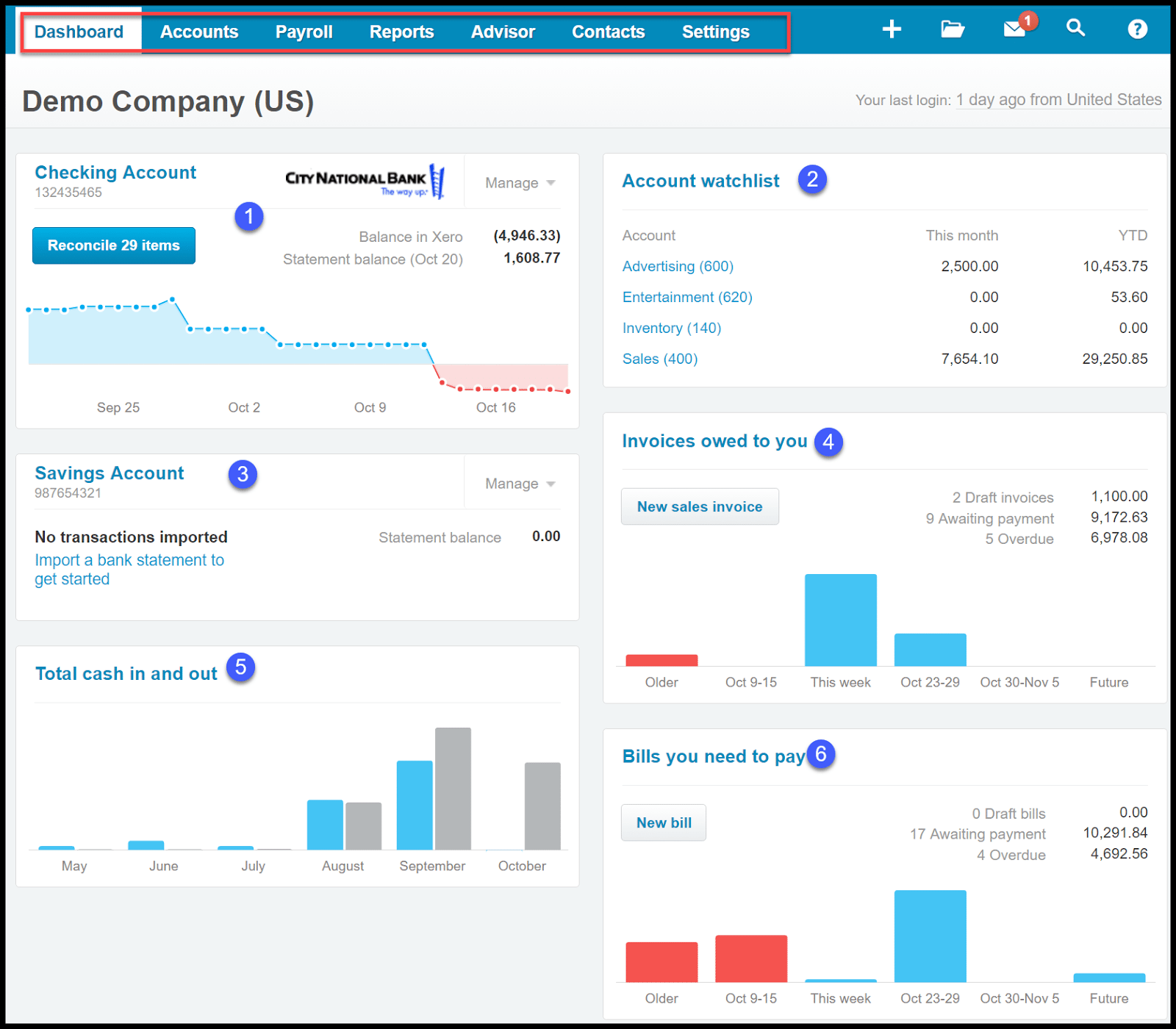 Above is the Xero dashboard for a Demo company. At the very top of the page are the various tabs that you can click on to navigate to Accounts, Payroll, and other areas of your account.
From this screen you can see the following info and you can view additional details by clicking on any of the numbers and bar graphs:
Checking account balance compared to your bank statement
A list of accounts that have been set up on a watchlist
The savings account balance
Invoices owed to you in summary total and bar graph form
Total cash in and out
Bills you need to pay in summary and bar graph form
One of the reasons why we chose to include Xero in this buyer's guide is because they have done a great job of keeping the language that is used throughout the program simple by not using any accounting jargon. If you look at the screenshot above, you'll see they use simple language like Cash in and out, Invoices owed to you, and Bills you need to pay.
Wave Dashboard and Menus
Above is the Wave dashboard for a demo company. From this page, we can quickly see Income and Expenses, Invoices payable to you, and what you owe to your vendors and suppliers. Similar to QuickBooks and Xero, you can click on these items to drill down for additional details.
Similar to QuickBooks, Wave also has a left menu bar that will take you to other areas like Receipts, Reports, and Payroll, as indicated below.
---
Key Features
When it comes to an accounting software program, you want to select a product that will track basic day to day business transactions, including the following:
Invoicing customers
Paying bills
Importing bank and credit card transactions
Creating reports and financial statements (e.g. Profit and Loss Statement, Balance Sheet, Statement of Cash Flows)
---
Integrations with other Systems
One of the great things about using cloud based programs is the ability to add an app that will perform a function that your accounting software does not do on its own. Payroll, Inventory Management, and eCommerce are key areas that you want to be sure are integrated with your accounting software.
QuickBooks and Xero integrate with more than 400 apps. Unfortunately, Wave only integrates with three apps: Shoeboxed, Etsy, and PayPal.
Here are some of the top ranked apps that integrate with QuickBooks and Xero along with a brief description of what they offer.
Payroll Apps: Both QuickBooks and Xero have built-in payroll functionality. If you are able to run your payroll within these programs, I would recommend using the built-in payroll integration over a third party payroll program. Wave does not offer payroll apps.
Inventory Apps: You can manage your inventory within both QuickBooks and Xero, but you may find that an app better suits your business needs. Dear Systems integrates with Xero and was ranked pretty high. It offers full cycle inventory management from creating purchase orders to tracking the receipt of goods and inventory adjustments. SOS Inventory integrates seamlessly with QuickBooks. With SOS Inventory, you can create sales orders and track inventory for multiple locations. Wave does not integrate with inventory apps.
eCommerce: If you generate sales from a website with a shopping cart then you will definitely need an app like Shopify. QuickBooks and Xero integrate with Shopify. Small and medium-sized businesses use Shopify to design, set up, and manage their stores across multiple sales channels like web, mobile, social media, and brick-and-mortar locations. Wave does not integrate with eCommerce apps.
---
Customer Support/Training Resources
When it comes to customer support, I believe that a customer should always have the option to talk to a live person. The good news is that QuickBooks, Xero, and Wave all offer live phone support options, along with a variety of other support options.
In addition, if you prefer to find answers to your questions instead of contacting customer support, there are also a variety of training resources available for all three products.
---
Mobile App
Each of these accounting programs has an app that you can download on your mobile device and use to stay on top of your business while on the go.
---
Other Accounting Software Options
While QuickBooks Online, Xero and Wave offer a wide range of options for small to medium sized businesses, freelancers, and self-employed, we wanted to share the full list of products that we considered.
The Bottom Line
Selecting an accounting software program is one of the most important decisions that you will make as a small business owner. As you can see, there are a number of products on the market.
We feel that QuickBooks Online outshines them all when it comes to being able to handle the basic day to day business transactions, ease of use, and how quickly you can get up and running. QuickBooks is also one of the few accounting software products that offer free live telephone and chat support if you get stuck and need a little help.
Be sure to leave us a comment and let us know which accounting software product you decided to go with and why.