In this QuickBooks Online Tutorial, we'll explain how to set up customers in QuickBooks Online. We will show you how to add customers in QuickBooks manually and how to import customer data from an Excel or comma-separated values (CSV) file.
We're excited to help you learn QuickBooks Online, our best overall pick for small business accounting software. We encourage you to follow along in your own QuickBooks Online account. If you don't already subscribe to QuickBooks Online, you can sign up now with your choice of a free 30-day trial or 50% off for three months.
This tutorial is one of our 39 Free QuickBooks Tutorials. To complete this lesson, you can watch the video below, read the step-by-step instructions, or do both. The video was made with a slightly older version of QuickBooks Online. The processes are unchanged, but the layout of buttons and menus may have changed. The screenshots in the step-by-step instructions are from the most current version of QuickBooks Online.
The Importance of Setting Up Customers in QuickBooks Online
You should set up profiles in QuickBooks Online for any customers you intend to invoice. You can then create an invoice quickly by selecting the customer from a drop-down menu, which will populate most fields on the invoice automatically.
Setting up your customers will allow you to:
Expedite customer billing: Create invoices for your customers quickly with data pulled from the customer profile.
Track sales by customer: Track items purchased by your customers to learn what your customers like and personalize your marketing strategy.
First, we'll explain how to add customers in QuickBooks Online manually, and then show you how to import a list of clients from an Excel or CSV file into QuickBooks Online.
How to Add Customers in QuickBooks Manually
1. Navigate to the Customer Center
To set up customers in your company file, navigate to the customer center by clicking on Sales and then Customers on the left menu bar: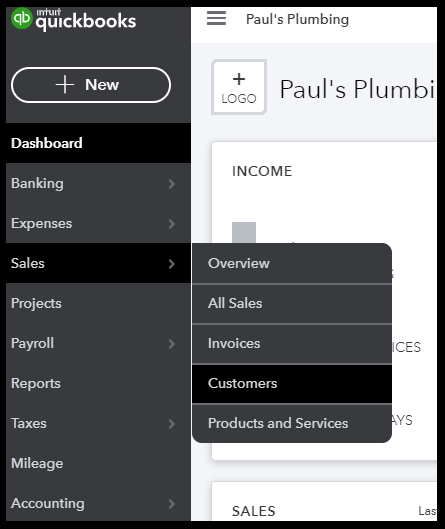 2. Create New Customer
Click on the green New customer button in the upper right-hand corner, as shown below:
3. Enter Customer Information
At a minimum, you need to enter basic contact information for your customers. This includes contact name, business name, bill to address, email address, and telephone number. Below is a sample customer we are setting up for our fictitious company, Paul's Plumbing:
These fields in the customer information screen will carry to multiple forms throughout QuickBooks and make generating customer-related forms both easy and accurate.
First and last name: Complete this information for customers who are individuals rather than other companies. This information will appear on all sales forms like invoices, sales receipts, and estimates.
Company: The Company field is for your commercial or business clients and will appear on all sales forms for commercial or business clients.
Display name as: This field will auto-populate based on the information entered in the customer name field but can be changed if you wish. This is how your customer will appear on your customer list in QuickBooks.
Print on check as: You must specify how to print the customer's name on checks. You may check the box to use the "Display name as" field or type in a different name.
Address tab: The billing address specifies the address to print on invoices you send to your customers.
Shipping address: This is the address that will be used to ship products to your customers. The default setting is to use the same as the billing address.
Email address: The email address will be used if you choose to email invoices to your customers.
Phone/Mobile/Fax: QuickBooks can store the contact telephone numbers for your future reference.
4. Enter Payment & Billing Information
You should set customer payment terms so QuickBooks can alert you when a customer invoice is coming due or is past due. You can also indicate your customer's preferred payment method (check, cash, or credit card), preferred invoice delivery method (email or US mail), and their opening balance if you are converting from another system to QuickBooks.
Below is the Payment and Billing tab that we have set up for our fictitious company, Paul's Plumbing:
Here are how QuickBooks will use the fields:
Preferred payment method: The preferred payment method determines the default payment method applied when you receive a payment from the customer. However, it can be changed easily to another form of payment, if needed, when payments are received.
?
Hint
: If you subscribe to
QuickBooks Payments
, you can also store your client's credit card information on this screen.
Preferred delivery method: This field is used to override the default delivery method that we set up for all customers during the lesson on How to Set Up Your Invoices.
Payment terms: The payment terms specified here override any default payment terms you have set up for all customers.
Opening balance: The opening balance is any amount this customer owes prior to you starting to use QuickBooks. For example, enter the total outstanding invoices your customer has from your prior bookkeeping system before converting to QuickBooks. When that customer sends you a check, you can apply it to this opening balance in QuickBooks.
5. Enter Other Customer Information
The remaining tabs are optional but can store some very helpful information.
Notes: The Notes tab is a blank slate you can use to type any helpful information you want to remember about the client, such as who referred the customer or their relationship with other customers.
Tax info: The tax information tab is the place to enter your customer's sales tax exemption information if they are not subject to sales tax.
Language: You can select from six different languages for each customer's invoices:

English
French
Spanish
Italian
Chinese (traditional)
Portuguese (Brazil)

Attachments: Attach any documents you would like to keep on file for this customer like signed contracts or a copy of email correspondence.
Additional Info: The additional information tab allows you to assign the customer a Customer Type. Customer types can be used to group your customers into different segments for analysis.
6. Save & Review the Customer Information
Click the green Save button in the lower right corner of the customer information screen to save the information you've input. If you're not already there, navigate to the Customer Center by clicking on Sales and then Customers from the left menu bar. To review a customer's information, click on the customer name.
You can now review the customer information screen by clicking the Customer Details tab. Click Edit in the top right corner to change any of the information.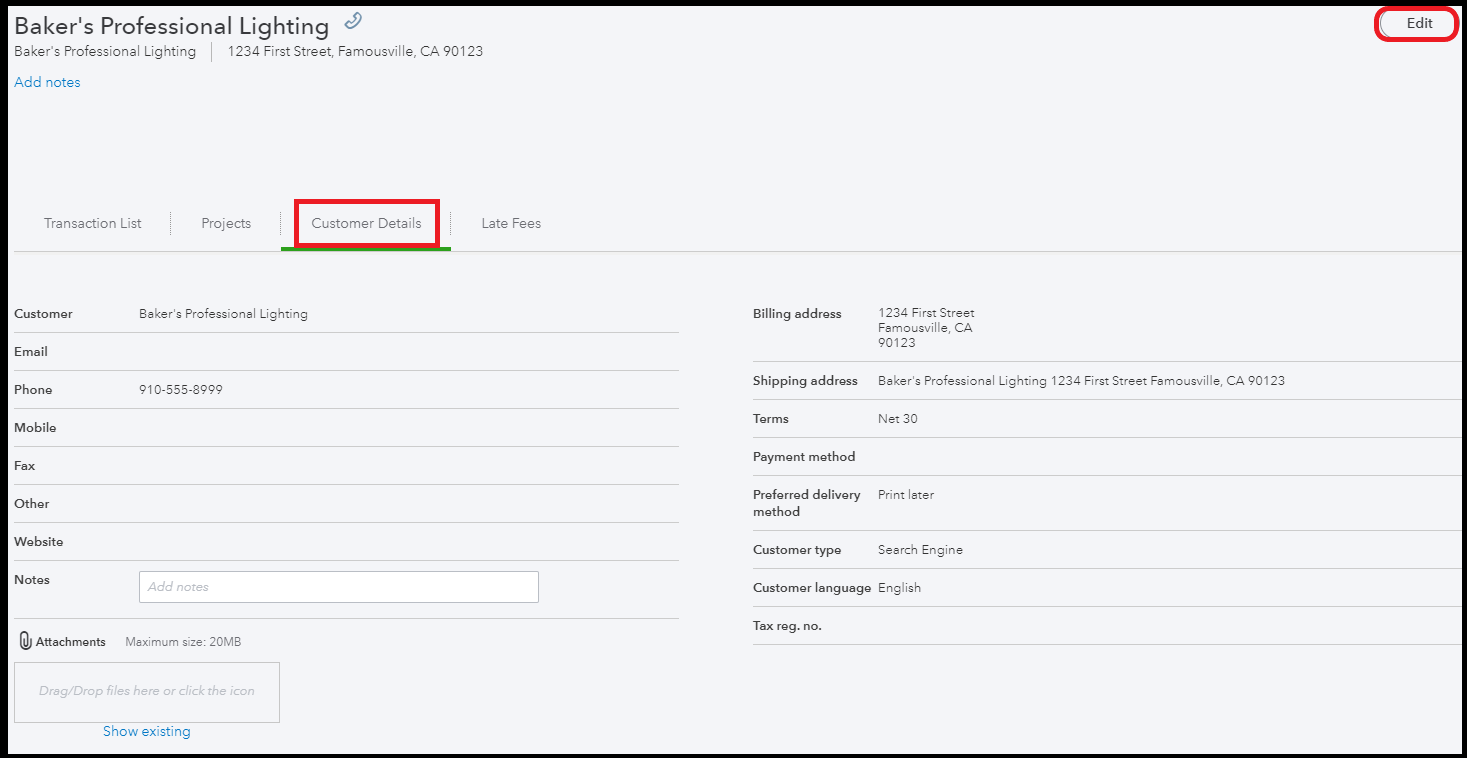 When to Add Customers in QuickBooks Using an Excel or CSV File
If you have more than 10 customers to set up in QuickBooks, I recommend that you put the information in an Excel document and import the data into QuickBooks Online. This will allow you to create customer profiles much faster than adding them manually in the customer information screen.
Many bookkeeping systems allow you to export customer information to an Excel or CSV file. If you're converting to QuickBooks Online from another system, try to export the customer information so it can be imported into QuickBooks Online as shown next.
How to Add Customers in QuickBooks Using an Excel or CSV File
1. Prepare Your Spreadsheet
Each line in your Excel or CSV file should contain one customer. Likewise, each column should contain a piece of information you would like to import. Here are the customer information, or fields, that can be imported into QuickBooks Online for customers:
Name
Company
Customer type
Email address
Phone number
Mobile number
Fax number
Website
Street
City
State
Zip
Country
Opening balance
Date of opening balance
It is OK if some of the fields are left blank or columns are omitted. Additional columns are also OK, but they won't be imported into QuickBooks. The titles of your columns don't matter because you'll be able to assign each column to the appropriate field during the import.
? Hint: Only the first worksheet or tab within an Excel Workbook will be imported. Make sure your customer information is on the first worksheet of the Excel Workbook.

Here is an example of a worksheet with just some of the basic fields included:
2. Navigate to Import Screen
To import customers into QuickBooks Online from the Customer Center, click the drop-down arrow to the right of the New customer button and select Import customers as indicated below.
3. Select the Excel Document to Upload
Click the Browse button to locate your Excel file and then click Next in the bottom right corner to go to the next screen.
4. Map Your Data
Next, indicate which column in your spreadsheet should flow to which available QuickBooks Online field.
The left column provides all the available QuickBooks Online customer fields that may be imported. The right column provides the column in your spreadsheet that contains the information corresponding to the field in the first column. Click on the drop-down menu in each row to select the appropriate column in your spreadsheet. QuickBooks Online will populate these fields automatically based on your column headers, but you can change these assignments as necessary. Any field in the first column that is not in your spreadsheet should be assigned to "No Match."
Once you assign all your columns to QuickBooks Online customer fields, click Next in the bottom right corner of the screen.
5. Perform a Final Review of the Data Before Import
This is your final opportunity to review the customer data and how it will import into QuickBooks Online. The number of records being imported should agree with the rows in your spreadsheet―minus one for your header row. Also, make sure all the information appears in the correct field. If something is not right, click the Back button to go back and make any necessary changes to the mapping. Select Import from the bottom right corner of the screen once you are ready to proceed.
6. Import Is Complete
Once the import is complete, you will receive a message that the import was successful. You can now view the customers' information in the Customer Center.
How to Delete a Customer in QuickBooks Online
You cannot delete a customer once you have used them in a transaction because doing so would delete the transaction and create an error in your financial statements. However, you can inactivate a customer if you no longer plan to do business with them. Inactivated customers won't appear in the Customer Center, but they will still appear in all financial records where there has been a transaction.
To inactivate a customer from the Customer Center, select the customer, click on the drop-down arrow next to Create Invoice, and select Make Inactive, as indicated below:
Wrap Up
That wraps up the section on how to set up customers in QuickBooks Online. The next lesson in our QuickBooks Online Training Course is How to Set Up Vendors in QuickBooks Online. This lesson will cover how to add or import vendor information manually to your QuickBooks Online account.