How To Run a Statement of Cash Flows in QuickBooks Online
We'll go over how to run a cash flow report, also referred to as a statement of cash flows, in QuickBooks Online. You'll learn how to set up general options for your cash flow report and how to customize it using the different elements available in QuickBooks.
QuickBooks Online, our leading small business accounting software, has a learning curve. By going through our QuickBooks tutorials, including this one, you'll learn more about the platform. You can follow along in your own QuickBooks Online account; and if you don't have one, visit QuickBooks and get a 30-day free trial or 50% off for three months.
Step 1: Navigate To Statement of Cash Flows
---
Step 2: Adjust Basic Options for Your Report
Scroll toward the menu bar above the statement of cash flows and provide some general options to adjust your report.
Complete the following fields to adjust basic options for your report.
A. Report period: Choose the reporting period for which you want to run a Statement of Cash Flows. You can select a predefined period by clicking on the drop-down box or entering the beginning and ending dates for a custom period.
B. Display columns by: The default statement of cash flows in QuickBooks has one column that displays the total for the reporting period. However, you can add additional columns for interim periods, or columns to split the total into categories such as classes, locations, or vendors.
C. Show non-zero or active only: This setting gives you three options: Active, All, and Non-zero. Select Active if you want to hide empty rows or columns, All if you want to include all rows or columns in your report, and Non-zero if you want to exclude rows or columns with a total of zero.
D. Run report: Click this button to apply your changes.
E. Customize: Choose this option to customize your statement of cash flows even further (as we'll look at in the next section, Step 3).
F. Save Customization: You can save your customizations to a new report by hitting this button and naming your report.
---
Step 3: Customize Your Statement of Cash Flows Further
You can select additional options for your statement of cash flows by clicking the Customize button (item E in the prior section).
General
Set up general options, such as the report period and number format. You may choose to report all values in thousands of dollars and eliminate cents on your report. You may also choose how to format negative numbers.
Rows/Columns
Select which column, such as total only, days, weeks, or months, and which rows you want to appear in your report.
Filter
The filter options allow you to filter the report based on five different variables.
Tip:
If you track activity by class or location, then you can track your cash flow across these metrics and show it in your report. If Location or Class doesn't appear in your Filter options, you need to turn on Class and Location tracking, which we cover in Step 4 of our how to set up advanced settings tutorial. You can also filter your Statement of Cash Flows by a customer, vendor, or product or service.
Header/Footer
In the last set of options, you can choose which information to display in the Header and Footer of the statement of cash flows.
You can change the name of the company or the report that will appear in the header by adding text to the box next to the fields. If you uploaded a logo while setting up your company, you can choose to show your logo at the top of your statement of cash flows by ticking the box next to Logo.
When you're through customizing your statement of cash flows, hit the green Run Report button at the bottom of the Customize report screen.
---
Step 4: Print, Email, or Export Your Statement of Cash Flows
You can print, email, or export your statement of cash flows by clicking the icons in the top right corner of the report.
A. Email: Select the envelope to email a copy of your statement of cash flows.
B. Print: Hit the printer icon to print a copy of your statement of cash flows.
C. Export: Click the drop-down arrow next to the export icon to choose between exporting your statement of cash flows as a PDF or an Excel file.
Check out this sample statement of cash flows in QuickBooks Online: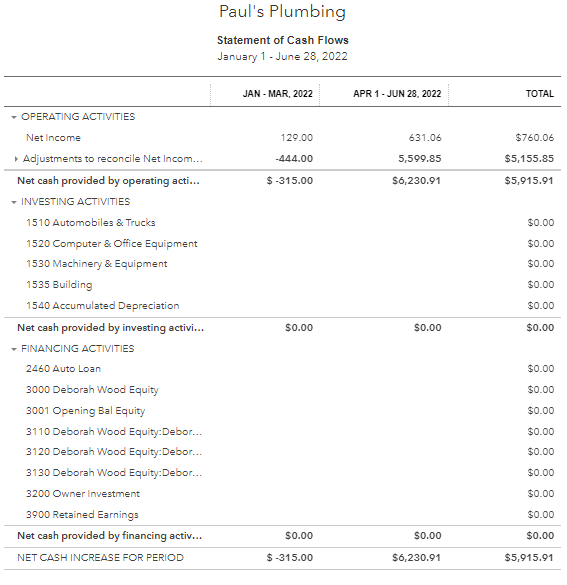 ---
Why the Statement of Cash Flows Is Important
A statement of cash flow is an essential financial report that shows the inflows and outflows of cash of your business. A cash flow report is one of the most useful financial statements as it helps you figure out how money is generated and spent, allowing you to make necessary adjustments to your financial strategies in the future. Also, you can use cash flow statements to identify if you still have enough money on hand to perform certain tasks or transactions, such as paying the bill or your employees.
Wrap Up
You've just learned how to create a cash flow statement in QuickBooks Online. Our next guide is on how to run an accounts receivable aging report.