9 Best Local SEO Tools to Boost Ranking & Sales
Using local search engine optimization (SEO) tools can boost your brand's online presence, generate leads, and ensure your business gets found by nearby customers. The best local SEO tools offer affordable plans for everything from website analytics and keywords to insights from social media monitoring, listings management, and generating customer reviews. We found the best tools for local SEO in terms of value for money and based on use cases.
Based on our research, here are the best local SEO tools for small businesses:
Best Local SEO Tools at a Glance
Local SEO Tool

Starting Price per Month for Paid Plans

Free Plan

Free Trial

Key Features

$24.17*

✕

14 days

See where your business is being seen in neighborhood, city, and regional online searches
See which keywords are (and aren't) helping you get found in local searches
Google, Bing, and Yahoo! rankings data in one place

$29

✔

7 days

Budget-friendly monthly or a one-time lifetime fee
Free-forever limited plan
Get keyword recommendations to improve your content rankings

$99.95*

✔

7 days

SEO content templates and writing assistant for analysis and improvements
Robust local SEO keyword and competitor research tools
See the local search ads competitors are running on Google, including results

Free

✔

N/A

Always free to use
High to detailed-level information about site visitors, SEO keywords, and the customer journey on your site
Connect Search Console for SEO content marketing data and insights

$10.75*

✕

✕

Constantly monitor and sync online listings for accuracy
Automatically detect and delete duplicate listings
Monitor, read, and respond to reviews from one place

$99

✕

14 days

Generate more online reviews, including Google reviews, to improve rankings
Monitor 50+ review sites in one place
Get feedback through Net Promoter Score (NPS), surveys, and more

Not listed**

✕

Demo only

Automate social media review response and posting
Share content to your social profiles
Automate reporting and streamline workflows

$0

✔

N/A

Free schema markup tool to more fully optimize your website's content
Sitemap generator to create an XML sitemap or submit your sitemap to Google and Bing
Local Search Results tool shows locale-based search results by keyword

$24

✕

✔

Easily create contact lists for link building campaigns
Email segmented lists with personalized messages using premade templates
Manage campaigns—see who read your email, who said, yes, and who to follow up with
*With annual billing
**The most recent published pricing was $30 per location
New to local SEO? Start by getting all the information you need on local SEO.
1. BrightLocal: Best Local SEO Tools for Search Results Auditing
What We Like
Intuitive, robust dashboard
See rankings from all search engines (Google, Bing, and Yahoo!) in one place
Affordable citation building by BrightLocal staff
Monitor and respond to reviews
What's Missing
Involves a learning curve
Citation tracking may require verification
Why It's a Top Local Small Business SEO Tool
Affordable local SEO tools for small businesses including site audit, citation building, and review monitoring
Pricing Overview
From $29 to $79 month-to-month ($24.17 to $65.83 billed annually)
$8 per month reviews-only plan
BrightLocal is well-known for its data, reports, statistics, and insights on small business SEO. It's also one of the most useful local SEO tools for local businesses. It even made our list of the top SEO services for local businesses.
BrightLocal's tools tackle SEO from multiple angles. Start with a local search audit of your site to see where you need to put in the work (on-page or off-page SEO, local search, social media, and so on). Track your business' rankings in three top search engines, mobile, and maps, manage directory listings, and monitor your company's reviews across the web.
Notable is its local search grid reporting. This shows you where your business listings rank in local results at various levels, including people searching very near to your business, those searching citywide, countywide, and so on. In addition, you can see which keywords are performing well (or not) to better optimize your website's content for local search.
BrightLocal Pricing & Plan Features
| Plan & Features | Just Reviews | Single Business | Multi Business | SEO Pro |
| --- | --- | --- | --- | --- |
| Cost per Month | $8 | $24.17* | $40.83* | $65.83 |
| Generate, Monitor & Showcase Reviews | ✔ | ✔ | ✔ | ✔ |
| Local SEO Audit Reports | ✕ | 1 | 6 | 20 |
| Local Search Ranking Reports | ✕ | 3 | 6 | 100 |
| Local Search Grid Credits | ✕ | 250 | 1,000 | 2,000 |
| Citation Tracker Reports | ✕ | 3 | 6 | 50 |
| Google Analytics, Profile, Facebook & Twitter Integrations | ✕ | ✔ | ✔ | ✔ |
| White-labeled Reports & Emails & API Access | ✔ | ✕ | ✔ | ✔ |
| Google Mobile Rank Tracking | ✕ | ✕ | ✕ | ✔ |
| Competitor Tracking | ✕ | ✕ | ✕ | ✔ |
*Billed annually, or pay monthly at a higher cost
While there is no free plan, BrightLocal offers a 14-day free trial so you can try out its features and see if you like the interface. If all you want is reviews management, there's a reviews-only plan that's $8 per location, per month. For the full suite of tools, BrightLocal costs $24.17 to $65.83 per month when paid annually, which is very affordable for most small businesses.
2. Ubersuggest: Best Free Keyword Research Tool for Local SEO
What We Like
Easy to use
Accurate local keyword data
Free plan available
Keyword lists help with organization
What's Missing
Limited access, especially with the free plan
No local SEO-specific tools
Chrome extension is slow
No mobile version or mobile-specific rank tracking
Why It's a Top Local Small Business SEO Tool
Ideal for small business users who don't have much SEO expertise—easy to use and understand
Pricing Overview
Free-forever plan (limited)
Premium plans from $29 to $99 per month, or pay a one-time lifetime use fee for any plan ($290 to $990)
Ubersuggest is popular free local SEO software. It offers some of the tools found in more robust competitors like SEMRush and Moz at more affordable pricing, including a free keyword research tool. In addition, you can see how competitors perform and get content ideas and backlink data. This helps you focus on the best keywords with the most opportunity and monitor your site's performance, giving you insights on how to improve.
Another perk of Ubersuggest is the free Chrome extension. It enables you to see insights about any website you visit including traffic, keywords the site ranks best for, SEO analysis, and backlinks.
However, the tool is slow, especially compared to SEMRush's extension, SEO Quake, and the number of searches per day is limited, regardless of plan. It also doesn't provide page-level analysis like you get with SEO Quake, limiting its helpfulness in examining, for example, specific competitor's pages to get local SEO insights.
Ubersuggest Pricing & Plan Features
| Plan and Features | Free | Individual | Business | Enterprise / Agency |
| --- | --- | --- | --- | --- |
| Cost per Month | $0 | $29 | $49 | $99 |
| Lifetime Access | N/A | $290 | $490 | $990 |
| Number of Websites | 1 | 1-3 | 4-7 | 8-15 |
| SEO Training & Templates | ✔ | ✔ | ✔ | ✔ |
| Bi-weekly Coaching Call & Email Support | ✕ | ✔ | ✔ | ✔ |
| Chrome Extension Search Limits | 40 | 100 | 300 | 900 |
| Reports per Day | ✕ | 100 | 300 | 900 |
| Number of Projects | ✕ | 3 | 7 | 15 |
| Tracked Keywords | 25 | 100 per project | 150 per project | 200 per project |
| Tracked Locations | ✕ | 20 | Unlimited | Unlimited |
| Tracked Competitors | ✕ | 5 | 10 | 15 |
Ubersuggest's free forever plan gives you limited access to the Ubersuggest platform. For example, you can only perform three searches per day, and that includes searching for keywords or discovering SEO issues that might be impacting your website. Still, it's a great way to test out how you like the SEO tool.
For more access, premium plans start at just $29 a month and don't require a long-term commitment. If you really like the platform and plan to use it for a long time, you can pay a lifetime fee based on your plan from $290 to $990 and skip monthly billing altogether, with the peace of mind of a 30-day money-back guarantee.
3. SEMRush: Most Comprehensive Local SEO Tools for Content Marketing
What We Like
Robust keyword research tools
Get a content template based on the keyword you want to rank for
Instantly see search engine results pages (SERPs) for your keywords
Competitor research, tracking, and monitoring, including organic content and Google Ads
Desktop and mobile breakdowns for keywords, traffic, and more
See what keywords any page on your site ranks for
Competitor content gap analysis to find the best ranking opportunities
Robust site auditing and monitoring
Vast library of free learning resources, including SEMRush Academy, to learn local SEO marketing or even become SEMRush-certified
What's Missing
Free plan is extremely limited
Learning curve and time investment due to the sheer number of features and tools
Plans are expensive and some features are locked behind higher tiers
No tools for local reviews monitoring or management
Why It's a Top Local Small Business SEO Tool
Content marketing tools for topic research, SEO content template, SEO writing assistant, and monitoring results over time
Constantly monitor your site for issues like broken links, spammy backlinks to disavow, and suggestions for improving local SEO
SEO Quake Chrome extension to instantly get site and page-level data for traffic, rankings, backlinks, and more
Advertising dashboard for pay-per-click (PPC) and display local search ads
Connect and post to social media from the dashboard, including your Google Business Profile
Listings management tools available as a low-cost add-on ($20 per month)
Pricing Overview
Free access (limited)
$119.95 to $449.95 per month ($99.95-$374.95 per month billed annually)
SEMRush has long offered some of the most comprehensive local SEO tools for content marketing, competitor research, and site auditing. In recent years it has further enriched these features with new tools, such as a content marketing template and SEO writing assistant (for Guru and Business subscribers), listings management, and broader social media integration.
When it comes to local SEO, there's almost nothing that SEMRush doesn't offer. However, some features require higher tier subscriptions, which may put some tools out of reach for startups and solopreneurs on a limited budget. For instance, while all users can see what keywords a page ranks for, to view historical data of position changes requires a Guru or Business subscription.
SEMRush is a must-have for digital marketing agencies. Its tools can even be leveraged to create products and services, such as competitor analysis reports, which can more than make up for the cost of SEMRush. For example, when researching competitors' websites, you can use gap analysis reports to see how each site compares for various keywords and identify content that needs to be improved as well as keywords you have the best opportunity to rank for.
The new SEMRush Writing Assistant (Guru plan and above) is especially helpful for small businesses using content to drive and convert organic website traffic. You can analyze a URL on your website or cut and paste the text of an article or page you are writing, input your intended keyword, and quickly find out whether the content is local-search optimized or get suggestions for ways to improve it.
SEMRush Pricing & Plan Features
| Plan and Features | Free | Pro | Guru | Business |
| --- | --- | --- | --- | --- |
| Cost per Month (1 user)* | $0 | $99.95 | $191.95 | $374.95 |
| Additional Users per Month | $0 | $45 | $80 | $100 |
| Projects | 0 | 5 | 15 | 40 |
| Scheduled Reports per Month | 0 | 5 | 20 | 50 |
| Social Profiles Monitoring | 0 | 50 | 100 | 300 |
| Domain & Keywords Analytics | Limited | ✔ | ✔ | ✔ |
| Site & Page-level Data With SEO Quake Chrome Plugin | ✔ | ✔ | ✔ | ✔ |
| Google Ads history & Performance (Your Own & Competitors) | ✕ | ✔ | ✔ | ✔ |
| Content Marketing Platform | ✕ | ✕ | ✔ | ✔ |
| Historical Data | ✕ | ✕ | ✔ | ✔ |
| Google Data Studio Integration | ✕ | | ✔ | ✔ |
| Share of Voice Metric | ✕ | ✕ | ✕ | ✔ |
*Billed annually, or pay monthly at a higher cost
For the most extensive local SEO marketing tools, SEMRush is the powerhouse. While not as cheap as Ubersuggest, its features are far more robust. The return on investment can be significant for those wanting to attract leads through local search-optimized content and Google Ads. It's also a great tool for agencies as various capabilities can be used to create agency offerings and complete management of clients' digital marketing and advertising campaigns.
4. Google Analytics: Best for Free Site Data Analysis
What We Like
Free to use
Lots of free training guides to learn how to set up and use it
See traffic sources (organic search, email, social media, ads)
Easily track Google Ad campaigns
Connect Search Console to see where your site is shown in SERPs and which keywords generate site traffic and conversions
See site visitor demographics like location, device type, browser, age, and more
See the site visitor's journey (pages landed on, exited, and so on)
Compare data by date ranges to see progress over time
What's Missing
Shows mostly big picture metrics (hard to drill down to each step of a customer journey)
Not easy to use without some training and time
No local SEO-specific tools
No easy way to set up recurring reports; tracking over time requires manual input
Why It's a Top Local Small Business SEO Tool
It's a free tool that can help improve your website and local SEO
Gain insight into your site's traffic, campaign performance, and site visitors
Google Analytics (GA) is a free data analysis tool that lets you see how successful your small business website is so you can make informed local search optimization decisions. For example, you can see how long visitors stay on web pages and what the bounce rate is (pages viewed and exited without taking additional actions).
It also provides user demographics and insights like device types and location. GA helps you understand your site visitors' behavior when on your website, including the traffic sources that brought them, such as organic search, which search engines, email campaigns, social media, and more.
Many website builders make it easy for you to add your Google Analytics ID and start measuring and analyzing your local SEO efforts. If you have a WordPress website, the SEMRush blog has several articles showing step-by-step how to connect your site to Google Analytics and Search Console, and how to use it, including content for beginners.
Many local SEO tools integrate with GA, including BrightLocal and Ubersuggest, as well as other apps like MonsterInsights, all-in-one website builders like Squarespace, and social media platforms like Facebook. This allows you to use the data from Google Analytics with the other platforms and tools you use. What's more, Google Analytics is available to you absolutely free.
5. Moz Local: Best for Local Business Listings Management
What We Like
Automates listing distribution and syncing
Automatically detects and deletes duplicate listings
Integrates with Facebook and Google
Alerts you to new customer reviews and those that need attention
Post to social media from the dashboard with a Preferred or Elite subscription
What's Missing
Automated submission to additional local directories only comes in the most expensive tier
Can't respond to reviews from the dashboard in the base tier
No free trial
Why It's a Top Local Small Business SEO Tool
The biggest benefit of Moz Local is that it automates listing and citation distribution, so you don't have to monitor them constantly
Pricing Overview
Ranges from $14 to $33 per location, per month
U.S. users can expand location data distribution for $4 more per month with all but Lite plan
Moz Local is the best local SEO tool for small businesses that need to monitor and track listings and citations on multiple directories. The best part is that Moz Local automates the process, so you don't have to babysit your listings. You can read and respond to reviews from your Moz dashboard, but you don't have to monitor it constantly—get alerts for the big sites to save you time.
Moz Local Pricing & Plan Features
| Plan and Features | Lite | Preferred | Elite |
| --- | --- | --- | --- |
| Cost per Location, per Month | $14 | $20 | $33 |
| Listing Management From a Single Dashboard | ✔ | ✔ | ✔ |
| Submit Listings to Major Search Engines, Directories, Social Media Sites & Apps | ✔ | ✔ | ✔ |
| Automated Listing Distribution & Syncing | ✔ | ✔ | ✔ |
| Automatically Delete Duplicate Listings | ✔ | ✔ | ✔ |
| Integrate With Google & Facebook | ✔ | ✔ | ✔ |
| Review Monitoring | ✔ | ✔ | ✔ |
| Respond to Reviews & Monitor Sentiment | ✕ | ✔ | ✔ |
| Post to Social Channels | | ✔ | ✔ |
| Additional Local Directory Submissions | ✕ | ✕ | ✔ |
Unfortunately, there is no free trial for Moz Local, and the cost could be steep if your business has multiple locations, ranging from $168 to $396 per location, per year. However, Moz's reputation in the world of SEO is exceptional, and this software is highly recommended by local businesses.
6. GatherUp: Best for Collecting Reviews
What We Like
Automate review generation and monitoring
Easy to use
14-day free trial
Responsive customer support
What's Missing
Can't pause a campaign
Customization is limited
Limited integrations
Why It's a Top Local Small Business SEO Tool
Generates reviews from your customers and monitors reviews online so you can focus on running your business.
Pricing Overview
$99 per location, per month (1 to 4 locations)
$60 per location, per month (5 to 10 locations)
$45 per location, per month (11+ locations)
There are many ways to get more reviews in Google, but if you want to save time, use GatherUp to customize and automate the feedback process. GatherUp helps you climb to the top of local search results by nudging customers to leave you a review.
In addition to sending automatic reminders to customers to leave you a review, it also helps you display reviews on your site and social media. In addition to using reviews management software, check out additional ways to get more reviews on Google.
GatherUp Pricing & Plan Features
| Plan and Features | 1 Location | 5 Locations | 11+ Locations |
| --- | --- | --- | --- |
| Cost per Location, per Month | $99 | $60 | $45 |
| 3,000 Email Feedback Requests per Month | ✔ | ✔ | ✔ |
| 300 Text Feedback Requests per Month | ✔ | ✔ | ✔ |
| Review & Google Q&A Monitoring | ✔ | ✔ | ✔ |
| Review Widget | ✔ | ✔ | ✔ |
| Conversion Pop-ups | ✔ | ✔ | ✔ |
| Social Sharing | ✔ | ✔ | ✔ |
| Auto-tagging | ✔ | ✔ | ✔ |
| Third-party Integrations Through APIs, Zapier & Webhooks | ✔ | ✔ | ✔ |
It's worth noting that whether you have one location or 20, you get all the features available in GatherUp. These include things like Google Q&A (questions and answers) monitoring, conversion pop-ups, survey questions, and additional integration capabilities through application developer interfaces (APIs) as well as Zapier and Webhooks.
GatherUp offers a 14-day trial and the more locations you have, the more you save. A single location plan costs $99 per month. For five to 10 locations, your cost per location each month is $60. And for businesses with more than 11 locations, it's $45 per location, per month.
7. Synup: Best for Social Media Monitoring & Management
What We Like
Social media mention monitoring
Set up automatic responses for poor customer experiences
Engage with customers personally using premade templates and automations
Monitor, generate, and respond to reviews
Simple, intuitive local SEO software
What's Missing
Limited directory integrations
Pricing and plans are not listed, making it hard to know exactly what you get as a customer
Why It's a Top Local Small Business SEO Tool
Synup is a reliable tool for monitoring social media mentions on one dashboard and posting branded content to all your social media channels
All-in-one solution for listings and reviews management
Pricing Overview
Pricing and plans are not listed, but our research suggests it costs around $30 per location, per month
Synup is packed with features that make it a well-rounded local SEO tool, including reviews and listings management as well as social monitoring and posting. With Synup, you can monitor social media mentions across networks from a single dashboard, saving you time and ensuring you never miss a mention. Plus, you can schedule social media posts to Facebook and your Google Business Profile to streamline your workflows.
There is no free trial for Synup; instead, to get started, visit Synup.com, request a demo, and a sales agent will reach out to you to follow up. Pricing and plan options are unpublished and while the cost may vary, research suggests it will typically cost about $30 per location, per month with a 12-month contract.
8. Merkle: Best Free Technical SEO Tools for Local Businesses
What We Like
Generate structured data to fully optimize your content with Schema Markup at no cost and with no coding knowledge required beyond basic HTML
Generate an XML sitemap to submit to search engines and submit your sitemap to Google and Bing for indexing
Local SERP Simulator shows how your listing will look in search results
Local Search Results tool shows keyword based search results based on location
Easy to use
What's Missing
Schema markup generator may produce errors or require removal of blank fields when adding the code to your site
Why It's a Top Local Small Business SEO Tool
Schema markup generator makes it easy to add structured data without needing to learn schema to better optimize for local SEO
Free XML sitemap generator and option to submit XML sitemaps to Google and Bing for indexing
Location-based SERPs tool
Mobile-first indexing tool and test
Pricing Overview
While Merkle's services are not free, these technical SEO tools are free to use
Schema markup helps search engines better understand each of your site's pages, so you rank more easily and relevantly. And because it sounds technical (and it is), small businesses often overlook it or lack the resources to add it. Those businesses that employ local business schema markup are the ones that reap the rewards and rank higher in local search results.
Luckily, with technical SEO tools from Merkle, you can easily take advantage of schema markup and create structured data. In addition, you can generate an XML sitemap or submit your sitemap to Google and Bing for indexing. Submitting a sitemap ensures that search engines find all of your content, as crawlers are essentially requested to crawl each of the pages in your sitemap.
There are also location-based technical tools for SEO here, including a SERP simulator that shows you what your title, page URL, and description looks like when viewed in search results. This enables you to easily assess your Google listing and make improvements to increase conversions of people choosing to click through to your site instead of other options.
There is also a Local Search Results tool that displays SERPs for keywords based on location. In other words, you enter a keyword like "florists near me" and designate a location by ZIP code or city, and the tool shows you the results someone in that location would see. You can also test your site's pages desktop and mobile versions to ensure they are mobile-friendly with Merkle's Mobile-First Index tool.
---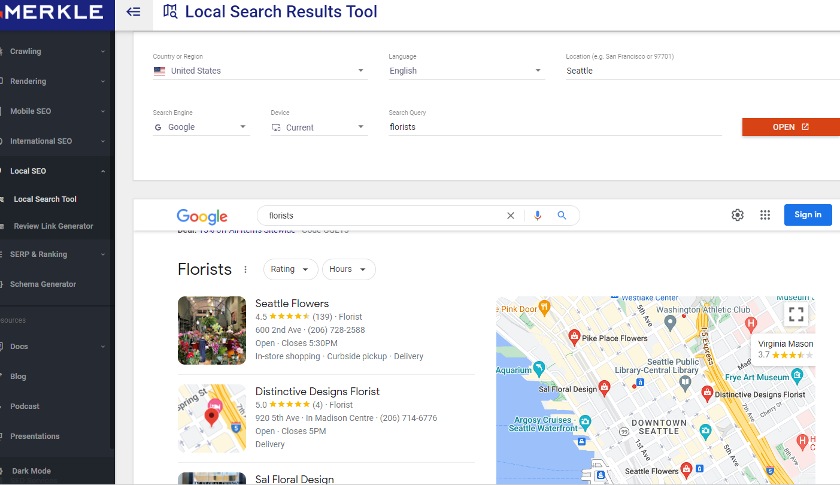 ---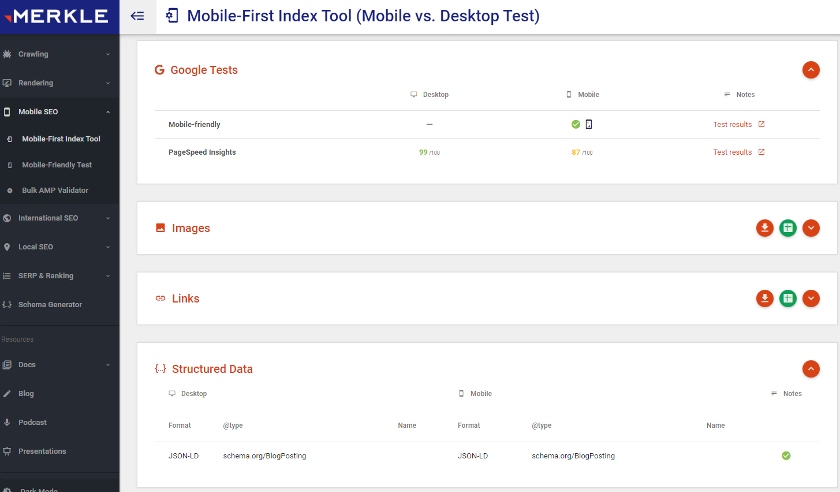 ---
Merkle's free technical SEO tools lets you choose the type of markup you need using dropdown lists. It automatically generates the code you need to add to each page. In addition, you can simulate your business' listings in location SERPs, see who ranks in location-based search results for your keywords, make sure your site is local mobile-friendly, and more.
9. BuzzStream: Best for Link Building & Outreach
What We Like
Very beginner-friendly
Create link prospecting lists
Send outreach emails
Track conversations on Twitter and email
What's Missing
Email finder doesn't always return good results
Not many integrations
Startups and small businesses with few users have to upgrade to higher tiers for some options
Why It's a Top Local Small Business SEO Tool
BuzzStream includes specific features to help you build links through public relations link-building outreach efforts
Pricing Overview
Ranges from $24 per month for 1 user to as high as $999 per month for 15+ users
Backlinks, which are links to your site's content, are an important Google ranking factor in Google search. BuzzStream makes outreach for link building easier than using manual email or even email marketing tools. Prospect link opportunities for your small business website that will improve its local SEO. You can use BuzzStream to generate links, monitor links, track Twitter and email conversations, and build prospect lists for outreach.
BuzzStream Pricing & Plan Features
| Plan and Features | Starter | Growth | Professional | Custom |
| --- | --- | --- | --- | --- |
| Cost per Month* | $24 | $124 | $299 | $999 |
| Number of Users | 1 | 3 | 6 | 15+ |
| Number of Contacts | 1,000 | 25,000 | 100,000 | 300,000+ |
| Number of Links Monitored | 1,000 | 25,000 | 100,000 | Custom |
| Prospecting Searches | 30 | 250 | 1,000 | Custom |
| Contact Info Discovery | ✔ | ✔ | ✔ | ✔ |
| Email Templates, Scheduling, Reports & Tracking | ✔ | ✔ | ✔ | ✔ |
| Twitter Conversation Tracking | ✔ | ✔ | ✔ | ✔ |
| Link Reporting | ✕ | ✔ | ✔ | ✔ |
| Team Performance Reports | ✕ | ✕ | ✔ | ✔ |
| API Integrations | | ✕ | ✔ | ✔ |
| Implementation Plan & New User Onboarding | ✕ | ✕ | ✕ | ✔ |
*Billed monthly, or pay annually to receive one month free
You can try BuzzStream risk and obligation-free for 14 days. Pricing ranges from $24 to $999 per month; however, the Growth plan is listed as most popular. It includes everything in the Starter plan as well as bulk email sends for link building, team template sharing, project performance, and link reports. Pay as you go or pay annually to get one month free.
Frequently Asked Questions (FAQs)
How do you do local SEO?
There are a number of ways to improve local SEO, starting by optimizing your website content with relevant keywords that refer to a location. Next, create a keyword-optimized Google Business Profile and list your business on other online directories. Implement strategies to get more reviews from satisfied customers and make sure you always respond to reviews, whether positive or negative.
Going forward, continue to optimize your website, add and update directory listings and social media profiles, and keep working to earn backlinks. If all this sounds overwhelming, you are not alone. The good news is that you can outsource local SEO affordably to a top small business SEO agency like Hibu instead.
What's the difference between SEO & local SEO?
SEO and local SEO are the same in that both refer to search engine optimization. However, local SEO is a subset of SEO geared toward businesses that serve customers within a specific geographic area. For example, a dog food company ships nationwide, so it would be focused on general SEO, whereas a local dog groomer with a set service area would want to use local SEO tactics. Learn more about SEO and search engine marketing.
What's the fastest way to rank in Google?
SEO content marketing is the best long-term strategy to rank highly in search and the only way to generate organic search traffic. However, many businesses use Google Ads in the early days of a new website or product launch as a short-term strategy to increase awareness and drive web traffic.
Ads can be highly targeted based on keywords and locations, and are on a pay-per-click basis, making it affordable since you can cap your costs. Learn more about how to advertise on Google or explore the specific benefits of local service ads as part of your overall local SEO ranking strategy.
Bottom Line
The best local SEO tools help you start seeing results more quickly while also making your search optimization efforts easier and less time-consuming. Follow your progress by tracking links, social media mentions, reviews, and your search engine rankings. If you'd rather leave the efforts to an SEO specialist, consider leaving your local SEO to the pros at Hibu, which offers high-quality yet very affordable plans.
You Might Also Like…