How to Sell on Pinterest in 5 Easy Steps in 2023
Learning how to sell on Pinterest is easy—and it's free. You'll simply create a business account, claim your website, connect your online store or upload a catalog, enable Rich Pins (bookmarks of saved content that sync with your website), and then promote your Pins.
Before you can sell on Pinterest, you'll need an online store. Shopify (our recommended ecommerce platform) has a built-in integration with Pinterest. A Shopify store typically costs $250 to $500 in startup fees and around $50 to $100 in monthly expenses, not including transaction fees. Start a three-day free trial with Shopify and pay only $1 a month for three months.
Follow our steps below to connect your online store and start to sell on Pinterest.
Step 1: Create a Pinterest Account
The first step in selling on Pinterest is to create an account. You can create an account by going to the Pinterest website or downloading the app from the App Store or Google Play. If you already have a Pinterest account, skip this part and move on to "Convert to a Business Pinterest Account."
Simply enter your email address, decide on a password, and type in your age to sign up, or connect with your Facebook or Google Account.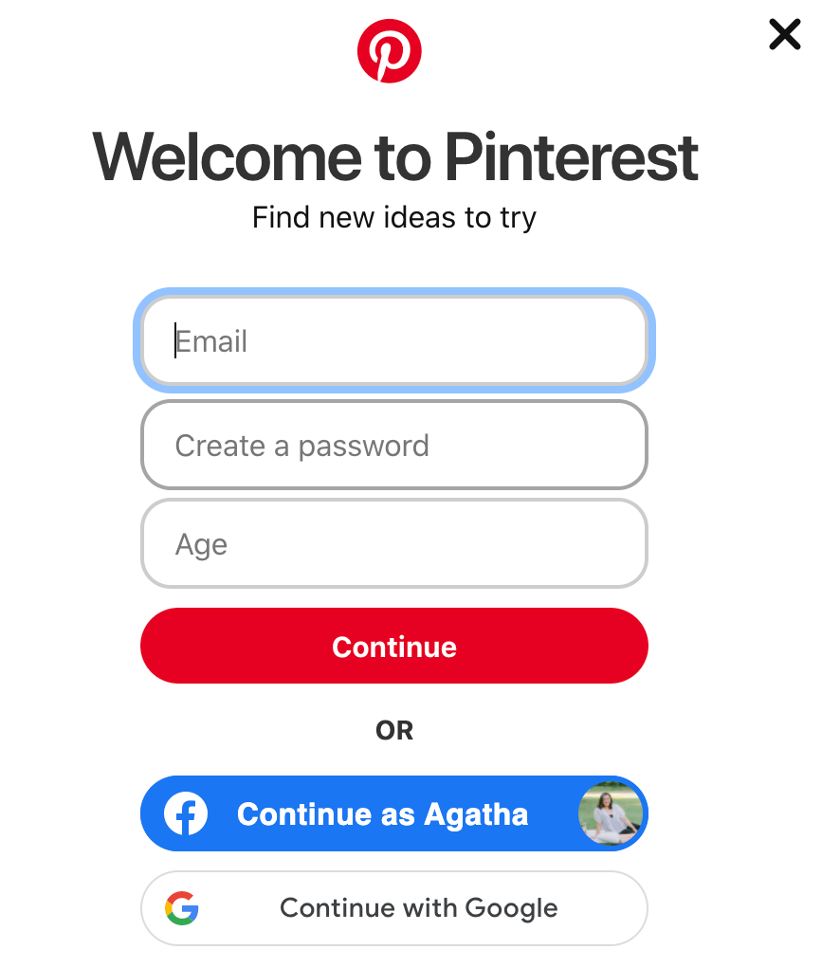 Did You Know?
A seller's dream market, Pinners (as Pinterest users are called) are ready to buy. In fact, 80% of weekly Pinners have discovered a new brand or product from the platform. Leverage Pinterest to drive traffic to your website, grow brand awareness, and increase sales.
Convert to a Business Pinterest Account
Once you are in the dashboard, convert your account into a business account, which grants access to the Pinterest Business Hub with all the features you need to sell on Pinterest—analytics, top Pins, ads, and online store integration.
Upgrading to a business account is free. To do this, from your dashboard:
Select your profile icon, then click Edit Profile.
Click on Account Management, scroll to Convert to a business account, and click Convert account. On the next page, click on Upgrade.
Build your profile by specifying your business name, website, country, and language. Click Next.
Specify your business type, brand focus, and top three Pinterest goals. You can change this anytime under Settings. Click Next.
Describe your business. Click Next.
Pinterest has several ecommerce platform partners—Shopify, WooCommerce, Squarespace, Wix, Prestashop, Etsy, and more. If you already have an online store from any partner platform, Pinterest will have custom instructions for each. If you have an ecommerce platform not listed, select Something Else. Click Next.
You will then be asked if you are interested in running Pinterest ads. You can skip this step and go to the next. However, it is best to create an advertiser account if you plan on promoting your products through sponsored Pins.
Step 2: Claim Your Website
Once you have converted to a business account, you must claim your website. Claiming your website grants you access to analytics for the Pins you publish and the Pins other people create from your website. It also lets people know where they can find your content, as your profile picture, a Follow button, and your website URL will show up next to any Pins that come from your website.
Tip: Perform this step on your desktop computer or laptop. You can only claim your website by adding code to your website for verification—and this needs to be done from a computer.
Go to your profile icon, click on the drop-down menu, and select Settings to claim your website. Click on Claimed Accounts, and hit the Claim button beside the Websites heading.
You can select how you would like to claim your website—by adding an HTML tag, uploading an HTML file, or adding a DNS TXT record. Pinterest gives detailed instructions for different website providers.
Once you have successfully claimed your website, the next step is to connect your online store.
Step 3: Connect Your Online Store
Connecting your online store to your Pinterest business account allows you to pull the product information you need to start tagging Pins from your store.
As mentioned earlier, Pinterest has partner platforms that allow for smooth integration. However, instructions for each platform differ. Click on the links below to learn specific instructions based on your ecommerce platform. If your platform isn't listed, we recommend contacting your provider for detailed information.
Read our top picks for best ecommerce platforms if you still need to build your online store. However, if you are keen to go with any of Pinterest's partners listed above, read our following comparison guides to help you determine which is a better fit for your business:
Upload Products through Catalogs
You also have the option to upload all your products at once and even upload multiple feeds to the same account through Catalogs. Catalogs is a data feed ingestion tool you can use in Pinterest where you can upload your feed directly in Ads Manager or work with any of Pinterest's ecommerce platform partners.
To use Catalogs, you need to finish steps 1 and 2 (have a business account and claimed website), have a website that meets merchant guidelines, a data source or file of your product lists (product feed), and a way to consistently host and store the data source.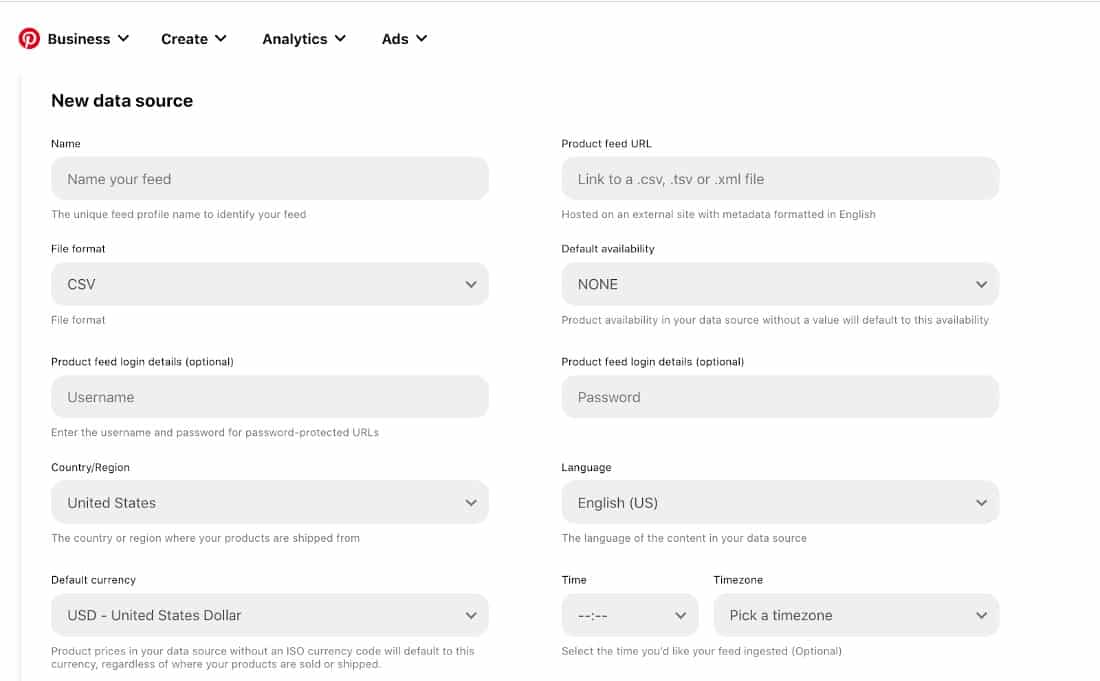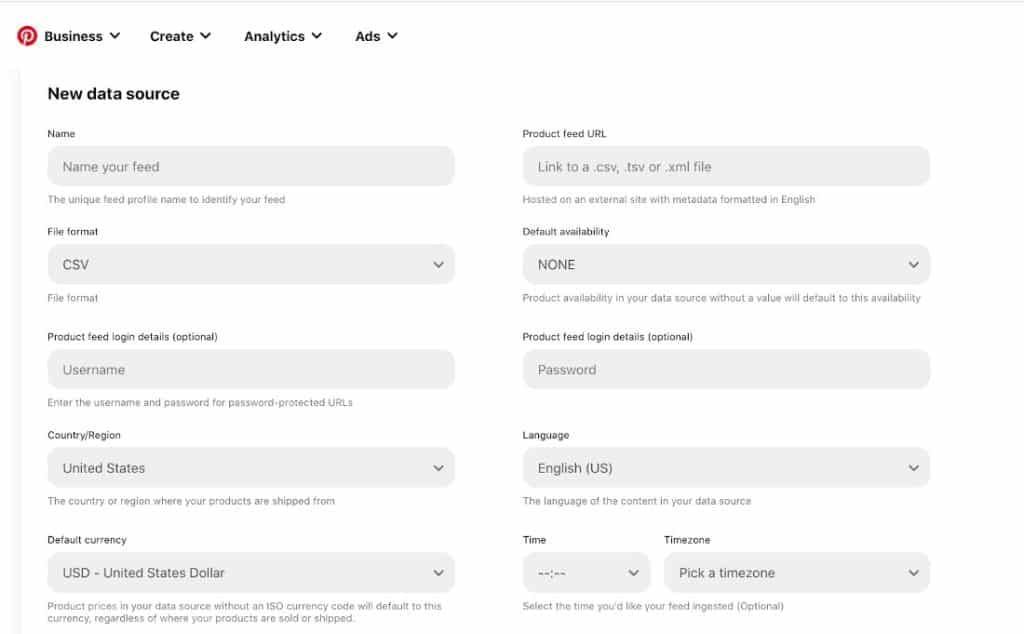 You can upload your data source directly to your Pinterest business account.
Once you upload your products successfully in Catalogs, you will get a Shop tab on your profile, making it easier for shoppers to find your products.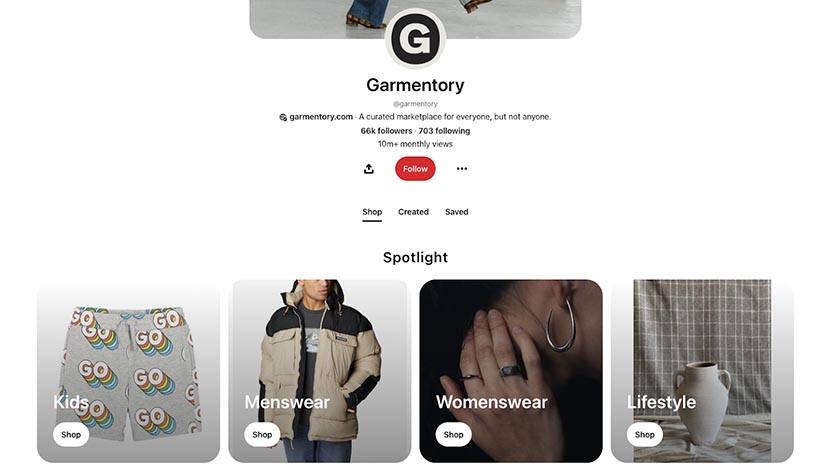 Garmentory is an example of an online store that has leveraged Pinterest's Shop tab. It lists all its active products on Pinterest, and shoppers can click on any image they are interested in to get to the product page in its online store.
Install the Pinterest Tag
Once your products start showing up on the Shop tab of your Pinterest page, the next step is to install the Pinterest tag, a piece of code you add to your website to help Pinterest track ads performance.
You can install the Pinterest tag by using a partner platform, sending email instructions to your developer who can install it for you, or doing it yourself.
If you don't have any plans to use paid promotion in Pinterest, installing a Pinterest tag is still a requirement if you wish to join the Verified Merchant Program, which we discuss below.
Build Your Brand through the Verified Merchant Program (VMP)
Joining the Verified Merchant Program (VMP) is an optional step. This lets you have the "verified" check mark on your profile and exclusive access to features such as merchant details to showcase your brand values and enhanced pin distribution, where your pins show up first organically on search results.
To apply for the VMP, your account must meet the following requirements:
Pinterest account must be at least three months old
Business website must be created more than a year from application (13 months)
Pinterest profile must have a profile picture and a completed "About" section
Tip: Use Pinterest's available integrations with ecommerce platforms to make things easier for you. Once you connect your online store to Pinterest, it will automatically upload products to Pinterest Catalogs and install a Pinterest Tag. For example, the Pinterest Shopify app automatically syncs your product catalog on a daily basis.
Step 4: Optimize Your Pins
Now that you have done most of the technical stuff, it's time to have fun and delve into what Pinterest is all about—creating and curating visual content.
Create Pinterest Boards Based on Your Products
While visuals play a huge role in Pinterest marketing, many factors play into driving sales using the platform. To make Pins more discoverable, you need to organize your themed collections of Pins (Pinterest Boards) strategically. Think hard about what categories you want your Pinterest Board to have because this is what your Pin creation and marketing will be based on.
Group your products based on themes, which will significantly depend on the type of product you sell. For example, if you are a store selling athleisure clothing, think of themes where you can showcase your products well—like specific sports per clothing type or even tips on creating an outfit or "whole look," complete with accessories.
Enable Rich Pins
Rich Pins help automatically sync information from your site to your Pins and are free to use. However, you need to apply before you can use the feature.
To apply for Rich Pins, you need to add metadata (a code depending on what type of Pin you want to activate—product, recipe, or article) to your website. Once inserted, you need to validate it using the Rich Pins Validator inside your Pinterest business account. If the metadata is correctly inserted, you will see an approval message within 24 hours.
Once approved, all site content with the proper meta tags will appear as Rich Pins whenever you create a new Pin. And existing Pins that link to pages with proper meta tags will also reflect as Rich Pins.
Create Engaging Pins
Aside from adding a Shop tab in your Pinterest feed, the key to getting your products front and center in shoppers' feeds is to create engaging Rich Pins. To create engaging Pins, follow the guidelines below:
Vertical images are recommended since they will stand out more in shoppers' feeds (2:3 aspect ratio). Pinterest has specific product spec recommendations.
Make your brand the focal point of your images—through consistent color, photos, and font choices.
Include your logo subtly in all your Pins. Avoid putting it on the lower-right corner of your Pins, though, as this gets covered up by Pinterest product icons.
Copy on your Pin image should be concise and readable, especially for mobile.
Optimize your Pin titles and descriptions. Titles can have up to 100 characters, while descriptions can be 500 characters.
Ensure that your Pin includes an active link.
Optimize for Pinterest SEO
Treat Pinterest like a search engine. Pinterest posts have the most extended life span among social media posts—four months compared to Instagram's 48 hours (which is also a visual channel). It is where people go for inspiration, usually with a high intent to buy, so you want your Pins to appear for relevant keywords.
To apply SEO principles on Pinterest:
Research target keywords: You can simply use the Pinterest search bar and see what keywords come up when you search for your brand or competitors or explore Pinterest Trends.
Utilize alt-text on images: Alternative text explains what people see in your Pin. Learn how to set up alt-text on your Pins.
Have clear, easy-to-read descriptions: Incorporate your researched keywords into your descriptions.
Use high-quality images: As much as possible, try to use original images or stock photos that haven't been used as much. Apply our photography tips to level up your photos.
Step 5: Promote & Analyze Your Pins
After creating engaging Pins, the only thing left to do is track and evaluate their performance using Pinterest Analytics, recalibrate strategy based on results, and perform paid promotion if needed.
Promote Your Pins
While you can rely on organic traffic to promote your products and sell on Pinterest, you can also take advantage of the different types of ads Pinterest offers. Shoppers on Pinterest spend 40% more per month than people on other platforms, and studies show that brands see 3x the conversion when they add Shopping or Collection Ads to their Pinterest feed. It is worth looking into, especially if your target demographic is on Pinterest.
Some ads you can run on Pinterest are:
Standard Ads (most popular, similar to regular Pins but have top placements in search results)
Carousel Ads (consist of two to five ads that can link to different webpages)
Video Pins Ads (similar to Instagram Stories or Reels, ensure to optimize for silent viewing—include captions or text overlay)
Shopping Pins (details included are pricing, product availability, and reviews)
Dynamic retargeting (retarget based on what people were looking for on your site or by what is in their carts)
Track & Analyze Pin Performance
Pinterest provides a free (but very robust) analytics dashboard where you can view valuable data about your organic and paid content. Go to your Business account dashboard and click on Analytics on your top menu.
From there, you will be able to see an overview of your top Pin, top boards, impressions, engagements, and outbound clicks—all of which can be filtered by date so you can get a sense of your progress over time.
How to Sell on Pinterest Frequently Asked Questions (FAQ)
Selling on Pinterest is free. You just need to be on a business account to be able to connect your online store or upload your products' data source. However, running ad campaigns on Pinterest would cost money, depending on your budget.
---
According to Pinterest's audience report, there are 445 million people who use Pinterest every month to find ideas for their next purchase. In the US, 45% of households with income over $100,000 are on Pinterest—those who visit Pinterest weekly outspent non-Pinners by 2x every month and have an 85% larger basket size.
People on Pinterest are ready to buy, with 85% of Pinners saying they browse Pinterest when they start a new project. Making your products visible on the platform allows you to have a chance to be at the front and center of millions of online shoppers.
---
No, it doesn't. Pinterest generates revenue from its shopping campaigns. All sales generated from your shop are yours entirely.
---
Pinterest regularly rolls out a prediction report on what will be popular and trending products that sell every year or season. For 2023, it predicts that shorter hairstyles, futuristic outfits, romcom core fashion, and paper crafts, among other things, will boom.
On the other hand, jewelry, clothes, fitness-related items, and products for outdoor fun (e.g., camping, fishing) have always been popular.
---
Among the listed ecommerce platforms partners of Pinterest, we have experience using Squarespace, Square Online, BigCommerce, and Shopify—and each one of these platforms has built-in integrations that are easy to follow for small businesses.
Out of the four, Shopify provides the simplest and easiest integration by providing an app that you just need to install; the linking of your store and Pinterest account will be seamless.
---
Bottom Line
Selling on Pinterest is free and straightforward, especially if you have an online store with partner platforms like Shopify. While setting up your Shop tab on Pinterest is quick and easy, creating engaging Pins to promote your store is a different story. You need to have a solid branding and marketing strategy to build brand awareness, drive traffic to your store, and increase sales.
Since Pinterest is a visual platform, follow its guidelines on creating engaging Pins and tracking its performance regularly so you can improve your conversions and improve your bottom line.