How to Grow Your Ecommerce Business & Optimize for Sales
After you have built your online store, the real work of growing your ecommerce business begins. 2022 is projected to be the first trillion-dollar year for online sales, with ecommerce continuing to make up a large share of total retail sales—so now is the time to optimize your store to capture new shoppers.
To grow your ecommerce business, you'll need to bring traffic to your store, develop a customer retention strategy, build a community, and continuously test the market and your products.
Here's a detailed breakdown:
1. Bring Traffic to Your Store
Now that you have launched your online store, it's time to bring in some sales. The main way to do that is to bring more traffic to your store. When you have a brick-and-mortar store, you benefit from foot traffic and passersby; with an online store, you must help customers find you.
Make Your Store SEO-friendly
The key to generating traffic is search engine optimization (SEO)—working on search ranking improvement for terms (or keywords) that customers use to search for your kind of business. A widely reported statistic indicates that 93% of website traffic comes from a search engine, and HubSpot reports that 75% of people never go past the first page of search results.
One thing is clear—your store needs to show up on the first page of search results. Roughly 51% of shoppers use Google to research a purchase they plan to make online.
Here are some SEO tips for your store:
Use the Google Keyword Planner tool to guide you to your product's correct list of most relevant keywords.
Optimize your product's URL (example: https://www.yourstore.com/product-name) by making it short. Avoid using numbers like year or date.
Use your product photos' alt text to rank images in the image section of search engine results. Shopify has instructions for adding alt text to images.
It can be overwhelming to learn about SEO and keywords, especially if you are not tech-savvy. That's why it is easier to go with ecommerce platforms that make SEO setup easy. Ecommerce platforms such as Shopify and BigCommerce have built-in SEO tools that allow you to optimize individual product pages.
Your store is more likely to rank higher in search engine results by incorporating SEO keywords into your product titles and descriptions. This increased visibility leads to more site visits, improving the chances of more conversions.
If you're unsure how to find SEO-friendly keywords or incorporate them into your store, check out this helpful guide on how to rank higher on Google.
Leverage Social Media Marketing
You'll need to build brand awareness and excitement for your product to generate traffic to your store, and social media makes it easy for you. It's the fastest and most cost-effective way to get the word out since it's free. You also have the option to invest in paid advertising. Still, as long as you practice tried and tested social media marketing strategies, you will be able to generate buzz about your brand—and create traffic to your ecommerce website.
Here are some tips on how to market your store on social media:
Choose the right platform: Once you know your target market, identify which platform your target audience is most active on. For example, Instagram is a popular choice for brands with the millennial population as their target audience, whereas TikTok is great for reaching Gen Z.
Develop a marketing plan: You don't need just a social media account; you also need consistent, high-quality content. Without a marketing plan, you won't be able to take your online traffic to the next level. Use our social media marketing strategy template to help you get started.
Find out what your competition is doing and zoom in on high-performing content. You can then get ideas on how to position your brand and products in the social space.
Learn and improve: Use social media analytics to track the performance of your content placements. These will also help you strategize on paid ads and improve future promotions.
Do not discount the trends. Going where consumers are spending more time can help you reach more people, and, eventually, the right market. Knowing which social platform has the most traffic will also help you plan which type of content to produce. For example, the 2022 Sprout Social Index reports 38% of consumers plan on using TikTok, more than double the 17% who were planning on it in 2020. If you include TikTok in your strategy, you need to learn how to create videos.
Over time, your efforts in building your social media community will pay off because it can be a space for your customers to ask questions, discover new products, learn your brand messaging, and even advocate for your business. Engage with your audience well, and you will eventually see a healthy growth of your brand—not only in traffic.
Think About Paid Advertising
If you have the budget to invest in paid advertising, it can be worth it. First, orient yourself on the costs of advertising on Google, Facebook, and other social media platforms. Second, if you have already searched for your store's relevant keywords, you can use these keywords to redirect paid traffic to your online store too.
A PPC campaign, like Google Ads, can help you appear at the top of search results without having to rank for them. PPC advertising is the process of creating paid ads that display alongside top search results based on keywords. It can be a smart short-term strategy for building brand awareness. See Shopify's course on Google Ads for ecommerce for step-by-step instructions.
---
Unlike PPC advertising, Facebook advertising doesn't show up based on search results. Your ads show up on users' feeds based on demographics and behaviors.
Before you start running ad campaigns on Facebook or Instagram (both owned by Meta), you'll need to set up a business account to sell on Facebook and sell on Instagram. This will give you access to Facebook's Ads Manager to create posts and run campaigns for both platforms.
The Ads Manager will prompt you through the campaign creation process, and you can choose specific targeted outcomes, like driving traffic to your store or driving purchases directly from Instagram.
---
Use Analytics to Learn How Customers Find Your Store
Tools like Google Analytics track which channels your target customers are using most, so you can focus your marketing efforts on these platforms. For example, if you get a lot of traffic to your furniture store from a blog post about interior design and decorating, you should write more content on that topic. If your Facebook ads are converting more sales, investing in more advertising may be worth it.
To track seller activity better, make sure to do the following:
2. Optimize for Conversions
Now that you have generated store traffic and improved your site's navigation and product visibility, it's time to make sure sales conversions happen. Shopping statistics show that shipping, additional fees, and taxes are significant causes of shopping cart abandonment. To optimize sales conversions, consider doing the following:
Streamline Your Checkout Process
The checkout process is one of the biggest reasons for cart abandonment—particularly if it's too hard to navigate, lacks security seals, or asks for too much information. Simplify your checkout process by employing these best practices:
Use a clean design on your checkout page
Ask for essential information only
Offer guest or express checkout
Extend a range of payment methods
Highlight options like free shipping and returns
Make it easy to apply gift cards and discounts
Add trust seals
Give customers a clear path to support
The sample checkout page above illustrates an excellent example of a distraction-free checkout page. It offers an express checkout option right from the start, along with different payment options and a security seal of trusted payment channels. Additionally, it only asks for essential information, such as a name and shipping address, and is transparent with taxes and shipping fees. Note that all of these can be done with very minimal clicks.
Offer a Personalized Customer Experience
According to GrowCode research, 91% of customers are more likely to buy from an online store that provides personalized experiences. You can offer a personalized experience by simply displaying more products relevant to the customer.
Set up product recommendations or favorites based on user behavior (like purchase or browsing history)
Display products or campaigns based on user location
Offer add-ons and related product sales during checkout or on product pages
Upsell, cross-sell, and down-sell (during and after checkout)
Create a quiz that matches shoppers to a product based on their needs
Tip: Most ecommerce website builders like Shopify and BigCommerce offer third-party integrations to personalize the customer experience.
Build Buyer Trust With Product Reviews
Social proof in product reviews goes a long way to convince customers into buying a product. Product ratings boost your trust rating since customers rely on buyers' feedback to assess product quality.
Here are some tips for using product reviews in your store:
Indicate the average rating and number of reviews at the top of each product page and at the bottom, where you display the content of the reviews to increase the feedback's visibility.
Give buyers an incentive to leave a review by giving them a discount coupon that they can use on their next purchase once they leave a product review.
Enable Social Media & Marketplace Shopping
If you are active on social media, consider connecting your social media accounts to your store so that customers can buy directly from social media posts when they see something they like.
A few ways to do that are:
Using a Square Online checkout link in your Instagram, Twitter, or Facebook post. You can direct customers to a simple checkout page so they can make purchases with a credit or debit card, Apple Pay, or Google Pay.
Enabling Instagram Shoppable posts so that customers can make purchases right from their newsfeed without ever having to leave the app.
Setting up a Facebook Shop by integrating your ecommerce store. You can keep tabs on inventory, purchases, and order fulfillment from your Shopify store and don't have to monitor two website stores.
Tapping into marketplaces since they provide a more extensive audience reach. Learn how to sell on Amazon, Walmart, and Etsy. Also check out our tips for selling on Etsy.
When Alder & Green launched their online store using the Shopify platform in 2021, Cormac Folan (CEO and co-founder) shared with us that they used the many out-of-the-box integrations on Shopify to help set up shopping feeds and marketing integrations with Google, Facebook, and TikTok. By utilizing these integrations, their brand was able to get more exposure for their products and tag them on their social channels to help drive direct sales.
Price Competitively
Product pricing is something you need to figure out early on in your ecommerce operations. Pricing and additional costs are also one of the most significant factors in shopping cart abandonment. If you know how to price your products competitively and are transparent about the additional fees involved in purchasing a product from your store, you will most likely be able to convert site visitors into customers.
Keep Shipping Costs as Low as Possible
Baymard Institute found that 48% of US consumers abandon items in their cart because of extra fees like shipping. Most large retailers like Amazon offer free shipping, so it has become an expectation for most consumers—and for small retailers, it can be a headache since shipping takes a considerable chunk in overhead costs. However, free shipping is undoubtedly doable—learn how to offer free shipping on your products.
Recover Abandoned Carts
Cart recovery should be a feature in your ecommerce platform. Setting up abandoned cart recovery emails helps you interact with customers who don't place or finish their orders to lure them back. You can customize your emails, add schedule triggers, and add discount codes as a way of enticing customers back to your store. About 45% of all abandoned cart emails are opened, with half of the click-throughs resulting in a purchase.
One of Shopify's biggest advantages is having an abandoned cart recovery feature available even on its Basic plan, which costs $29/month (other ecommerce platforms offer the feature in higher-priced tiers).
3. Consistently Publish Helpful Content
You might have the right social strategy, implement the correct SEO techniques, and optimize your product pages and website, but if you don't put out helpful content consistently, your site traffic will dwindle and, consequently, your sales will, too.
"If you want to grow your online store, you should have a useful, SEO-driven blog. Based on my experience, blogs are an excellent opportunity to connect with readers. And if the article has relevant keywords, it is more likely to rank higher in search engine results. Know your customers' interests. Research their online buying behavior. If you try to understand your customers deeply, you'll be able to publish blogs that meet their needs and wants."
– Tristan Harris, Sr. Marketing Manager, Thrive Digital Marketing Agency
A content marketing strategy is crucial to help you grow your online store. The right type of content educates, informs, and engages with customers. At the minimum, your website pages and product detail pages should have helpful information. Along with content, your website should be optimized for good design and flow. Learn more about our ecommerce design tips.
A few ways to consistently publish helpful content include:
Maintain a blog. Even with distrust in public information sources, 81% of US consumers still trust the information and advice they read on blogs. Blogs serve three purposes: 1) They can help with your SEO strategy (drive traffic), 2) They can educate customers, promote products, and drive engagement, and 3) They can help establish your company's authority and knowledge about the industry you operate in.
Align messaging with your ecommerce strategy across all customer touchpoints. For example, if you are preparing for a storewide annual sale, you can conceptualize blog content that centers around gift guides and start posting similar content across your social platforms.
Don't forget about email marketing. It should be included when planning your content strategy. Include personalization, segmentation, and automation, if applicable. Ecommerce platforms can integrate with email marketing software, and there are platforms like Shopify that include email marketing in their subscription plans.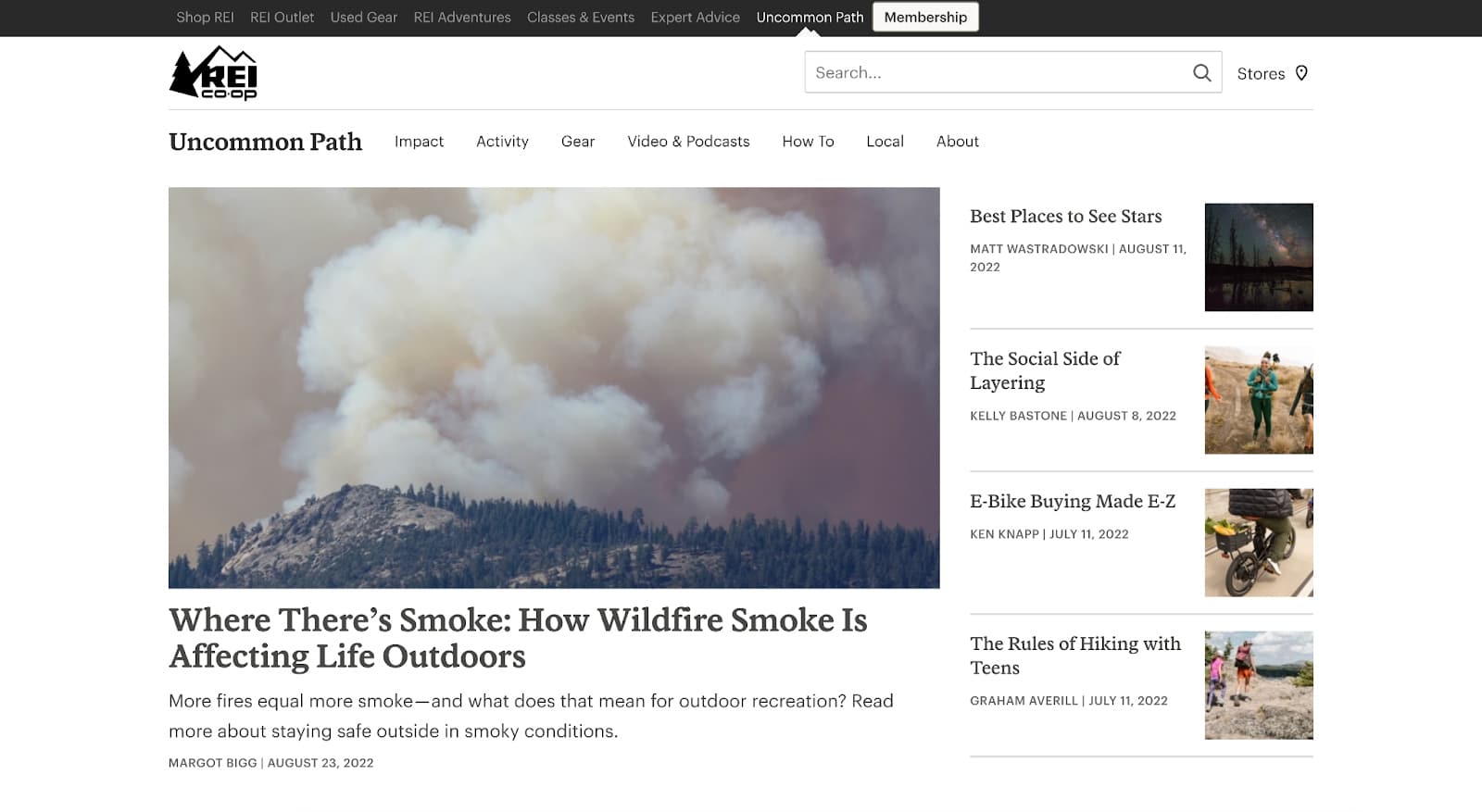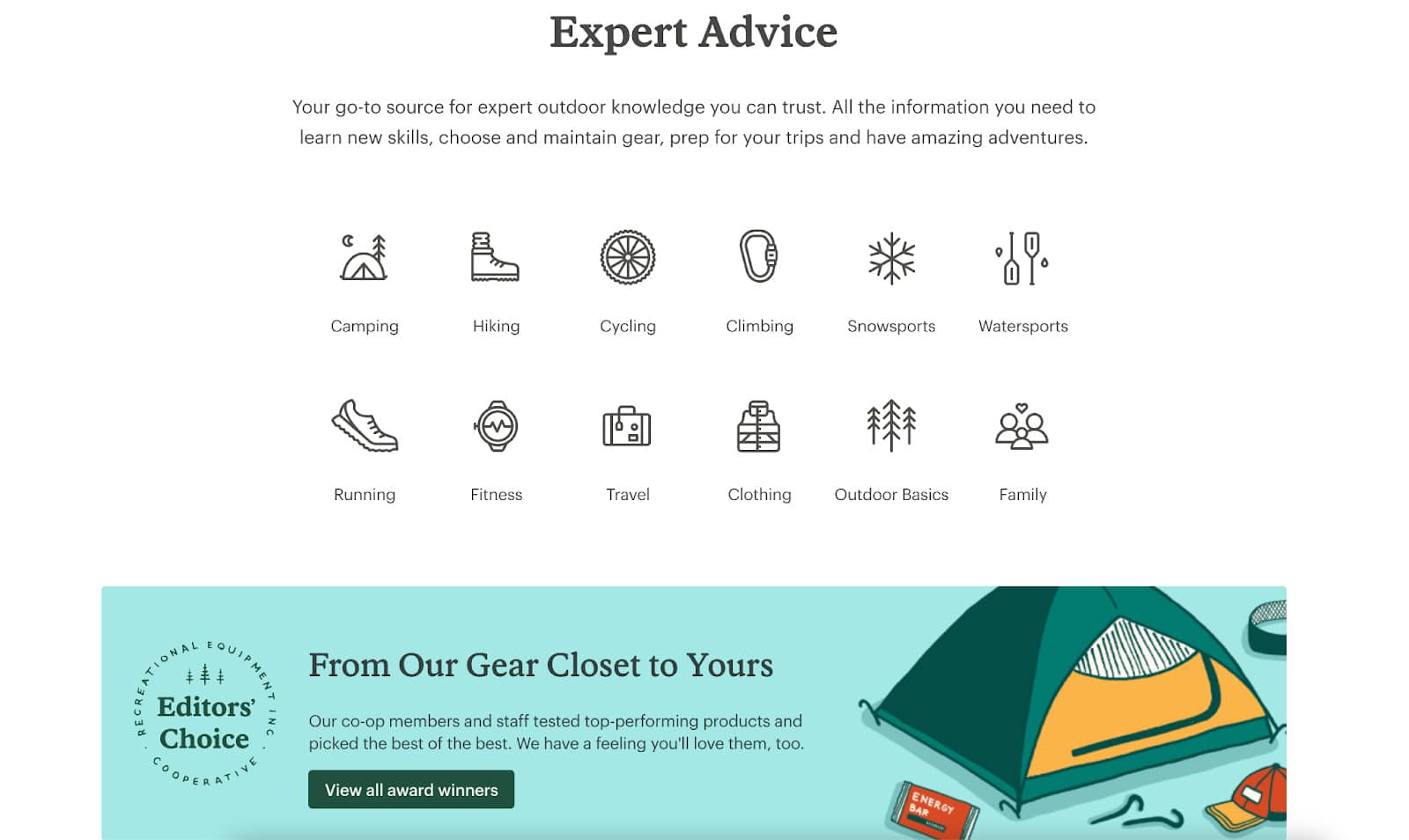 For inspiration, consider REI's Uncommon Path and Expert Advice blogs.
4. Develop a Customer Retention Strategy
We've heard it before—it is less expensive to retain a customer than acquire a new one. Bain & Company and Harvard Business School have found that "increasing customer retention rates by 5% increases profits by 25% to 95%."
It is crucial to develop customer retention strategies to drive growth to any business, but more so in retail. In the ecommerce industry, here are some tangible ideas to help you improve customer retention.
Guest or express checkouts convert more sales because of speed and convenience. However, encouraging buyers to create store user accounts allows you to learn about their purchasing habits, engage with them better through email marketing, and develop a personalized customer experience for them—all of which drives them to purchase again and again. You can incentivize guest shoppers to create accounts by offering a one-time coupon or gift-with-purchase.
Loyalty programs are customer retention programs in disguise. It's a proven method to increase customer purchase frequency because it can motivate customers to buy more to earn reward points. While this feature can be built-in or integrated as an app with ecommerce platforms, you still need to learn how to develop an effective and rewarding loyalty program.
According to HubSpot research, 93% of customers are likely to make repeat purchases with companies that offer excellent customer service. Excellent customer support is key to retention, brand advocacy and, eventually, more growth.
Here are some ways you can achieve great customer service:
Create a contact page on your website that has information on contacting your support team—a phone number, email address, and chat pop-up, if you have one.
Add an FAQ page to help people get answers right away.
Provide support at all stages of the shopping experience. For example, have hovering or pop-up boxes to general questions during purchasing.
Make your customer support channels visible from every page in your online store.
More customers have started to prefer live chat support to be able to get an answer right away. Install a chat feature on your website so you can monitor it throughout the day.
Have a generous return and refund policy. It might be conceived as a loss at first. Still, if you demonstrate sincerity and make it easy for customers to get refunds and return items, you will most likely be keeping the customer from going to another store to purchase the same item.
5. Measure Customer Retention & Set Benchmarks for Improvements
Once you have implemented a customer retention strategy, monitor your customer retention rate. The average retention rate for ecommerce businesses is around 35%. Once your metrics show your retention rate is dipping, revisit your retention strategies and set guidelines for improvement.
Some ecommerce platforms such as BigCommerce have customer analytics that would have information about repeat customer rate, purchase frequency, average order value, customer lifetime value, and churn rate. These metrics all help you device retention strategies better.
6. Get Listed on Google Shopping
There are 5.6 billion searches in Google each day. Clearly, ranking in search results will be a definite way to boost your online store's visibility. However, getting your products listed in Google Shopping will help increase product visibility and consequently, overall online store visibility too.
Investing in Google Shopping ads helps your product reach more customers as it's a type of comparison search engine but is more visual. When someone searches for a product and your description meets the criteria, it will appear in the search results. You'll only pay for each time someone clicks on your Google Shopping ad.
It can take some time to set up a product data feed for Google Shopping since you need a Google Merchant Center Account and a Google Ads account. However, most ecommerce stores like Shopify and BigCommerce have built-in integrations that allow you to sync your products and get started on Google Shopping.
7. Host Livestream Shopping Events
There is a growing interest in livestream shopping events among American consumers, especially among Gen Z and Millennial consumers. It is an emerging trend you can take advantage of. What's great about livestream shopping is that it gives you a chance to talk to your customers and answer questions in real time.
You can do livestream shopping events on social media channels like TikTok and Instagram, and on dedicated video platforms like YouTube.
Chocolate brand KitKat combined the power of livestream shopping with Facebook and Instagram ads when it launched its "Fill Your Break With Wonder" campaign. It hosted a Facebook Live event so that people could easily make a purchase when using the "Comment to Message" feature (this begins a Messenger conversation when someone comments on the livestream).
The campaign was impressive—it generated more than one-third of KitKat Chocolatory Australia's annual sales, and it also increased brand awareness among 35- to 44-year-olds in Australia by 23 points.
8. Build a Community
Building community among your customers helps develop customer loyalty, which then transforms your customers into advocates. Word-of-mouth endorsements will end up being organic and can certainly help your business in its marketing efforts. They can boost visibility in search results and create buzz around your products and events.
"My main strategy has been to create a brand that people will want to buy from. This is not just about creating an attractive website with quality content and excellent design—it's also about creating a community around the brand that people feel connected to.
There are so many different ways you can do this, from hosting events in your hometown or at conferences where you invite local businesses to join you for some giveaways and samples. I'm also keen on leveraging social media to keep my audience always in the know, share with them engaging content, ask them for feedback on my products, and celebrate them for being loyal to my brand."
– Chris Roth, Founder + CEO, Highline Wellness
At its core, community building is about relationships with your customers. It encompasses customer service, social media engagement, and online store policies such as refunds and returns.
Some ways you can foster brand community:
Be clear about your brand values. Display them prominently on your website, include them in your social messaging, and be vocal about causes you support. Shoppers say they spend their money with businesses whose values align with theirs.
Leverage user-generated content (UGC) among buyers. While UGC is an ecommerce marketing strategy, it also helps build brand awareness and connect like-minded people who support your brand.
Personalize the shopping experience. An estimated 60% of shoppers become repeat customers after a personalized shopping experience. Thanks to segmentation and automation, your ecommerce platform can help personalize recommendations, greet shoppers by their first name, and more.
You can also draw inspiration from Wesley Stryker, founder of Commerce Caffeine. He shared, "When growing my first business, Steezy Supply, I didn't have much budget to allocate toward performance marketing so I had to get creative. Steezy Supply produced Maryland-themed apparel, so I needed a cost-effective way to build community and target Maryland residents, so I created a Maryland-themed Twitter account named Maryland Tweets. I'd tweet about trends, events, sports and anything Maryland-related. I grew it to over 13k followers in a year."
He added, "At the time, the audience was highly engaged, and the Twitter account drove a significant amount of free traffic to the Steezy Supply site. It was a nice growth hack that no one was doing at the time."
9. Continuously Evaluate Your Product & Markets
Once you have your growth strategies in place, it doesn't stop there. Simply rinsing and repeating the same strategies can be a cause of downfall, too. Evaluate your products and growth strategies from time to time. These include testing your products, offers, and markets.
Test Your Product Mix
Developing new products or improving your existing ones should be part of your ecommerce business' growth strategy. While you may have needed more time to do market and product research before launching, now you have the opportunity to tap into your most valuable asset when it comes to developing new products—your customers.
This is what Von Baer's co-founder, Varkki Albert, did with the company's leather goods products. He shared that as a business, it avoids middlemen like wholesalers and retailers and only sells directly to customers. This strategy helped to not only give the best possible value for money, but to build a personal relationship with customers. Von Baer was able to understand, listen, and actively seek customer input when launching a new line—and this has proven invaluable to growth. As of today, Von Baer products are sold in over 40 countries around the world.
Test Your Promotional Offers
There are many promotions you can do with your online store such as product bundling, discounts, coupons, giveaways, and more. Remember that promotions are not just done to increase sales but to drive traffic, increase engagement, and raise brand awareness.
Here are some ways to test your promotional offers:
Run contests and giveaways. These are an excellent way to grow your social media accounts and your email list. For example, you can run a giveaway and one of the mechanics is to follow your social media channel such as Instagram or Facebook. Likewise, you can also ask them to enter their email address to have a chance at winning.
Cross sell and upsell. You can do this by showing related products in your product pages or offering a discount when buying related products. Explore more of our cross-selling strategies in our guide.
Run "buy one, get one" (BOGO) promotions, limited time sale items, free gift items. Limited time discounts usually incite FOMO (fear of missing out) in consumers, resulting in more sales.
The key to an effective promotion is to look at it from a customer's perspective: What would a customer consider buying? Build your promotion from the answer to that question.
Test New Markets
With the internet being a global platform, the means to buy and sell within physical or country borders are eliminated. If you are an online store ready to scale, testing new markets—specifically countries—should be in your plan.
If you are keen to test new markets, make sure to do your research on regulations per country, check if your ecommerce platform has the ability to localize depending on language and currency, and verify if your payment processor is capable of accepting payments in the country's local currency.
This was the case for yoga enthusiast Jodhi Meares who founded multi-purpose apparel brand THE UPSIDE in 2013. When the company experienced growth globally and needed to migrate platforms, it went with BigCommerce because of its multisite/multicurrency functionality for Australia and the US.
Bottom Line
To successfully grow and sustain your ecommerce business, you need to develop both short-term and long-term plans. These involve incorporating analytics, crafting marketing strategies, enhancing your buyer's shopping experience, and focusing on delivering excellent and prompt customer support.
It can be taxing to incorporate these into the business without adding on to your time and overhead expenses. Going with ecommerce platforms that provide built-in tools such as one-page checkouts, abandoned cart recovery, and third-party integrations make it easier for you to roll these enhancements out.
Shopify is our top pick for ecommerce platforms for small businesses. It provides you with tools to compete with ecommerce giants such as product reviews, live customer chat, and thousands of third-party integrations—and that's just scratching the surface. With several pricing plans available, you can start a small online store and grow that to an ecommerce enterprise. Give Shopify's 14-day free trial a run—no credit card required.
You May Also Like…