Sales forecasting tools and software use various business data to help you project expected revenue. They are beneficial for sales teams because they help sales managers compare sales targets, achieved sales, and expected sales more accurately. Furthermore, many forecasting tools help automate the process, saving valuable time for your sales management team.
1. Pipedrive
Cost: $12.50 to $49.90, per user, per month, billed annually
Best for: Businesses that want a full-featured customer relationship management (CRM) tool with customizable deal forecasts

Pipedrive is a CRM that offers customizable sales forecasting features. It arranges your ongoing deals by the date they are most likely to close, helping sales reps and managers know which ones to focus on at the right time. You can also customize your forecasting view by product, date started, and deal owner.
Read more about what users have to say about Pipedrive's robust feature set by visiting our Pipedrive reviews page.
2. HubSpot
Cost: Free
Best for: Salespeople who want a free CRM with a visual sales forecast

HubSpot is an excellent free CRM that offers visual sales forecasts for your entire pipeline. It makes it easy to create accurate sales forecasts by allowing you to set exit criteria for each stage of the pipeline so sales reps know exactly when a deal should be moved from one stage to the next.
As a criteria example, a prospect may have to respond to a follow-up email after a demo to be moved to the next stage of the pipeline. When everyone is following the same criteria, your forecast will be much more accurate. To learn more about how HubSpot can improve your sales forecast, visit our HubSpot reviews page.
3. Capsule CRM
Cost: Free for up to two users to $36, per user, per month
Best for: Businesses that want a CRM that offers forecasting with advanced reporting

Capsule CRM gives you valuable sales insights with an easy-to-use sales dashboard. It uses milestones to help you create success factors to forecast projected sales revenue. For example, a milestone could be a demo or proposal, which is then linked to the likelihood of winning the deal.
Capsule forecasts the potential sales value of your entire pipeline based on the probability of each deal and the total value of all of your sales opportunities.
4. Freshworks CRM
Cost: Free forever startup plan for unlimited users. Paid plans start at $29 per user, per month, billed annually.
Best for: Sales teams seeking a customizable sales forecast and a sales forecast template
Freshworks CRM is a CRM that allows you to forecast and track your sales goals by continually analyzing the sales cycle of every deal in the pipeline. It gives you the ability to set a win/loss probability for each pipeline stage. This also helps you to set realistic and predictable sales goals.
Over time, Freshworks CRM will automatically begin to estimate if and when a sales deal will be won. To learn more about how Freshworks CRM can help your sales team, visit our Freshworks CRM review page.
5. Zendesk Sell
Cost: $19 to $199 per user, per month, billed annually
Best for: Businesses that want a tool that identifies deal-level trends to predict close rates

Zendesk Sell allows you to add data to each deal you create to help you forecast the chance of winning each sales opportunity. When you create a new deal in the system, you can set the win likelihood and estimated close date to generate more accurate sales forecasts.
For example, a sales team has a total pipeline of $300,000, with each deal in the "qualified" stage of the pipeline. However, you know that, historically, about 10% of your deals are won each month. With that information, your sales forecast will show that you can expect to sell about $30,000 that month. As each deal moves through the pipeline, you can adjust the win likelihood to more accurately project sales revenue.
6. Clari
Cost: Pricing is available upon request after speaking with a sales representative
Best for: Sales teams that want a tool that uses artificial intelligence (AI) to provide predictive insights and identify business risks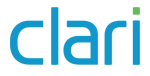 Clari is a tool that uses predictive forecasting with artificial intelligence to help identify your projected revenue over predetermined time periods. It also updates your opportunity data in real-time, so you always know your sales forecasts are accurate and up to date.
Furthermore, it records the forecast history of each deal so you can quickly see what is happening with each prospect and opportunity. It also has a feature called parallel forecasting, so you can create several forecasting views to get a 360-degree view of performance among your different product lines, territories, and sales reps.
7. Datahug
Cost: Available upon request by speaking with a sales representative
Best for: Companies that want a cloud-based CRM that offers predictive analytics and offline capabilities

Datahug is a pipeline management tool that helps sales teams use AI to suggest which deals to focus on to increase revenue and create accurate sales forecasts. It also provides predictive analytics in real-time, has a robust mobile app, and allows sales reps to work offline as well as online.
Additionally, Datahug offers prescribed content recommendations. For example, if you have a prospect in your pipeline, Datahug will recommend you follow content that your lead has posted online and even send them an email on your behalf—increasing the likelihood that lead will convert and improving your sales forecast.
8. MoData
Cost: MoData offers custom pricing based on the service tier, features, and team size; you can fill out a request form on their website to receive a quote
Best for: Salespeople who want a tool powered by AI to provide sales forecasts in real-time

MoData is a forecasting tool that uses AI and deal history to update your sales forecast in real-time, generating the most accurate forecast possible. Since forecasts are based on deal history, you remove the guesswork and can spot risky deals, take action on the right deals, and avoid last-minute surprises in your revenue estimates.
9. SalesDirector.ai
Cost: Contact a sales representative for custom pricing
Best for: Businesses that want a tool that offers risk-adjusted sales forecasts

SalesDirector.ai is sales forecasting and pipeline management software that helps you create accurate sales forecasts with risk-adjusted forecasts. It offers a deal risk meter, predictive sales forecasts, and real-time opportunity data.
The software also uses AI to find challenges in each sales rep's pipeline and gives suggestions on when it's a good time to generate new deals to hit sales targets. Additionally, SalesDirector.ai offers both high-level sales forecast summaries and rep- or account-level insights.
10. Aviso
Cost: Pricing is not included on the website; contact their sales department for a quote
Best for: People who want a product that blends AI and human judgments to provide specific guidance for each sales deal

Aviso is a forecasting tool that tracks your progress toward revenue goals in real-time; it uses AI to give insights into risky deals as well as your biggest opportunities across each product line and territory. It also uses AI to measure quarterly progress and help eliminate the risk of human bias to identify deals that need intervention in order to increase the likelihood of them being won.
Additionally, Aviso sends a weekly executive briefing to sales leaders in your organization. The reports summarize progress, identify major challenges, and showcase critical deals that may need their attention.
11. InsightSquared
Cost: Pricing is not available on their website; you can request a demo or call the company to receive a quote
Best for: Sales leaders looking for a CRM that uses your entire sales history to provide multiple forecast models

InsightSquared is a sales forecasting tool that uses sales intelligence software to analyze your sales history and create a variety of intuitive, visual forecast models. It also has a manual forecast report that lets you override data for certain deals you know are going to change in advance to give you the most accurate forecast.
The software allows you to view a weighted pipeline, a manual forecast, and historical sales trends, so you can compare the outcome for each report and make data-driven decisions. The reports are delivered in an excellent visual format so they are easy to understand and give you the ability to spot missing or outdated information.
? Tip: Be sure to check out our ultimate guide to sales forecasting to learn more about how you can use these tools to make better informed decisions for your business.
Bottom Line
Accurately forecasting sales helps your business grow at the right pace, determines which deals to focus on, and removes the manual process of using spreadsheets. These tools can help eliminate the manual process of creating a sales forecast and reduce human errors or bias. Fortunately, there are options available at a range of affordable price points as well as different levels of features and capabilities.
By far, the easiest way to forecast sales is with a CRM that offers those capabilities built-in. This allows you to see everything you need to know about your pipeline in one convenient place. Pipedrive is an affordable CRM that offers customizable sales forecasting features and arranges your ongoing deals by the date they are most likely to close. Visit their website to start a free trial.