Ecwid is an ecommerce builder that lets you sell online through its storefront, an existing site, social media channels, marketplaces, and in person through its mobile app. While Ecwid can be set up as a free standalone site, many users integrate it with their existing website as it has official integrations with Wix, Weebly (now part of Square), and WordPress, allowing you to add your free Ecwid store with just a few clicks. For other website builders like Squarespace, you can integrate Ecwid by copy/pasting HTML code.
Ecwid offers a forever-free plan. Sign up and learn how to set up an Ecwid store in seven easy steps.
1. Create an Ecwid Account
The first step in creating an Ecwid store is to create an account. As mentioned, Ecwid has a free plan you can use to start. Under its free plan, you can list up to 10 unique physical products, link your store to an existing website, and have access to shipping calculators—enough for you to launch your store. As you go through the process of launching your store, you can decide whether upgrading to a paid plan is something your business needs.
All you need to create an account is your name, email address, and store name.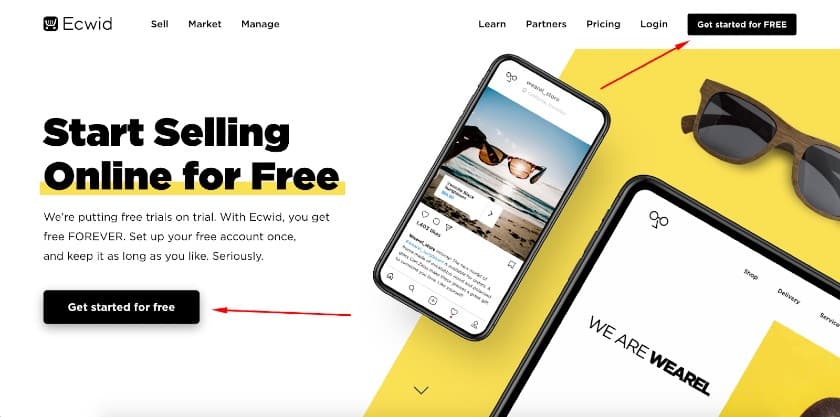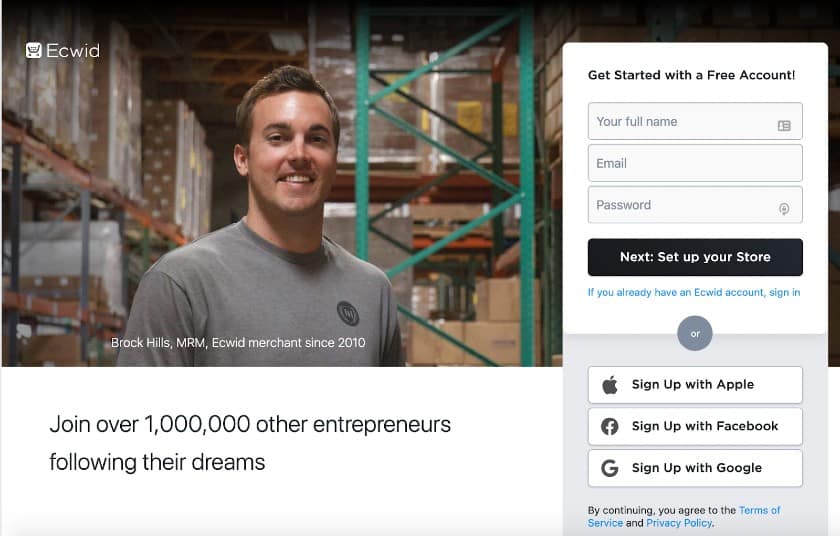 Set Up Your Store
After entering your name and email address, Ecwid takes you to a registration wizard to set up your store. Don't worry! Ecwid allows you to go back and change any of your answers at any time.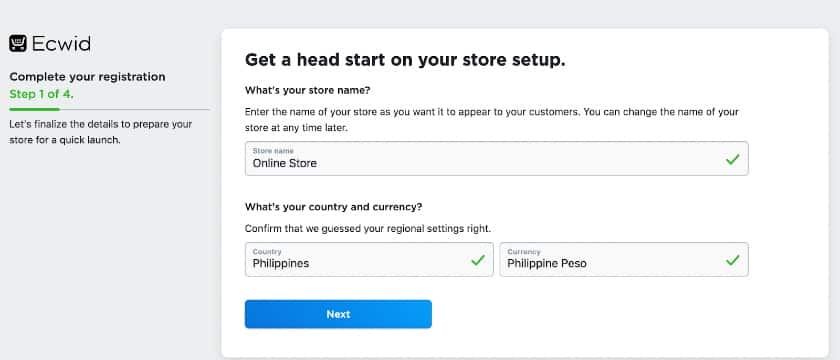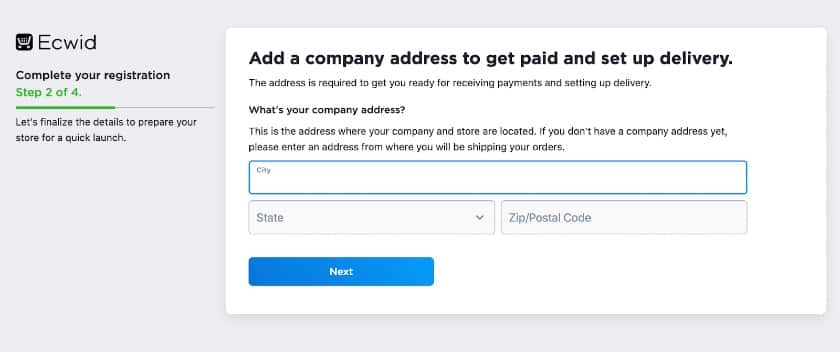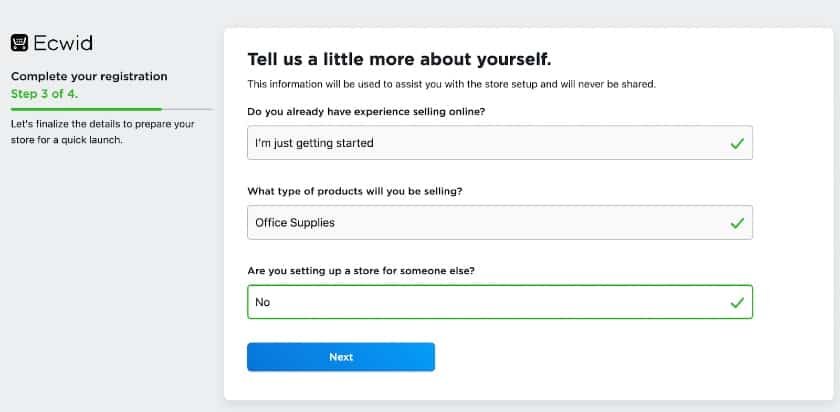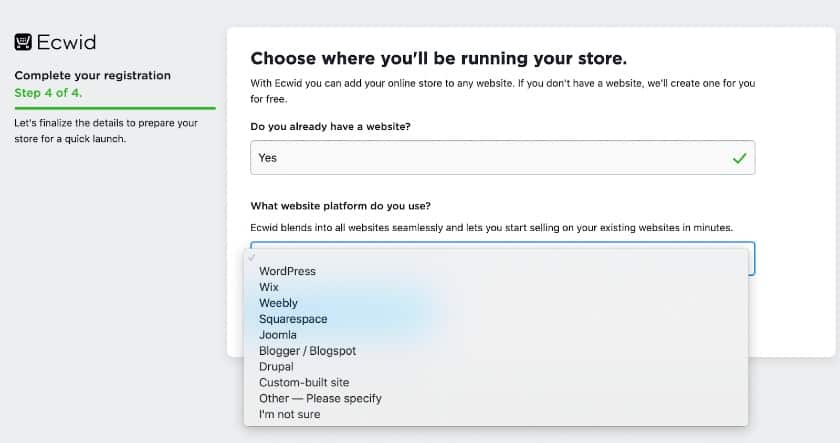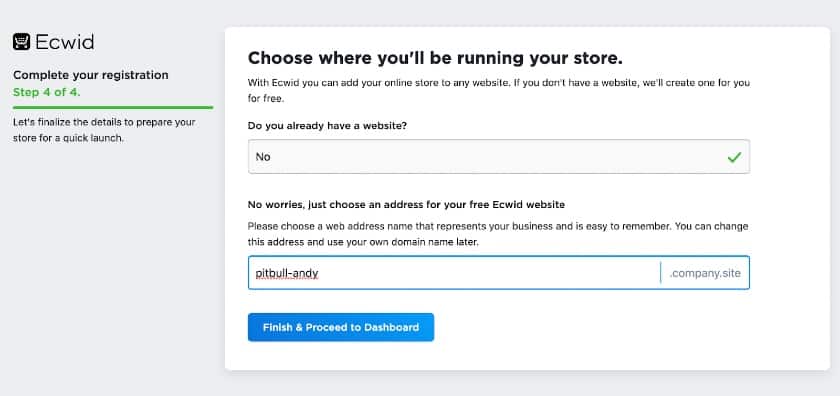 After signing up, you will be taken to your dashboard, which has a to-do list on how to set up your store. To the left of your dashboard is your control panel, where you set up your products and back-office settings.
Configure Your Store's Regional Settings
Before setting up your product catalog and payment methods, configure your regional settings first. This is where you set up your default currency, store language, standard units of measurement, and your store's time zone.
You can do this by going to your control panel, under the Configuration heading, click on Settings > General > Regional Settings.
2. Add Products
Add Product Items
Once you're done with your initial store set up, it's time to add products to your store. You can do so by (1) going to the "Catalog" option under Store management in your control panel, (2) clicking on "Products" and then (3) clicking on the blue button "Add new products" to populate the website with the products or services you want to sell in your store.
In the General tab, you can set up the following details:
Product Photos: You can add as many images as you can but the first image in your upload will be the main image. You can drag images to change placements.
Product Name: The text you put in this field will be customer-facing.
SKU: A Stock Keeping Unit is a unique code made of letters and numbers that identify characteristics of each product like brand, style, color, and size. This is an optional field.
Weight: If you are selling physical goods, add the weight of each product because this will be used to calculate shipping cost.
Product Description: This helps customers know more about the product and is a great place to add keywords for SEO. When setting up product descriptions, include all information that your customers will want to know to enable their purchase decision.
Price: Add the price of your product. You can also compare price and discount pricing if you upgrade your Ecwid account to a paid plan.
If you have a large number of products or if you are migrating from another ecommerce platform, then you can upload products in bulk using a CSV-formatted import file. Ecwid has a CSV file format you can use.
Tip: If you upgrade to the Venture plan ($15/month), you can sell up to 100 physical products as well as digital goods. You can also customize the metadata of the page title and description to improve the SEO ranking of your online store.
Set Up Categories
Categories are product groups that you want to show together on your store page (for example: On Sale, Bestsellers). Customers can more quickly navigate your store and find the products they need.
To set up your store categories, go to your control panel, click through Catalog > Categories > Add Root Category.
3. Add Payment Method
Ecwid supports a variety of payment solutions that enables you to accept credit cards as well as have alternative payment options for your customers depending on your region.
You can process payments through PayPal, Stripe, over 50 third-party payment systems, and mobile wallets such as Apple Pay and Google Pay. You can also set up manual payment methods like cash on delivery, bank transfer, invoice, purchase order, or check.
To set how you want to get paid by your customers, navigate to your control panel and under Configuration, click on Payment.
Tip: If you sell in person and use Square POS, you can easily integrate the two platforms to be able to process payments in your Ecwid store through your Square account.
Customize Your Checkout Page
Your Ecwid store has a secure one-page checkout with several sections: customer's cart, address collection, shipping methods, payments, warnings and customer comments, and buttons.
You can customize any of them as well as set custom fields (required or optional) to collect additional information from customers and save it to their order.
4. Configure Shipping, Delivery, and Pickup Options
If you sell physical goods, it is important to set up shipping and pickup methods. With Ecwid, you can choose to ship using carriers, do local delivery, or add a curbside, drive-thru, or in-store pickup. If you upgrade to a paid plan, you can also add a handling fee.
Ecwid provides real-time shipping rates from USPS, UPS, and FedEx. To set this up, go to your control panel, under Configuration, and click on Shipping & Pickup. Choose which carrier or delivery method you would like to set up and follow the prompts.
In our trial store, we set up USPS and it gave us options to set up conditions for free shipping, custom rates, and a flat rate or fixed shipping fee. If you choose to get shipping rates calculated based on order details for example, you need to specify your shipping origin—whether it ships from your company's address or from another location or warehouse.
Ecwid gives you many shipping options, and you can learn about setting up all types of shipping in Ecwid here. Ecwid also integrates with several top shipping solutions, including ShipStation, ShippingEasy, and Ordoro, to quickly print labels which is handy if you ship in volume. See our in-depth comparison and review of these in our guide to the best shipping software.
5. Customize Your Store Design
Now that you have set up your products and back-office settings, it's time to customize how you want your store to look. To do this, go to your control panel and click on Design under the Configuration heading.
There are a variety of ways that you can customize the appearance of your online store with Ecwid.
Image size: You can set up how your product thumbnails look in your store (small, medium, large).
Image aspect ratio: Choose between square, landscape, or portrait orientations. Landscape orientation is best for products with horizontal images. Portrait orientation is meant for vertical images. Square is for images of equal proportions, which is ideal for small merchandise.
Product card details and layout: You can choose which details to display on the product list and how they are positioned in a product card.
Category name position: You can choose to display or hide them completely.
Product page layout: You have the options to do two or three columns, with product descriptions on the right or left.
Image gallery thumbnails: The layout for your thumbnail images in the product gallery can either be horizontal, vertical, or full-sized.
Sidebar: Choose items displayed in the sidebar of the product's page—product name, breadcrumbs (navigational text paths), SKU, price, product options, "add to bag" button, product details, share buttons, and wholesale prices.
If you have an existing website, Ecwid is designed to blend seamlessly with your website's color design and display optimally. You can enable it in the Design page.
6. Connect Your Existing Website
If you have an existing website, it is easy to connect your Ecwid store. Ecwid has built-in plug-ins and extensions for WordPress, Joomla, Drupal and other content management systems (CMS) as well as popular site builders like WIX, Squarespace, and Weebly (now part of square).
To connect your store to your website, go to your control panel and under Sales Channels click on Overview. Scroll down to see the Sell On Your Website heading.
Use the Buy Now Button
If you wish to advertise a single product on your blog or another website, then you can opt to generate a buy button and start selling immediately. All you have to do is generate the code from your Ecwid dashboard and paste it on your page as an HTML code.
7. Use Ecwid's Instant Site
Don't have an existing website? Ecwid provides a standalone site called Instant Site so you can launch your online store. It has an intuitive editor with many design options that help you make the site your own.
To customize your Instant Site, go to your control panel, click on Website under Sales Channels, and then Overview. Click on the Edit Site button under the Online Store box heading.
Your Instant Site has many content modules, which it refers to as site blocks, that help you present your business and products.
Your Instant Site has the following available section blocks. You can pick and choose which ones to use. Just click on the section and click Delete Block.
Header
Cover
Store
Customer Testimonial
About Us
Contact Us
Footer
You can also add blocks like Special Offers, Delivery & Payment, Company Info, etc., if you need them.
Your Ecwid Instant Site is viewable on a free subdomain that defaults to using your store ID. For example, https://061313.company.site, would be your subdomain if 061313 is your store ID. You can replace your store ID with your store name or connect your own domain to your Instant Site if you have one. Note that custom domains can only be used on paid Ecwid plans.
You can use your Instant Site as your:
Main selling channel
Landing page, such as a Coming Soon page or Website Under Construction. If you are still working on your store setup or running a seasonal business, you can hide the Store block and use it as a plain website.
Online catalog. Your Instant site can be a place where your products are displayed but not offered for purchase. You can just disable checkout for your products.
Bottom Line
Setting up Ecwid is intuitive and easy enough even for the technically challenged. Its free plan already has features that allow you to carry out ecommerce operations easily such as real-time shipping rates and product variants. If you decide to upgrade to a paid plan, you will unlock a more robust ecommerce platform that can compete with ecommerce giants like Shopify in terms of features.
If you already have an existing website that generates a decent amount of traffic, Ecwid is a perfect option. Its Buy Buttons also offer you the added ease of promoting a single product in other websites.
Sign up for Ecwid's free plan to launch your online store, no credit card required.
You May Also Like …