How to Write a Press Release for an Event (+ Template & Examples)
An event press release announces the details of an upcoming event to the media to gain press coverage and increase event attendance. Learning how to write a press release for an event isn't complicated with these steps: identify your audience, format the release, craft a captivating headline, and write the body of your announcement. Lastly, distribute your news to the journalists you most want to attend.
Save time by using a service like eReleases. They can give you a better return on investment with expert press release writing and distribution in a one-stop solution, including access to the largest U.S. network of journalists and media outlets.
Free Event Press Release Template
Take the guesswork out of learning how to write a press release for an event in the correct format. Download our free event press release template and use it by following the steps below.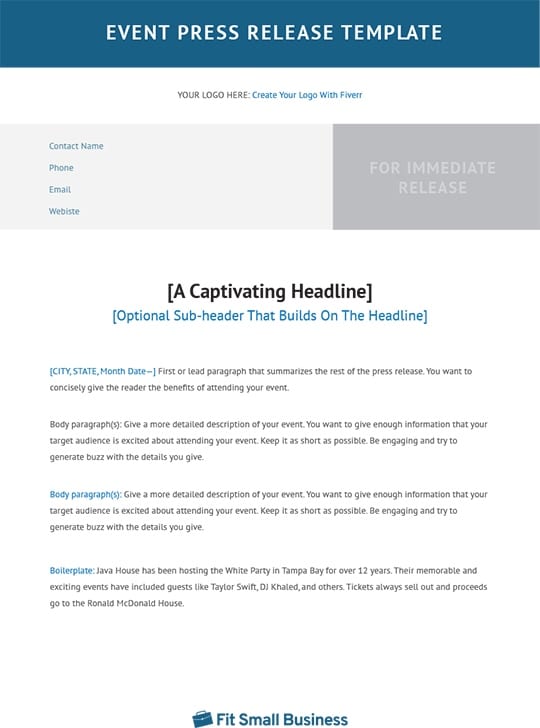 Thank you for downloading!
💡 Quick Tip:
Writing a press release is no joke–improve your chance of landing coverage with expert writing and distribution services through eReleases.
Visit eReleases
Here's how to write an event press release in seven steps:
1. Determine the Audience for Your Event
To write an effective press release for an event (or any other type of press release), first pinpoint your target audience and ideal attendee. By knowing exactly which types of people would be most interested in learning about or attending your event, you'll be able to craft a press release that appeals to them. This, in turn, will increase media coverage and event attendance.
Identifying the audience you want to reach isn't all that different than identifying a target audience or customer persona for sales or marketing. Assess some of the following factors to determine the target audience of your event press release:
Demographics such as age, gender, and geographical location
How far they are willing to travel for a particular event
What they value and find interesting
Potential motivations for attending (e.g., "what's in it for me")
Keep in mind that you may want to build brand awareness with your release by successfully target multiple audiences. For example, it may need to resonate with the journalists you want to attend and local dignitaries like major or regional politicians, while also appealing to the community at large.
2. Format Your Event Press Release
Lay the foundation for success by using standard press release formatting for the layout of your announcement. As trivial as it may sound, those who overlook this formatting may appear less credible in the eyes of the press, and with that, get overlooked by the media. The correct formatting and layout include your business name or logo centered at the top, followed by your contact information and heading.
The main headline of your story should be in a bold font larger than the body of your announcement. You can also include a subheading to call out additional details, which should be slightly smaller and italicized. For example, Arial, bold, 14pt for the main headline, Arial, italics, 13pt for the subheading, and all other text in Arial 12pt.
3. Get Attention With a Captivating Headline
Arguably the most crucial element for the success of your press release, the headline is the first thing journalists consider when deciding whether to read the rest of your press release. The headline can be left justified or centered, and should be about 65 to 70 characters—but no more than 80 characters—in length.
Your headline needs to grab the reader's attention and give them a compelling reason to read the rest of your news and attend your event. In the case of journalists, your goal is to get them to read the announcement in full and provide additional coverage of your story.
Here are some tips to help you write a captivating event press release headline:
Use action-oriented language: Make your headline enticing using action verbs to induce excitement or urgency around your event. For example, "celebrating," "must-attend," or "calling all…" as illustrated in the headline examples below.
Explain the "why": Don't assume your reader knows why they should attend the event. For example, attending a marketing conference may seem to hold a clear purpose, but digging into that deeper, the "why" may not simply be to learn more about marketing, but to learn low-cost ways to land more sales.
Use social proof: If local business or civic leaders are coming to your event, a celebrity is involved, or a famous brand is co-sponsoring your event, add interest and clout by including this type of social proof in your headline.
Share the location, theme, or event name: Another way to grab the reader's attention and get them to read further is to include the name of the city or specify the theme or name of the event. Including location will interest nearby readers especially, whereas having a theme like a give-back, auction, or a hook like in the example below ("Pepsi will pay you") to attend.
Use keywords: Keywords are the words someone is likely to type into a search engine, like Google, when searching for a specific topic. Having keywords in your headline increases the overall visibility of the topic and its chances of your announcement getting found online by people searching for something related to the topic.
Add a subheadline: Subheadlines are optional, but advisable since they give you another place to include key information that stands out visually. The subheading should be placed directly below the main heading and in a different font. We recommend using italics because it also helps to draw the eye as a visually different element.

---

---

---
Some people find it's easier to identify the most important details to include in headlines after writing the rest of their press release. If you struggle to write a great headline, try moving on to the next step and write your headline last. Get more ideas for writing attention-getting headlines for events and other types of press releases.
4. Craft a Strong Lead Paragraph
The first paragraph of your press release is called "the lead." It should summarize the most important things the reader needs to know in two or three sentences. This might include where to buy tickets or RSVP, when tickets are no longer for sale, the event date, age restrictions, celebrities or VIPs who will be there, or other critical information.

---

---

---
Limiting your lead paragraph to just a few sentences makes it more readable. It enables journalists and your audience to clearly spot the top reasons to attend or cover your story. Start with the location (usually the city and state) and the date of your press release. From there, answer the who, what, when, where, and why of your event as succinctly as possible.
5. Write the Body of Your Press Release
Following the lead, write two or three paragraphs to dive further into the details, expanding on your summary paragraph. Make sure to list any notable guests attending or performing, the timeline or activities that will occur, and the benefits of attending your event. Another great way to generate interest in the body of your event press release is to include a quote in this section, such as a celebrity endorsement or a statement from the event organizer.
Here are some tips for writing the body of your press release:
Expand on the "who, what, when, where, and why": Share more details about your brand as it pertains to the event. If you've hosted this event for 12 years, include that. If celebrities have been part of your event in previous years, mention that. If your business is the oldest, biggest, or most awarded in your industry, include that as well. Adding these types of details gives more weight to your press release.
Speak to your target audience: You want to highlight your event's specific appeal for your ideal attendee in the body of your press release. Include any event details for which your target audience might be interested in participating. Talk about guests who will be performing, attending, or speaking, along with any other event happenings and benefits to attending.
Include a call to action: Let people know how to attend your event by giving them a specific action to take. This is called the call to action (CTA). Since the success of your press release may depend on the number of people who actually attend your event, this is an important step. For example, your CTA might be "Save your seat today," which is linked directly to your event registration landing page.
Embed media: Give your press release visual appeal by embedding (or attaching) multimedia, such as images or videos. Adding multimedia also allows journalists to share it as part of their coverage, making your press release more eye-catching, interesting, and thus, effective.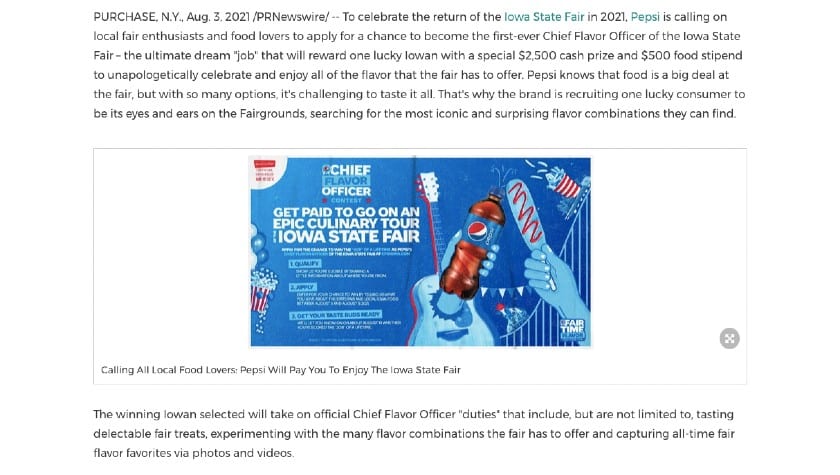 ---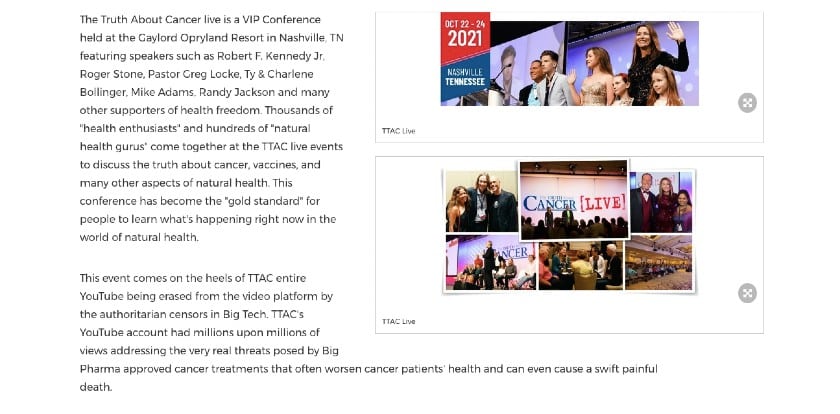 ---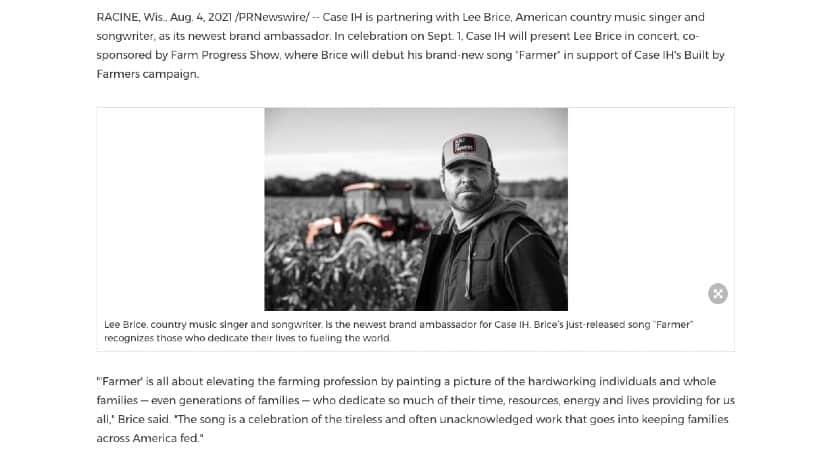 ---
For more information, check out our article on how to write a press release.
6. Add a Boilerplate
A boilerplate is a one-paragraph description of your business and should be no more than about 100 words in length. It tells the reader more about your business, the event, or the reason for the event. The boilerplate includes information that highlights special aspects of your business and its operations, especially as it relates to your event or would interest your ideal attendee.
Here are a few things you can include in the boilerplate.
Why you are hosting this event
How many years this event has been happening
Links to any high-profile influencers coming to the event
A link to your website
The email and/or phone number of the primary contact for more information
For more inspiration, read the step-by-step details on writing a press release boilerplate, and check out the examples below:

---

---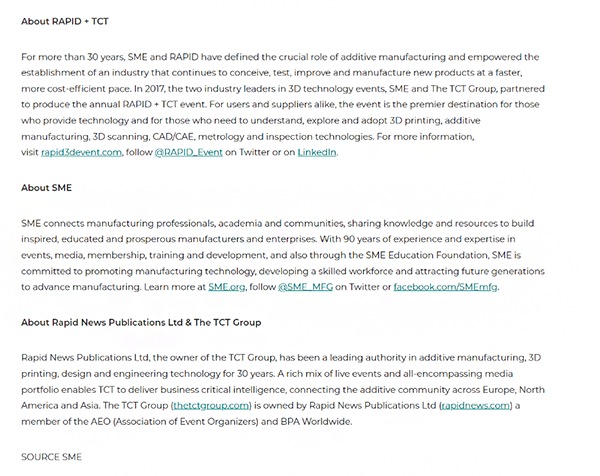 ---
7. Distribute Your Event Press Release
Now that you have written a compelling press release promoting your upcoming event, it's time to get it into the hands of the media for maximum reach with your target audience. You can distribute a press release for an event in various ways, from direct outreach via email to distribution services and social media.
For the best results, you should plan to use a combination of distribution channels:
Media outlets: Create a list of press contacts by researching media outlets in your area (or where the event will be held) and the area where your target audience is. Often, you can find email contact information for journalists and reporters on the website of local media outlets. If not, try using an email finder tool like Hunter.io or a press release generator like Prowly, as your subscription includes access to its database of over a million media contacts.
Use a press release distribution service: Get your press release in front of thousands of media contacts by using a press release distribution service like EIN Presswire or Newswire. These platforms provide the most cost-effective way to guarantee broad reach, guaranteed media placements, and targeted emails sent to journalists.
Post on your website: Your website should also feature information about your event, such as an event landing or ticketing page. Moreover, many businesses have dedicated press pages on their sites for press mentions and announcements.
Share it on social: Use the link from the distribution service or from your own website to post your press release on social media. This way, your fans and followers can see it, perhaps decide to attend your event, invite their friends, and share it on social media as well.
For additional information, learn more about how to send a press release to ensure maximum exposure and press coverage for your event.
Frequently Asked Questions (FAQs)
Is a press release done before or after an event?
There are pre- and post-event and press releases, but if you intend to get journalists and others to attend, it's best to publish a press release before your event. Pre-event releases also remain relevant for a longer time period and provide the necessary information for more guests and journalists to participate. In addition, you can extend your publicity efforts by publishing an announcement before and after an event.
What other ways can a business promote an upcoming event?
Press coverage is only one of many local advertising ideas businesses can use to promote an upcoming event. For example, you can list your event on directories like Eventbrite, sell tickets on sites like StubHub or Groupon, or use social media and email marketing. You can also promote your event in-store and to neighboring businesses, share information through your local Chamber of Commerce, take out a local newspaper ad, and leverage radio advertising.
When should you do a press release for an event?
You should do a press release for significant events to warrant public and media attention. For example, having an all-company meeting on the anniversary date of your company wouldn't merit a press release, but celebrating a significant milestone anniversary, such as the 10th, 25th, or 50th year in business, would. Other examples of media-worthy events include givebacks, auctions, grand openings, and so on.
Bottom Line
Get creative with content when you write your event press release, but follow the standard event press release format and showcase the most essential details in headings and the lead paragraph. Once written, distribute it strategically for both broad coverage and targeted sends to land the most coverage.
You Might Also Like…